YouTube to MP3 Converters are programs that enable you to download YouTube video clips as mp3 files. These programs can be used to save images as high-resolution audio files. Many of these services are available free and do not require enrollment.
The following is a hand-picked list of YouTube converter apps, along with descriptions of their most common features and access to their websites. The list includes all free open-source converters.
Tips
Hunting for a tool to erase signature background? Why not try a professional remover TopMediai to remove backgrounds 100% Auto with AI-powered Technology within 5 secs in 1 click.
Top 5 MP3 Converter Online to Save YouTube to MP3
The following are the top 6 MP3 Converter online to convert YouTube to MP3:
1. ListentoYouTube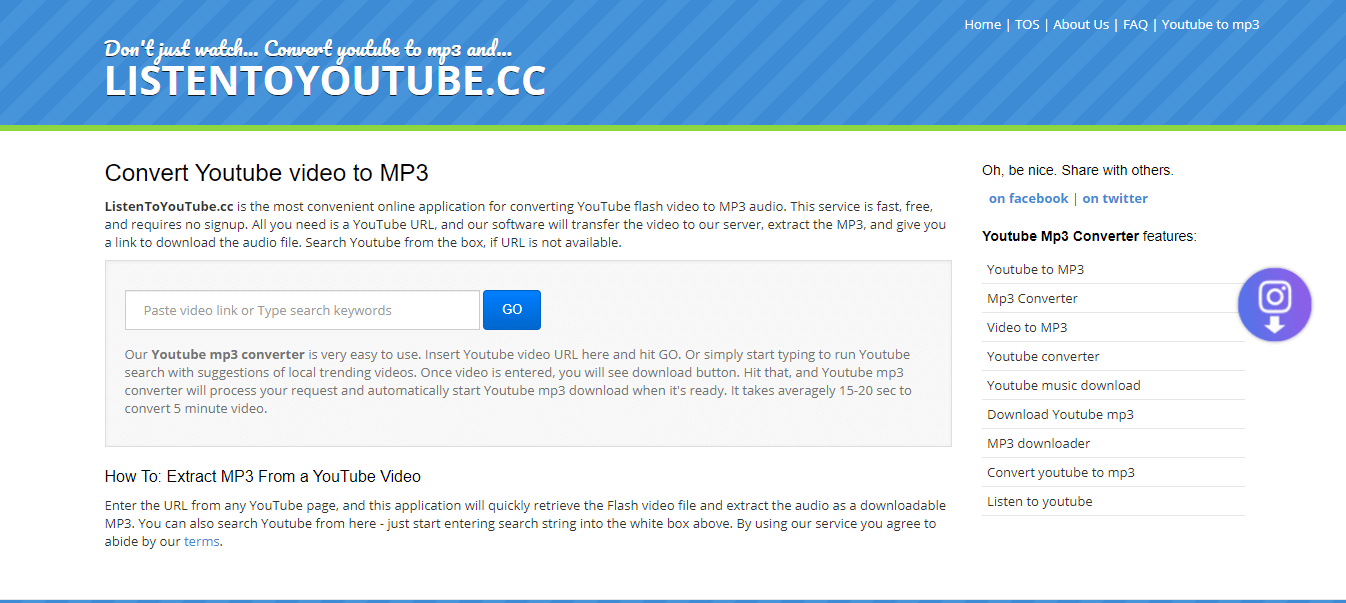 Listen to YouTube is an online service that allows users to convert YouTube videos to.MP3 files so that they can listen to them at their leisure.
For those who use YouTube to find podcasts and other conversation-based programs, this is a fantastic feature. For those who enjoy listening to podcasts while working out, playing video games, commuting, and so forth, downloading it as an.MP3 would be very handy.
Pros
Easy-to-use

Easier to navigates on the website

Provides multiple audio compression rate choices
Cons
2. YouTube Converter
YouTubeConverter.one allows you to easily save videos from YouTube and copy them to your device for later viewing. This is especially useful when you're on the go or in a location where you don't have access to the internet.
Their online media downloader works for a variety of audio and video file types. It is compatible with all operating systems, including macOS, Windows, Android, iOS, and Linux. An MP3 file can be downloaded from YouTube.
Pros
This video download service is completely free, and you can take advantage of it at any time.

You are free to download as many videos as you want.

This YouTube downloader allows you to download YouTube videos as quickly as possible. The download speed is unaffected by any throttling.

This application is compliant with all operating systems and browsers. As long as your machine has a web browser, you can import videos from YouTube regardless of whether you're running Windows, macOS, Linux, iOS, or Android.
Cons
The quality may not be good enough
3. ConverTo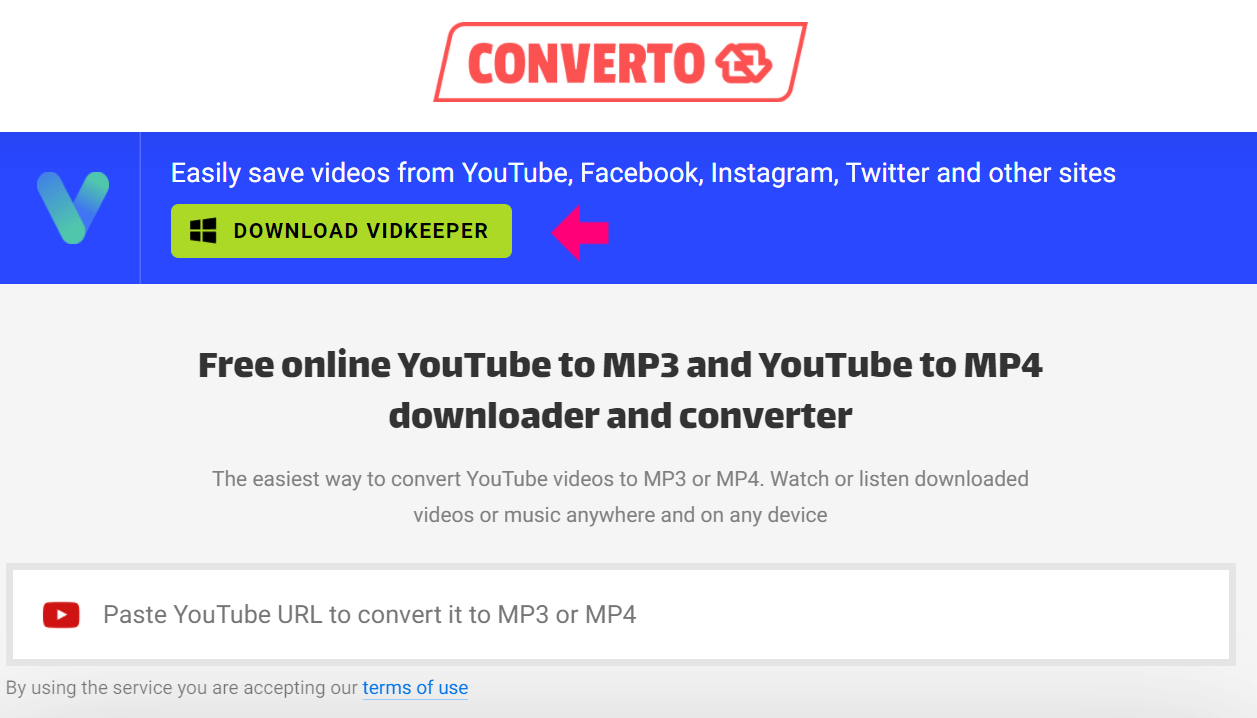 Converto.io allows you to download and save any YouTube video to MP3 or MP4 format quickly and easily. Simply copy the YouTube URL and paste it into Converto.io before pressing the "Convert" button.
You don't need to download any applications because our service is available online. Any YouTube video can be downloaded and converted to MP3 (audio) or MP4 format using Converto.io (video).
By pressing the "Settings" button before downloading, you can change the filename, ID3 tags, pick the section you want to cut, and change the video quality. Converto.io also applies album art (covers) to all MP3s, giving the music library a professional look.
Pros
Provides versatile options like cut or trip video

Change file names and ID3 tags

Suitable for beginners
Cons
4. Convert2MP3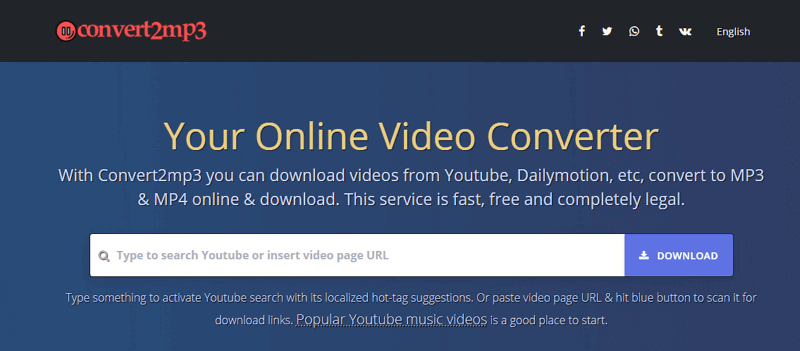 Convert2MP3 is a free online media conversion web service that lets you convert any video source or file to a variety of formats without installing any program on your device.
It's completely compliant with all modern web browsers and is regarded as the best online video conversion application because it provides high-quality and lightning-fast transfers to a variety of audio (.mp3 /.aac /.ogg /.wma /.m4a /.flac /.wav ) and video (.mp4 1080p /.avi /.mpg /.mov /.wmv /.fl There are a variety of online video portals that can be used.
Pros
A lot of conversion formats

Provides different features

Easy-to-use
Cons
Contains inappropriate ads
5. MP3fiber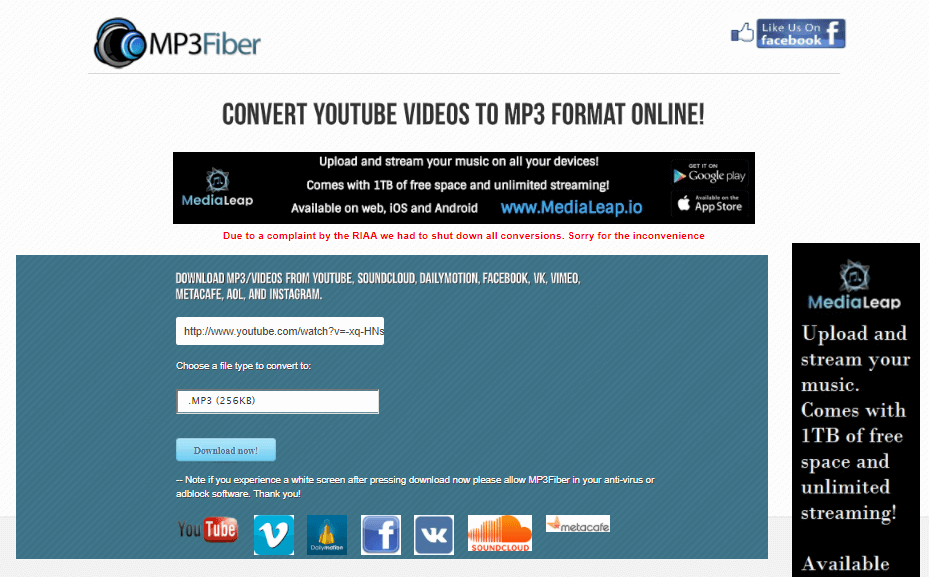 YouTube videos can be converted to MP3s with MP3Fiber, and YouTube videos can be downloaded as well. You can also stream MP3s and videos from SoundCloud, Dailymotion, Facebook, VK, Vimeo, and Metacafe using MP3Fiber. You have the option of selecting the desired level of consistency. The file size increases in proportion to the quality. When you choose high quality, our device selects the highest quality video or audio file available.
Pros
Allows you to stream video from different platforms

Supports several different platforms like Youtube, Facebook, etc.

Suitable for beginners
Cons
The user interface is not friendly
YouTube to Audio Converter with Ease on Desktop (Win&Mac)
The company's most current offering is Filme video editing tools. It's a simple-to-use video editor capable of performing a variety of video editing tasks, from basic to advanced. It can be used as a visual studio for loved ones, to post on social networking sites, and to use for commercial purposes.
You can conveniently transform MP4 to MP3 with the help of this program. This is how to get started:
Step 1: Import Source Media
First things first, import the MP4 or YouTube file that you want to convert in WAV or MP3 format. To do this, go to the "File" tab in the menu, and select "Import Media."
Choose one of the following options according to your requirement: Import Files, Import File Folder, Import from my phone, or Import files from a wireless network.
Step 2: Add Media to Timeline
In order to import the file, go to "My Media." Choose the file, and drag and drop it into the iMyFone Filme sharing space. Alternatively, you can manually add the file by clicking the + button.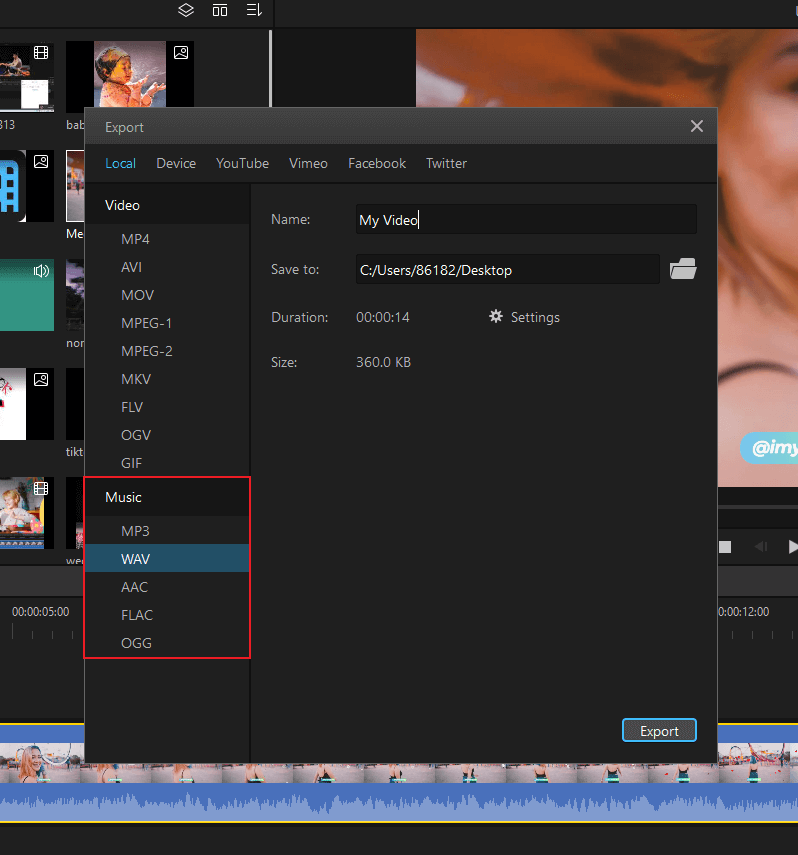 Step 3: Convert MP4 to MP3 in 3 Seconds
Once the video has uploaded in the interface, go to the "Export" tab, and select te format you wish to save your video into. It can be MP3, WAV, AAC, FLAC, and OGG.
Change the name of your file or audio in the title bar. Additionally, you can customize the saving path by clicking the folder icon at the end of saving bar.
Now, press the "Export" button in the bottom right side of your screen to save and export your changes.
Key Features
You can produce amazing slideshows in a matter of seconds by using sleek templates.

Share memorable events such as birthdays, marriages, travel, and festivals.

Cutting/trimming, cropping, splitting, rotating, changing the pace, and creating picture-in-picture effects are all easy to do without any technological knowledge.

There are numerous effects options available to you for incorporating filters and transitions into your digital stories to construct vibrant and elegant digital narratives.

Include several transformations in your video to confound your social network fans.
Top 2 YouTube to Audio Converter on iPhone
The following are YouTube to Audio Converter for iPhone:
Video to MP3 Converter
Video to MP3 Converter is an iPhone app that helps you to convert videos to a variety of audio formats, including AAC, MP3, M4A, OPUS, WAV, and more.
Key Features
You can adjust the sampling rate, length, and bitrate by selecting audio tracks.

You have complete control over the beginning and endpoints of the audio to be converted.

You can download audio or video from an Album, your camera roll, One Drive, Google Drive, Dropbox, or iCloud account.

This App allows you to open audio files and share them with other apps.
MyMP3
MyMP3 is capable of easily converting videos on your phone to MP3. You can store audio recordings in MP3 and WAV formats.
Key Features
Local videos can be converted to MP3 and shared by social media, email, or instant messaging apps.

It enables you to make changes to the metadata.

You can record audio from a microphone, CD, turntable, audio streamed from the internet, Skype calls, among other sources.

It helps you to record vinyl albums while ripping CDs, renaming batch files, scheduling recordings, silence detection, and playlist control.
Top 2 YouTube to Audio Converter on Android
Here are some of the best YouTube to Audio converter on Android:
MP3 Converter for Android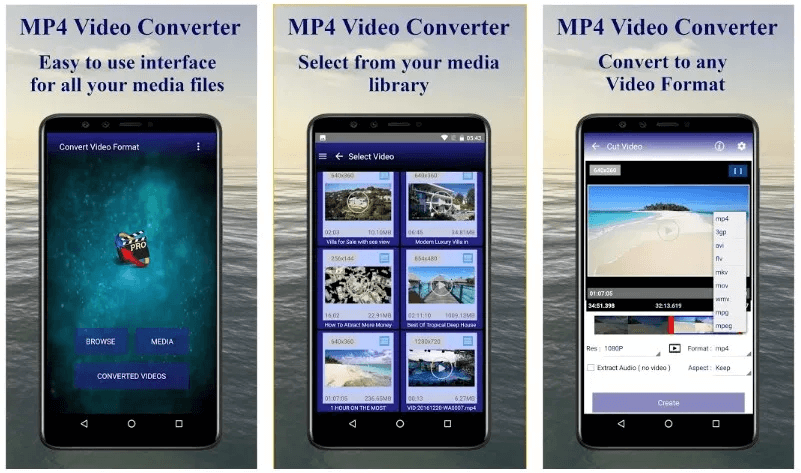 Keerby Applications has built a clever MP3 converter for Android. The MP3 Converter for Android application has excellent specs. It can convert between a variety of file types. During conversion, the bandwidth, bitrate, and even channel, as well as the format output's start time and length, can all be changed. It also has the option to adjust the volume of the recording.
Key Features
It can convert between a variety of file formats.

Frequency, bitrate, channel, as well as the format output's start time and length, can all be easily customized.

Conversion functionality in the background.

The ability to update metadata is included.

It is possible to create one's own presets.
Media Converter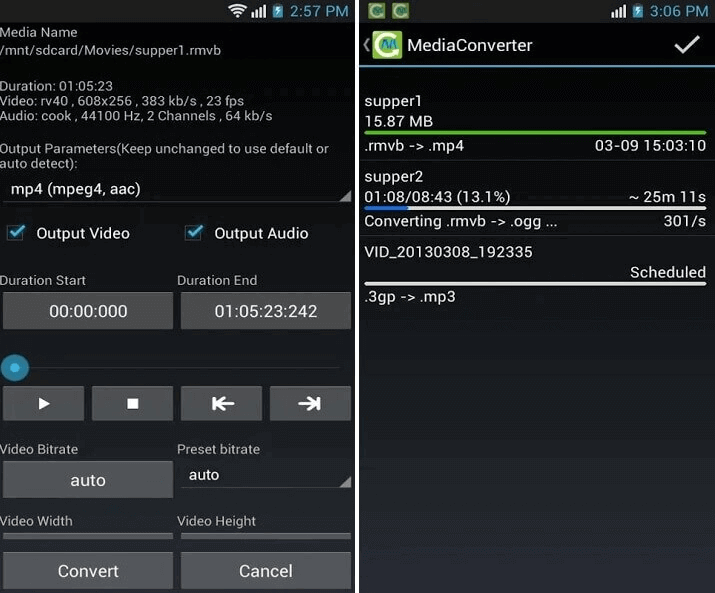 Media Converter is an MP3 converter app for Android that comes with a lot of useful features. It has a user interface that is helpful and simple to customize. It's a little Android app that uses FFmpeg and is licensed under the LGPL. The app is current and is updated on a daily basis. It can switch between a variety of file formats, including video files. With the app, you can chip, cut, or remove a part of the audio and use it as a ringtone, for example.
Key Features
The user interface is well-designed and easy to use.

It's a thin, lightweight, but feature-rich app that can handle a variety of file types.

Possesses the ability to edit video recordings.

The bit rate, sampling rate, frame rate, and resolution of audio or video can all be changed.

Audio can be extracted with this app.
Tips
Hunting for a tool to erase signature background? Why not try a professional remover TopMediai to remove backgrounds 100% Auto with AI-powered Technology within 5 secs in 1 click.