When was the last time you played TikTok videos offline without an internet connection? The answer is never because it is an impossibility! Today, we turn the tables by introducing you to online TikTok converters. These will download entertaining TikTok videos directly to your phone or computer.
Create a list of videos you wish to download, and let' s get to it!
Facts about TikTok
TikTok is the seventh most used platform in the entire world. It is placed above Snapchat, WeChat, Facebook, and YouTube. Furthermore, there are no signs of the application slowing down. It is expected to rank 5thsoon.
TikTok has successfully reached over 730 million monthly average users in 2022. The statistic may sound minute to Facebook's 2.8 billion users. Nonetheless, it is still an accomplishment in the five years since its introduction.
TikTok is extremely popular among children. However, it is more frequently used by U.S. users between 10 to 19 years of age. 1/4th of the young users belong to the mentioned age bracket. On the other hand, only 11% are above 50.
The venture firm that created the famous social media application has an equity of around $250 billion. Bytedance owns many different companies. TikTok's sister subsidiaries are Douyin, Lark, and Toutiao.
With the same consumer-based projections, TikTok users will grow to at most 90 million in the next two years. Its attractive interface and entertaining features will dominate the U.S.A. markets and leave other social media competitors behind.
TikTok is home to over 100,000 influencers who are fan favorites from around the world. However, the number is likely to be a lot more than that. Regardless, brands and social media personalities are using TikTok to engage with their audience directly.
How to Convert TikTok Videos on Top MediAI
Top MediAI is an innovative online TikTok video converter. Its AI features and straightforward interface make it stand out among itscompetitors. Furthermore, the results are also engaging to help you create a loyal following. Here are a few reasons to use Top MediAI for professional results.
Why use Top MediAI?
Top MediAI offers the most advanced features as an online TikTok video converter. Its transitioning effects, editing options, and animations are distinctive and unique. It is an all-in-one tool for efficient results which will surprise you each time you launch the platform. Lastly, Top MediAI also offers artificial and manual editing, so pick whichever is easier for you.
The user-interface is extremely simple to understand, making the software a favorite among novices. Top MediAI is created keeping the experts and everyday users in mind. You can learn the basics easily from just close observation. The user-interface highlights option for easy recognition and efficient editing.
Get ready to edit and convert TikToks in no time at all! Top MediAI will enhance quality, add transitions, and remove watermarks in just a few seconds. As a result, you play high-quality videos. Upload the videos to your social accounts to increase engagement and become an online celebrity. All thanks to Top MediAI!
The online TikTok to mp4 converter online also offers numerous editing options such as slow-motion and fast-mode. Furthermore, you can also use it to create slideshows for TikTok. Use its superior editing capability to attract more audiences from all around the world.
How to Use Top MediAI for TikTok Conversion
Install TopMediAI to begin your TikTok to m4 converter online journey. The software takes less than a minute to install, so you don't have to wait too long to enjoy the features. We suggest creating a new project to perform the conversion successfully.
Launch Top MediAI and wait for the initial interface
Choose "Create New Project." Since we are working with TikTok, a 9:16 ratio is recommended. It will result in a portrait video. You can also opt for 1:1. Unfortunately, it won' t provide the same result.
he AI-based online TikTok converter requires you to upload a TikTok. Click on Import on the left center of the screen. The software will let you directly import videos from your computer and phone.
Observe the TikTok on the timeline on the bottom half of the TikTok online converter. Click on the + sign to add more videos or audio to TikTok. Top MediAI will adjust the resolution for you to ensure a smooth transition. Furthermore, it will also eliminate pixilation based on your settings earlier.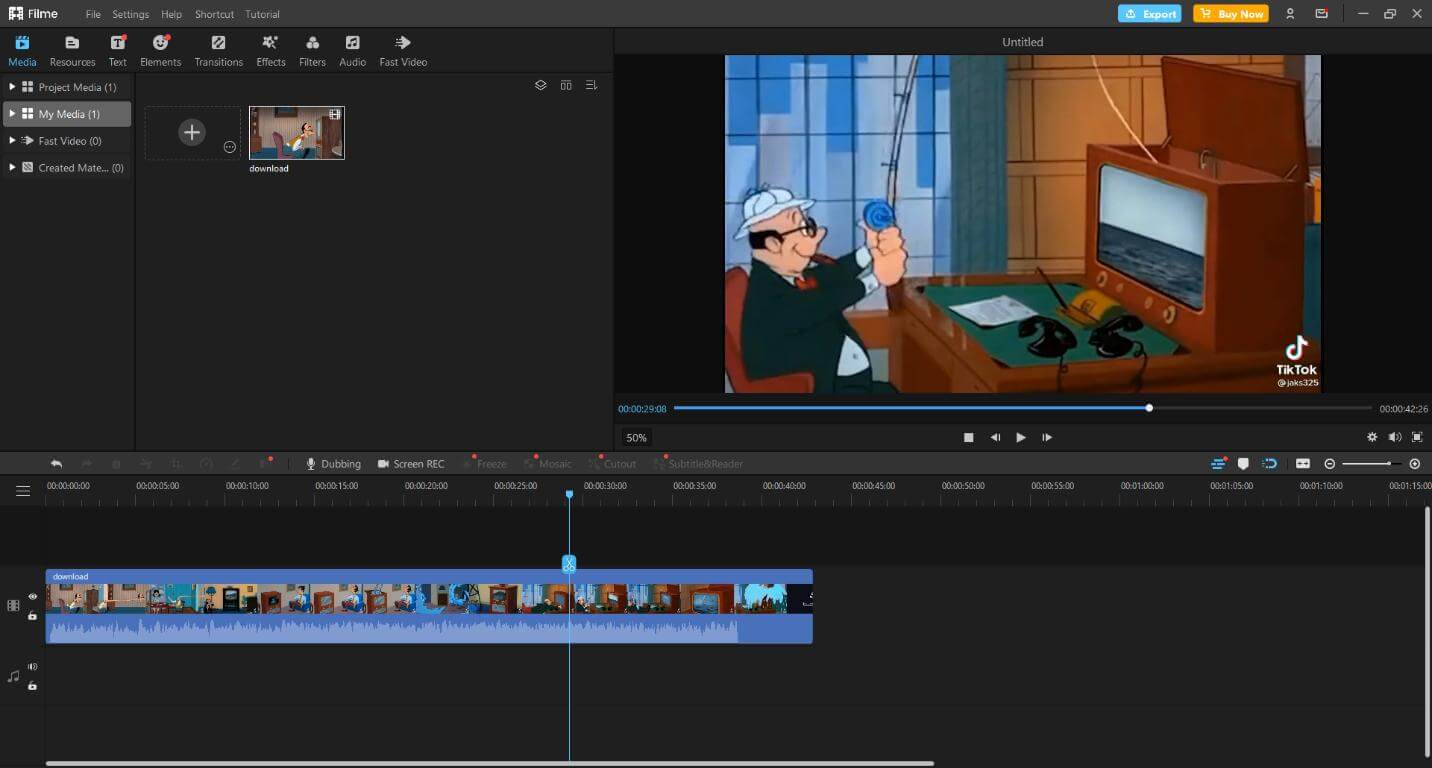 Continue editing the video by adding sounds or your favorite audio. Furthermore, you can also add transition, effects, and other frame-related editing to amplify the quality. Top MediAI is an innovative platform that promotes creativity. It is more than just an online TikTok converter!
Click on the play button to preview the video. You can make sure everything is how you want it to be. Continue editing until everything is perfect. Once you approve everything, Click on "Export." The option is present on the top right of the interface.
Once you begin the export process, you can select from numerous formats. Select MOV or mp4 since these are the default TikTok formats. However, Top MediAI online TikTok converter also offers avi, mpeg 1 & 2, Mkv, Flv, ogv, and GIF file conversions.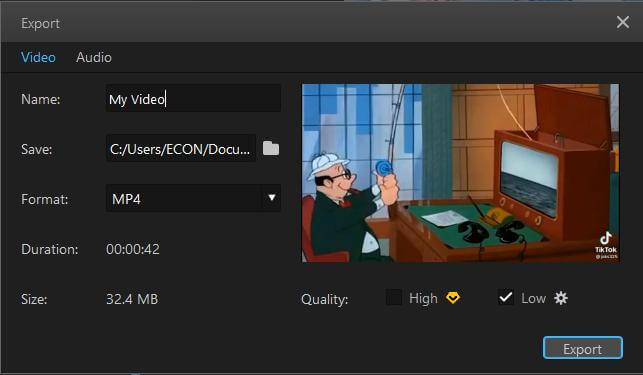 Lastly, Top MediAI is also a TikTok video to mp3 converter online. Choose the format from the Audio menu if you wish to download only the audio. Formats available are wav, aac, FLAC, Ogg, and mp3.
After selecting the suitable format, rename the project and select the save file pathway. You can choose High or Low quality accordingly. The final display will separately mention the TikTok length, size, and resolution.
When you click on settings, Top MediAI software displays FPS, bitrate, and other advanced settings. We advise maintainingMPEG-4 encoder for optimal TikTok results. Once you are satisfied with the online TikTok video converter settings, click on OK.
Click on Export and save the file.
Log into your TikTok application from your computer.
Choose the Upload Video. Select the video to share with a global audience you just created using Top MediAI.
Congratulations, you just learned to convert TikToks online with a helpful assistant.
How to perform TikTok to mp4 converter online?
TikTok allows video download on all public platforms. Their "Save Video" is a genius option so that you can play videos later on repeat. You can save cooking recipes and watch makeup tutorials in your free time. However, there is no option to convert and download the video.
If you do not wish to use software, you can use a reliable online TikTok converter. If you are presently searching for one, you have come to the right place. We present TikTok Downloader. The web-based tool is designed to download TikToks directly from your phone or computer. Get ready to watch the videos offline during your break or while traveling!
Here are the steps:
he first step involves searching for the TikTok you wish to download.
Click Share on the right handside. Choose "Copy Link" from the menu.
Open the browser on your personal computer.
ype www.tiktokdownloader.org into the search to take you to the website.
Paste the link into the search bar and click "Check Video."
Wait for the website to process the conversion.
Once successfully converted, TikTok downloader will present "Download Now" in green.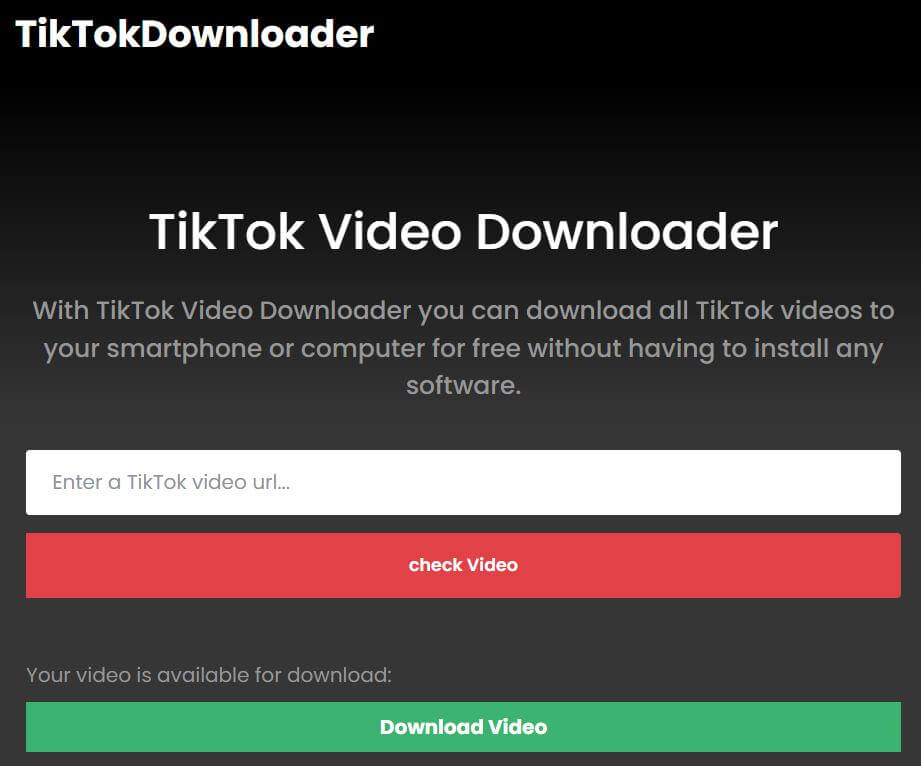 Click on Download Video, and TikTok will begin downloading in an mp4 format.
The best online video converter for TikTok
AIO Downloader
The first option on the online TikTok video converter list is AIO Downloader. The tool will easily convert your TikTok to mp4 in just a few seconds. The web-based application is very easy to use.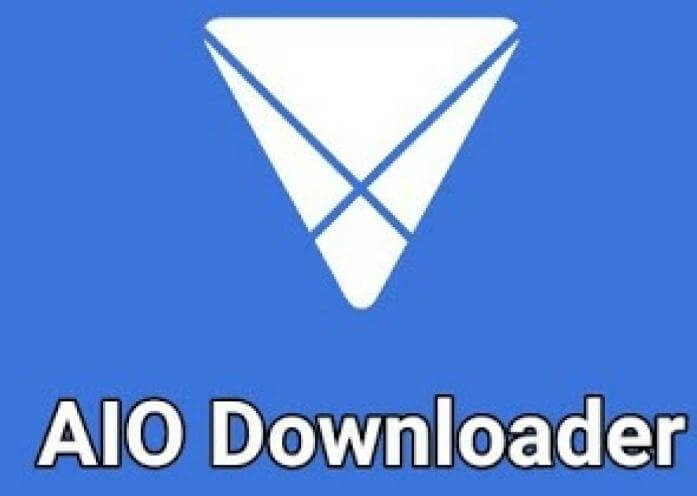 Simply copy the link to the TikTok you want to download.
Paste into the URL, and you are done!
You can download as many videos as possible using the AIO TikTok to mp4 converter online. The downloaded videos are high-quality in just a few seconds.
SSSTiktok
The second online TikTok video converter is SSSTiktok. Even though the name sounds complicated, it is very simple to use. The web-based online application will download mp4 TikToks without a watermark. Furthermore, SSSTikTok is completely free to use.
Did we forget to mention it is a TikTok to mp3 converter online too? Simply download the audio if you are not interested in the video.
Features
SSSTikTok is available in the application platform for android users to download TikTok videos.
he online TikTok converter offers mp4 video format and mp3 audio download separately.
he users will receive the download in two easy steps.
he user can instantly share the mp4 or mp3 files directly from SSSTikTok through email or instant messaging.
How to use SSSTikTok?
Copy the link of the TikTok you wish to convert.
Open the web browser and type ssstik.io/en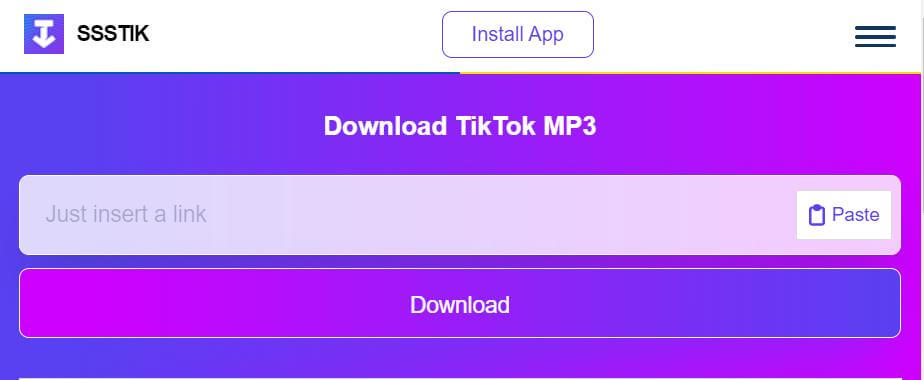 Paste the link into the search bar. Choose the "Paste" option to identify links from the clipboard directly.
Click on Download.
Save the TikTok in the intended folder to play it later.
TikMate
The list of online TikTok converters concludes with TikMate. Furthermore, it is an innovative TikTok to mp4 converter online that provides results without a watermark.
Features
he users can download TikToks in HD format.
It is not a software that requires you to download and install it separately.
ikMate requires a stable internet connection since it is web-based.
How to use TikMate?
Click on Share on the right handside of the TikTok you wish to download.
Select the copy link.
In a separate tab, visit tikmate.online

Paste the TikTok link in the search bar.
Click on the download icon to begin the process.
Save the video to the intended folder. You successfully converted a TikTok into an mp4 format.
FAQ
How long is a TikTok video?
The maximum length for a TikTok video is 60 seconds. Therefore, you can upload videos between zero and 60 seconds to your TikTok profile. However, the audience may find longer videos distracting. Keep the length to approximately 30 seconds for maximum engagement.
Are the TikTok videos possible to edit after posting?
Unfortunately, you cannot edit the videos after you have done positing them. If you wish to upload a newer video, pick a separate draft or start from square one. However, you can download and re-post the posted videos after combining them.
What is the format of TikTok videos?
The global entertainment platform supports MOV and mp4 formats. Other acceptable video formats are mpeg, MOV, and avi. The pictures support the JPEG, PNG, and JPG format. Lastly, the aspect ratio of a TikTok video is 9:16. You can also opt for 1:1
Are there online TikTok converters?
Many TikTok online converters do not require installation. However, for reliable results, we suggest working with Top MediAI. The platform installs in just a few minutes and is a credible TikTok video to mp3 converter online.
How does the online TikTok converter work?
Online TikTok video converter employs session conversion, which tracks attribution. The strategy maximizes engagement and results in top-quality entertainment.
Does TikTok have a desktop or personal computer application?
TikTok does not have a desktop application. However, you can download videos using many online TikTok converters. Many offer separate options for mp4 and mp3 formats
Can I edit the TikTok video on my computer?
Use the Top MediAI platform to add special effects, frame transitions, and custom audio to your TikTok. You can also change the resolution and alter the size too. All these features are available in a single platform so download the online TikTok converter today.
Install Top MediAI to convert TikToks
Converting TikToks sometimes requires you to add videos and images with audio. You want to be pleased with the results since a global audience interacts with them. Sometimes, the creator also requires advanced options. Therefore, use Top MediAI with the appropriate tools and formats to help you push your creative boundaries.
Top MediAI is a trusted platform by hundreds of worldwide customers. It will help you merge and convert videos in just a few minutes without lagging or compromising the quality. Top MediAI offers a 30-day money-back guarantee and a cooperative refund policy.
Download the trial version or purchase Top MediAI to experience its features in absolute completeness. For further queries, contact the customer support team. The representatives are tech-savvy and well-trained to answer questions you may have.