There come a lot of instances when you have to convert a YouTube video into a WAV or audio file in order to access it on a number of devices that do not support the video formatting. It definitely sounds like a dream come true, but you might get stuck somewhere in the middle during the process of this conversion. Therefore, it is quite necessary that you know about the right tools that would help you in this regard.
In this article, we will have a look at some of the best YouTube to WAV converters that you can access online over the internet. So, let's get started.
Part 1: Top 6 Popular YouTube To Wav Converters
Some of the best YouTube to WAV converters that would actually make your conversions a lot easier are as follows:
Tips
Hunting for a tool to erase image background? Why not try a professional remover TopMediai to remove backgrounds 100% Auto with AI-powered Technology within 5 secs in 1 click.
The company's most current offering is Filme video editing tools. It's a simple-to-use video editor capable of performing a variety of video editing tasks, from basic to advanced. It can be used as a visual studio for loved ones, to post on social networking sites, and to use for commercial purposes.
You can conveniently transform MP4 to MP3 with the help of this program. This is how to get started:
Step 1: Import Source Media
First things first, import the MP4 or YouTube file that you want to convert in WAV or MP3 format. To do this, go to the "File" tab in the menu, and select "Import Media."
Choose one of the following options according to your requirement: Import Files, Import File Folder, Import from my phone, or Import files from a wireless network.
Step 2: Add Media to Timeline
In order to import the file, go to "My Media." Choose the file, and drag and drop it into the iMyFone Filme sharing space. Alternatively, you can manually add the file by clicking the + button.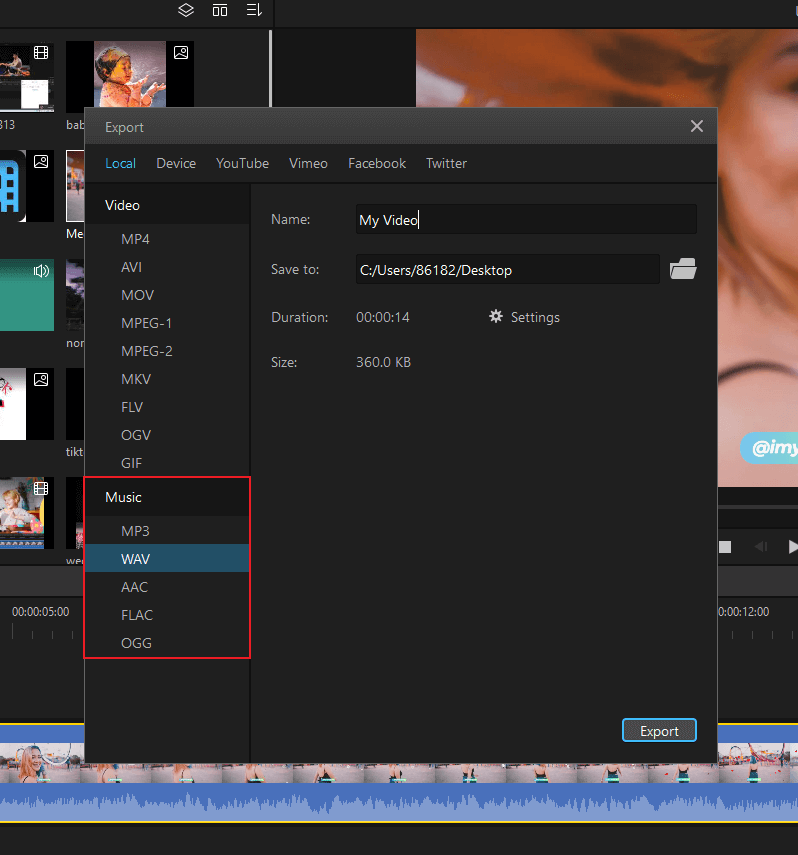 Step 3: Convert MP4 to MP3 in 3 Seconds
Once the video has uploaded in the interface, go to the "Export" tab, and select te format you wish to save your video into. It can be MP3, WAV, AAC, FLAC, and OGG.
Change the name of your file or audio in the title bar. Additionally, you can customize the saving path by clicking the folder icon at the end of saving bar.
Now, press the "Export" button in the bottom right side of your screen to save and export your changes.
Key Features
You can produce amazing slideshows in a matter of seconds by using sleek templates.

Share memorable events such as birthdays, marriages, travel, and festivals.

Cutting/trimming, cropping, splitting, rotating, changing the pace, and creating picture-in-picture effects are all easy to do without any technological knowledge.

There are numerous effects options available to you for incorporating filters and transitions into your digital stories to construct vibrant and elegant digital narratives.

Include several transformations in your video to confound your social network fans.
2.iTubeGo
iTubeGo YouTube Downloader is an excellent application for streaming videos from YouTube and other websites. The UI is very simple to use and maintain.
Key Features
Download video files from websites such as YouTube, Facebook, Instagram, Dailymotion, Vimeo, and TikTok.

Video resolutions of 480p, 720p, 1080p, 2K, 4K, and 8K are supported.

Audio extracted from video is saved in high-quality 320kbps format

Turbo quick mode – enables rapid downloads.

Supports bulk video downloads.

Download subtitles of any YouTube videoin SRT format.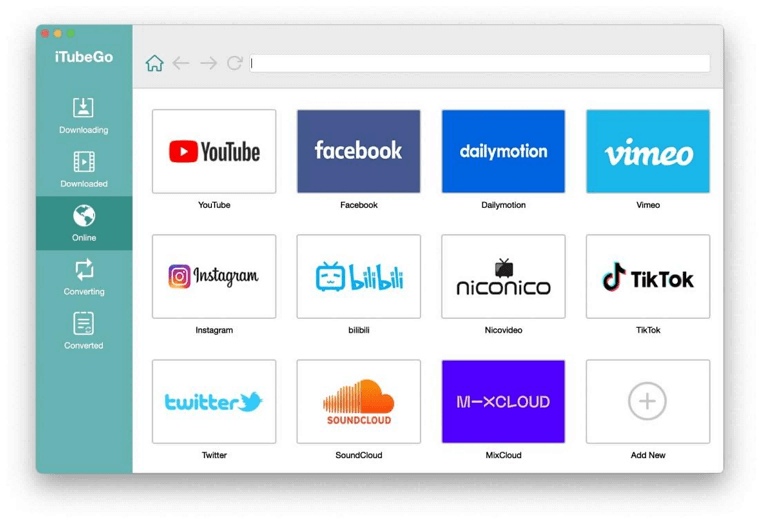 3. Snapdownloader
SnapDownloader is a video downloader that enables you to download videos in high definition from over 900 different websites worldwide. The best thing is that you get to pick the download resolution.
<
Key Features
Convert videos easily to MP4 or MP3 format.

Download videos of 8K, 4K, 2K, 1080p, and 720p.

It enables bulk downloads, which means that you can easily stream several videos at once.

Additionally, you can schedule the download time and date beforehand
4. 4K Video Downloader
4K Video Downloader is a fantastic piece of software for uploading high-quality videos and audios. The best thing is that the free edition has a slew of fun functionality and is completely self-contained in terms of streaming videos without sacrificing quality or pace.
Key Features
Configures an in-app proxy to circumvent geo-restrictions.

Along with photographs it extracts subtitles as well

Get videos in 4K resolution, and even up to 8K.

Downloads whole YouTube playlists or channels with one click.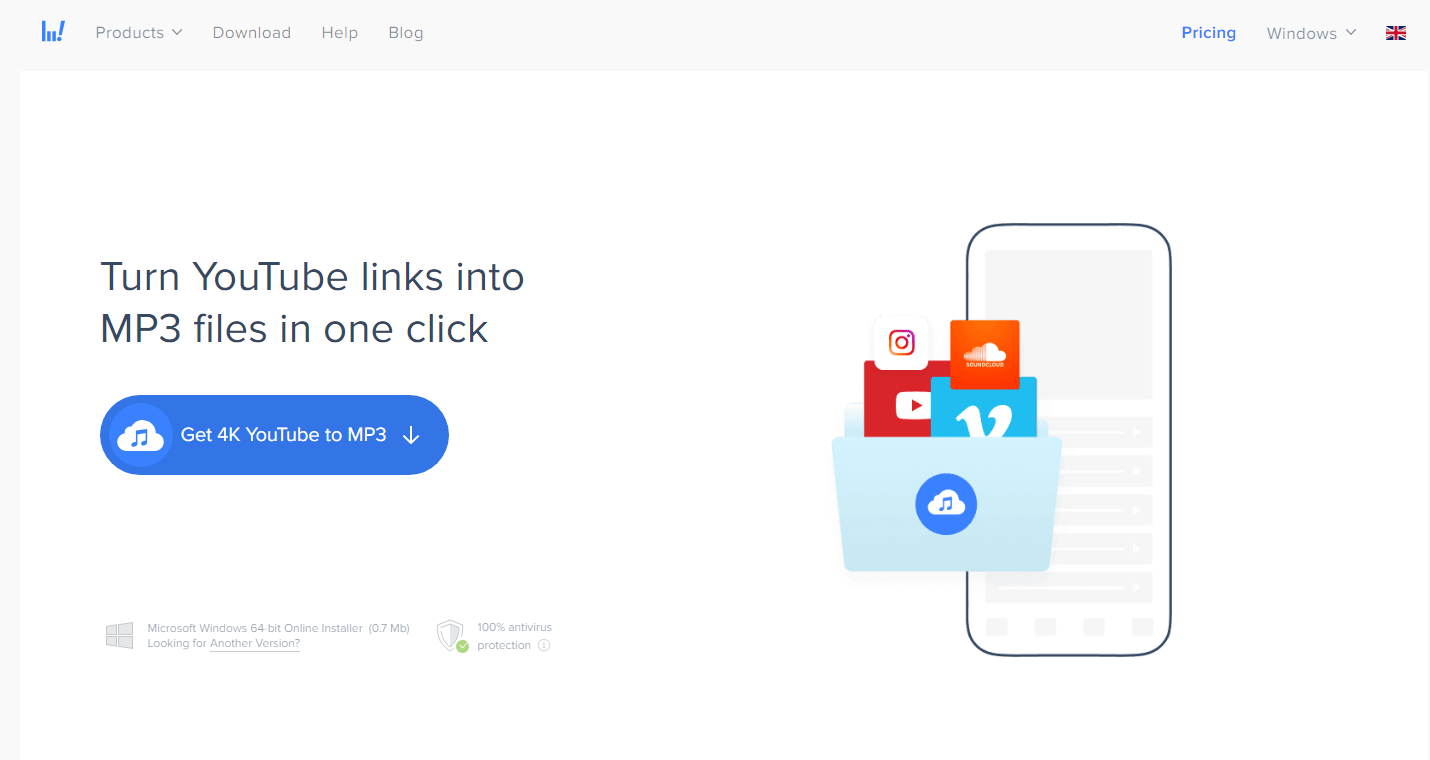 5. Movavi
Movavi is a single easy-to-use software that takes care of everything! It is renowned for its support for a large variety of media formats and mobile devices, as well as for its high-quality file encoding and quick operation.
Key Features
Converts media files to over 180 different formats

Compress images without sacrificing efficiency

Inserts accurate subtitles very easily

Allows you to export your files to iTunes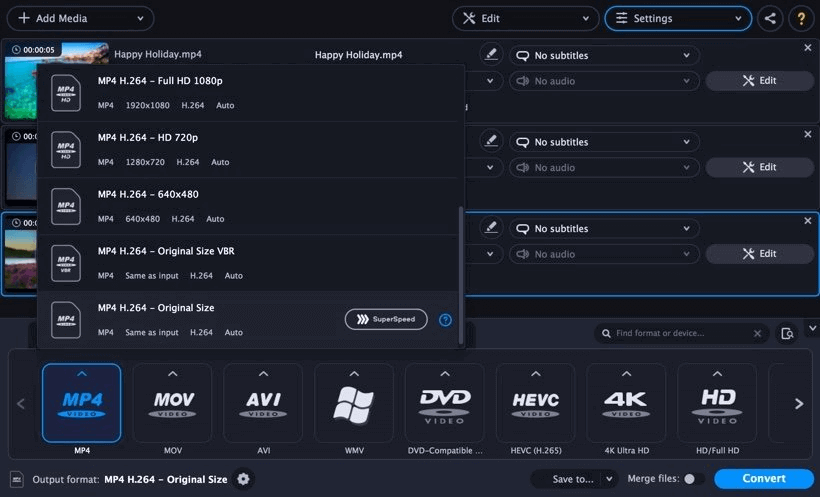 6. VideoProc
VideoProc is the simplest video editing app that is also the lightest, fastest, and most user-friendly. The maximum GPU acceleration function of this tool is its distinguishing feature, as it allows it to process video at a breakneck pace without sacrificing output.
Key Features
Conversion to different audio files, including MP3, AAC, PCM, FLAC, AC3, OGG, and WAV.

Audio extraction from recording

Convert audio files to MP3 or video files to MP3
Part 2: Top 5 YouTube to WAV Converter Online
#1 YouTube2Video
YouTube2Video is a free online converter that converts YouTube videos to Wav files. With only a few taps, the online program will transform videos from YouTube and Vimeo to WAV format. The video quality and audio output format can all be customized using the software.
Key Features
Supports a wide range of audio and video types.

YouTube videos can be converted to WAV, MKV, 3GP, FLV, AVI, and MP4 files.

The Android operating system is supported.

The websites YouTube and Vimeo are supported.
How to Convert?
Simply follow its URL
Paste the URL of the video you wish to export in WAV format
Press "Convert Video"
#2 YTBTO
YTBTO is an online video to audio converter that is super fast. The multimedia converter application enables you to transform video files from YouTube and Vimeo to Wav and MP3 audio formats.
Key Features
Convert audio and video files to Wav, MP4, AVI, MKV, and Webm.

Supports the YouTube and Vimeo video sharing sites.

Convert data on mobile devices running Android.
How to Convert?
Follow the URL
Paste the URL of YouTube video, and press "Convert it"
#3 Youtube Converter.one
You can quickly save videos from YouTube and save them to your computer for later replay with YouTubeConverter.one. When you're on the move or in a place where you don't have access to the internet, this is particularly helpful.
Their online media downloader is compatible with a wide range of music and video file formats. More specifically, it works on every platform, like macOS, Windows, Android, iOS, and Linux. From YouTube, you can get an MP3 file.
Key Features
100% FREE: Our video download service is totally free, and you can use it without paying anything.

There are no limitations: You can import as many videos as you want with no limits.

Fast loading speed: You can download YouTube videos at the fastest possible speed using our YouTube downloader. There is no throttling of the download speed.

Support for all operating systems and browsers: Our tool is compatible with all operating systems and browsers. You can download videos from YouTube regardless of whether you're using Windows, MacOS, Linux, iOS, or Android, as long as you have a web browser on your computer.

YouTube to MP4 Converter: The MP4 video format is very common. Our tool allows you to quickly and conveniently transform YouTube videos to MP4. You can safely and quickly download YouTube videos to MP4.

YouTube to MP3 Converter: The most used music file format is MP3. You can also transform YouTube videos to MP3 using our software. It enables you to save MP3 files from YouTube.
How does it work?
1. Copy the YouTube video's link to save it to your device.
2. Copy the video link and paste it into the search box, then click Convert.
3. YouTubeConverter.one performs a scan and displays all available downloads. To save the video to your browser, right-click on the download link and choose Save As / Download.
#4 SaveTheVideo.com
SavetheVideo.com is a free online service that enables you to import and transform videos from a variety of social media platforms to over 400 different audio formats.. Additionally, you can run a laptop edition of the package on PCs and Macs.
Key Features
Supports the following platforms: YouTube, Facebook, Twitter, Instagram, Vimeo, Reddit, Tumblr, and SoundCloud.

You can export videos to a variety of standard audio formats, including Wav, MP3, MP4, AAC, M4A, AVI, and WEBM

Supports a total of nine languages, including French, German, Arabic, etc
How to Convert?
Go to savethevideo.com/convert, and paste the URL of YouTube Video
Click on the "Convert" button

#5 YouTube-WAV
YouTube-WAV converter is a free online tool that allows you to convert YouTube videos to the WAV audio format. The software lacks advanced video editing capabilities. Rather than that, it excels at converting audio formats to WAV.
Key Features
Supports YouTube, Facebook, Vimeo, Yoku, and Yahoo, as well as 200+ other websites.

Notification via email of converted files.

Copy and paste a link or upload files to convert.
Part 3:FAQs About YouTube To Wav Converter Tools
1 What is a YouTube Wav Convertor software?(please recommend Filme)
The YouTube to Wav Converter application transforms a YouTube video into an audio file. The program is primarily intended for professionals who want to transform a video to a direct, uncompressed audio format suitable for recording or mixing.
2 What is a WAV audio format?
WAV is a Microsoft and IBM-developed raw audio file. The format contains details about the audio file, such as its bitrate, sampling rate, track numbering, and audio data.
1 What are the uses of the YouTube Wav Converter app?
You can remove audio or speech from Video files without loss or compression. It is also used in CD-based audio files.
3 What is the best audio format – Wav or MP3?
For the majority of consumers, the optimal audio type for streaming YouTube videos is MP3. As opposed to the WAV format, the compressed format consumes significantly less volume. However, if you want the highest possible sound level, you can use the Wav file format.
4 How to Convert YouTube to Wav audio format?
Converting YouTube to Wav is easy. Simply paste the video's relation into the search bar and press convert. The app will present choices for audio format and video quality selection.
5 What are Constant Bitrate (CBR) and Variable Bitrate (VBR)?
CBR is available in bitrates ranging from 32 Kbps (low quality) to 320 Kbps (High Quality). VBR values vary between 0 (high quality) and 9. (low quality). Bear in mind that higher-quality files have a greater file capacity.