Using online voice generator is a convenient and cost-effective way to create voiceovers for various types of content, such as videos, podcasts, phone systems, and chatbots. These generators offer a wide selection of voices and languages, which can help businesses and individuals save money on expensive voiceover services. Moreover, online voice generators can be easily accessed without the need for downloading or installing any software.
In this article, we would list the 5 best online voice generators for you chooose from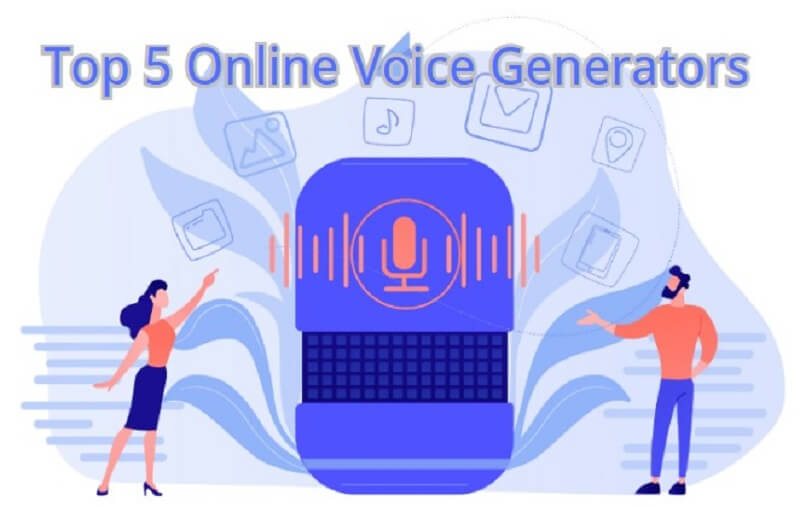 Part 1: [Recommend] Bset 5 Online Voice Generators For PC
The Text to Speech service provided by TopMediAi is an advanced online voice generator that utilizes artificial intelligence technology to create high-quality and natural-sounding voiceovers. This tool has completely transformed the process of generating voiceovers for a wide range of projects, including commercials, podcasts, and videos.
AI voice generator provide a fast and affordable solution for producing top-notch voiceovers without relying on a professional voice actor or a recording studio. These generators offer numerous customization options, enabling you to modify the pitch, speed, and tone of the generated voice to match your specific requirements. With the use of these tools, you can produce high-quality voiceovers.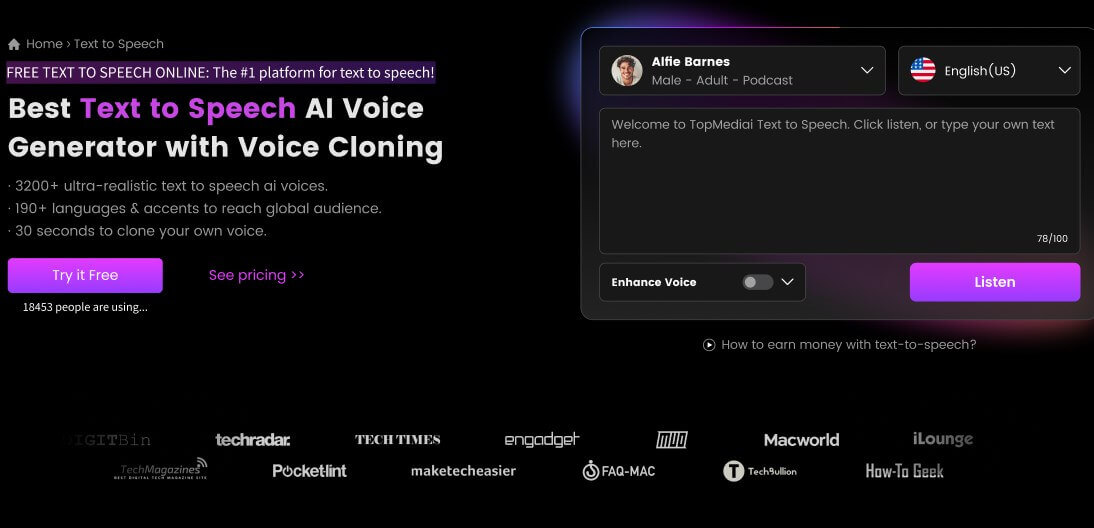 Key Features:
It offers a wide selection of over 70 languages, which allows for improved comprehension and communication in various contexts.
It has a library of 3200+ voices like Mickey Mouse,etc.
It supports multiple voice formats.
Multiple celebrity ai voices are supported, like Selena Gomez, Andrew Tate and Elon Musk.
2. Voxbox
iMyFone VoxBox is a cutting-edge TTS voice generator that provides an extensive collection of voices and languages. It offers a diverse selection of character voices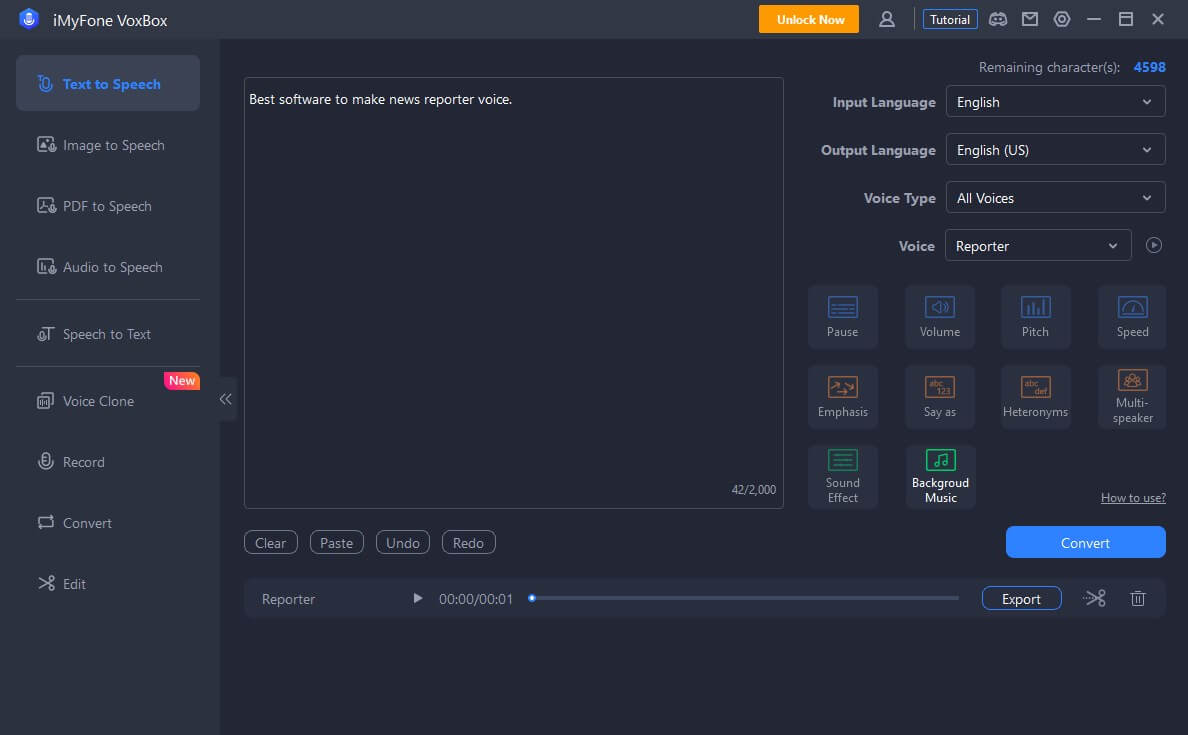 Key Features:
It offers a range of other useful functions, such as speech-to-text, voice recording, video conversion, audio editing, and voice cloning.
It also support adjustable parameters, such as pitch, pause, speed, emphasis, and volume, for fine-tuning your voiceovers.
support several audio formats, including WAV, MP3, OGG, and more
Simple User-Interface
3. Murf.Ai
Murf.ai is an AI voice generator that produces natural-sounding voiceovers for various types of content, including videos. This tool uses a deep learning algorithm to generate a voice that is tailored to match the tone and style of the text.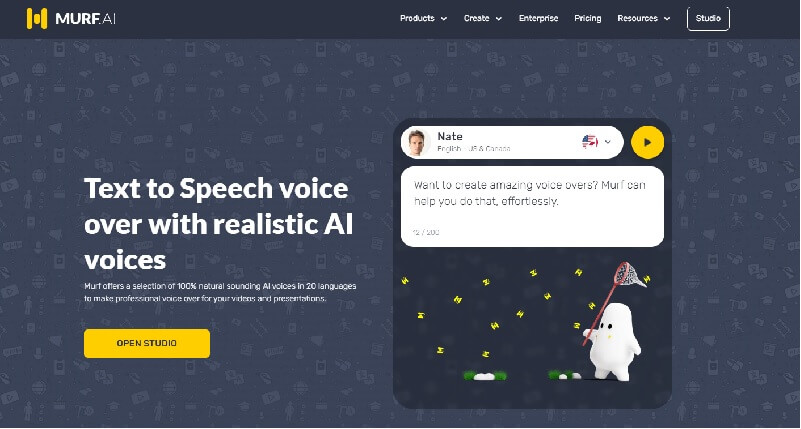 Key Features:
This voice generator offers a diverse selection of over 130 voices across 20 different languages, allowing for greater flexibility in creating voiceovers that cater to a variety of linguistic needs.
The Murf studio includes a timeline feature, which enables users to synchronize the generated voiceovers with the accompanying video or audio content more easily.
Murf Studio provides a collection of pre-existing royalty-free audio files that users can utilize for their projects without having to pay additional fees.
Easy-to-use & safe.
4. Fake you
Fake You is an online voice generator that offers over 1000+ different voices to choose from. This tool also supports the conversion of text into natural-sounding voiceovers, providing users with a more efficient and effective way of generating high-quality voice content.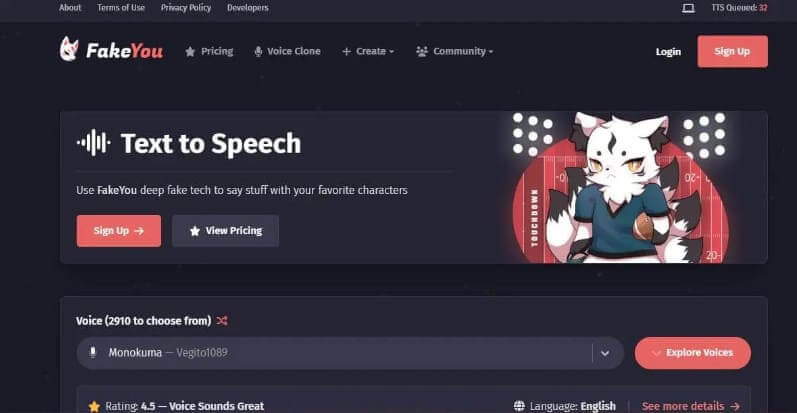 Key Features:
The list of categories to choose from includes anime, cartoons, games, movies, and more.
it also has different characters voices
It is capable of quickly creating text-to-speech output.
There is no need for users to register, and they can freely download the generated audio.
5. Resemble.Ai
Resemble.ai is a service that enables users to quickly clone any voice with high realism. This voice cloning technology can be used to create custom voices for video games, videos, and other content. Resemble.ai also offers a range of customization options, including the ability to adjust the tone and emotion of the voice, and has a library of pre-existing voices to choose from.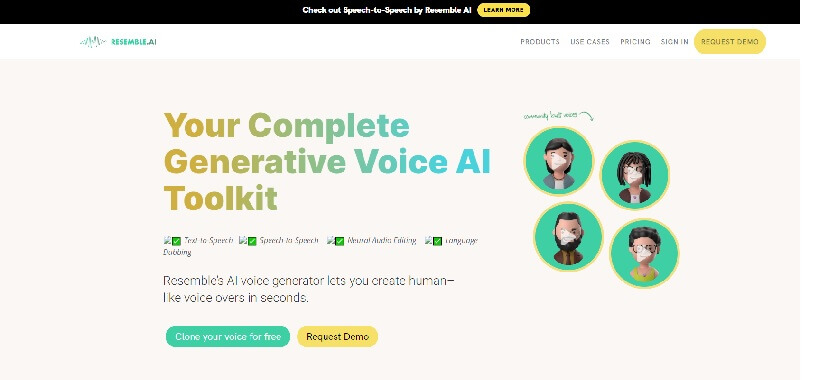 Key Features:
With a real-time speech-to-speech function, you can convert your own voice to match the target voice.
Realtime Voice Cloning.
The service allows for the seamless combination of both natural and artificial voices to produce the desired voice output.
Flexible APIs
Part 2:FAQs about Best AI Voice Generator Online
1What is an AI voice generator online?
An AI voice generator online is a tool that uses artificial intelligence and machine learning algorithms to generate human-like voices for various purposes such as voiceovers for videos and virtual assistants.
2How does an AI voice generator work?
An AI voice generator works by analyzing input text and using deep neural networks to generate speech. The software can generate voices with different accents, emotions, and tones, and can even imitate the voice of a specific individual.
3Can AI voice generators be used for commercial purposes?
Yes, many AI voice generators are specifically designed for commercial use, such as in voiceovers for videos and virtual assistants. However, it is important to check the licensing terms of the specific tool you are using.
4Are AI voice generators more cost-effective than hiring voiceover artists?
Yes, in most cases, using an AI voice generator is more cost-effective than hiring a professional voiceover artist. AI voice generators can produce high-quality voices quickly and at a much lower cost than hiring a human voice actor.
Conclusion:
To save both time and money, many people opt for
AI voice generator online
to produce voiceovers for their animated series, cartoons, movies, films, and TV shows. In this article, we have compiled a list of the top 5 online voice generators, and I highly recommend
Topmediai online voice generator
without compromising on the quality of the generated voices.