TikTok is a popular social media platform that allows users to create and share short videos with their followers. It has become a cultural phenomenon, particularly among younger generations. With the TikTok text to speech voice generator, users can overlay text onto their videos and have an AI-generated voice read it aloud, adding a new dimension to their content.

In this article, we will suggest some good choices for you.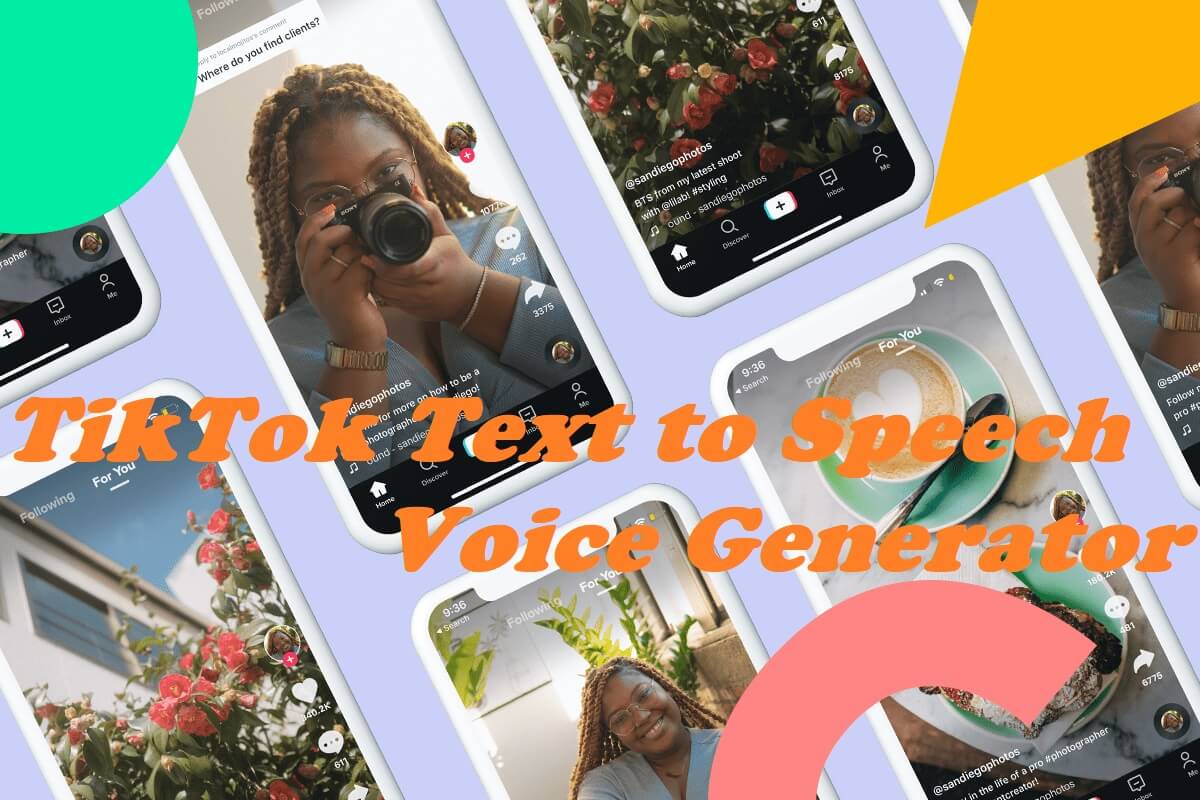 Part 1: TikTok Latest Addition: TikTok Text-to-Speech Voice Generator Feature
One of the features that make TikTok stand out from other social media platforms is TikTok Text-to-Speech function, which allows users to add voiceovers to their videos using automated speech generated from written text. This feature provides a quick and easy way to add captions or voiceovers to videos without having to record audio separately.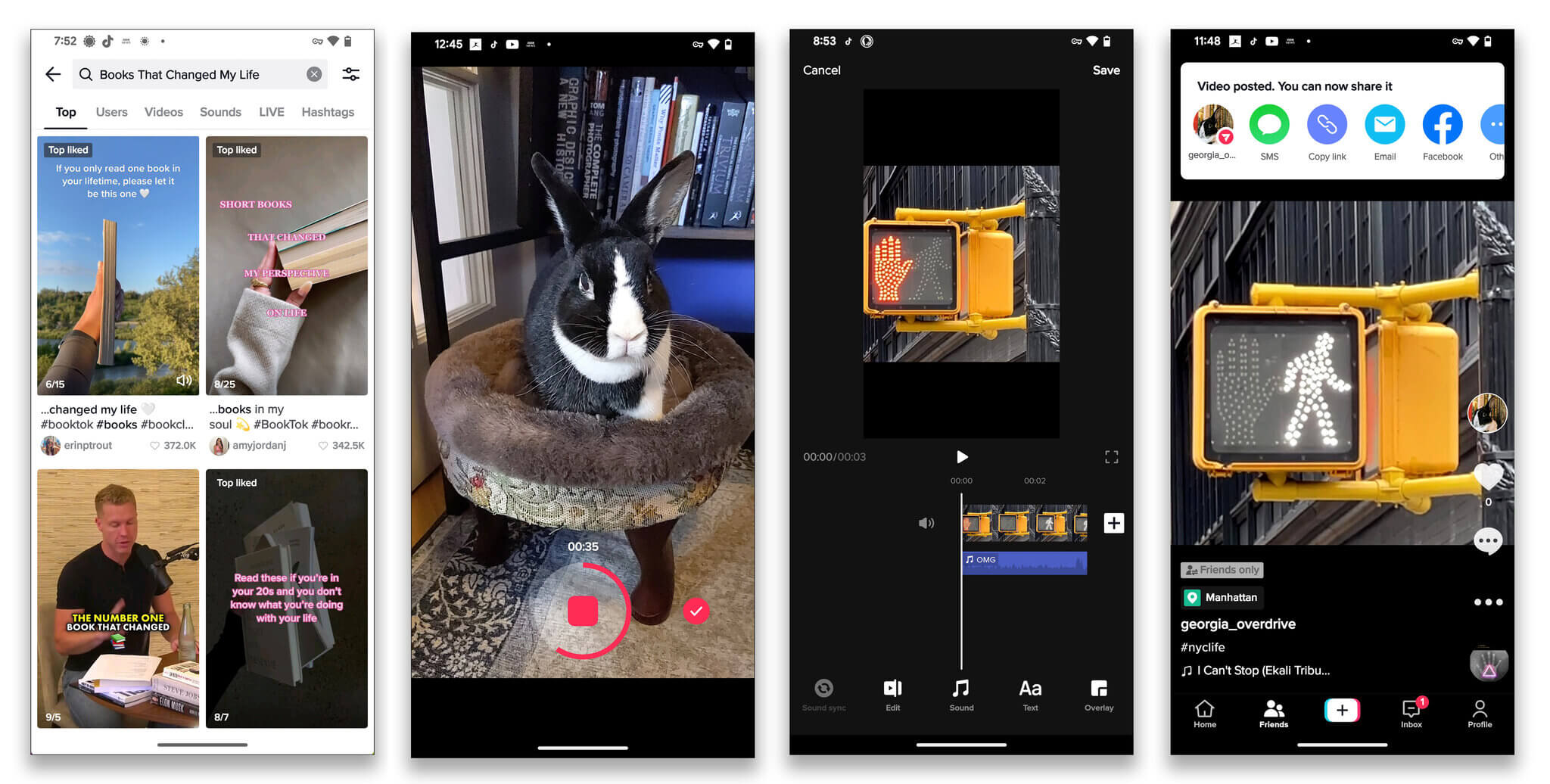 TikTok voice generator supports a variety of languages and accents, allowing users to generate speech in different voices. The feature is particularly useful for creating videos that are more accessible to users who are hearing-impaired or have difficulty understanding certain accents. Overall, TikTok TTS feature adds a unique dimension to video creation, making it more fun and accessible to a wider audience.
Part 2: 3 Top Tiktok Voice Generator Recommended
By using TopMediai TikTok text-to-speech generator, you have the ability to create unique audio clips featuring the beloved voices of your favorite characters from the show. You can either write your own scripts or input existing dialogue and let the generator take care of the rest, providing you with a fun and personalized experience.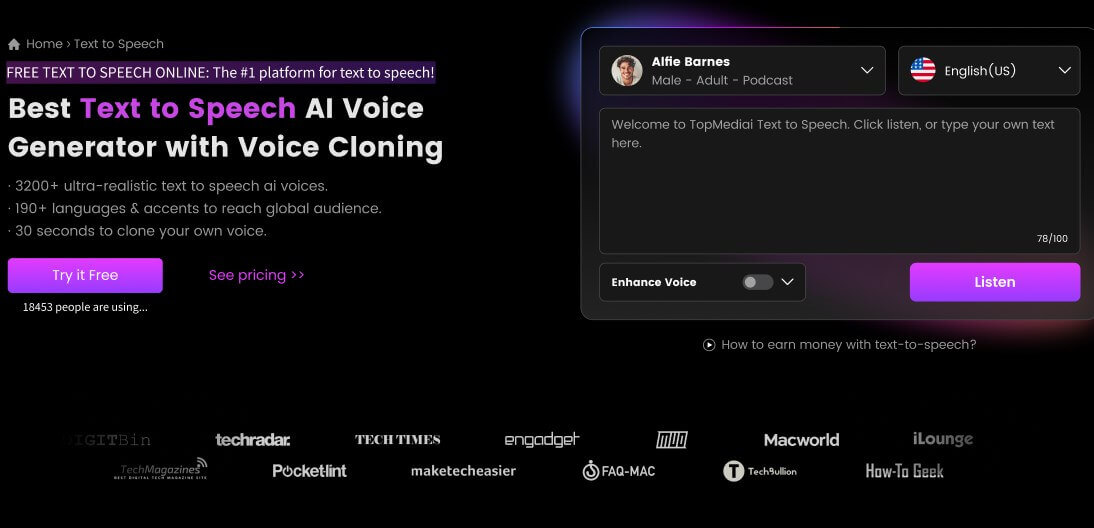 Here is the picture guide to use TopMediai: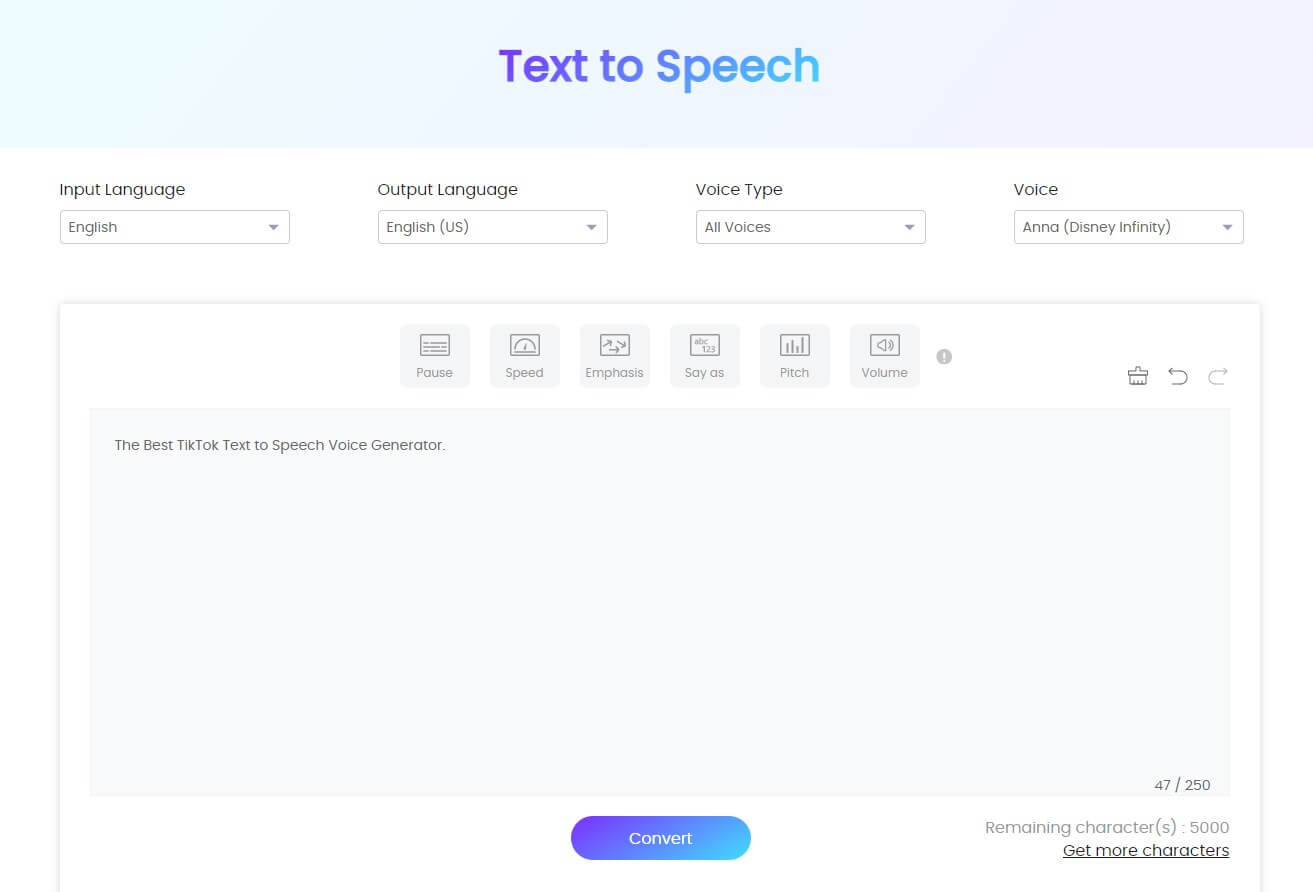 Features:
Offers over 3200 voices such as SpongeBob, Squidward, etc.
70 plus languages you can access.
Allows users to customize speech speed, tone, volume, pitch, and say as.
Users can generate their own voice as a celebrity, including Donald Trump, Joe Biden, and so on.
The TikTok text-to-speech conversion is extremely fluent.
It can generate human-like voices for various purposes.
Pros
High-quality and legitimate voices.

The text can be converted to voice within few seconds.

User-friendly interface with different options.
Cons
You need to use it with good Internet connection.
2. Fakeyou
Fakeyou is an online voice generator that uses machine learning technology to generate high-quality deep fake voices instantly upon receiving a single-click instruction. It offers a wide range of voice options, including voices of famous characters, musicians, and celebrities.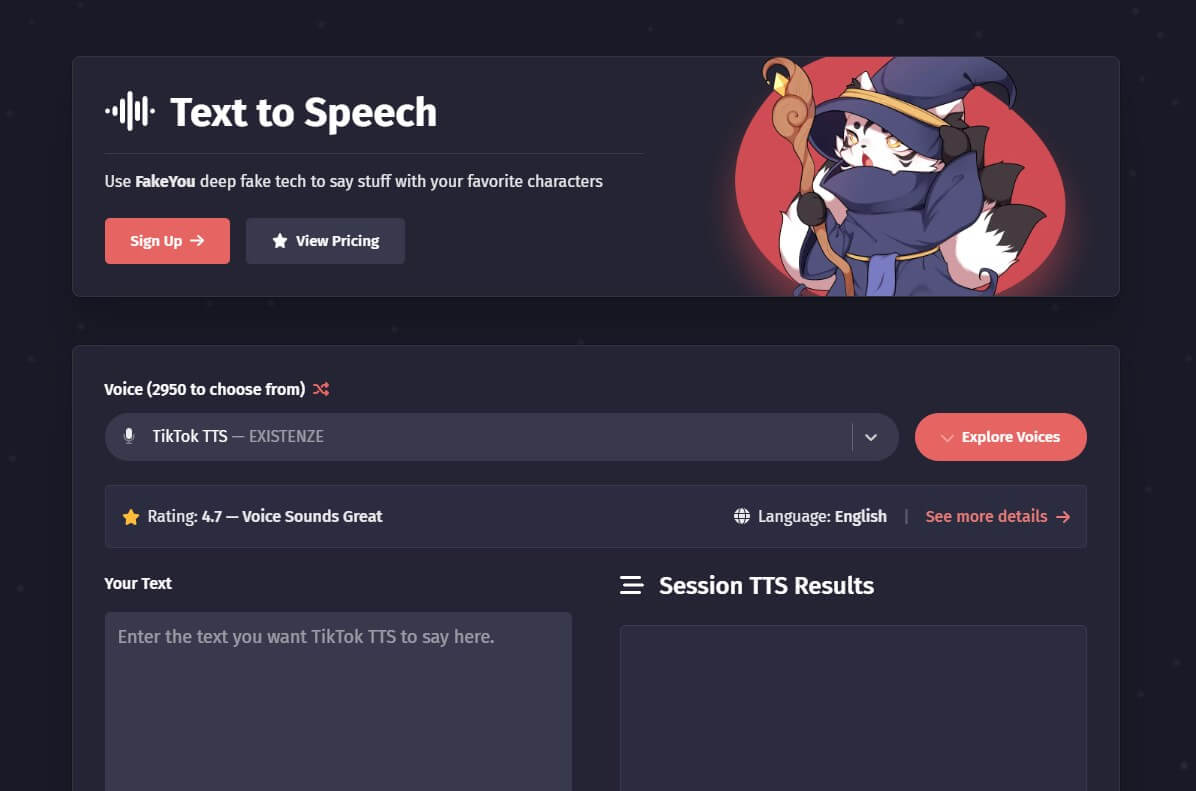 Features:
2400+ voices are provided with a unique identity.
Free to use on any device through a web browser.
It is popular for fast conversion rate and intuitive interface
Encourages users to edit the voices for better output.
Pros
A free TikTok text-to-speech generator.

Offers multiple language categories for engagement
Cons
You cannot convert the text to your own recorded voice.

You may face delays if you have a slow internet connection.
3.VoxBox
VoxBox is a TikTok voice generator that can perform multiple functions simultaneously. It boasts a modern and flexible design, ensuring 100% accuracy and clarity of results. With its intuitive interface, even beginners can comfortably use this software. VoxBox also offers video tutorials for new users to further simplify the learning process.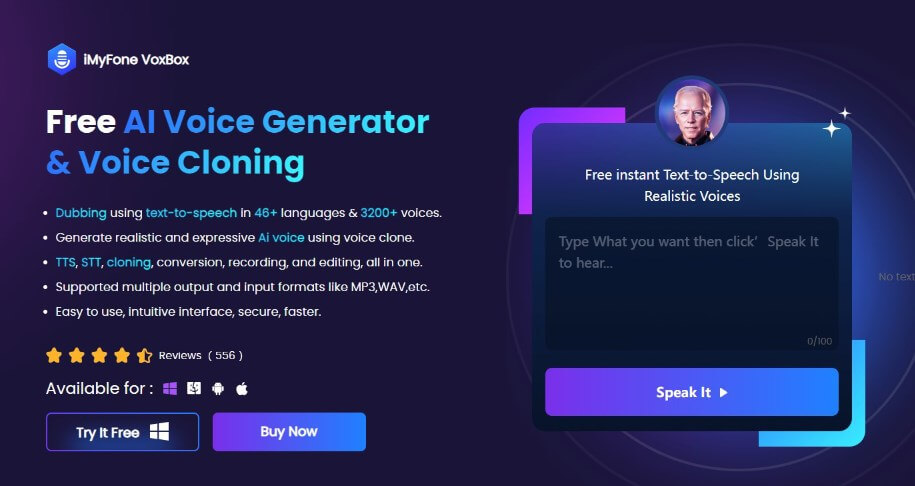 Features:
A wide selection of over 3200+ voice effects.
It can be used on various platforms like TikTok, Youtube, Instagram, and so on.
Input and output the audio in different formats.
Functions like Text-to-speech, speech-to-text,voice record, video convert, etc.
100+ country accents you can change.
Pros
Flexible Software.

Natural soundings are generated
Cons
Part 3: FAQs about Tiktok AI Voice Generator
1What is Tiktok Voice Generator?
Tiktok Voice Generator is a text-to-speech feature added to the popular social media platform Tiktok. It allows users to add voiceovers to their videos using an AI-generated voice reading out text that they type into the app.
2How do I use Tiktok Voice Generator?
To use Tiktok Voice Generator, you first need to create a video on Tiktok. Then, when editing your video, tap the "Text-to-Speech" option, which will allow you to type in the text you want the AI voice to read out. You can choose the language and the voice style, and then tap the "Generate Audio" button to create the voiceover.
3Can I customize the voice generated by Tiktok Voice Generator?
Tiktok Voice Generator provides a few options for customization, such as the language and the voice style. However, you cannot change the pitch, tone, or speed of the AI-generated voice. If you want more control over the voiceover, you may need to use a third-party text-to-speech tool outside of Tiktok.
Conclusion Instead of using TikTok text to speech voice generator itself, you can use another AI voice generator to create synthetic speech that sounds natural. AI voice generators utilize sophisticated machine learning algorithms to produce high-quality audio, which can be used in a variety of applications such as audiobooks and podcasts.

One such Tiktok AI voice generator that I would recommend is TopMediai, which offers a wider range of voices and languages.