Will Smith is an iconic actor, producer, and rapper known for his dynamic performances and charismatic personality. As technology continues to advance, we are now seeing the emergence of voice generators that can replicate celebrity voices, including that of Will Smith.

In this article, we will explore the concept of Will Smith text to speech and Will Smith voice generator to help you make Will Smith voice over with ease!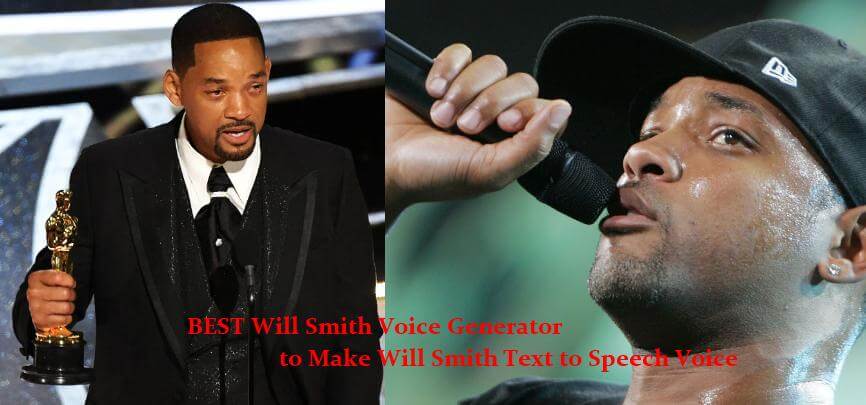 Part 1: Who is Will Smith?
Will Smith is a renowned rapper, actor, and Hollywood A-lister. Born and raised in Philadelphia, he started rapping at the age of 12 and later formed the music duo DJ Jazzy Jeff & The Fresh Prince with Jeff Townes at 16.

Their clean, comedic rap music was widely popular, earning them a Grammy in 1989 for Best Rap Performance. Smith then transitioned into acting, starring in the TV sitcom The Fresh Prince of Bel-Air for six seasons.
His acting career skyrocketed with hit movies such as Bad Boys (1995), Independence Day (1996), Men in Black (1997), Ali (2001), and The Pursuit of Happyness (2006), earning him Oscar nominations for his performances. Smith continues to act in various genres, including drama, action, and comedy.

Part 2: BEST Will Smith Text to Speech Generator Recommended
1.TopMediai for Will Smith Text to Speech
TopMediai is a powerful online text to speech voice generator that is changing the way we interact with audio content. With over 3200 AI-generated voices and support for more than 70 languages, TopMediaAI makes it easy to create custom voiceovers for any project.
What's more, TopMediai offers the unique Will Smith text to speech voice, allowing users to create custom voiceovers in the voice of the iconic actor and producer.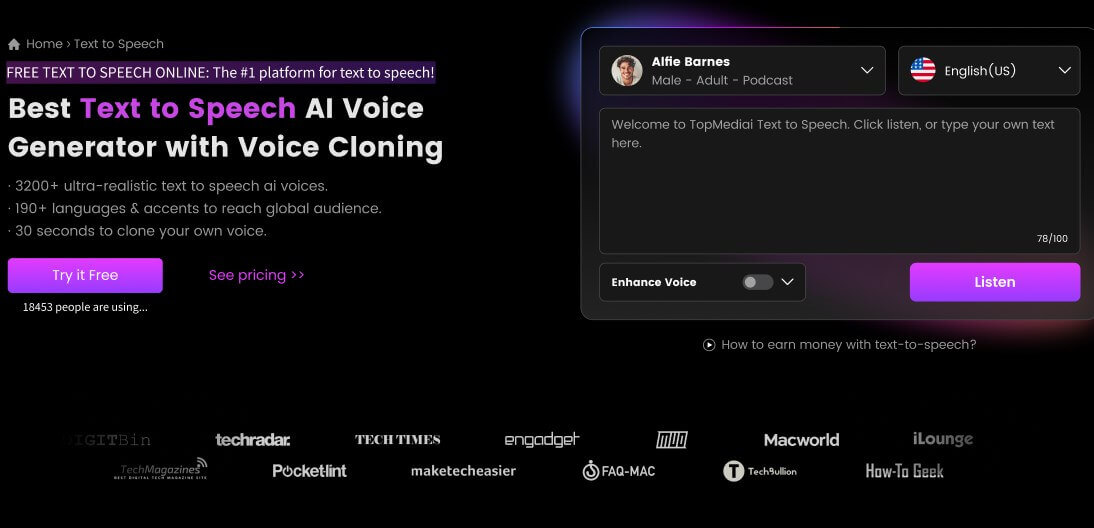 How to Utilize Sam Smith Voice Generator:
Step 1: First, visit Topmediai text to speech online to have a quick browsing of our tool.
Step 2: Search Will Smith in a direct way as you can see in the picture.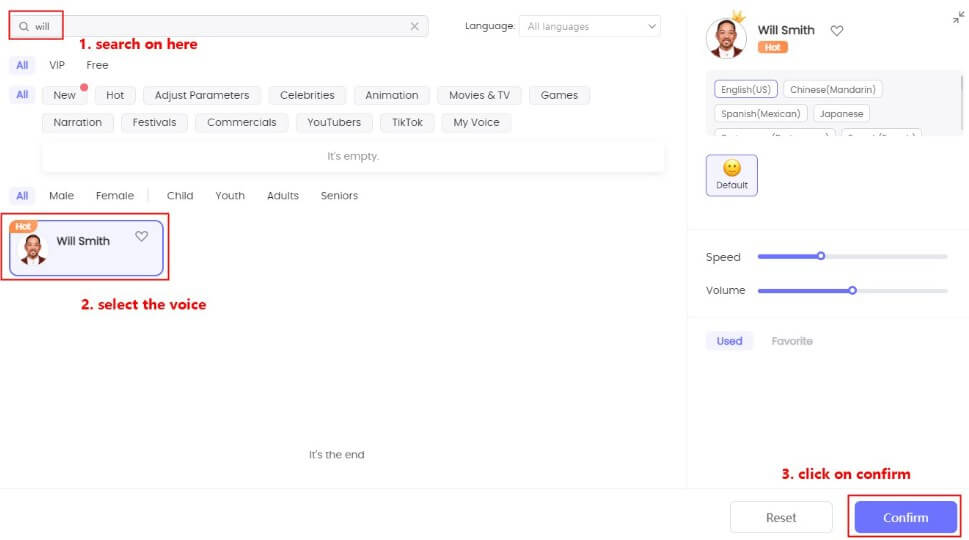 Step 3: Put in or paste down your text.
Step 4: Click on Convert and then feel free to preview or download.
Whether you're a content creator, marketer, or individual looking to enhance your audio content, TopMediaAI is the perfect tool to bring your vision to life.
Key Features:
Over 3200 AI-generated voices to choose from, including the unique Will Smith text to speech voice.
Supports more than 70 languages, making it easy to create custom voiceovers for a global audience.
Customizable voice parameters, allowing users to adjust the pitch, speed, and emphasis.
Affordable pricing plans, making it accessible to individuals and businesses of all sizes.
Fast turnaround time, allowing users to create and download their voiceovers quickly.
Many other celebrity ai voices are accessible.
2.101soundboards to Get Will Smith TTS Rapping
In the world of text-to-speech technology, 101soundboards.com stands out as a unique platform that offers an extensive collection of sound effects, celebrity voices, and more. One of the highlights of the website is the Will Smith text-to-speech voice, which harnesses the iconic sound of the Hollywood A-lister, rapper, and actor.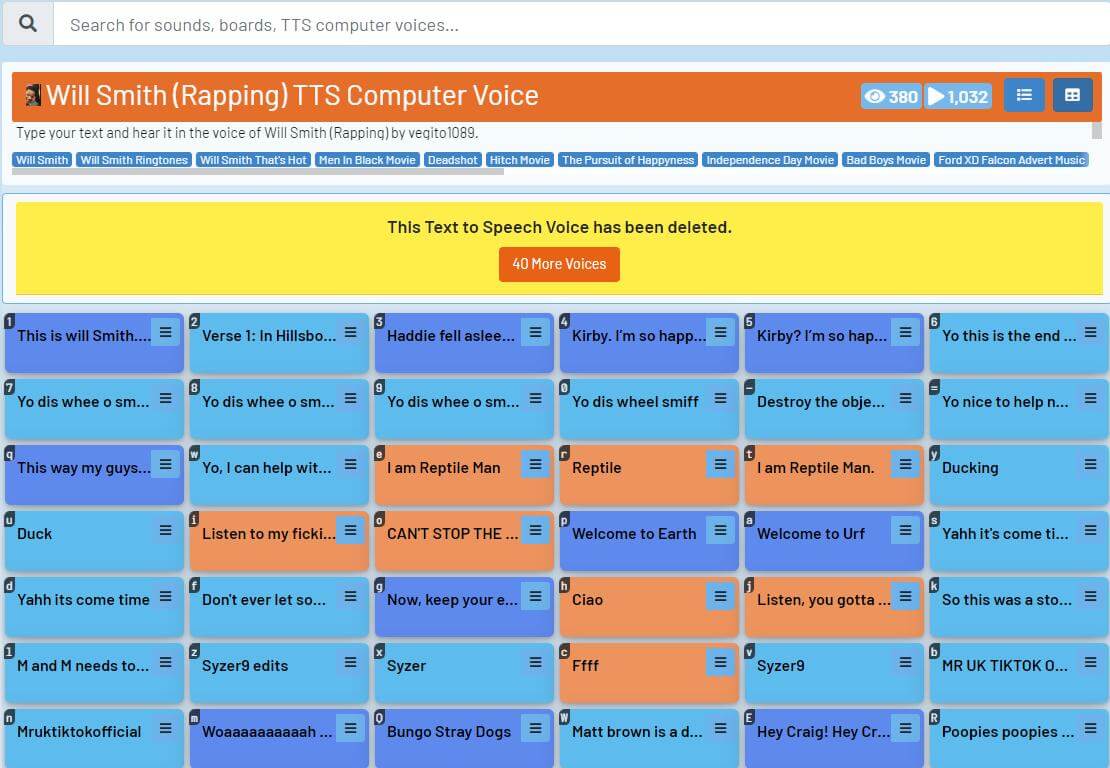 Key Features:
Allows users to generate engaging and realistic audio clips.
An excellent resource for those seeking creative and unique audio experiences.
Multiple sound effects to choose from.
For entertainment, e-learning, audiobooks, marketing, or accessibility purposes.
High-quality audio output.
Part 3: Hot FAQs about Will Smith
1 Why did Will Smith slap Chris Rock at the Oscars?
Will Smith slapped Chris Rock at the Oscars when Rock made a joke about Jada Pinkett-Smith's shaved head, which was due to her battle with alopecia. Smith felt the joke was insensitive and disrespectful, leading to his impulsive reaction.
2 What consequences did Will Smith face for his actions?
Smith faced backlash for his actions, issued a public apology, and later resigned from the Academy of Motion Picture Arts and Sciences. He was also banned from all Oscars events for ten years.
Conclusion In conclusion, the Will Smith Text-to-Speech voice is a fantastic addition to the world of TTS technology. It offers fans and creators alike the chance to enjoy the engaging and captivating presence of this Hollywood A-lister in a completely new format.

So, why not add a touch of star power to your projects or messages with the Will Smith text to speech - TopMediai today? Embrace the possibilities and let the Fresh Prince make your content truly unforgettable!