Text-to-Speech is one of the leading technologies that allow users to change the text to their favorite character's voices.TikTok has a text-to-speech feature that allows users to convert their text into speech. But there have no more voices and languages to choose from, in this article, we'd introduce the top 4 TikTok Text-to-Speech Generators
Part 1: Top 3 TikTok Voice Text-to-Speech Online
In this part, we will discuss the top 3 TikTok voice Text-to-Speech online generators.
1. Fake You
Fake You is an easy-to-use Text-to-Speech online generator. It also includes large wide voices, such as a news reporter with a unique accent. Let's towards its features, pros, and cons.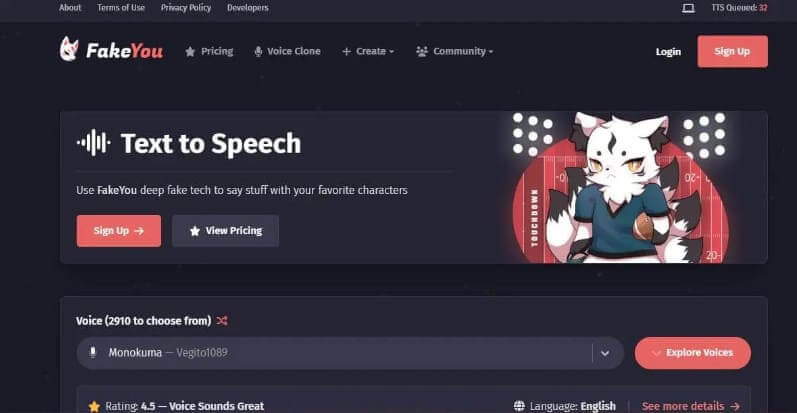 Key Features:
It has 2400+ high-quality voices stored, each of which has its unique identity.
It is well-known because of its faster rate of conversion.
Fake You has an intuitive interface that attracts people.
You can save your favorite voice to use later.
It has multiple language categories for better engagement.
Pros
You can use it on any device through the web browser.

It is a free Text-to-speech generator.

You can edit the voices for better output.
Cons
You cannot convert the text to your own recorded voice.

You may face delays if you have a slow internet connection.
2. Uberduck.ai
Uberduck.ai is also an online TTS generator that converts your text to the desired voices. which also included more characters and Ai voices, let's go on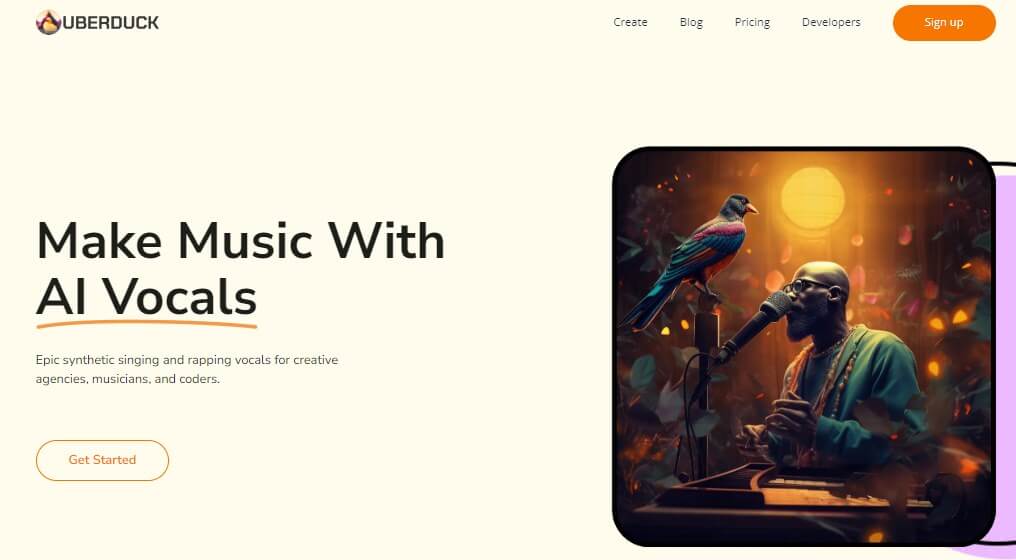 Key Features:
It is a community-driven Text-to-Speech such as Discord and GitHub.
It has a library of 5000+ voices, and each has a unique appearance.
APIs supported.
You will have unrestricted access to all the voices stored in it.
The API allows you to create your audio apps for premium users.
Pros
They have API documentation for the customers.

You can customize the voice clones at that moment.

You can create high-quality apps with their API documentation.

It has high-end customer support.
Cons
Need login information.

Sometimes APIs are not working properly.
Topmedia.ai is a high-tech AI-based online voice generator that supported converting text into speech with 3200+ natural-sounding voices.

Key Features:
It has 70+ languages for better understanding.
It has a library of 3200+ voices like Trump, Biden, SpongeBob, etc.
It supports multiple voice formats.
Supported more adjust parameters like Pause, Pitch, speed,etc.
Pros
It has a user-friendly interface with multiple options.

The text can be converted to voice within a few steps.

High-quality and legitimate voices.
Cons
You have limited unlocked voice stores in the free version.

The features are fewer as compared to the pricing demand.
Part 2: Recommend TikTok Text-to-Speech Voice Generator
1. VoxBox
iMyFone VoxBox is a Text-to-Speech software with more than more functions like speech-to-text, voice clone, etc.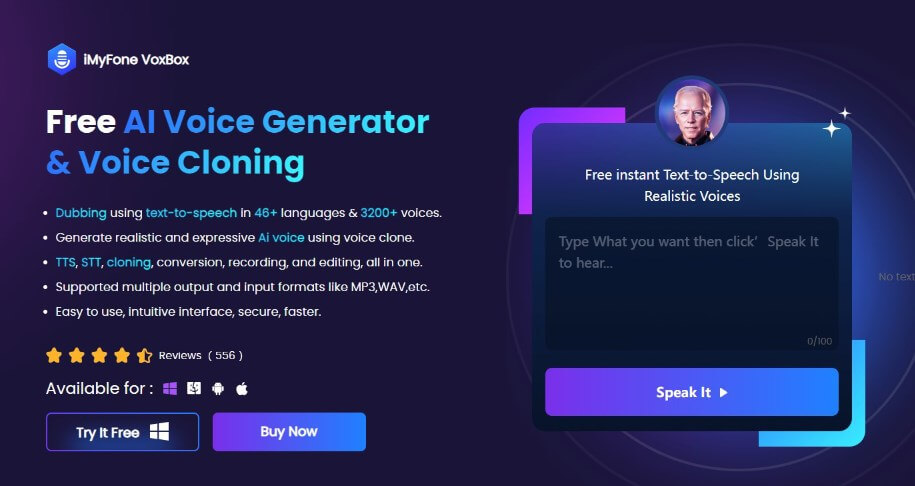 Key Features:
An impressive collection of 3200+ voices.
Supports TTS with multiple languages.
Multiple functions like Text-to-speech, speech-to-text,voice record, video convert, etc.
Available for the Windows platform.
Supports multiple formats for input and output files.
Can be used for different purposes.
Different pricing plans are available.
Pros
Simple and effective software.

Flexible Software.

Safe and secure.
Cons
Need installation.

Limited features in the free version.
Conclusion:
As we mentioned before, you could use an AI voice generator to replace the text-to-speech feature in TikTok. AI voice generators use advanced machine learning algorithms to produce natural-sounding synthetic speech which you can for your audiobooks, podcast, etc, and I'd love to recommend
TopMediAi- Text-to-Speech
, which has more voices and languages.