Want portrait images with blur background? You can easily do it if you have a good smartphone or camera. But what if you want to blur the background of images after capturing? There are many times when you want Portrait mode images once they have been captured. It will require you to blur background images in Photoshop or other editing software.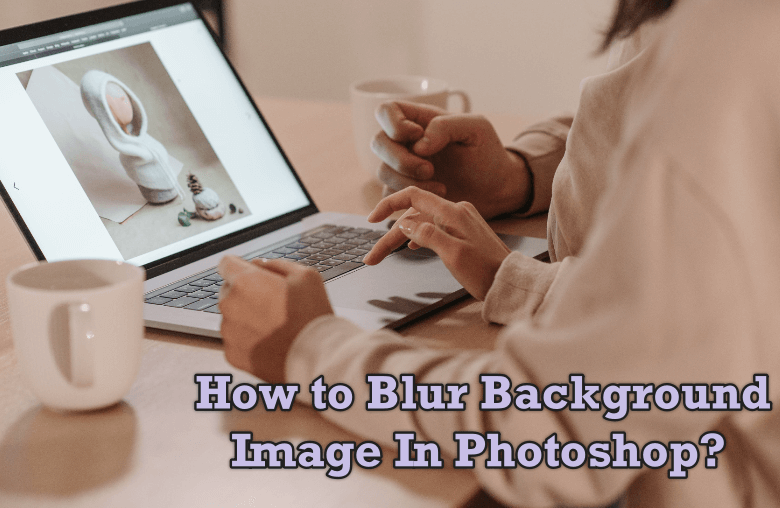 Part 1: How to Blur an Image Background in Photoshop
Photoshop is considered the best and most professional tool for editing images of all kinds. Therefore, many people ask how to make background images blur in Photoshop.
There are different types of blur options and tools in Photoshop that you can use to edit images. We will discuss them and also introduce you to an AI-powered free tool for image editing.
Method 1: Blur Image Background with 3 Options in Photoshop
Photoshop has several types of blur tools available that you can use to blur image background without any problem.
Different modes include average blur, box blur, Gaussian blur, motion blur, surface blur, radial blur, smart blur, etc.
We will discuss three options in Photoshop for blurring image backgrounds. You can try each of them depending on your editing needs.
#Option 1:Blur Tool
A first option is a blur tool that lets you transform the background of an image and make it blurred. Here are the steps you need to take for blurring an image background with the blur tool.
Step 1. Open Toolbar and Select Toolbar.
Open Photoshop, upload an image and open the toolbar. Find for blur tool that looks like a raindrop. Also, edit the brush size and stroke from the options given on the top of the screen.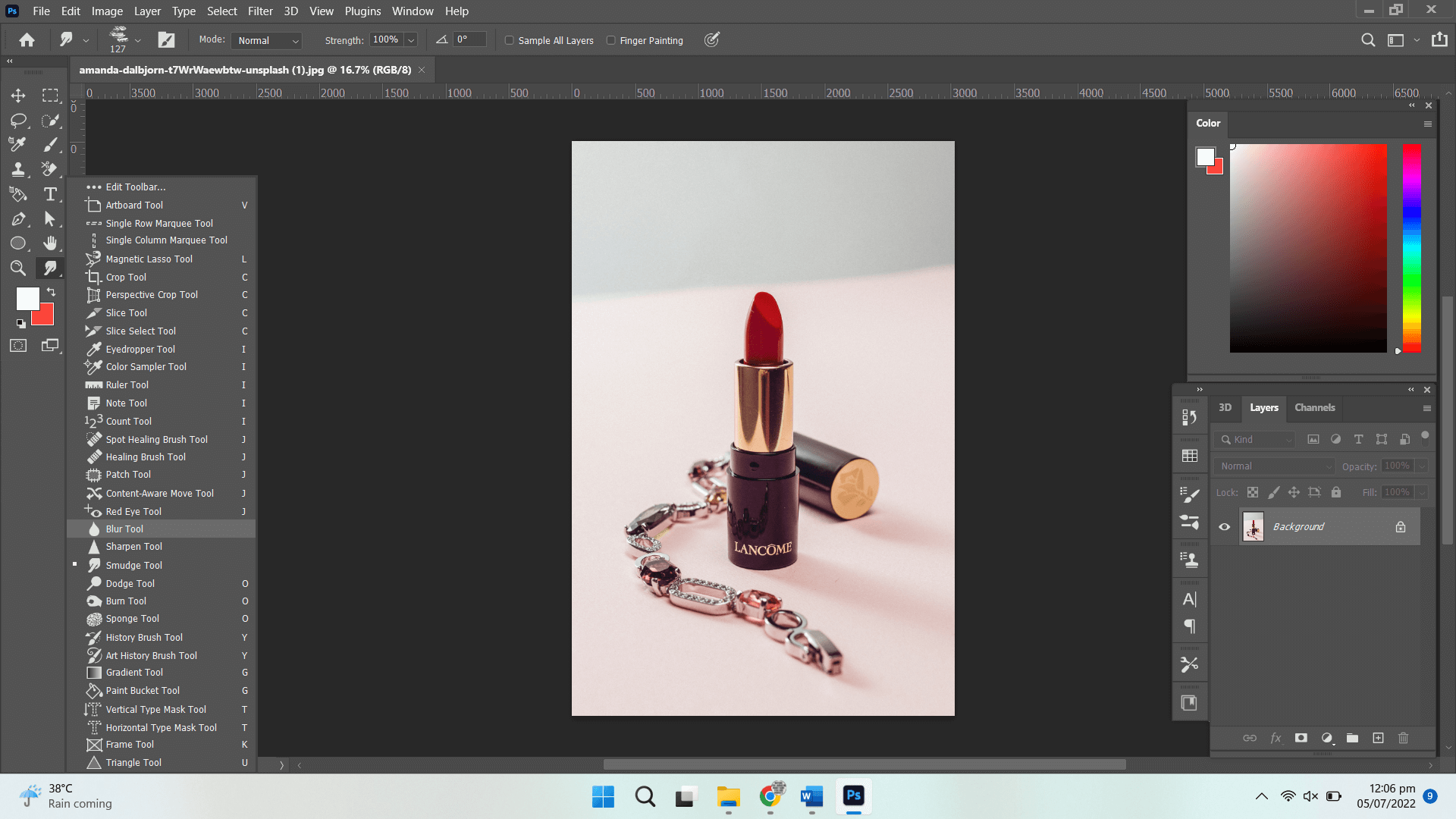 Step 2. Mark Area To Blur Background.
ow select the area of the image that you want to focus on.
Step 3. Adjust Blur Strength.
Now select the blur strength to adjust how strong the blur effect you want.

Step 4. Save Blurred Background.
Now, use the mouse to blur the parts of an image. Circularly move the mouse to blur all areas. Once done, save the edited image on your device.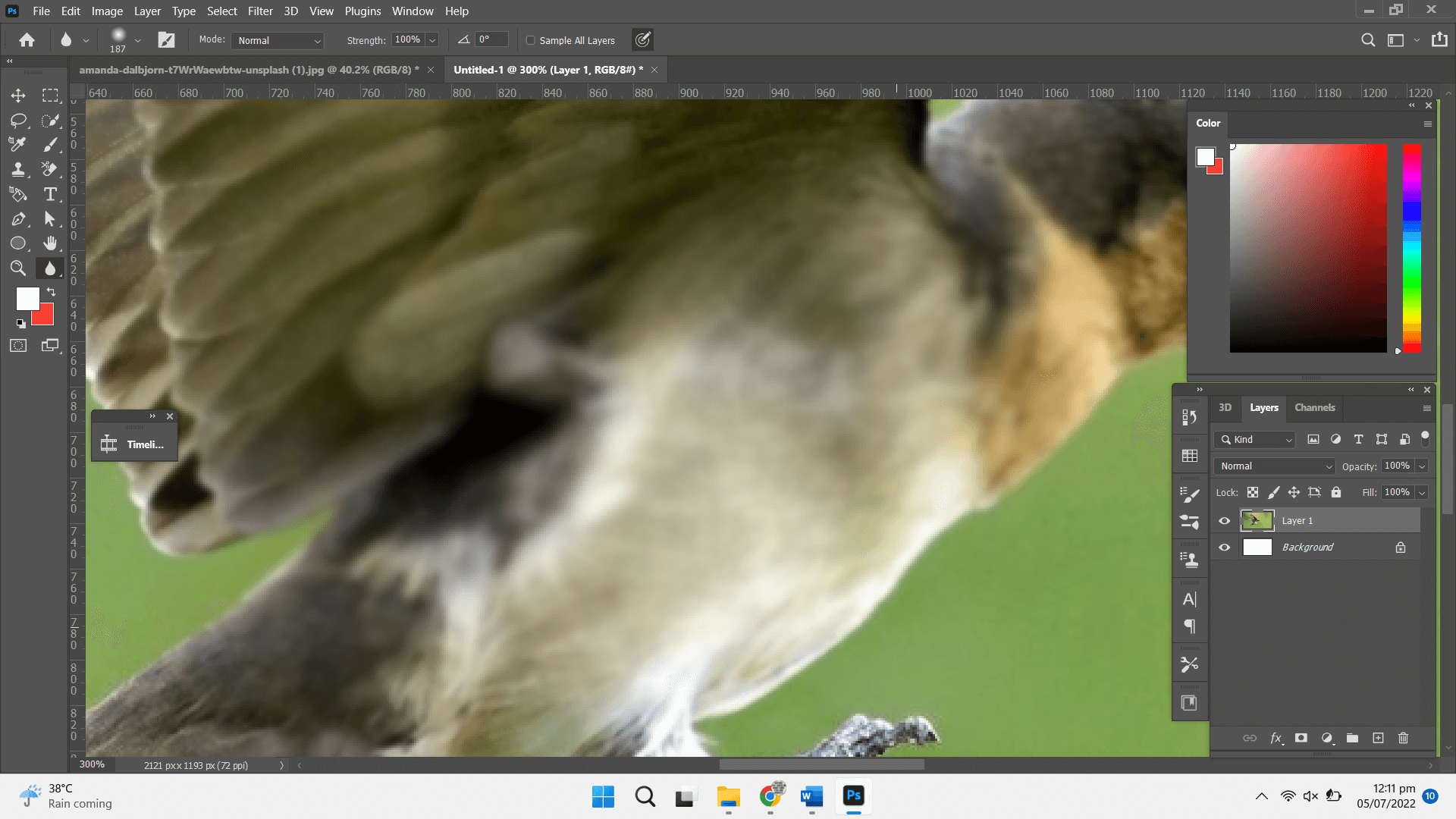 #Option 2:Lasso Tool
The second option for how to blur background images in Photoshop is using the Lasso tool available in the photo editing app.
The Lasso tool lets you blur the image in rectangular, polygonal, or magnetic lassos. Here is the step-by-step guide to blur images background using the Lasso tool:
Step 1. Open Image For Editing.
Launch Photoshop and upload the image for editing.
Step 2. Select Lasso Tool and Mark Background Area.
Select the Lasso tool from the left-side tool menu and mark the area that you want to blur in the image background in Photoshop.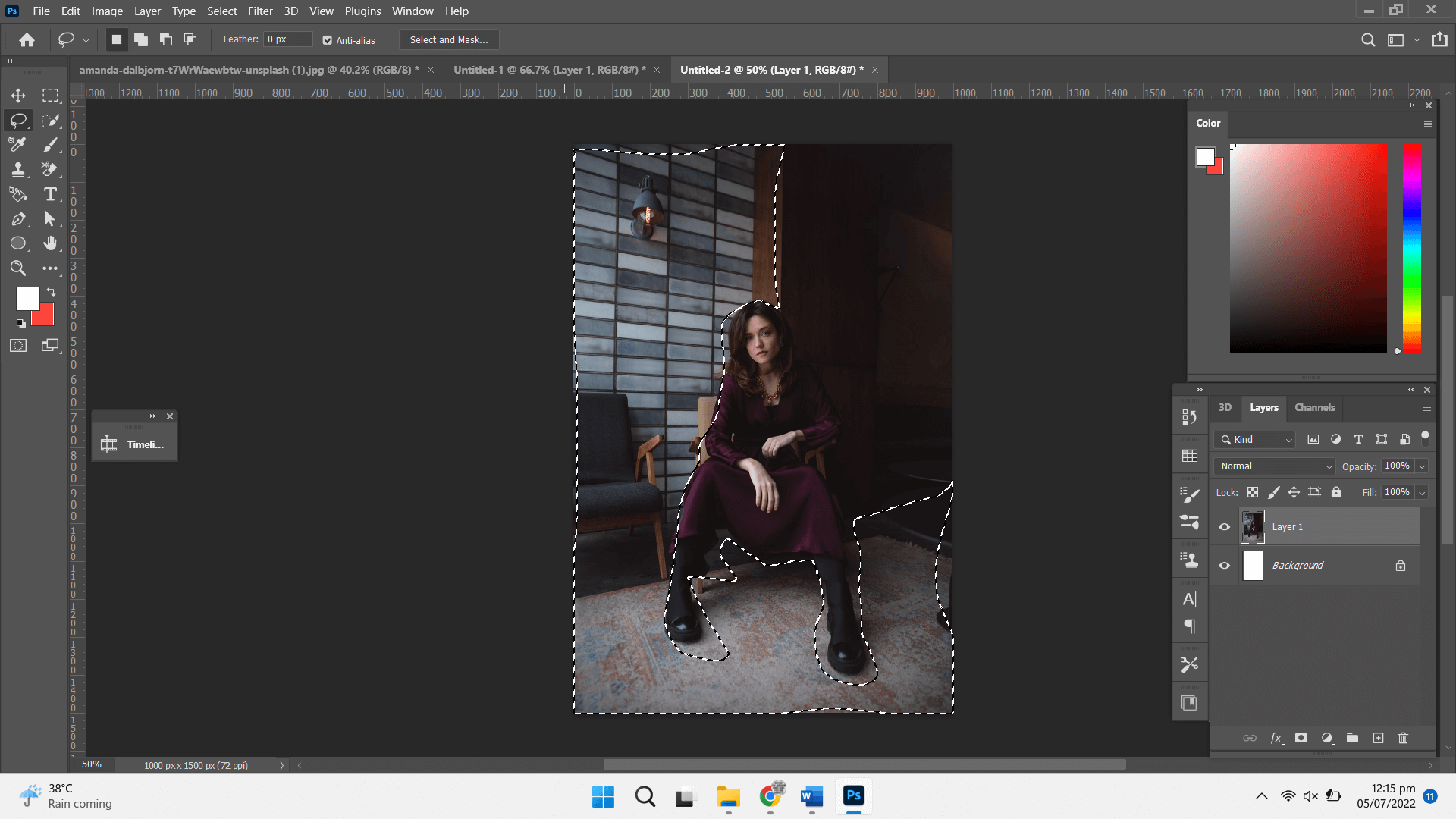 Step 3. Apply Blur Filter.
Once selected, go to Filters for blur image background in Photoshop. Scroll down to Blur filter, apply any filter, and set parameters for blur strength.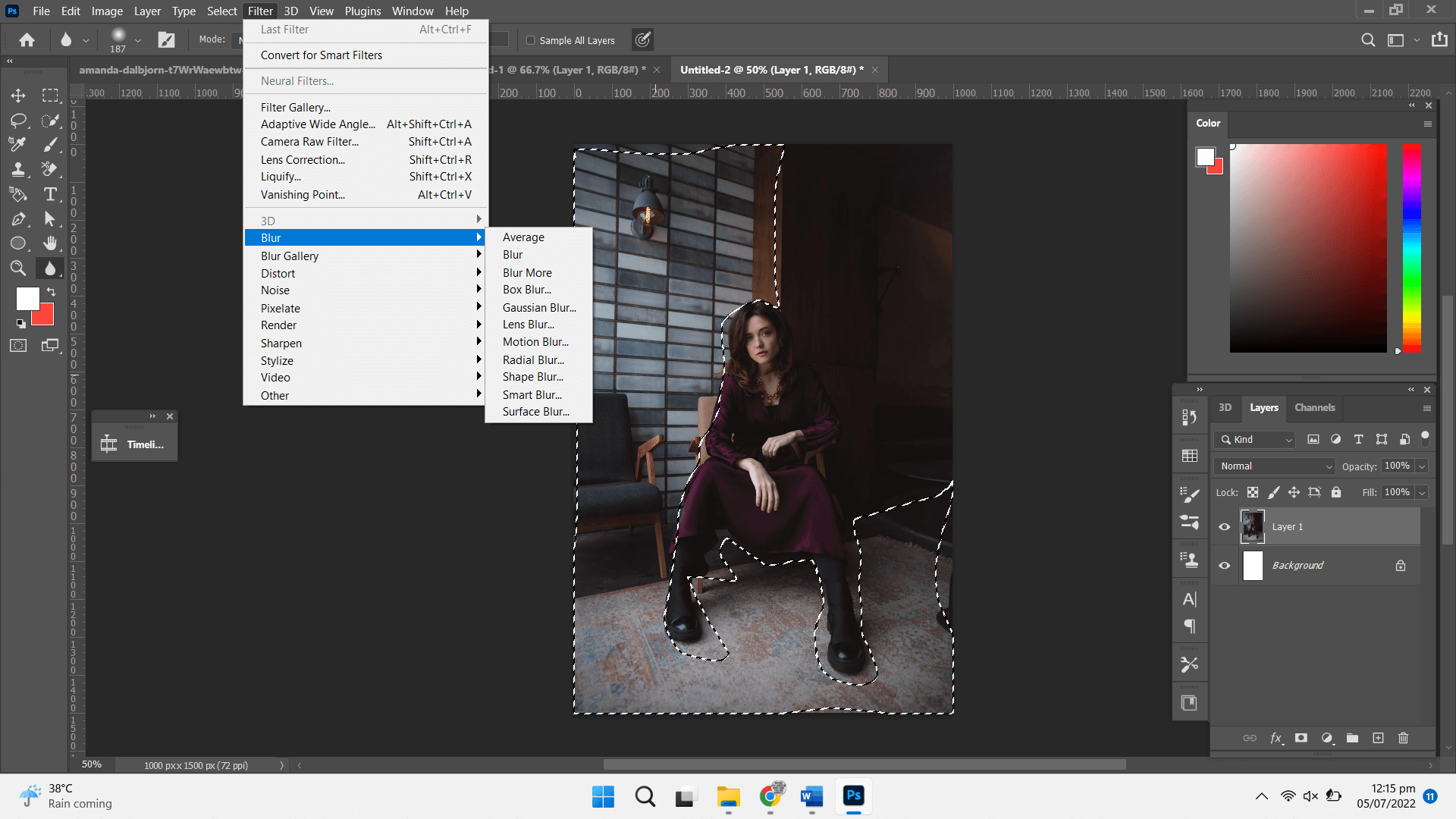 Step 4. Apply Effect And Save File.
Once completed, click Ctrl + S to save changes and save images on your device.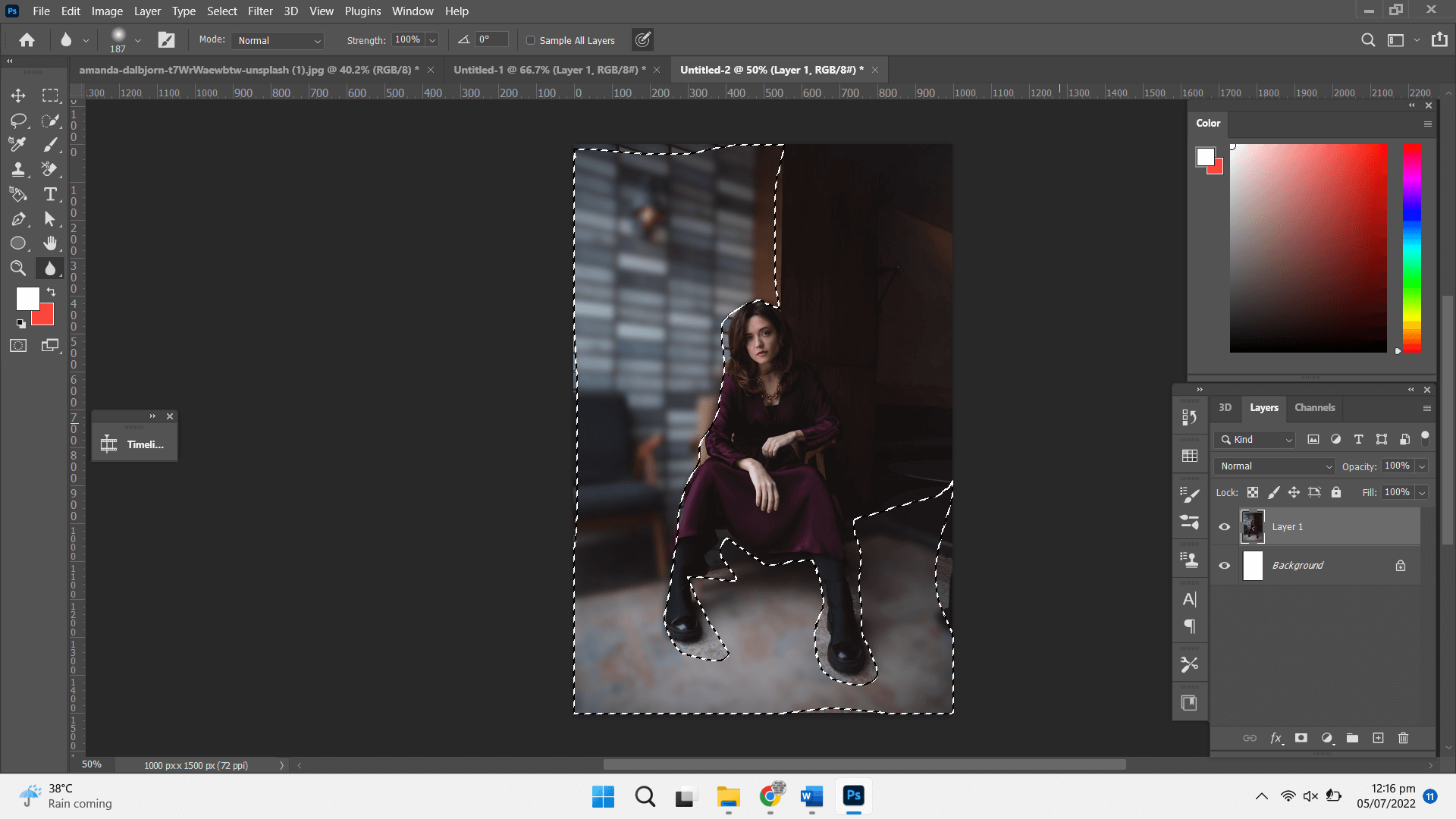 #Option 3:Using a Ghost Layer
The third option is using Ghost Layer in Photoshop. We will tell you how to use Ghost Layer and blur the image background.
Step 1. Launch Photoshop.
Launch the Photoshop app and upload the image you want to edit.
Step 2. Create a Duplicate Layer.
Right-click on the layer to create a duplicate layer and change its name to blur layer or something else. Go to Filters on top of the screen and apply a blur filter on the duplicate layer.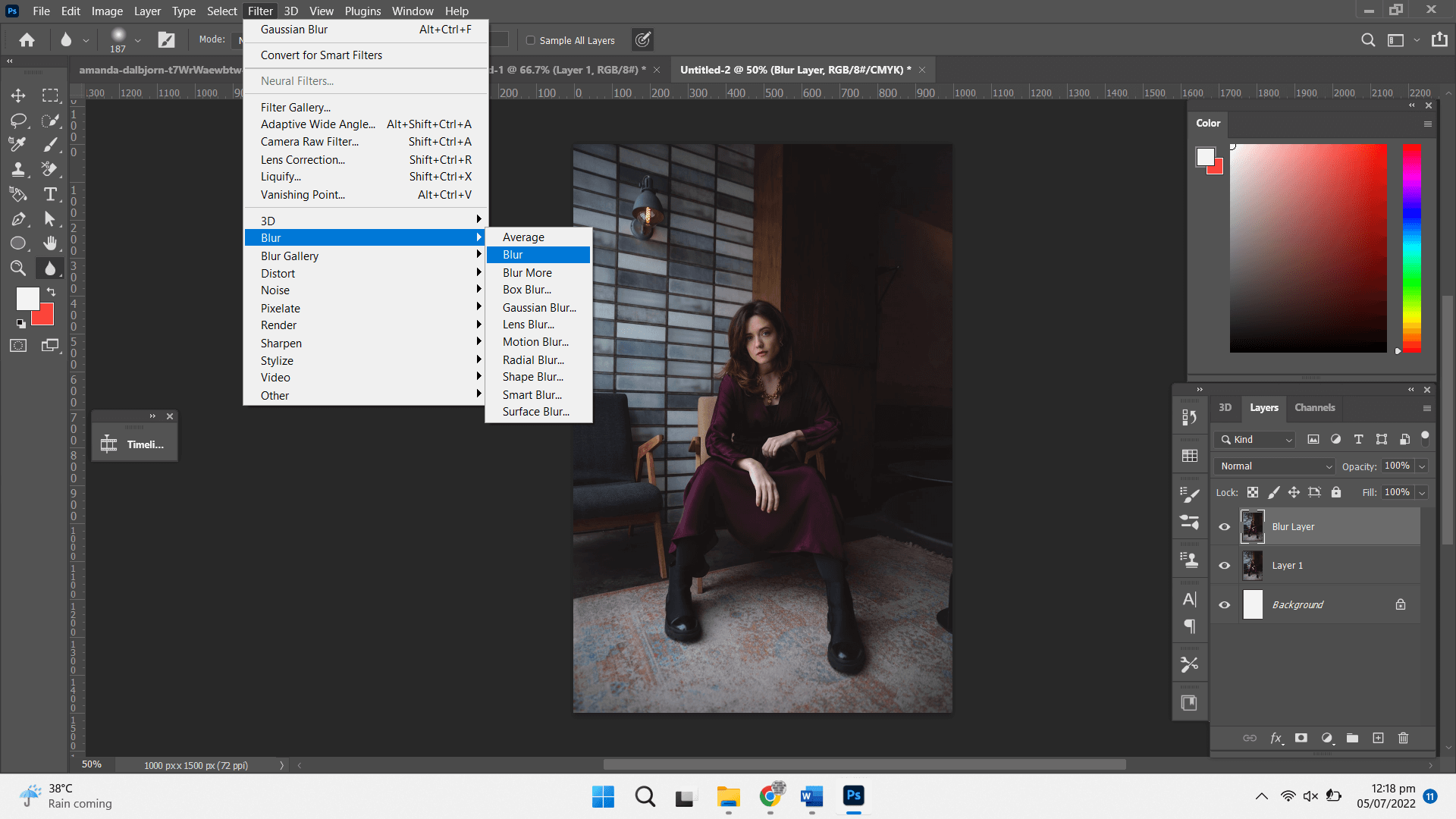 Step 3. Click Half-Moon Icon and select the adjustment layer option.
Now click on the half-moon in the layer panel to create any of the adjustment layers. Keep the default settings of the adjustment layer.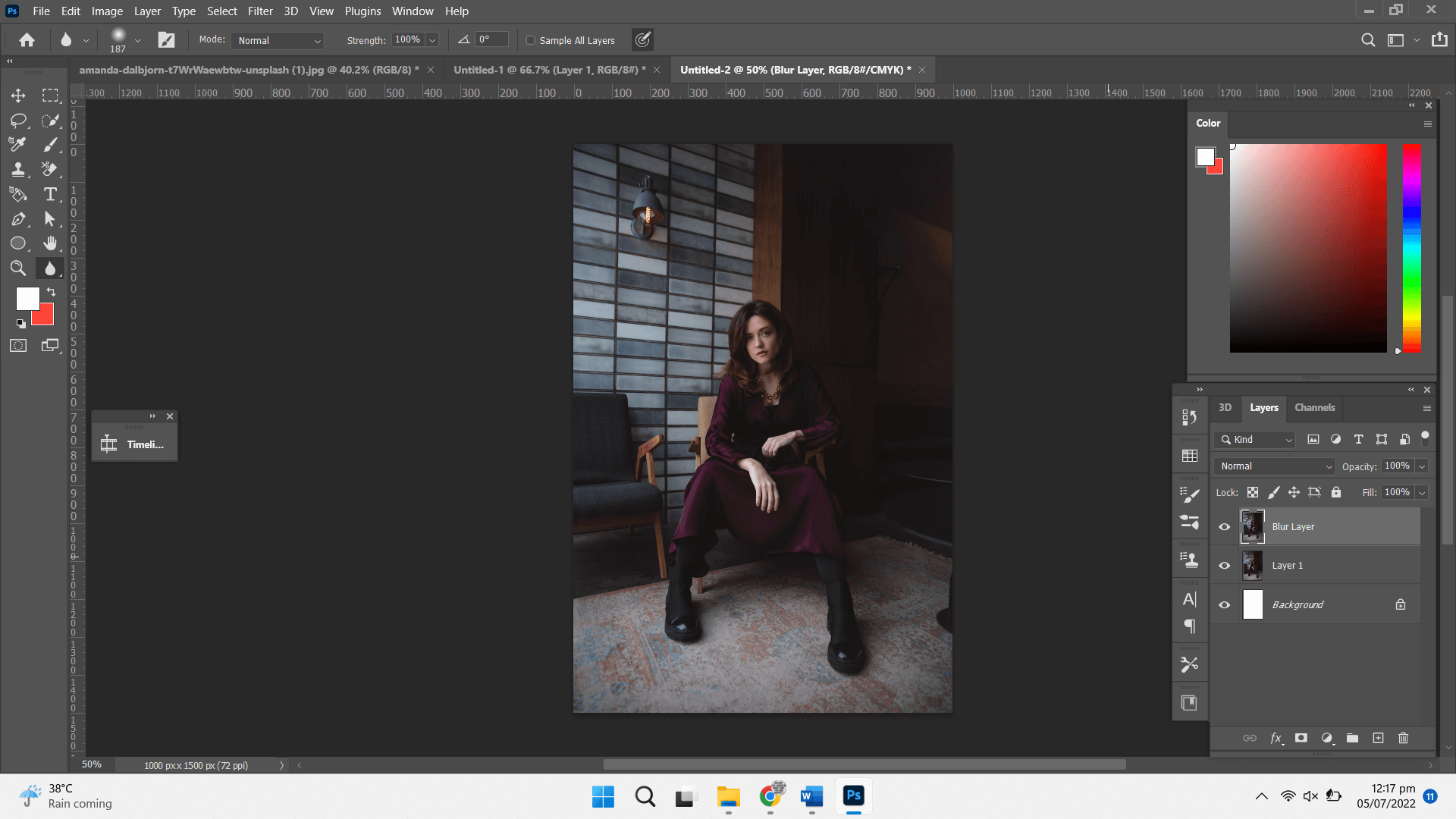 Step 4. Adjustment Layer Below Duplicate Layer.
Use the mouse to drag the adjustment layer below the blur layer. Move the cursor between the two layers by pressing Alt, and once you see two circles, click.
Step 5. Select Brush Tool and Blur The Background.
Now go to the tools menu and select the brush tool. Adjust the settings to select a soft tool with an opacity of 100 and pixel size of 500. Mark the areas of background you want to blur.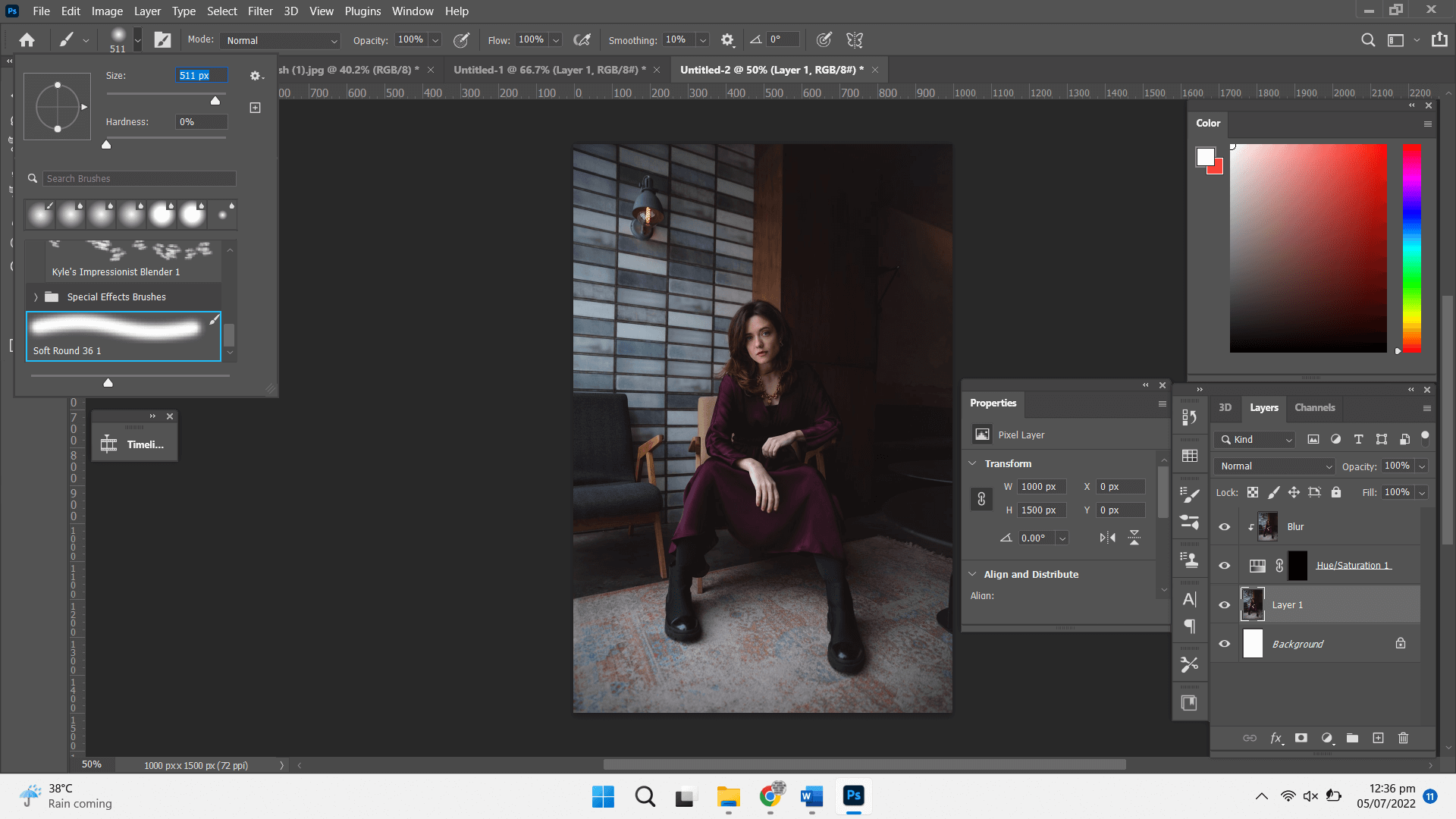 Step 6. Save File.
Once achieved the results, save the changes and photos to your device.
Method 2: How to Make Background Image Blur with Focus-Blur
If you're a developer and want to make image background blur of images, you can do it by focus-blur in HTML and CSS.
This option might not be practical for everyone, but tech knowledge can still capitalize on it. We will share how to make image background blur with focus-blur with CSS other than Edge 12, IE 11, or earlier versions of CSS.
Here is the step-by-step guide to making image background blur:
Step 1. Add HTML to specify a background image, Bg text, etc. Below is an example of HTML:

Step 2. Now, you have to add CSS to specify height, box size, background image, filters, position, background size, etc.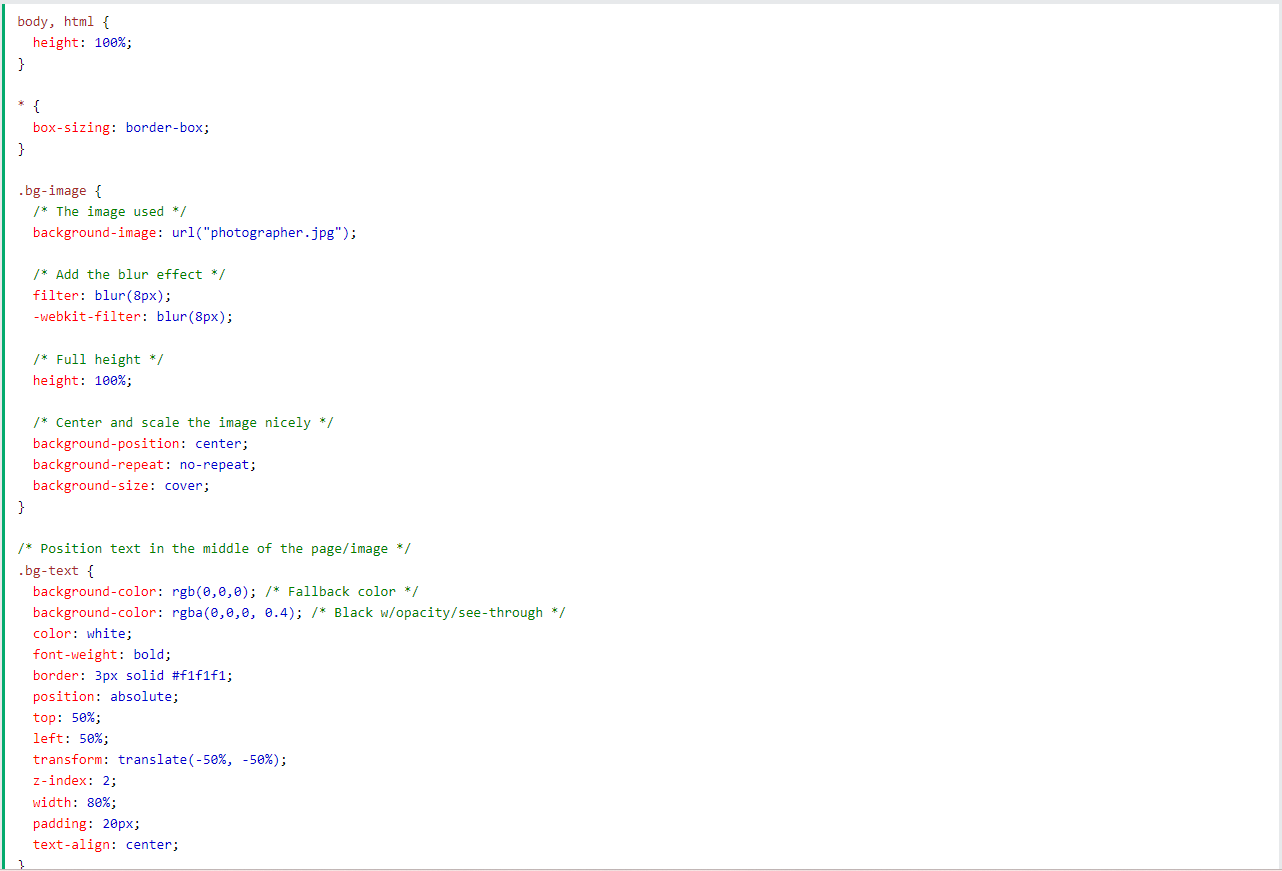 Here are some tips when using Focus-Blur to edit images and make background blur:
1. The focus event is for the foreground, and the blur event is for the background image. So you have to set the events accordingly.
2. You can add focus in/focus out events to the images.
3. Always use the latest versions to explore more options for yourself.
Part 2: TopMediai BG Eraser - Best Online Tool to Make Image Background Blur
You don't have to learn coding or Photoshop to make the image background blur with TopMediai. If you want a solution that is easy to understand, you can trust on TopMediai BG Eraser online.
It's an AI-powered tool that removes background, replaces background, isolates foreground from background.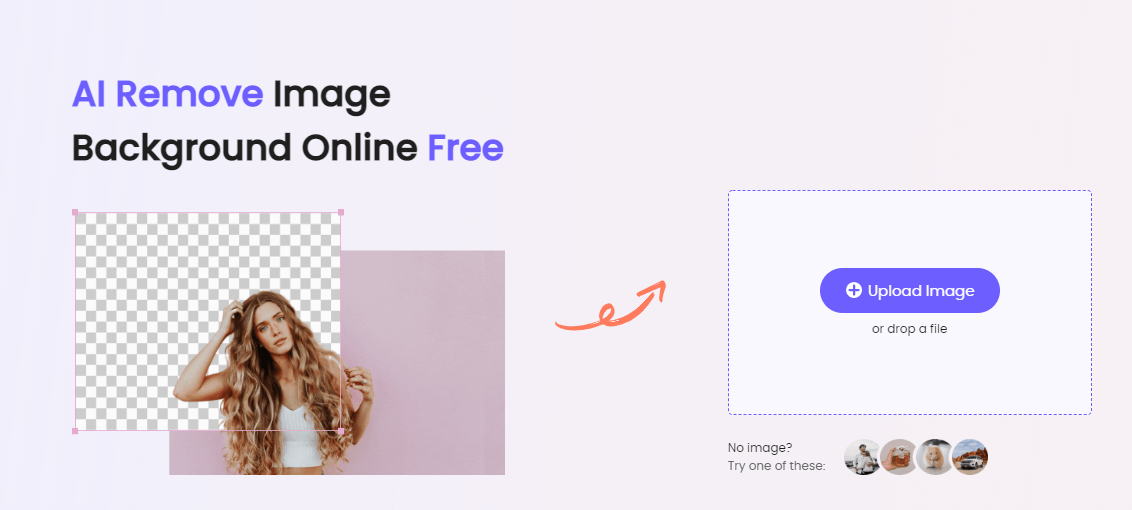 Tips
Hunting for a tool to erase image background? Why not try a professional remover TopMediai to remove backgrounds 100% Auto with AI-powered Technology within 5 secs in 1 click.
Here is the step-by-step guide to blur image background using TopMediai:
Step 1. Go to the Website.
Visit the website of TopMediai BG Eraser Online here.
Step 2. Open the application and upload the image to start editing.
Upload the image you want to remove background from by tapping on the upload image option.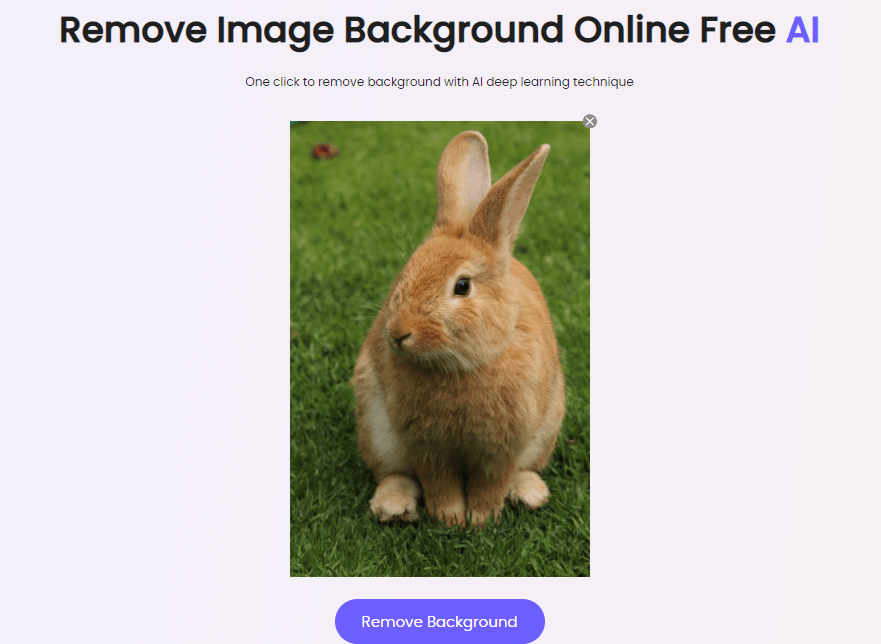 Step 3. Remove Background Now.
Click on Remove Background Button. The AI-powered tool will accurately detect and delete the background of the image.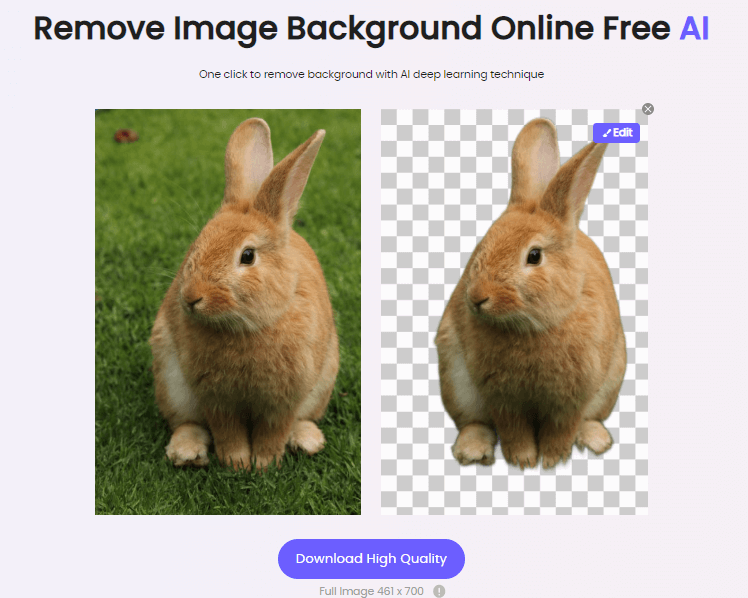 Step 4. Edit and Change Image Background.
Once the background has been removed, you can edit the file to add a colored background or new background or improve the results of the background removal.
And you can change the background or background color as you like.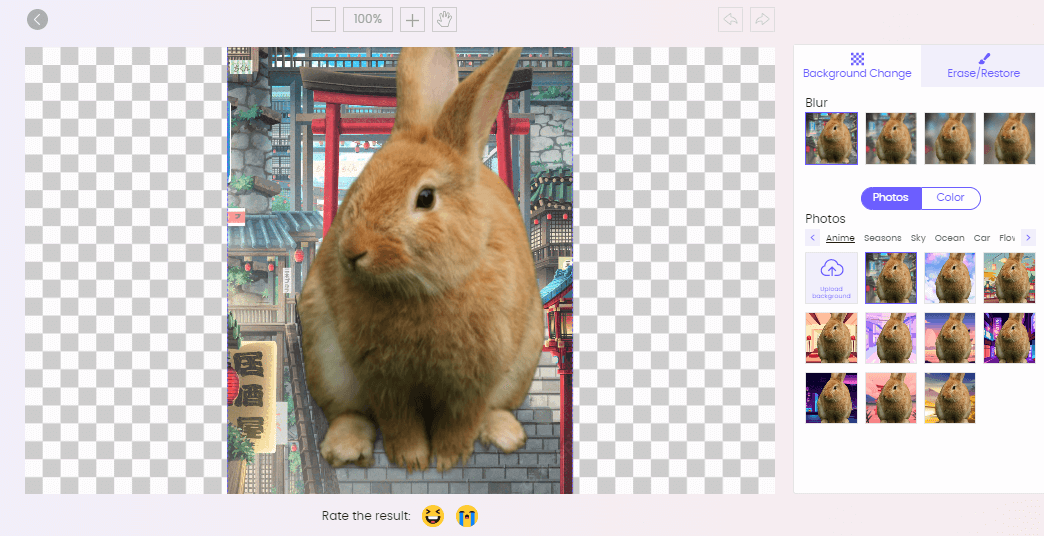 Step 5. Blur Image Background.
Now you can easily replace the image background with any blurred image or whatever you want.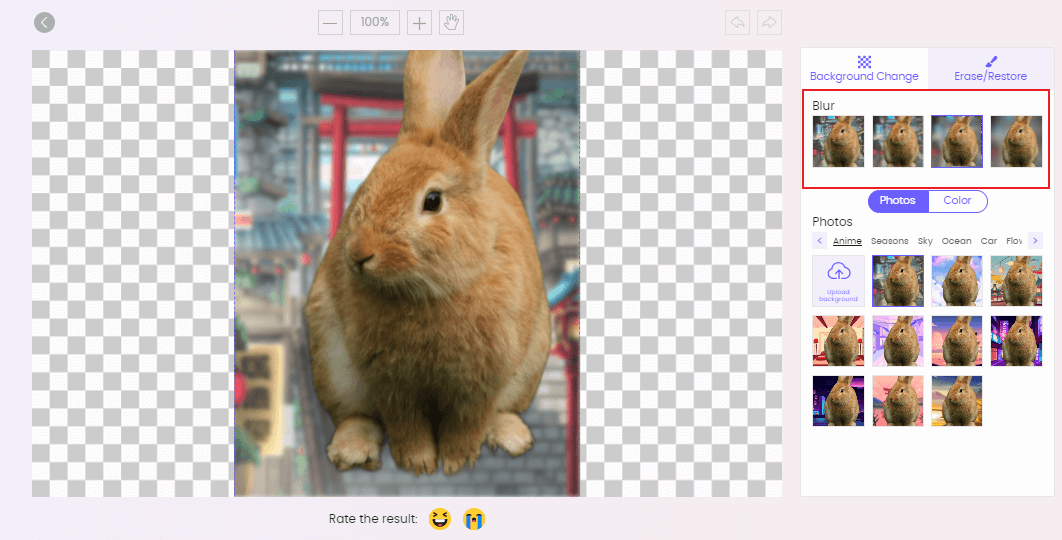 Step 6. Export the image.
Once satisfied, download the edited image to your device (smartphone, laptop, PC, etc.
Highlights:
It's a tool powered by AI technology to detect and remove background accurately.
A user-friendly interface makes it easier to use.
Easy to use whether professionals or beginners.
You don't need any technical knowledge to use TopMediai with proficiency.
Free image background remover that leaves no traces.
Web-version for accessing the background removal tool from any device.
You might be interested in:
How to Remove White Background from Emoji >>
How to Change Background on Snapchat -- 4 Tips and Alternative >>
Best Background Changing Apps >>
Part 3: FAQs about Image Background Blurring with Photoshop
1How to blur the background of an image in photoshop?
Photoshop is a professional tool that lets you play with images, graphics, and a lot more. It's like a whole different thing and mostly used by professionals. However, you can also blur the background of an image in Photoshop. Since Photoshop has several modes and methods of blurring image backgrounds, we have listed the easiest and quick methods for making blur image backgrounds.
2How do I blur the background of an existing photo?
You can use the Lasso tool available in Photoshop to make your existing photo background blur. It lets you choose blur strength, filter, and size. We have explained how to blur the image background of an existing photo using the Lasso Tool.
3How do you blur part of a picture?
If you don't want to blur the whole background of the picture and just a specific area, the blur tool and lasso tool in Photoshop will let you blur part of a picture without any hassle.
4What is the easiest way to blur in Photoshop?
The easiest way of blurring image background in Photoshop is the Lasso tool. We have discussed the method, which you can refer to for blurring backgrounds.
Conclusion
We have discussed different blur options for making blur background image Photoshop. However, if you don't feel confident about using Photoshop as a professional or want a free solution, you can use TopMediai BG Eraser Online.
You can replace the existing background with a blurred background, isolate the foreground from the background and add new background.
Stay tuned for more updates. Have a free try visiting the online tool down below!