The fascination with a Donald Trump AI voice generator stems from a combination of curiosity, novelty, and the desire for creative expression. As a prominent and polarizing figure, Donald Trump's distinct speech patterns, catchphrases, and intonations have left an indelible mark on popular culture and public discourse.

Now, let's expolre how we can get magical Donald Trump ai voice via donald trump text to speech.

Text to Speech
3 Free Trials of The Selected Voice Below

Donald Trump
Conversion failed.
Please check out if there are special characters or multiple languages in your text.
Part 1: What Makes Donald Trump AI Voice Special?
Donald Trump is a former President of the United States known for his distinctive speaking style and voice. His voice is often characterized by his unique cadence, tone, and use of language. He is known for his forceful and energetic delivery, often using repetition and simple language to emphasize his points.
What about Donald Trump's ai voice? Donald Trump's ai voices are the result of artificial intelligence-generated technology designed to replicate the vocal nuances and speech mannerisms of the former President, Donald Trump.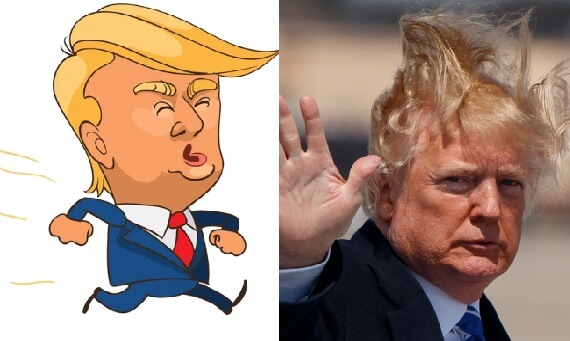 Part 2: The Most Welcome Donald Trump AI Voice Generators
1. TopMediai - The Ultimate Choice for Trump AI Voice
TopMediai text to speech, an advanced platform equipped with a range of impressive features that cater to various audio needs. This AI-powered tool boasts an expansive collection of over 3200 ai voices spanning across more than 70 languages, ensuring a diverse and global auditory experience.

This platform emerges as an invaluable asset for content creators, podcasters, and businesses alike.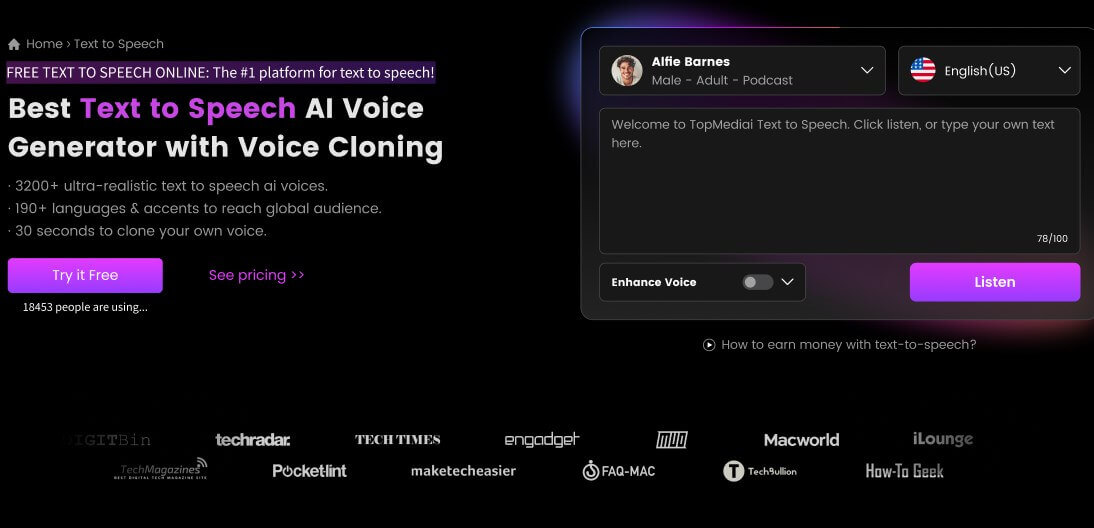 Key Features:
The donald trump ai voice generated by topmediai is realistic an vivid.
Craft distinctive voiceovers by creating custom ai voice clones.
Supports a multitude of output formats, including MP3 and WAV.
Simplifies the process of transforming written content into spoken words online.
How to generate donald trump ai voice:
Step 1: Go to TopMediai text to speech online.
Step 2: Simply enter the text in the given space on the platform.
Step 3:Select the Donald Trump ai voice from the options (in the Politicians tab).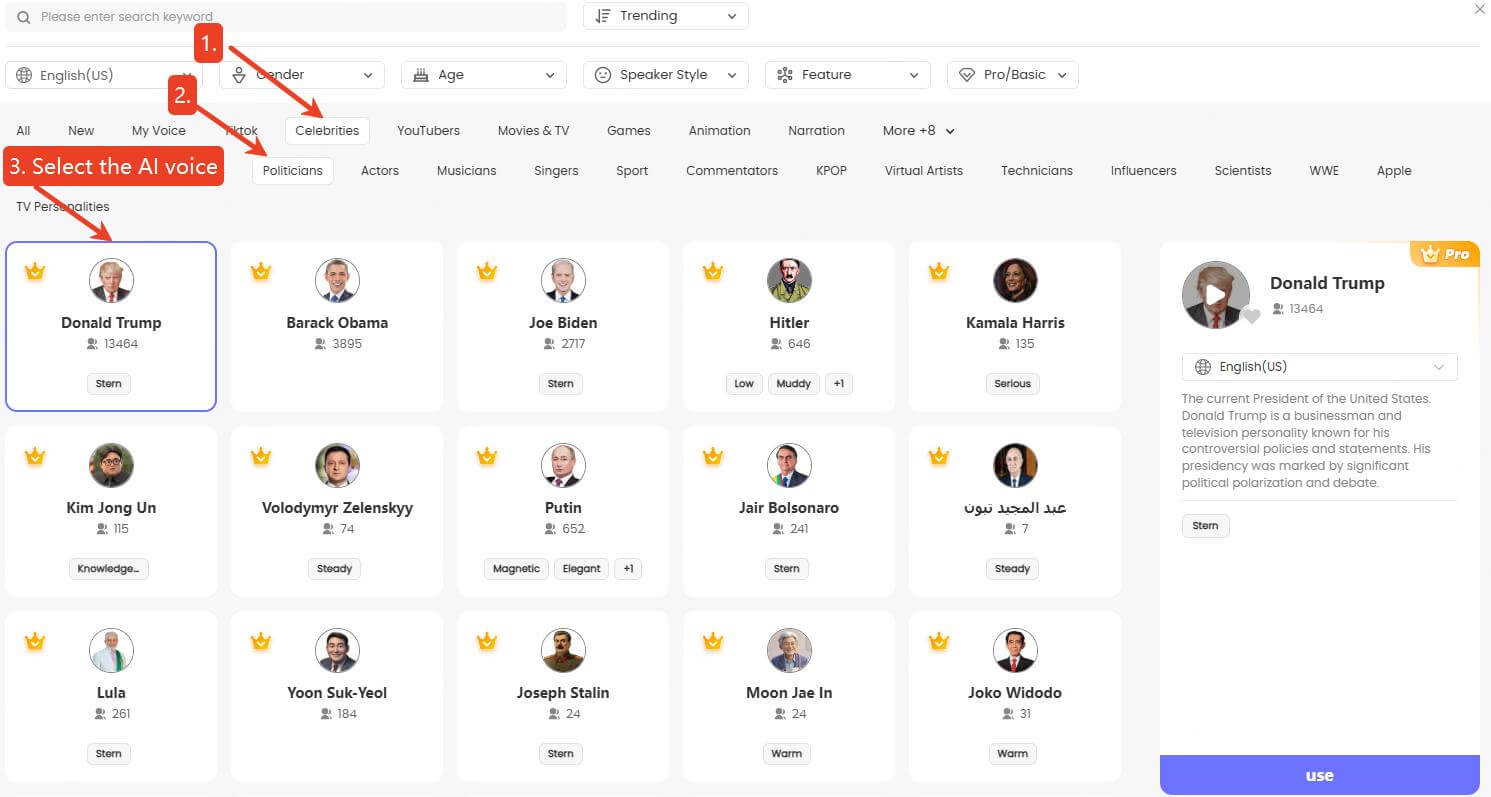 Step 4: Once ready, click on Convert. TopMedia as your Donald Trump voice generator will generate the speech within seconds and then you can easily save and use it as needed.
Pros
Users can make trump ai voice online without download or installation.

Save your time: Real-time conversion and download.

Wide range of ai voices.

Other politicians text to speech voices available.

Unparalleled Donald Trump voiceover production experience.
Cons
Need to pay for more characters.
2. Clash.me - AI Voice Donald Trump
Clash.me is a unique online text to speech tool that is quite fun to use. It allows users to enter text of their choice of up to 140 characters and turn it into a dynamic speech format using a vast catalog of voices of an exceptional number of celebrities including the former President, Donald Trump.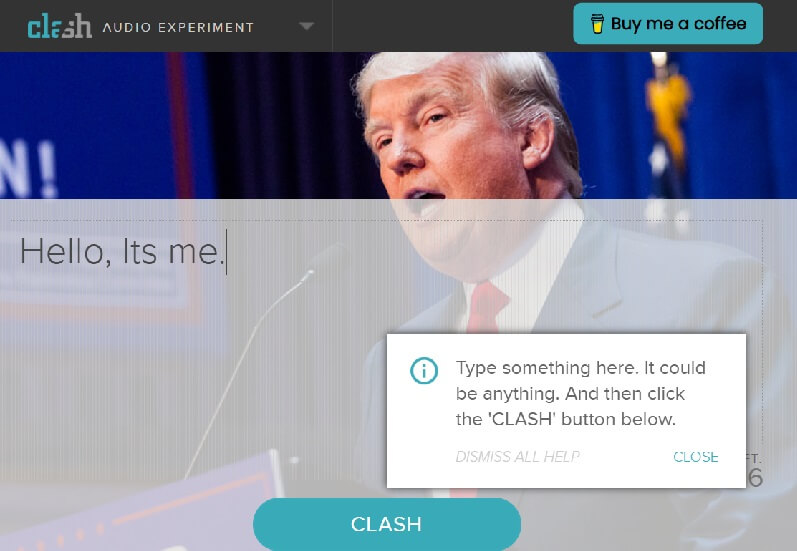 Key Features:
Vast data of celebrity voices broken down and categorized to the single word.
AI algorithm to quickly choose the most suitable voice bit for each word.
Pros
Pretty quick to deliver results.

Delivers a fun mix of different celebrity voices chosen randomly.
Cons
Only 140 characters allowed.

Users cannot get purely Donald Trump text to speech.

Very limited customization options.
3. Trumped.com
Are you looking for a fun and engaging way to convert your text into speech? Look no further! Trumped.com is an innovative text-to-speech online tool that brings a unique twist to the world of voice synthesis.

Developed by Fakeyou Text to Speech, this platform allows you to experience your text in the unmistakable voice of former US President Donald Trump.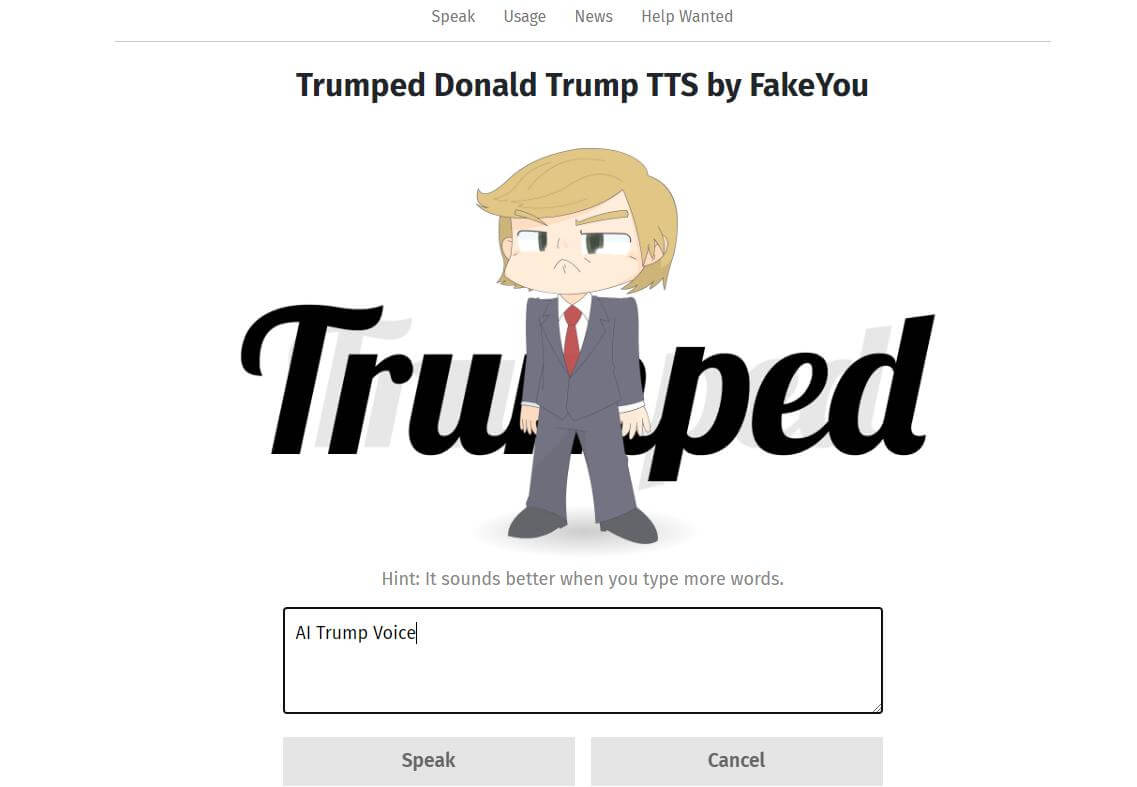 Key Features:
Easy to use.
User-friendly interface.
Pros
User-friendly interface.

Easy-to-Use.
Cons
Limited characters.

Limited personalized setting.

Some bugs existed.
4. iMyFone MagicMic
For those in search of a Donald Trump voice changer, look no further than MagicMic. This voice changer stands out with its impressive array of voice filters and impeccable soundboard choices, rendering it exceptionally effective.

MagicMic serves as a voice modulator, allowing real-time voice adjustments and the incorporation of remarkable sound enhancements simultaneously.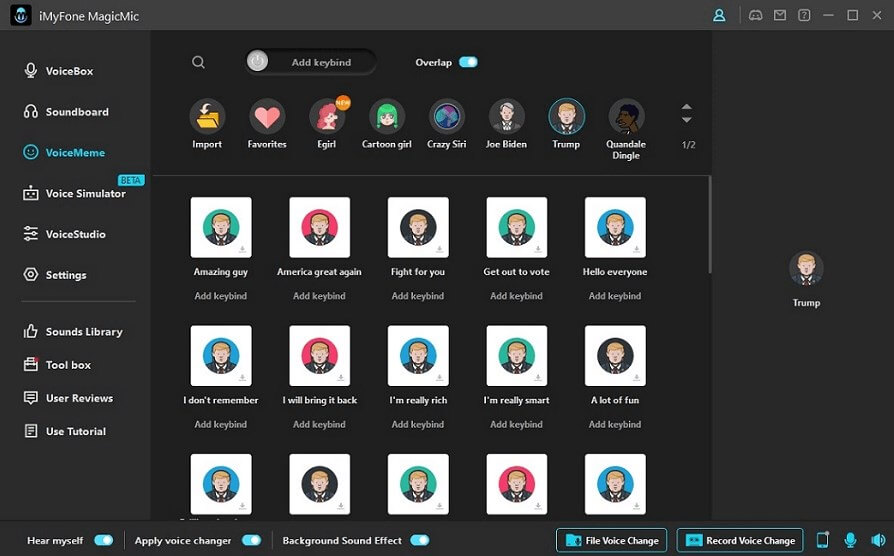 Key Features:
Real-time voice changer software.
AI voice changing, multiple soundboard and voice simulator included.
Pros
MagicMic can change your voice in real-time on popular platforms like chat, stream, and gaming.

Easy to use with a pretty slick interface.

Multiple voices and sound effects on offer.
Cons
No access to donald trump text to speech.

You should download the software.
Part 3: No Worries! Comparison of Donald Trump Voice Generator

Price Comparison:


| Plan&Pricing | TopMediai Text to Speech | iMyFone MagicMic | Speechify |
| --- | --- | --- | --- |
| Monthly | $12.99 | $9.99 | $59 |
| Per Day | $0.43 | $0.33 | $1.96 |
| Available Voices | 3200 | 250 | 200 |
| Languages supported | 70 | unknown | 70+ |
| Trump TTS | Available | unavailable | Available |
Part 4: Hot FAQs about Donald Trump AI Voice
1 What does donald trump ai voice refer to?
The AI-generated voices attributed to Donald Trump are the product of artificial intelligence, designed to replicate the distinct vocal qualities and speech mannerisms of the former President.
2 How can I make a speech in Trump's ai voice online for free?
There are several online solutions for you to generate audio in trump's ai voice for free, including topmediai text to speech. 3 steps only to make trump text to speech voice.
3 What are the potential applications of donald trump's AI voices?
From injecting humor and familiarity into entertainment media to creating attention-grabbing marketing content, their application extends to narration, political satire, and personalized messages. Educational tools, virtual assistants, and historical simulations could also benefit from these voices.
ConclusionIn summary, the Donald Trump ai voice generator showcases cutting-edge AI capabilities, reproducing the iconic voice of the former President with impressive accuracy.

For those seeking versatile and high-quality donald trump text-to-speech solutions, we recommend exploring the offerings of TopMediai, a leader in the field of AI-generated voices.