Try Isolating Vocals or Instrumentals from a Song
Vocal Remover Demo for Free - Upload a audio file, quickly remove vocals from a song and extract instrumentals, 100% automatic and online!
Try the full version >
All-in-One Vocal Remover for Diverse Needs
TopMediai vocal remover fulfills your diverse needs, whether you want to isolate vocals, instrumentals, reverb, harmonies from a song/audio, enjoy karaoke or create acapella music - this one vocal remover is sufficient.
Check out the Stunning Vocal Removal Here
Do you want to remove vocals from your favourite song? Feel free to listen to the sample below and unlock the magic of AI Vocal Remover!
Try it Now >
Example here - Take Control by Charlie Millikin
Vocals
Drums
Bass
Other
How to Remove Vocals from a Song?
No complicated steps or techniques are required to remove vocals from music or songs.By using TopMediai Vocal Remover in 3 steps, you'll get clear the instrumental and acappella (vocals only) versions.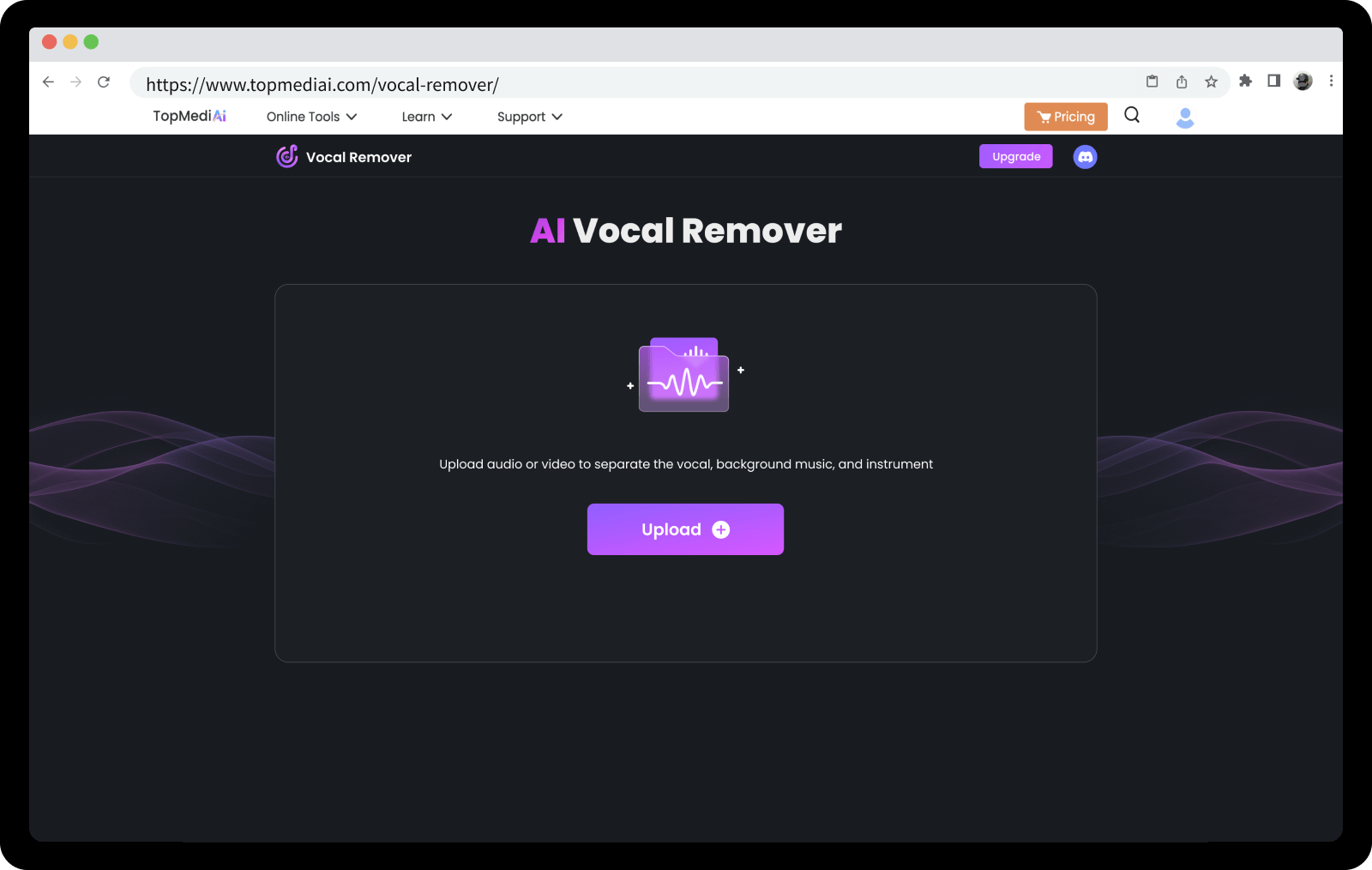 Step 1: Upload Audio File.
Click Upload button to import your song from device.
Get Started Now >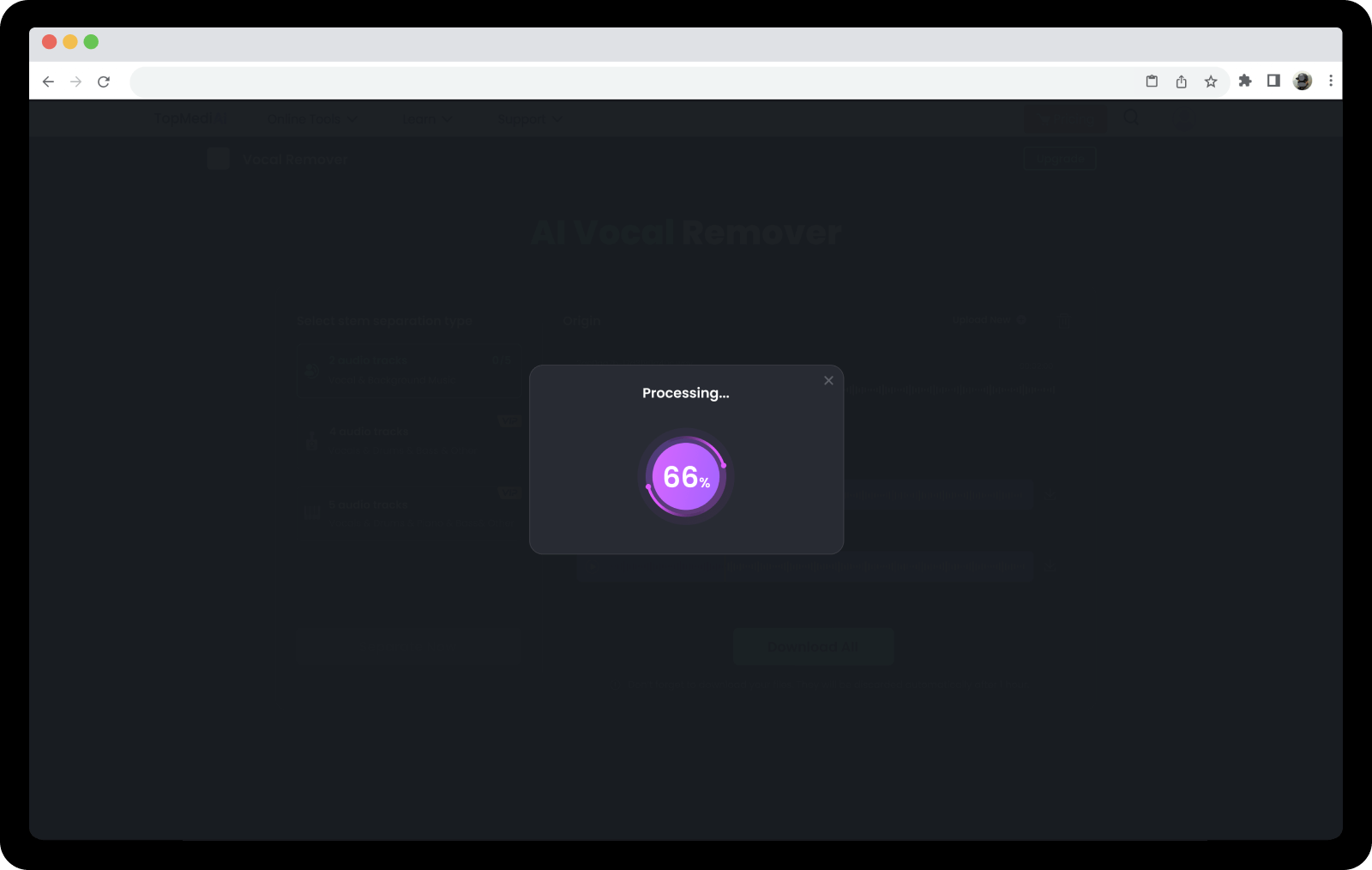 Step 2: Remove Vocal from Song / Music.
Separate vocals from music in few seconds with AI.
Get Started Now >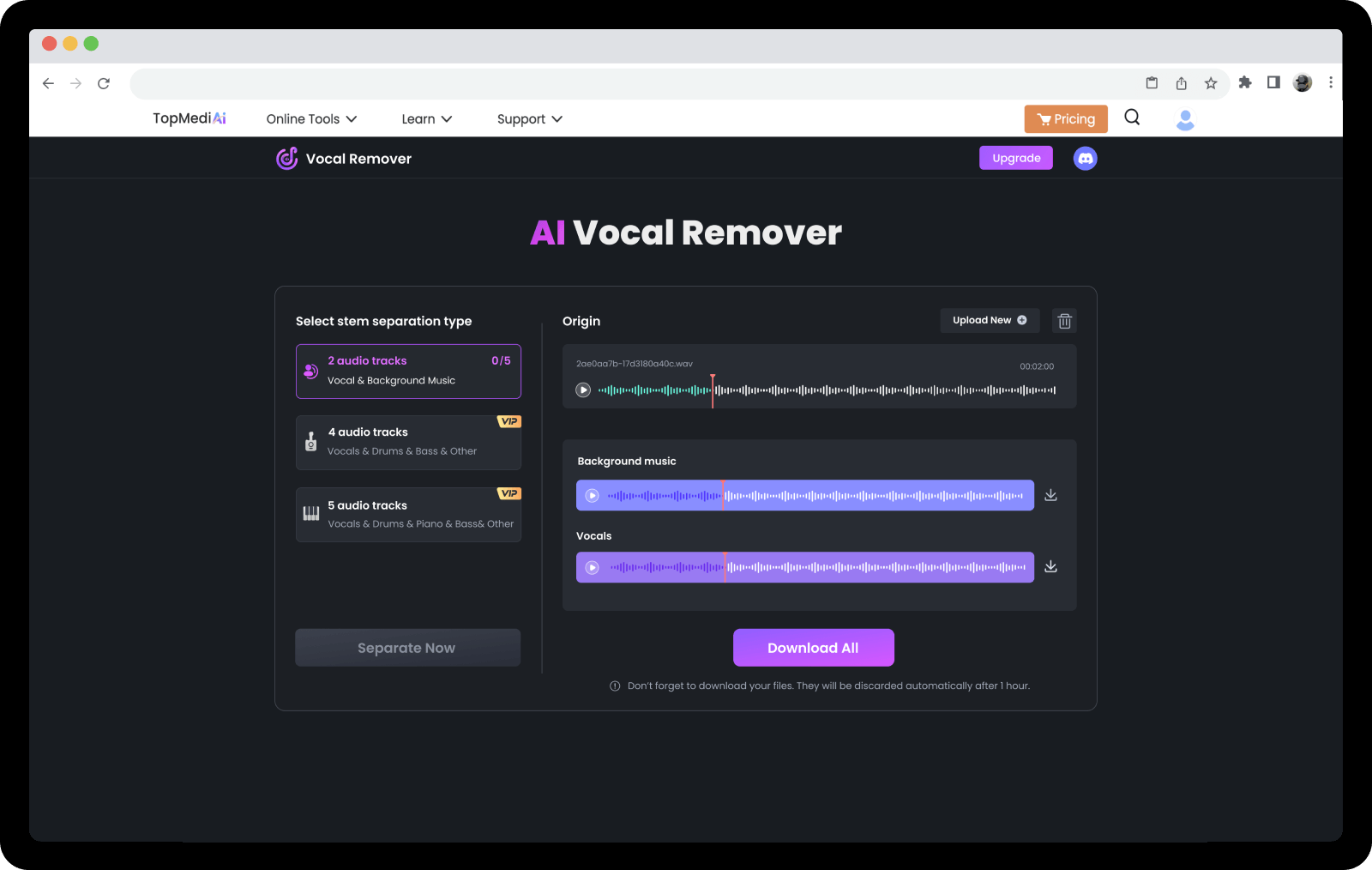 Step 3: Download the Extracted File.
Preview and save the extracted vocal/bgm/ instrumental track.
Get Started Now >
Why Choose TopMediai Vocal Remover?
TopMediai Vocal Remover delivers a seamless experience for both beginners and professionals, with a primary focus on the following key features.
Lightning-Fast Vocal Removal
Effortlessly process vocals from any audio track in record time, regardless of the track's size. Typically takes less than 1 minute to complete vocal removal.
Impeccable Fidelity with Zero Delays
Achieve crystal-clear vocal separation without any lag in the background music. Vocals remain pristine, and music playback is smooth.
Wide Compatibility with Audio Formats
TopMediai online vocal remover seamlessly supports an extensive range of audio file formats, including MP3, WAV, AAC, AIFF, M4A, FLAC, and more.
Instant AI-Powered Audio Processing
Utilize AI algorithms for instant voice and music element extraction, no manual effort needed.
Swift Results
Extract vocals to create instrumentals in mere seconds, ensuring you can dive right into your creative projects without delay.
Browser-Based Vocal Remover
Access the online vocal remover tool directly from your PC or smartphone browser, offering the convenience of use wherever you are.
Join the 853,000+ Strong Community of TopMediai Fans!
80

+

Countries

853

K+

Global Users

5

Billion+

Audios uploaded So Far

600

+

Satisfied Reviews

Wow, TopMediai Vocal Remover online blew me away! I used it to create karaoke tracks for a school event, and the results were impressive. It cleanly separated the vocals from the background music, and the quality of the isolated vocals was quite good.

TopMediai Vocal Remover has been a lifesaver for me. I'm not a professional musician, but I love to sing along with my favorite songs. With TopMediai, I can remove the vocals and sing to my heart's content. It's super user-friendly.

As a podcaster, I often need to extract clean audio clips from songs for my episodes. TopMediai Vocal remover has made this process so much easier. It's precise and efficient, saving me a ton of time. Plus, the fact that it retains the song's audio quality is a big win.

I'm a karaoke enthusiast, and TopMediai Vocal Remover has taken my karaoke nights to the next level. It's like having access to an endless library of instrumental tracks. My friends and I can't get enough of it. Potential Applications of TopMediai Vocal Remover
The applications of vocal removers are diverse and can be utilized in various scenarios. Here are some common applications of vocal removers:
Try it Now >
Karaoke and Singing Practice

Karaoke and Singing Practice

Vocal removers are widely used by karaoke enthusiasts to create karaoke versions of songs. By removing the vocals, individuals can sing along with the instrumental tracks and practice their singing skills.

Music Remixing and Sampling

Music Remixing and Sampling

Musicians, producers, and DJs often use vocal removers to isolate and extract vocals from songs. This enables them to create remixes, mashups, or new compositions by combining the extracted vocals with different instrumental tracks.

Content Creation

Content Creation

Vocal removers are valuable for content creators such as video makers, YouTubers, and podcasters. By removing vocals from background music or soundtracks, content creators can add their own voiceovers or narration without interference.

Instrumental Track Extraction

Instrumental Track Extraction

Vocal removers are useful for obtaining instrumental tracks from songs. This can be valuable for musicians who want to perform or cover songs live, as they can use the instrumental tracks as accompaniment.
The Examples of Individuals and Professionals Using TopMediai Vocal Remover
The users of TopMediai Vocal Remover come from diverse backgrounds. Let's explore what they often use Vocal Remover for.
Try it Now >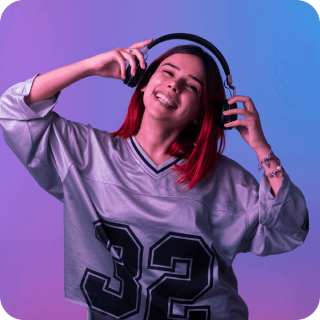 Music Enthusiasts
The AI models, trained on vast datasets of songs, analyze the original composition and apply various artistic styles, genres, and moods to craft a fresh rendition.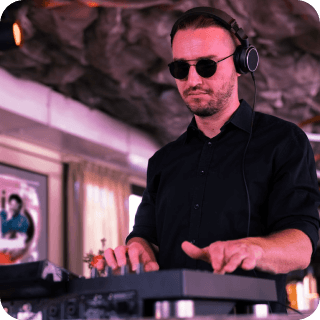 DJs & Producers
Process the instrumental elements for seamless transitions, creative effects, and personalized mixes.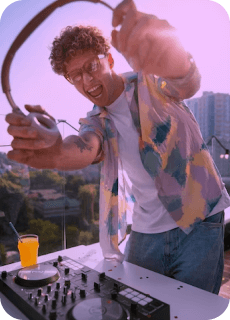 Remixers & Artists
Create unique compositions by combining elements from different songs.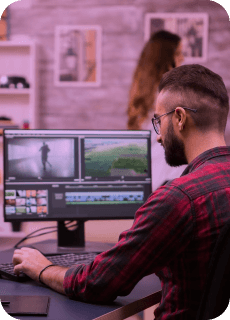 Content Creators
Enhance audio projects by isolating or reducing the vocals, making their content more engaging.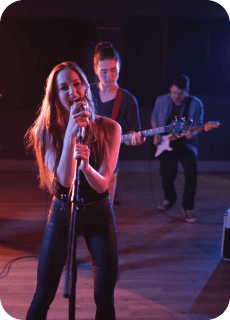 Musicians & Bands
Play along with the instrumental tracks to improve playing skills or prepare for live performances.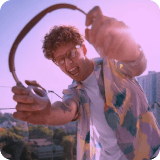 Remixers & Artists
Create unique compositions by combining elements from different songs.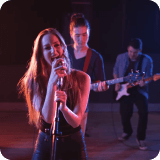 Content Creators
Enhance audio projects by isolating or reducing the vocals, making their content more engaging.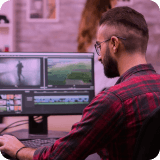 Musicians & Bands
Play along with the instrumental tracks to improve playing skills or prepare for live performances.
24,575,671+ vocals have been effectively extracted successfully using TopMediai Vocal Remover
Try it Now >

30-Day money back
All of our products come with a 30-day money back guarantee.

Secure Purchase
Your personal info is well protected by our advanced encryption technology.

Professional Support
Our knowledgeable support team are always there to help you. One-to-one assistance.

Regular Updates
We will regularly update our services and make improvements based on feedback.
FAQs and Hot Topics about TopMediai Vocal Remover
FAQs
1. What is a vocal remover?
A vocal remover is a software or online tool that can isolate or remove vocals from a song or audio track, leaving behind the instrumental or music-only portion.
2. Can a vocal remover be used for remixing or karaoke purposes?
Yes, vocal removal can be useful for creating remixes or karaoke tracks. By removing the vocals, you can replace them with your own vocals or use the instrumental version for karaoke purposes.
3. What does vocal remover do?
Vocal Remover utilizes AI technology to remove vocals from songs, allowing users to easily obtain karaoke audio files and isolated vocals. By uploading a song to Vocal Remover, the audio file is automatically analyzed, resulting in high-quality karaoke tracks derived from the original song.
4. Why choose vocal removers online?
A vocal remover is a valuable tool for various purposes. It enables karaoke enthusiasts to create their own karaoke versions of songs by removing the vocals. Musicians and producers can use it to access instrumental tracks for remixes or covers. It is also helpful in audio production and sound design for isolating vocals for creative manipulation. Whether for personal enjoyment or professional use, a vocal remover is a versatile tool for working with audio content.
5. Is vocal removal legal?
The legality of vocal removal depends on the specific usage and jurisdiction. In general, using vocal removers for personal purposes, such as practicing or creating remixes for non-commercial use, is often considered acceptable. However, using vocal removal to infringe upon copyright or distribute copyrighted material without permission is illegal.
6. Is TopMediai Vocal Remover free to use?
You can remove vocals for free up to 5 times on TopMediai Vocal Remover. Additionally, you can upgrade to access more audio separation options and enjoy a premium experience.
Try it Free >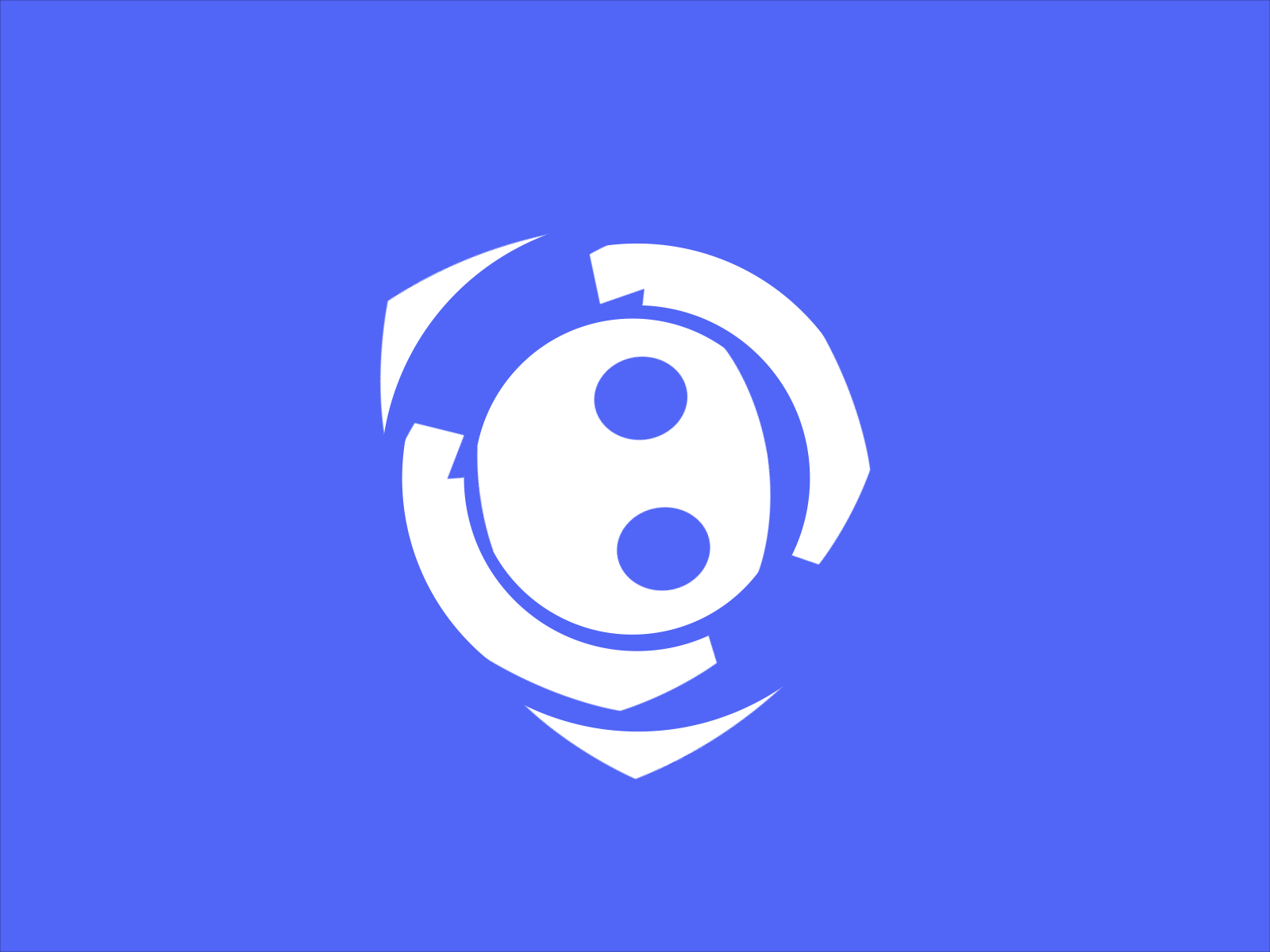 Join our Discord Community to Get More Tips about Vocal Remover!
Join Now >