Discover the innovative world of character voice generation using AI and character text to speech. Learn how to infuse your characters with distinct voices through advanced character voice generators.

In this article, we will guide you How to Generate Voice for Your Characters Using AI? Besides, we will focus on how to generate a voice for your digital characters online via AI text-to-voice?

This article included the top 3 character voice generator with ai for 2023 that you can't miss out.

Part 1: What is a Cartoon Character Voice Generator?
Character voice generator tools allow us to add many characters' voice effects to our content or videos. AI voice generator characters voices help users impress their friends on birthdays, podcasts, live streams, and more.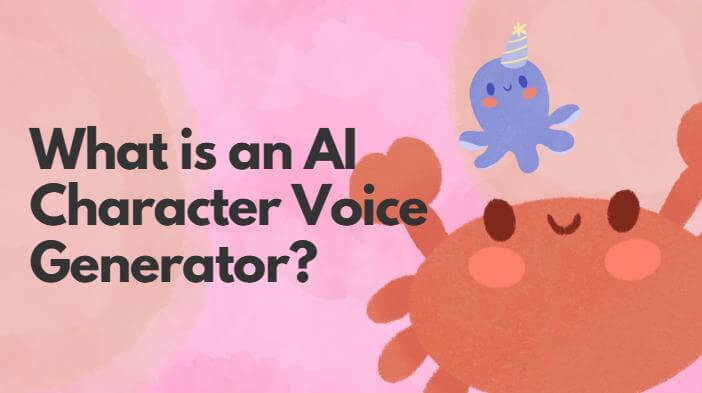 1. What is a character voice generator?
Character voice generator is an artificial intelligence technology that you can use to change your voice and create other voices. I believe many people have their own favorite cartoons and cartoon characters. If you are a video blogger and you want to dub your videos with the voices of your favorite cartoon characters, then the cartoon character voice generator can help you easily achieve this purpose.

You can change your voice to a high or fase or low one, almost like a cartoon character's voice. The technology driving this is often artificial intelligence. This means that the tool will not only change your voice, but also make it sound more natural.
2. Why are ai voice generator characters needed?
We cannot mimic the character's voices easily, so aicharacter voice generator using text to speech tools will help make your dream come true.

Character Voice Generator Text to Speech technology is crucial for content creators and storytellers as it enables the creation of distinct and lifelike voices for characters. This technology streamlines the process, saving time and ensuring consistency across various media.
3. Experience the characters ai voice from here for free!

Text to Speech
3 Free Trials of The Selected Voice Below

Mickey Mouse
Conversion failed.
Please check out if there are special characters or multiple languages in your text.
Part 2:3 Best Character Voice Generator Powered by AI in 2023
Create text to speech characters audio files using some of the best AI voice generator characters tools. Given below are some of the best character voice tools.
TopMediai text to speech is one of the best ai character voice generator for characters on the list. You can use any amount of text for many character effects for the voices to make perfect character text to speech with cartoon voice generator. If you want to change your text into any character voice with the best results and ease of use, you must use TopMediai.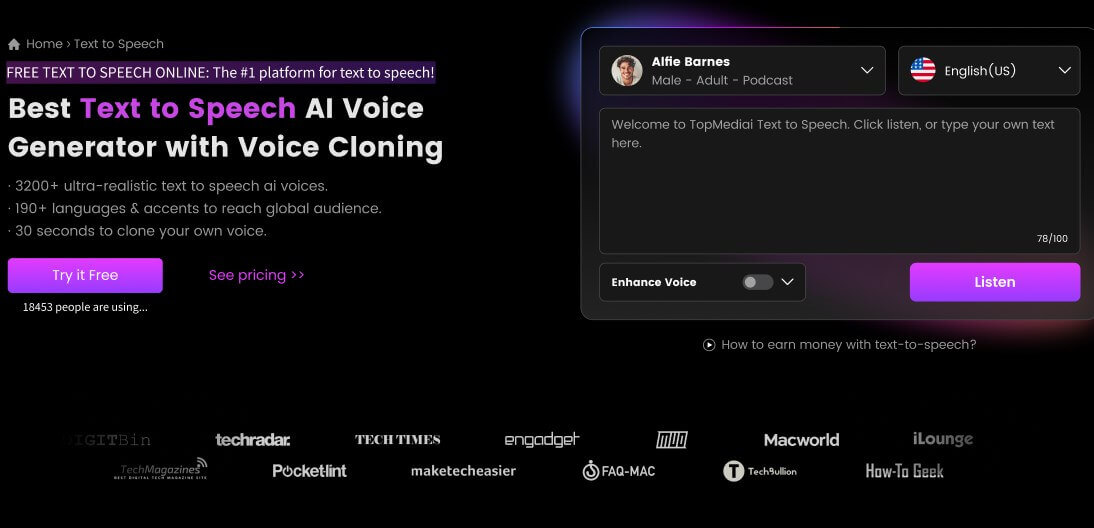 How to generate voice for your characters using ai:
Step 1: Open TopMediai Text to Speech.
Step 2: Enter your dialogue or sentence in the empty box.
Step 3: Now select your favorite cartoon character's voice which you want to make your text into.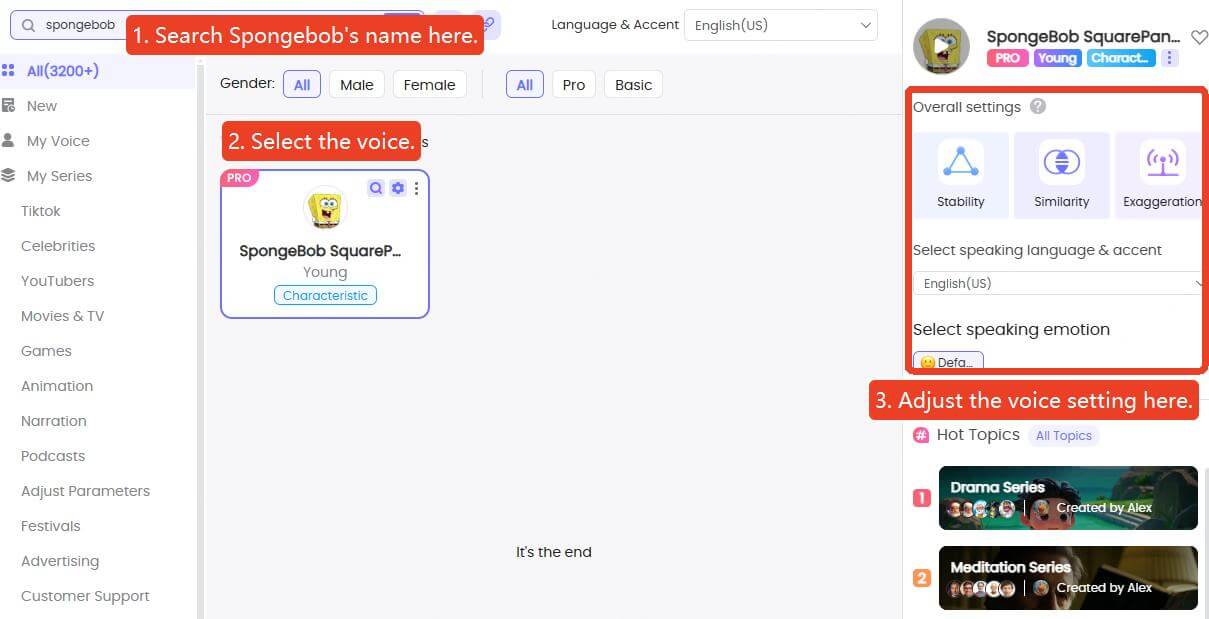 Step 4: Now click on Convert. If you're satisfied with the character text to voice result, you can download now.
TopMediai offers us 3200+ voiceover option.
This fantastic online tool allows users to create character voices using character voice generator text to speech with full features.
It has 130+ languages and dialects for text-to-speech ai character voice generation.
Free text to speech api is provided for users to try out.
Users can make voices of their favorite cartoon characters, such as SpongeBob, Mickey Mouse, Peter Griffin, or Goku.
The most cost-effective cartoon voice generator.
Pros
You can adjust the speed, pitch, and volume of the voice to your liking, making it customizable to your preferences.

Users can generate voices for gaming, cartoon, anime and movie characters.

You don't need any tutorial before making character text to speech voice.

Also, you can create unique voice for your character using its ai voice cloning feature.
Cons
Please ensure your netword is good.
2

Voice.ai

Voice.ai is a real-time AI voice changer tool with 1000+ character ai voices. Voice.ai is best for YouTubers, gamers, and content creators. One of the best features of voice.ai is voice cloning which makes it a unique and powerful tool. Furthermore, you get to use high-fidelity results for any voice as Voice.ai SDK changed the in-game voice experience in the industry.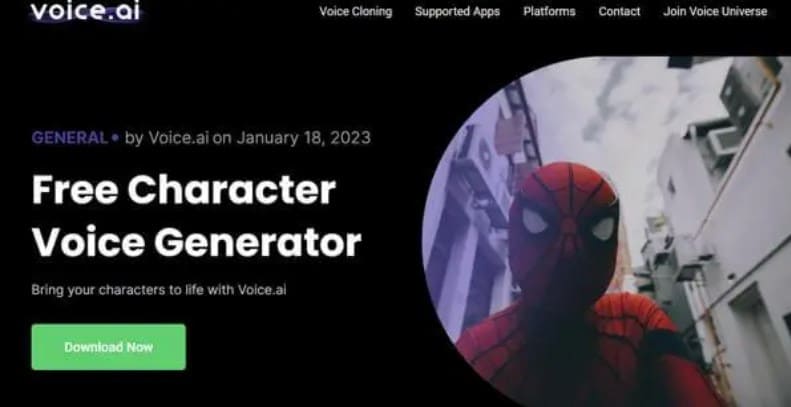 Voice.ai has thousands of AI voices.
You can level up your gaming experience with in-game voice changer features.
You can create unique creations to shock your followers and watch your community grow.
The Voice.ai character voice generator is perfect for live streamers.
3

Typecast.ai

Typecast.ai is the best and top-rated tool on the internet. With the help of typecast.ai, you can add realistic effects and customize them according to your desires. Typecast also has a good library for voice effects and soundtracks, including character voice generation.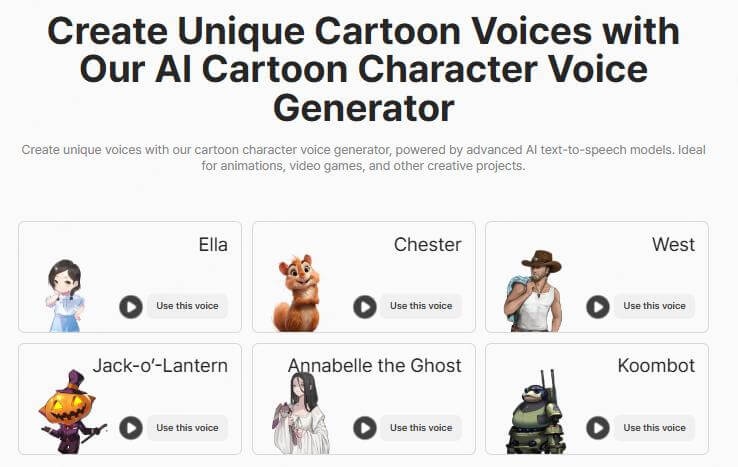 One of the best features on Typecast is a voice according to gender role, visual effects, emotions, and tones. If you want one of the best character voicer changers, then the Typecast is one of the best options.
Typecast have many templates for gaming, sales, education, and many other that you can use.
There are 300+ sound effects available for your character's voice.
It has 70+ languages and dialects for text-to-speech character voice generation.
There is no need for tutorials; you can easily create content and character voices.
Part 3: Comparison between AI Character Voice Generators [Latest]
| Plan&Pricing | TopMediai Text to Speech | Murf.ai | Speechify |
| --- | --- | --- | --- |
| Monthly | $12.99 | $29 | $59 |
| Per Day | $0.43 | $0.96 | $1.96 |
| Available Voices | 3200 | 60 | 120 |
| Languages supported | 70+ | 20 | 70+ |
| Other Licenses | AI Voice Cloning | Voiceover | No |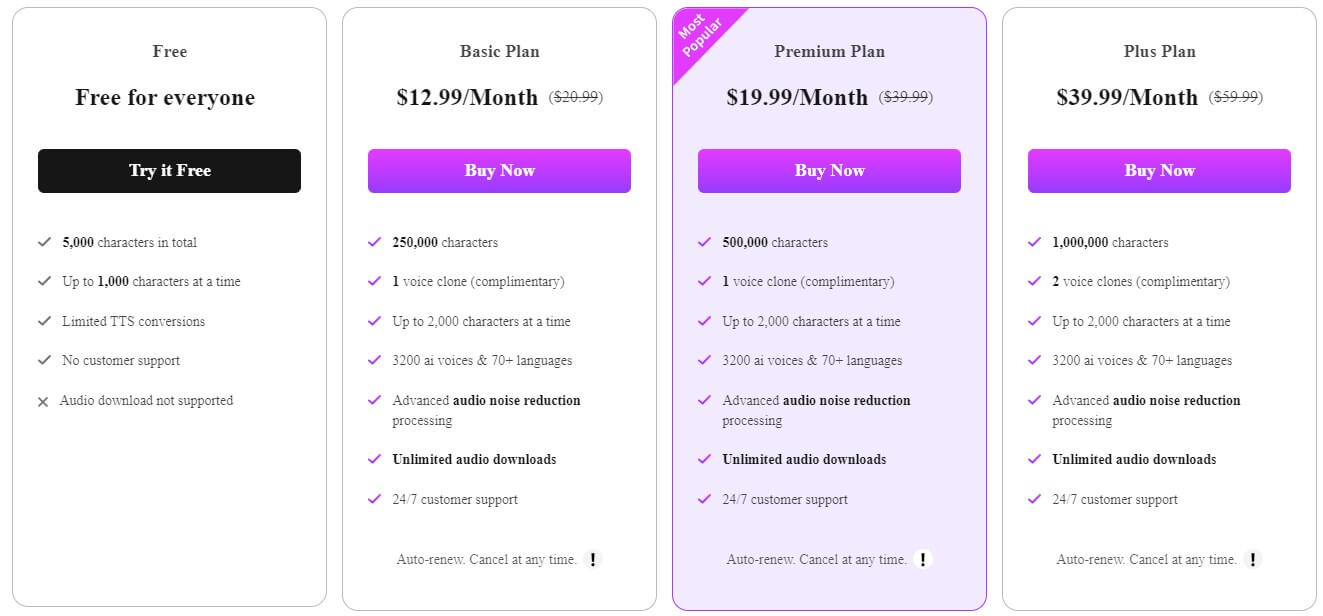 Part 4: FAQs about AI Voice Generator Characters
1 What are the best cartoon character voice generators for voiceover?
If you are a cartoon lover or fan of characters like Optimus Prime, Peter griffin, SpongeBob, and some other cartoon characters, or maybe you are YouTuber and vlogger. In that case, you always need a voiceover for the best results and a meme-generating tool.
There are some best cartoon character voice generators available in the market, but TopMediai is one of the best cartoon character voice generators. Over 3200 voices are available on this character ai voice generator.
As long as you are not using it for commercial purposes, yes, you can. We recommend using AI voice clones for parody purposes so that you won't run into any issues.
2 Can I use the cartoon voice generator for my YouTube channel video?
Yes, you can use it to produce realistic voiceover of different characters as long as you are not using it for commercial purposes and abide by the law. To be on the safe side, you can clone your own character voice using ai.
3How to create an ai voice for your character?
Choosing a right tool will save your time and effort in creating an ai voice for your character. It only takes 3 steps to make character ai voice with Topmediai.

Step1: Enter the text. Step2: Select the character voice. Step3: Click on 'Convert'.
4 Which is the best ai character voice generator?
As the market competition intensifies, ever more character voice generators using ai enter the market. That means users have more choices. You can try the tools mentioned above, like TopMediai or Typecast.ai.
Conclusion Overall, a cartoon ai voice generator is a unique and innovative tool that allows content creators and marketers to add an extra layer of personality and fun to their content.

By using an ai character voice generator, they can create custom voiceovers that sound like the beloved characters their audiences love, making their content more engaging and memorable. Try it today to generate high-quality voices for your characters using TopMediai.