Text-to-speech is a valuable technology that allows users to turn their text into an audio speech they can use anywhere on the internet. The character voice generator is the main feature of classical text-to-speech tools, as it adds flavor to a bland voice. With modern tools, you can make custom voice effects and tracks for your favorite character if you want to make your text to speech character voices. We will show you some of the best character voice generation tools.

Part 1: What is a Cartoon Character Voice Generator?
Character voice generator tools allow us to add many characters' voice effects to our content or videos. Ai voice generator characters voices help users impress their friends on birthdays, podcasts, live streams, and more. We cannot mimic the character's voices easily, so character voice generator text to speech tools will help make your dream come true.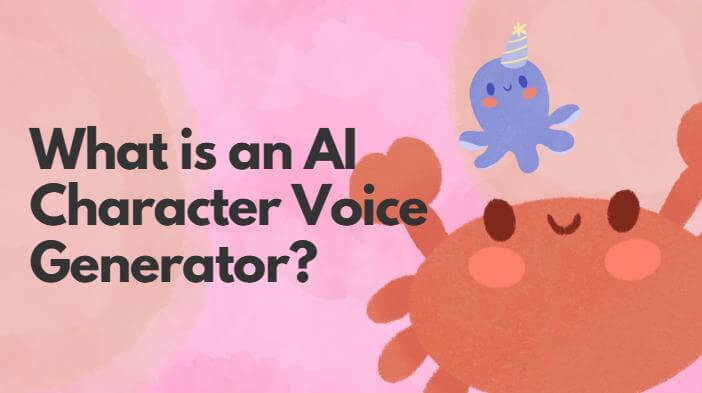 Part 2: Best Character Voice Generator Text to Speech
Create text to speech characters audio files using some of the best AI Voice Generator tools. Given below are some of the best character voice tools.
1. TopMediai for Character Voice Generator
TopMediai is one of the best character voice generator tools on the list. You can use any amount of text for many character effects for the voices to make perfect character text to speech. If you want to change your text into any character voice with the best results and ease of use, you must use TopMediai.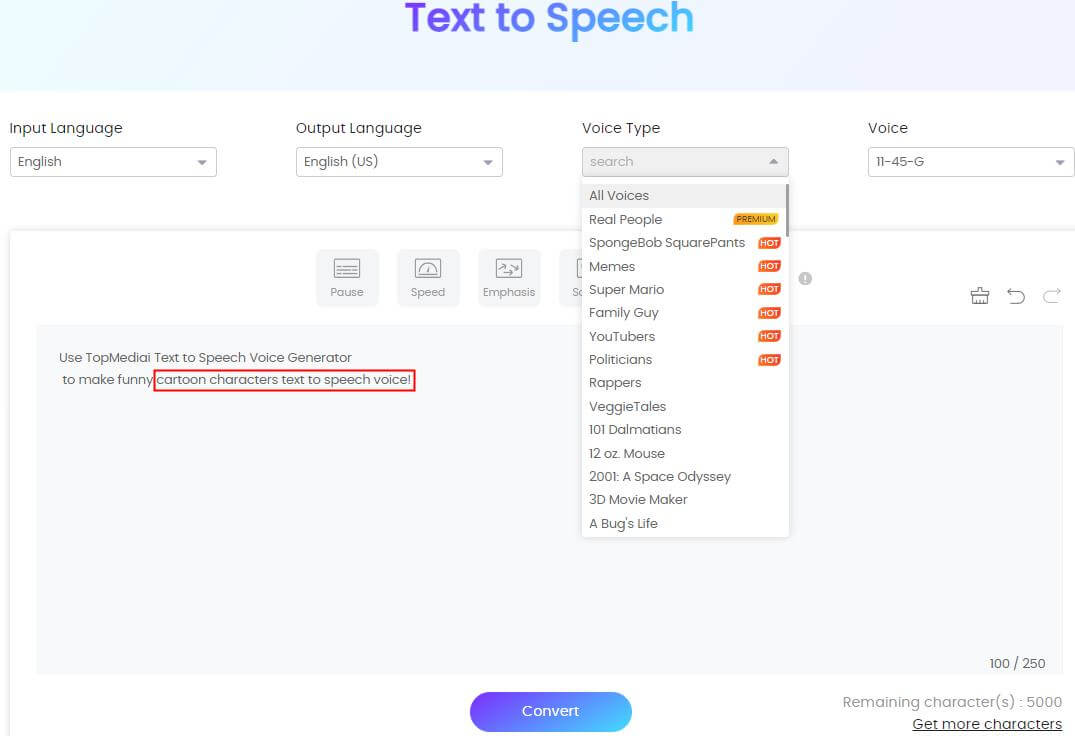 Key Features:
TopMediai offers us 3200+ voiceover option.
This fantastic online tool allows users to create character voices using character voice generator text to speech with full features.
It has 70+ languages and dialects for text-to-speech character voice generation ai.
Many other features are available in TopMediai, such as voice background remover, voice recorder, and more.
Uses can make voices of their favorite cartoon characters, such as SpongeBob, Mickey Mouse, Peter Griffin, or Hatsune Miku.
How to Use Character Voice Generator AI:
Step 1: Open TopMediai Text to Speech Online.
Step 2: Click text to speech and enter your dialogue or sentence in the empty box.
Step 3: Now select your favorite cartoon character's voice which you want to make your text into.
Step 4: Then, you can choose the parameters accoding to your need, like pause, speed, emphasis, pitch, and volume.
Step 5: Now click on Convert. If you're satisfied with the character text to speech result, you can download now.
Pros
You can adjust the speed, pitch, and volume of the voice to your liking, making it customizable to your preferences.

The tool supports multiple languages, making it accessible to a wider audience.

You don't need any tutorial before making character text to speech voice.
Cons
The pc version is not available yet.
Voice.ai is a real-time AI voice changer tool with 1000+ character ai voices. Voice.ai is best for YouTubers, gamers, and content creators. One of the best features of voice.ai is voice cloning which makes it a unique and powerful tool. Furthermore, you get to use high-fidelity results for any voice as Voice.ai SDK changed the in-game voice experience in the industry.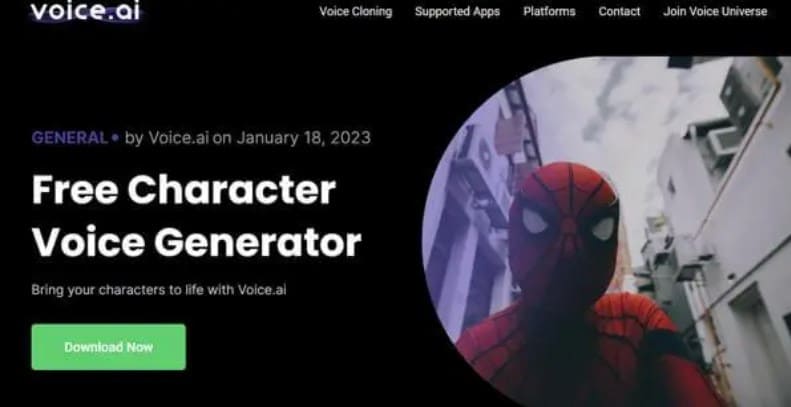 Key Features:
The Voice.ai character voice generator is perfect for live streamers.
Voice.ai has thousands of AI voices.
You can create unique creations to shock your followers and watch your community grow.
You can level up your gaming experience with in-game voice changer features.
Typecast.ai is the best and top-rated tool on the internet. With the help of typecast.ai, you can add realistic effects and customize them according to your desires. Typecast also has a good library for voice effects and soundtracks, including character voice generation.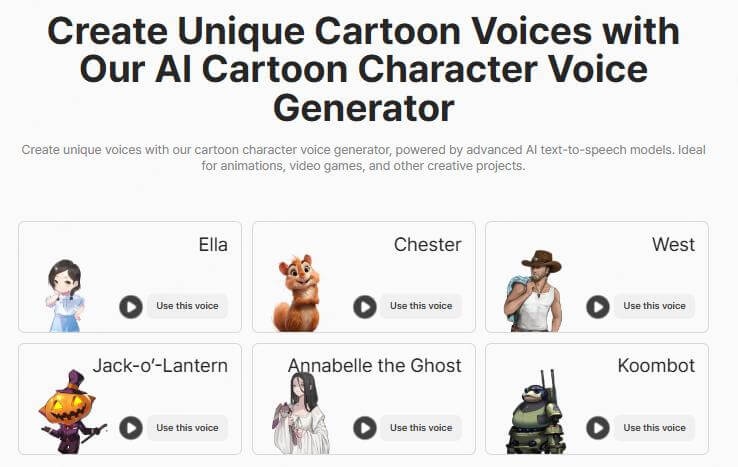 One of the best features on Typecast is a voice according to gender role, visual effects, emotions, and tones. If you want one of the best character voicer changers, then the Typecast is one of the best options.
Key Features:
Typecast have many templates for gaming, sales, education, and many other that you can use.
There are 300+ sound effects available for your character's voice.
It has 70+ languages and dialects for text-to-speech character voice generation.
There is no need for tutorials; you can easily create content and character voices.
Part 3: FAQs about Character Voice Generator Ai
1 What are the best Cartoon Character Voice Generators for Voice Over?
If you are a cartoon lover or fan of characters like Optimus Prime, Peter griffin, SpongeBob, and some other cartoon characters, or maybe you are YouTuber and vlogger. In that case, you always need a voiceover for the best results and a meme-generating tool.
There are some best cartoon character voice generators available in the market, but TopMediai is one of the best cartoon character voice generators. Many effects are available in the TopMediai, and its interface is easy to understand and easily used. This will help you a lot with voiceovers.
2 Is There a Character Text to Speech Voice Generator Online?
Yes, quite a few text-to-speech character voice generator tools are available, and they are wholly online and easy to use. TopMediai is best for character voice generation and is a web-based online voice changer tool.
It has many effects and background filters for the recordings. The TopMediai Voice Changer can run on any device or operating system because it is an online tool.
3 How Do You Make a Character Voice?
To make, create or imitate any character's voice, you must do an impersonation that requires manipulating their original voices.
But with the help of TopMediai, you can easily create any character voice with just simple steps, as mentioned above in this article.
Conclusion:
Overall, a cartoon character TTS generator is a unique and innovative tool that allows content creators and marketers to add an extra layer of personality and fun to their content. By using a
character voice generation Ai
, they can create custom voiceovers that sound like the
beloved characters
their audiences know and love, making their content more engaging and memorable.We strongly recommend
TopMediai
text to speech. Because users can type text and create their favorite character voice by selecting these.