Music is a universal language that has been part of human culture for centuries. Over the years, music has evolved, and so has the technology used to create it. One such technological advancement is the Text to Song Converter.

In this article, we will discuss what Text to Song is and how to turn my words into a song.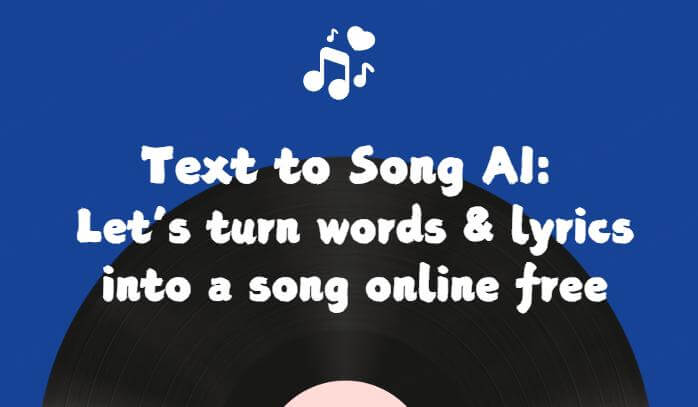 Part 1: What is Text to Song AI?
Text to Song is an innovative AI technology that allows users to create music from written text. This technology uses natural language processing (NLP) and machine learning algorithms to convert text into a musical composition. By analyzing the patterns and nuances of the text, Text to Song AI can generate melodies, rhythms, and even lyrics.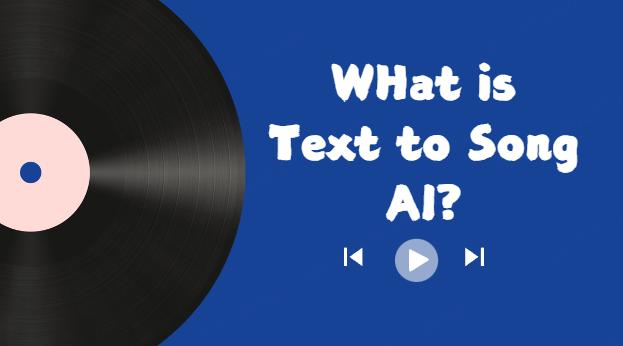 Part 2: Tutorial: Recommand Text to Song Generator free
TopMediai offers a cloud-based Text to Music AI Generator, it that uses advanced ai music analysis technology to generate high-quality music from your written text quickly.
One of the unique features of TopMediai text to speech is when you input your text to make a song, you can choose the emotions and mood of the lyrics. That is mean you can write a happy lyrics with a sad melody or opposite. As a basic Text to Song tool, there are too many functions coming soon. You can try it now and witness our development and progress together.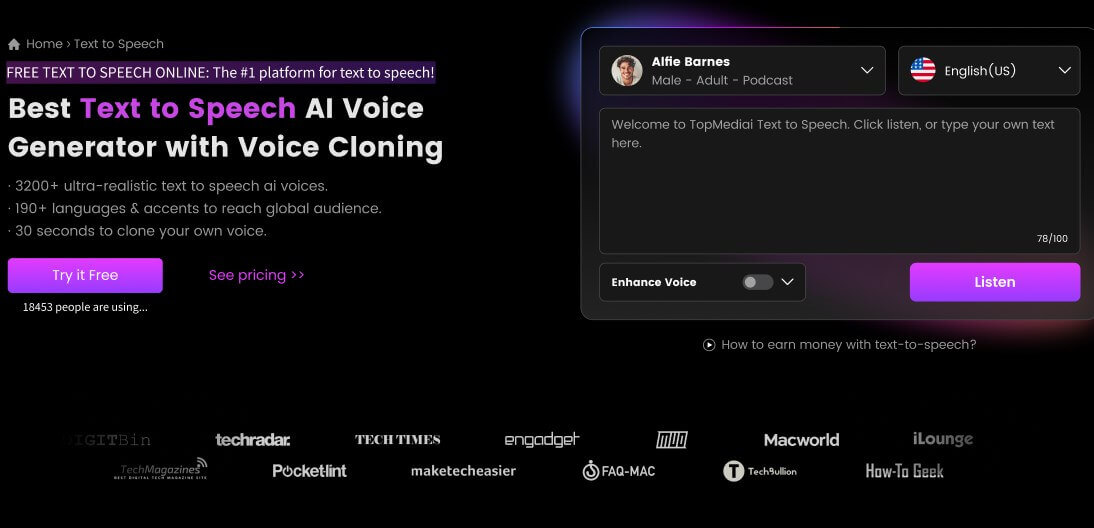 How to Use TopMediai AI Text to Song Online:
Step 1: Go to the TopMediai text to speech.
Step 2: Choose a language and an artist voice for your song.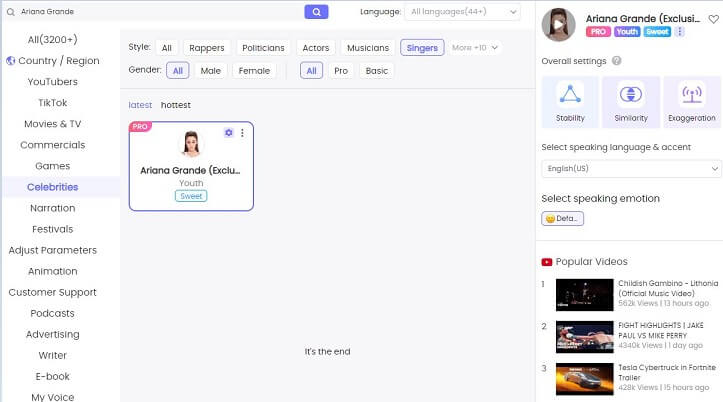 Step 3: Type in the lyrics or any text you want to singing/speak in your song.
Step 4: Adjust the speed, tone, emotion and other musical parameters as needed.
Step 5: After clicking the "Convert" button, you will get a stunning audio file, that is your own creation!
Upon completing the text to music filter, users gain access to a vast selection of over 70 languages and 3,200+ voiceover options.
Delivers excellent results that can be downloaded in the user's preferred file format.
A diverse range of voice options are available, including male, female, and even Peter Griffin voices.
Has plans to introduce new features in the future, such as audio-to-text conversion, so users are encouraged to stay tuned.
Free text to speech api access for developers.
Veed.io, a brand with a primary focus on AI video generation, has unveiled a new feature - Text to Song. Their slogan is "Transform text into melodies with VEED's text-to-song generator." As of now, they have released only a demo of this feature. Users can input a prompt to generate music in five different vibes: Chill, Hip-hop, Electronic, Rock, and Dance. After a short wait, a high-quality song is generated.

How to Use Veed.io Text to Song:
Step 1: Visit Veed.io and sign up or log in.
Step 2: Select a vibe for your music: Chill, Electronic, Hip-pop, Dance or Rock.

Step 3: Input a prompt(optional).
Step 4: Click "Create track" button to start generating the music.
Step 5: Aftera few second, you can listen to your generated song!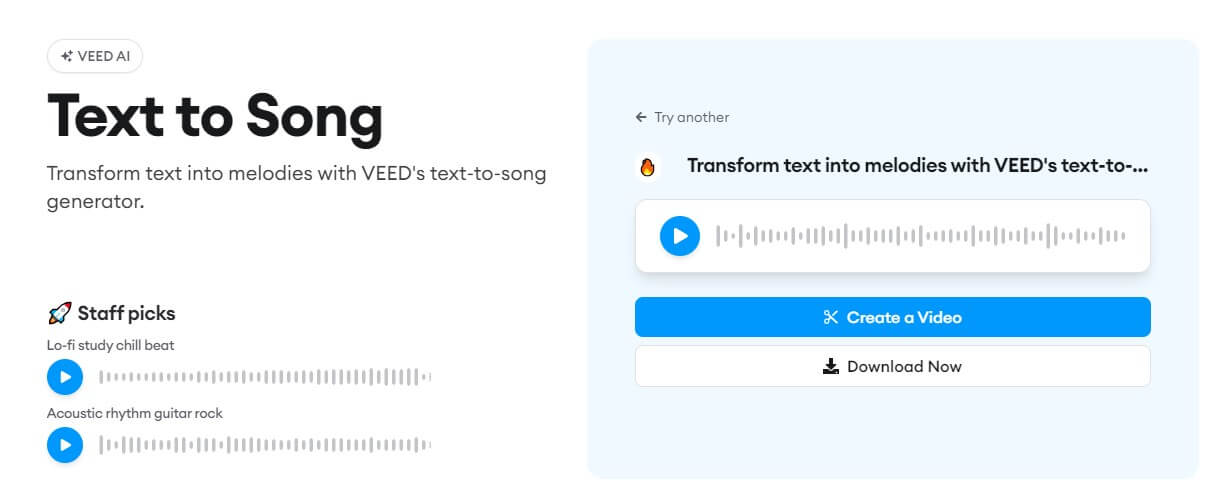 5 vibes to choose from.
Quickly generating, easily get your own music.
Simple interface, you can enter a lyrics for a song or nothing to make a pure music.
Advanced tech ensures high-quality output.
Free to use.
Voicemod is a popular Text to Music AI Generator that enables users to create music from written text using a range of styles and genres.
Voicemod is its ability to convert written text into natural-sounding vocals using a range of voice modulation techniques. This can be particularly useful for creating demo tracks or experimenting with different vocal styles.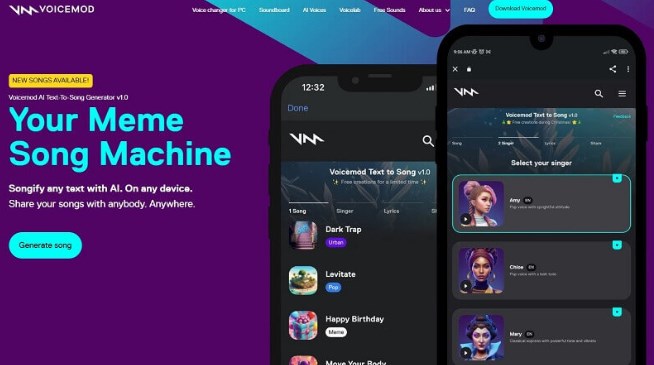 How to Use Voicemod AI Music Generator from Text:
Step 1: Click on the "Text to Song" option.
Step 2: Enter the text you want to convert into a song in the provided box.
Step 3: Customize the song's style, tempo, and pitch according to your preference.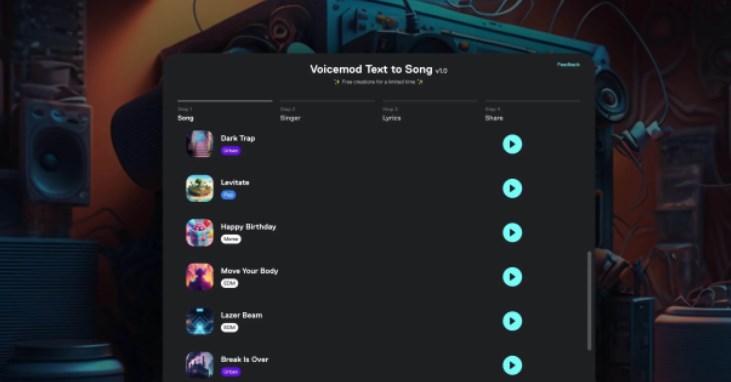 Step 4: Click on the "Generate Song" button.
Step 5: Preview the generated song and make changes if necessary.
Step 6: Save the song to your computer.
Advanced users can optimize the vast range of voices available using innovative AI technology to create hyper-realistic Walter White voice generator filters.
Despite its powerful capabilities, the software remains easy to use and delivers impressive results.
Provides text-to-speech features, as well as the ability to generate voiceover videos.
With 32 video templates based on Wav2Lip technology, users can create up to 12 seconds of engaging content.
TopMediai AI song cover is suitable for all singers and any music genre, covering kpop, pop, R&B, etc. Topmediai's ai cover uses advanced AI learning technology to generate high-quality music. I usually use it to cover male' songs with female singers's vocal.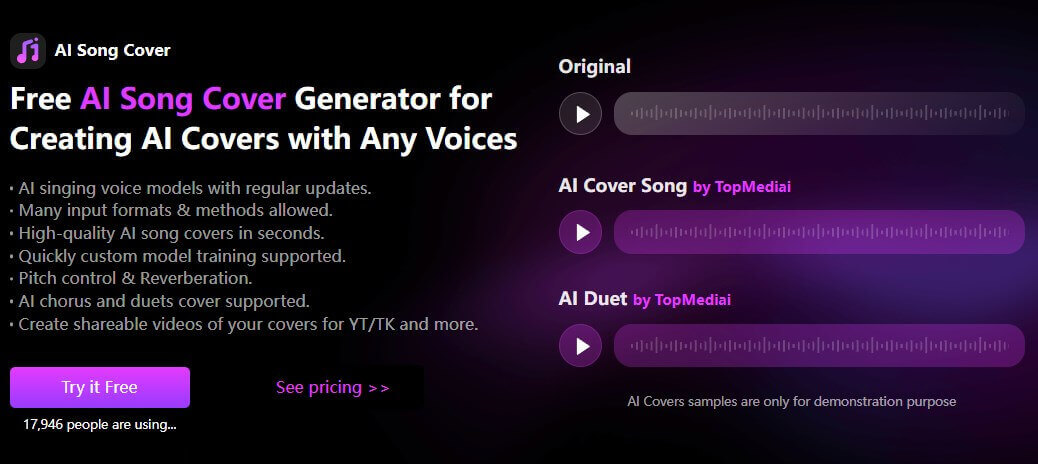 How to Make AI Song Cover:
Step 1: Visit TopMediai AI Song Cover's official website.
Step 2: Upload your song as a audio file.
Step 3: Choose a ai model you like.
Step 4: Click "Create" to access the processing.
Models Updated every weeks.
High-quality AI Models suits you.
Free 30s audition.
Simple guide and user-friendly interface.
Part 3: HOT FAQs About Text to Song
1 What is text to song?
Text to song refers to the process of converting written or typed text into a musical composition, often using artificial intelligence (AI) or software that generates music based on the provided text. This technology can create melodies and harmonies that correspond to the text's content, turning it into a song.
2 How can I turn my words into a song online free?
To turn your words into a song online for free, you can use online songwriting platforms or lyric generators. Simply input your lyrics or words, choose a musical style or genre, and the platform will generate a song based on your input. Some popular options include voicemod.
3What is ai music generator from text? And any recommendation?
An AI music generator from text is a tool that uses artificial intelligence to create musical compositions based on written or typed text input. These generators analyze the text and generate melodies, harmonies, and rhythms that match the content.

Recommended AI music generators from text include Voicemod and Melobytes.
ConclusionText to Song AI is a game-changer for the music industry. It provides a new way to create original music quickly and easily. TopMediai and Voicemod are just two examples of the many Text to Song Converters available.

If you're a songwriter or musician looking to try something new, consider giving Free Text to Song AI a try. Who knows, you might create the next big hit!