Recently there has been a trend of imitating Taylor Swift voice in TikTok, and if you are a fan of Taylor Swift, you will definitely want to post tiktok videos with her AI singing voice too.

In this article I will share how to generate Taylor Swift AI voice by the best Taylor Swift AI Voice Generator and use it make Taylror Swift ai singing to create your tiktok content.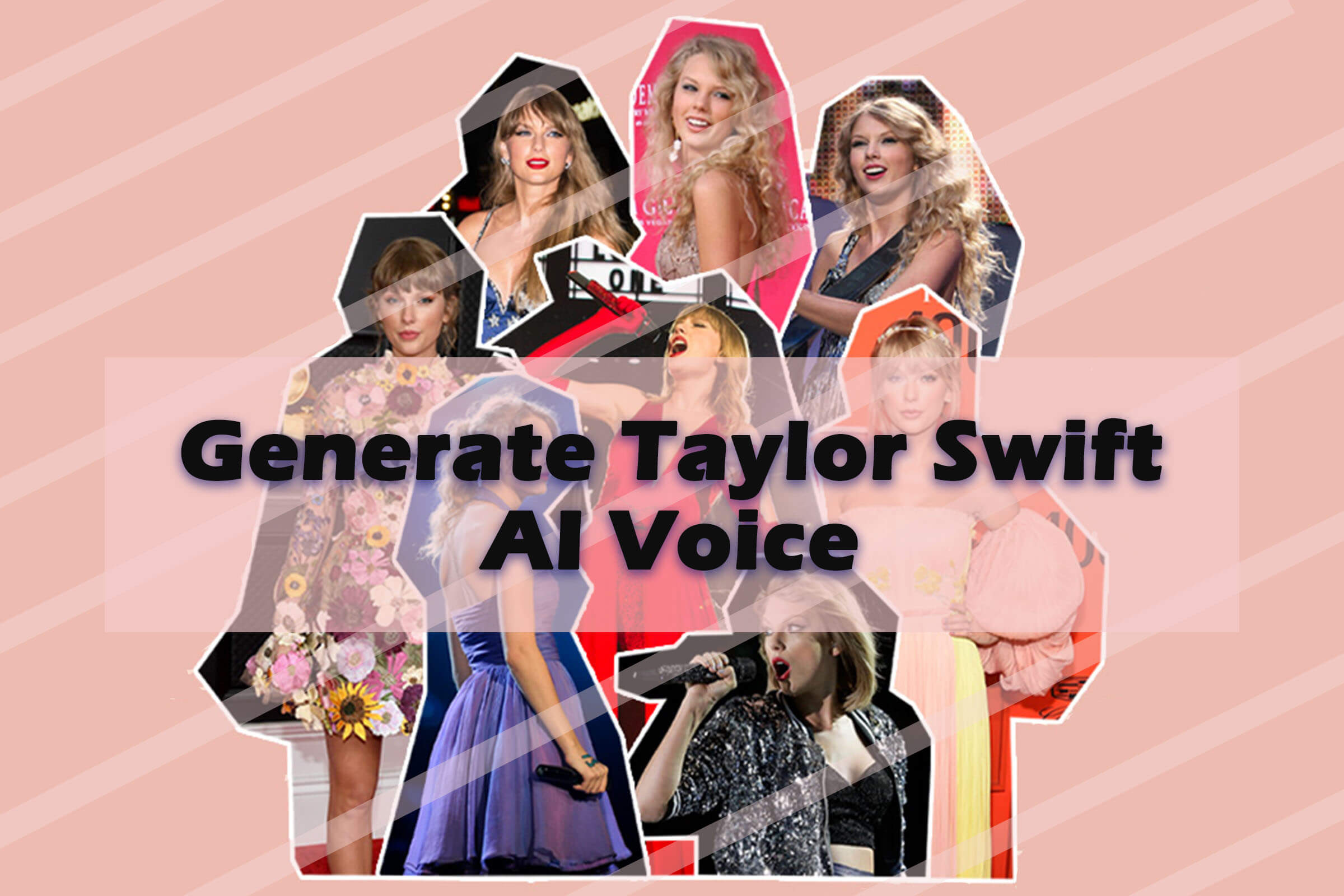 Part 1: Who is Taylor Swift?
Taylor Swift is an American singer-songwriter and one of the most successful artists in contemporary music. She is known for her confessional songwriting style, which often draws from her personal experiences and relationships.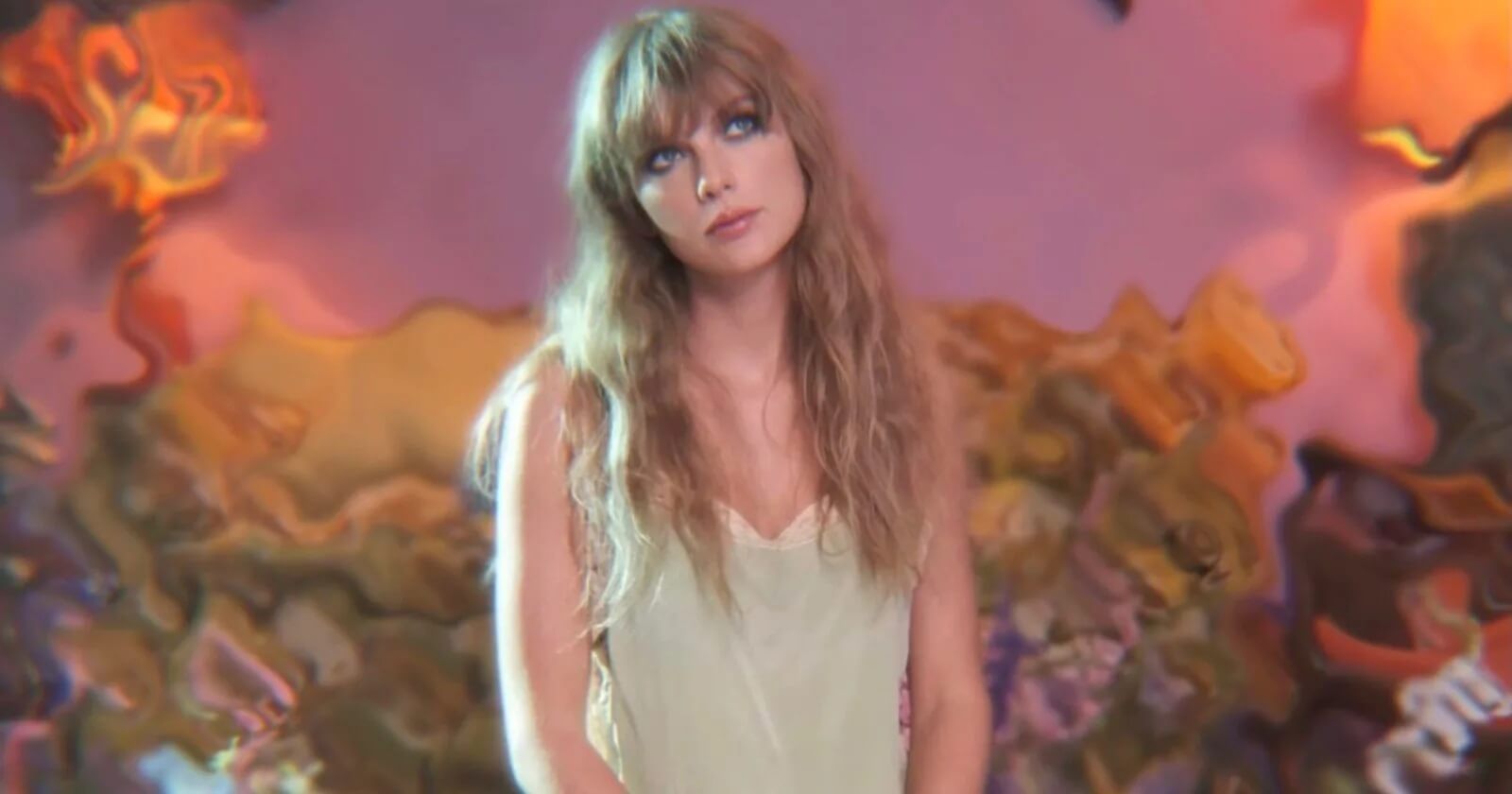 Her music has been recognized with numerous awards, including 11 Grammy Awards, and she has sold over 50 million albums and 150 million singles worldwide. Swift is also known for her philanthropic work, which includes supporting various causes related to education, disaster relief, and LGBTQ+ rights.
Don't miss out! Why not try out Taylor Swift ai voice generator for free now?

Text to Speech
3 Free Trials of The Selected Voice Below

Taylor Swift
Conversion failed.
Please check out if there are special characters or multiple languages in your text.
Part 2: Generate Taylor Swift AI Voice for Video Content on Tiktok/Youtube
TopMediai Text to Speech is an advanced text-to-speech generator that utilizes AI technology to enable users to create voices of different celebrities, including popular artists like Taylor Swift and Ariana Grande. Moreover, the platform also allows users to generate Taylor Swift AI voice in various languages, adding to its versatility. [Bonus: Cover Taylor Swift Song]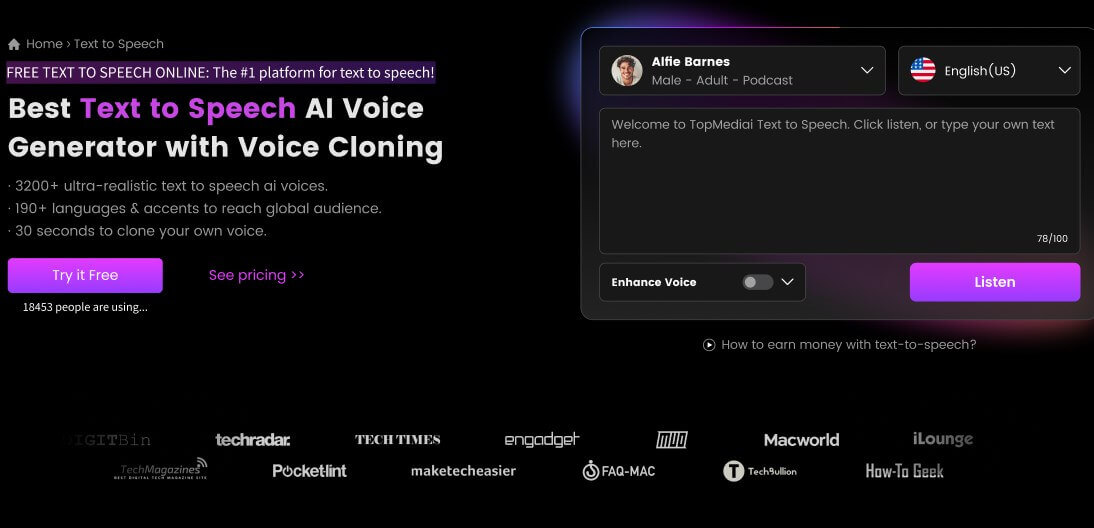 How to Use Taylor Swift AI Voice Generator:
Step 1: Go to the TopMediaiText to Speech.
Step 2: Upload or copy-paste the text that you want to convert into speech.
Step 3: Choose Taylor Swift Ai Voice in the Singers voice type .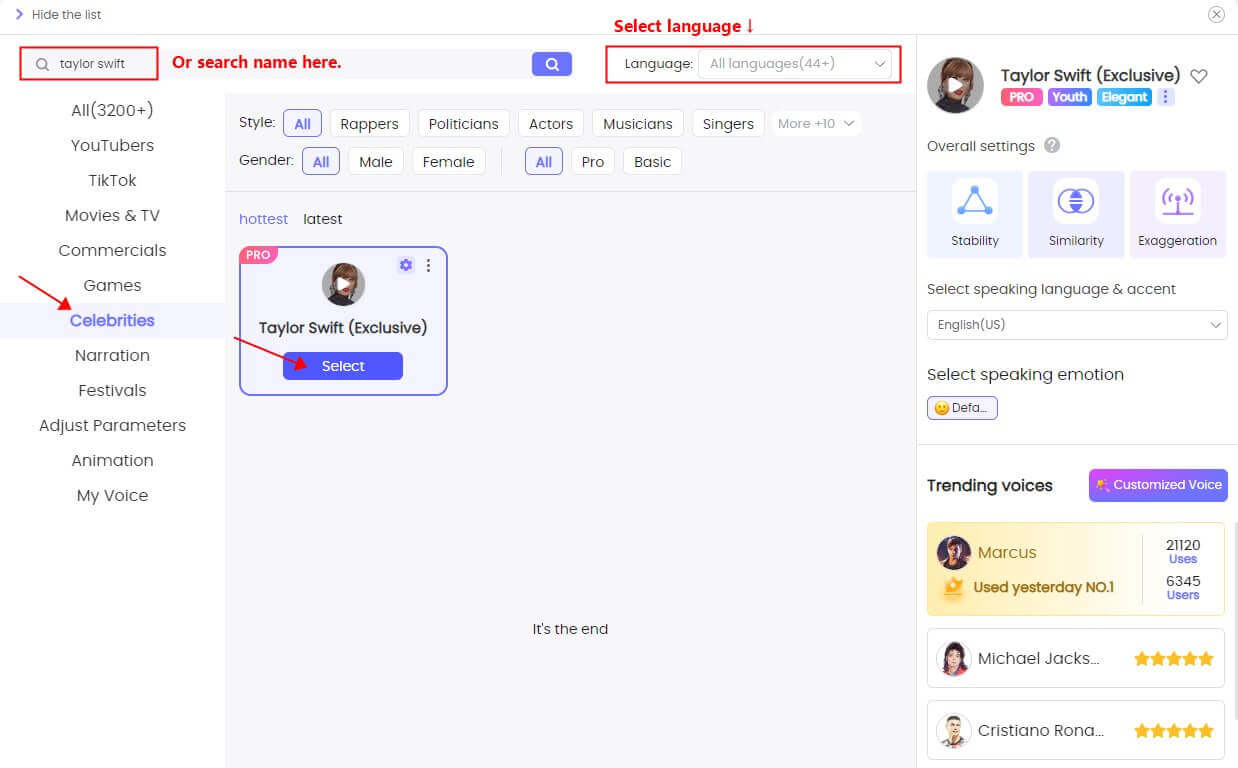 Step 4: Choose the language, voice, and other settings that you prefer.
Step 5: Download the final speech output as an audio file.
Key Features:
With 3200+ distinct voices available, providing an extensive range of options for users to choose from.
Supports 70+ local languages, providing users with the flexibility to switch between languages.
Offers 100+ native tones, making it well-suited for global users seeking high-quality audio output.
Empowers users with complete control over their audio output, thanks to its adjustable parameters.
Apart from Taylor Swift AI voice, TopMediai also features Ariana Grande text-to-speech functionality, offering users a variety of voice options.
Along with text-to-speech, TopMediai includes other practical features such as speech recognition, voice recording, audio editing.
Allows users to incorporate singer voice effects, including the renowned Taylor Swift.
ElevenLabs can quickly convert written text into an audio recording that mimics Taylor Swift AI Singing voice. By following a few simple steps, you can effortlessly integrate the resulting speech into your audio projects.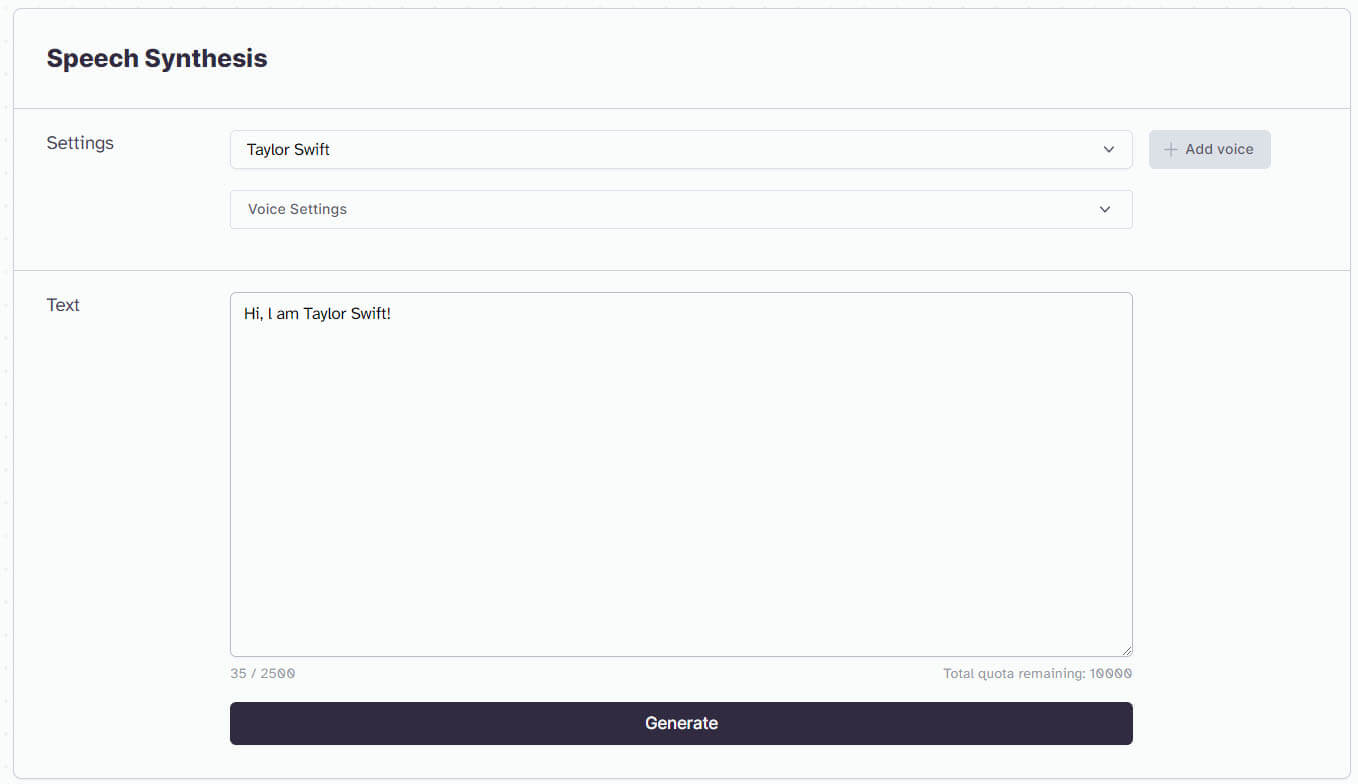 Key Features:
Affordable APIs are accessible to all app developers.
Provides more than 5,000 voiceovers that are free from royalties.
A comprehensive workshop with all the necessary features.
Customize and modify the singing voice or sound of Taylor Swift.
User-friendly and simple to operate.
Want to Change Taylor Swift's Voice in Real-time?
Come to TopMediai Onlien Free Voice Changer!
Bonus: How to Use Taylor Swift AI Voice for TikTok Content?
Suggestion
Performing stand-up comedy with Taylor Swift's ai voice to mouth.

Read a book or advertisement in Taylor Swift's voice.

Singing songs written by yourself with Taylor Swift's voice.

Role play with Taylor Swift's voice.
Part 4: FAQs about Taylor Swift Voice AI Generator
Finally, we come to the most asked online questions for Taylor Swift AI Singing Generator.
1 Can TopMediai generate Taylor Swift's voice in real time?
It is possible. There is no waiting time to generate sounds with topmediai, just enter what you want to generate and click "Convert" and you can also download the generated ai voice.
2 Can I upload TopMediai-generated Taylor Swift ai voice to tiktok or youtube videos?
Yes. TopMediai offers the opportunity to use it for free. You can select as many voices as you want for text-to-speech and subsequently upload them to various social platforms, which is very convenient for content creators.
3 Will TopMediai's voice library be updated?
Yes. Of course. We will update new voices from time to time, so if the sound library doesn't have the type of voice you want, you can always give us feedback.
ConclusionProducing a distinct audio content that distinguishes itself from others can be accomplished by generating the voice of Taylor Swift.

With TopMediai text to speech , it's a simple task to generate top-notch Taylor Swift AI voice, modify them to your preferences, and save them in multiple file types. TopMediai is an ideal voice solution for content creators, musicians, or even Taylor Swift fans seeking to actualize their concepts.