Add a touch of magic to your content with a Mickey Mouse voice generator! Discover how to create fun and playful audio that sounds just like the iconic cartoon character. Perfect for videos, podcasts, and other digital content, a Mickey Mouse text to speech voice generator is a great way to attract more visitors to your website or social media channels.

Try it out today and see what kind of creative possibilities await!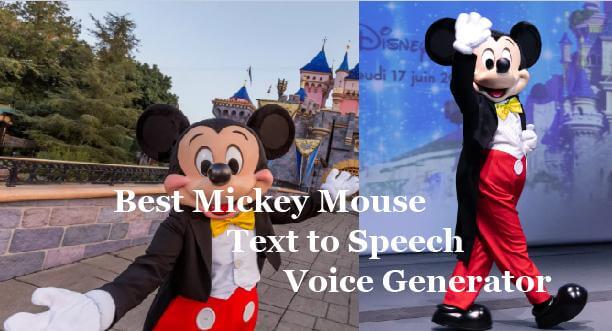 Part 1: Who Is The New Voice For Mickey Mouse?
The new and current voice for Mickey Mouse is Bret William Iwan, born on 10 September 1982. He is a well-known American voice artist assigned as the fourth official voiceover for Mickey Mouse. He was first called to voice Mickey with Wayne Allwine, but Wayne, unfortunately, passed away due to heart failure.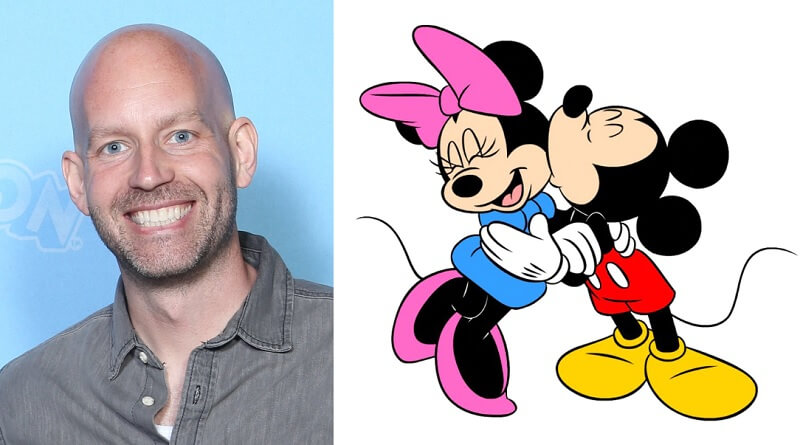 He first recorded Micky's voice dialogue in the theme for Disney's Animal Kingdom. Bret has also performed in Mickey Mouse's voice for the game on PlayStation. He has voiced Mickey Mouse in dozens of cartoons, promos, and video games that people love the most.
Part 2: Top 3 Mickey Mouse TTS Voice Generator Online
Add some playful and whimsical charm to your digital creations with a Mickey Mouse text-to-speech online tool. These tools allow you to input any text you want and have it spoken back to you in the iconic Mickey Mouse voice.
Whether you're creating videos, podcasts, or other digital content, a Mickey Mouse text-to-speech voice generator online tool can help you engage with your audience in a fun and memorable way.
TopMediAi is also an online platform that converts text to human-like voices. You can convert the text to Mickey Mouse's voice in the best ways through this tool. The free and paid version has different features according to the pricing.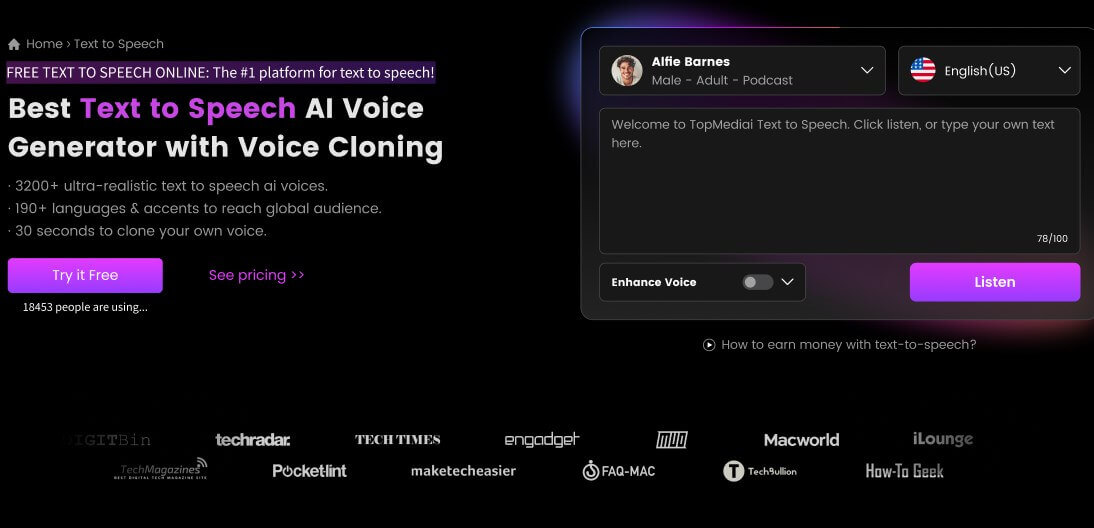 Key Features:
It has a library of more than 3200 voices like garfield,etc.
It has 70+ voices which cover most of the countries across the world.
Topmediai has advanced speech synthesis technology.
You can control the speed and volume of the generated voice.
Multiple other charater ai voices can be generated with ease, like Spongebob, Goku, Spongebob, Marioand many others.
It can control the volume, pitch, and emphasis to create natural effects.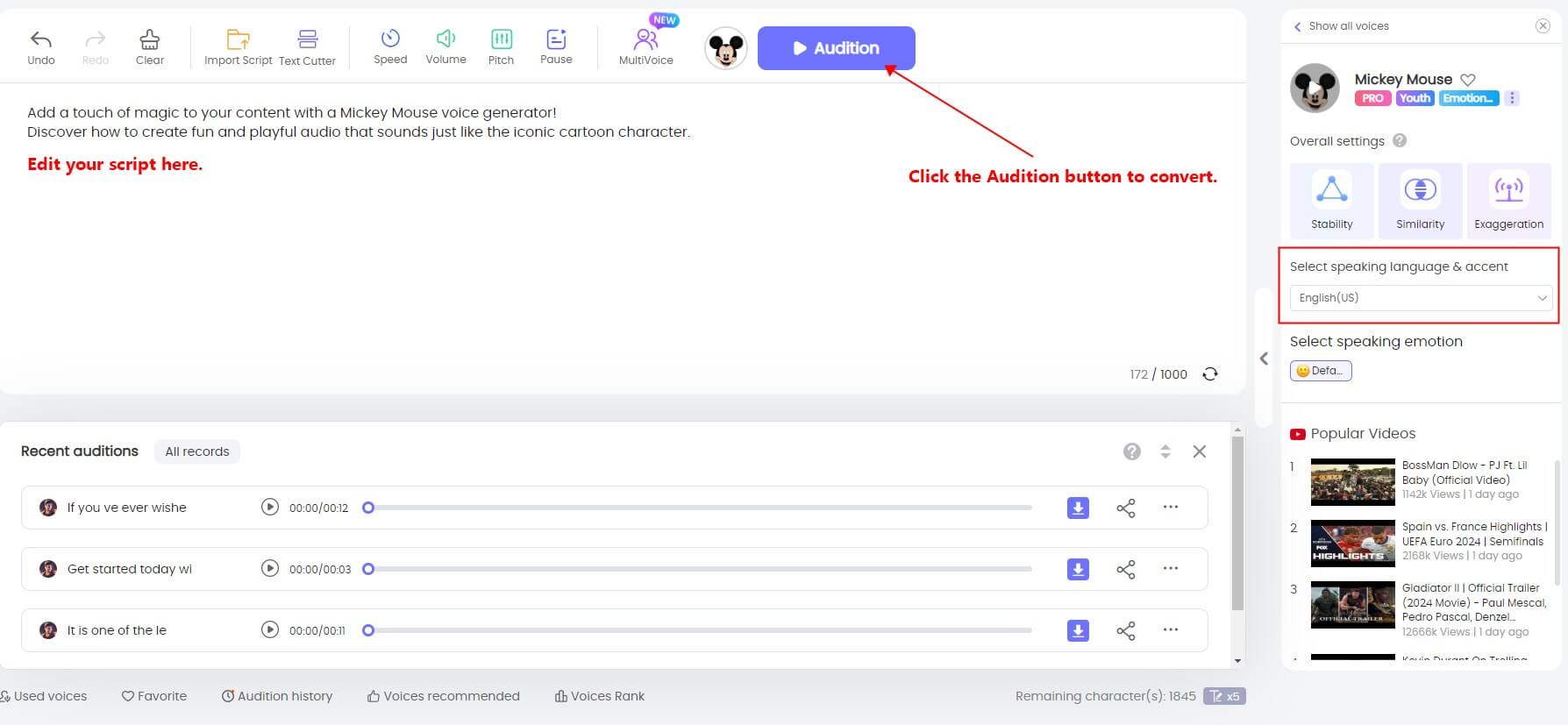 Pros
The conversion is easier and faster.

It has a user-friendly interface.

You can export the audio outputs in multiple formats.
Cons
Internet should be good when converting text to speech.
FakeYou are an online Mickey Mouse Text-to-Speech voice generator with numerous voices stored that are free to use on your projects. It has a well-organized platform that is handy for a new user. You have to write the text and search for the voice of your desired artist for the conversion.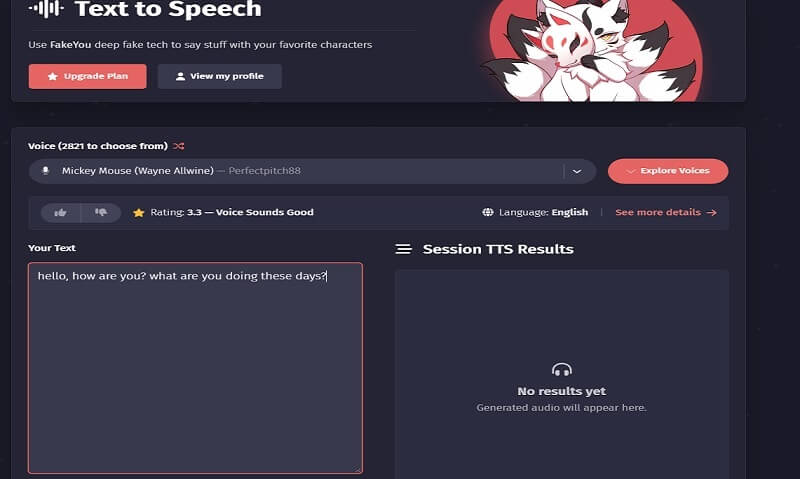 Key Features:
Fake You allows you to save your favorite voice for later use.
It has 2400 high-quality voices that can be used freely.
It gives you an edit feature to do necessary changes to your voiceovers.
It has multiple languages for every user around the world.
Pros
It has an easy and intuitive interface for new users.

It works with desktop and mobile as well.

Fake You has faster-downloading speeds.
Cons
Recording directly in your voice is not possible.

The conversion may be delayed due to a slow internet connection.
Uberduck.ai is an excellent online platform integrated with communities such as Discord and GitHub. You can provide the reference audio or choose between the stored character voices. It can create the best Mickey Mouse voice that will sound natural.

Key Features:
It gives the API documentation to the users so that they can create their apps.
You can also customize the generated voice.
It has 5000+ voices, of which 4000 are free to use.
It is a community-driven Text-to-Speech converter.
Pros
The premium user can use the API to create the application.

It has the best customer support.

It converts the text to higher quality in less time.
Cons
You are only limited to recording five voices.

It will cost you higher to get the premium features.
Part 3: Mickey Mouse Text To Speech Voice Generator [PC]
In this part, we will recommend the best software to generate Text-to-Speech in Mickey Mouse voice, so let's see which software this is.
iMyFone VoxBox is an outrageous software covering multiple features that you need while converting the text to Mickey Mouse voice. It also has general voices for regular use, or you can use famous ones. It generates the highest quality of voiceovers, and it never interrupts you with the ads while conversion. You can convert the whole script into your favorite character's voice and edit it accordingly.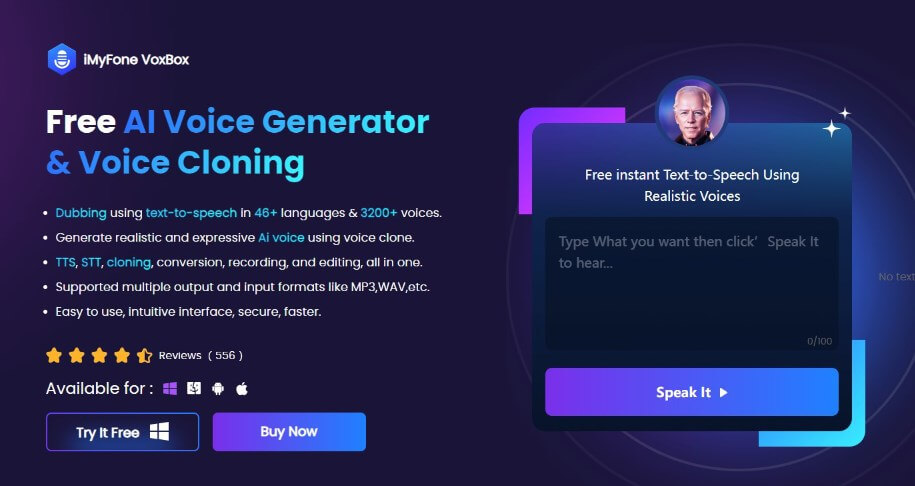 Key Features:
It has a huge library of almost 3200+ voices.
It has output and input formats such as MP3 and WAV.
Supported 46+ languages.
Pros
It is safe to use because it has layers of security.

Save money and time to make voiceover.

It is supported with all audio file formats with no size limit.
Cons
You may face crashing issues sometimes.

It has lower downloading speeds.
Part 4: FAQs about Mickey Mouse Voice Generator
1What is Mickey Mouse text to speech?
"Mickey Mouse" text-to-speech refers to a type of computer-generated speech that sounds high-pitched, cartoonish, and generally unrealistic. It is named after the famous Disney character due to its similarity in tone and intonation to the character's voice.
2What is a "Mickey Mouse" voice generator?
A "Mickey Mouse" voice generator is a tool or software that creates a high-pitched, cartoonish voice that sounds similar to the voice of the famous Disney character.
3What are the uses of a "Mickey Mouse" voice generator?
A "Mickey Mouse" voice generator can be used for various purposes, including entertainment, novelty, or humor. It is often used in memes, parody videos, or other forms of online content to add a comedic or ironic element to the dialogue.
Conclusion Overall, if you're a fan of Mickey Mouse and want to create fun and engaging content, a Mickey Mouse voice generator or Mickey Mouse voice text to speech tool can be a great option. With a little bit of creativity and experimentation, you can create content that is sure to delight your audience and capture their attention. Feel free to have a try using TopMediai Mickey Mouse voice generator below.