Have you ever wanted to see how you would sound like a kid or just wanted to prank your friends and family, in general? If so, then a kid voice changer may be just what you need.

Kids are adorable and loveable, and so is the way that they speak. However, mimicking a child's voice is not as simple as it sounds. That said, if you want to sound like a kid, this article about baby voice changer is sure to be helpful for you.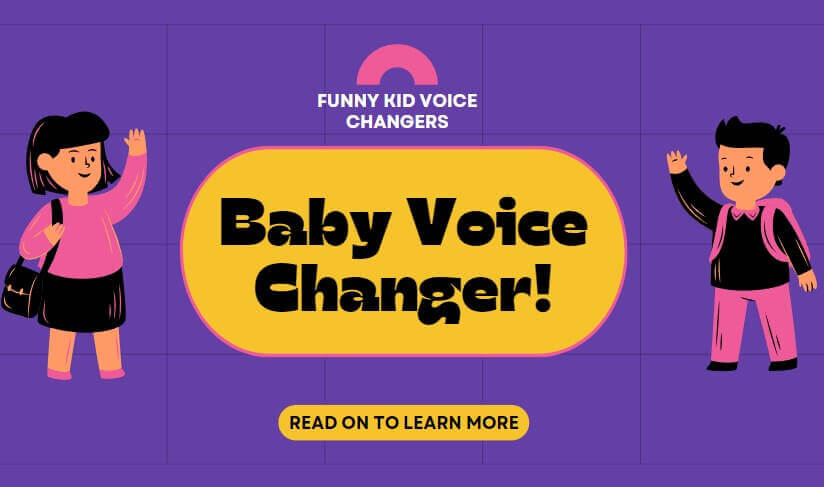 Part 1: Things You Must Know about Cute Kid's Voice
The sound of a child's voice can be one of the most endearing and captivating sounds in the world. For parents, hearing their child's voice is a reminder of the joy and innocence of childhood. For others, hearing a cute kid's voice
Kids' voices have a unique, high-pitched quality that sets them apart from adult voices. This often makes them sound more endearing and friendly, which can be great for commercials, voiceovers, and other projects. They also tend to have a larger vocal range than adults, which can make them more dynamic performers.
A kid's voice can be used to tell stories, create music, or even provide commentary on current events. It is a powerful tool for expressing emotion and conveying messages in an impactful way. With its charm and versatility, the kid's voice has become an integral part of modern media production.
Part 2: Funny Kid Voice Changers Online Free
Here are the top funny kid voice changers and baby voice changers online that are also free to use:
Are you looking for a way to sound like a kid without having to go through the hassle of finding and installing a voice changer? If so, then TopMediai voice changer is the perfect solution for you. Not only is it free to use, but it also has an intuitive user interface that makes it easy to use even for beginners.
With the TopMediai Online Free Voice Changer, you will be able to transform your voice into that of a child with just a few clicks. So why wait? Get started today and experience the power of TopMediai!
It's simple to use and can be used directly online, so there's no need to download any software or apps. With TopMediai, you'll also have a variety of other options to choose from, be it an alien or even Darth Vader.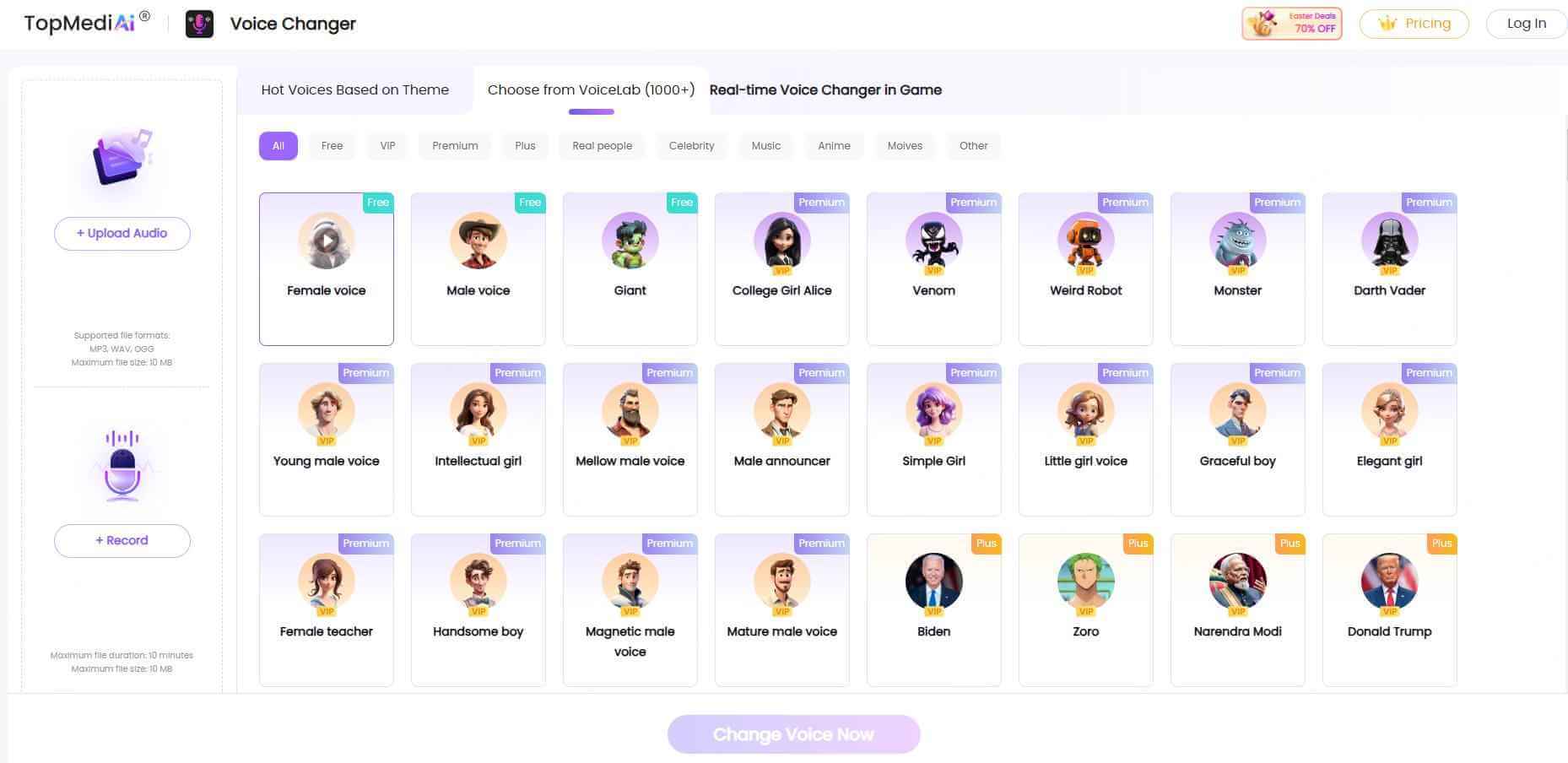 If you're wondering how to use this amazing kid voice changer, then simply follow the steps ahead:
How to Steps of Using the Kid Voice Changer:
Step 1. First, go to the TopMediai voice changer as below.
Step 2. Upload your voice to the platform or talk directly into the mic. If you're shy.
Step 3. Make sure your voice is fine and select the sound that you want to choose, be it a kid's voice or an old man's. The site will then change your voice to the sound that was chosen.
Step 4. Save your voice by downloading it and then exporting it directly to another software.
Realistic ai voices.
Totally free to use.
New voices will be updated regularly.
An abundance of voices to choose from.
The generation speed of new audio is fast.
2 methods of voice changing supported: uploading audio files or record your own voice.
Pros
Enables you to choose from plenty of voices.

Simple user interface.

Can be used for professional videos and casual uploads alike.
Cons
It is an online product, so you should have a good internet connection.
Review:
To sum up, we believe that this voice changer is truly one of the best ones out there. It's unique, versatile, accurate, and, most of all, it can easily get the job done.
2

Murf.ai

Murf.ai is an innovative voice changer that allows you to sound like a child in mere seconds. By using this powerful tool, you can instantly transform your voice into that of a child without the need for expensive equipment or tedious editing.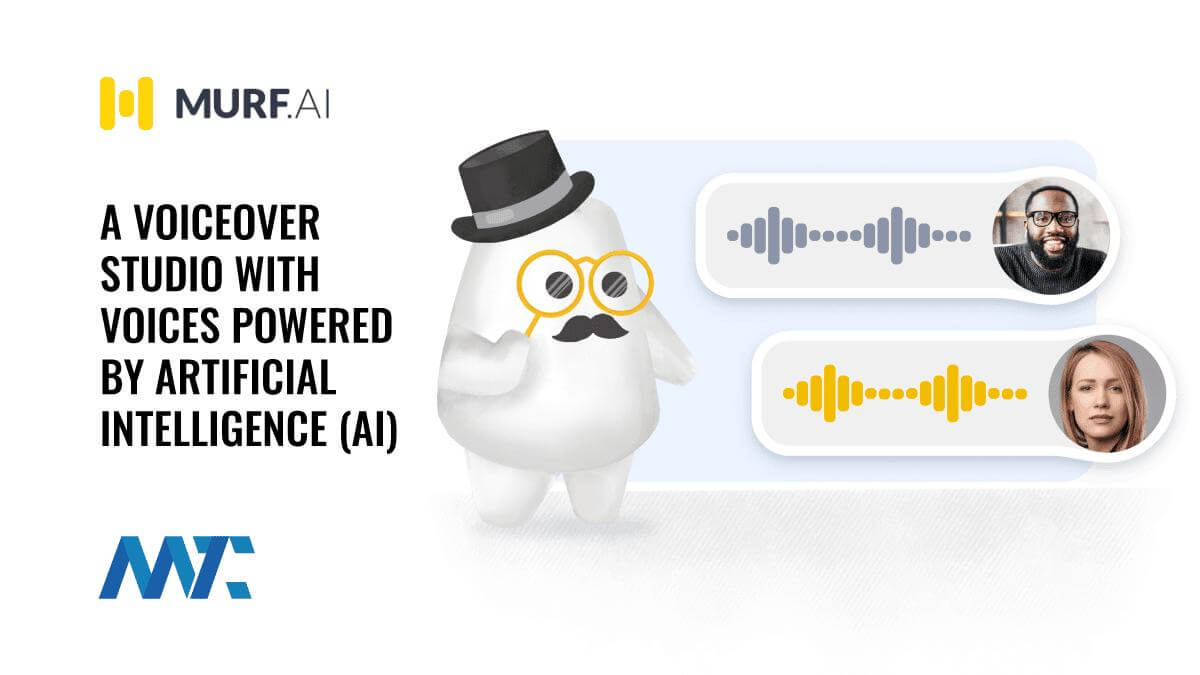 With Murf.ai, you can create realistic voices for any character or situation you can think of - from babies to old people, from robots to aliens - all without any extra effort.
The best part? It's completely free! So why not give Murf.ai a try and see what kind of unique voices you can create?
AI-powered voice changer.
It can be used for professional videos.
Allows you to change the frequency of your voice.
Saves all your recordings.
Modifies your voice by changing the pitch entirely.
Review:
If a more professional outlook is something you're inclined towards, then Murf.ai can surely be of help. However, the downside with this voice changer is that it doesn't exactly spark creativity. Nevertheless, you can still use it for any professional video that you might be making.
3

Voice changer.io

Voice changer.io is a great tool for anyone looking to prank their friends or make videos with a unique voice. It is a real voice changer that can be used to change your voice from male to female, from young to old, or even add robotic and alien-like effects.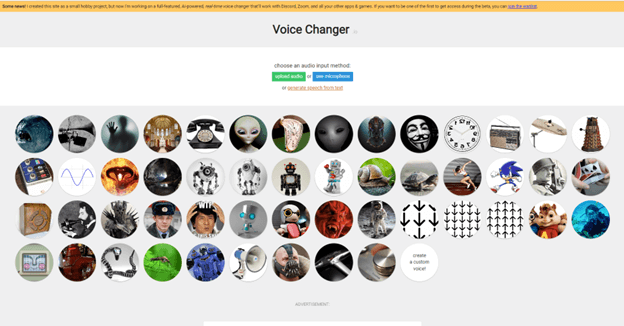 With Voice changer.io, you can create some really funny and creative voices in no time. This voice changer offers you the ability to change your voice in real-time and then use those saved voices for later. With its easy-to-use interface and wide selection of voices, it's never been easier to sound like a cute child!
Free to use.
A wide array of voices to choose from.
Allows you to generate voices directly from written text.
Offers real-time voice changing.
Review:
When it comes to Voice changer.io, it's a simple voice changer that is completely free. It can be utilized by users who are looking to change their voices in a rush, considering that this site is extremely straightforward. Be it so, we've noticed that the voices may not always be as accurate and can sometimes be glitchy.
4

Media.io

Media.io is a revolutionary voice-altering tool that lets you sound like a youngster in your recordings. It's an ideal choice if you want to give your videos some extra flair! This free voice changer is easy to use and comes with a range of features.

Media.io allows you to shift your pitch and change up the bass of your voice. You can also use more advanced features to make your voice sound clearer.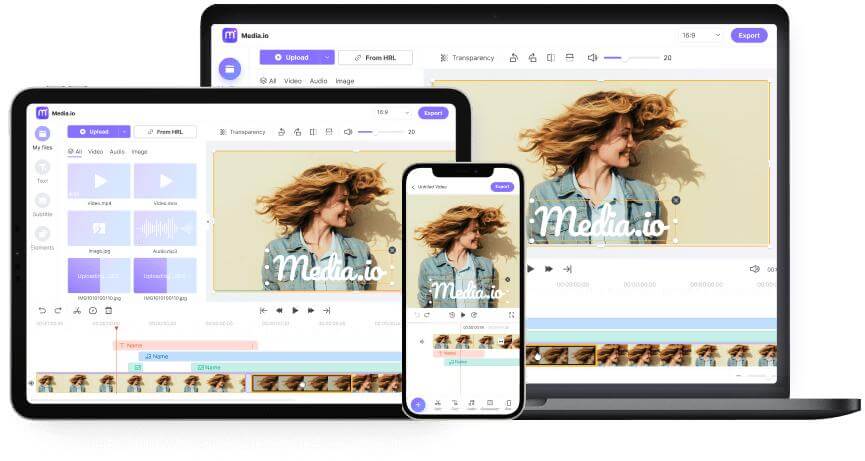 With its intuitive user interface, anyone can use it without any prior experience or technical knowledge. So, if you're looking for an easy way to add some fun and creativity to your videos, Media.io is the ideal choice!
Easy to use and understand.
Can change the frequency of your voice.
It can be utilized for professional videos.
Offers multiple features that can elevate the way your voice sounds.
Review:
In terms of Media.io, it has everything that a voice changer could require, yet there is one major issue. This kid voice changer is more useful if you are looking to pay a certain fee to use all of its features. Still, if your usage is minimalistic, then this kid voice changer isn't too bad, either.
Part 3: The Best Kid Voice Generator You Can't Miss
Among its features, TopMediai text to speech offers a distinct and engaging child voice generator. This tool could be a valuable addition to your content creation toolkit, allowing you to infuse youthful charm into your video voiceover.

By incorporating TopMediais child voice generator, you could potentially enhance the appeal of your content, particularly when discussing topics that resonate with a younger audience.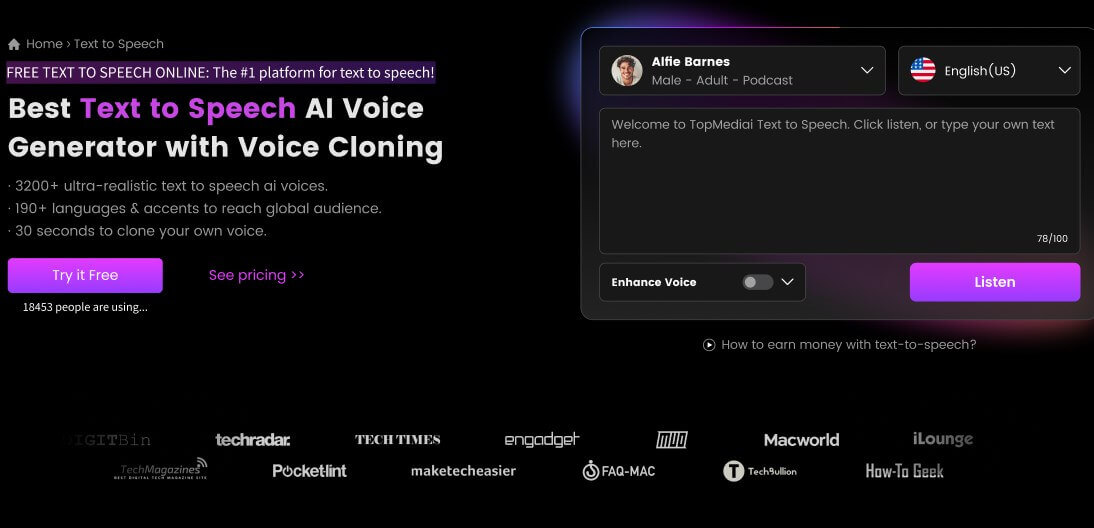 How to use kid voice generator using TopMediai?
Step 1: Go to the TopMediai text to speech.
Step 2: Select the voice in the "Kids" tab on the left.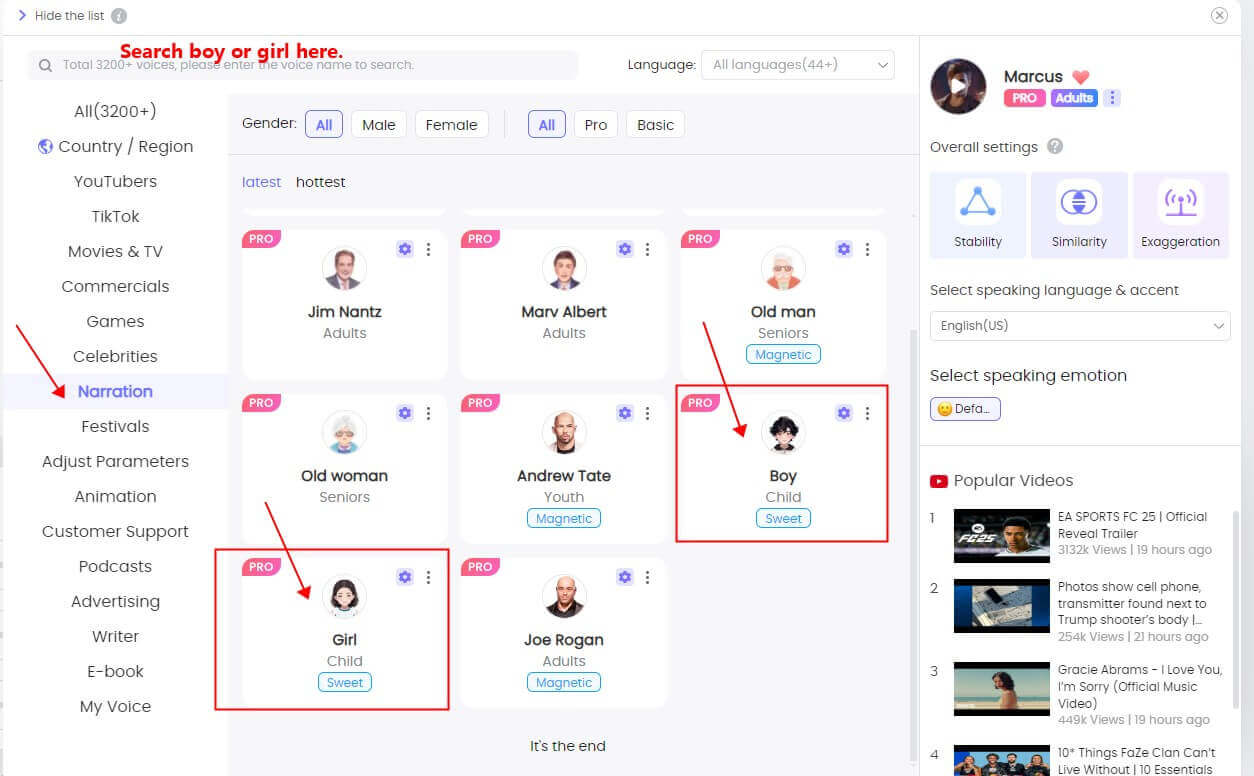 Step 3: Enter the text you want to convert into the provided text box.
Step 4: Click on the "Convert" button.
Step 5: Now, you can download the ai-generated audio in kid's voice.
Part 4: HOT FAQs about Kid Voice Changer
Some of the most frequently asked questions regarding kid voice changers have been listed below:
1 How can I change my voice to a child's voice?
If you want to change your voice to a child's voice, then a kid voice changer is just what you need. A kid voice changer will allow you to change your voice to a child's voice in a few mere seconds.
2 Which is the most recommended child voice changer online?
Although you may have countless options to choose from, an evident recommendation for choosing a kid voice changer would be none other than the TopMediai Online Voice Changer.
The reason for this may include how the voice changer is not just free to use but is also hyper-realistic in terms of the multiple options you can choose from. Moreover, you won't need to download any application or software either.
3 Is there an app to make your voice sound like a kid?
Yes, if you're looking for an application for a kid voice changer, then this might also be possible. There are multiple applications to choose from. These apps are available for both Android and iPhone alike.
Conclusion All in all, choosing a kid voice changer is as easy as can be in today's time, with the reason being the availability of options to choose from. Be it so; most users tend to be more inclined towards the TopMediai voice changer due to the number of voices that you can use alongside the amount of realism that comes with each and every voice.

Now, why not try out this free baby voice changer to make your voice sound like a baby?