"SpongeBob has been a favorite character for many cartoon lovers who have nostalgic childhood memories,include me."

People love to listen to the voice because it has created a never-ending impact in their minds. You can create SpongeBob AI voice or any other cartoon character voice you choose.
If you want to have a AI voice generator SpongeBob, this article will help you do it in several ways. Learn more!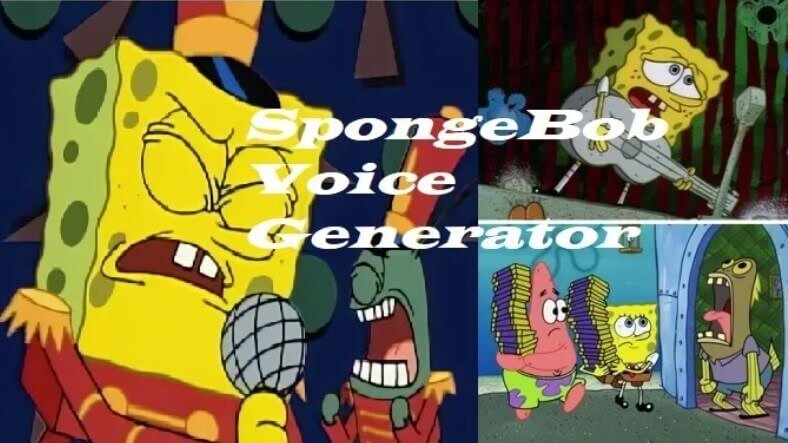 Part 1: Who is SpongeBob's Voice Actor?
The evergreen voice of SpongeBob is the voice of a great actor and comedian, Thomas James Kenny. He was born on July 13, 1962. People love his exceptional voice, especially while expressing some emotions. He has voiced many characters, such as Johnny Bravo and Mayor in Power Puff Girls, who are also very popular. His wife also collaborated with him on SpongeBob and voiced Karen.
Kenny has won many awards and has also been nominated for multiple. Most people love to put their favorite character's voice in their videos for better engagements and memories.
Part 2: 3 Online AI Voice Generator SpongeBob AI Voice
TopMediai text to speech is a powerful SpongeBob AI voice generator with free and paid versions. It has various options that provide a fast working environment to convert text to speech and make SpongeBob AI voice at higher speeds. A speech synthesis technology is used to serve the users with the best and it has a huge library of natural-sounding voices.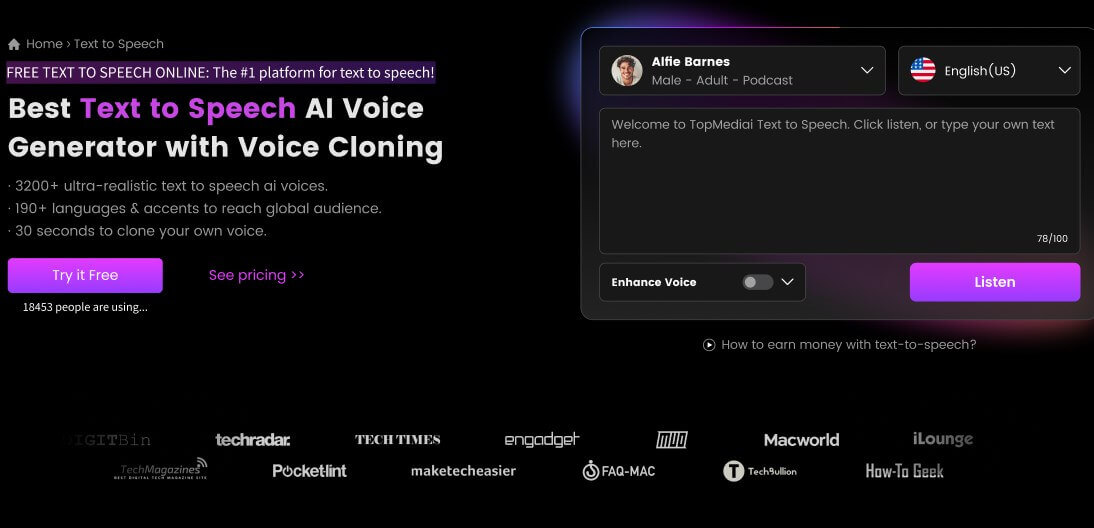 How to Get SpongeBob Text to Speech AI Voice:
Step 1: Go to the official website and enter TopMediai text to speech online.
SpongeBob
Patrick
Squidward



Step 2: Input the text on the platform, and select the SpongeBob ai voice from the voice options.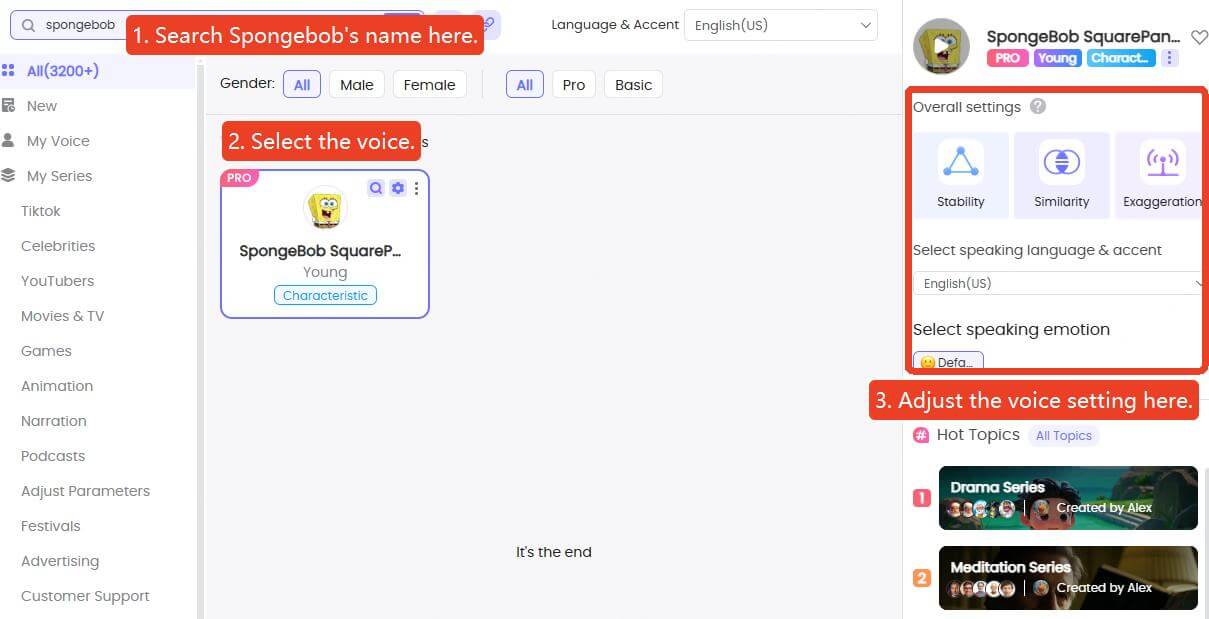 Step 3: After adjusting the voice, you can click on 'convert'. TopMedia will generate the AI voice SpongeBob and then you can easily save and use it.
Key Features:
It has 3200+ voices like Mickey Mouse, Squidward are stored, and some of them are free.
Over 70 languages for better accessibility.
You can control the voice's speed, pitch, and volume for better sounding.
Supported to edit the audio later.
It provides various functions of both Voice Generation and Speech Recognition.
Many cartoon character text to speech voice are also available.
Pros
Customize the speech speed, emphysis, volume, pitch and so on.

Quick results will generate within few seconds.

A wide range of realistic soundings like SpongeBob AI voice.
Cons
Access to some of the premium features comes only through paid versions of TopMediai.
2. 15.ai
15.ai is an old voice generator that is very simple and easy to use. It has multiple voices stored that you can use for free. It is a non-commercial Text-to-speech generator that helps the user use incredible voices by entering the appropriate script and selecting the desired voice.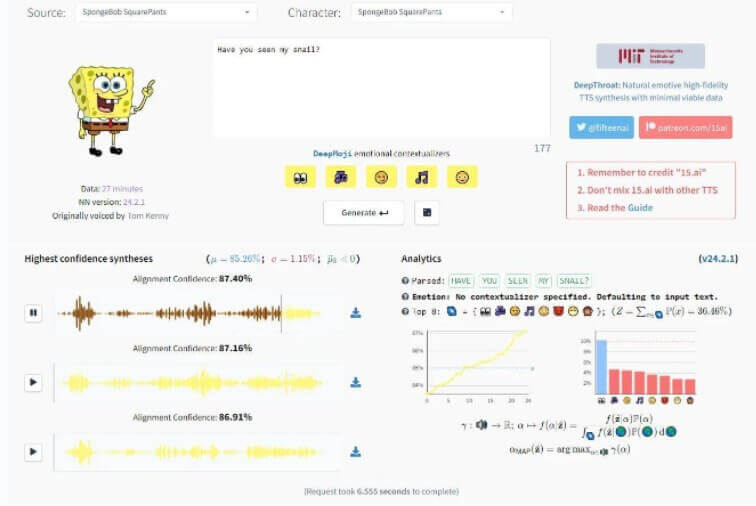 Key Features:
You can write the text up to 200 words.
It has a proper guide for new users.
A vast collection of voices freely available.
15.ai has a simple and user-friendly interface.
Pros
It has speed synthesis technology that quickly converts the text.

The website is easily accessible to anyone.

It has high-quality voices for better engaging content.
Cons
The people review that sometimes it never converts the exact cloned voice.

15.ai is unavailable now.
3. Fakeyou.com
Fakeyou is an online platform a community runs to created high-quality SpongeBob AI voice. It is a tool to enjoy the premium features freely. You can choose popular voices and apply them to your project or video for more engagements. It has all-natural sounding voices, you can find what you like.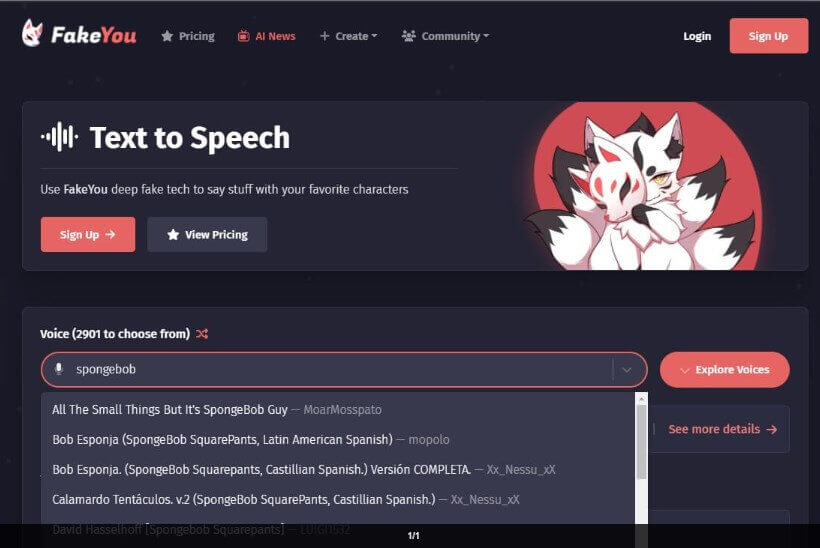 Key Features:
Offers both available and paid subscription plans.
Allows you to add likeable soundings to have a satisfying audio.
Customer support is highly active whenever you need help.
Pros
Easy steps to use.

You can edit the voice in the studio.
Cons
Some features need you to spend money.

What are the Pricing&Plans of these 3 SpongeBob ai voice generators?


| Plan&Pricing | TopMediai | 15.ai | Fakeyou |
| --- | --- | --- | --- |
| Monthly | $12.99-39.99 | Off Sale | $7-25 |
| Per Day | $0.43-1.33 | - | $0.23-0.83 |
| Available Voices | 3200 | - | 3400 |
Note: The pros and cons of above 3 products in particular, you would not go wrong if you choose according to your real needs and priorities.
Part 3: FAQs about SpongeBob AI Voice
1Can you have a realistic SpongeBob voice with an ai voice generator SpongeBob?
Yes, it is possible to generate SpongeBob voice but only with professional software like TopMeidai that accurately clones the selected voice.
2Is SpongeBob male or female?
SpongeBob is a male, and it is voiced by a voice actor Thomas James Kenny.
3Who is SpongeBob's good friend?
Patrick Star is SpongeBob's good friend, a pink starfish who lives under a rock and wears a swimsuit.
Final Thoughts In conclusion, the SpongeBob AI Voice Generator is a fun and innovative tool that allows content creators to infuse their videos with the beloved SpongeBob character's voice.

All online tools has convincing features. Without a doubt, TopMediai stands as the ultimate SpongeBob text to speech for video editors and individuals seeking TTS capabilities. Try it free today.
TopMediai Text to Speech
AI-powered text to speech generator with voice cloning