What can I use my cloned voice for?
Voice cloning technology has a wide range of use cases across various industries. Here are some common and notable examples:
How does the ai voice cloning like with TopMediai?
Take a quick look.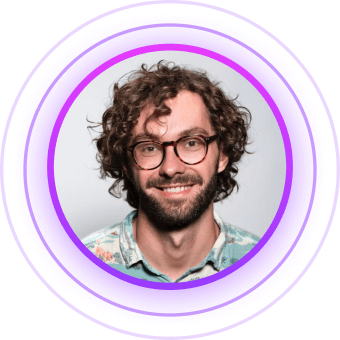 Anderson's real voice 1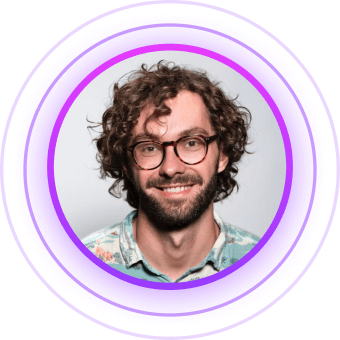 Anderson's real voice 2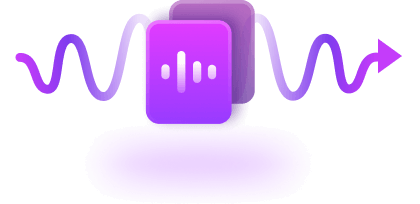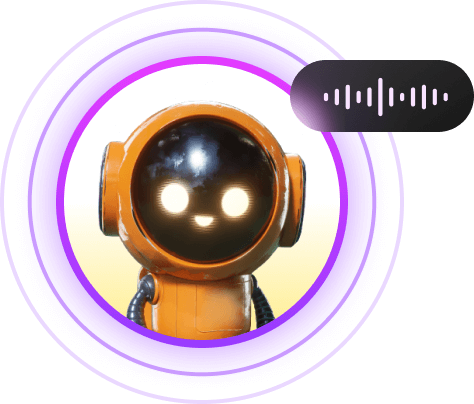 Anderson's ai cloned voice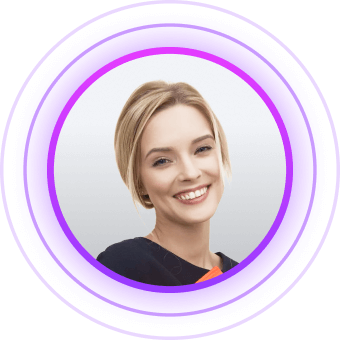 Jessica's real voice 1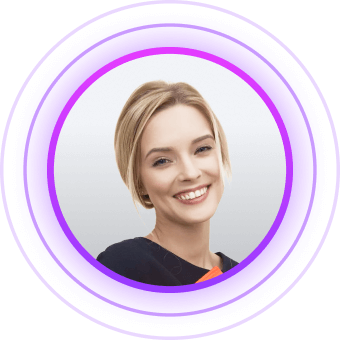 Jessica's real voice 2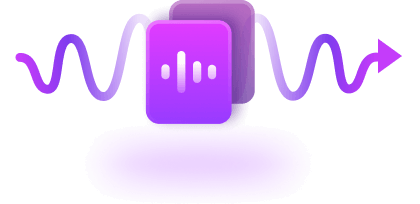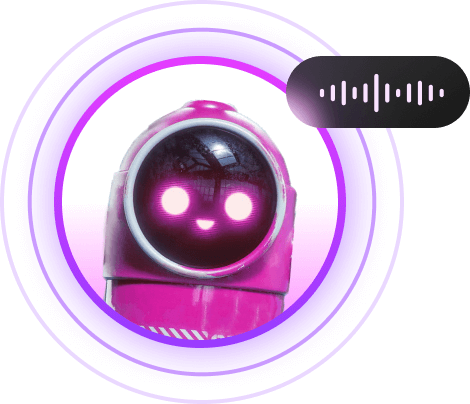 Jessica's ai cloned voice
How to clone your voice in 3 quick easy steps with TopMediai?
Crafting your unique cloned voice is a simple process that demands neither specialized equipment nor technical expertise. In a few seconds, your cloned voice is primed for use!
Choose cloning method.
Upload your audio files or read sample texts. Choose your preferred one.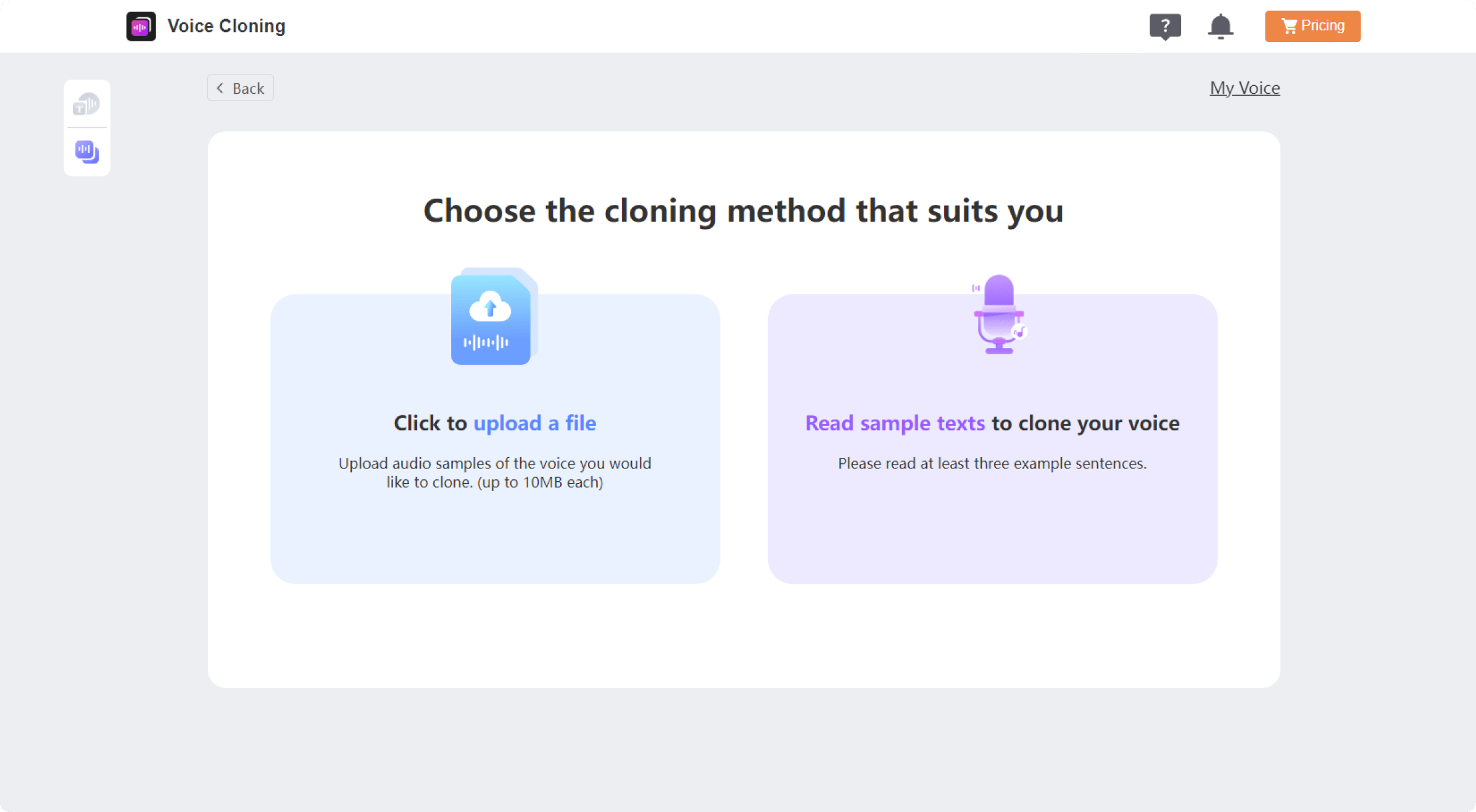 Start voice cloning.
After uploading your audio files or recording your voice, click the Start Cloning button.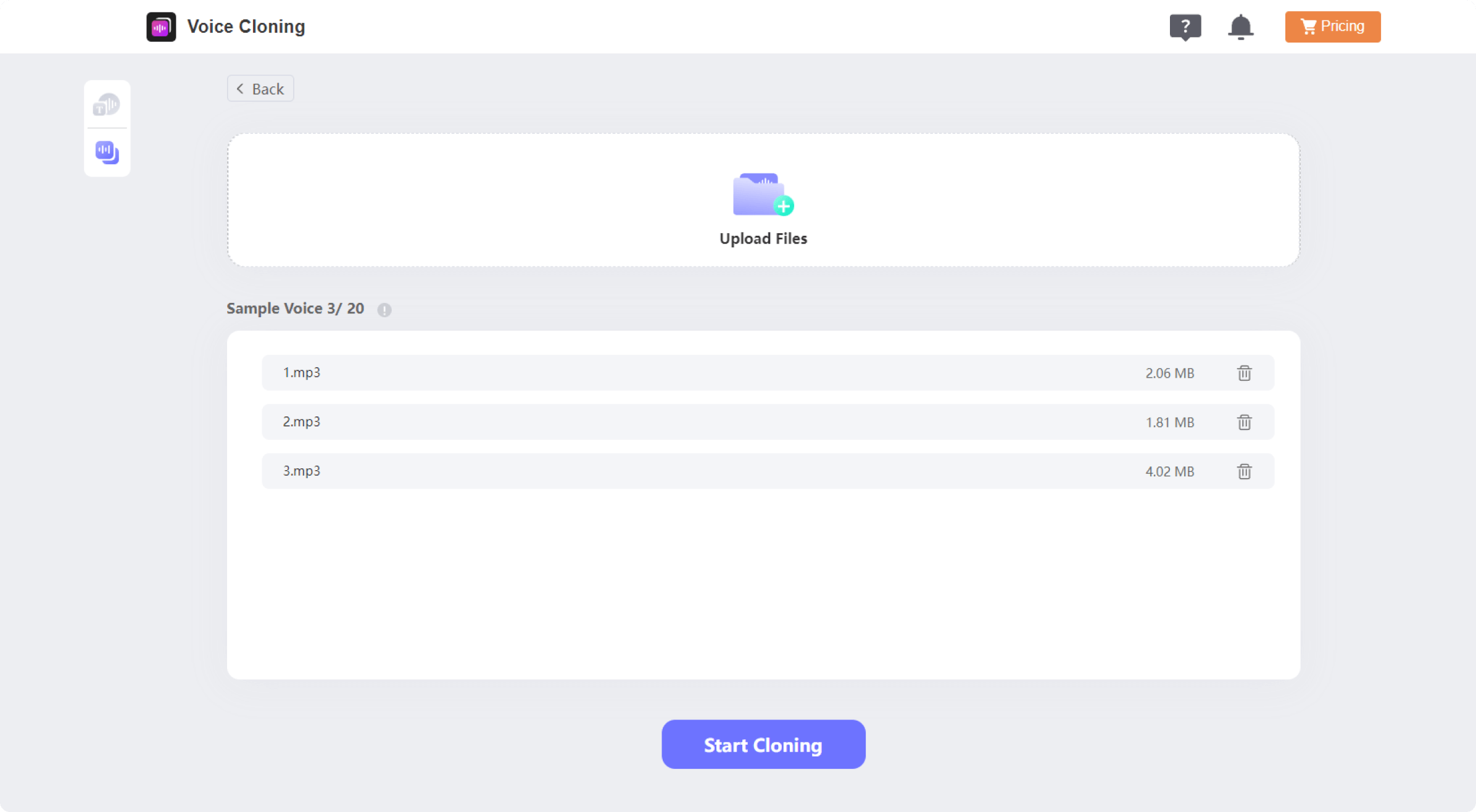 Use your own voice.
After voice cloning, you can use your own unique voice now.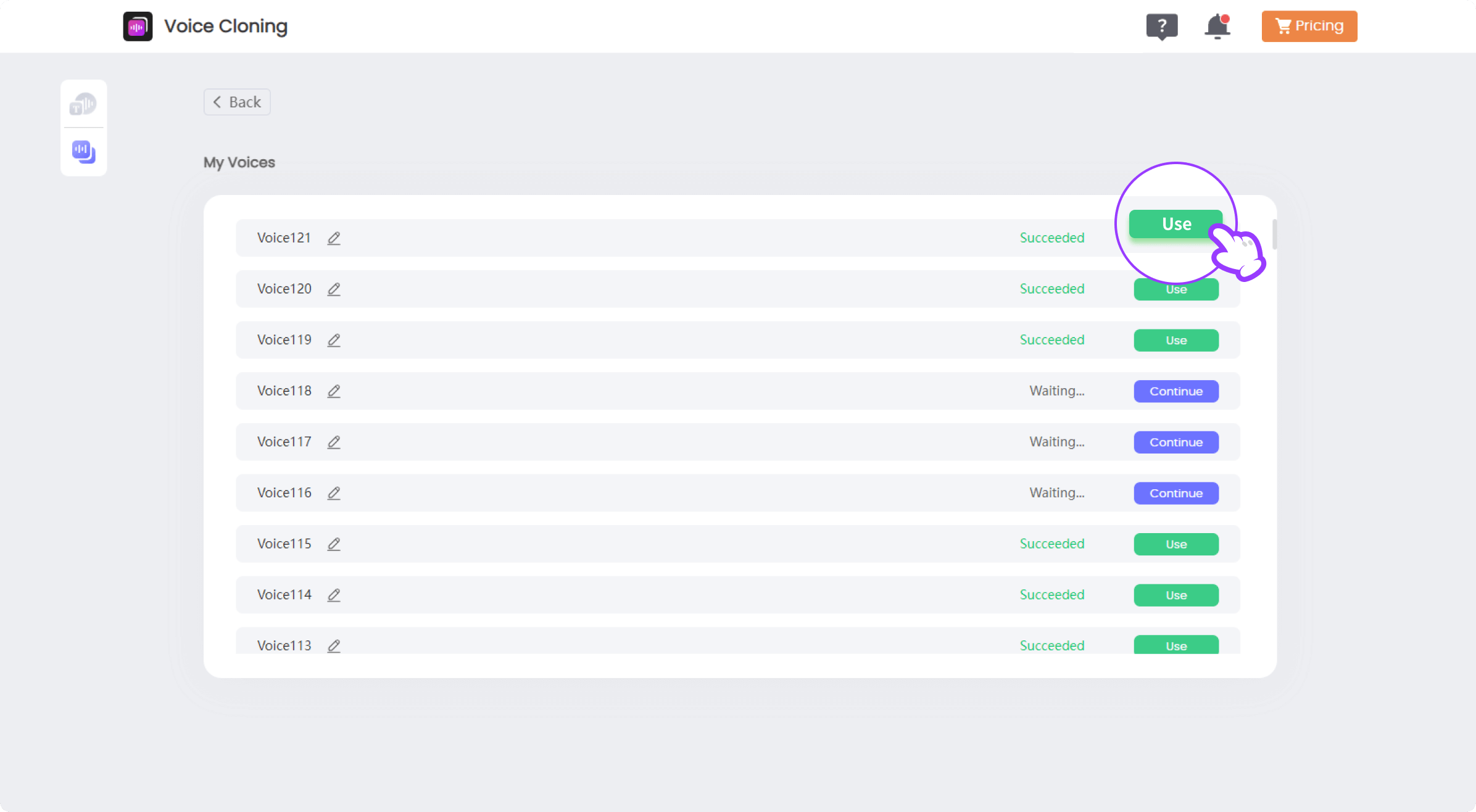 Get Started Now >
See What Our Users Have to Say about TopMediai
80

+

Countries

853

K+

Global Users

8,000

+

Voices cloned so far

600

+

Satisfied Reviews

Saves Time and Elevates Quality: Using TopMediai, I've reclaimed hours of precious time while enhancing the quality of my work. The ability to clone voices with such realism has been a game-changer for my content creation.

Your Voice, Your Way: TopMediai gives you the power to mold and use your voice as you see fit. Whether it's for content creation, entertainment, or any other application, it's your voice, your way.

Multilingual Adaptation: TopMediai voice cloning excels in adapting cloned voices to different languages, making it invaluable for global content and gaming projects.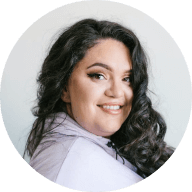 User Empowerment: TopMediai voice cloning puts the power of voice cloning in the hands of users, allowing them to utilize their voices creatively and effectively.




Why choose TopMediai Voice Cloning?
TopMediai Voice Cloning stands out for several key reasons:

Freedom of choices
2 methods of ai voice cloning are supported: Upload audios / Read sample text. The audio requirements are not so high.

Your unlimited own voices
Our AI voice cloning allows unlimited voice clones. Build a personal voice library for easy, on-demand access.

Advanced Security
No need to worry about your cloned voice. Our data systems are built to keep your identity safe.

Cloned in minutes
In just seconds, TopMediai helps you craft a distinctive cloned voice—no costly equipment required, just your voice recording.

High-quality results
Our AI voice cloning delivers top-quality, ultra-realistic cloned voices. The converted audio can be used directly for video.

Export as WAV
Once you've cloned your unique voice, you can easily export them as a single file in high-quality WAV format.
10,000+ custome cloned voices have been successfully created with TopMediai Voice Cloning
Try it Now >

30-Day money back
All of our products come with a 30-day money back guarantee.

Secure Purchase
Your personal info is well protected by our advanced encryption technology.

Professional Support
Our knowledgeable support team are always there to help you.

Regular Updates
We will regularly update our services and make improvements based on feedback.
Tips and Tricks for AI Voice Cloning
FAQs About TopMediai Voice Cloning
1. What is voice cloning?
Voice cloning is a technology that uses algorithms and artificial intelligence to replicate a person's voice. It can recreate speech patterns, tone, and pronunciation to generate new audio that sounds like the person being cloned.
2. How does voice cloning work?
Voice cloning typically works by training a machine learning model on a large dataset of a person's voice recordings. This model learns the unique characteristics of the voice and can then generate new speech in that person's voice.
3. What is voice cloning used for?
Voice cloning technology has various applications. Here are some potential use cases: entertainment, personal assistants, audiobooks and podcasts, emergency services, tv shows and films, digital and commercial advertising and so on.
4. Do I need a specific script to clone a voice?
No, you don't have to prepare a specific script to clone a voice using TopMediai voice cloning. Becase we will provide sample text for you. Also, you can upload audio files to clone your own voice.
5. Is it possible to clone your voice with AI?
Yes, it is indeed possible to clone your voice using AI technology. Advanced AI voice cloning tools can analyze your voice recordings and replicate them, creating a synthesized version of your voice.
6. In what languages do you support custom voice cloning?
28 languages are supported, including English, Japanese, Chinese, German, Hindi,French, Korean, Portuguese, Italian, Spanish, Indonesian, Dutch, Turkish, Filipino, Polish, Swedish, Bulgarian, Romanian, Arabic, Czech, Greek, Finnish, Croatian, Malay, Slovak, Danish, Tamil, Ukrainian.
7. How can I use my cloned voice?
On TopMediai text to speech, you can find you cloned voice on the "My voice" tab. You can utilize your cloned voice for a variety of purposes, including content creation, voiceover, entertainment, Elearning and so forth.
8. Can you Deep Fake a voice?
Thanks to the rapid advancements in artificial intelligence and machine learning, it is now feasible to create voice clones that closely mimic the original audio sample while adhering to all legal rights and permissions.
9. How long does it take to get my voice cloned?
You can get your own cloned voices quickly in just a few minutes using TopMediai Voice Cloning.
10. What file formats does voice cloning support?
wav/mp3/aac/flac/aiff/opus/ogg/oga/m4a.