Are you a nature documentary filmmaker, content creator, or simply an admirer of Sir David Attenborough's iconic voice? Then you might be interested in the David Attenborough Voice AI generator. This innovative tool allows you to create a custom voiceover in the style of the renowned naturalist, adding a touch of professionalism and authenticity to your projects.
Say goodbye to expensive voice actors and hello to this cost-effective and easy-to-use AI generator.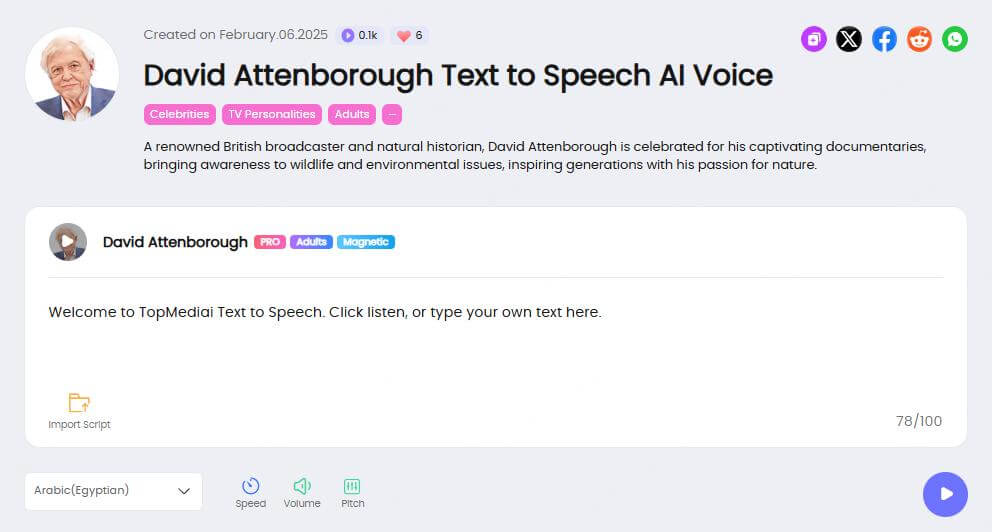 Part 1: Who is David Attenborough?
David Attenborough is a British naturalist, broadcaster, and writer who is best known for his work as a television presenter.
He has presented numerous documentaries and television programs on natural history and wildlife, including the critically acclaimed series "Life on Earth" and "Planet Earth."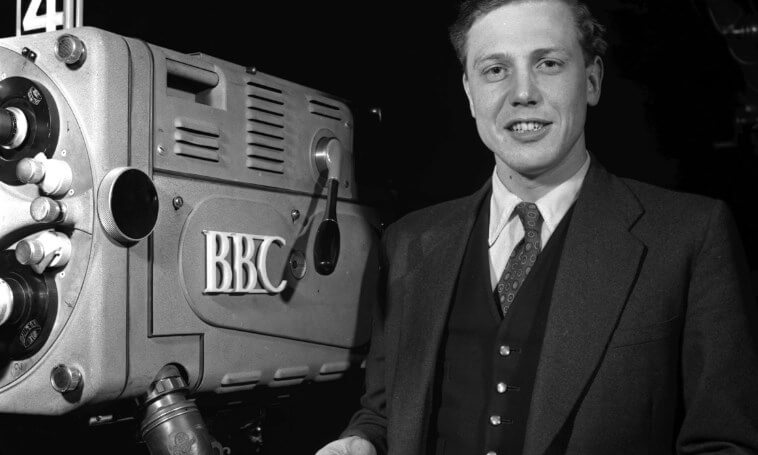 Attenborough has also been a prominent voice in raising awareness about environmental issues and advocating for conservation efforts. He was born on May 8, 1926, and is still active in his career today.
Part 2: Learn More about Top David Attenborough Voice AI Generator!
TopMediai is an online platform that offers a David Attenborough Voice AI generator tool, allowing users to generate audio with the legendary naturalist's voice for various purposes, including videos, podcasts, and presentations.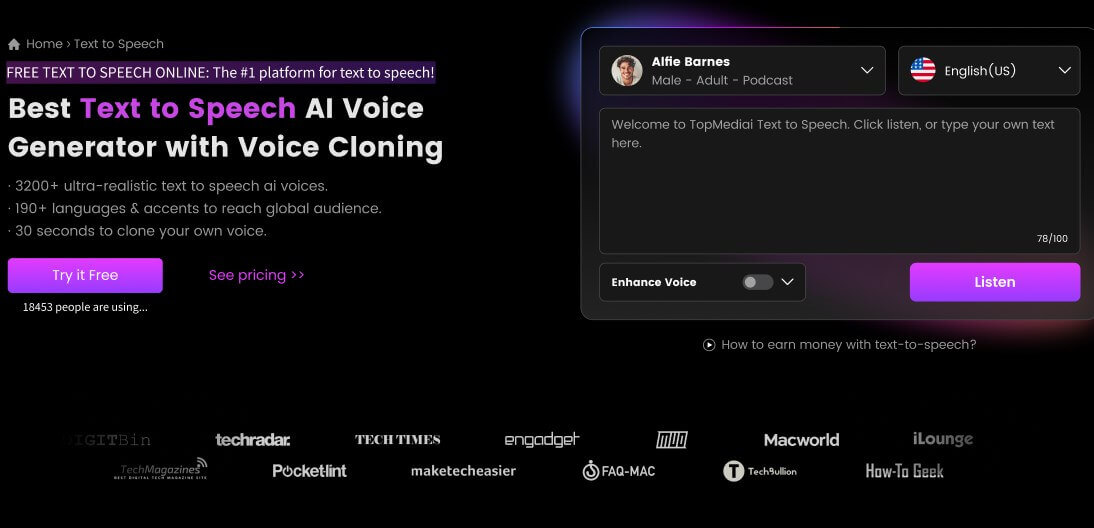 Easy Steps to Make David Attenborough AI Voice:
Step 1: Open TopMediai Text to Speech tool.
Step 2: Enter your desired text into the text box provided and select the Sir David Attenborough AI voice from the available options.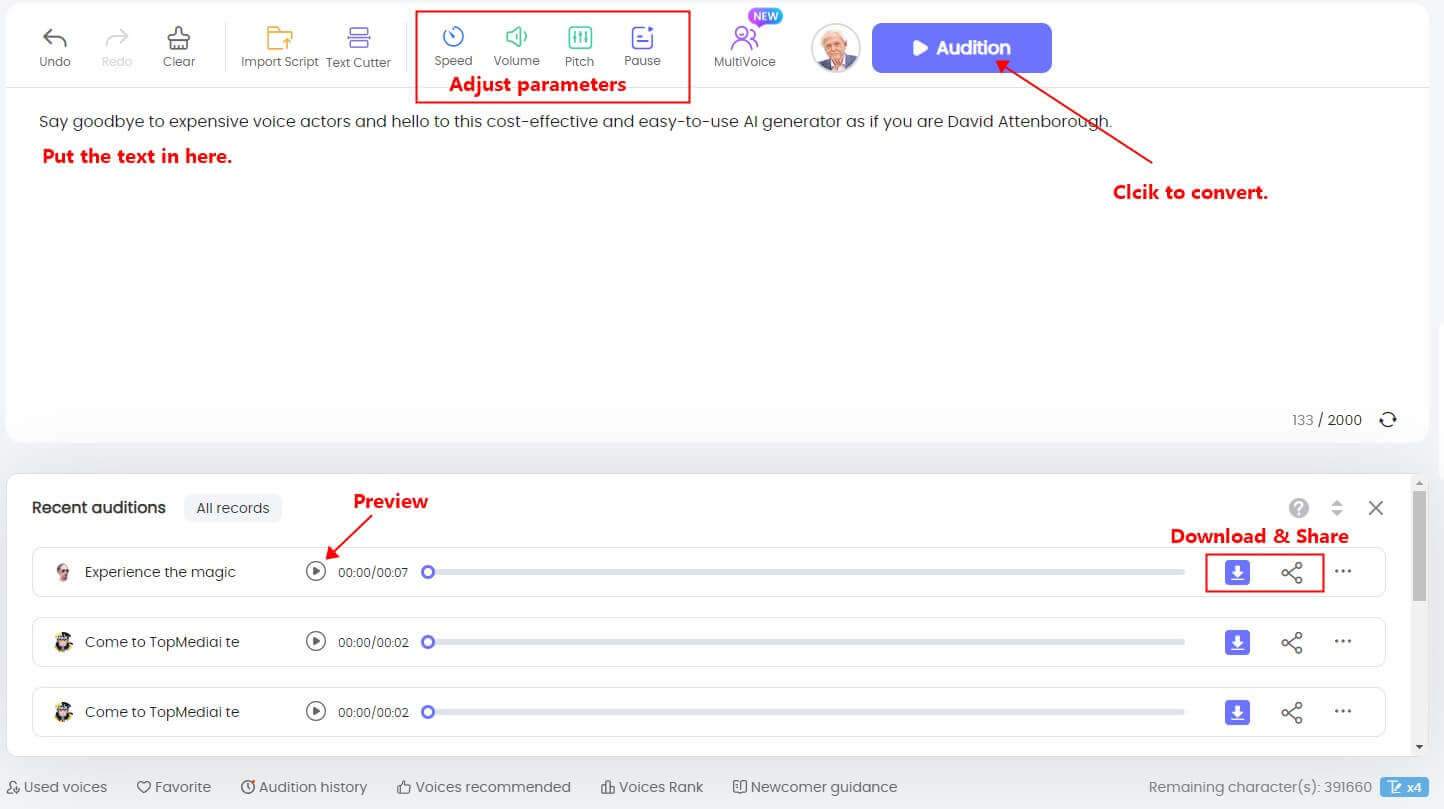 Step 3: Adjust the speed, pitch, and volume of the voice to your desired settings.
Step 4: Click the "Convert" button to generate your David Attenborough voice audio file.
Key Features:
Offers users the ability to choose from over 3200 voices in more than 70 languages.
Adjust parameters like speed, volume, pitch, and more to fine-tune their voice.
Convert Joshua Graham text to speech into more than 70 languages.
TopMediai has a unique feature that allows users to create text-to-speech voices that sound like famous characters likeJoshua Graham .
Produces high-quality David Attenborough voice ai audio output.
Keep an eye out for more upcoming online AI tools from TopMediai, such as an AI art generator.
It can serve as singing text to speech tool.
Pros
A useful tool for various purposes, such as education, business.

Save audio files in different formats.

Support to generate David Attenborough voice AI simply and quickly.

Easy-to-use interface for beginners.
Cons
It requires a good Internet connection.
Part 3: FAQs about David Attenborough Voice AI
1What is David Attenborough Voice AI?
David Attenborough voice AI is an artificial intelligence (AI) technology that can recreate the iconic voice of naturalist and broadcaster David Attenborough. It allows users to create custom voiceovers and narrations using his distinct voice.
2 What are some of the benefits of using David Attenborough Voice AI?
Using David Attenborough voice AI can save time and resources for content creators who want to add a unique and recognizable voice to their projects. It can also be used to create educational content, voiceovers for documentaries, and other audio projects that require a distinctive and authoritative voice.
3Is the David Attenborough Voice AI generator free to use?
Yes, the David Attenborough voice AI generator is free to use if you try TopMediai. You can generate available David Attenborough AI voice.
ConclusionIn conclusion, generating a David Attenborough Voice AI can add a unique and professional touch to your content, whether it's for educational, entertainment, or marketing. TopMediai offers a top-rated text to speech tool with a variety of features and language options, making it an excellent choice for creating a David Attenborough Voice AI and some TV news reporters that sounds authentic and engaging.