People love to have Hatsune Miku voice in their videos because it is quite engaging and captivating. There are tons of tools available, but it is not easy to get a natural voice. In this article, we will introduce some of the best online and offline Hatsune Miku voice generator text to speech you can use to create the Hatsune Miku voice. We will share multiple tools to make your choice easier.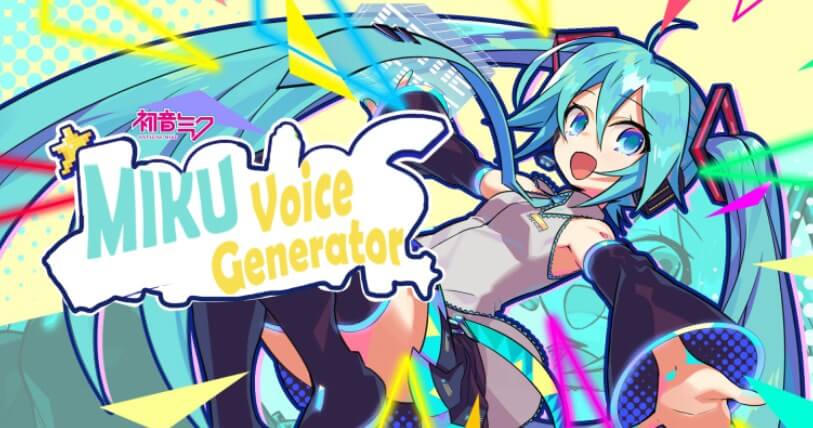 Part 1: Who is Hatsune Miku and Hatsune Miku Voice Actor?
Hatsune Miku is famous Vocaloid software that makes users fall in love with it because it is the first second-generation Vocaloid with tons of improvements. It is far better than its previous versions and predecessors.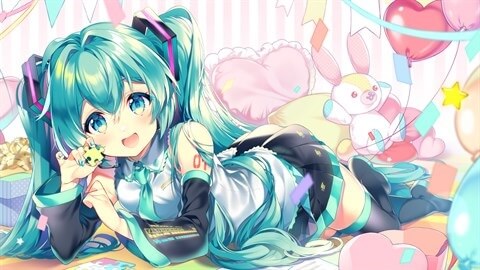 The official character is a sixteen-year-old girl with long twin tails. Her name is in Japanese, and it means "First Sound from the Future". She is there to revive music.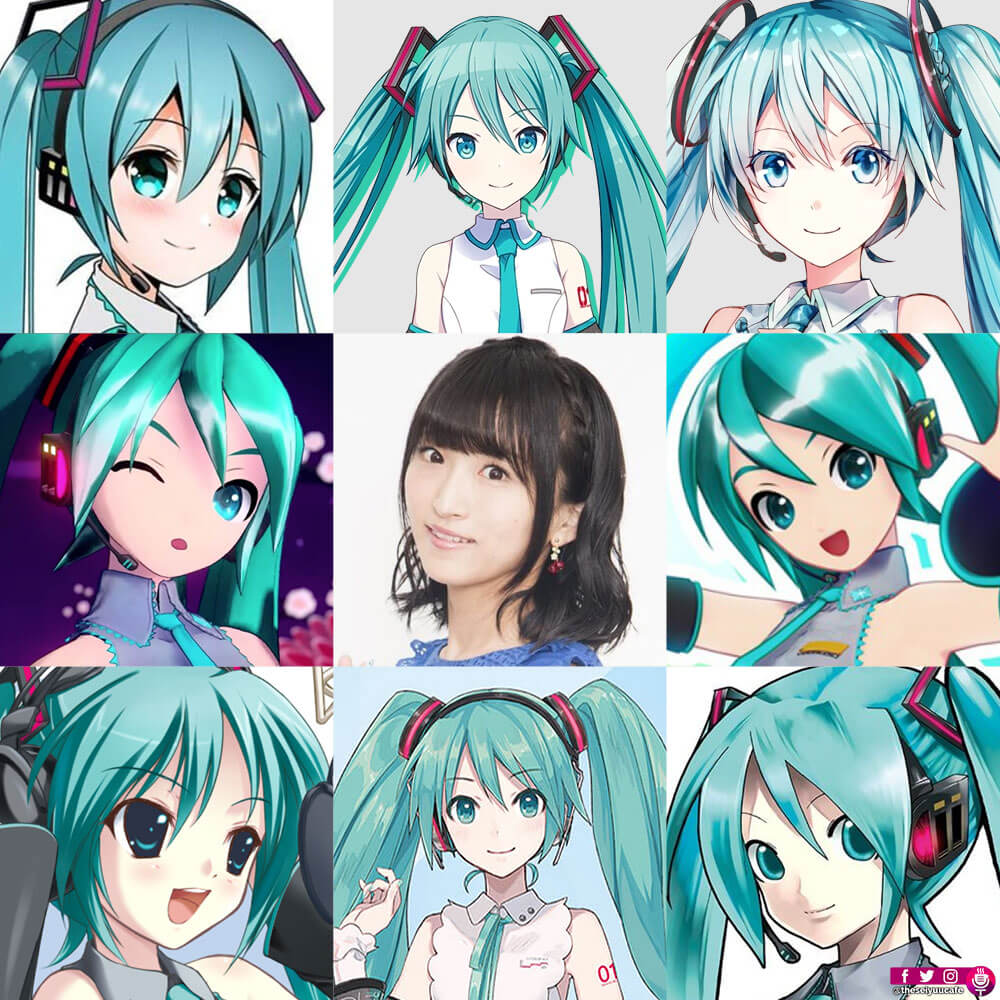 Hatsune Miku was made differently due to the voice actress Saki Fujita. Her distinctive voice has made the software distinct and much better than others.
Part 2: The Intense Voice of Hatsune Miku
The intense voice of Hatsune Miku is a defining characteristic of her sound and has contributed to her popularity as a virtual pop star. As a vocaloid, Hatsune Miku's voice is generated by software, allowing for a range of unique and unconventional vocal effects that can be difficult to achieve with traditional singing techniques.
From high-pitched and cutesy to deep and powerful, the versatility of Hatsune Miku's voice has made her a favorite among music producers and fans of electronic music.Additionally, the intense and energetic quality of her voice has helped to define the genre of vocaloid music, with many other virtual singers and producers drawing inspiration from her distinctive sound.
Part 3: Best Hatsune Miku Text to Speech Voice Generator
1. TopMediai for Hatsune Miku AI Voice
TopMediai is a go-to tool that anyone can use without any hassle, which is an online tool that can be accessed from any device, and you can convert text to speech in Hatsune Miku voice as an Hatsune Miku voice generator in a few seconds.
The best part is that you can do all these conversions for free with Hatsune Miku voice provider.
How to Get Hatsune Miku Text to Speech AI Voice:
Step 1: Go to the official TopMediai text to speech online .
Step 2: Simply enter the text you want to convert on the platform, choose the Hatsune Miku voice ai from the available options, and make any necessary adjustments.
Step 3: You are allowed to use advanced options to adjust the speed, pitch volume, emphasis, and other settings to make hatsune miku ai voice as you desire.
Step 4: Once you're satisfied with the settings, click on the "convert" button to generate the voice.
Step 5: The resulting voice will be in the style of Hatsune Miku and can be saved and used as needed.
Features:
3200+ voices like SpongeBob, Mickey Mouse are provided for you available.
Over 70 languages such as British you can change in your audio.
Multiple groble accents can be utilized if you need.
Advanced options to adjust the speed, pitch volume, emphasis, and other settings.
You can output the audio in different formats like MP3, WAV.
All-in-one tool inlcuding Voice Generation, Speech Recognition, Audio edit, Watermark Removal and Free Voice Changing of Hatsune Miku Ai voice etc.
Pros
The final voice sounds natural and the same as the real voice.

Works on all devices and converts texts to voices in no time.

Can turn up to 5,000 characters in one go.
Cons
You need to sign up to use the tool.
FakeYou is another online text-to-speed generator to convert your texts quickly. Just go to the website and enter the text for conversion. It offers over 2000 voices to choose from, so you can easily find the voice similar to Hatsune Miku .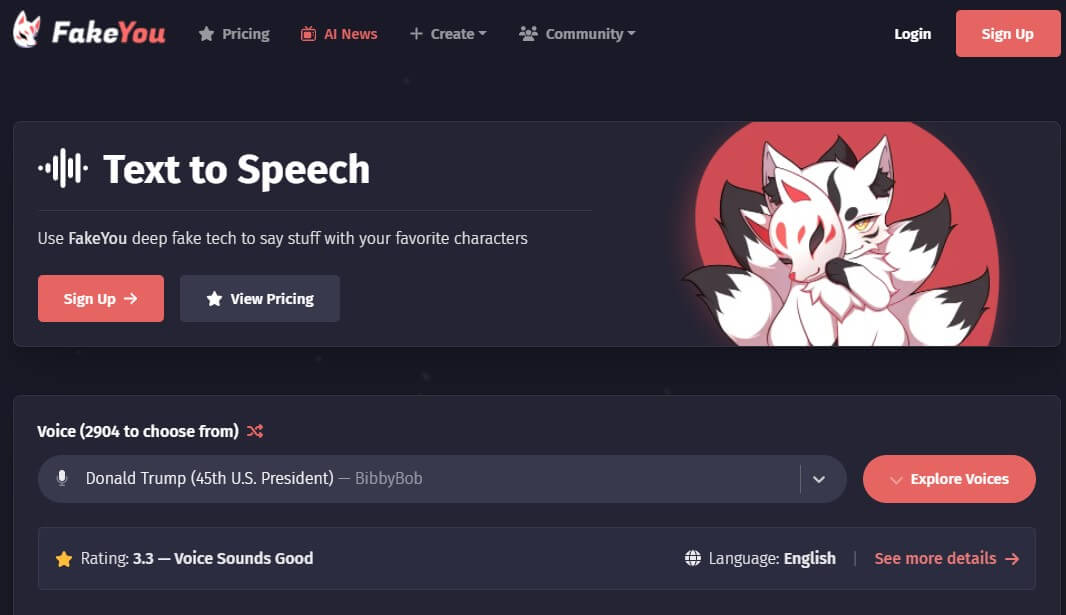 Key Features:
Online tool with thousands of voices to choose.
It is quite easy for beginners and a go-to tool to save time.
It supports 8 languages for the conversion.
A filter to choose the category and find the desired voice easily.
Pros
The voice can be downloaded from the website and shared on social media platforms.

The conversion of the premium version is quite fast.

You can also check the voice artist of the voice in the list.
Cons
You need to wait in the queue if you do not have a membership.

Convert only 12 seconds of voice in the free version.
3. VoxBox
If you are looking for a professional tool that can offer the best quality along with editing options, you should try a desktop tool instead of an online one. iMyFone VoxBox is splendid software that offers you advanced features and tools to get the voice you want.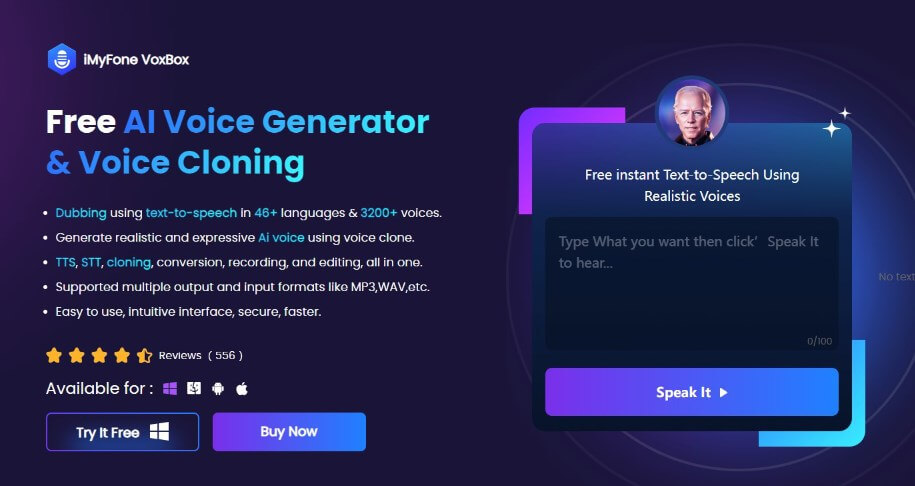 Key Features:
The software offers 3200+ voices and is updated several times a month.
You can edit your audio through cutting and trimming, and the final version can be exported easily.
It also helps you convert the audio format to the desired format.
Pros
The voices are quite natural, and you can make your videos and audio more captivating.

Beginners can use the tool without any hassle.

You can add multiple speakers in one audio, which is an interesting feature.
Cons
Conversion through the free tool is limited, so you need to buy the plan.
Part 4: FAQs about Hatsune Miku Voice Generator
1What is Hatsune Miku voice generator?
Hatsune Miku voice generator uses voice synthesis technology to generate Hatsune Miku AI voice. It features the voice of Hatsune Miku, a virtual pop star created by Crypton Future Media in 2007.
2Can Hatsune Miku text to speech voice generator create realistic-sounding vocals?
While Hatsune Miku text to speech voice generator can produce high-quality vocal tracks, it is not designed to mimic the sound of a human voice. The software's unique, synthetic sound is part of its appeal, and many users enjoy the futuristic, electronic sound of Hatsune Miku's voice.
However, you can use TopMediai available that aim to create more realistic-sounding vocals.
3How does Hatsune Miku voice generator work?
Hatsune Miku text to speech generator includes a library of phonetic sounds and syllables, which can be combined to create words and phrases. Users can input text into the tool, and it will generate a speech using Hatsune Miku voice.
Conclusion:
The
Hatsune Miku voice generator
is a popular tool for creating synthesized vocal tracks. Its unique features and accessibility have made it a favorite among music producers, vocaloid enthusiasts, and fans of the Hatsune Miku franchise. Incorporating the Hatsune Miku voice generator into your content and marketing efforts can be a valuable way to stand out in the crowded online music scene.If you are looking for an online
Hatsune Miku Voice Generator free
, then
TopMediai
would be a perfect option, which you can create the natural Hatsune Miku voice in no time.