If you are a hip-hop lover and love to rap like your favorite rapper for entertainment, we have something stunning for you! With AI rapper voice generator free, you can literally sound like your favorite rapper. This powerful tool harnesses AI technology brings your rhymes to life with a unique and captivating sound.

If you want to make your speech sound like a Fantastic Rapper, stick with the guide. Elevate your creativity and make your mark in the world of rap with the Rapper Voice Generator.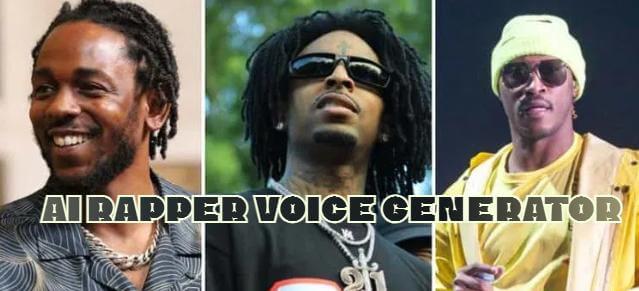 Part 1: AI Rapper Voice Generator [Text to Speech]
Create unique and authentic rapper voices with a Rapper Voice Generator. Whether you're a rapper, music producer, or podcaster, this advanced tool allows you to customize parameters such as pitch, tone, and cadence to produce high-quality vocals.
With a Rapper Text to Speech Voice Generator , you can explore different styles and genres to create a one-of-a-kind sound that stands out from the crowd. Try it out now and take your music or podcast to the next level.

You may be interested in:
Use Snoop Dogg Text to Speech Generate Authentic Voice
TopMediai text to speech online is a top-rated text to speech tool that gives users many different features and perks. You can make amazing rapper text to speech voice using it!
This rapper Voice Generator can be a useful tool for producers and podcasters. With rapper text to speech, you can create custom voiceovers for your productions or podcasts, adding a unique touch that sets you apart from other content creators.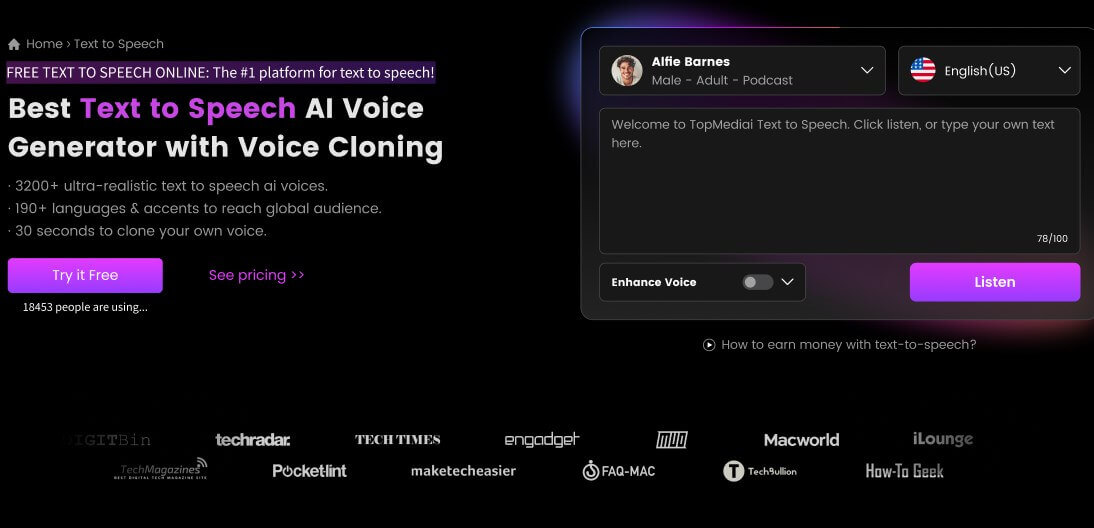 Offers you the best possible soundtracks and custom voice effects like.
Along with rapper text to speech, it also provides you with rapper voice generator TTS.
You can make text to speech voice with more than 70+ languages and 3200+ voices.
It help you make the ai voice of rappers with deep voice, including Eminem, Kanye West, and Drake.
You can also use it as an ai rap generator.
How to Use Rapper AI Voice Generator:
Step 1: Go to the TopMediai Text to Speech website.
Step 2: Enter your text in the empty dialog box.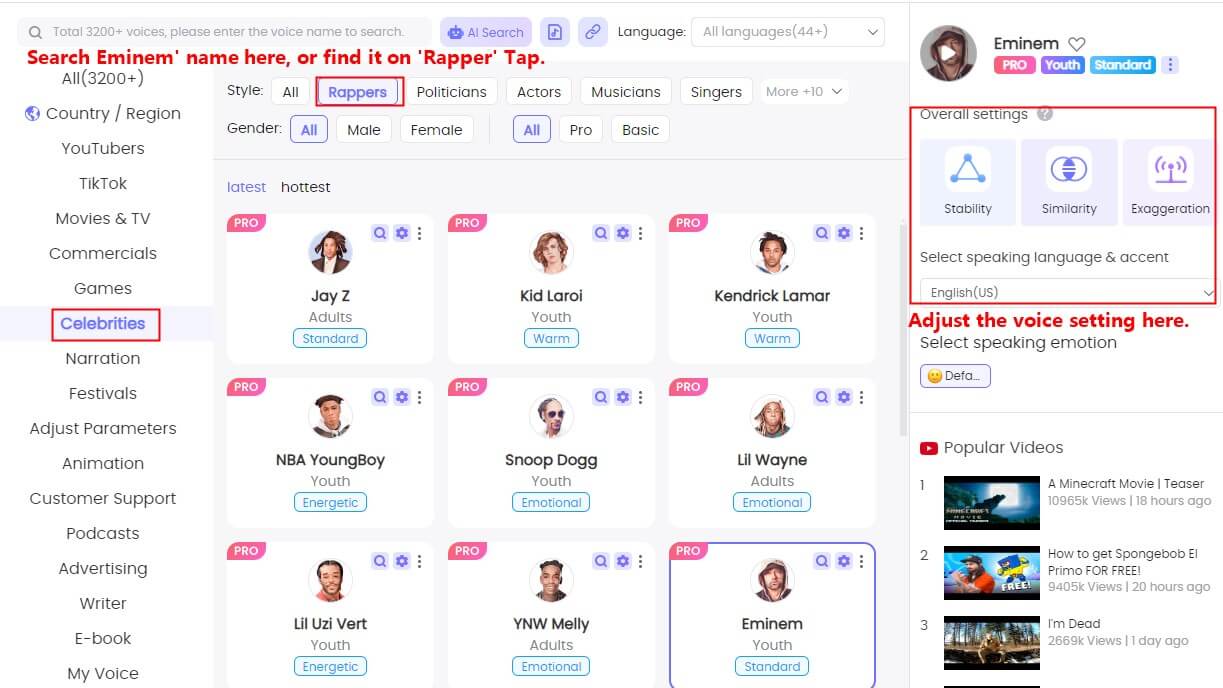 Step 3: Now select the desired rapper text to speech voice you want to make for your text.
Step 4: Finally, click on the Convert Button.
Step 5: If you want to fine-tune your ai rapper voice, you can also adjust the parameters like speed, volume, pitch or say as.
Step 6: Now download your final converted file of ai rapper voice and save it on your device.
Pros
The UI of TopMediai is easy to use and understand.

You don't need to watch any tutorial videos before executing your task.

Other than rapper ai voices, you can also make characters ai voice as you like.

US presidents ai voices available.

Make vivid voiceover for video.
Cons
You need a good internet connection.

Some sounds are not too realistic.
The next amazing text to speech rapper tool is Uberduck.ai. This provides you with interesting perks, like creating your custom voice and synthesizing it. You can upload or write any document in real time, and UberDuck will read it aloud for you in your preferred voice tone.
UberDuck provides more than 5,000 sound effects and voice tones, including a rapper voice generator.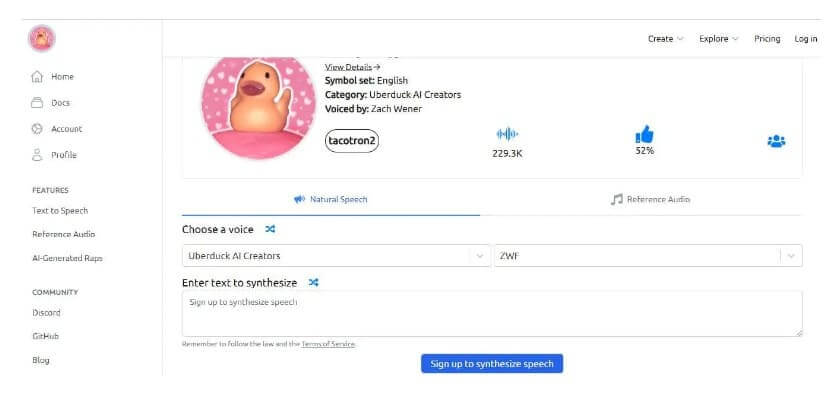 Create a custom and unique voice for text to speech with the help of their advanced AI system.
UberDuck has a studio that is very diverse, giving you the option to use royalty-free voices.
Open source API and tools give you reliability recommended by thousands of people daily who use it.
Pros
UberDuck's free version allows you to gain access to over 1000+ different voices.
Cons
UberDuck may crash sometimes.
Fakeyou.com is considered one of the best and trending text to speech tools. It allows you to use different voices and enhance them according to your text's nature. Most of the voices and sounds gathered from the different languages are available in the original accent.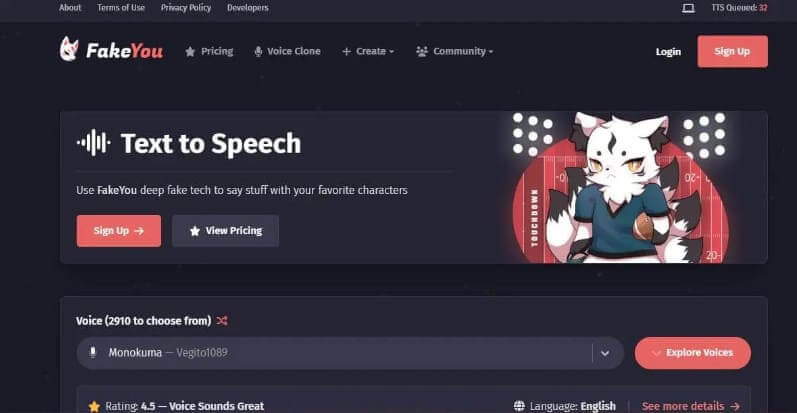 Allow users to eliminate nonsense babbling issues they face in a most text to speech tools.
You can add different emotional sounds to make your text even more fantastic.
It provides you the great community and support.
Pros
Simple and easy to use.

You can access the trial version.
Cons
Using advanced features will require you to spend some money.
Typecast.ai is a top-rated text to speech tool where you can add natural sounds and customize them according to your needs. Typecast also provides a library of available soundtracks and voice effects, including rapper text to speech.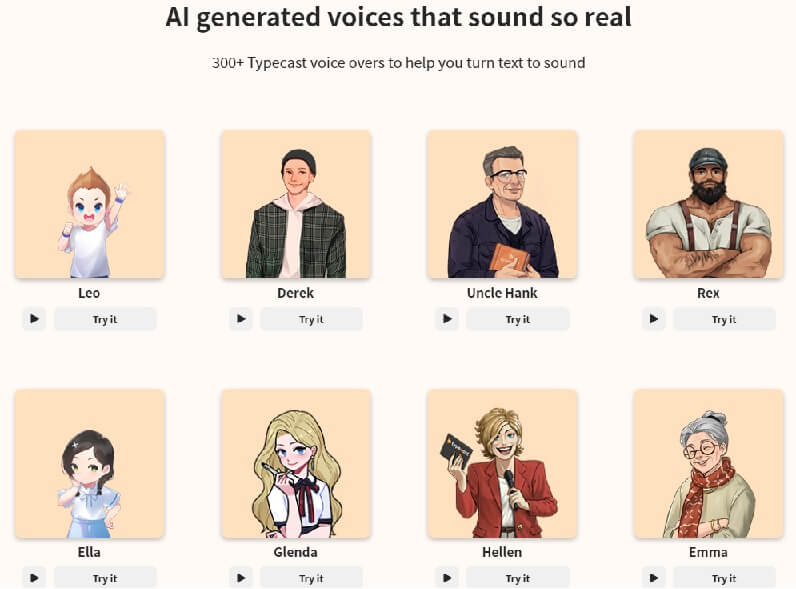 The best feature of Typecast is that you select the voice according to gender, emotions, visual type, and message tone. So, if you are looking for the best text to speech tool with amazing features, then Typacast.ai is your best shot.
They provide you with templates like education, sales, gaming, audiobook, etc. which you can use.
You can also customize and have complete control over voice speed and pitch.
Over 300+ voices are available for you to turn your text into sound.
Pros
The UI is easy to use and understand.

You don't need a tutorial video. You can create your content in the blink of an eye.
Cons
It is expensive for individual use.
Part 2: What About Text to Rap AI?
Melobytes.com is an online platform that provides a wide selection of AI-powered creative tools, including a text-to-rap song service. The service allows users to generate a unique rap song by inputting their lyrics into the system, which then procedurally generates a melody that matches the lyrics.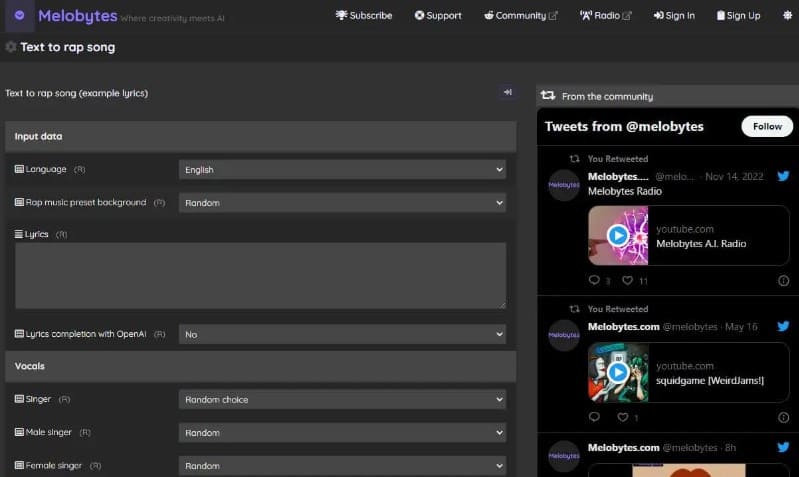 Additionally, the platform offers an AI image generator from text, enabling users to create visual creations based on their written content. Users can sign up for free and have access to all apps for up to five executions per day, while subscribers enjoy unlimited access.
Part 3: Bonus Tips for Fun - Deepest Voice Rapper
The world of music has seen a wide variety of talents and styles over the years, from soulful singers to virtuosic instrumentalists. One unique talent that has emerged in recent years is that of the "deepest voice rapper".

These rapper with deep voice possess an incredible ability to rap with an extraordinarily low vocal range, creating a distinctive sound that sets them apart from the crowd.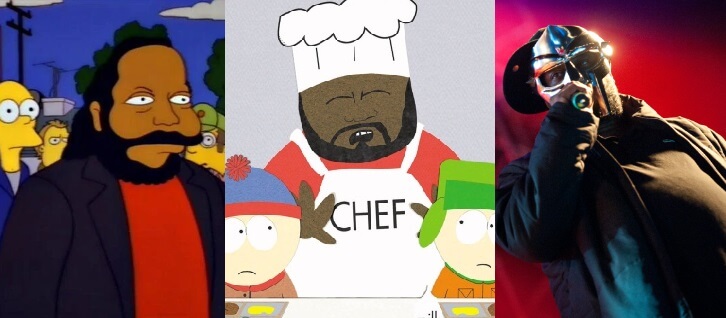 The origins of the "deepest voice rapper" style can be traced back to the early days of hip-hop, when artists like Barry White and Isaac Hayes were making waves with their deep, rich vocal tones. In recent years, however, a new generation of rappers has emerged who take this style to new heights.One of the most notable "deepest voice rappers" is the artist known as MF DOOM, who sadly passed away in 2020.
Born Daniel Dumile in London, MF DOOM was known for his deep, gravelly voice and his witty, intricate rhymes.Another "deepest voice rapper" who has gained significant attention in recent years is ZillaKami. Born in New York City, ZillaKami rose to fame as part of the hardcore rap group City Morgue. His low, growling voice is a key part of the group's sound, and he has become known for his intense, confrontational style.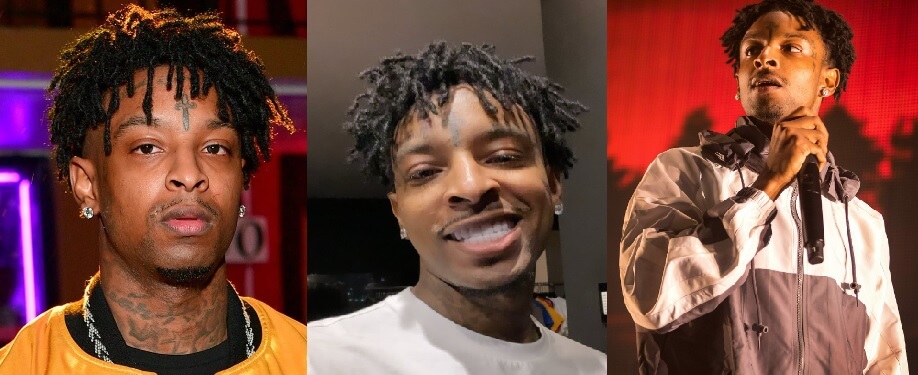 Other notable "deepest voice rappers" include 21 Savage, Young Thug, and Danny Brown. Each of these artists brings their own unique spin to the style, using their deep vocal ranges to create music that is both powerful and distinctive.
Part 4: FAQs about AI Rapper Voice Generator
1Is There a Voice Generator That Makes You Sound Like a Rapper?
Of course, many voice generators are available on the internet, but we will tell you about the top trending rapper voice generator. You can use TopMediai to help you convert your natural sound into rapper sound in a few easy steps.
2 How Can I Make a Rapper Text to Speech Voice Online?
There are much different text-to-speech tools that you can use to create different voices or generate rapper sounds for your text-to-speech document. But if you want to get rid of downloading the application before you can use it. Then we have some amazing online rapper text to speech tools like TopMediai for online-only use.
3 How Do You Get a Rap Voice?
To get a rapper's voice, you don't get music classes. All you need to do is to go to the official website of TopMediai, which is the best rapper voice generator.
By creating a unique and memorable sound, you can stand out in the crowded music industry and attract a wider audience. If you're looking to take your music or podcast to the next level, consider trying out a Rapper Voice Generator today.
4 Who can benefit from using a rapper voice generator?
Aspiring rappers, producers, podcasters, and content creators can benefit from using a rapper voice generator to create a unique and memorable sound.
5Is it possible to create multiple variations of a voice with a rapper voice generator?
Yes, many rapper voice generators allow users to create multiple variations of a voice by applying different effects and tweaks to a single recording.
ConclusionIn conclusion, AI rapper voice generator free can be a powerful tool for aspiring rappers, producers, and podcasters. If you're in search of a trustworthy online tool for text to speech conversion for ai rapping, you've come to the right place.

Whether you want to make rap voiceover for your videos or generate an ai rapping like your favorite rappers, like Eminem text to speech, you can use this rapper voice generator easily!