In the realm of artificial intelligence (AI), the ability to create custom voices has captured the imagination of many. Imagine having the power to generate an AI voice that sounds just like Cristiano Ronaldo, the iconic football legend.

This article will provide you with a comprehensive guide on how to make your very own Cristiano Ronaldo AI voice using a free voice changer or voice generator tool. Get ready to bring Ronaldo's captivating voice to life!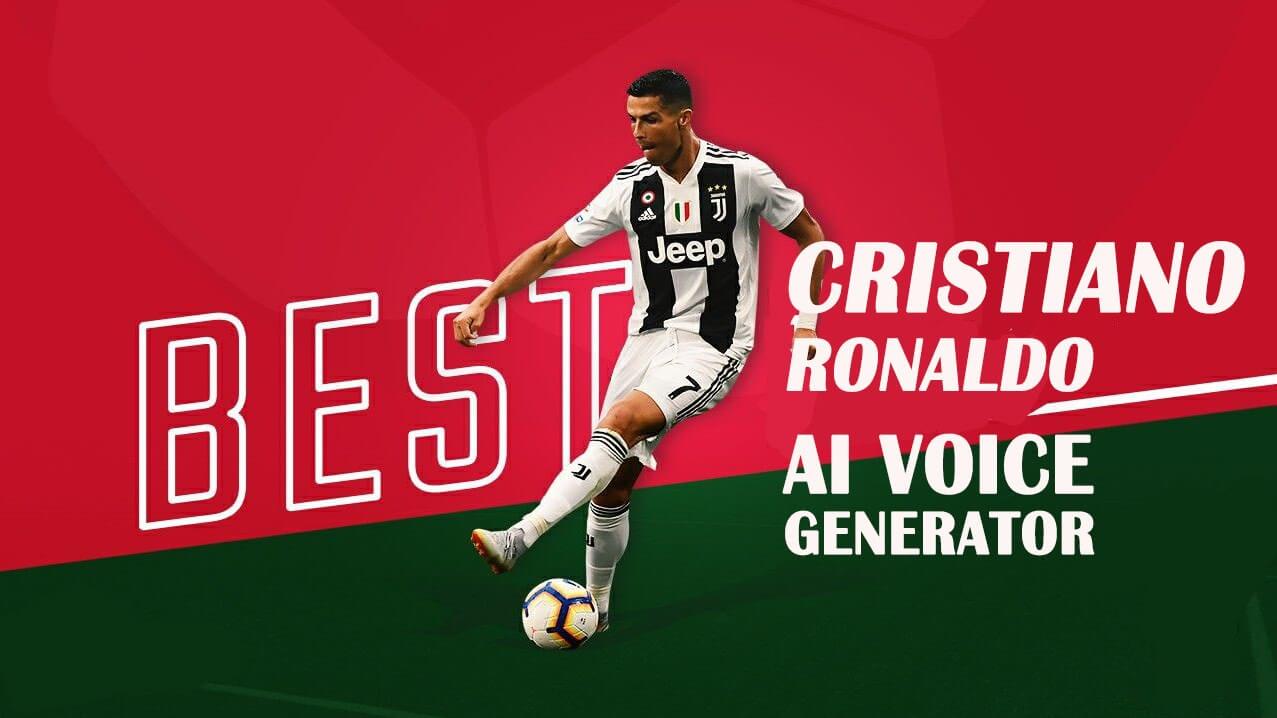 Part 1: How to Create Cristiano Ronaldo AI Voice?
When it comes to generating Cristiano Ronaldo AI voice, there are two prominent methods to consider as shown below. But why not try out the Ronaldo ai voice for free using TopMediai now?

Text to Speech
3 Free Trials of The Selected Voice Below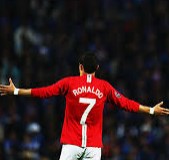 Cristiano Ronaldo
Conversion failed.
Please check out if there are special characters or multiple languages in your text.
TopMediai, a leading AI technology platform, offers an advanced Text-to-Speech (TTS) solution that incorporates Cristiano Ronaldo's voice. Their cutting-edge technology employs deep learning algorithms to analyze Ronaldo's vocal patterns and deliver an AI-generated voice that closely resembles his unique tone, accent, and intonation.

Users can input text into the system, and it will generate a voiceover in Cristiano Ronaldo's unmistakable voice.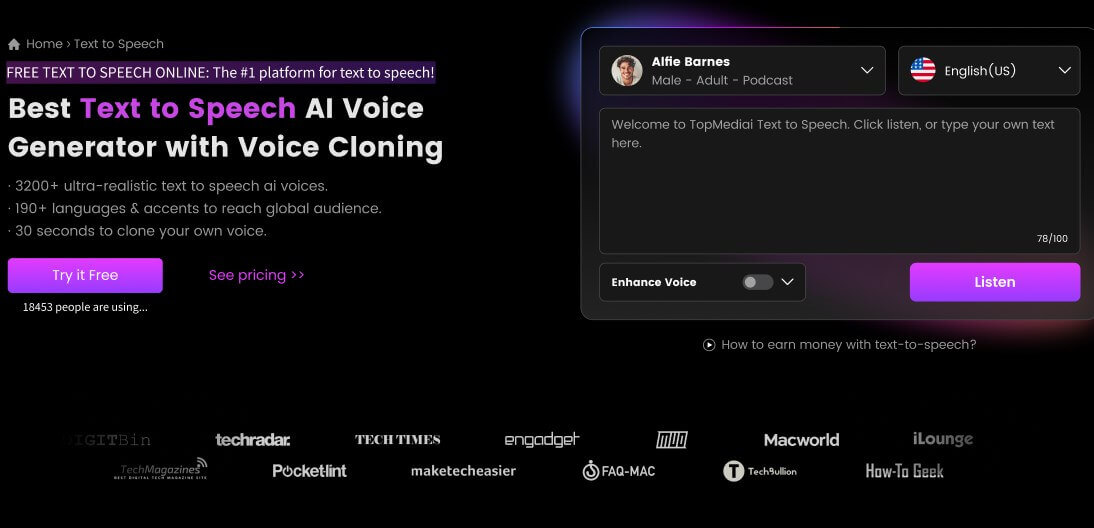 How to Use Cristiano Ronaldo AI Voice Generator:
Step 1: Visit the TopMediai and navigate to Text to Speech section.
Step 2: Select the language Cristiano Ronaldo ai voice on "Sport" Option.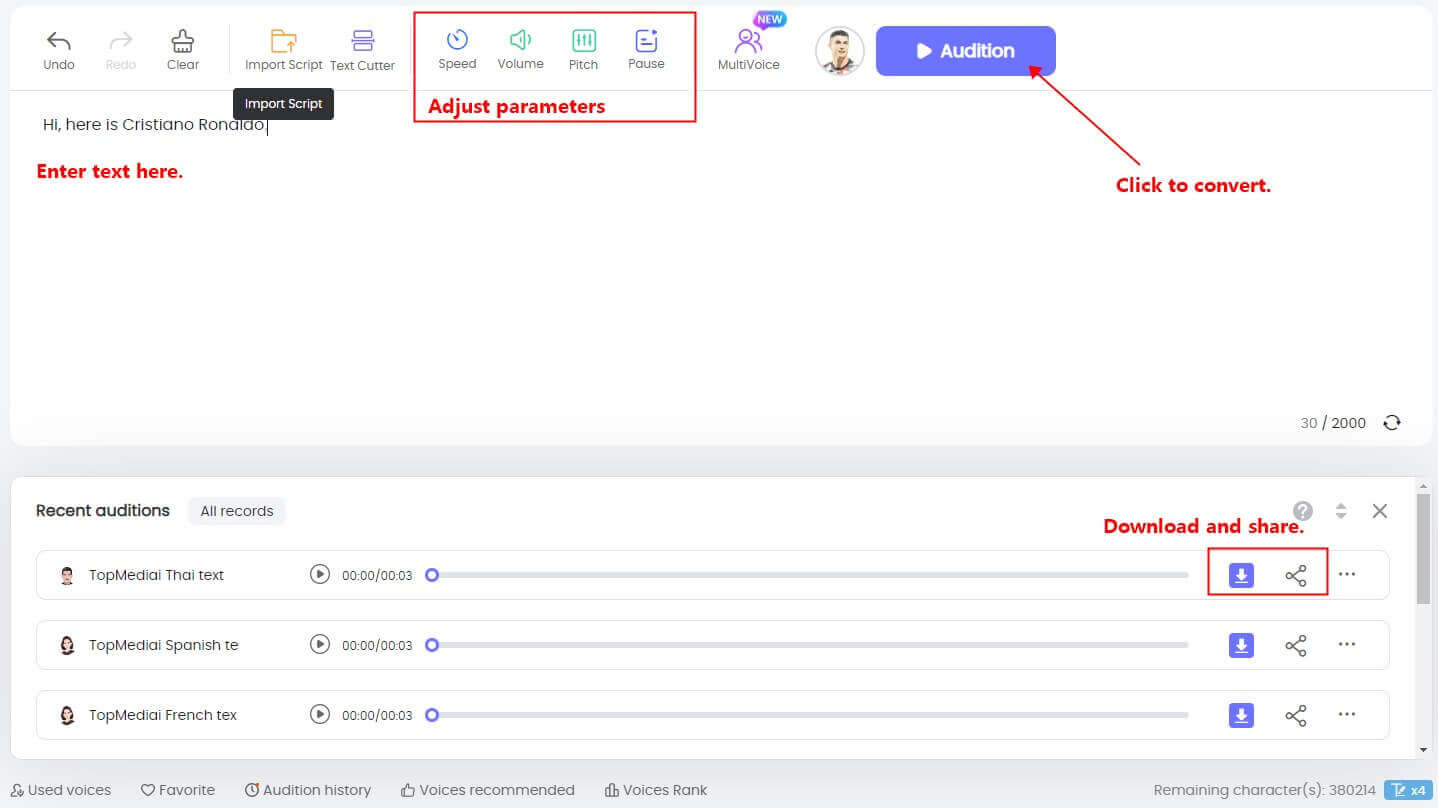 Step 3: Type or paste the text you want Cristiano Ronaldo's voice to speak.
Step 4: Adjust the voice settings to fine-tune the output.
Step 5: Click on the "Convert" button to create your Cristiano Ronaldo AI voice.
Explore the Finest Cristiano Ronaldo Text-to-Speech Voiceovers from an Extensive Voice Library with Over 3,200 Voices.
Discover a Wide Range of Renowned Voices, including Obama, Cartoon Characters, Elon Musk, and More, Offering Native Speaker-like Quality.
Enjoy Support for 70+ Languages, Including the British Text-to-Speech Voice Generator, for an Immersive Experience.
Effortlessly Customize Your Ronaldo Voice Changing Audio Files to Achieve a Flawless Sync with Your TikTok Videos.
For those seeking a more interactive experience, TopMediai free voice changer is available that allows users to modify their own voices to sound like Cristiano Ronaldo.

These programs use voice modulation techniques to manipulate the pitch, timbre, and other audio parameters, enabling users to transform their voice into Cristiano Ronaldo's voice in real-time.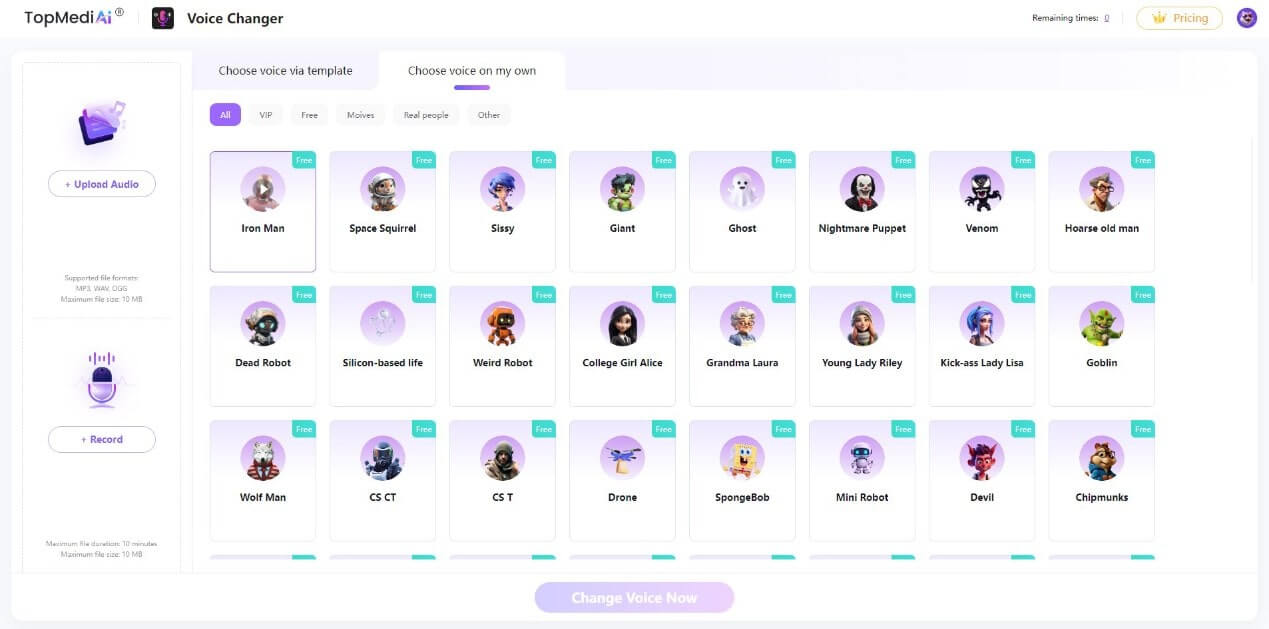 TopMediai allows you to experience a real-time voice changer.
The easy user interface makes it accessible and simple to use.
The fact that this online tool is compatible with all devices is its most striking feature.
You may swiftly create your desired celebrity voice.
Part 2: Who is Cristiano Ronaldo?
Cristiano Ronaldo, born on February 5, 1985, in Funchal, Madeira, Portugal, is a legendary soccer player. Known for his skill, athleticism, and goal-scoring prowess, Ronaldo has played for top clubs like Manchester United, Real Madrid, and Juventus.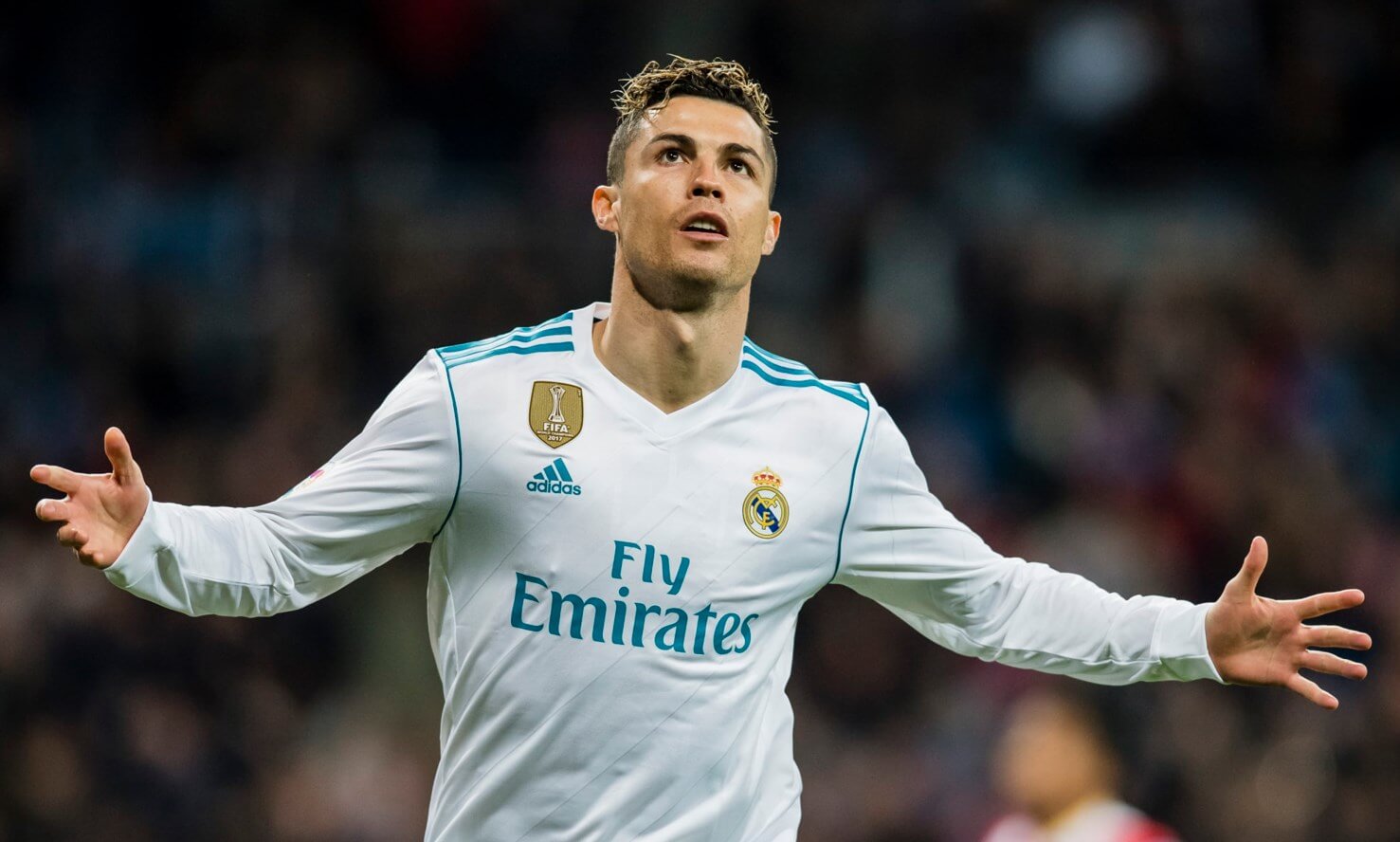 He has won numerous titles, including the UEFA Champions League and European Championship with Portugal. Ronaldo has received multiple Ballon d'Or awards and is revered as one of the greatest players in history, leaving an enduring impact on the sport.
Part 3: Christiano Ronaldo Stats Overview
Ronaldo's list of accomplishments is nothing short of remarkable. Here are some notable statistics that highlight his incredible career of 2023&2024:

Part 4: FAQs about Cristiano Ronaldo AI Voice
1 How to make ronaldo AI voice with Cristiano Ronaldo AI voice generator?
Certainly easy using TopMediai Text to Speech! To create a voice resembling Cristiano Ronaldo's using an AI voice generator like TopMediai text to speech, begin by accessing their platform, signing in or registering if needed.

Select the Ronaldo AI voice, then input the text you want the AI to speak. After generating the voice, preview it. Once satisfied, download the audio in your preferred format, such as MP3.
2 Did Cristiano Ronaldo Retire?
No, Cristiano Ronaldo has not retired yet. His contract with Al-Nassr keeps him at the club until the summer of 2025. Although there is a viral TikTok video where an impersonator mimics Ronaldo giving a fake retirement speech, Ronaldo himself has not made any official announcement about retiring.

However, he did admit that he considered international retirement after the "difficulties" of the 2022 FIFA World Cup in Qatar.
3 What relationship between Cristiano Ronaldo and Messi?
Cristiano Ronaldo and Lionel Messi have a competitive rivalry in football, and they have been considered as two of the best players in the world for the past 16 years. Although they are not close friends, they have mutual respect for each other's achievements in the game, and they have a cordial relationship.
Want to know more soccer player ai voice? You can read:
Conclusion With the Cristiano Ronaldo Voice AI, enthusiasts, content creators, and marketers have an exciting opportunity to incorporate Cristiano Ronaldo's voice into their projects. Whether you're creating videos, advertisements, or voiceovers, the AI-generated Cristiano Ronaldo voice offers a realistic and engaging experience.

Now, try out TopMediai text to speech to generate realistic ai voice of Ronaldo.