Figma is one of the most popular software for UI/UX designers, graphic designers, and developers working on digital products. However, you need several plugins for smooth designing when working on wireframes, designs, and windows. Figma background remover is one of the most wanted tools for Figma designers. They need a go-to tool for removing image backgrounds without leaving the Figma interface. In this article, we will walk you through the step-by-step guide on removing background in Figma.
Part 1: How To Remove Background Using Plugin For Free
When you are using Figma, several plugins can help you work more smoothly without leaving the software's interface. Here are two plugins that can be used as Figma background removers during the designing process in Figma.
1.1 Icons8 –Free Background Remover Plugin For Figma
Icons8 itself is one of the most popular plugins trusted by Figma users. Similarly, Icons8 has launched a dedicated background remover to get transparent images within a few clicks. Icons8 background is powered with AI technology that is very precise in deleting background and maintaining the image quality.
It is not just a background eraser. You can also scale the images to adjust well in your design. The face generator feature generates unique persons with your selected parameters in a single click.
Here is how to use Icon8 as the go-to Figma background remover:
Step 1: Install The Plugin
Firstly, you have to install the Icons8 plugin in your Figma. To do this, make right-click on your canvas and tap on Plugins. Tap on Find More Plugins and search for Icons8 Background Remover.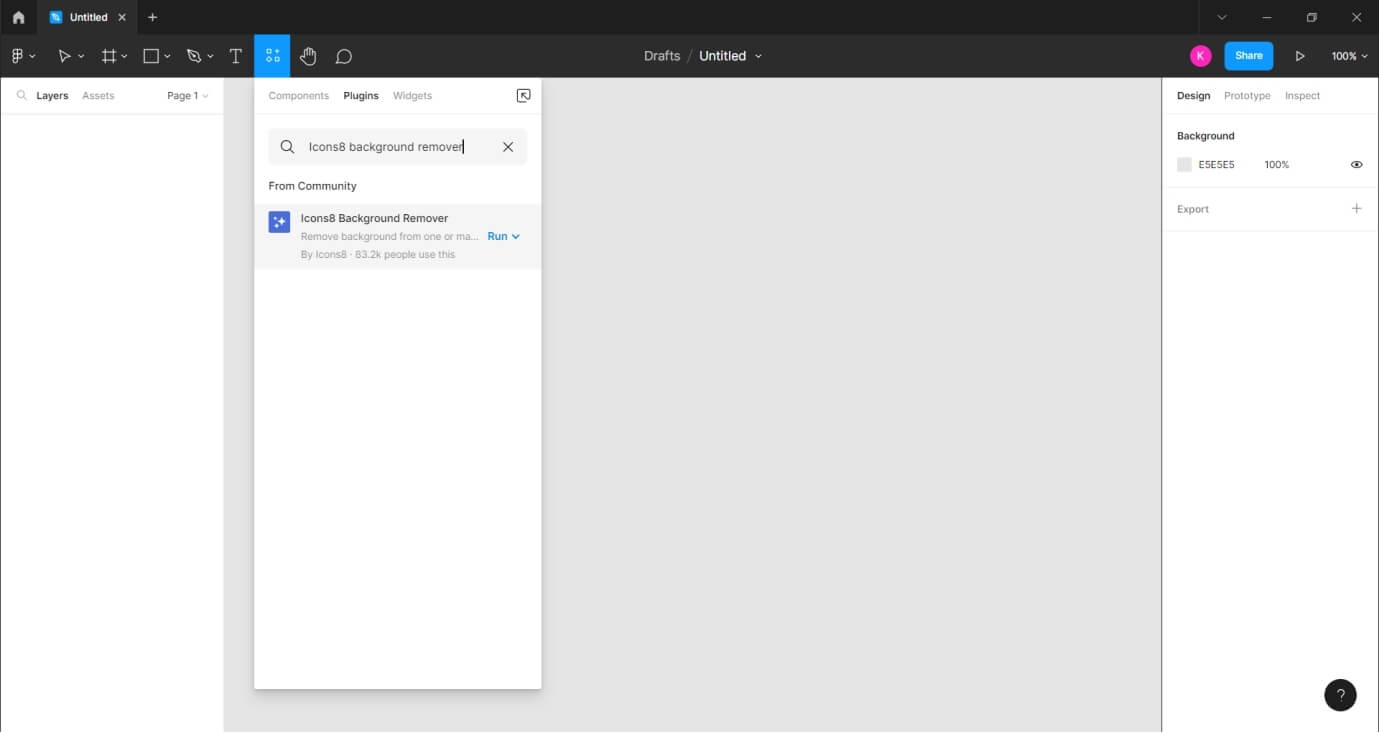 Step 2: Select The Image
Add the image to your canvas if not been added already. If you have already placed images on your canvas, select the image/images to remove the background. You can also select the whole canvas or frames for editing.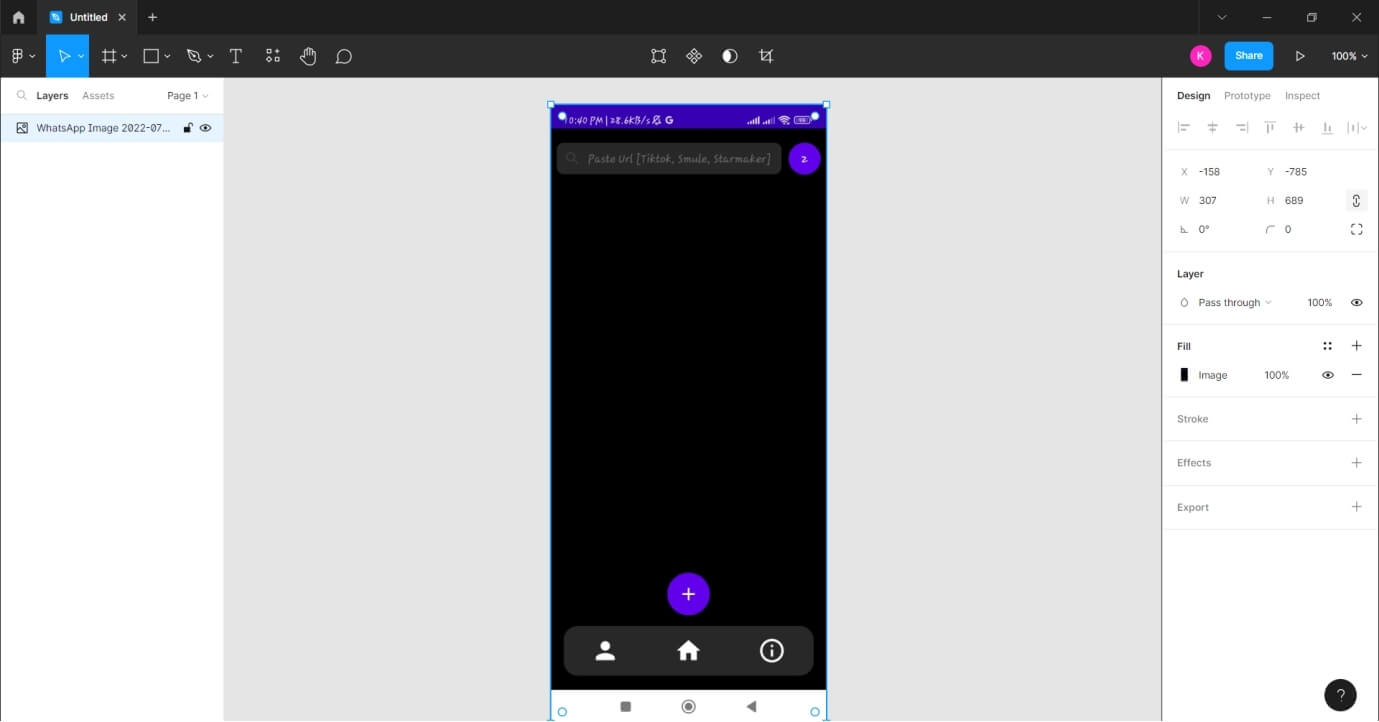 Step 3: Run The Background Remover
To run the Icons8 Background Remover, repeat the same process as used for adding it to plugins. Right-Click On Canvas > Plugins > Icons8 Background Remover > Remove Background.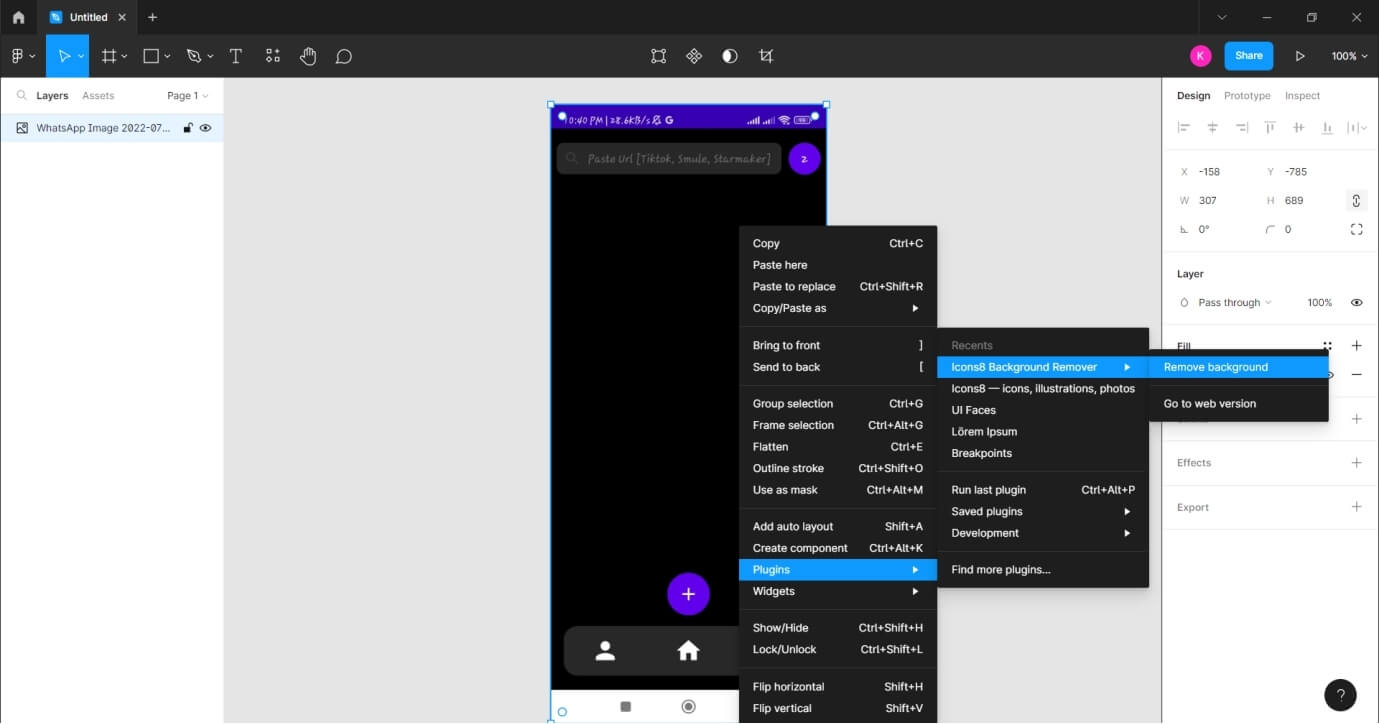 Step 4: Place Transparent Images In Your Design
The background remover will take a few seconds to process the image and delete the background. You will see the precise results that can be placed anywhere in your design.
Key Features
AI-powered automatic image background remover plugin.
No need to leave the Figma interface and remove the background with a single click in the plugins.
Multiple image processing available to remove image background of numerous images at a time.
No subscription or registration, or even API Key needed to run the plugin.
1.2 Remove.bg – Figma Background Remover
Remove.bg is a popular background remover tool for web users, Android and iOS. However, the team has also developed a plugin for Figma designers who use the software every now and then to make designs for apps, websites, or social media.
Here is how to use Remove.bg plugin as the go-to Figma background remover:
Step 1: Sign Up For Figma Background Remover
Sign up for Remove.bg Figma background remover and create your Kaleido account. Now go to the remove.bg dashboard and get the API key for plugin installation in Figma.
Step 2:Install Plugin In Figma
Go to Figma Community, search for the plugin and install it to install. When installing from Figma directly, start by right-clicking on canvas > Plugins > More Plugins > Search Remove BG > Set API Key > Paste Your API Key, and it will be added to your Figma.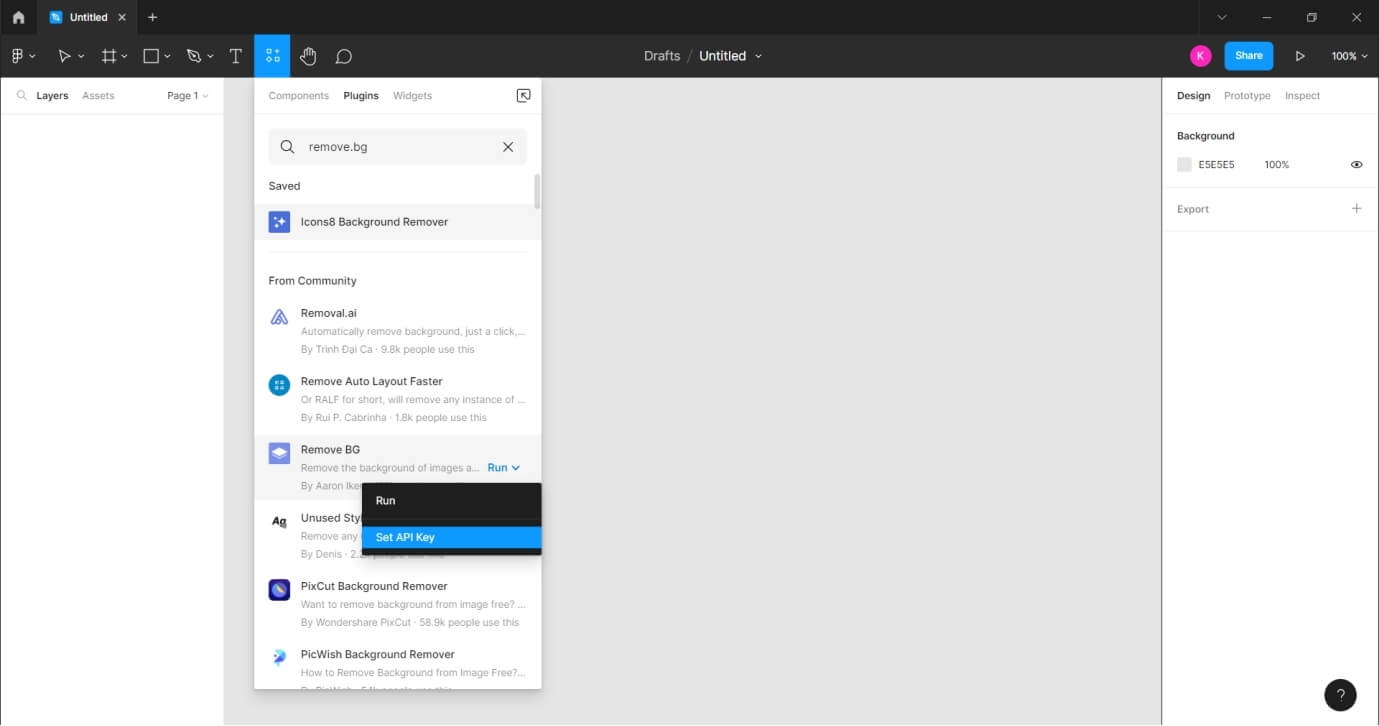 Step 3: Select the Image
Now select the image on your canvas that you want to make transparent using Remove BG.
Step 4: Remove the Background
To remove the background of image, Right-click > Plugins > Remove BG > Run. The image processing will take a few seconds, and you will get a transparent image. For faster results, you can press CMD+P > Type 'Remove bg' > Hit enter.
Here are the main features of the remove.bg background remover plugin:
Key Features
Free plugin to remove images while designing in Figma.
Single-click background removal.
Edit images without losing the quality.
Part 2: Bonus Tip: Best Online Background Remover Tool
If you are someone who doesn't want to use plugins for editing images while designing, we have a bonus tip for you. Topmediai BG Eraser tool is something you might want to check out for editing your images, whether you need it for Figma or want to use it in other software.
Here is the step-by-step guide to using TopMediai as an alternative to Adobe background remover:
Step 1: Go To Official Website
Go to the official website of TopMediai BG Eraser Online
here
.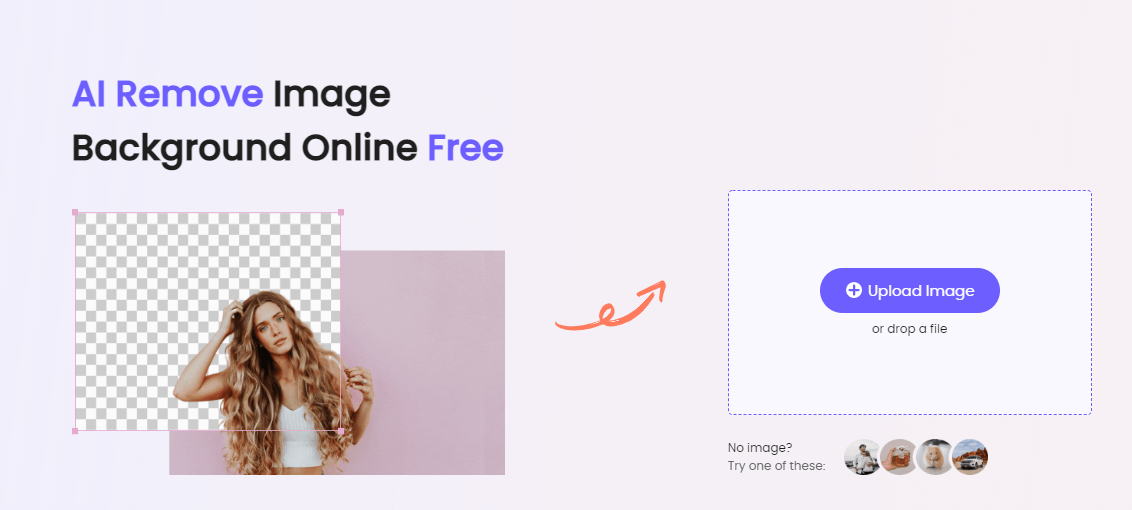 Step 2: Upload The Image
Tap on Upload Image to import the image from your device to edit it.
Step 3: Remove the Background
Once uploaded, tap on Remove Background. The automatic background remover will start processing the image for background deletion.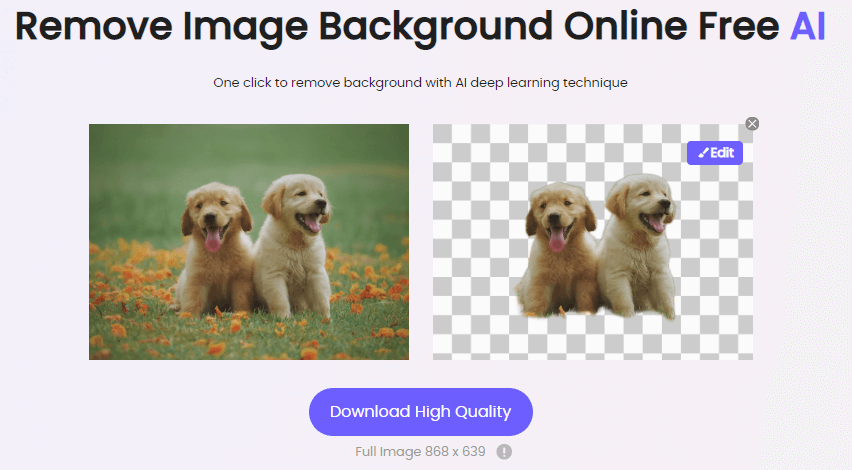 Step 4: Export Image
Once satisfied, download the edited image to your device(smartphone, laptop, PC, etc.)
Here are the most convincing features of the TopMediai BG Eraser:
Key Features
A user-friendly tool with an interactive interface to make image editing easier.
The AI-powered tool is very accurate and precise.
Save time with quick image editing.
No technical knowledge is needed to use the tool.
Part 3: FAQs About Figma Remove Background
1 How do you remove the background of a picture in Figma?
There are several plugins available to remove the background of a picture in Figma. We have mentioned the remove.bg and Icons8 background remover. You must select image > open plugins > tap on desired Figma background remover > Run. It will process the image and give you a transparent picture.
2 How do I make an image transparent in Figma?
You can make any image transparent in Figma by selecting image > open plugins > tap on desired Figma background remover > Run.
3 What is the best Figma background remover?
Icons8 is the best Figma background remover considering the convenience of use and multiple image processing. However, the results of the remove.bg are better than that of Icons8.
Conclusion
We have mentioned how Figma removes the image's background using different plugins. If you want the software Figma to
remove the background from an image
, you can rely on the plugins mentioned in the article. However, if you are looking for a go-to background removal tool,
TopMediai BG Eraser Online
is the best one, as it doesn't need integration with Figma. You can edit images online and import transparent images directly to Figma.