Karaoke is mostly used in advertisements and parties where people love to sing. However, it is also used on social media platforms where users love to sync lips and sing songs over the music. There are many online vocal remover tools. However, few of these tools are scams, and few are paid tools. In this article, we will discuss some of the most effective online vocal removertools that you can use to remove vocals with perfection.
Part 1. TopMediAI Vocal Remover Online
The first tool that we are going to talk about is TopMediAI Vocal Remover Online. It is the best and free tool you can find on the internet. It can remove vocals and instrumental sounds from any audio clip.
As we need to remove vocals, TopMediAI Vocal Remover Online uses AI to convert any audio clip into karaoke at high speed.
It supports different audio formats, so the user doesn't need to worry about it. However, the output format is in MP3, so it's easy for the users to download and listen to it.
Step 1: Open the website and click on "Vocal and Background Music".
Browse the music from which you want to remove the vocals and convert to karaoke. Make sure that your audio clip is less than 50MB.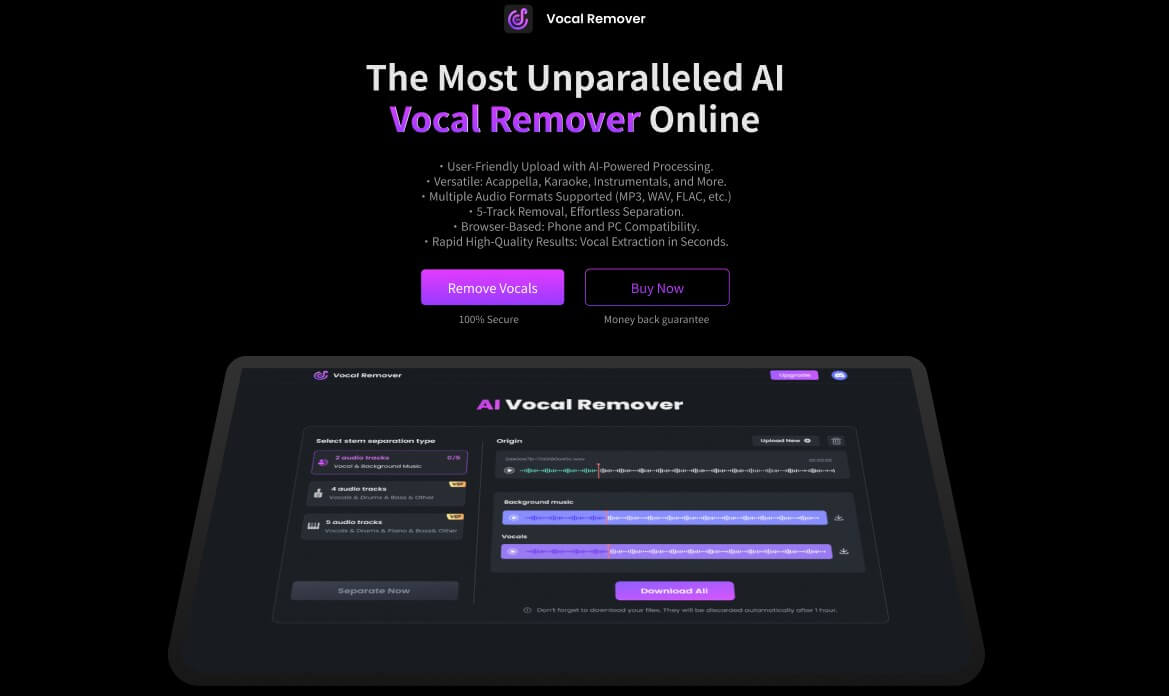 Step 2: TopMediAI Vocal Remover Online AI algorithm will process the audio file.
It will offer the user different adjustable music and vocal options. The user can then adjust the audio levels according to the requirement.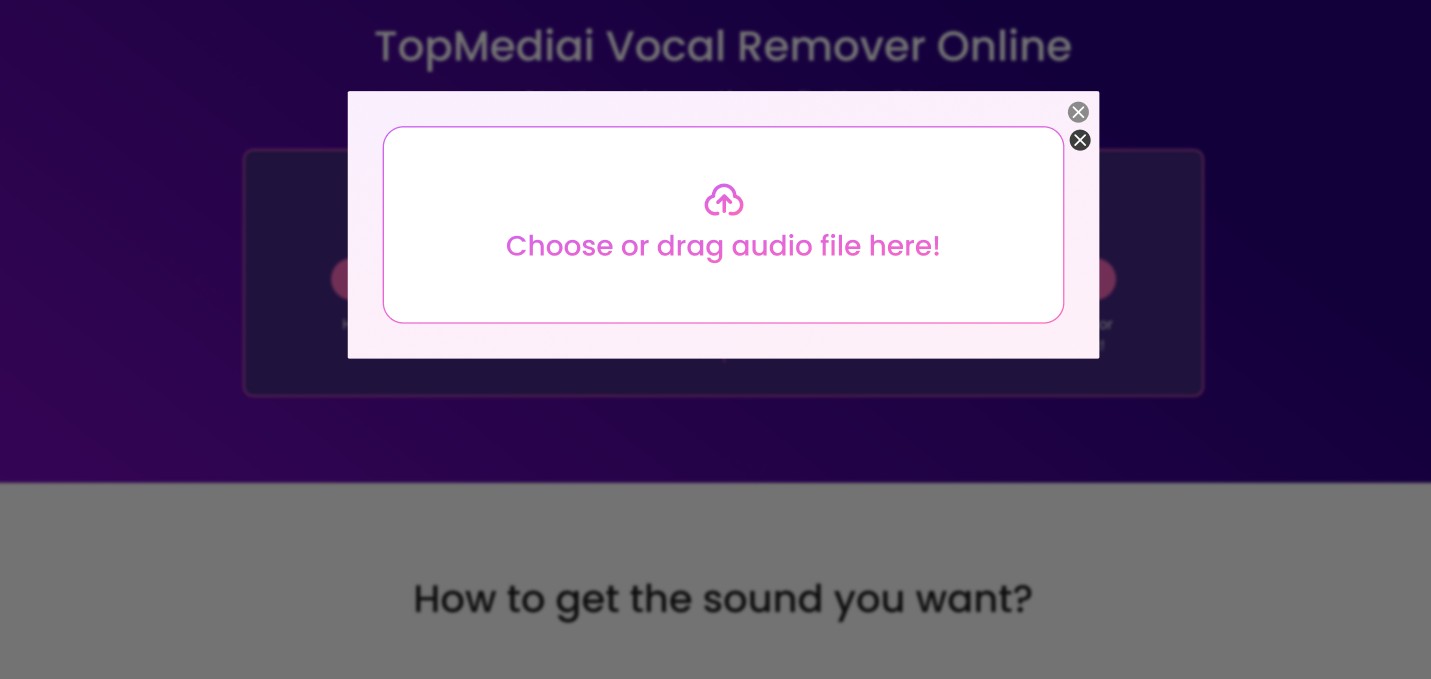 Step 3: Once the vocal is removed and karaoke is ready, click on "Download" to save the audio clip to the computer.
The quality of the MP3 file is not compromised, and the user can preview and listen to the file before downloading it.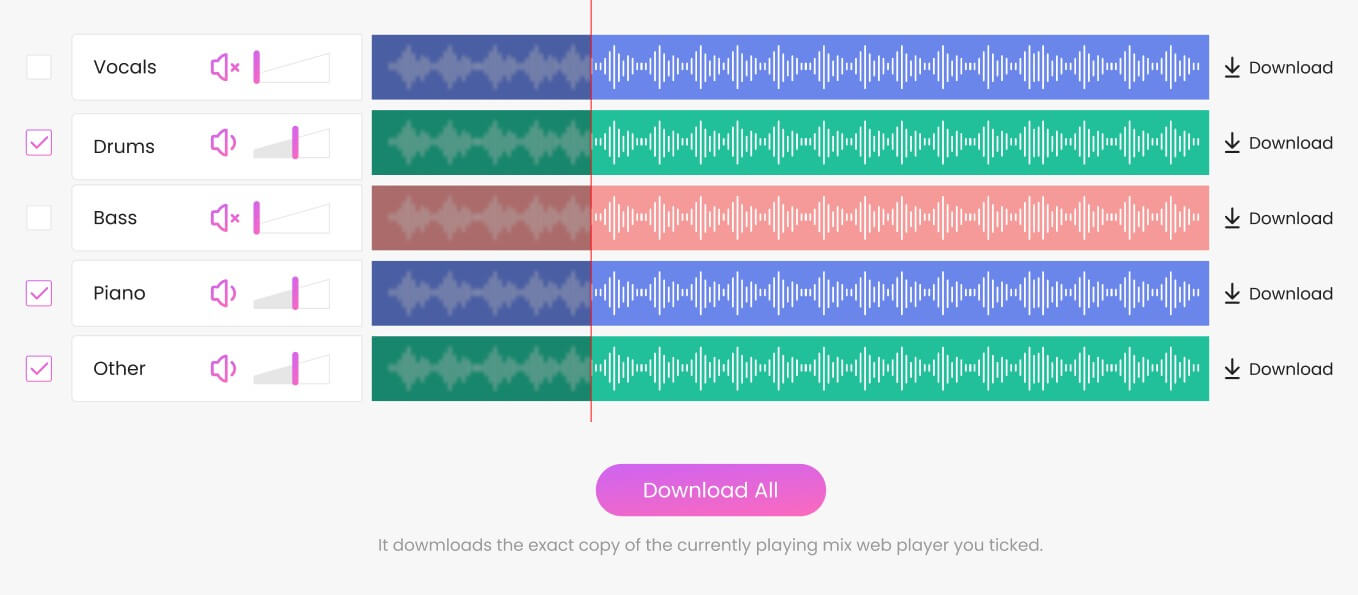 Part 2. Edit Your Audio
Edit Your Audio is a multi-feature online website that enables users to convert any audio clip into karaoke. Moreover, it can extract vocals from any song, create instrumental versions of any song, and create karaoke from YouTube videos.
This is a standout feature of Edit Your Audio. However, the file size that can be uploaded to this online tool cannot exceed 30 MBs.
It supports a wide range of audio formats. The user can also enter the URL of the YouTube video to convert it into karaoke. It is a completely free tool that anyone can use without any sign-up or log-in.
Step 1: As you open the website, you will see multiple options in front of you. Below, you will see the title "Try our Vocal Remover", click on it to import any audio file, or you can also drag and drop the file here.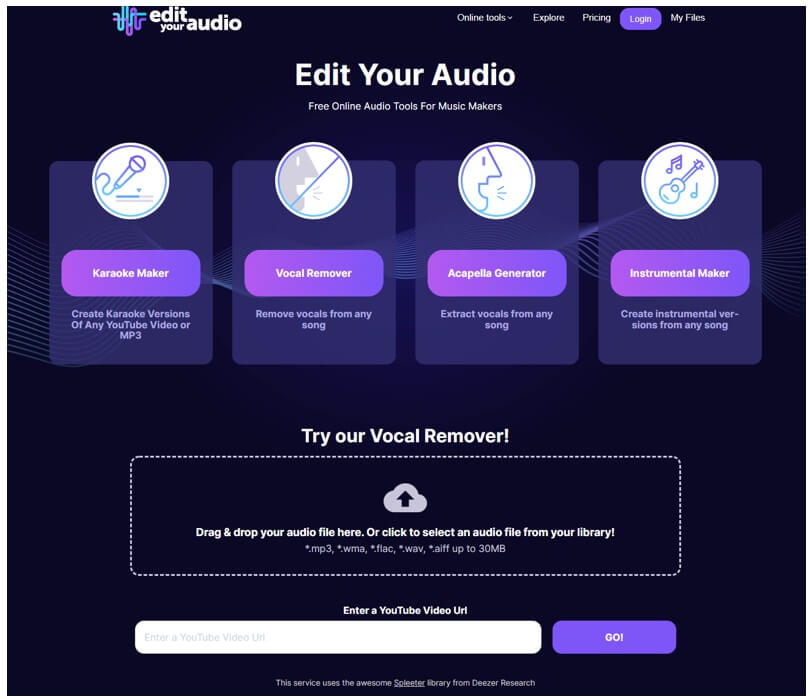 Step 2: It will take a few seconds to upload your audio file, depending on its size. Then it will use the AI to process the audio and remove its vocal. You can now listen to the music after conversion.
Step 3: The user can enable or disable the vocals or instrumentals if he wants. Then click on "Download" to save this audio karaoke file to your computer. The output of the karaoke file is in MP3 format.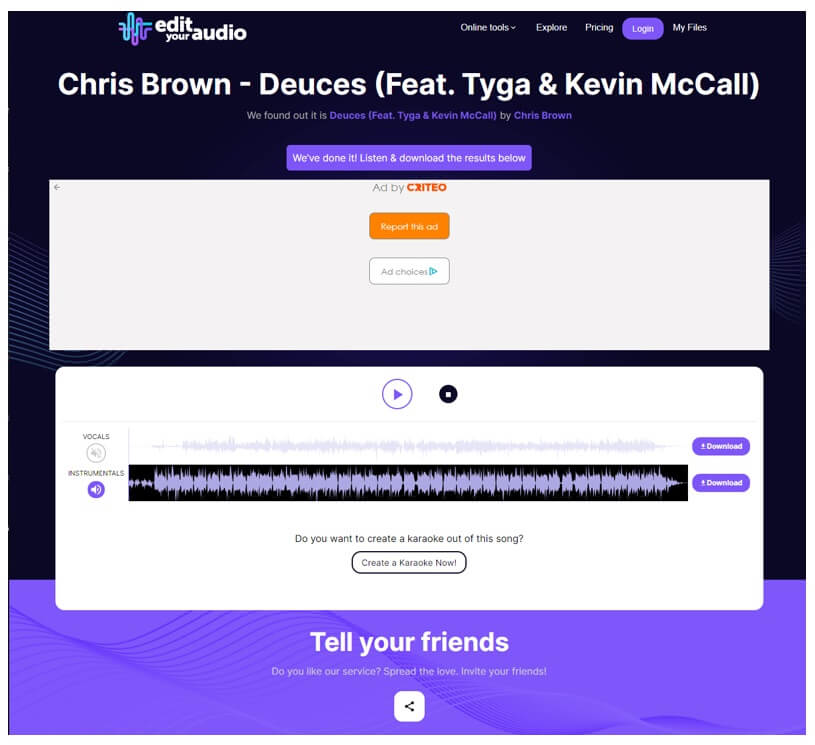 Part 3. LALAL.AI
Lalal.ai is a great online vocal remover tool. Its AI is one of the most effective and works very fast. It also has seamless API integration that improves the performance of this tool and facilitates its compatibility.
Lalal.ai has different packages for its users, which start from 0$ and go up to $30. This online tool can remove vocals from 20 different audio files at a single time. It is a very easy-to-use tool and does not degrade the quality of music after conversion.
Step 1: Open the Lalal.ai website. Click on "Select Files". The user can select a single file or multiple files to remove vocals from. Make sure to select a working and valid audio file.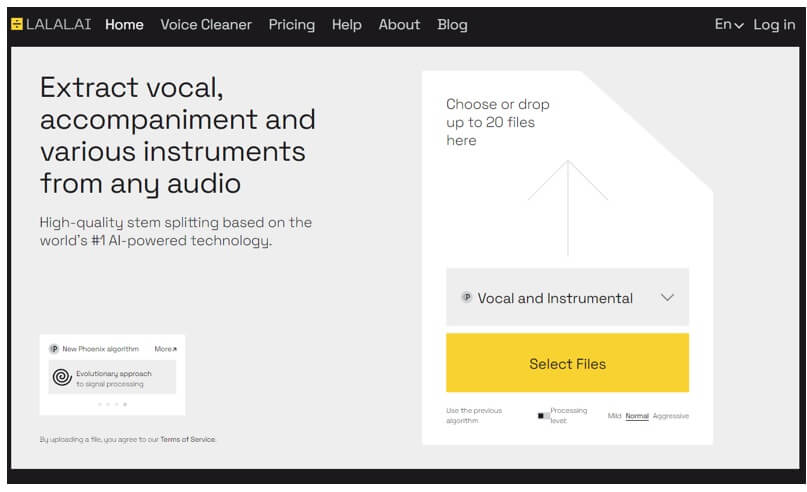 Step 2: The audio file will take a few seconds to upload. Then the AI algorithm of this tool will process the audio file and separate the vocal and instrumental music from the uploaded audio.
Step 3: After the whole process, the user will see different files on the right-hand side. These files include vocals, instrumental, a plus version that costs $30, a lite version that costs $15, and a free starter version.
The user can buy the plan of this online tool to process the entire file and remove vocals from audio files in batches.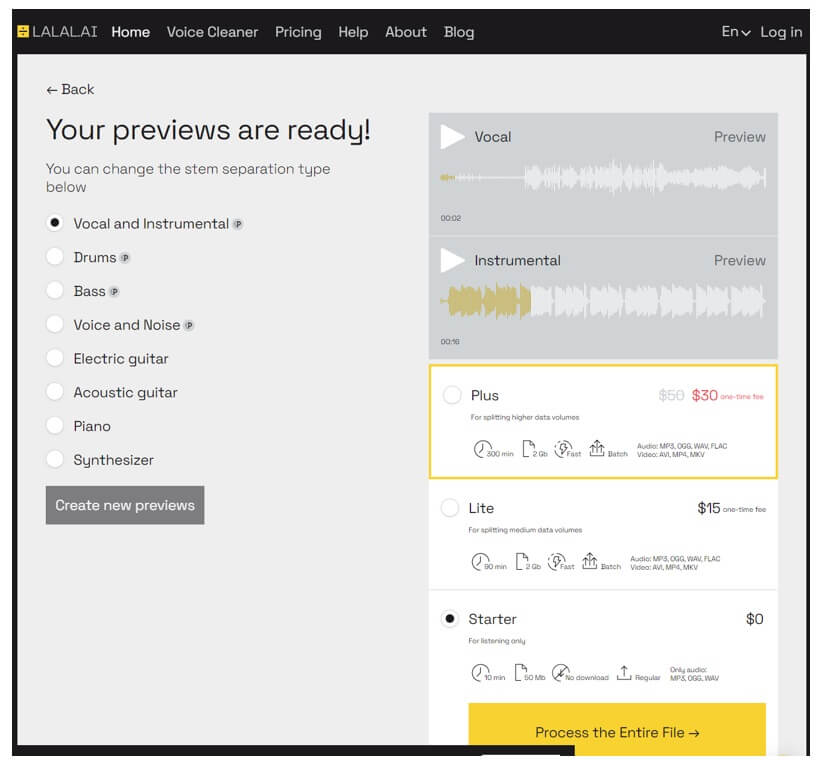 Part 4. AI Vocal Remover
The final tool that we are going to discuss is AI Vocal Remover. It is also an online tool like other tools that we discussed. However, this tool is extremely fast because it uses deep learning analysis to improve AI.
In this way, the AI becomes better with each conversion. This tool is completely free, and it can remove vocals along with extracting instrumentals from songs. AI Vocal Remover processes the file in seconds, and then it's up to the user to download instrumental or download vocal after the AI conversion.
Step 1: Open the AI Vocal Remover website. You will see an option of "Choose File" in the center of the screen. Click on it to import the music file from your computer, and then click on "Upload".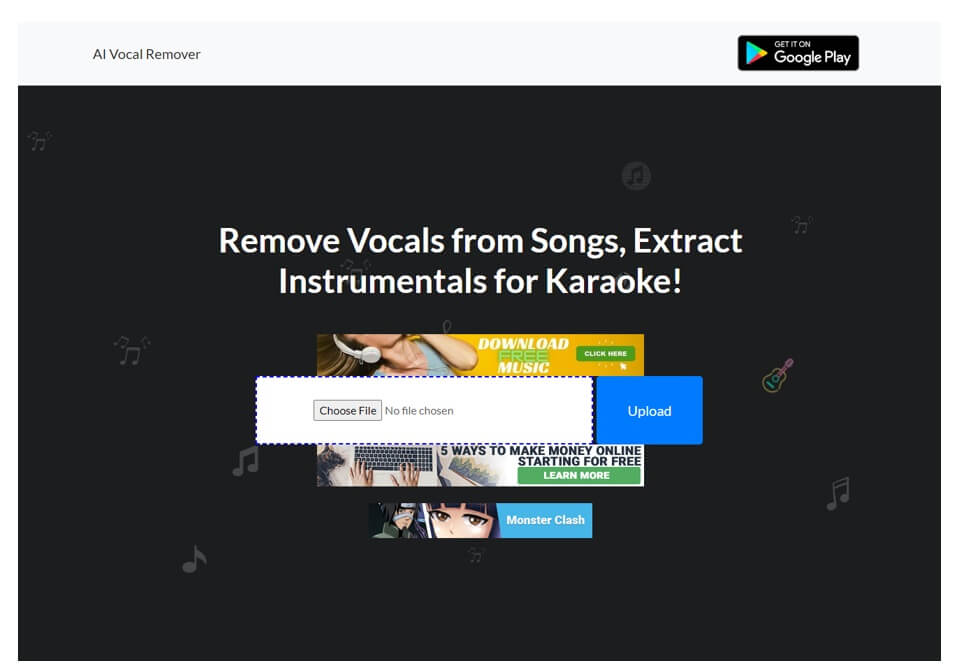 Step 2: It will take a while to upload the file. Then it will process it and create two different files—one with only vocals and one with only instrumental music.
Step 3: The user can then click on "Download Instrumental" as it doesn't contain any vocals. It will download the audio for free after conversion.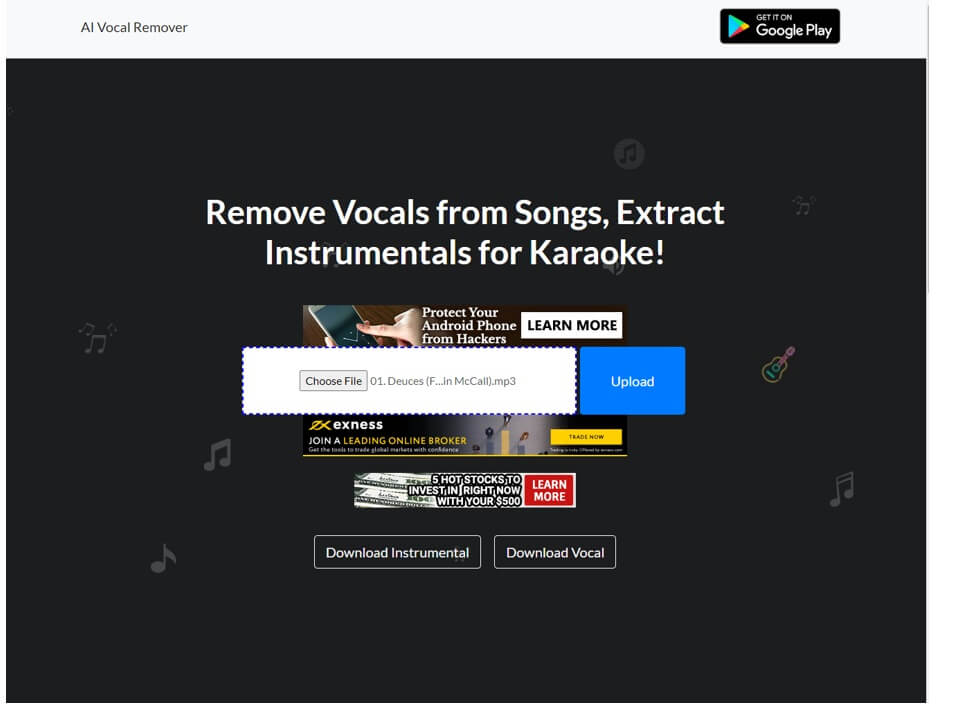 Conclusion
Our discussion about different online vocal remover tools comes to an end. All of these online tools are easy to use and remove the vocals with perfection. However, the easiest of them all is TopMediAI Vocal Remover Online.
It is because it uses AI and processes the audio file with ultra-fast speed. This tool is free and helps the user to get their desired audio output without any trouble.