Vocals are not important all the time; sometimes, music is enough to make it work. Content creators also need music to use in their content and make it more attractive. If you only need music, you need to remove the vocals from the original audio. Many vocal remover online tools can help the user to get the job done. In this article, we will use some of the best and most effective vocal remover software. We will share the instructions so that beginners can also do it without any hassle.
1) TopMediAi Vocal Remover Online
TopMediAi Vocal Remover Online is an online tool that helps the user to remove vocals from any kind of audio file. It supports different audio formats and can remove vocals or music from the audio easily.
TopMediAi Vocal Remover Online allows the user to extract vocal or background music with just a click of a button. However, it only supports audio files up to 50MB. If you have any audio file bigger than 50MB, then you need to compress it to convert it into karaoke or instrumental music.
Most importantly, the tool is quite easy to use. You do not need any expertise or music knowledge to remove the vocals. Beginners can also use this tool without any hassle.
Here are the steps to remove vocals from an audio file using TopMediAI Vocal Remover Online.
Step 1: The user can go to the TopMediAi Vocal Remover Online website to start removing vocal or background music from an audio file. It is an online tool and works quickly to convert any audio file. On the home page, you will see two different options. As we want to remove vocal from an audio file, click on "Vocal & Background Music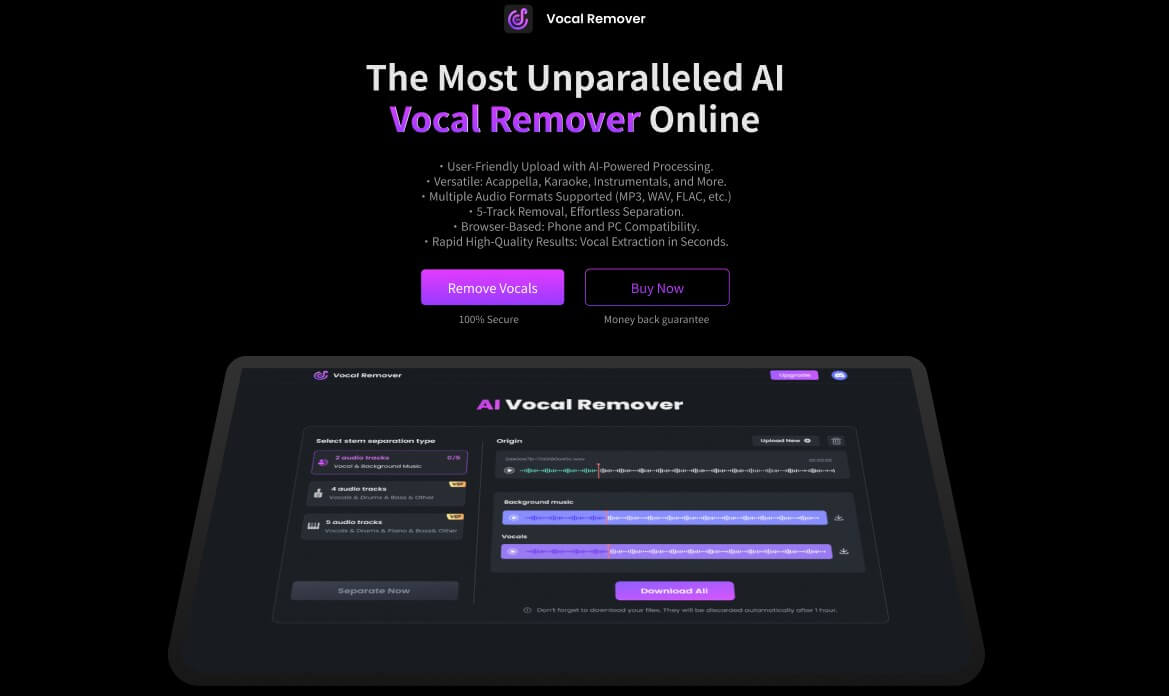 Step 2: The second step is to upload the audio file to extract the music and remove the vocals. Make sure that the audio file is below the size of 50MB. Otherwise, TopMediAi Vocal Remover Online cannot entertain you. Choose the file wisely or drag and drop it.

topmediai-vocal-remover-online-import-audio

Step 3: TopMediAi Vocal Remover Online will then process the audio file that you uploaded. One thing about this tool is that it provides different adjustment options to the user. The user can use the equalizer of this tool to remove vocals, drums, bass, piano, and other musical settings. Once you are done removing the vocals, click on "Download" to save this audio file to your computer.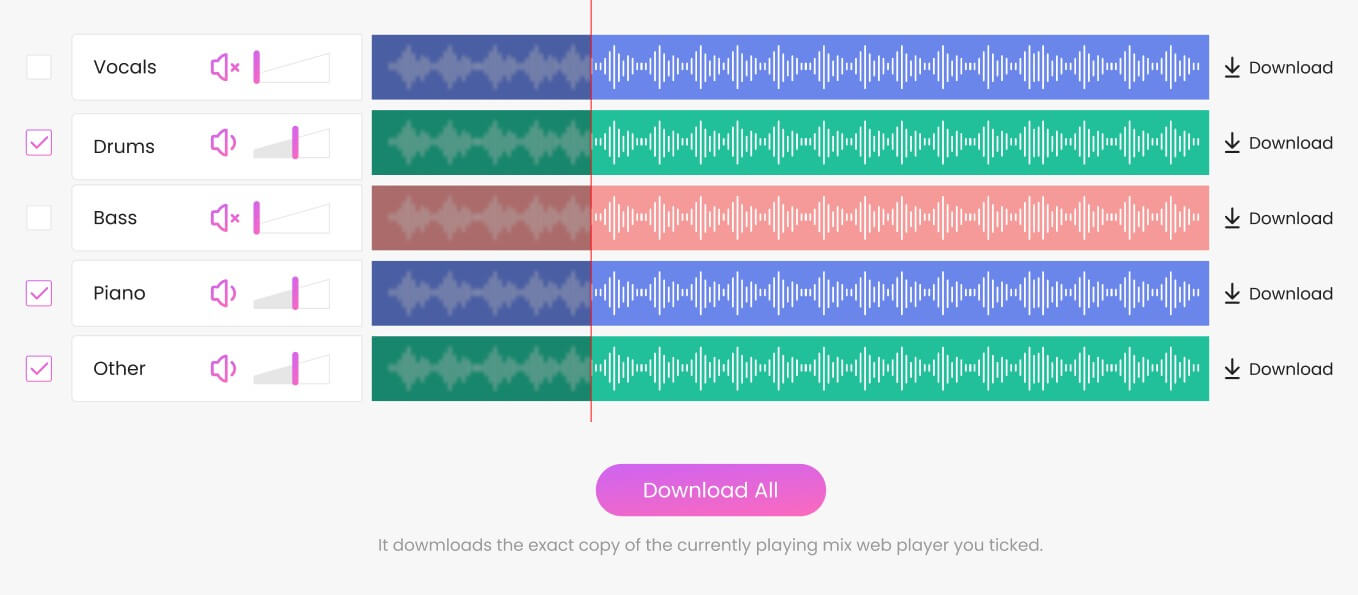 2) Notta Online Vocal Remover
The next vocal remover online tool that we are going to discuss is Notta Online Vocal Remover. It is a multi-format-supported online tool that uses an AI algorithm to extract the vocals and sounds from the audio files. The quality of the audio is maintained after conversion, and it is supported by different browsers, including Google Chrome, Firefox, Safari, Mac, Windows, Android, and iOS.
Notta Online Vocal Remover clears all the files after 24 hours of conversion, so there is no need to be concerned about the safety of your data. It is an easy tool to use.
Here are the steps to remove the vocals from any audio file using this online tool.
Step 1: Notta Online Vocal Remover is an online tool, so it doesn't require any kind of downloading and installation. Just go to the website and start converting. Click on "Upload Files". It supports different audio/video formats like WAV, AAC, AIFF, M4A, MP3, MOV, WMW, and more. The user can upload any audio or video file of duration up to 20 mins.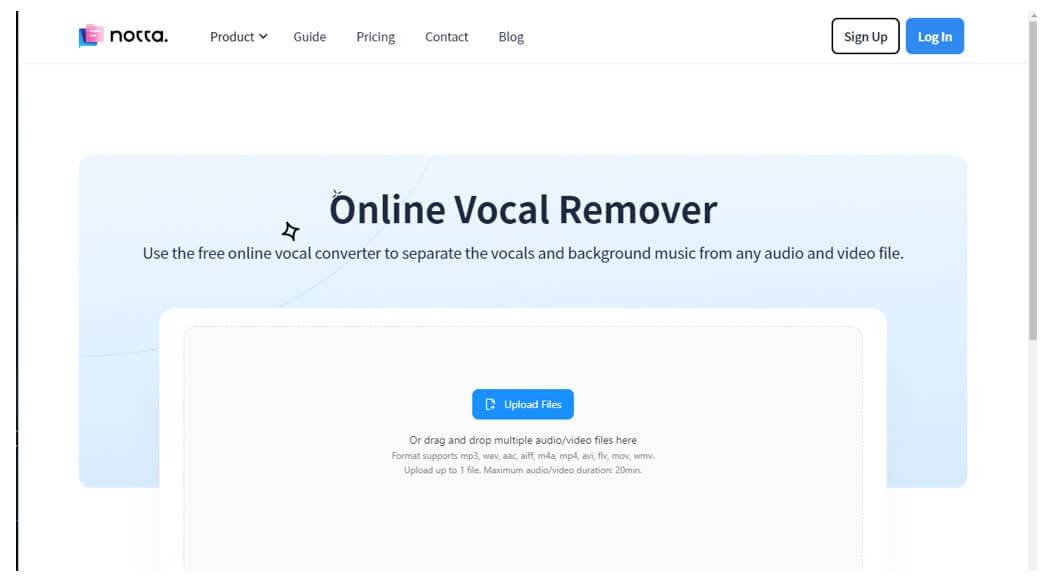 Step 2: When the audio/video is uploaded, this tool uses AI to separate the vocal and instrumental music from the file.
Step 3: The user can download either file, the one without vocals or the one without instrumental sound, from the website. However, the output format is MP3. So, the user can easily download it and play it.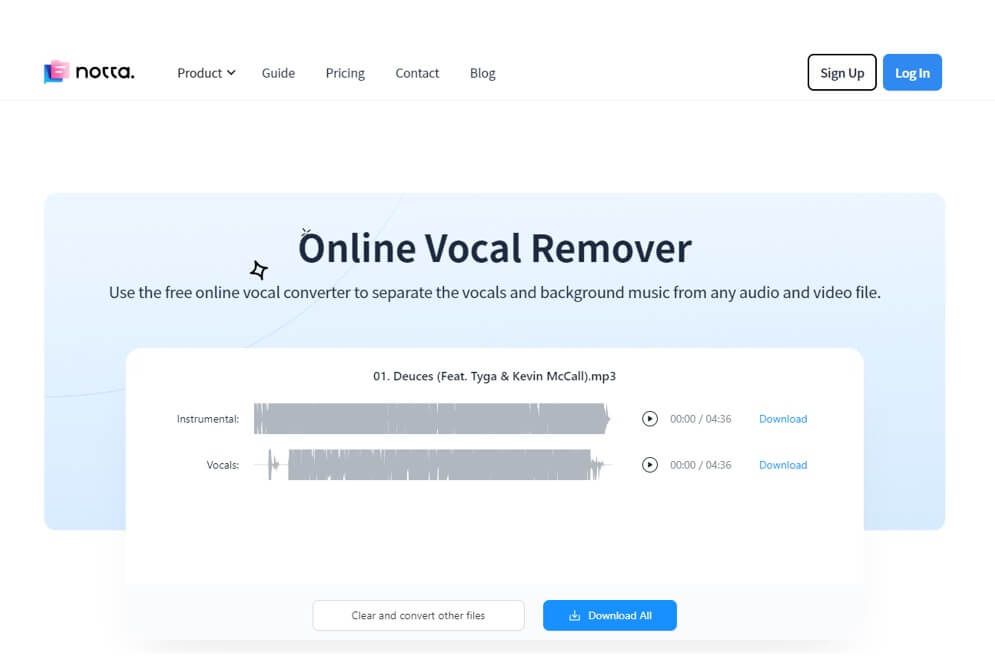 3) Vocal Remover
Vocal Remover Org is one of the best vocal remover online websites. It is because it also allows the user to add different effects to the music. This tool can convert the music into instrumental or vocal sound in just a few seconds. No matter how big your audio file is, it converts it at a lightning-fast speed. Despite having so many features, this tool is free to use.
Besides having the feature to remove vocals from any audio file, it can also change the pitch and tempo of any song.
Vocal Remover Org also has an audio cutter, audio joiner, recorder, karaoke, and key and BPM finder features. However, let us talk about the vocal remover and isolation feature of this tool in detail. It uses AI to remove vocals and instrumental sounds from the music; this is the reason it is very effective.
Step 1: Go to vocalremover.org. Here, you will see a button in the center of the screen, namely "Browse my Files". Click on this option and choose the file from your computer from which you want to extract the instrumental sound and remove the vocal.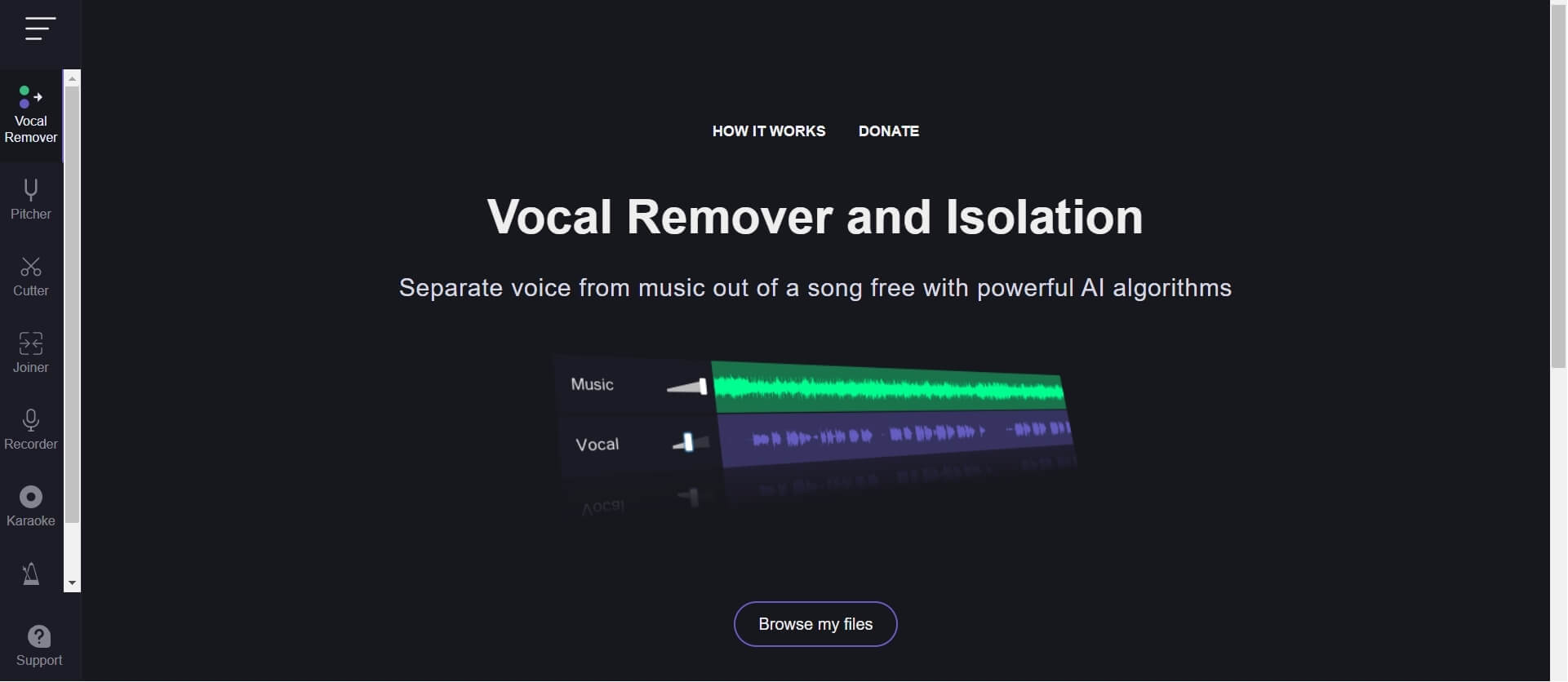 Step 2: The AI algorithm of this tool will work with ultra-fast speed and present you with the audio with two options. The user can manually adjust the vocals or music by adjusting the bars.
Step 3: When you are satisfied with the MP3, you can download it by clicking on the "Download option".
FAQs
1) Does removing vocals disturb music?
No. If you are using a reliable tool or software, there is no need to worry about distortion or any change in the music. Only the vocals will be removed.
2) How can I convert MP3 after removing the vocals?
Most of the websites offer MP3 output format only. If you want to change it into another format, you can use any online file conversion tool.
Conclusion
These were a few of the online tools that work effortlessly to remove the vocals from any audio file. Each of these online tools uses an AI algorithm to separate vocals and instrumental sound from any audio file. The difference between these online tools is just the uploading file size. However, the easiest tool among them is TopMediAI Vocal Remover Online. It is a free tool and works efficiently without any input from the user.