Artificial Intelligence has revolutionized the way we create and experience art. With the rise of AI art generators online, anyone can create stunning art pieces without artistic skills. AI art generator online tools use machine learning techniques to generate unique and beautiful art pieces that are visually stunning and appealingly pleasing. In this guide, we will discuss free online Ai Art Generator. So read on to find out.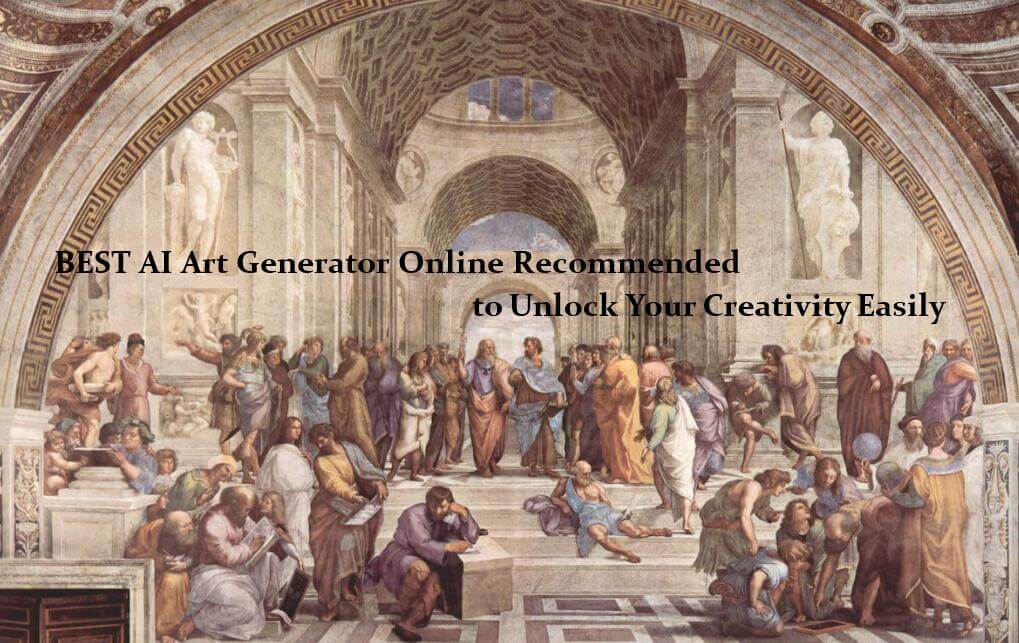 Part 1: Top 8 AI Art Generator Online Recommended
1. TopMediai - BEST Choice for AI Art Generator Online
TopMediai AI art generator online is considered the best AI online art generator tool that utilizes the latest artificial intelligence algorithms to create stunning and intricate artwork in seconds.
With a user-friendly interface and a wide range of styles, like
Anime
, Landscape and Illustrations, TopMediai's AI art generator online allows users to unleash their creativity and produce incredible visuals.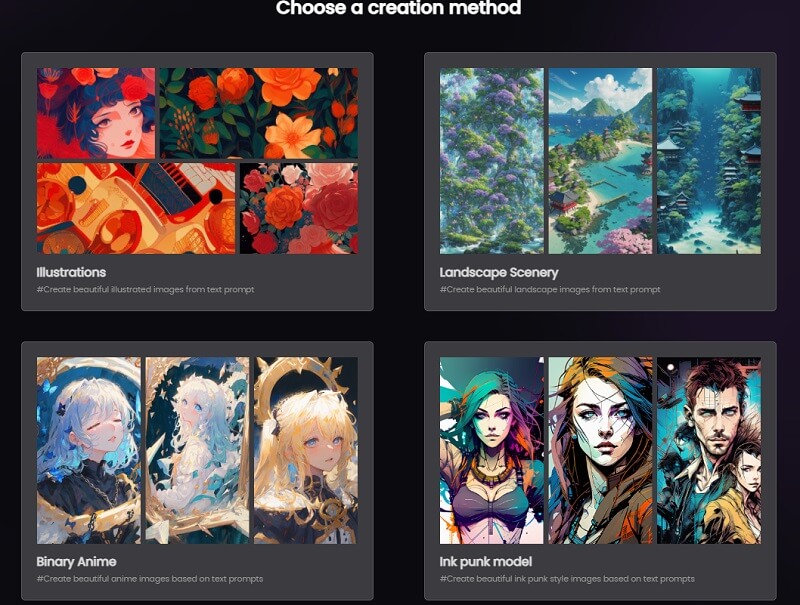 Pros
It can provide instant inspiration and save time for artists and designers.

Generate images with one click with simple prompts.

User-friendly and does not require any advanced technical skills to use.

Can be used for various applications such as marketing, branding, and product design.

The web version is easy to use. All you need is to enter your command.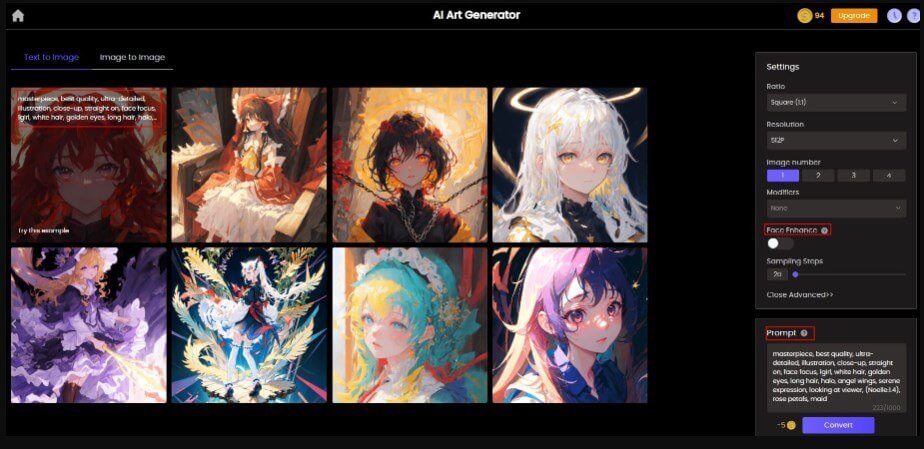 Cons
Lack the personal touch and emotional depth that can come with hand-crafted art.
The NightCafe creator is a comprehensive AI art generator application that provides multiple methods of generating unique and stunning art pieces. The powerful neural style transfer technique lets you easily transform your ordinary photos into mesmerizing masterpieces.
Pros
The app offers a variety of AI art generation techniques, such as neural style transfer and text-to-image AI.

The simple and intuitive interface makes it easy for anyone, even without experience in AI art generation.

You can adjust parameters to fine-tune the art generation process and create a perfect piece.
Cons
Although the app is free, some advanced features and customization options are only available through paid subscriptions.

The NightCafe AI app requires a high-speed internet connection to function properly.
Midjourney is an AI-powered art service that enables users to generate unique images based on input prompts within Discord.
The platform is accessible by joining Midjourney's free Discord server and entering the "/imagine" command in one of the designated "newbie" bot channels. Users can input any text and receive four images in approximately seconds.
Pros
It provides you with high-quality images.

It also allows you to see other people's work to have a better idea and give you inspiration.
Cons
The free trial is for a limited time. You will need to pay if you want to use the services.

You must have a discord account before you can use it.
DALL-E 2is capable of generating high-quality images from textual descriptions. This technology builds upon the previous version, DALL-E, which made waves in the AI community for its ability to create unique and often surreal images from personal textual inputs.
DALL-E 2 allows generating even more complex and detailed images with more significant results and speed.
Pros
You can generate high-quality images quickly, saving significant amounts of time and effort compared to traditional art creation methods.

It can generate complex art in no time without any error.
Cons
The creative output results are limited and don't offer many designs.

The final art may not look like pure human-made.
Neural.love is a cutting-edge AI art generator that allows users to create unique and stunning digital art pieces for free online. Using advanced learning algorithms.Neural.love can generate a wide range of art styles, from abstract to realistic and everything you can imagine. Whether you're a professional artist or just starting, Neural.love offers a fun and easy way to unleash your creativity and make something unique.
Pros
It can generate high-resolution images suitable for printing and displaying.

Neural.love constantly evolves and improves, with new features and styles regularly added.

Users can customize the output by adjusting various settings and parameters.
Cons
You will need to pay as the free version is limited.

It requires a high-speed internet connection.
Deep.ai uses advanced AI algorithms that generate images based on existing images and has been trained with millions of images. The tool is incredibly user-friendly, as you only need to upload an image and wait a few seconds for the output.
It offers immense creative freedom, with categories such as animals, landscapes, and abstracts, and provides a selection of many unique styles.
Pros
It generates images from text using cutting-edge AI algorithms.

You can choose from various art styles and specific AI modes tailored to different types of art.
Cons
Deep.ai is paid tool, and the free version has limited features.
Hotpot.ai image generator enables you to transform your imagination into art in just a few seconds. This powerful tool brings your ideas to life by creating stunning art, illustrations, and images.
With the help of AI, you can now unleash your creativity and express yourself in new and exciting ways. Simply type in a few words and watch as Hotpot transforms your text into incredible art.
Pros
You can create a perfect ideal-size image with HD resolution.

It can generate the image within 5 to 10 seconds.
Cons
It is a paid tool, and free features are limited.

It requires a high-speed internet connection.
Craiyon allows users to turn their ideas into impressive artwork. The tool uses advanced AI algorithms to generate striking and intricate images, illustrations, and designs in seconds. It provides a user-friendly platform that enables everyone to unleash their creativity and produce stunning visuals.
Pros
The tool is free, and you can use all available tools.

They also have an android application if you want to use it on your smart device.
Cons
The output quality of the tool is rated average.
Part 2: Comparison of Best AI Art Generator Online
AI Art Generator Online
Pricing
Speed
Platforms
Main Features
TopMediai Ai Art Generator
The pricing depends upon the setting of the art.
It can generate an image in 5-10 seconds
Online web and PC broswers

● Real-time generation

● Max HD quality output ● Text to Img or Img to Img
Midjourney
It costs $30 Per/m
Usually, it generates an image in 3-10 seconds. If you experience any delay, it is due to the discord server.
PC and Mac

● Image synthesisvoiceover options

● Style transfer
DALL-E 2
The pricing depends upon the image resolution. Per image of 1024*1024 costs $0.02.
It can generate an image in 5-10 seconds
PC

● Scalability

● Improved control ● Improved resolution
Neural.love
It is $30 Per/m. Or you can pay $57 for a lifetime
It can generate the image in 10-15 seconds
PC and MAC

● Faster generation

● Ethical considerations

Deep.ai
It costs $ 4.99 per/m
It can create the image in 5-10 seconds
PC

● Cloud-based accessibility

● Wide range of styles
Hotpot.ai
Depending upon the usage, you can buy credits from the range of $10 to $350 per/m
It can generate the image in 3-10 seconds
PC

● Customization options

● Diverse output formats
Crayon
Depending upon your preference, you buy it for $6.00 or $24.00 Per/m
You can create the images in 5-10 seconds
PC and Android

● User-friendly interface

● Cloud-based accessibility
NightCafe
The pricing depends upon the nature of the use. It starts from $5.00 and goes over to $49.99 per
It can generate an image in 5-10 seconds
PC, Mac and Android

● Natural language processing

● Max HD quality output
Part 3: FAQs About AI Art Generator Online
Here are a few most asked questions about the AI art generator free online tools
1 Which Is the Best Online AI Art Generator?
Many online AI art generators are available, each with unique features and styles. However, based on user reviews and experience, TopMediai ai art generator is one of the best options.
TopMediai uses advanced AI algorithms to create stunning digital artwork, including portraits, landscapes, abstract designs, and more. The platform is user-friendly, with a simple interface allowing users to upload their images or choose from templates easily.
2 How to Turn Your Pictures into Ai Art online?
You can use an online AI art generator or software that utilizes deep learning algorithms to turn your pictures into AI art. Simply upload your image, select a style or filter, and let the AI algorithm do the rest. Some popular AI art generators include Deep Dream Generator, Craiyon, and TopMediai.
3 Is There a Free Ai Art Generator Online?
Yes, there are several free AI art generators available online. Some popular options include Deep Dream Generator and Hotpot. These AI art generator online free tools allow users to upload their images and apply AI algorithms to create unique and artistic outputs.
Conclusion:
In this article, we have shared the list of top-ranked
AI Art generators online
you can use to create unique images. Some available tools are entirely free, but some offer free to try. No matter what you choose but as far as we know about the
best AI art generator online
, we recommend you to go for the
TopMediai AI art generator
tool as they offer many different perks and art designs.