In the ever-evolving world of content creation, standing out is essential. Mr. Beast, a super funny YouTuber known for his philanthropy and entertaining content, has captivated millions with his unique style and voice.
But what if we told you that you can create your own Mr. Beast AI voice? In this article, l'll show you how to harness the power of text-to-speech and voice-changing technology to achieve that distinctive Mr. Beast ai voice.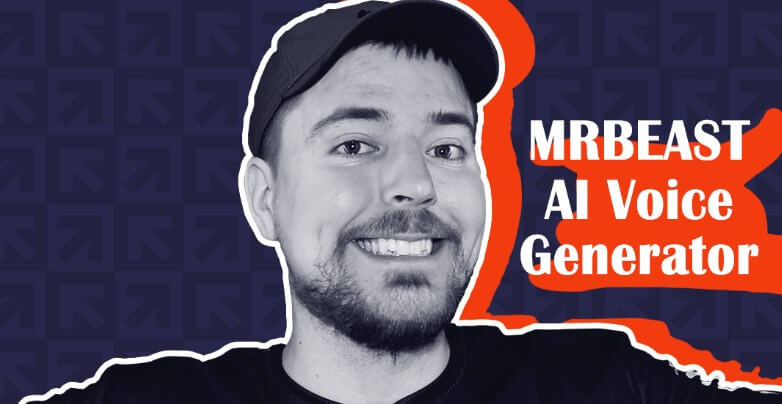 Part 1: Who is Mr.Beast?
MrBeast, also known as Jimmy Donaldson, is a renowned American YouTuber and philanthropist. His YouTube channel is celebrated for its extravagant stunts and extraordinary acts of kindness. MrBeast is widely recognized for his generosity, often donating substantial sums to strangers, organizing unusual competitions, and undertaking charitable initiatives like the "Team Trees" campaign, which aimed to plant 20 million trees. His innovative and high-budget projects have captivated a massive online following.
7 Topics of MrBeast's Youtube Content: Philanthropy, Challenges and Competitions, Stunts and Experiments, Collaborations, Team Trees, Random Acts of Kindness, Entertainment and Comedy.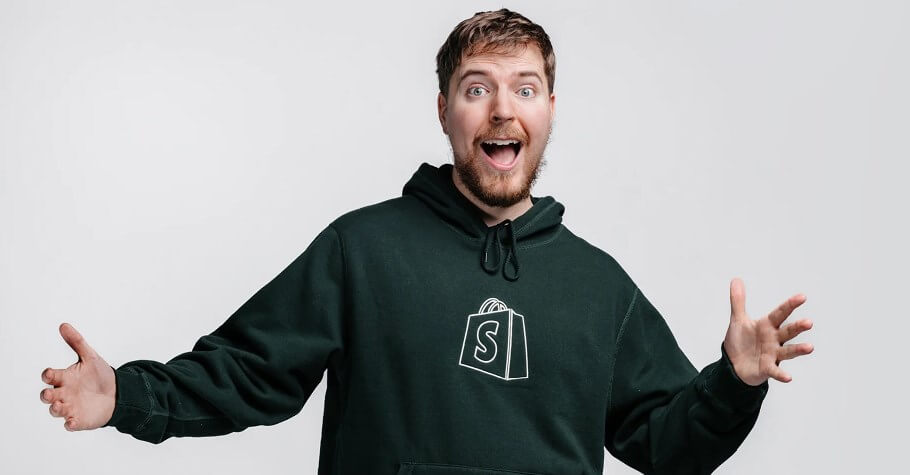 Part 2: How to Get the Same MrBeast AI Voice?
If you're looking to incorporate Mr.Beast AI voice into your content, TopMediai is your go-to solution. They offer a specialized Mr.Beast Text to Speech tool that allows you to generate text in the distinctive voice of MrBeast himself. With a growing collection of voices from famous YouTubers, TopMediai makes it easy for you to captivate your audience with MrBeast's iconic tone.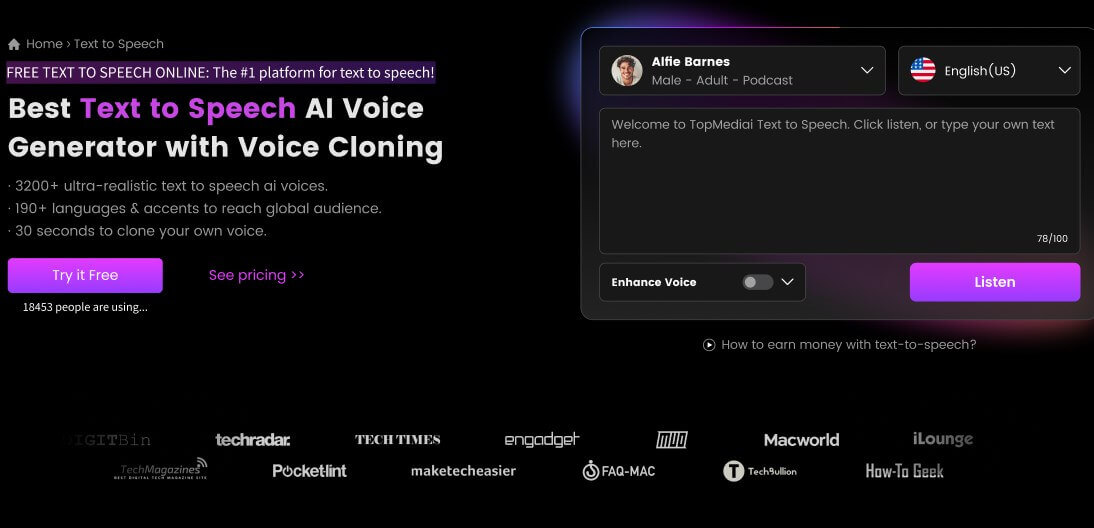 How to Use TopMediai Text to Speech to Generate Mr.Beast AI Voice:
Step 1: Visit the TopMediai Website and Access Text to Speech.
Step 2: Choose the Mr. Beast AI Voice: Look for "Mr. Beast" on "Youtubers."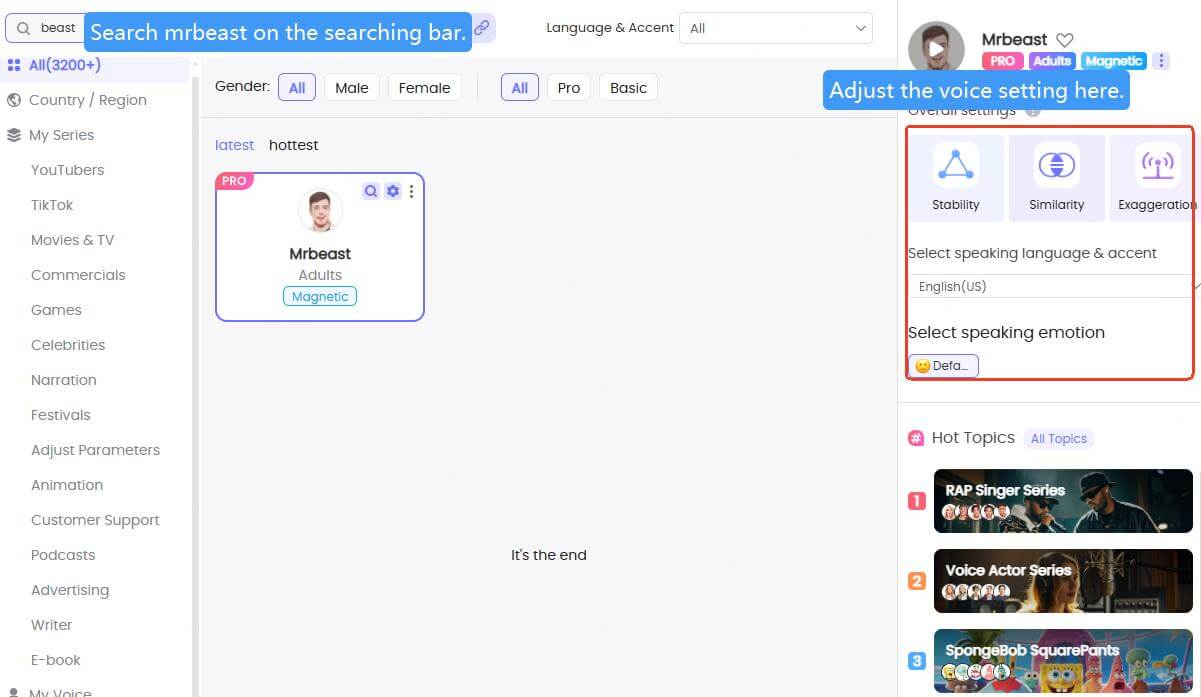 Step 3: Enter Your Text: There should be a text input box where you can type or paste the text you want to convert into Mr. Beast ai voice.
Step 4: Generate the Voice: Click "Convert" button.
Step 5: Preview and Download.
In addition to Mr. Beast, TopMediai text to speech often offers a range of other voices(celebrity, singer, rapper and so on), allowing content creators to experiment with different characterizations and styles.
Accessible from any device with an internet connection, making it convenient for YouTubers to work from various locations.
You can typically preview the generated voice to ensure it meets your expectations before downloading the audio file.
You may have access to 7/24 customer support and resources to help troubleshoot any issues or questions you encounter while using the platform.
TopMediai often updates its voice offerings, ensuring access to the latest and most relevant voices for content creators.
What are the Pricing&Plans of TopMediai Text to Speech?
| Plan&Pricing | Text to Speech | Voice Cloning |
| --- | --- | --- |
| Basic | 12.99(250K characters+1 voice clone) | 14.99(50K characters+2 voice clones) |
| Premium | 19.99(500K characters+1 voice clone) | 19.99(100K characters+5 voice clones) |
| Plus | 39.99(1M characters+2 voice clones) | 39.99(200K characters+10 voice clones) |
| Free to Try? | Yes. 5000 characters for free | No |

TopMediai Text to Speech - Realistic AI Voice Generator
No need to hire a voiceover anymore! Built for content creators, our text to speech saves your time and money.
Try It Free
Part 3: Change Your Voice to MrBeast AI Voice[Voice Changer]
Want to take your MrBeast impersonation to the next level? TopMediai also offers an online free voice changer that can transform your voice into a pitch-perfect replica of Mr Beast AI voice.
Whether you're creating content for YouTube or just having fun with friends, this tool is a game-changer for anyone looking to emulate MrBeast's unique vocal style.
Without download, use it in your browser.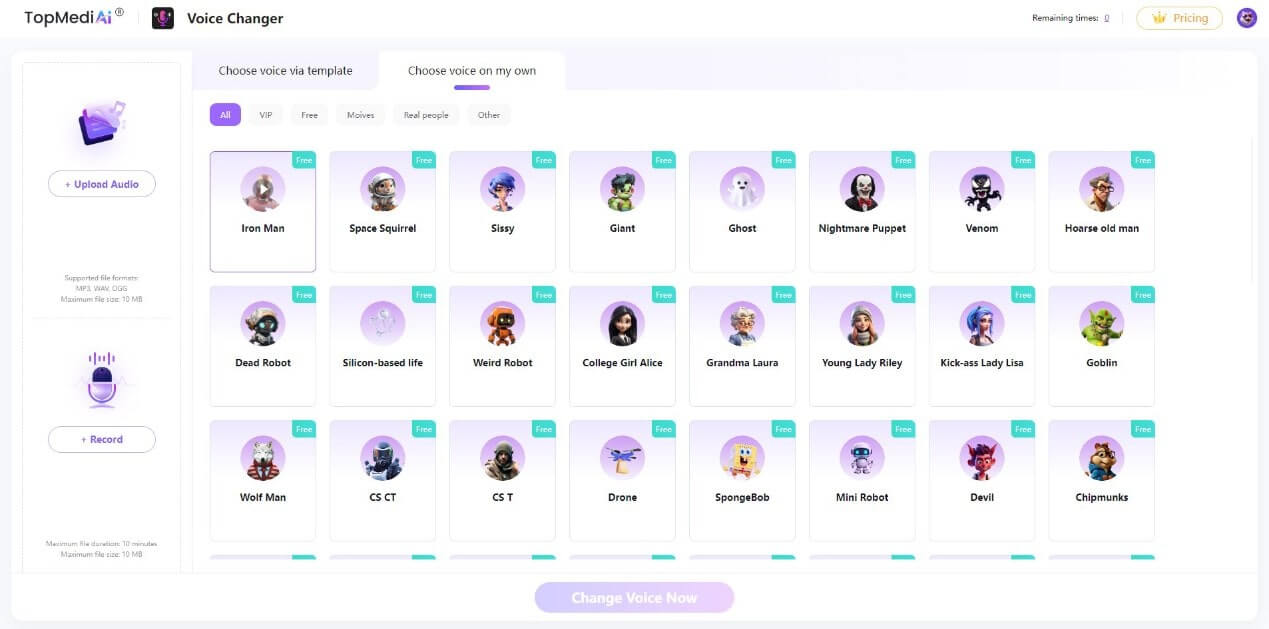 For those who prefer a more comprehensive voice-changing experience, Voicemod for PC is an excellent choice. Voicemod provides a wide range of voice modulation options, including MrBeast's AI voice. It's a versatile tool that allows you to customize your voice to sound just like MrBeast, adding a new dimension to your content or conversations.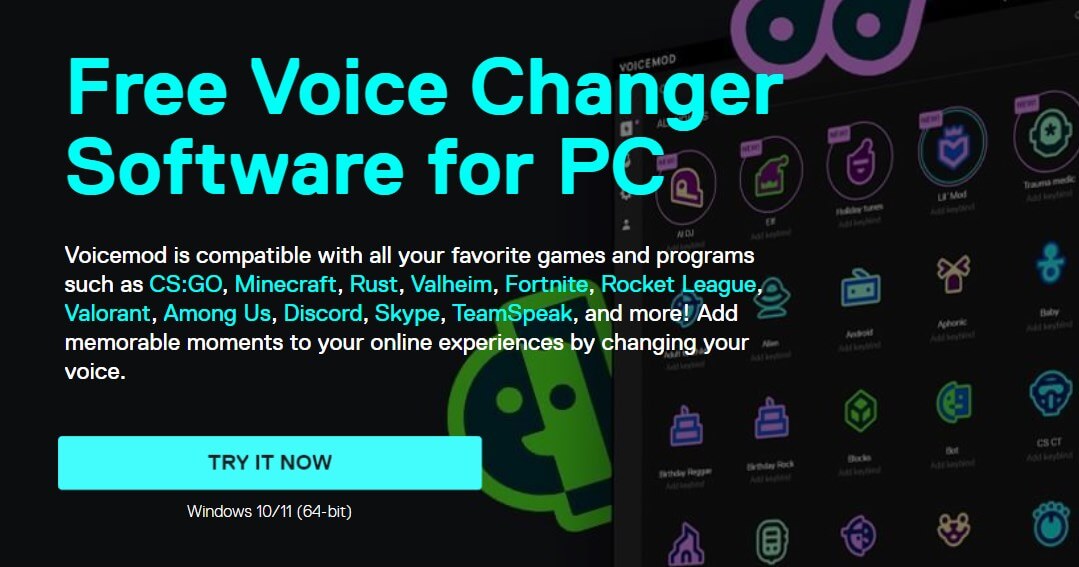 | Features Summary | TopMediai | VoiceMod |
| --- | --- | --- |
| 1 | Offer preset effects like robot, alien, and more. | Specializes in real-time voice modulation. |
| 2 | Works with communication platforms and streaming software. | Offers a wide range of voice effects, including robotic and celebrity impersonations. |
| 3 | Capture altered audio for later use. | Operates as PC software, providing more advanced and real-time voice-changing capabilities. |
| 4 | Easy-to-use interface for quick adjustments. | Ideal for live streaming, online gaming, and creative voice manipulation. |
| 5 | Ensures the privacy of your voice data. | Extensive voice customization options, allowing fine-tuning of altered voices. |
| 6 | Often provides a free trial or limited free features. | Additional features like soundboard effects and audio enhancements. |
Part 4: Hot FAQs about MrBeast AI Voice
1 Can I use MrBeast AI Voice in live streams or podcasts?
Yes, many voice modulation tools, such as TopMediai, when used in real-time, can alter your voice to sound like MrBeast during live streams or podcasts.
2 How do I ensure the quality of MrBeast AI Voice in my videos?
To ensure quality, experiment with different settings, and fine-tune the voice using the customization options provided by the tool or platform you're using.
3 Can I use MrBeast AI Voice for narration in my YouTube videos?
Yes, many content creators use MrBeast AI Voice for narration, commentary, and storytelling in their YouTube videos to add a unique touch, and l hope TopMediai will be your best partner.
4 Can I create character voices with MrBeast AI Voice for animations or gaming?
Yes, you can use MrBeast AI Voice to create character voices for animations, gaming, or any other creative content that requires unique voices.
5 How can l make my own Mr.Beast AI Voice?
You can try voice cloning. You just need to upload MrBeast audio files and then you could clone it by yourself.
Conclusion MrBeast AI voice is a fantastic addition to your content creation toolkit. Whether you're a YouTuber, a content creator, or simply someone who enjoys having fun with voice-changing technology, you now have the tools to harness the power of MrBeast's iconic voice.
With TopMediai Mr Beast voice generator and Voicemod, you can captivate your audience and create compelling content that's sure to leave a lasting impression.

Unlock Mr.Beast voice generator Now!