How to remove the watermark in Canva? Is there any online tool to remove Canva watermarks? How can I remove the Canva watermark on the PC? All these answers are going to be answered in this article. We are going to make it a complete guide on removing Canva Watermark through the Canva Pro version, online tools, and desktop-based software. Stay with us; you will get your best solution for removing watermarks from Canva images and videos.
Part 1: Download Canva Photos without Watermark Via a PRO Version
There are several ways to remove the Canva watermark without paying anything, but those methods require time and effort. Those who can spend money should choose the Canva PRO version.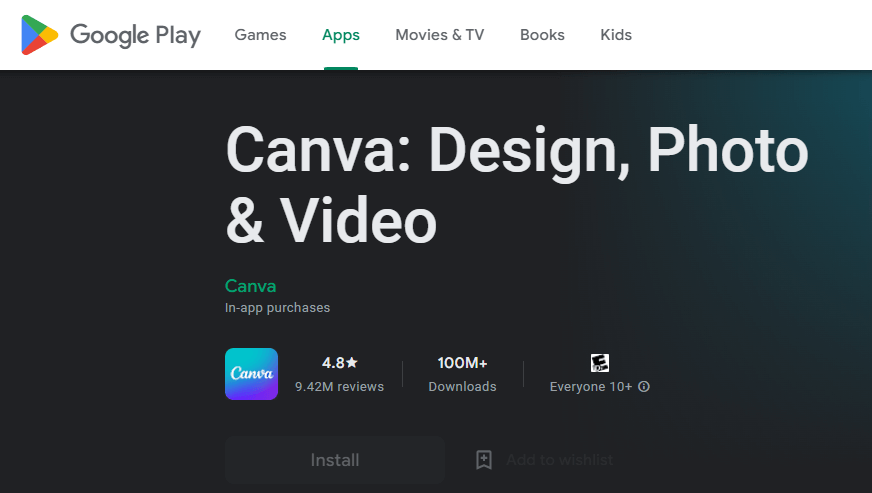 Canva offers a PRO version through which you can use all the premium videos, templates, objects, shapes, and photos without having a Canva watermark. In return, Canva charges money in the form of different paid plans and subscriptions.
In this part, we will tell you how to remove the watermark from the Canva PRO version. There will be no need for any external tool or software for this method. Follow the mentioned steps to use the Canva PRO version for getting watermark-free images and videos.
Steps to Use:
Step 1. First of all, go to Canva's official website.
Then click on the Login button on the right top corner of the screen. If you do not have an account, then Signup first from the Sign-up button.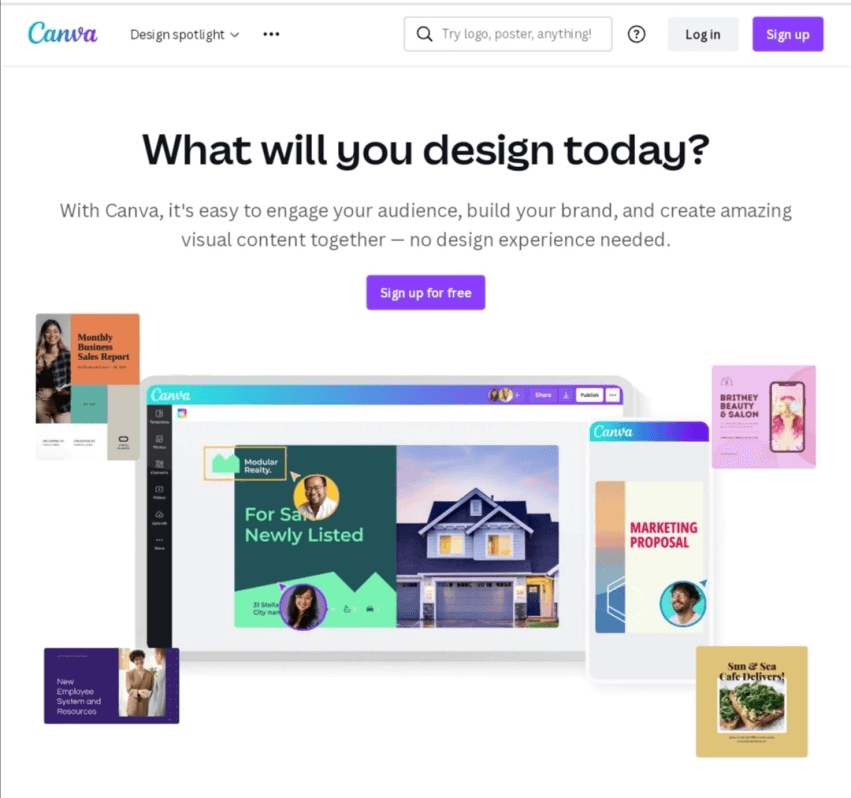 Step 2. After logging into your account, click on the Try Canva Pro from the left sidebar of the computer screen.
It will open a pop-up window showing all the Canva Pro version features. Click on the Start My Free Trial option.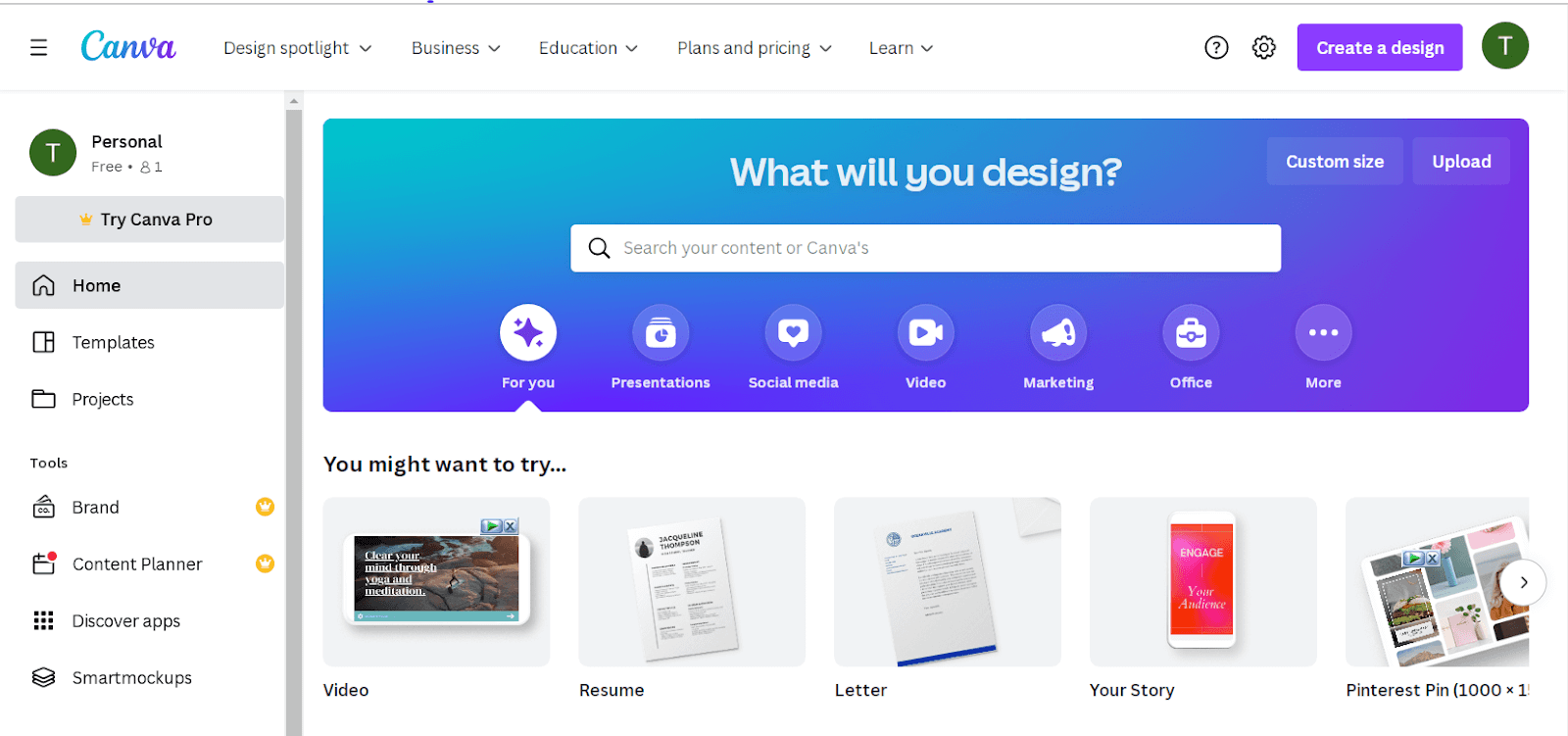 Step 3. Now, another window will appear on the screen asking you to select the payment plans (monthly or early).
Select the one that suits you, click the Next button, and then choose the payment method. Once your payment is made, Canva will show you the Get Your Free Trial button. Click on this button and start enjoying the Canva PRO version.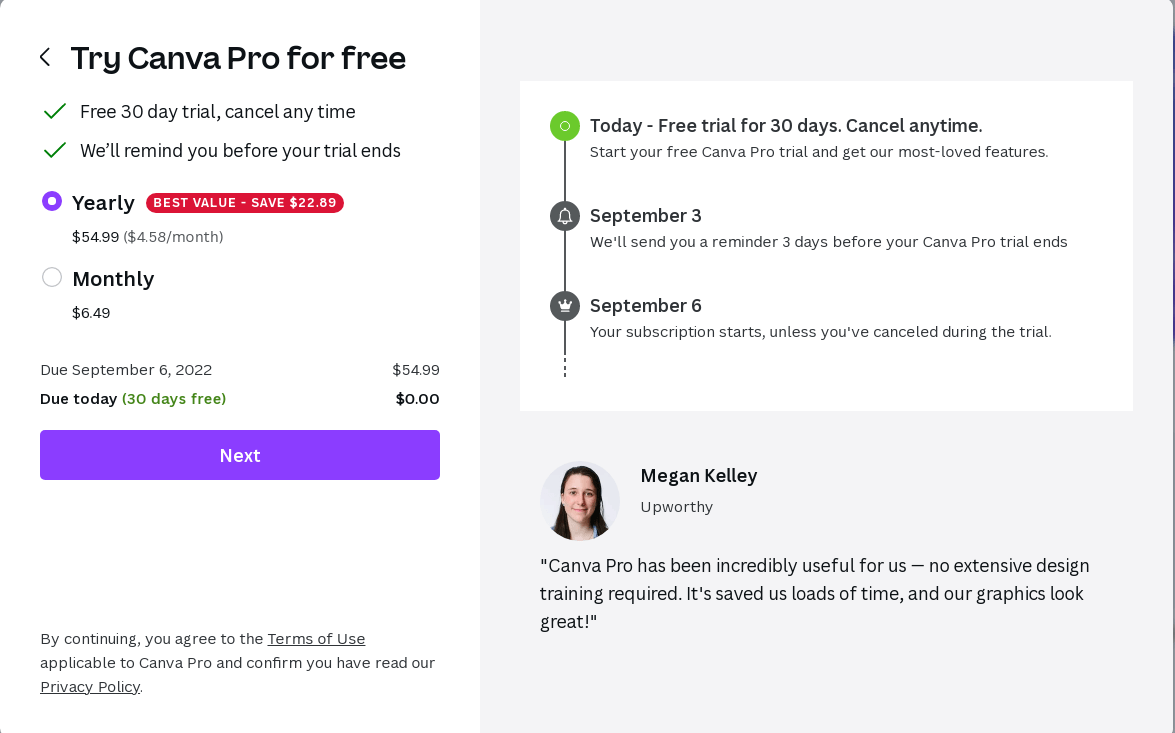 Part 2: Easiest Online Alternative to Remove Canva Watermarks for Free
The Canva PRO version saves a lot of time and effort for getting images without a watermark, but those who do not want to spend money and still want to remove the Canva Watermark can use online tools. Here are some best online tools to remove the Canva watermark for free.
2.1 TopMediai MarkGo Watermark Online – Best Canva Watermark Remover without Paying
TopMediai MarkGo Watermark Online is one of the best online tools for removing watermarks for free.
Through TopMediai, you can easily
get rid of watermarked videos
and images without being worried about the technical steps because there are zero requirements for high-tech knowledge.
Tips
Hunting for a tool to erase image watermark? Why not try a professional remover TopMediai to remove watermark 100% Auto with AI-powered Technology within 5 secs in 1 click.
Here are the easy steps that you can follow to use TopMediai MarkGo Watermark for erasing watermarks from your videos and pictures.
Steps to Use:
Step 1. Click on this link to go to the TopMediai MarkGo Watermark online tool.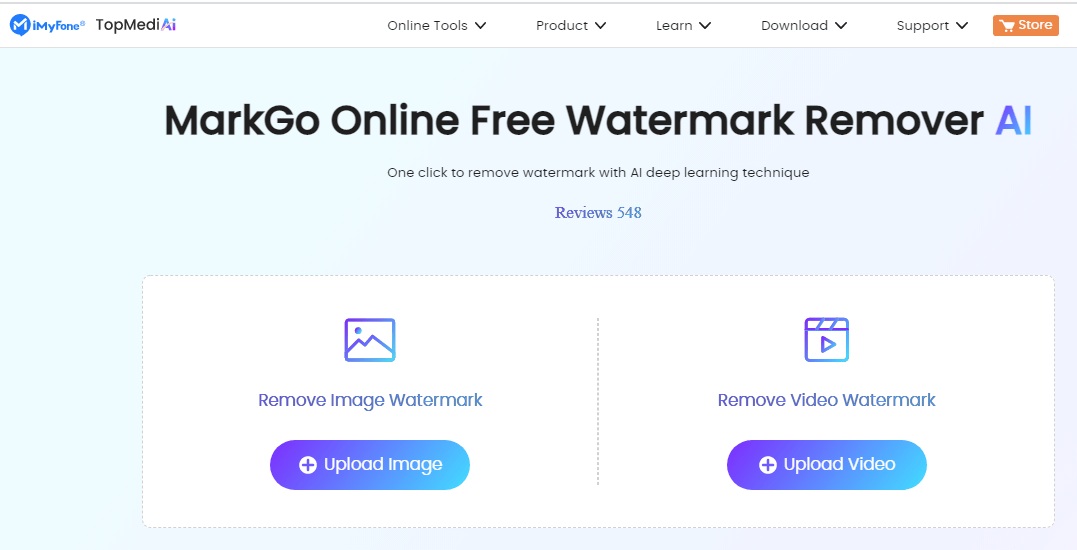 Step 2. To remove the watermark from the image, click on the Upload Image button under the first option.
Step 3. TopMediai MarkGo Watermark will show the image with a Remove Watermark button. Click on this button located below the image and wait a few seconds.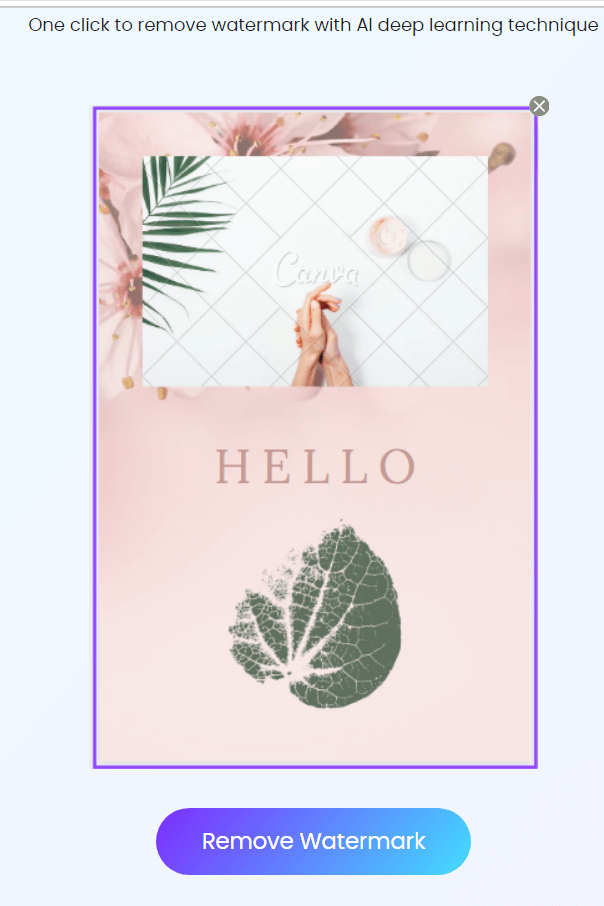 Step 4. Because it is an AI-based software, it will automatically detect and remove watermarks. After a few seconds, the image without a watermark will appear on the screen.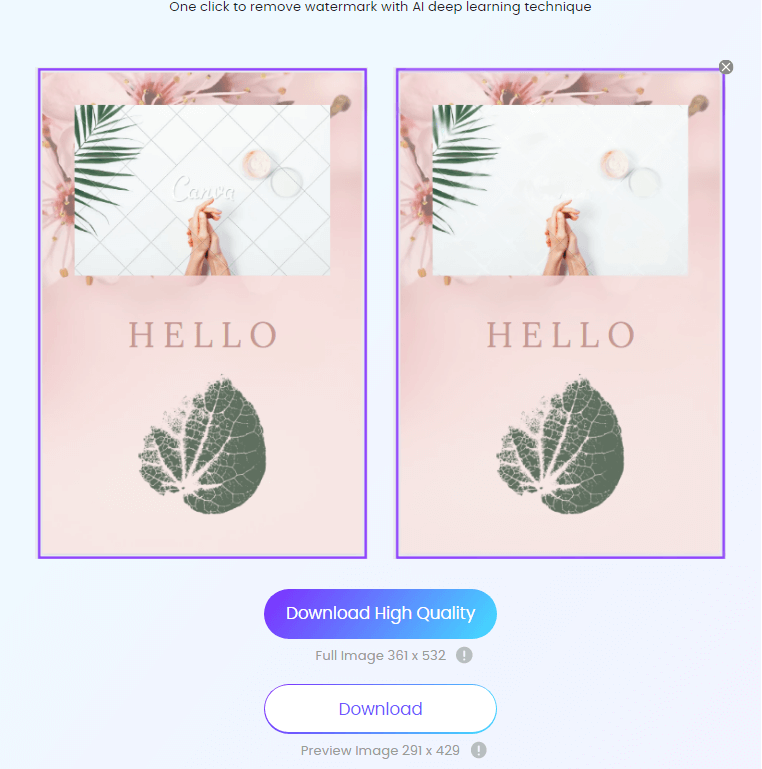 Step 5. Click on the Download button and save the file on your device at your desired location.
Key Features
Very easy to use.
Strong AI algorithm.
Simple and intuitive user interface.
Erase multiple watermarks intelligently.
Supports different input file formats.
2.2 Aiseesoft Free Watermark Remover Online
Aiseesoft is an amazing online tool that requires nothing but only three simple steps to remove watermarks from images.Through Aiseesoft, you can remove multiple Canva or other watermarks from multiple images at a time.
Here are some simple steps that you can follow to remove Canva watermarks from images through Aiseesoft for free.
Steps to Use:
Step 1. Click on this link to open the Aiseesoft online watermark remover. On the main desktop screen, you will see a yellow Upload Image button. Click on this button to add a file from your device, or you can also use the Drag & Drop method.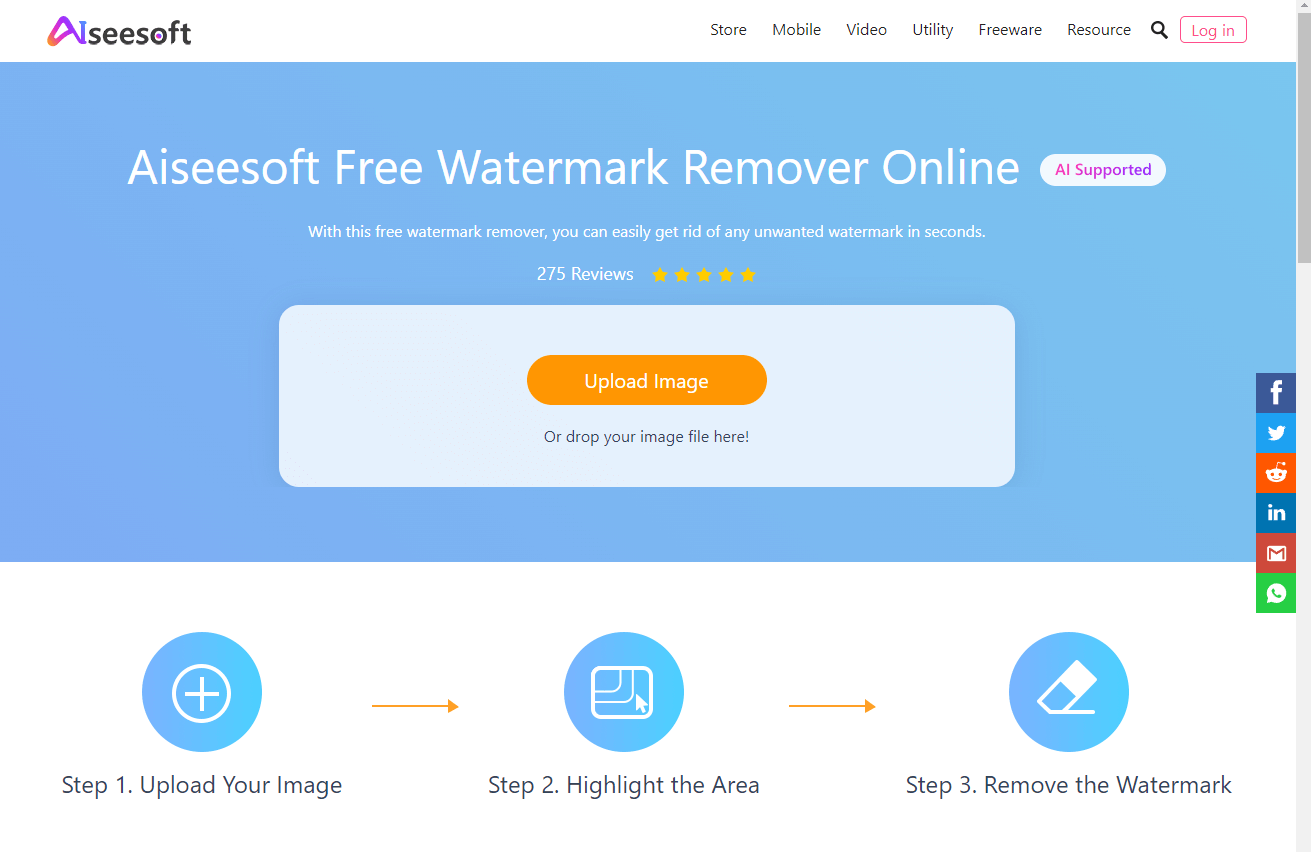 Step 2. Add the image from your computer and select the highlighting brush or tool. Highlight the area which you want to remove (Watermark).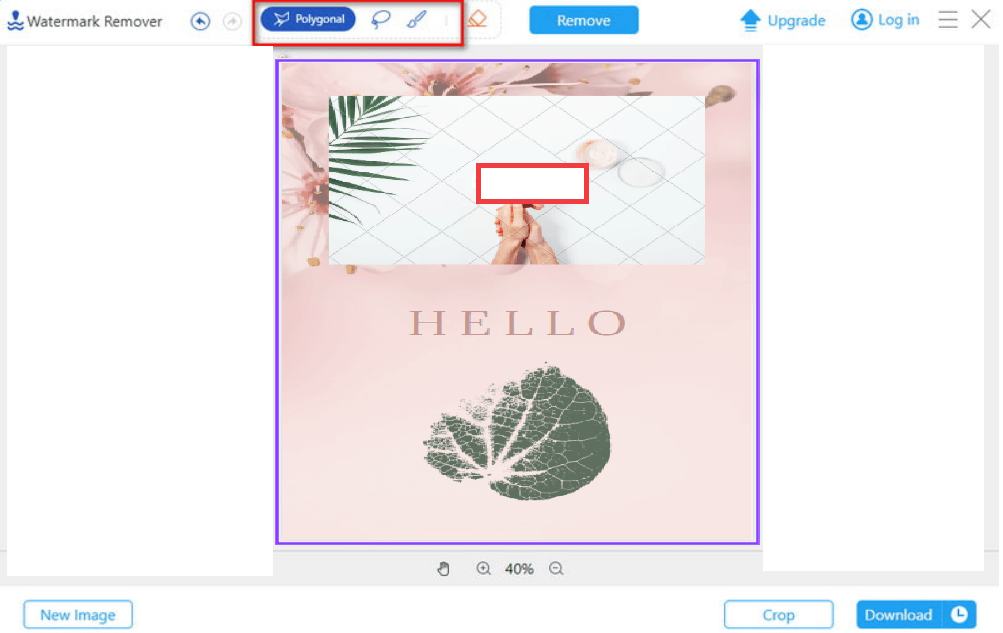 Step 3. After selecting the area containing the Canva watermark. Click on the Remove button and wait for a few seconds. Because it is AI software, it will remove the watermark automatically and will display the image on the screen.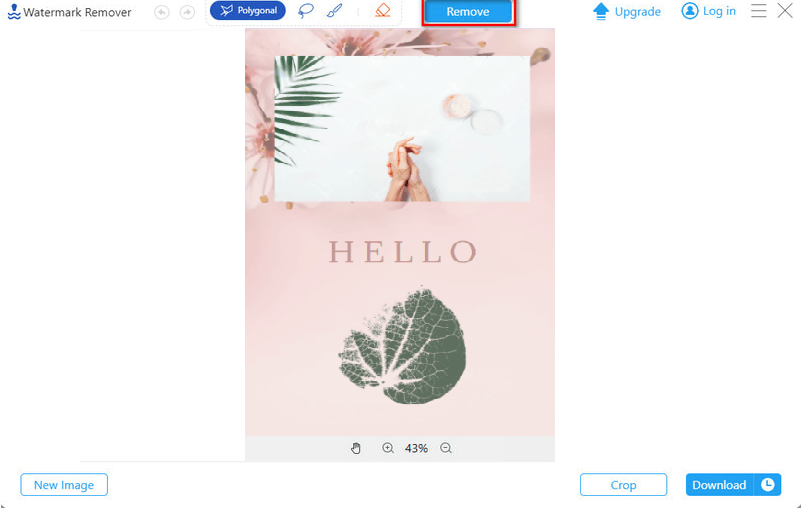 Step 4. After being done with the watermark removal, click on the Download button on the right bottom of the computer screen and save your file into the computer free of cost.
Key Features
Provide high quality.
100% free to use.
Various image formats supported.
Fast and secure tool.
Erase watermark from many files at once.
2.3 Media.io
Media.io is a powerful all-in-one combination of multiple online tools and software for various purposes. It does not offer an online watermark remover, but it serves to edit, compress, and convert audio, videos, and images through multiple tools and software.
Here are some easy steps you can use to remove the Canva watermark from videos through Media.io Online Watermark Remover.
Steps to Use:
Step 1. First of all, go to the Media.io online watermark remover tool and click on the Choose File button.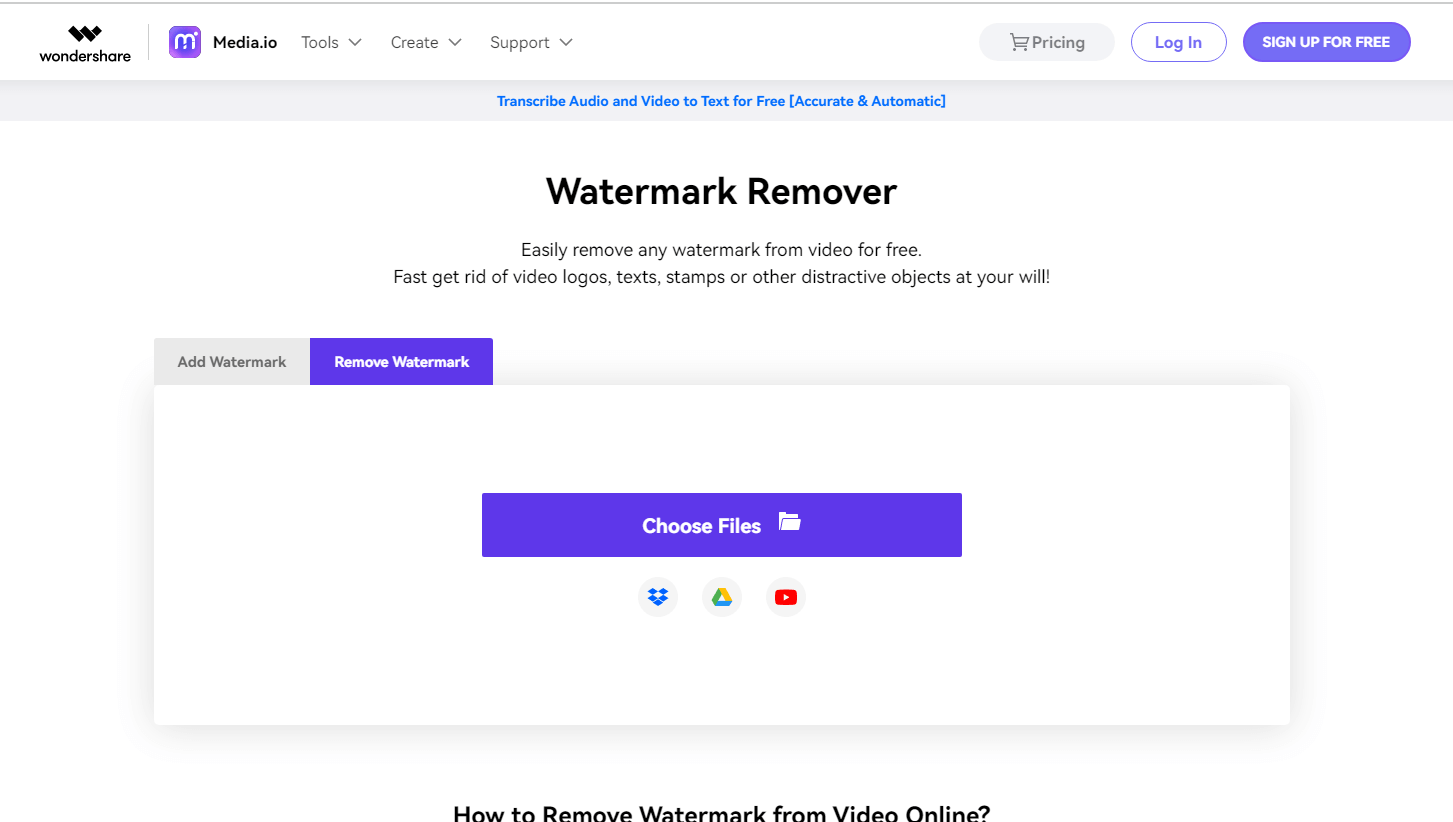 Step 2. This will allow you to add files from your computer. Now, again click on the Choose Files button and add a file from your device, Google Drive, Dropbox, or Youtube.
Step 3. Once the file is successfully uploaded to the tool, click on the Add Area button to select the watermark area from the video using the lasso tool.
You can use the lasso tool multiple times to select multiple watermarks from any video.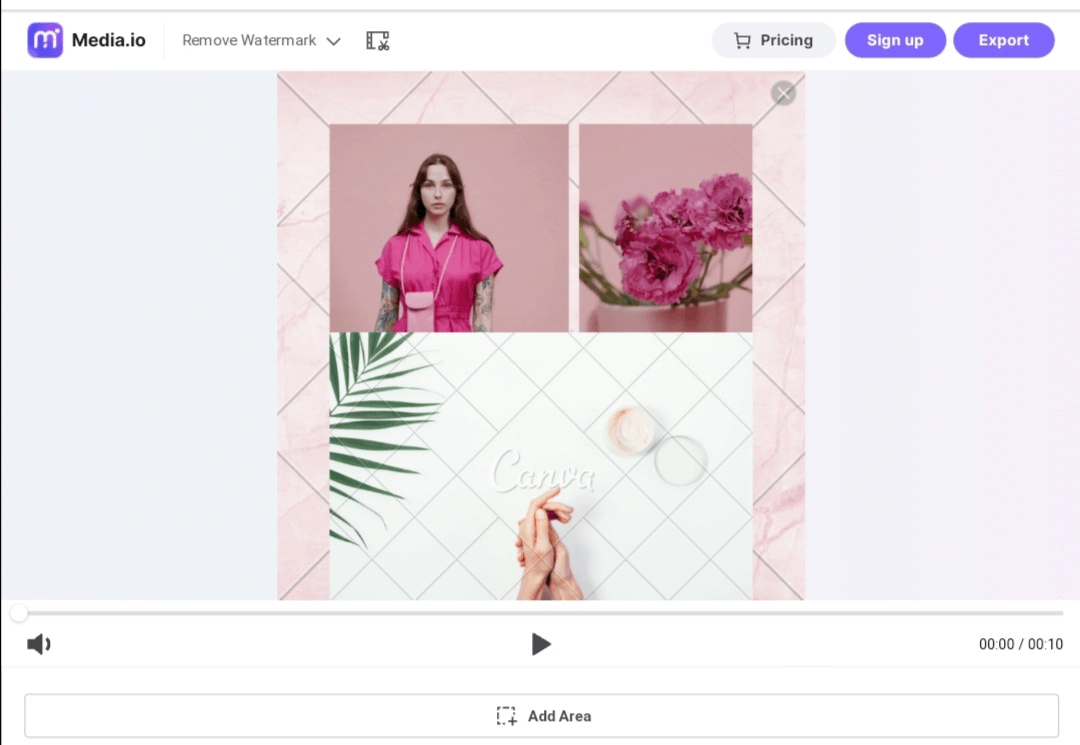 Step 4. In the end, click on the Remove Watermark button from the bottom of the screen and save this video on your device.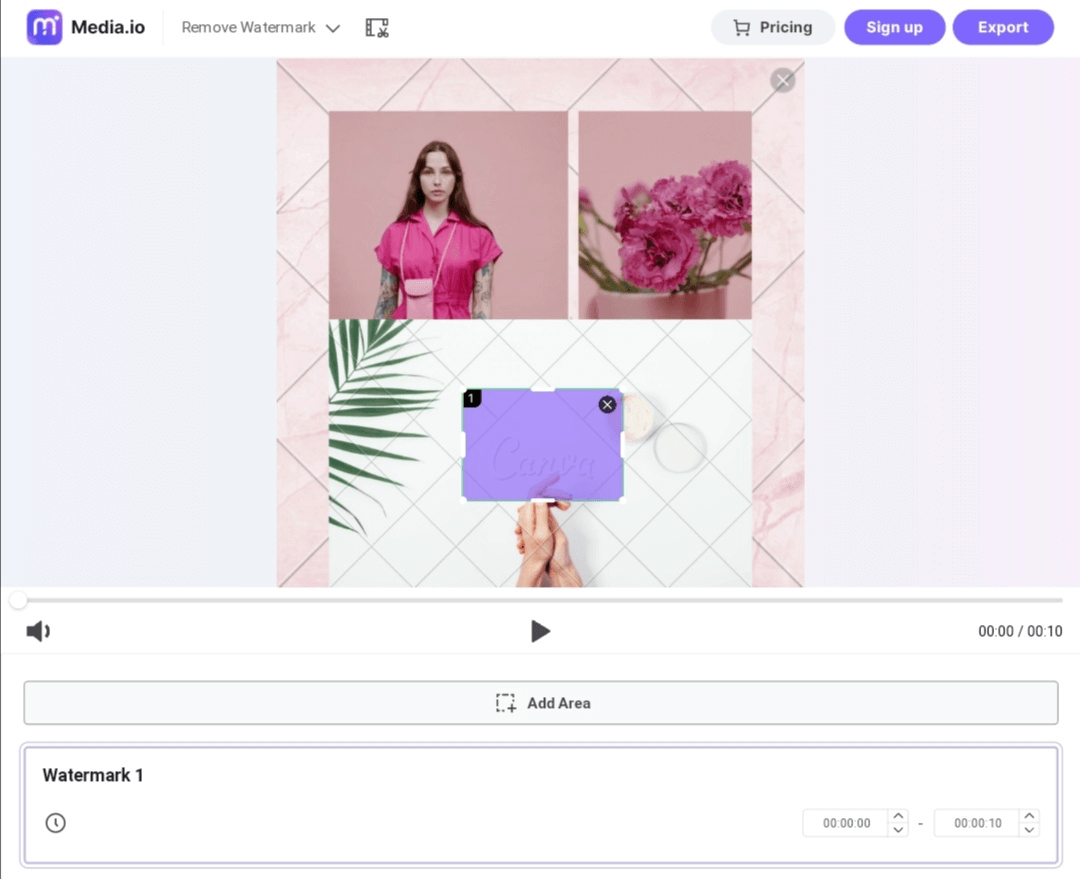 Key Features
Multiple input sources.
Fast working speed.
Simple user interface.
Removes multiple watermarks.
Can add watermark to video.
Part 3: iMyFone MarkGo - How to Get Rid of Canva Watermark on PC?
iMyFone MarkGo is a desktop-based software containing powerful features for adding and removing watermarks. Not only images, but you can also add/import different video formats for erasing and adding watermarks. Other than watermarks, this software allows users to remove or add different objects , logos, date stamps, and many more.
Its strong and powerful AI-based algorithm allows users to remove watermarks from multiple images and videos with a single click. It will automatically detect, erase, and blend the area with the original background.
MarkGo has a very simple and user-friendly user interface with manageable features and buttons; even an unskilled person can use it easily. Follow the steps to get rid of the Canva watermark.
Steps to Use:
Step 1. Download the software on your device. Download & install it for free. After installation, open the MarkGo software.
Step 2. On the first screen, you will get 4 options; click on the Remove Image Watermark. It will direct you to add images from your device.
Step 3. Now, click on the Add Image button and upload the image from your device. After adding the image, click on the Selection Tool and select the area which contains the watermark.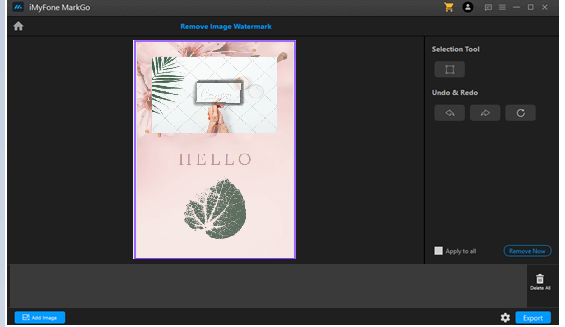 Step 4. In the end, click on the Remove Now button, and you will get your watermark-free image in a second. Save it on your device through the Export button.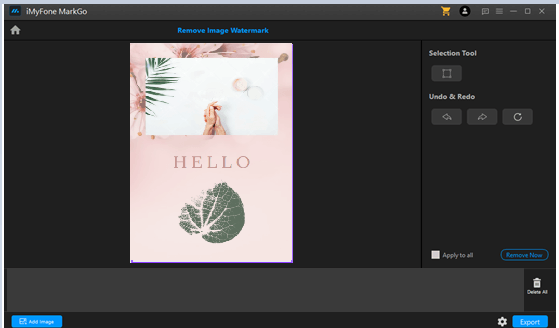 Part 4: FAQs – How to Erase Canva Watermark with Ease
1Is There Any Online Remover to Remove the Canva Watermark?
Yes, there are many online tools that can effectively remove watermarks for free. You can use TopMediai MarkGo Watermark, Aiseesoft, and Media.io watermark remover online totally free of cost. All these tools are excellent and show clear results after removing watermarks.
2How Can I Remove the Background from the Photo in Canva?
For removing background photos using Canva, simply upload your media from your device. Select Background Remover from the left side of the screen. Canva will automatically remove the background from the image in a few seconds. You can use the selection tool or brush to erase the additional portions from the image. In the end, download the image to your device or directly share it on other platforms.
3How to Erase the Canva Watermark on PC for Free?
On PC, you can use iMyFone MarkGo to remove Canva watermarks for free. It is a very simple and fast software that detects, removes, and blends the area of removal with the original background on its own. It happens because of its AI algorithm, through which you can also edit multiple images at once with a single click.
Final Words:
It's a Canva's safety measure to add watermarks on the media we download for free, but it ruins the image or video quality. For those who always ask how to
remove the watermark
on Canva, Online tools, and on PC, this is a complete guide with the best solutions. We have shared the best method of
removing watermarks
. We have also shared 3 top online tools and desktop-based software for
getting rid of the Canva watermarks
. However, TopMediai MarkGo Watermark works well and does the job in no time.
Try out TopMediai MarkGo Watermark Remover to erase watermark with ease from here: