Adobe Stock is a popular and organized collection of royalty-free videos and images. It also provides different assets, including 3D graphics and templates. This is going to be a complete guide on how to remove Adobe stock watermark from image and video. We will share some online tools and desktop-based software that will help you to remove watermarks easily for free.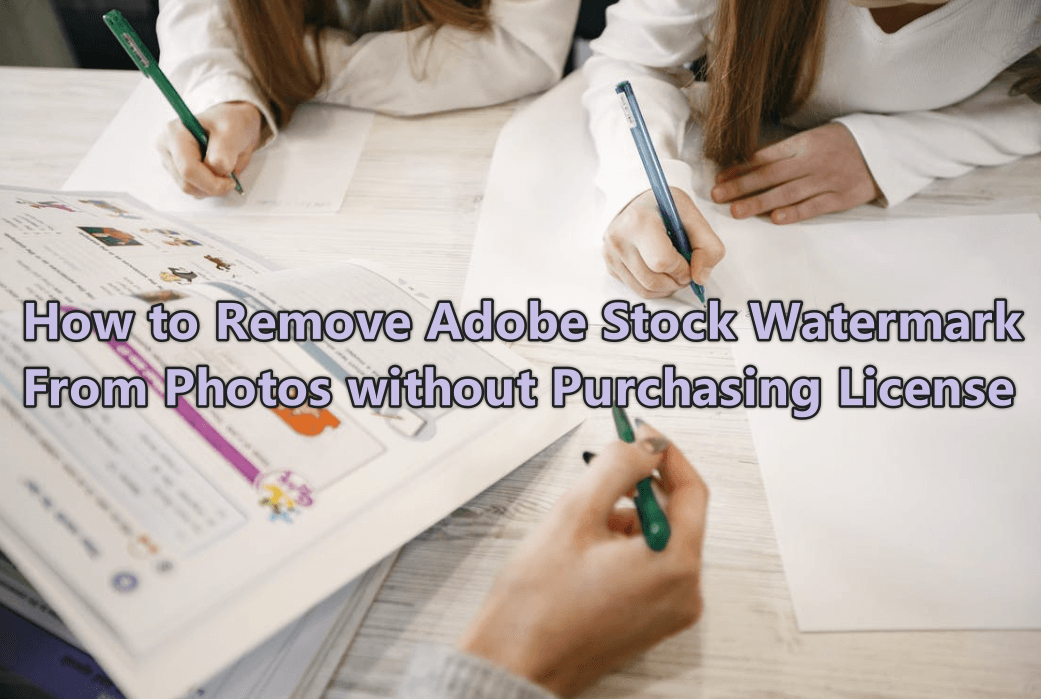 Part 1: How to Find Adobe Stock Photos and Videos?
That watermarks ruin the photo or video and seem very disturbing. If you are also facing this issue and want to get rid of these watermarks, then this article is for you.
Adobe Stock is a website that provides access to multiple assets, including millions of royalty-free images, videos, graphic templates, and 3D premium templates.
To get access to the Adobe Stock photos and videos, go to its main website. You will have different tabs on the main page with the names Photos, Illustrations, Videos, Templates, and 3D.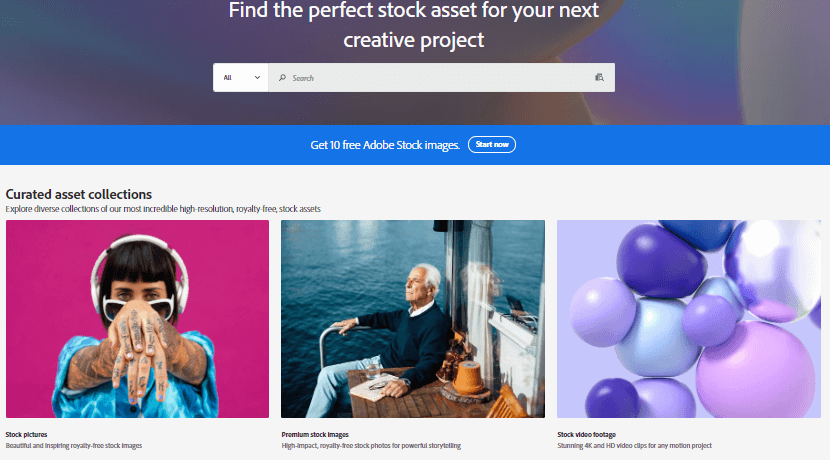 If you download a photo or video for free, you will get an Adobe Stock watermark. Don't worry; we will tell you different ways to get rid of Adobe Stock watermark seamlessly.
Part 2: How to Remove Watermark on Adobe Stock after Buying License?
Purchasing licenses is one of the safest methods of getting rid of Adobe Stock watermarks from photos and videos. There are many other methods available, but firstly, we will let you know how you can remove the Adobe Stock watermark from photos and videos by buying licenses.
Step 1. First of all, go to the Adobe Stock official website.
At the top right corner of the main website, you will see a tab with the name Pricing. Click on this tab.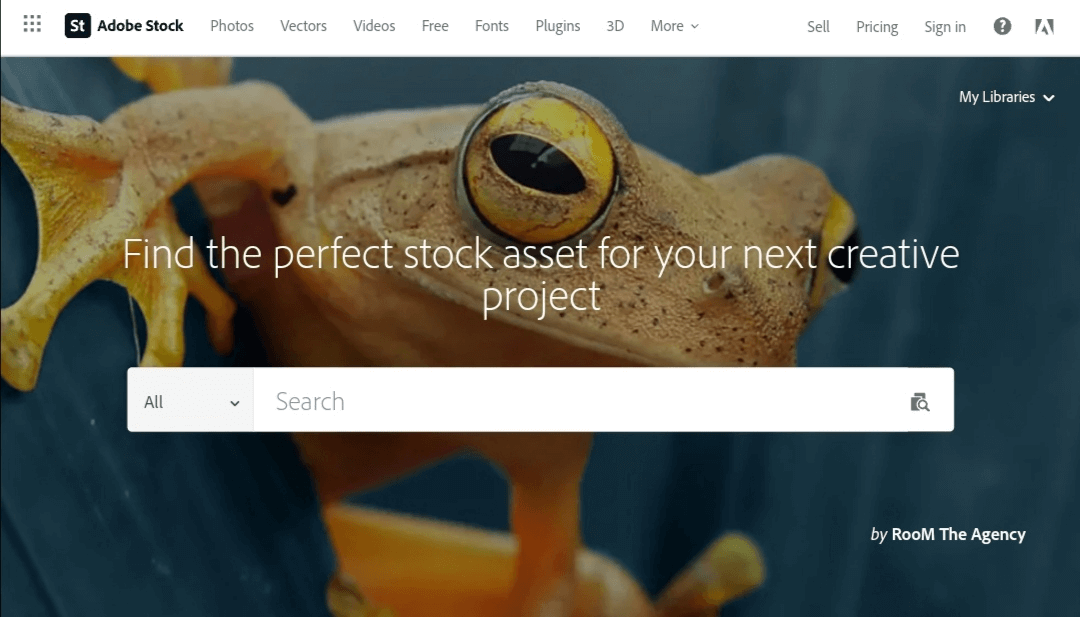 Step 2. On the next screen, you will see different pricing and subscription plans with different requirements.
Adobe Stock offers different credit packs and different subscription plans at different prices.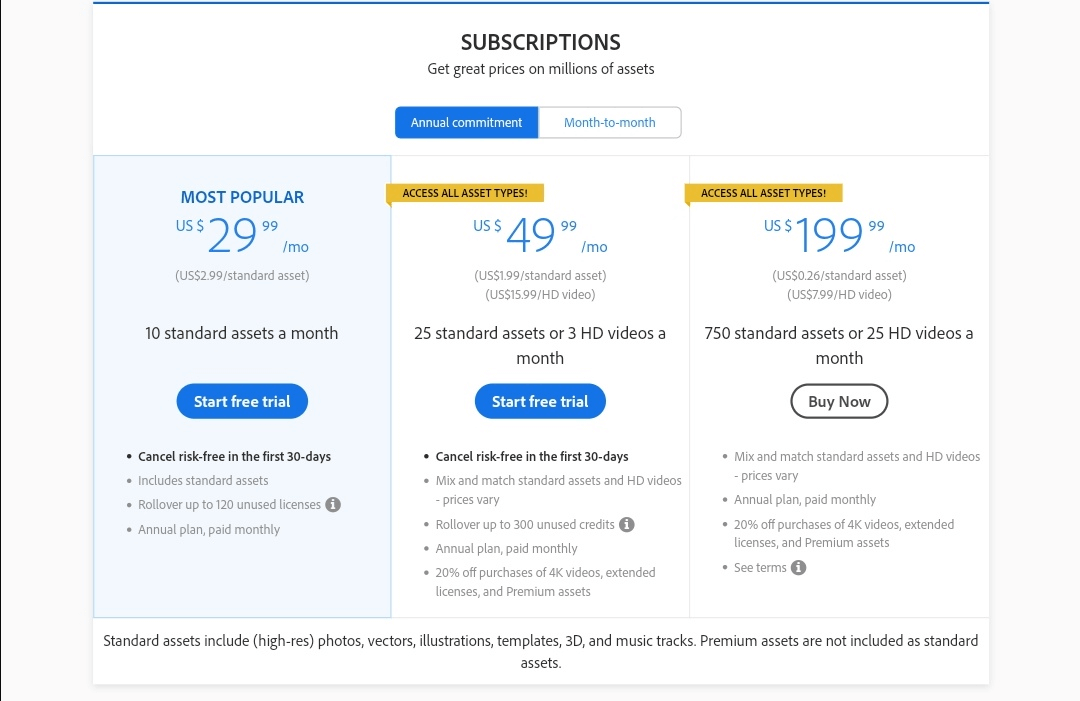 Step 3. Choose any plan and click on the Buy Now button. Now, a pop-up window will appear to ask you to sign up for your account.
Provide credentials, choose the payment methods and purchase the plan after paying money.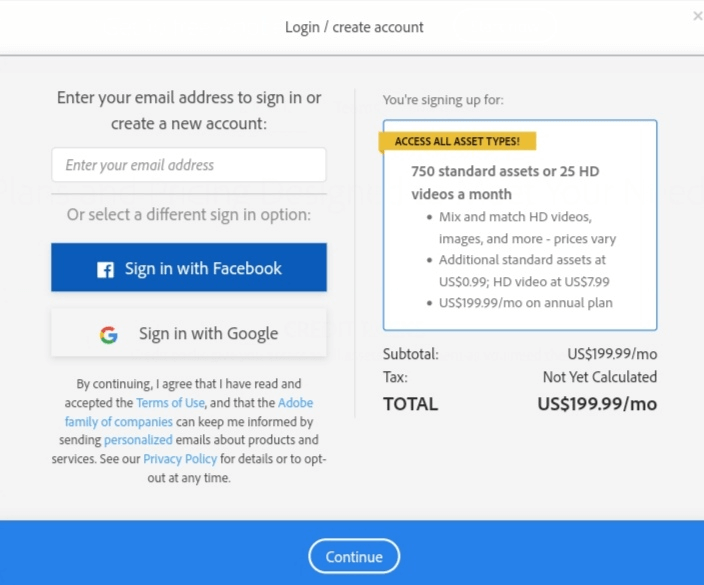 Pros
Simple and easy to use.

Safe method.

Provide high-quality stock.

No restrictions.

No limitations.
Cons
Part 3: TopMediai BG Eraser - Best Online Adobe Stock Watermark Remover
Buying a license is safe, but it is not for everyone because it is an expensive way.
For those who cannot buy an Adobe Stock license or paid subscription, we are going to suggest the best online watermark remover with its steps to use, features, pros, and cons.
3.1 TopMediai MarkGo Watermark Online
TopMediai MarkGo is a free online watermark remover software. This software helps to remove watermarks, logos, and other unwanted objects from photos and videos with a single click through its extraordinary AI algorithm.
Providing 100% security, it does not require any installation process. You can easily remove the Adobe Stock watermark from images and videos through TopMediai MarkGo watermark remover. Follow these easy steps to do this.
Tips
Hunting for a tool to erase image watermark? Why not try a professional remover TopMediai to remove watermark 100% Auto with AI-powered Technology within 5 secs in 1 click.
Steps to Use:
Step 1. Go to the web-based tool . You will see two buttons on the screen. Click on the Upload Image button.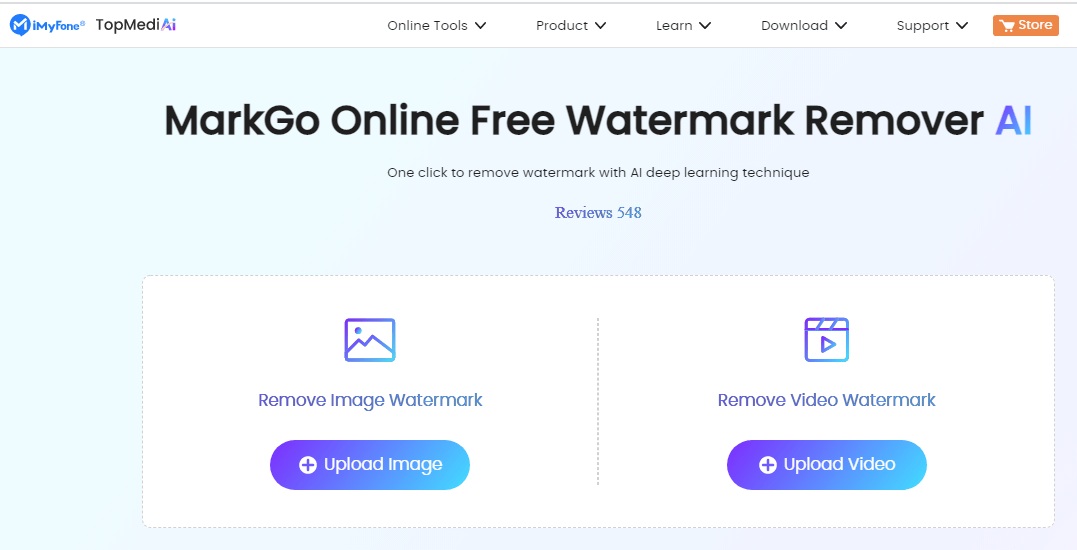 Step 2. A window will appear on the screen to let you select the photo from your device. Choose the image from your device and click on the Open button.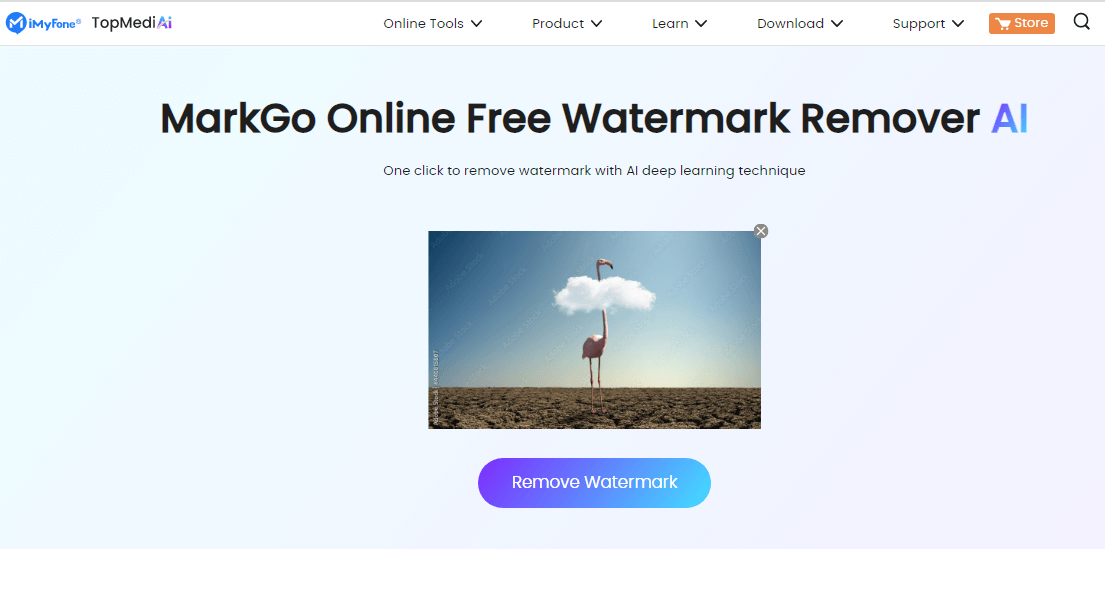 Step 3. Now, click on the Remove Watermark button. After a few seconds, the image without a watermark will appear on the screen.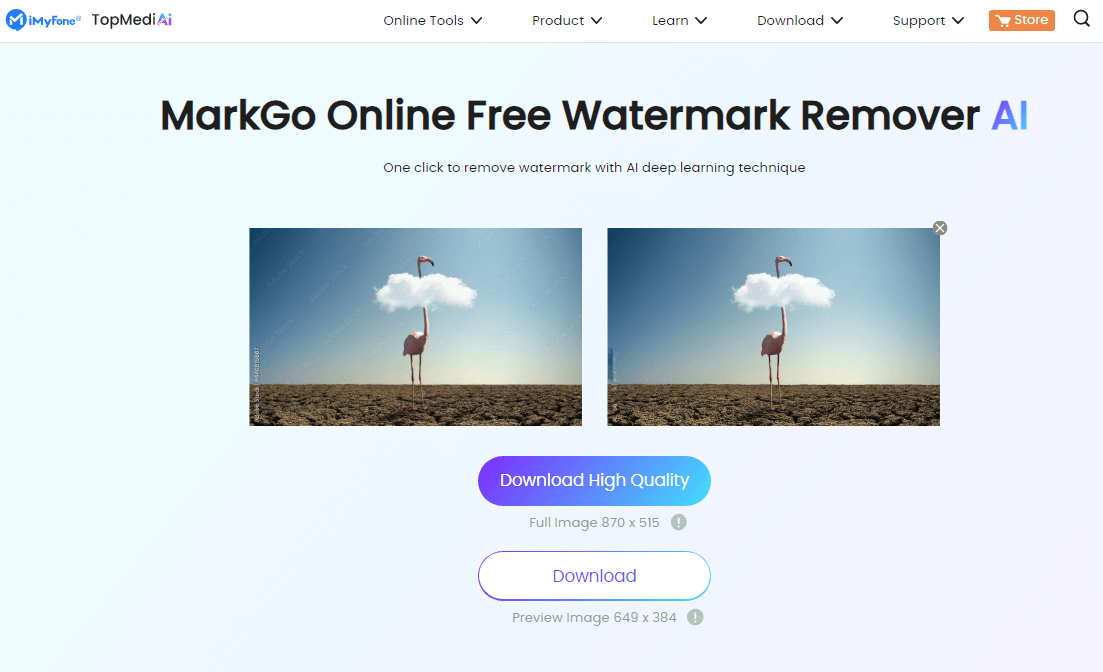 Step 4. In the end, click on the Download button and save the image without the watermark on your device.
Key Features
Removes watermark from photos and videos.
Intelligent and fast watermark removal.
Can erase multiple watermarks.
Supports different image formats and types.
Pros
Simple to use.

Clear and intuitive user interface.

No installation.

Show professional results.
Part 4: Other Tools to Remove Watermark from Adobe Stock Images
4.1 Vidmore Video Converter - Remove Adobe Stock Watermark from Video
Supporting more than 200 formats of videos, Vidmore Video Converter helps to remove watermarks from videos in a very easy way.
Besides removing watermarks, you can also remove text, graphics, date stamps, and other undesired objects from videos. You can use this software to remove, add, edit, change, and convert your videos seamlessly.
Steps to Use:
Step 1. Download the software on your computer. Install and open it. Go to Toolbox > Video Watermark Remover.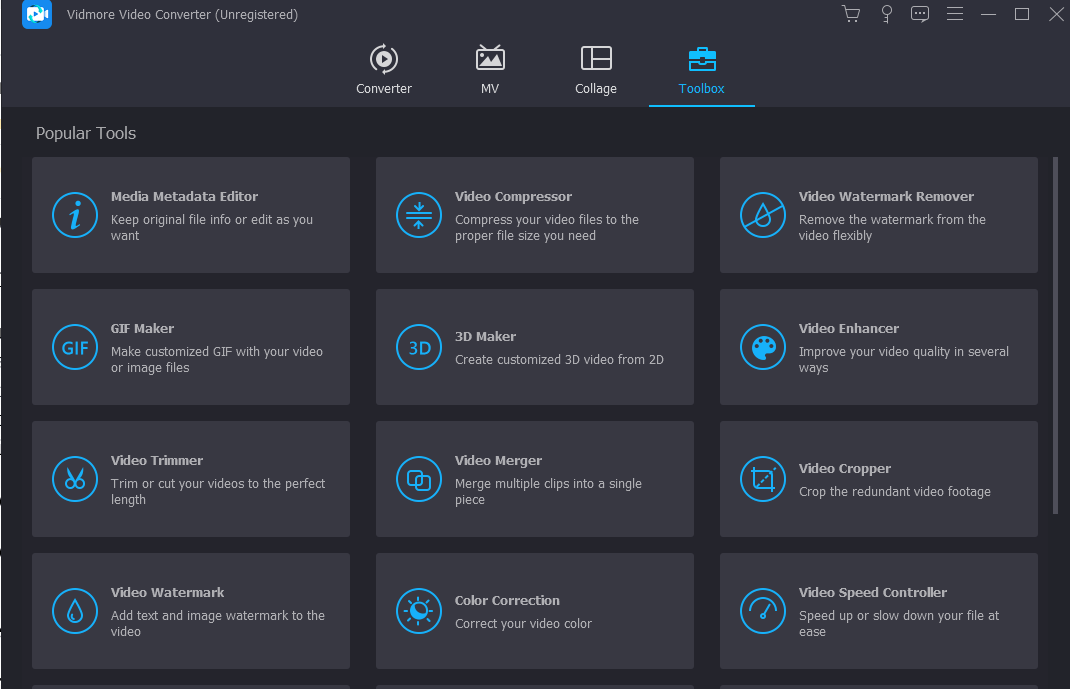 Step 2. This will show you a plus "+" sign through which you can add a file or video from your device.
Add video and click on the Add Watermark Removing Area button.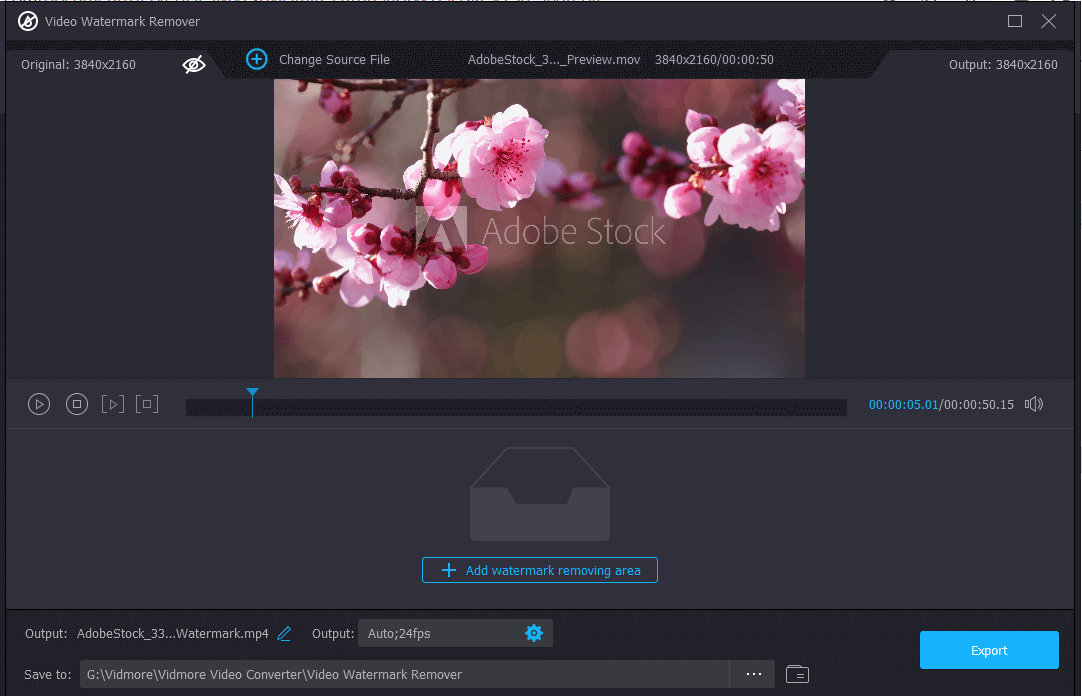 Step 3. This will show you the selection tool to select the area having a watermark.
Select the area through this yellow selection tool and click on the Export button to save the video without a watermark on your computer.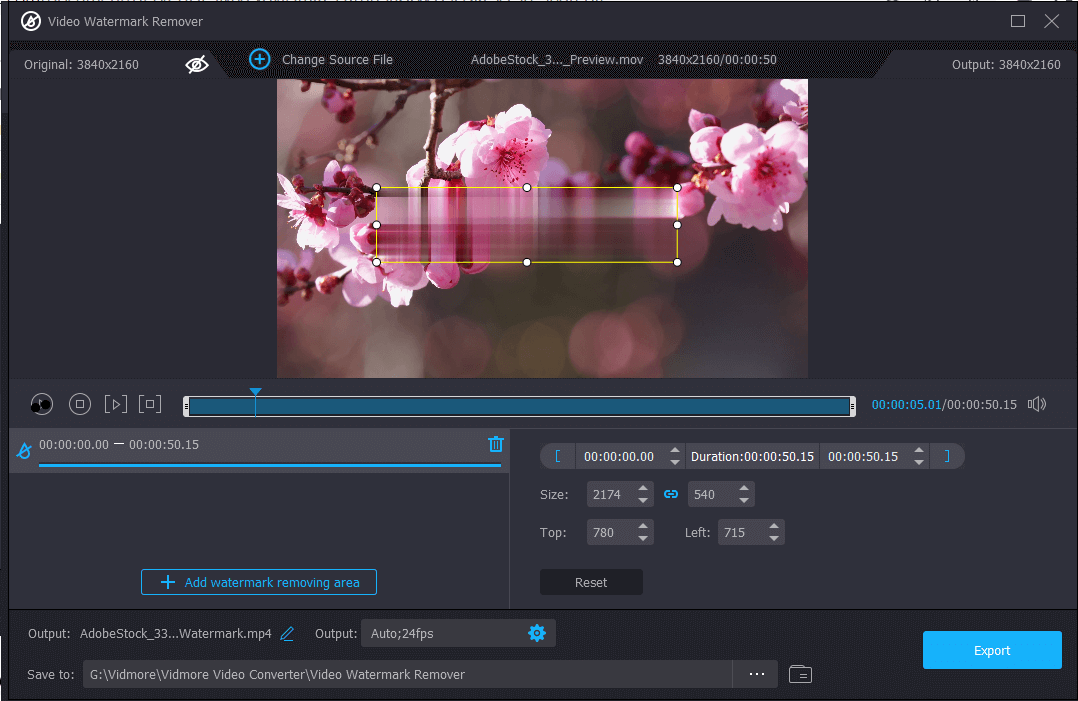 Key Features
Create 3D videos from 2D.
Merge different clips/ videos into one clip.
Add and remove watermark from videos.
Control video speed.
Different output video formats.
Pros
Simple and easy to use.

Free of cost.

Removal of watermark quickly.

Clear users interface.

All-in-one software.
Cons
Need installation.

Make video blur.
4.2 Aiseesoft Video Converter Ultimate
Aiseesoft Video Converter Ultimate is an all-in-one software for editing, compressing, and converting videos with a single click. Because of its Artificial Intelligence technique, this software allows 1000 different video formats to be edited in batches within some seconds.
Let's have a look at the steps on how to remove Adobe Stock watermark through Aiseesoft Video Converter Ultimate.
Steps to Use:
Step 1. >First of all, follow this link and go to the official website of Aiseesoft.
Download the Windows or MAC version according to your priority and install it on your device.
Step 2. Open the software and go to the Toolbox.
Select Video Watermark Remover and add the video from your device by clicking on the large Plus "+" sign.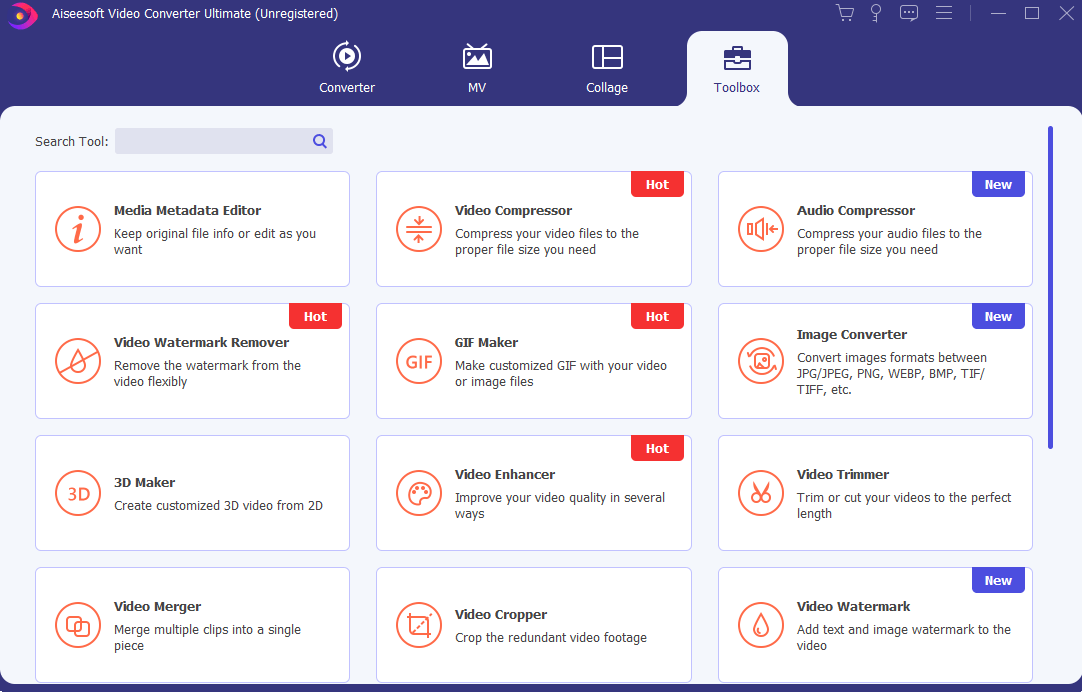 Step 3. Now click on the Add Watermark Removing Area. This will show you a yellow box through which you can select the area containing the watermark.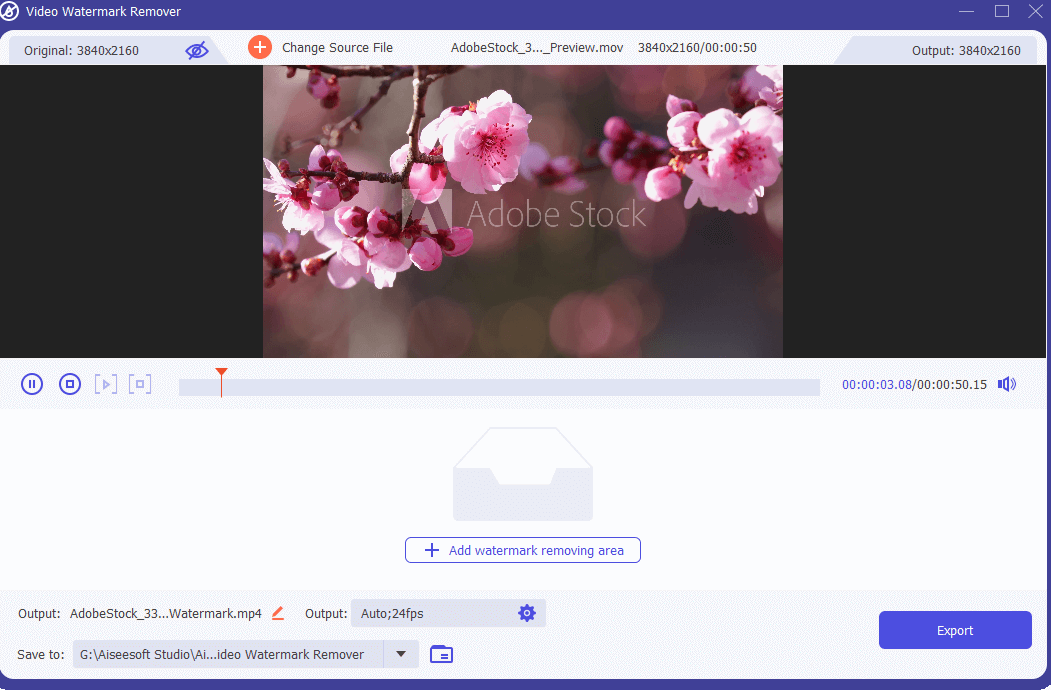 Step 4. Select the area of the watermark and click on the Export button at the right bottom of the screen.
This will save you video on the device without the Adobe Stock watermark.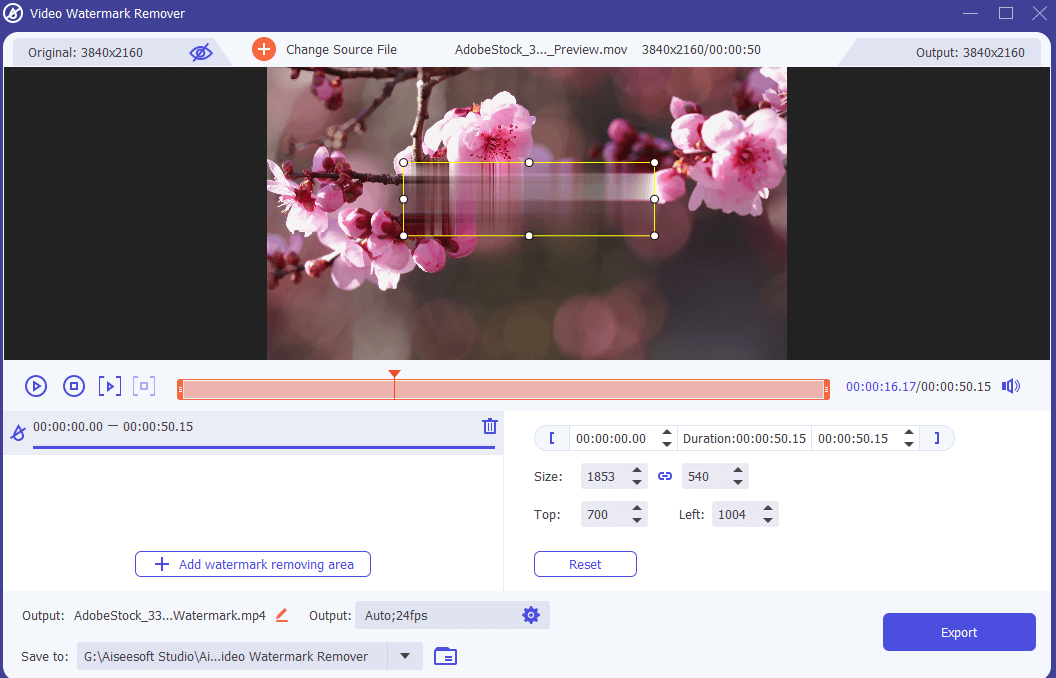 Key Features
All-in-one software.
Supports 1000 different video formats.
Compatible with Windows 7/8/10/11.
Compatible with MAC OS X, 10.12 or higher.
Add 3D effects to videos.
Customize audio and video tracks.
Different built-in effects are available.
Pros
Professional tool.

Simple to use.

Customizable features available.
Cons
4.3 Softorbits
Softorbits is well-reputed software to remove watermarks and other unwanted objects from videos and images. This software provides two different versions for video and photo editing.
Softorbits removes the watermark automatically and smartly fills the deleted area with a similar background. Not only for removing watermarks, but you can also use it to erase stamps and watermarks on your videos and images.
Let's see how to remove watermark from Adobe Stock Photos using the Softorbits tool.
Steps to Use:
Step 1. Similar to all, download and install this software on your computer or PC. Open the software and click on the Add Files button.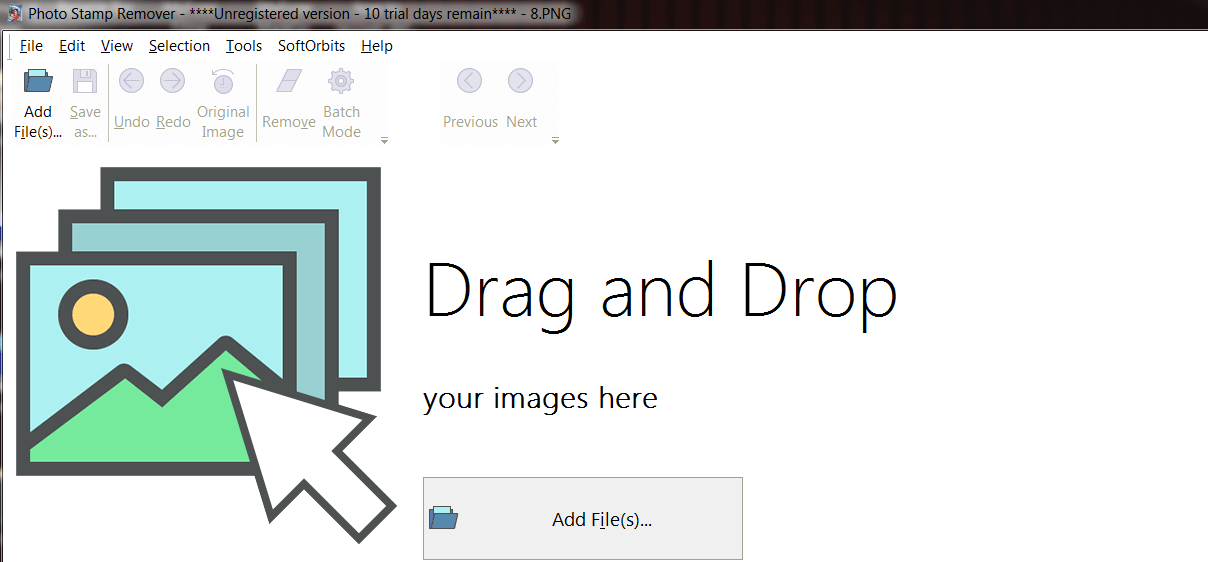 Step 2. After selecting the image, choose the brush to the selection tool and select the areas having Adobe Stock watermarks.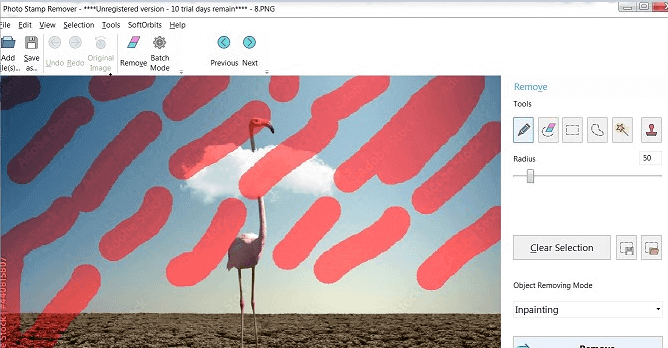 Step 3. After selecting the area, click on the Remove button, and all the watermarks from the selected areas will be disappeared.
Now, click on the Save as an option on the top of the screen and save the image on your drive at your desired location.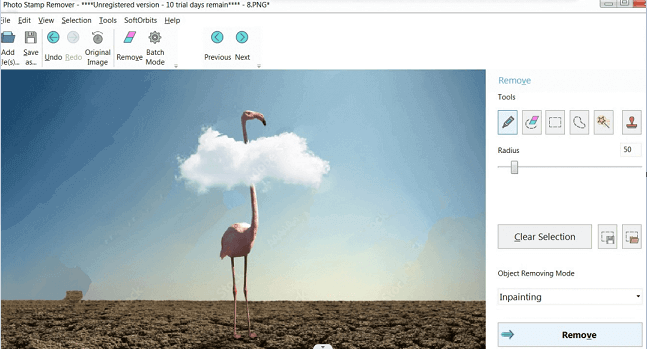 Key Features
Removes different objects from images.
Erases transparent watermarks.
Adds watermarks to images.
Manual watermark removal through clone tool, concealer, and smudge brushes.
Removes text from photos.
Pros
Simple and easy tool.

Free to use.

Multiple features available.

Various photo editing tools are available.
Cons
Old-style user interface.
Part 5: FAQs about Adobe Stock Watermark Removal
1How Do I Remove a Watermark on Adobe?
There are several ways of removing the Adobe Stock watermark from photos and videos. This watermark can be removed by using various online tools, or you can also buy the license of Adobe Stock to get watermark-free images and videos. We shared all these methods in the article.
2Why Does Adobe Stock Have a Watermark?
Like all well-reputed companies, websites, or software, Adobe Stock uses a watermark to claim its ownership and rights. They put it on the free images to preserve the rights and values of their digital assets. This watermark helps Adobe Stock to be conscious of any unauthorized use.
3How Can I Remove Adobe Stock Watermark Online?
It is super easy to remove the Adobe Stock watermark online through various online tools and software. There are many online tools available that can do this task, but not all tools are worth trusting.
We recommend you use TopMediai MarkGo online watermark remover for this purpose. This online tool will do your task in a very simple, easy, and effective way through its powerful AI algorithm.
Conclusion
Adobe Stock uses watermark to retain their authority and to save their digital products from being stolen. But these watermarks ruin the image or video quality for the users. We have shared the best methods through which you can easily use Adobe Stock photos or videos
without their watermark
. You can use online tools, or you can also go with
desktop-based software
, which we have discussed above in detail. Among them, you can try the free one TopMediai MarkGo Watermark Online from here!