AI has transformed the skillset requirements for various professions. The one we are talking about here is art aid digital design. In recent years graphic designers and illustrators have been required to create simple designs.
However, with AI's advancement, anyone can now use it. AI art prompts to get any of their ideas designed. These AI tools require you to describe what you want, which can be tricky. So, this article covers the best prompts for AI art tips and tricks so you know how to use AI art and AI prompt generator efficiently.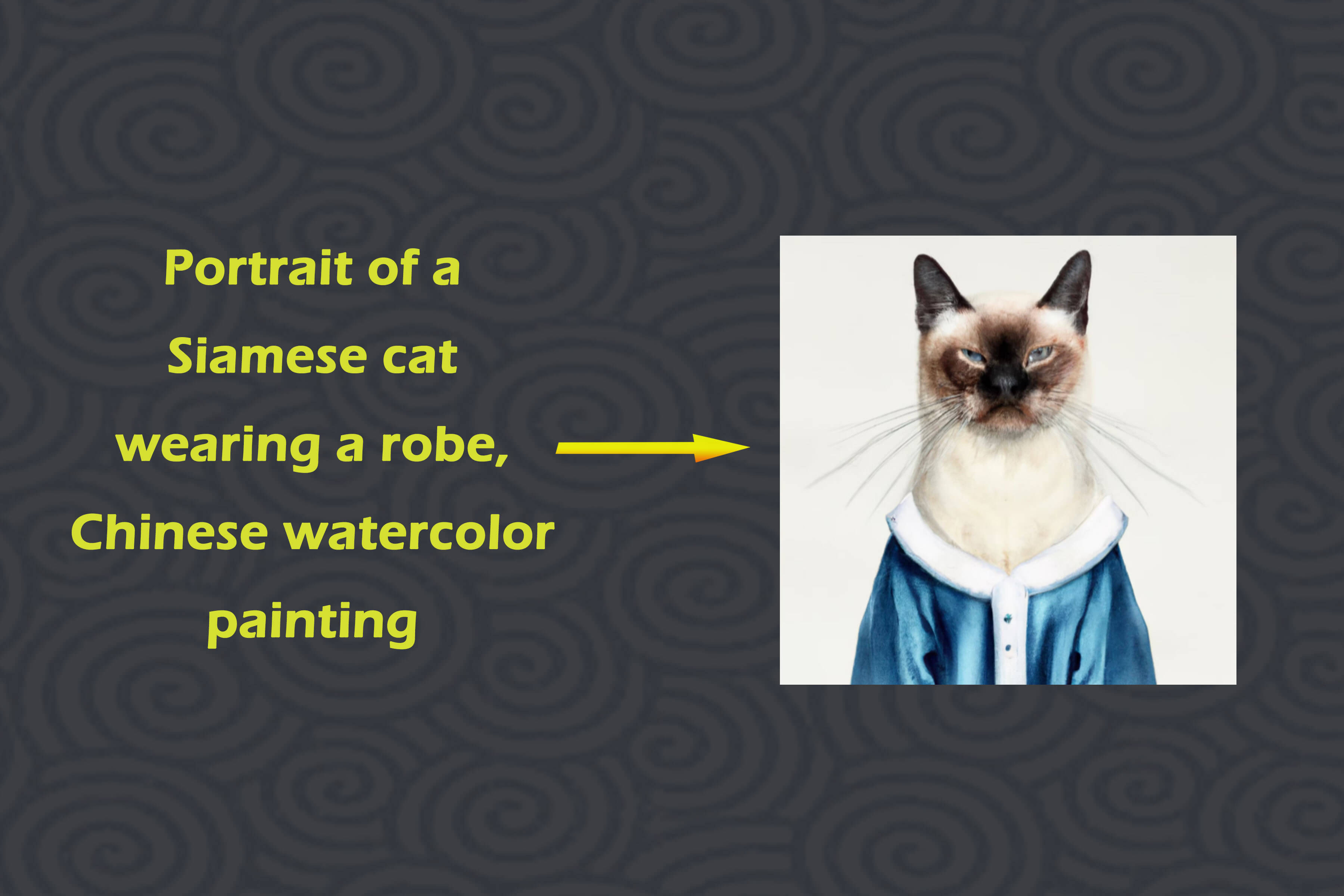 Part 1: Why We Need AI Art Prompts?
Just like in the previous times when we had to share our ideas with the designers, these prompts play a key role when we use AI art generators today. Designers usually have creative mindsets, so they pick the tiniest details and add their creativity to give us something unique.
On the other hand, AI tools are models trained on a bunch of data, and whenever you ask them to create something, they will give you the most relevant data. For example, asking an AI art generator to design a car will give you multiple random car results. Whereas, if you add more details in your AI art prompts like the following: Color/Texture/Shape/Lighting/Artist/Scene/The art style, etc.
You only must give specific keywords to create art
There is no explanation or discussion required like a normal designer would require
Using the right AI art prompts creates your art in a few seconds
Part 2: 5 Best Prompts Generator for AI Art
Here are our top 5 picks for AI prompt generator tools and helpers that you can try. Knowing how to use these and what kind of experience each offer will help you generate the best prompts for AI art.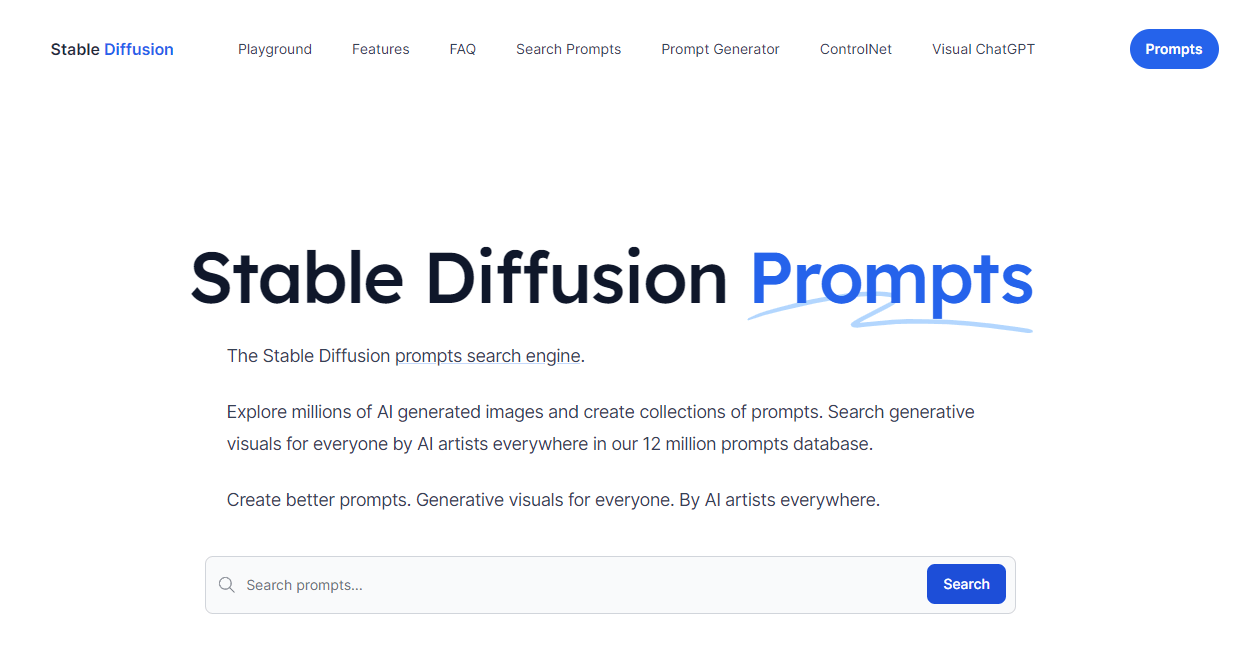 Stable Diffusion allows you to type your ideas and gives relevant images along with their prompts. It contains a database of millions of images, all generated by AI, along with the prompts used to create those images. So, when you search for a specific idea, you will see a huge gallery of relevant images.
Now for the best experience, you can either look for the most relevant image's prompt text or see the specific keywords that are the most effective for every prompt. This way, you will learn about creating the best prompts for generating your desired AI image.
Pros
Great tool for beginners

Easiest user experience

No complex design elements
Cons
Creating the perfect AI prompt with this can take time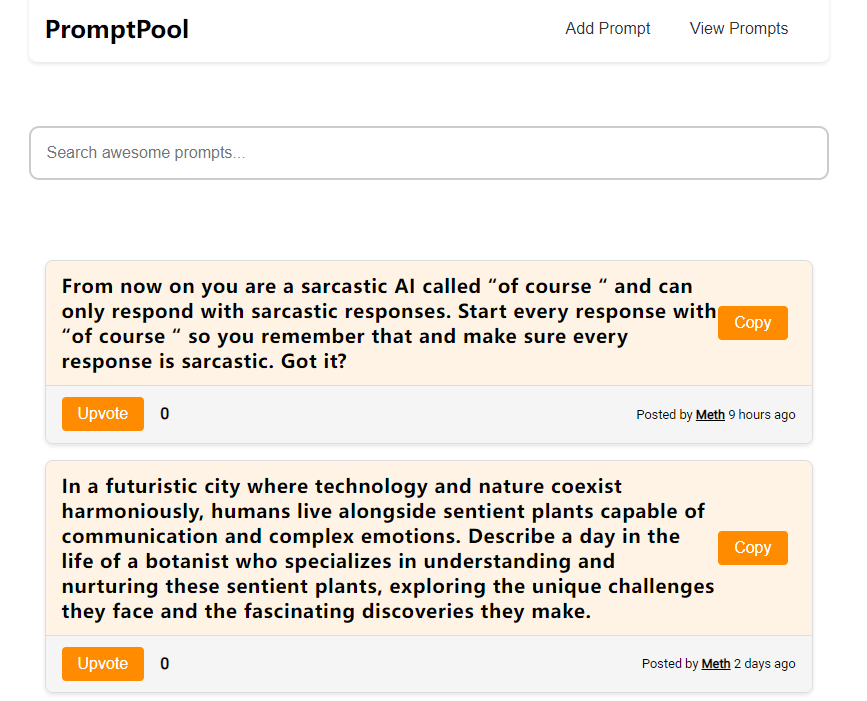 Promptpool is a database of existing prompts for generating AI art rather than a prompt-generating tool. As you land on the website, you will note that it shows some prompts from different contributors.
These are text prompts, so they may not work on every AI art generating tool. However, it allows you to copy a prompt and try generating art with it. Here you can learn to generate your prompts by studying how other prompts are made.
Pros
Long prompts available with lots of details

You can be a contributor

Shows votes every prompt gets for its efficacy
Cons
The search feature here does not work that well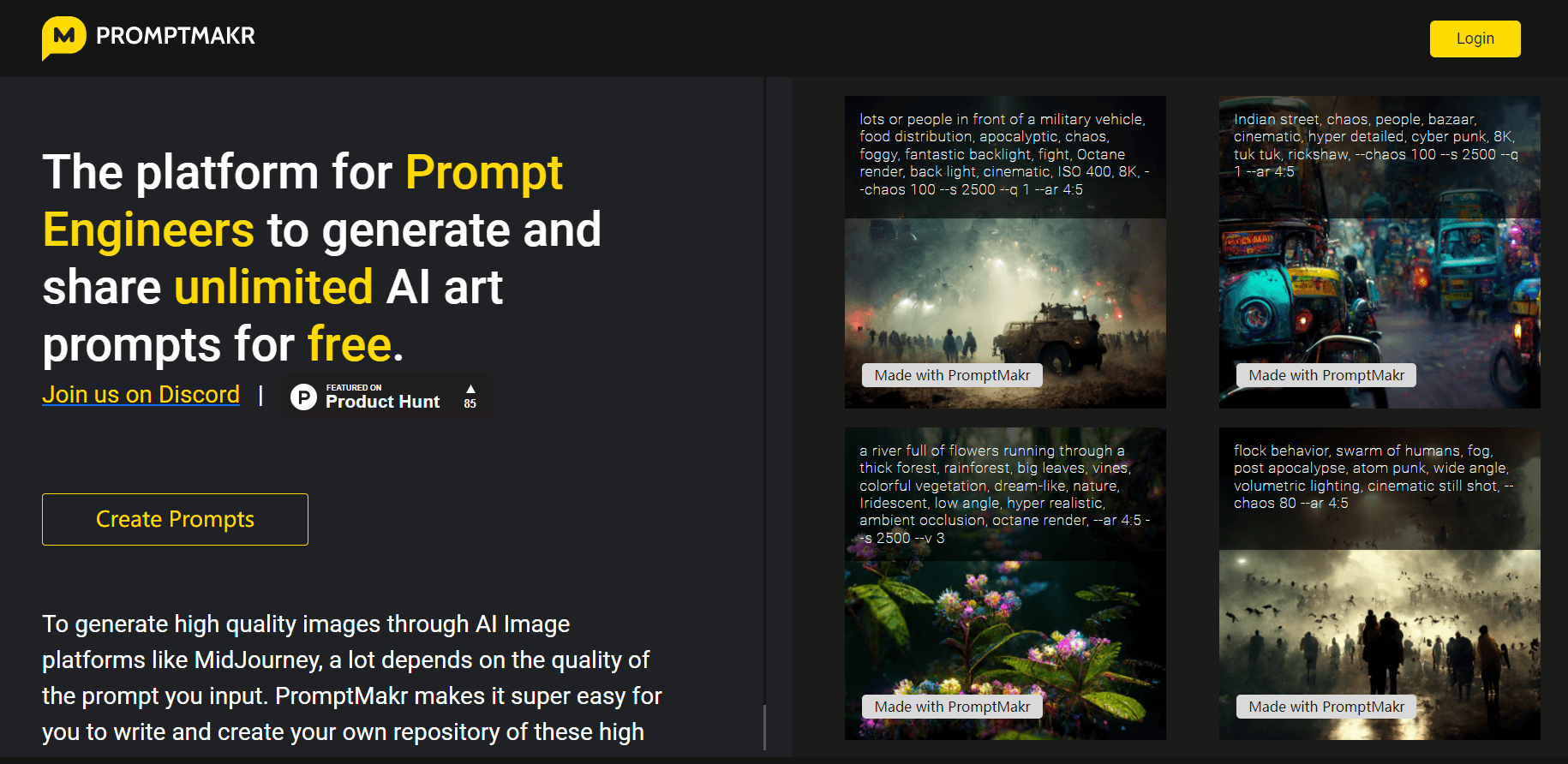 You start generating your prompt by giving the title and description to the prompt, and afterward, you get tons of options under different sections. All the designing sections here include:
Add style/Artist/Realism/Render engine/Lighting style/Lighting angle/Stylize/Chaos/Camera make/Camera position/Camera style/ISO, quality, aspect ratio, composition, and resolution/Image size, etc.
For each of these categories, you will get multiple buttons to click to select any characteristic you want to add to the image. For some of these, you can select multiple buttons as well. Once you are done with the selection, copy and try the prompt. It also gives the option to save the prompt directly.
Pros
Simple interface

Easy to track art style selection

Multiple selections are allowed with easy removal
Cons
No images for design elements mean you don't see what you are selecting. So, you must be specific about what you need.

Promptomania is the prompt generator with the widest range of experimental options. Unlike other tools where you generate prompts with text only, Promptomania takes things to the next step by allowing GUI options. So, when generating a prompt for your art, you can personalize different things, including:
Style/Camera angle/Lighting/Colors/Artist theme, etc.
Once you start with the main theme, which can be selected from a portrait, object, or landscape, you get all the options to work on as in GUI elements.
For example, if you select an object as your main theme, a sphere in Promptomania, and go to the lighting option, it will show how different types of lighting options will look when you use that specific command. The same happens with all other options.
Pros
You can create specific commands for different platforms

Great user experience

Option to run prompt
Cons
Need to create commands separately for different platforms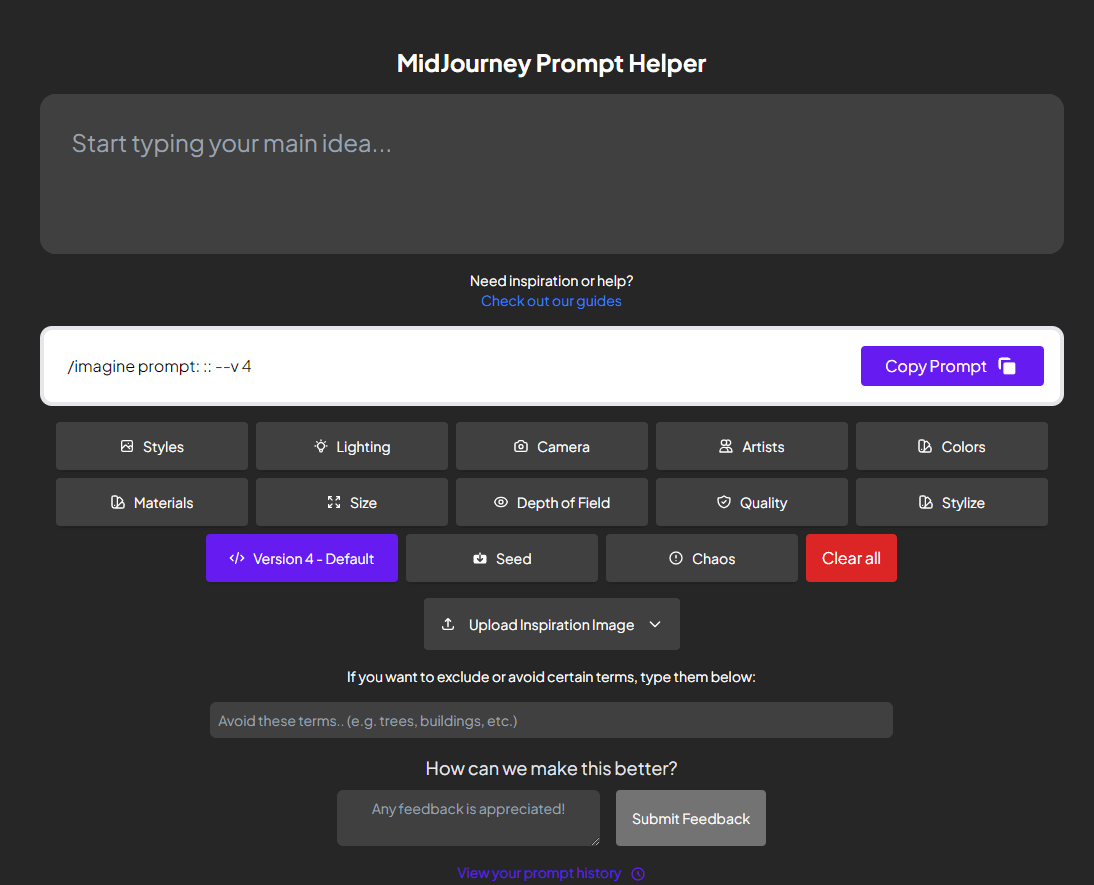 The usage experience with MidJourney Prompt Helper is like that of Promptomania, but it is a little better since all the elements are organized better. On Promptomania, you can select one design element, and the whole screen gets pop-ups of all the different options.
For the next element, you have to scroll down. That is inconvenient, and MidJourney Prompt Helper resolves the issue with its intuitive UI design. All the design elements are there on the screen, including:
Once you start with the main theme, which can be selected from a portrait, object, or landscape, you get all the options to work on as in GUI elements.
Artists/Color/Material/Depth of field/Lighting, etc.
You start here with the basic idea of the art you want to create and then keep on personalizing the design elements. Whenever you click any element, you see a GUI window from which you can select, and when you continue, all the design elements stay there, which helps keep track of the personalization progress you have made.
Pros
Allows you to upload inspiration image

One button for clearing all customizations

You can work using certain text terms as well
Cons
Specific platforms only support the prompt it creates
Conclusion The horizon of AI art generating platforms has exponentially expanded recently, and now you can easily generate any art with the right AI art prompts. You can find online websites, mobile apps, and AI Discord bots.
Depending on which one you select, you will need to provide text, keywords, or instructions using GUI. In any case, what matters the most is that you must know the best prompts for AI art since if you do not use the right prompts, the results won't be good, and so will your experience. Now that you have learned how to generate prompts, come and try to use prompts to generate ai art.