In the era of cutting-edge technology, the power of AI has revolutionized the way we express ourselves. AI Avatar Video Generator – a groundbreaking tool is designed to empower you to create captivating avatar videos like never before.

Whether for entertainment, marketing, or storytelling, the ai video avatar generator enables you to breathe life into your ideas through lifelike AI-generated avatars.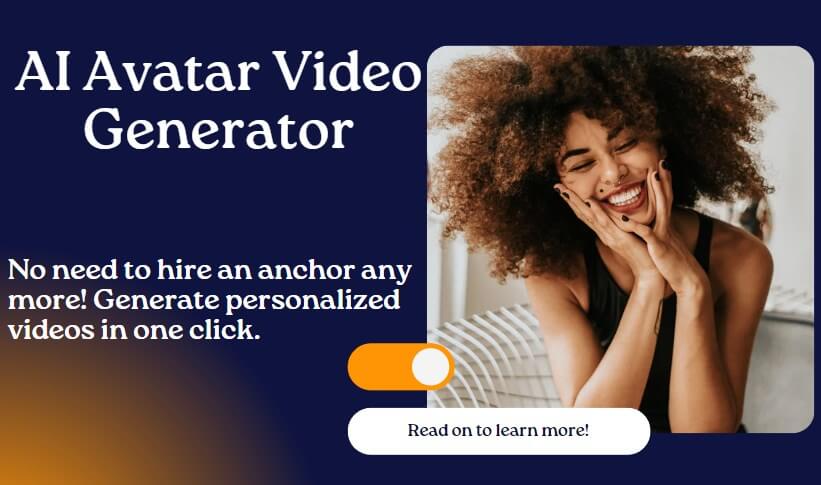 Part 1: What is AI Avatar Video Generator? No need to Hire an Anchor!
An AI avatar video generator is a sophisticated technology that utilizes artificial intelligence algorithms to create animated videos featuring lifelike avatars.

These avatars are digital representations of characters or individuals, which can be customized to mimic real human expressions, movements, and emotions.
Pros
Time and Effort Savings.

Enhanced Realism.

Variety of Avatar.

User-Friendly.
Cons
Complexity in Fine-Tuning.

Limited Personalization.
You May Also Like: Free AI Video Generator: Make Generating Videos Easier
Part 2: Powerful AI Video Avatar Generators Recommended
In this segment, we'll explore the realm of "Powerful AI Video Avatar Generators Recommended." These remarkable tools are revolutionizing the way we approach video content, harnessing the prowess of artificial intelligence to bring dynamic avatars to life.
1. Veed.io
Veed.io is your go-to platform for effortless video editing. With a user-friendly interface and a suite of powerful tools, you can transform your videos into captivating content in no time. Whether you're a professional or just getting started, Veed.io has you covered.

With the added power of an ai avatar video generator, Veed.io empowers you to craft captivating videos that come to life through lifelike avatars.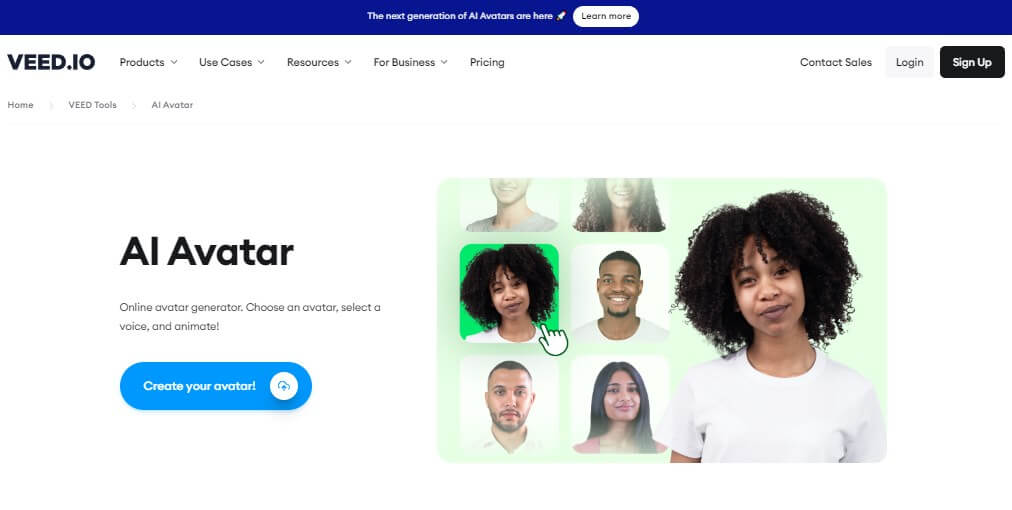 2. synthesia.io
Synthesia.io revolutionizes video creation with AI technology. Create stunning videos effortlessly, personalize content, and bring your ideas to life with AI-generated visuals. It really simplifies your video production process and make an impact.

Plus, it provides the innovative AI Avatar Video Generator for dynamicavatars. What's more, it supports 200+ free video templates.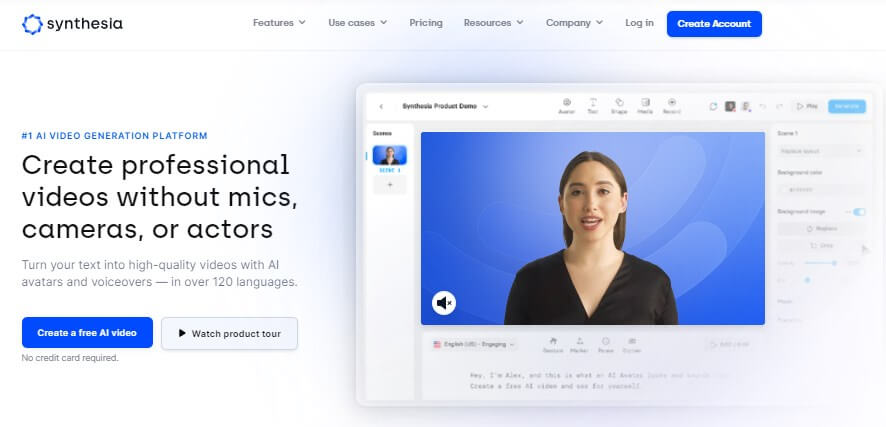 3. elai.io
Meet elai.io , your ultimate AI-powered video companion. Transform your content creation journey with cutting-edge technology that enhances efficiency and quality.Users can create customized ai video from text with a presentor in minutes. Also you can generate videos at scale using this ai avatar video generator!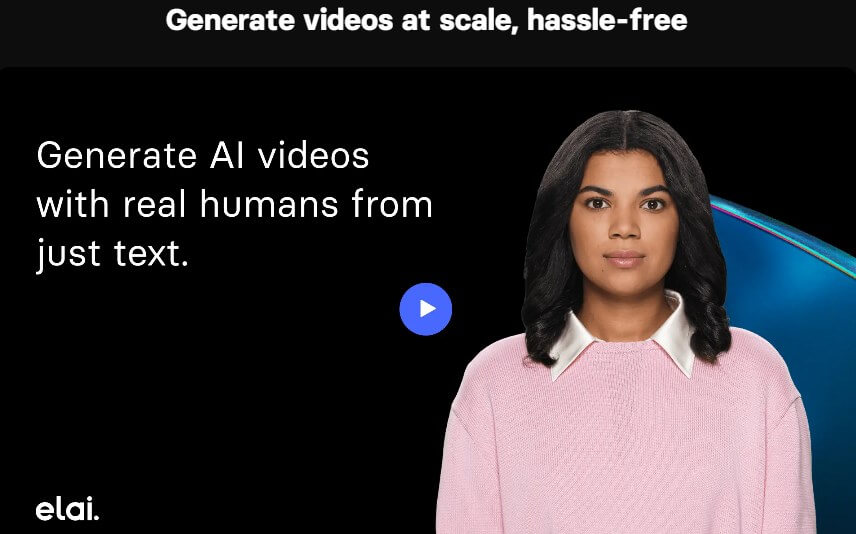 Part 3: Is There any Free AI Avatar Video Generator and How to Use?
As we delve deeper into the world of AI avatar video generation, a common question arises: "Is there any Free AI Avatar Video Generator and How to Use AI Avatar Video Generator ?"

In the following section, we will address this query, exploring the availability of cost-free options and providing insights into effectively utilizing these tools for your creative endeavors.
How to use ai avatar video generator for free?
Step 1. Visit the official website of synthesia.io.
Step 2.Click on "Create a ai free video".
Step 3.Choose the template and enter your text/script.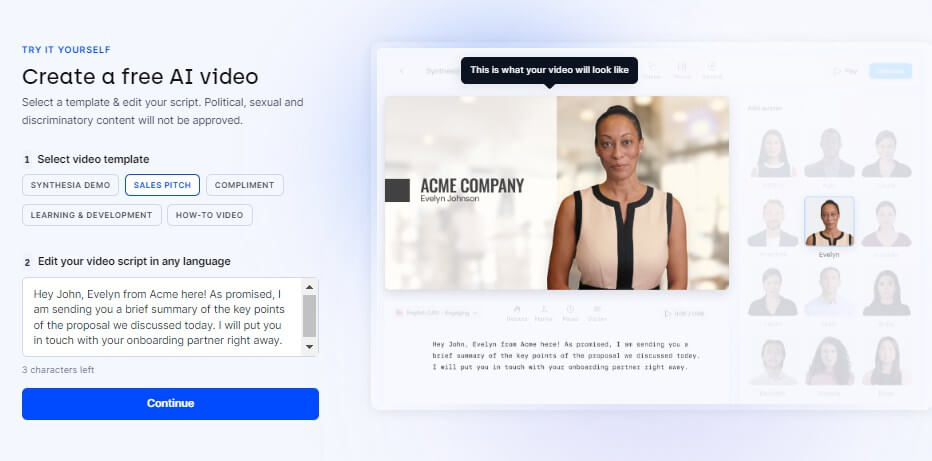 Step 4.Click on continue and submit the form.
Step 5.Then check out your email to get your free ai-generated avatar video. You'll get your video via email in minutes.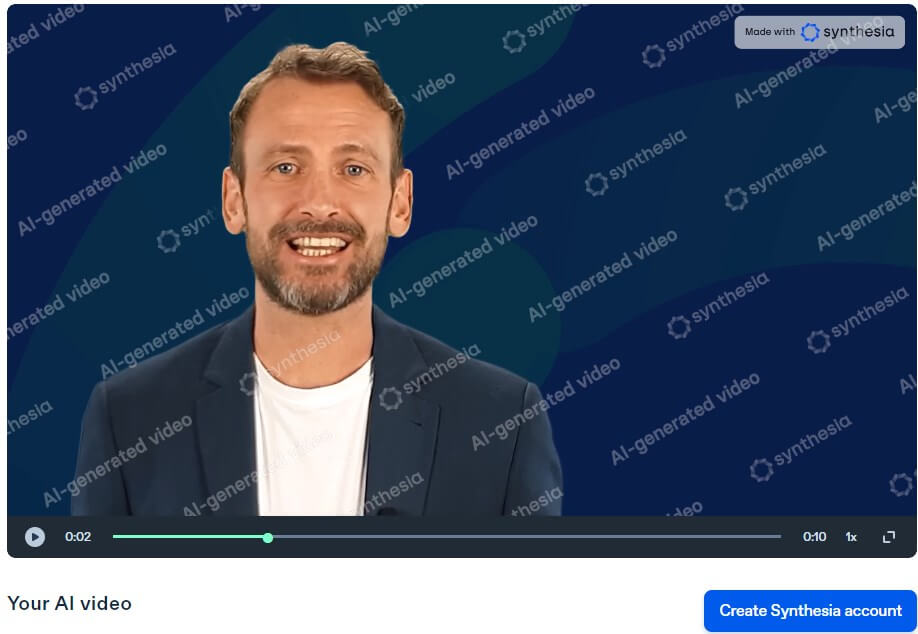 Part 4: Popular FAQs about AI Avatar Video Generator
1 Is there any free AI avatar video generator?
Just visit Synthesia.io and select 'Create an AI video for free'. From there, pick a template, input your script, and produce your AI video without any cost.
2 What is an ai avatar?
An AI avatar is a computer-generated representation of a person or character, shaped by artificial intelligence. It mimics human traits and behaviors, used in virtual environments, games, and interactions for a more engaging experience.
3 Are the avatars generated by AI realistic?
Yes, AI avatar video generators are designed to produce avatars with a high degree of realism. They mimic human expressions and movements, creating convincing and engaging animations.
4 What are the use case of ai avatar video generators?
AI avatar video generators assist in boosting viewer interaction, raising conversion percentages, and streamlining the process of video generation. You may need it in media and news, marketing video, and personalized videos and more.
5 How is ai generated avatar video? Is it good?
AI-generated avatar videos can be quite good, offering a range of benefits and opportunities. However, their quality and effectiveness depend on several factors, such as realism challenges and customization limits.
Conclusion Elevate your content with AI avatar video generators, blending lifelike realism, personalized touch, and efficient production. Captivate audiences through engaging avatars that amplify interaction.

Embrace innovation, break barriers, and step into a new era of visual storytelling – all without the need to hire an anchor. Whether for marketing, education, or entertainment, AI avatar video generators offer versatile solutions for various cases.