Whether you're a fan of the long-running animated sitcom, "The Simpsons", or you need a unique voice for your next project, a Bart Simpsons voice generator can help you achieve the desired sound. In this article, we'll explore a top online AI voice generator on the market and how they can help you achieve the perfect voice for your needs.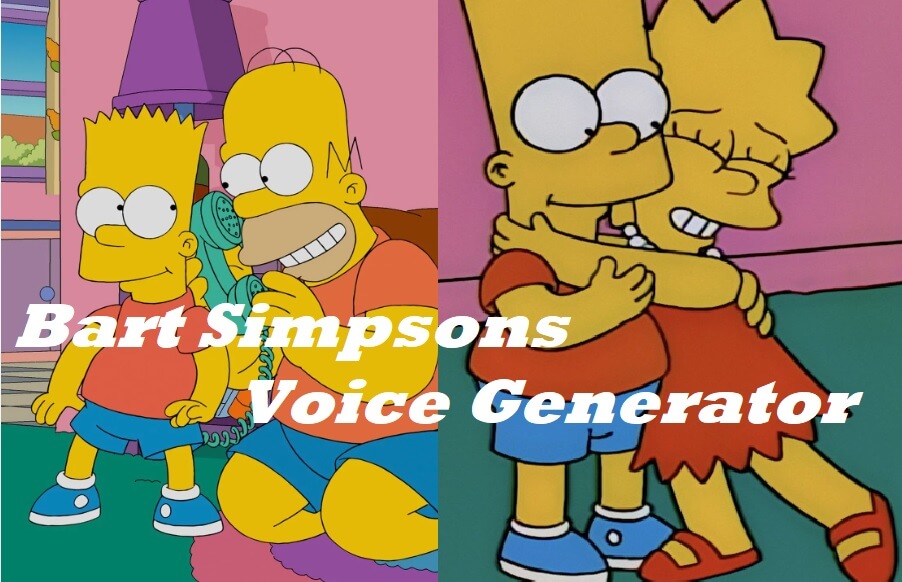 Part 1: Info of Bart Simpson
Bart Simpson is a fictional character and one of the main characters in the popular American animated sitcom, "The Simpsons". He is the eldest child and only son of Homer and Marge Simpson and has two younger sisters, Maggie and Lisa Simpson.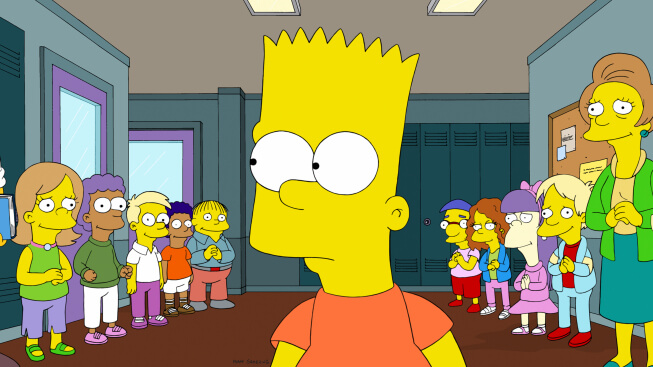 Bart is known for his mischievous and rebellious behavior, often getting into trouble at school and causing headaches for his family and the people of Springfield. He is also known for his catchphrases, such as "Ay caramba!" and "Don't have a cow, man!". The Simpsons has been on the air for over 30 years and has become a cultural phenomenon, with Bart being one of its most iconic characters.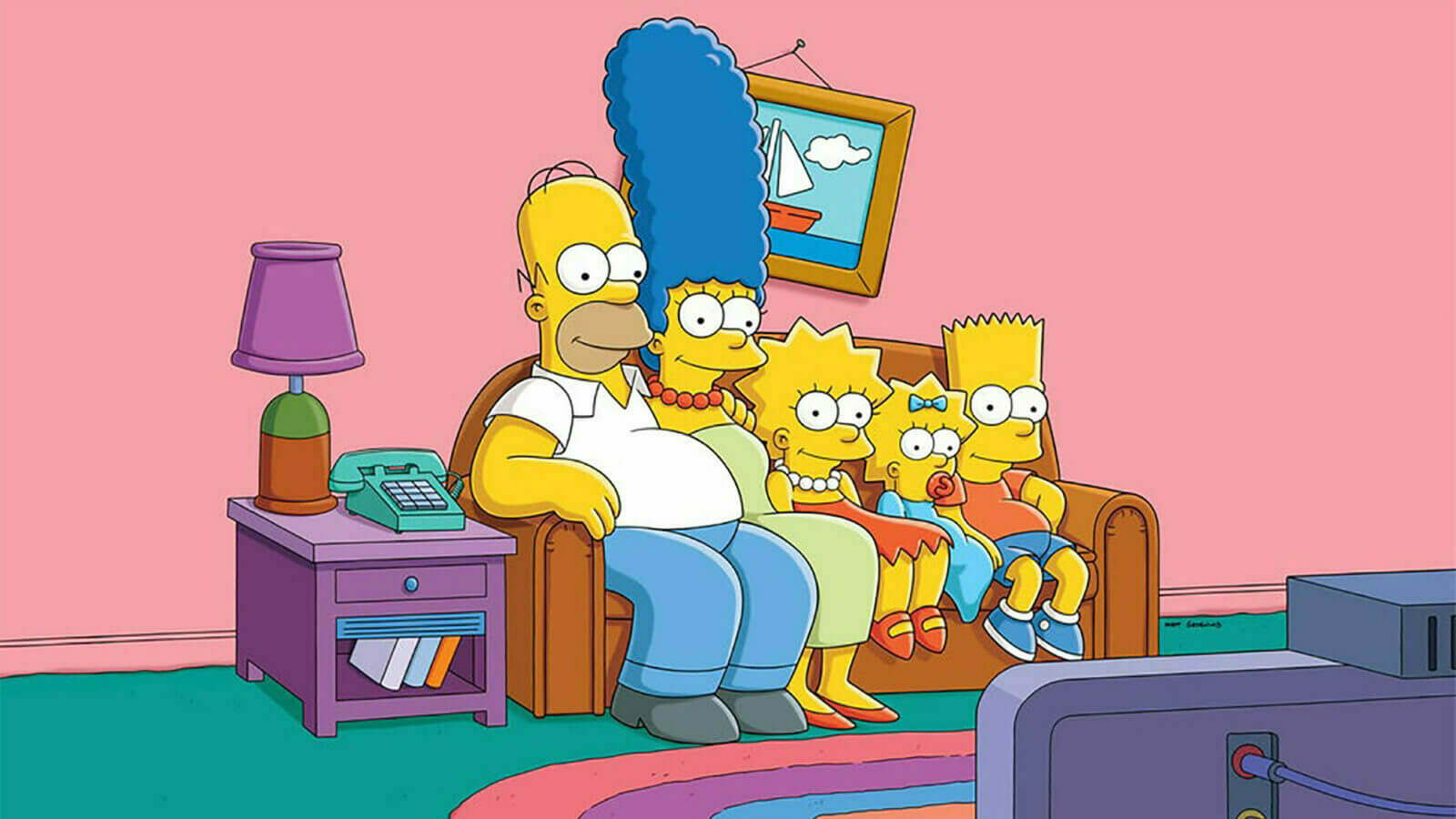 Part 2: Who Is the Voice for Bart Simpson?
The voice of Bart Simpson is provided by Nancy Cartwright, an American voice actress and comedian. Cartwright has been voicing Bart since the show's first season in 1989 and has also provided the voices for several other characters on the show, including Ralph Wiggum, Nelson Muntz, and Todd Flanders. She has won several awards for her work on The Simpsons, including an Emmy for Outstanding Voice-Over Performance in 1992.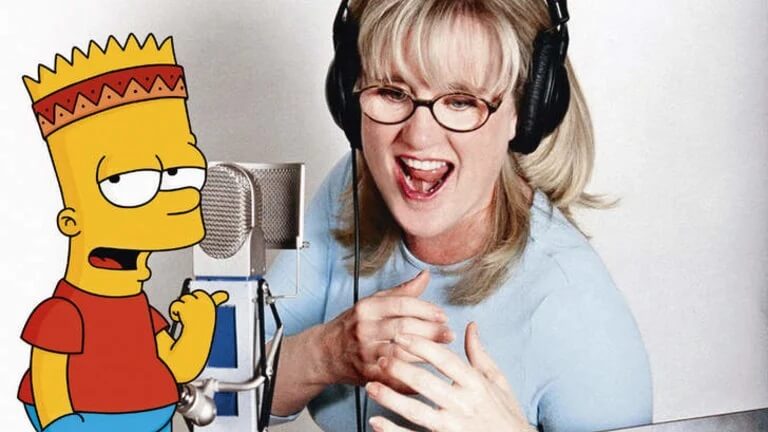 Part 3: How to Get the Voice of Lisa Simpson&Bart Simpson-TopMediai
1.TopMediai for Bart Simpsons AI Voice
If you're looking to emulate the iconic voices of Simpson characters such as Bart, Homer, or Lisa, TopMediai text to speech offers the best Bart Simpson voice generator. With the tool, users can access a range of Simpson character voices with deep customization options. By converting text into high-quality audio files, you can effortlessly sound like the talented voice actors behind the beloved characters of The Simpsons.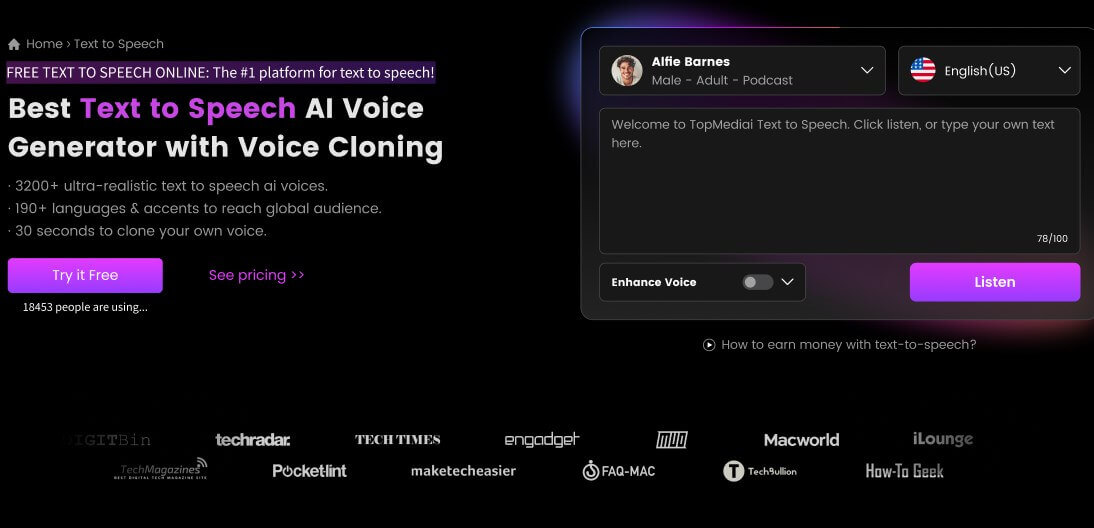 How to Use Simpson Text to Speech?
Step 1: Visit the TopMediai text to speech online.
Step 2: You will see the voice types, and in all voices you need to enter the Bart Simpsons or Lisa Simpson.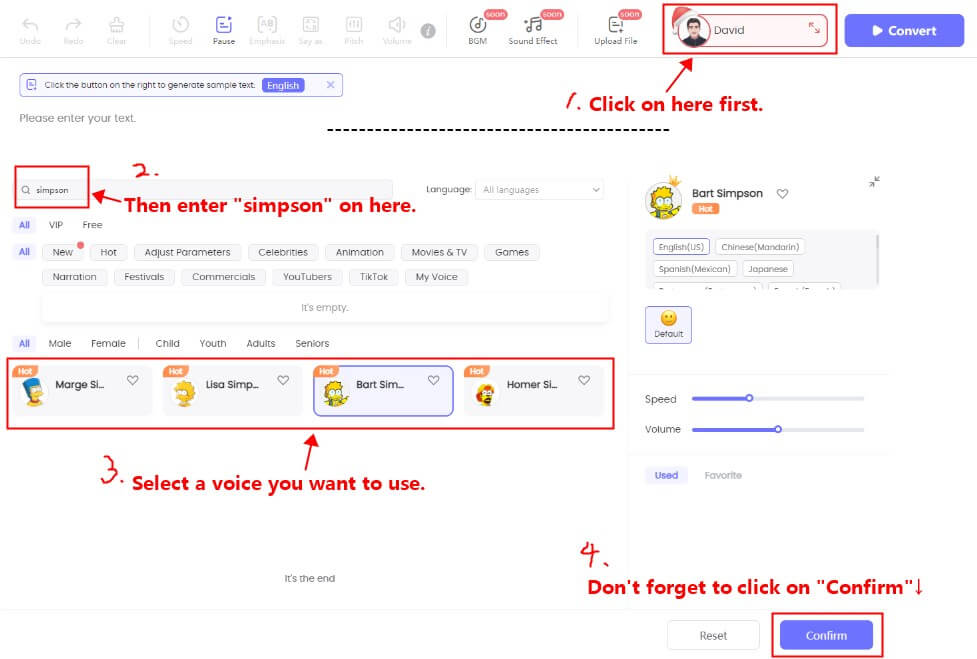 Step 3: The Bart Simpsons voice generator allows you to adjust the pitch, speed, emphsis to customize the audio.
Step 4: Finally, you can download or save the resulting audio file in Simpsons voice.
Key Features:
It offers 3200+ voices like SpongeBob and 70+ languages you can access.
Over 100 global accents to choose from.
Multiple functions including Text to Speech, Speech to Text, Audio Editing, etc.
There are a multitude of other cartoon characters options available.
You can export the audio file into different formats.
Allows you to add background music if you need.
Pros
The resulting files are generated within few seconds.

A wide range of natural voice effects.

Save your time and effort without hiring a voice actor.

Secure and easy to use.
Cons
You need a good internet connection.
Part 4: FAQs about Bart Simpsons Voice Generator
1 Who are voice actors of the Simpsons?
Dan Castellaneta: Homer Simpson, Grampa Simpson, Krusty the Clown, Barney Gumble, and many others.
Julie Kavner: Marge Simpson, Patty Bouvier, and Selma Bouvier.
Nancy Cartwright: Bart Simpson, Nelson Muntz, Ralph Wiggum, and Todd Flanders.
Yeardley Smith: Lisa Simpson.
Hank Azaria: Moe Szyslak, Chief Wiggum, Apu Nahasapeemapetilon, and many others.
Harry Shearer: Mr. Burns, Waylon Smithers, Ned Flanders, Principal Skinner, and many others.
2How can I create the voice of Bart Simpson?
To get the iconic voice of Bart Simpson, you can use TopMediai, the best Bart Simpson AI voice generator. Before using TopMediai, it can be helpful to listen to the outstanding voice actor behind Bart, Yeardley Smith. By familiarizing yourself with Smith's portrayal of the character, you can better appreciate the quality of the AI-generated voice and achieve a more authentic result.
3What are some popular Bart Simpson voice generators available?
There are several popular Bart Simpson voice generators available online, including TopMediai, VoxBox, and Fakeyou. Each of these tools uses advanced AI technology to generate a voice that sounds like Bart Simpson.
Conclusion To summarize, using a Bart Simpsons voice generator to make voices of Simpsons including Homer, Lisa and other members is a fun and useful way to create high-quality audio content with the iconic voice for multiple purposes.

With tts voice generators like TopMediai, users can tailor their results to their specific needs, giving their projects a unique and personalized touch that sets them apart. So try it free now if you desire to get various characters voices!