Duke Nukem is a popular video game franchise created by 3D Realms and published by Apogee Software. The series follows the adventures of the titular character, Duke Nukem, as he battles aliens in a variety of settings. Want to sound like Duke Nukem?
Our Duke Nukem AI Voice Generator lets you create your own Duke Nukem-style voiceovers and soundbites. Perfect for gamers, content creators, and Duke Nukem fans.
Give Duke Nukem Text to Speech a try today!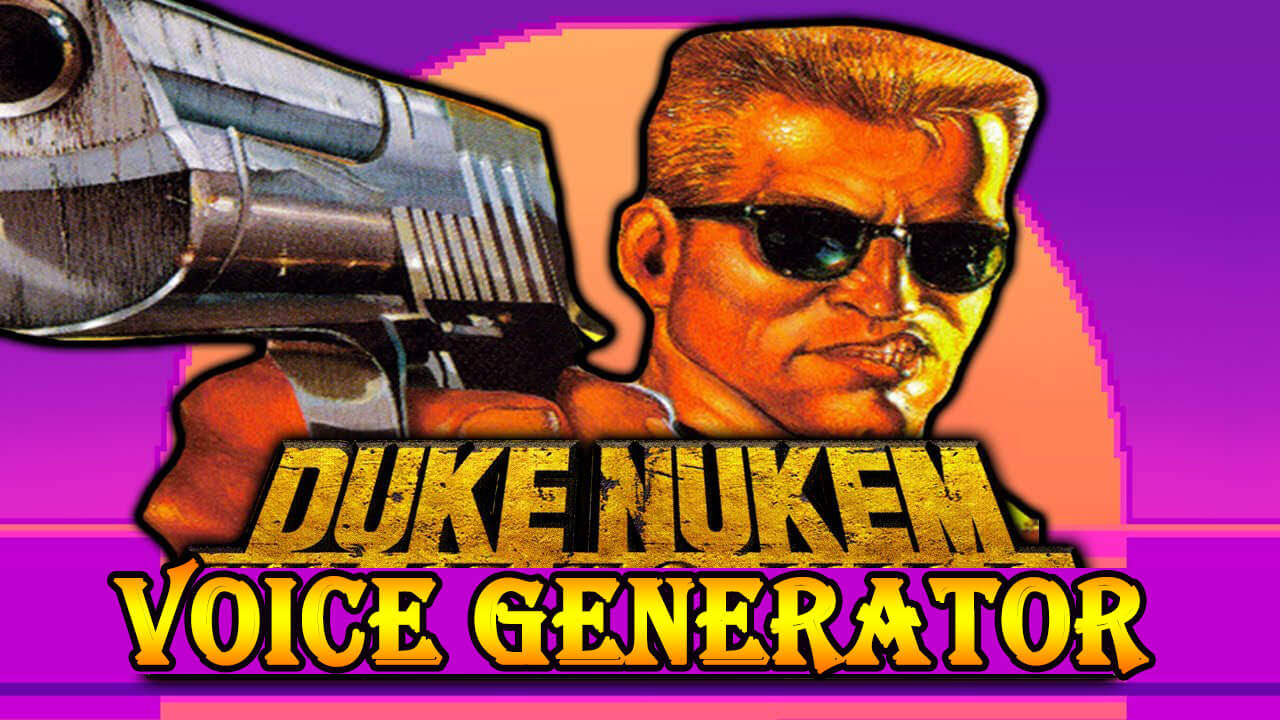 Part 1: What is Duke Nukem?
Duke Nukem is a classic video game series that has been around since the 1990s. It stars the titular Duke Nukem, a muscle-bound hero who fights aliens and monsters while quipping one-liners. The games feature a mix of shooting, platforming, and puzzle-solving elements. Duke Nukem is known for its over-the-top action and adult humor and has become an iconic part.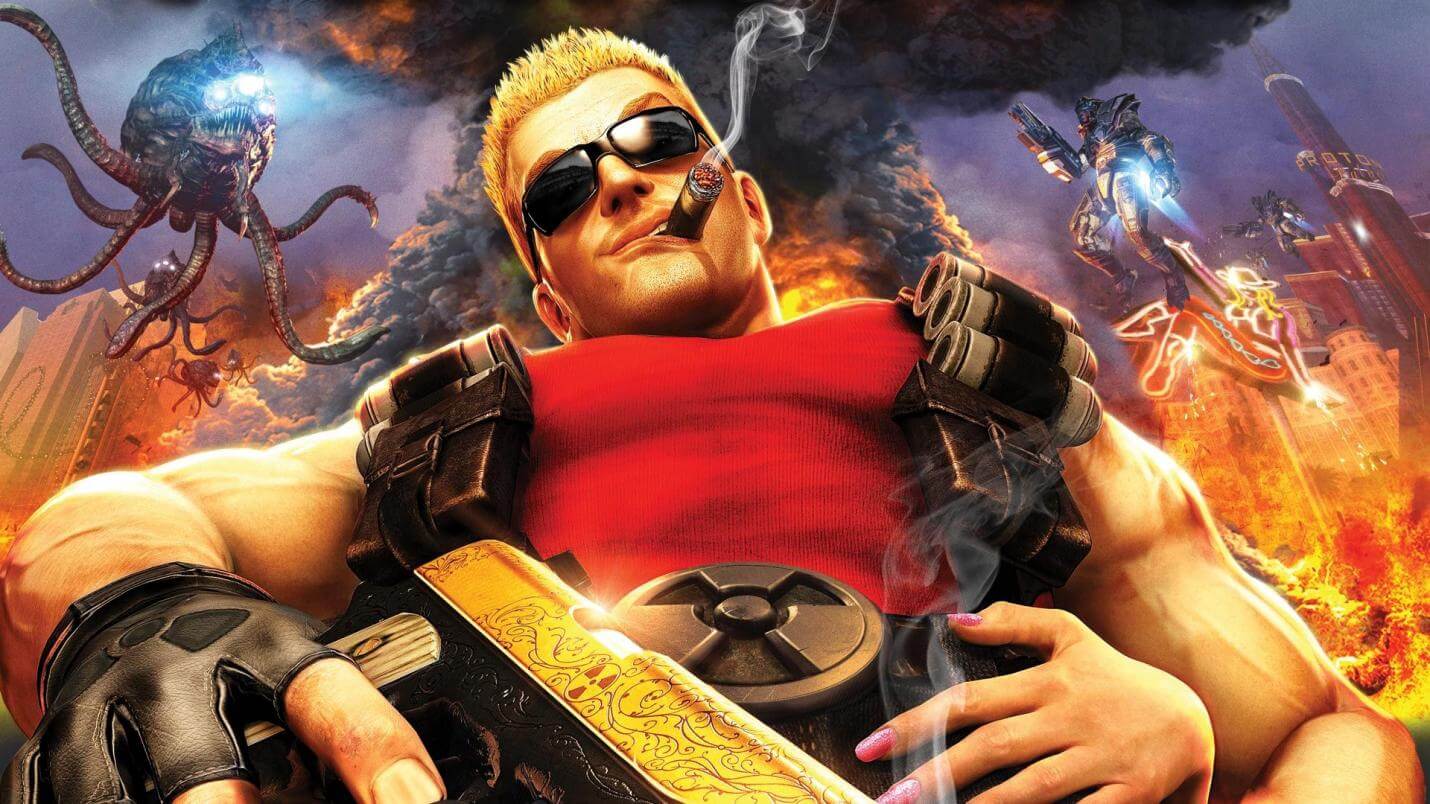 Duke Nukem has become a cultural icon in the gaming world and has spawned numerous spin-offs and sequels over the years. Now for the biggest of Duke Nukem fans, we have a wide array of different text to speech generators that allow you to sound like the formidable character.
Let's look at some of the most renowned Duke Nukem Text to Speech Voice Generators you can use in Part 3:
Part 2: Who is the Duke Nukem Voice Actor?
The original Duke Nukem voice actor is Jon St. John. He has been the voice of Duke Nukem since the first game in the series, which was released in 1991.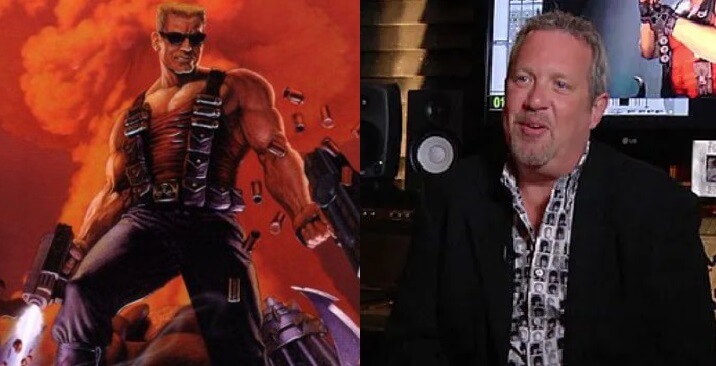 St. John's deep, gravelly voice and sarcastic delivery have become synonymous with the Duke Nukem character, and his performance has helped to make Duke one of the most memorable and recognizable video game characters of all time.
Part 3: How to Generate Duke Nukem Text to Speech Voice like 3D
Mentioned ahead are 2 of the most resourceful AI Duke Nukem Text to Speech Generators that are highly recommended:
Are you looking for a way to sound like Duke Nukem at the click of a button? TopMediai Text to Speech is just the tool you need. This voice generator uses advanced AI technology to create realistic voices that can be used for all kinds of purposes.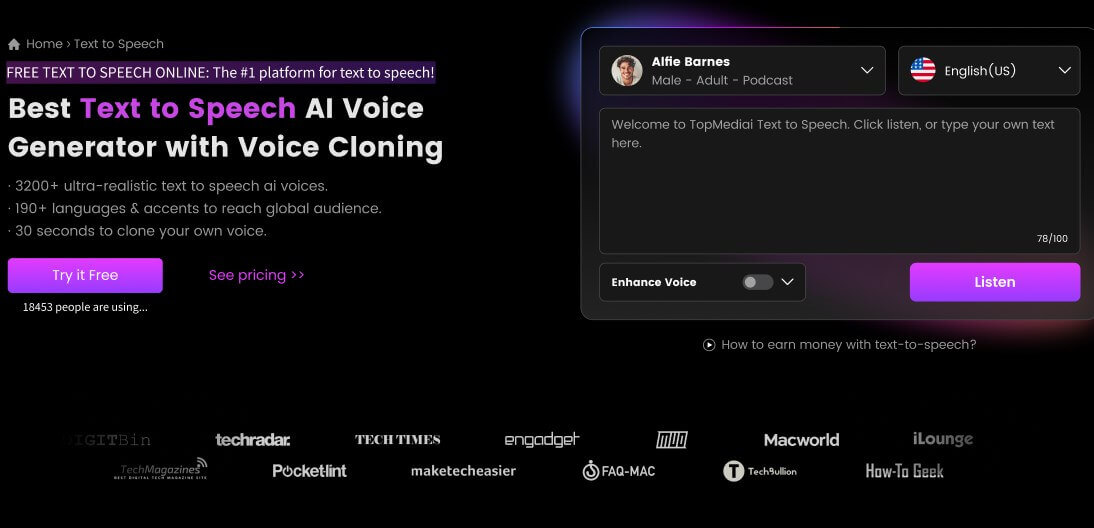 Whether you need to create a video game character such as Duke Nukem, an audiobook narrator, or just want to have some fun with your friends, TopMediai Text to Speech has got you covered.
Here's how you can use TopMediai to create Duke Nukem AI voice:
Step 1: Open TopMediai Text to Speech tool.
Step 2: Enter your desired text into the text box provided and select the Duke Nukem AI voice from the available options or Choose in the "Duke Nukem".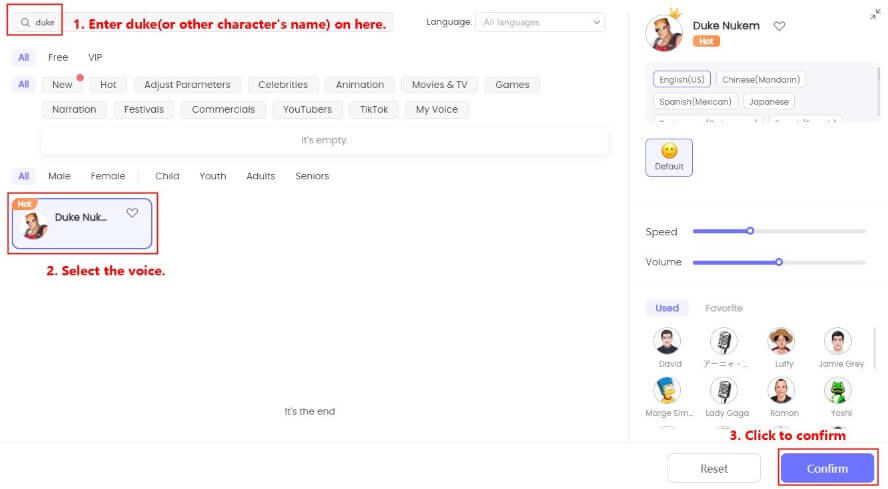 Step 3: Adjust the speed, pitch, and volume of the voice to your desired settings.
Step 4: Click the "Convert" button to generate your Duke Nukem AI voice audio file.
Key Features:
Dedicated Duke Nukem Voice Generator: This dedicated generator ensures an authentic and high-quality voice output.
Customization Options: Users can adjust parameters like pitch, tone, speed, and add effects to create a more personalized and unique Duke Nukem voice.
User-Friendly Interface: The intuitive design ensures a seamless and hassle-free experience throughout the voice generation process.
Preview and Download: Allows user to listen to the output and make any necessary adjustments or refinements. Once satisfied, users can download the audio file in their preferred format for use in their projects.
Wide Range of Applications: Can be utilized in various applications, including video games, animations, podcasts, videos, and more.
With these key features, TopMediai stands out as a reliable and efficient platform for generating Duke Nukem's text to speech voice and delivering a realistic 3D voice experience.
Pros
Changes your the voice of your text into Duke NukemAI Voice instantaneously.

You can adjust the speed, pitch, and volume of the voice to your liking, making it customizable to your preferences.

Enjoy a huge library of voices to choose from for your projects. The perfect voice for every occasion is just one click away!
Cons
The pc version is not available yet.
Murf.ai is an innovative text-to-speech generator that allows you to sound like Duke Nukem in no time at all. It's a great tool for content creators, game developers, and voice actors who want to bring their characters to life with realistic dialogue.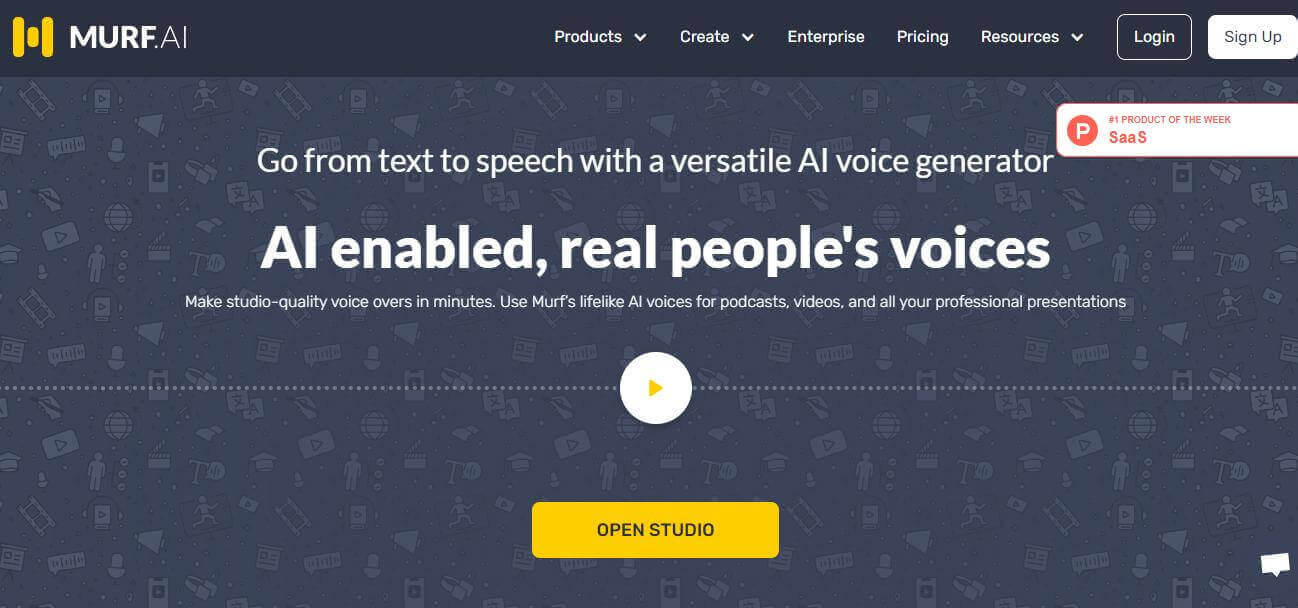 With Murf.ai, you can easily generate realistic-sounding dialogue that captures the nuances of the character's personality and accent. Whether it's a gruff Duke Nukem or a sultry Scarlett Johansson, Murf.ai has you covered!
Key Features:
Intuitive, user-friendly interface to get up and running in no time. Even a tech newbie can master it in minutes.
There are no hidden charges. Although, you can still pay if you want to use any of the premium features.
Part 4: FAQs about Duke Nukem AI Voice Generator
1 Can I Make Duke Nukem Text to Speech Online for Free?
Yes, you can make your voice sound like the iconic Duke Nukem through all sorts of different text to speech software for free. Most of these applications may be safe to use; however, for an added level of authenticity, it may be recommended to pay for a premium text to speech application and or software.
2 What games does Duke Nukem starred?
Some of the games that Duke Nukem has starred in include Duke Nukem 3D, Duke Nukem Forever, Duke Nukem Advance, Duke Nukem: Manhattan Project, and Duke Nukem: Critical Mass.
3How to Make Duke Nukem Wallpaper?
Google and Bing search on Duke Nukem images are copyrighted, you can not download the HD version, and the search results may not be your favorite. We recommend using TopMediai AI Art Generator, you can customize the content in the images, free to use.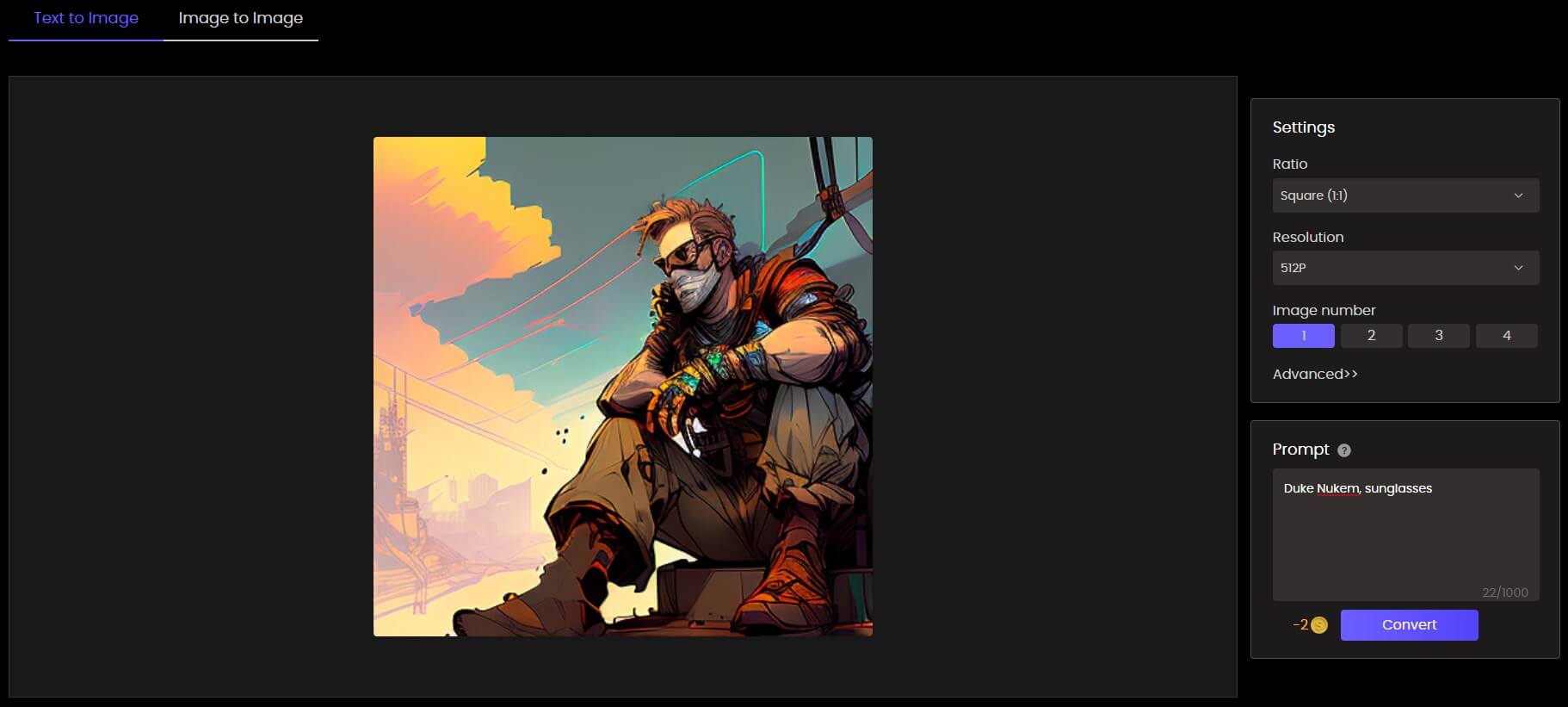 ConclusionWhether you want to relive classic Duke Nukem moments, create unique content, or enhance your gaming experience, the Duke Nukem text-to-speech voice generator from TopMediai offers an exciting opportunity. Explore the possibilities and let Duke Nukem's iconic voice elevate your projects to the next level.