One feature of the Japanese music industry is virtual singers. Many famous music production companies have begun generating unique virtual divas as representatives of the company. Here l am going to introduce a new virtual diva-Kasane Teto, a member in the Vocaloid community.

Whether you are one of her fans or not, we can generate Kasane Teto voice for text to speech or make ai song cover or other purposes. Here we go.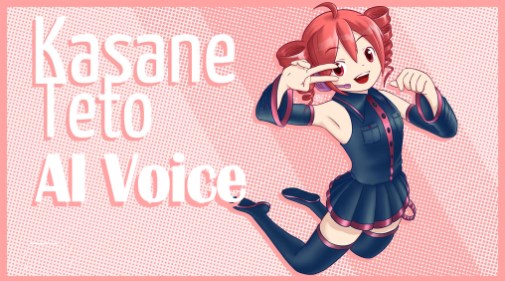 Part 1: Who is Kasane Teto and the Voice Behind Her?
Kasane Teto is a character in the Vocaloid community. She is not an official Vocaloid but rather a UTAU, which is a similar voice-synthesis software. Teto is often depicted as a 16-year-old girl with long twin-tails and is known for her distinctive red hair and a crescent-shaped hair clip.
She gained popularity in the Vocaloid community and has a range of fan-made songs created using her voicebank. Teto has a playful and mischievous personality, and she's become quite a beloved character among Vocaloid and UTAU enthusiasts.
Kasane Teto is a Vocaloid character whose voice is synthesized from recordings of a Japanese voice actress, Yukari Tamura.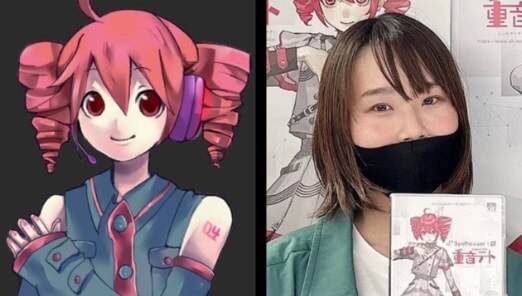 Part 2: How Do l Get Kasane Teto AI Voice?
Here is an official tool to access Kasane Teto AI Voice - Synthesizer V. This tool can only be run on a computer. Here are the installation steps for three different computer operating systems.
For Windows:
1. Run the program file "teto-lite-installer.svpk."
2. Follow the instructions within the installer to finish the installation process.
Note: Installing Voice Databases necessitates having Synthesizer V Studio already installed.
For Mac:
1. Drag and drop the "teto-lite-installer.svpk" file onto Synthesizer V.
2. Follow the prompts provided by the installer to complete the installation.
Note: Synthesizer V Studio must be installed for Voice Database installation.
For Linux:
1. Drag and drop the "teto-lite-installer.svpk" file onto Synthesizer V.
2. Follow the instructions presented in the installer to finalize the installation.
Note: Synthesizer V Studio is required for Voice Database installation.
Part 3: Easily Generate Kasane Teto Text to Speech Voice
Utilizing platforms like TopMediai's Text to Speech feature, users can effortlessly generate Kasane Teto AI voice on both pc and mobile. By inputting text or lyrics, the tool converts it into Teto's distinctive voice, allowing for a personalized and engaging experience.
The online tool has 3200+ realistic ai voices and supports 70+ languages, you can choose any one popular person whether English or Japanese, TopMediai has you covered. We highly recommend you use this tool for text to speech, it's like Kasane Teto's talking to you face to face.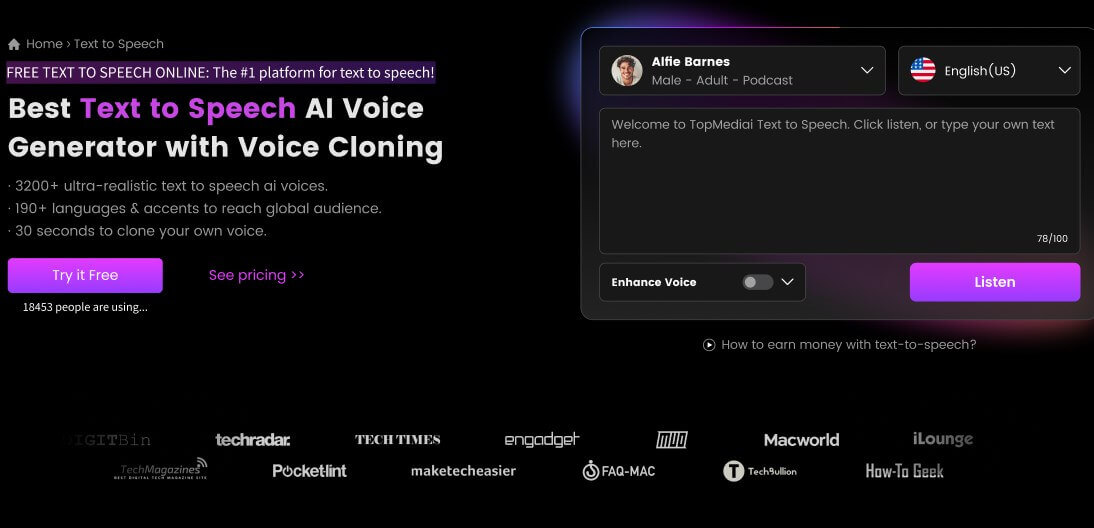 How to Use Kasane Teto Text to Speech?
Step 1: Visit TopMediai Text to Speech.
Step 2: Choose Kasane Teto ai voice and your prefer languages and emotion.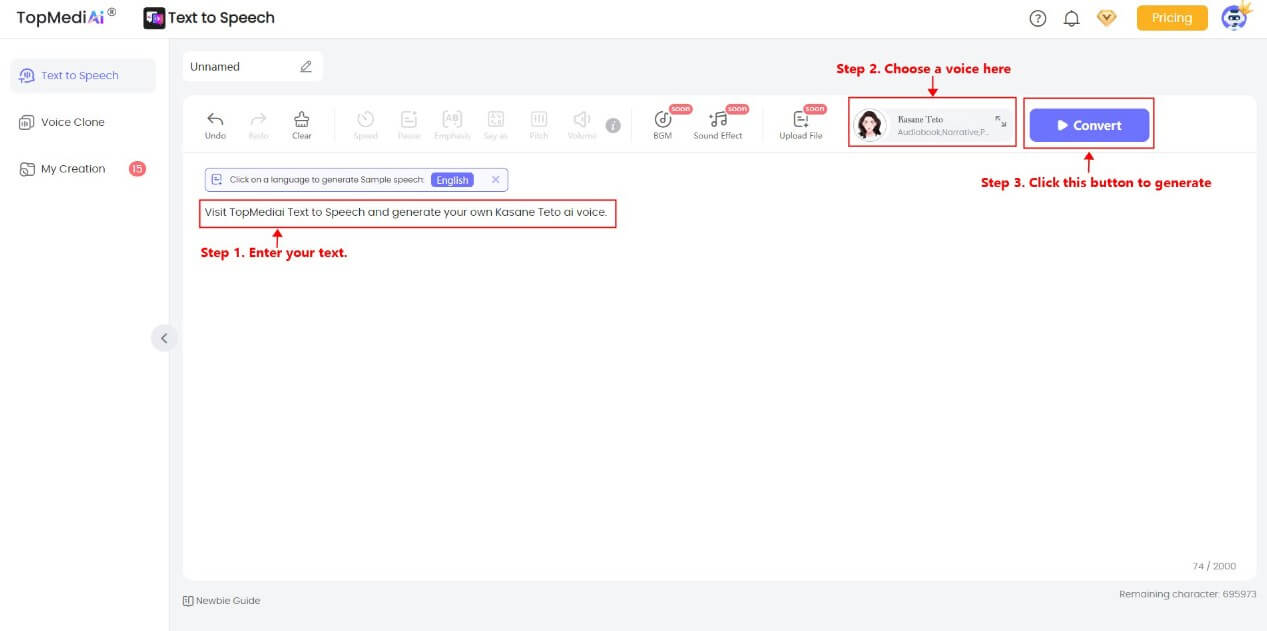 Step 3: Enter your text.
Step 4: Click "Convert" and wait for the generated audio.
Step 5: Download your audio directly or review on "My Creation"
Available integration via API for developers.
Free trials and different subscription plans offered.
Online platform available on both pc and phone.
3200+ realistic voice models and regular updates.
Voice cloning supported if you are not satisfied with our tts.
Try Kasane Teto AI Voice Generator Online >>
Part 4: Kasane Teto AI Voice for Song Cover
The allure of Kasane Teto's voice extends to song covers. Platforms like TopMediai, Voicify, and Kits.ai provide AI song cover features, enabling users to blend Teto's voice seamlessly into their musical creations.
TopMediai AI Song Cover stands out as a comprehensive platform tailored for music enthusiasts and creators. It integrates an array of features to produce high-quality song covers using AI-generated voices, including the sought-after Kasane Teto's voice.
TopMediai is super easy to use, allows for easy manipulation of Teto's voice, enabling users to create unique and personalized musical renditions effortlessly. Not only does TopMediai provide the tools for audio synthesis, but it also offers a collaborative community space where users can share, learn, and engage with fellow artists.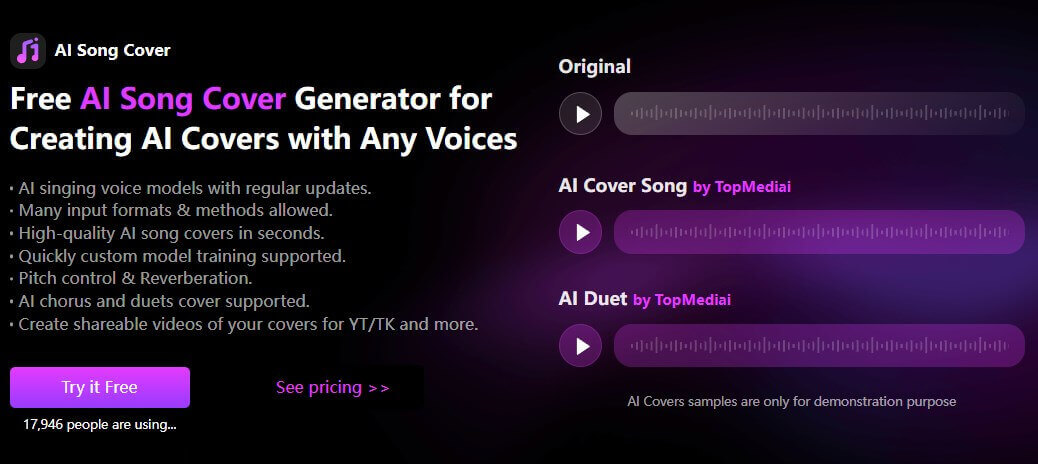 Provides high-quality vocal synthesis.
Free models changed every week.
Fast covering and easy 3 steps to use.
7*24 service supported.
Access to TopMediai AI Song Cover >>
With 10,000+ voices at its disposal, Voicify allows users to seamlessly integrate Kasane Teto's voice into their musical compositions. The platform prides itself on its intuitive user interface, enabling users to customize and fine-tune Teto's voice to suit the requirements of their creative endeavors. Voicify provides a plethora of tools and features that empower artists to craft professional-grade song covers and explore the versatility of Kasane Teto's AI voice.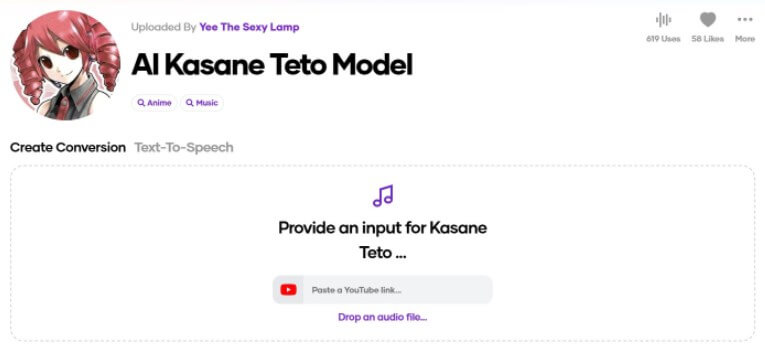 Wide range of voice models.
Supports upload YouTube links for covering.
Support custom your own models.
Kits.ai AI Model specializes in providing AI models uniquely tailored for song covers and audio synthesis. Kits.ai is designed to be adaptable, providing 3,000+ customization options to manipulate Teto's voice according to the users' artistic preferences. Its advanced features make it an ideal choice for creators seeking a platform specifically honed for song cover production with Kasane Teto's AI voice.

Supports to choose different modes.
Free to use.
Different subscription plans to meet diverse needs.
Part 5: FAQs about Kasane Teto AI Voice
1 How is Kasane Teto's voice generated?
Kasane Teto's voice is typically generated using AI or text-to-speech software that replicates her unique vocal characteristics. Various platforms and tools are available to produce her voice, allowing users to generate speech or singing that sounds like Kasane Teto.
2 How accurate is Kasane Teto's AI voice compared to the original Voice?
The accuracy of AI-generated voices, including that of Kasane Teto, varies depending on the technology and software used. TopMediai Text to Speech can closely mimic her original Vocaloid voice, but no one tool could make 100% realistic Kasane Teto ai voice!
3 Is Kasane Teto's voice available in multiple languages?
While Kasane Teto is primarily known for her Japanese voicebank, TopMediai Text to Speech offers her voice in different languages and provide localization options to cater to a broader audience.
Conclusion Presumably everyone has different purposes for converting voices, but that doesn't matter. All the tools introduced above can cover all the purposes of using Kasane Teto Voice. The user-friendly accessibility provided by platforms like TopMediai, Voicify, and Kits.ai empowers everyone to get Kasane Teto ai voice for text-to-speech applications and crafting delightful song covers.