If you've ever been captivated by the gripping and suspenseful voiceovers in the Mission Impossible movie series, you'll be thrilled to know that you can now bring that same excitement to your own projects.
In the below content, l will explore how you can add thrilling Mission Impossible voiceovers to your projects using an AI-powered voice generator and voice changer.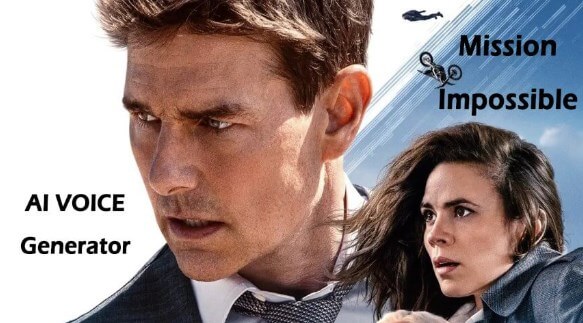 Part 1: How to Generate Mission Impossible 7 AI Voice?
Imagine the impact of having a Mission Impossible voice narrating your presentations, videos, or even your personal projects. With the TopMediai Voice Generator - Mission Impossible 7 Voice AI, you can recreate the iconic voice and tone of the Mission Impossible series. This powerful AI-driven tool allows you to convert written text into the captivating voice that you know and love.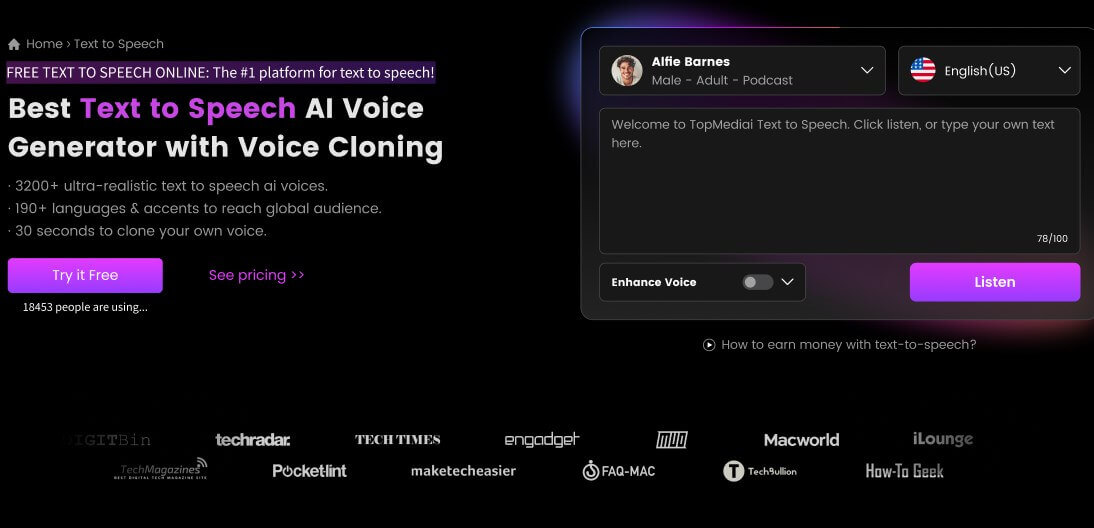 How to Generate Mission Impossible Actors' AI Voice?
Step 1. Visit the TopMediai website.
Step 2. Choose the Mission Impossible actors' voice(such as Tom Cruise ai voice).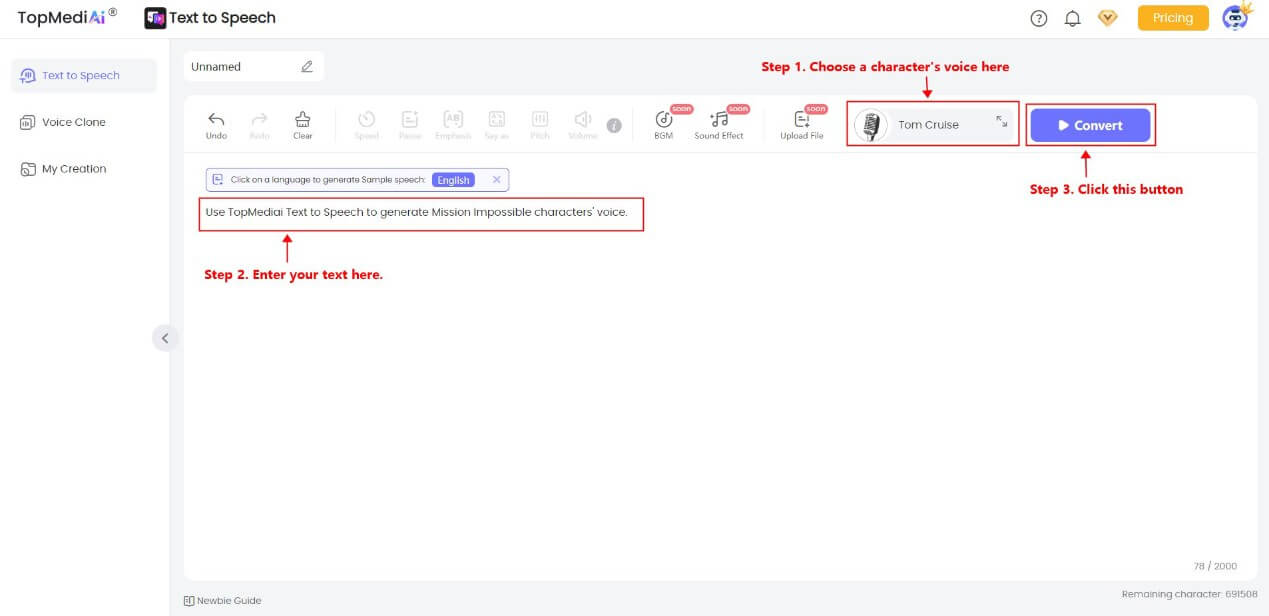 Step 3. Enter your text.
Step 4. Convert and generate the voice.
Step 5. Preview and download the voice file.
Step 6.
Use the generated voice in your projects.
Focus on:
Mission Impossible 7 Voice AI preset for easy replication of the iconic voice.
Custom voice creation options to personalize and customize voices for specific projects.
Support for multiple languages, allowing voice generation in various languages
Batch processing capabilities to quickly apply the Mission Impossible voice to multiple audio files.
Fast and efficient voice conversion process, saving time and enhancing productivity.
Don't Miss: Tom Hiddleston Voice Generator: Be the Next Loki like Tom Hiddleston!.
Part 2: How to Unlock Your Mission Impossible AI Voice Voice Changer?
TopMediai offers an online free voice changer that enables you to transform your voice into the iconic Mission Impossible sound. The user-friendly interface and high-quality output make it a top choice for content creators and enthusiasts alike. Simply upload your audio, select the Mission Impossible voice preset, and witness the magic happen.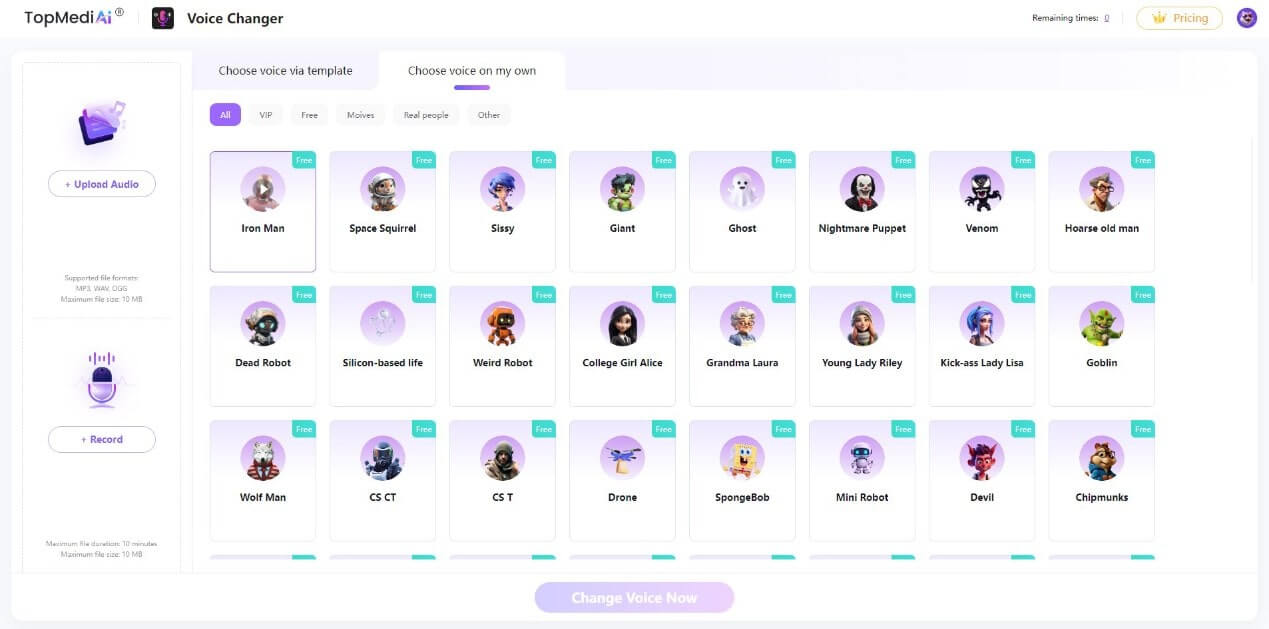 Focus on:
Mission Impossible voice preset for instant transformation into the recognizable Mission Impossible style.
Extensive library of voice effects, providing a wide range of creative options for different voice modifications.
Real-time preview functionality, enabling users to hear changes as they are made for immediate adjustments.
Built-in audio editing tools for trimming, cropping, and adjusting volume, ensuring optimal voice customization.
Convenient sharing and export options to easily incorporate modified audio files into various projects or platforms.
Part 3: What is Mission Impossible
Mission Impossible is an immensely popular action spy franchise that has captured the hearts of audiences worldwide. Created by Bruce Geller, the series has been brought to life on the big screen by talented actors such as Tom Cruise, Ving Rhames, and Simon Pegg.
The intense plotlines, breathtaking stunts, and, of course, the iconic Mission Impossible voiceovers have become synonymous with the franchise. The latest season is Mission Impossible 7.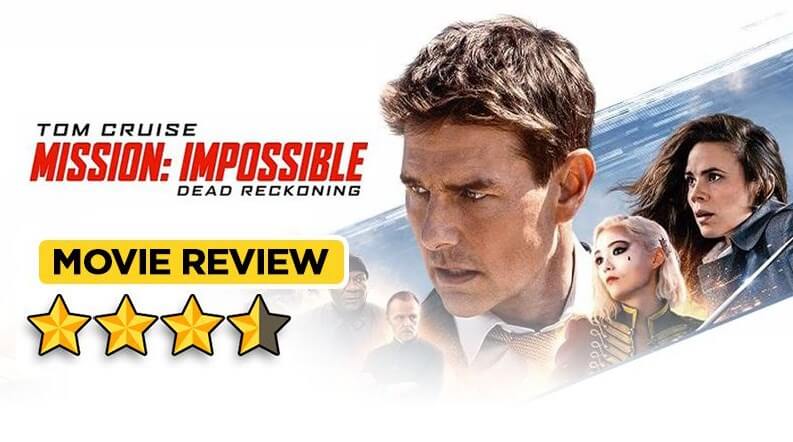 Part 4: FAQs about Mission Impossible 7 Voice AI
1 Who stars in Mission Impossible 7?
The main cast of Mission Impossible 7 includes Tom Cruise reprising his role as Ethan Hunt, along with returning actors Simon Pegg as Benji Dunn, Ving Rhames as Luther Stickell, and Rebecca Ferguson as Ilsa Faust. Newcomers to the franchise include Hayley Atwell, Pom Klementieff, and Shea Whigham.
2 Will there be more Mission Impossible movies after Mission Impossible 7?
Yes, there are plans for an eighth installment in the Mission Impossible series, which is expected to be released in 2023. Christopher McQuarrie will also direct Mission Impossible 8.
Conclusion The dynamic duo of TopMediai Voice Generator and Voice Changer empowers you to capture the essence of Mission Impossible effortlessly. With the Mission Impossible 7 Voice AI preset, customizable options, and extensive voice effects library, your projects will resonate with excitement.
Enjoy seamless integration, real-time preview, and efficient processing, unlocking limitless creativity.

Elevate your content with the Mission Impossible voice using TopMediai's exceptional tools.