Are you a fan of voice actor Tom Hiddleston's captivating ai voice? Have you ever dreamed of having the same powerful and charismatic voice as him? Well, now you can! With the Tom Hiddleston AI Voice Generator, you can unleash your inner actor and be the next Tom Hiddleston!
In this article, we will explore the wonders of the Tom Hiddleston Voice Generator and how it can help you achieve realistic voice over and more.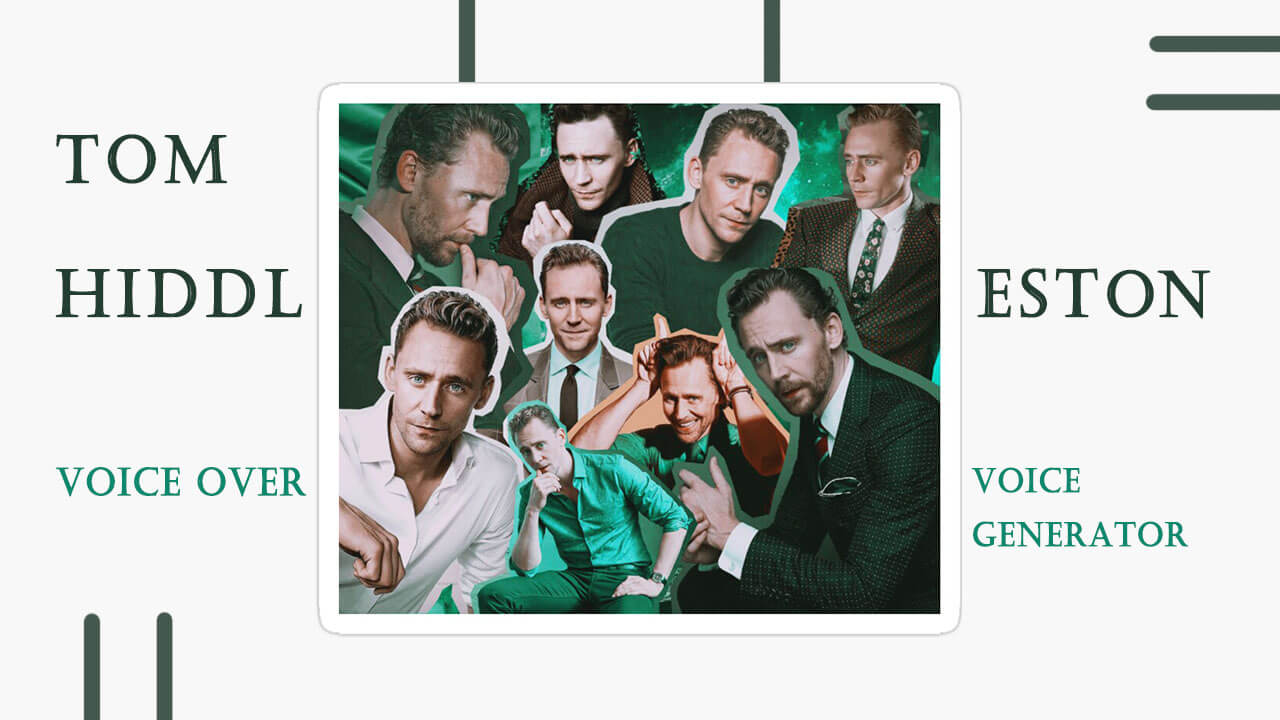 Part 1: Who is Tom Hiddleston?
Tom Hiddleston is an English actor best known for his portrayal of Loki, the mischievous and complex character from the Marvel Cinematic Universe (MCU). He reprised the role in several other Marvel films, including "The Avengers" (2012), "Thor: The Dark World" (2013), "Thor: Ragnarok" (2017), and "Avengers: Infinity War" (2018), among others. He also starred as Loki in his own Disney+ series, "Loki," which premiered in 2021.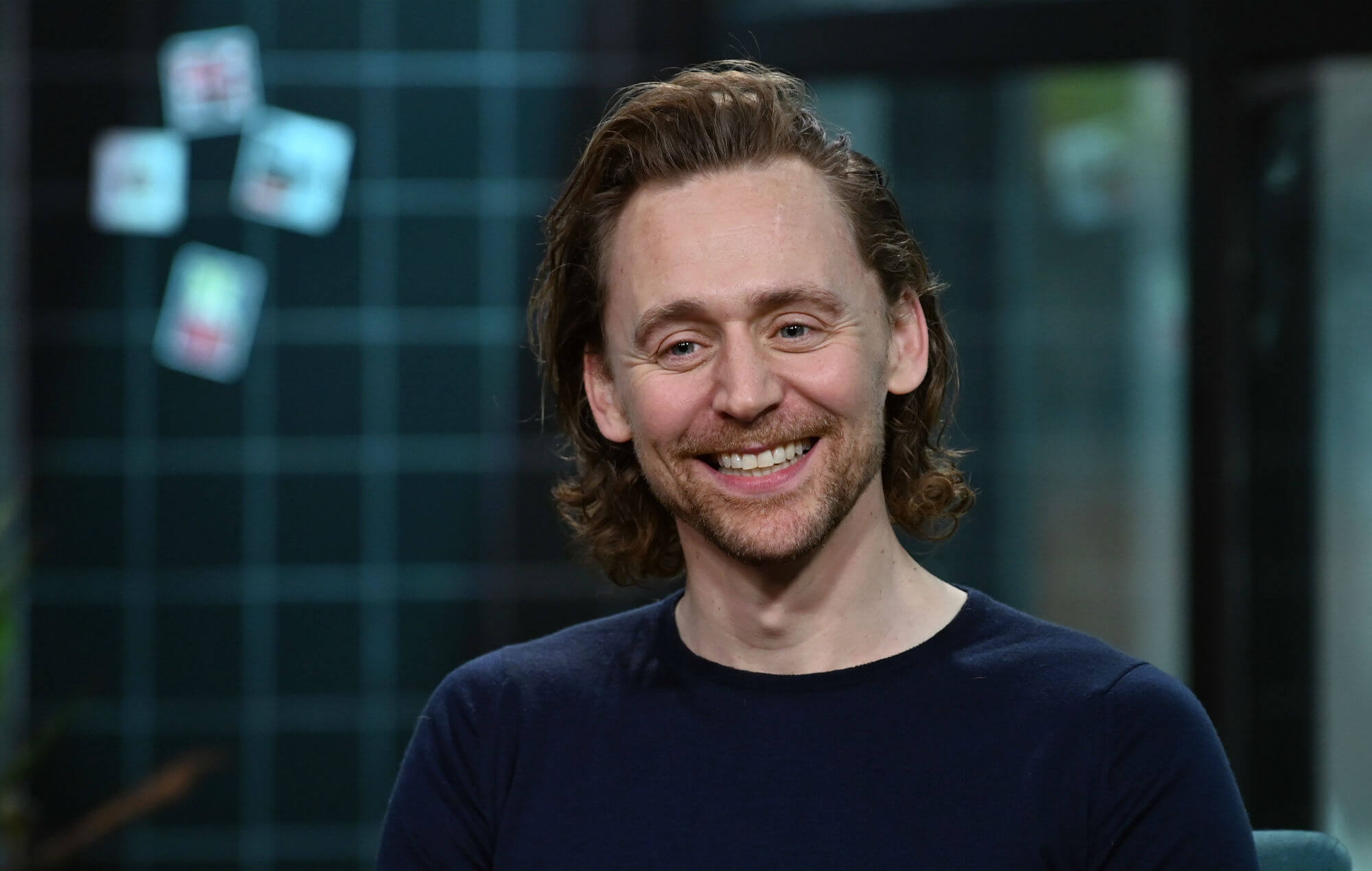 With his talent, versatility, and charm, Tom Hiddleston has established himself as a respected actor in both film and theater. His portrayal of Loki has made an indelible mark on pop culture, and he continues to captivate audiences with his compelling performances.
Part 2: Use Tom Hiddleston Voice Generator to Make Audio/Video Voice Over Works
We now have access to the Tom Hiddleston Voice Generator. This cutting-edge tool allows you to create professional-quality voice-overs that sound just like Tom Hiddleston himself.
Whether you're working on a video project, podcast, or any other audio medium, the voice actor Tom Hiddleston Voice Generator can bring your content to life.
TopMediai — Tom Hiddleston Text to Speech Voice AI
One of the leading platforms offering the Tom Hiddleston Voice Generator is TopMediai Voice AI. This advanced Text to Speech Voice AI technology is designed to mimic the unique nuances and intonations of Tom Hiddleston voice.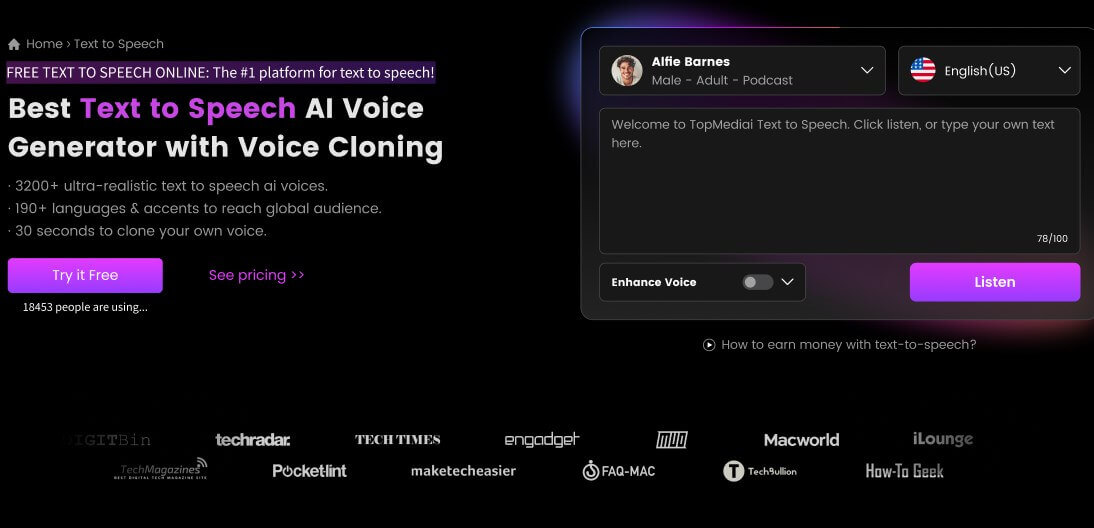 With just a few simple steps, you can transform your written scripts into captivating audio content that resonates with your audience, whether you're creating commercials, audiobooks, or even animated characters, the possibilities are endless.
How to Use Tom Hiddleston Voice Generator:
Step 1: Visit the TopMediai Text to Speech Feature.
Step 2: Select the Tom Hiddleston AI Voice Option on "Actors" Type.
Step 3: Enter the text you want to convert into an AI voice.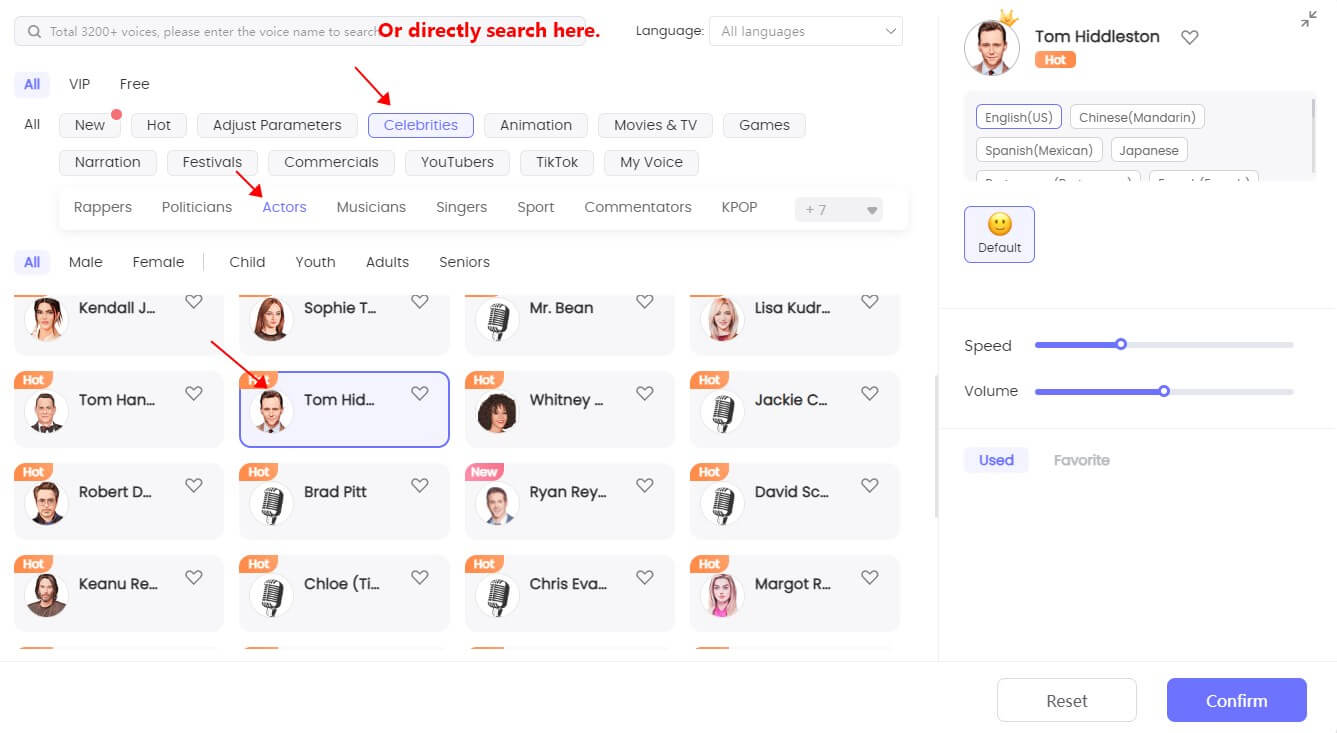 Step 4: Customize voice settings (if available) and Click on the "Convert" button.
Step 5: Listen to the AI-generated voice sample then Download or save the audio file for your use.
Key Features:
Realistic Voice Replication: TopMediai's Tom Hiddleston Voice Generator creates authentic voice-overs that capture the nuances of Tom Hiddleston's voice.
User-Friendly Interface: TopMediai offers an intuitive platform for easy script input and voice-over generation.
Wide Range of Applications: The Tom Hiddleston Voice Generator is suitable for commercials, narrations, e-learning, and more.
Time and Cost Savings: Using the Tom Hiddleston Voice Generator saves time and resources compared to hiring voice actors or recording/editing audio files.
High-Quality Output: TopMediai provides clear and natural-sounding audio that meets industry standards.
Ongoing Updates and Support: TopMediai offers continuous improvements and reliable customer support for user assistance.
Bonus: What are the famous Tom Hiddleston Movies and TV Shows?
Aside from his incredible AI voice, Tom Hiddleston has made a name for himself through his outstanding performances in various TV series and movies.
Some of his notable works include "Loki" (Marvel Studios), "Thor" (Marvel Studios), "Crimson Peak," "The Night Manager," and "Kong: Skull Island." His versatility as an actor has earned him critical acclaim and a massive fan following worldwide.
Part 4: FAQs about Tom Hiddleston AI Voice
1 Why did Taylor Swift and Tom Hiddleston broke up?
The exact reasons for their breakup have not been publicly disclosed, reports at the time suggested that their busy schedules and the challenges of maintaining a long-distance relationship may have played a role. Both Swift and Hiddleston have remained relatively private about the specifics of their breakup, choosing to keep the details of their personal lives out of the public eye.
2 Who is Tom Hiddleston Wife?
Tom Hiddleston's wife is Zawe Ashton. The couple got engaged in 2021 and had a baby in October 2022. Zawe Ashton is an actress and writer who has acted in TV shows and movies, and has also published a memoir called "Character Breakdown".
Conclusion The TopMediai Tom Hiddleston AI Voice is a game-changer for anyone seeking professional and realistic voice over. With its ability to replicate the charm and charisma of Tom Hiddleston AI voice, you can elevate your projects to new heights. Whether you're a content creator, marketer, or filmmaker, this AI-powered tool is a valuable asset in your creative toolkit.

So, why settle for ordinary voice over when you can have the captivating Tom Hiddleston AI voice? Unlock the power of the voice actor Tom Hiddleston AI Voice and captivate your audience like never before.