Are you a fan of the iconic character Mr. Krabs from SpongeBob SquarePants? Now, we will explore how you can use a free voice generator text to speech tool to create an AI-generated Mr. Krabs voice – one of my favorite cartoon characters. Whether you're a content creator, a fan artist, or simply looking to have some fun, this guide will help you bring the voice of Mr. Krabs to life.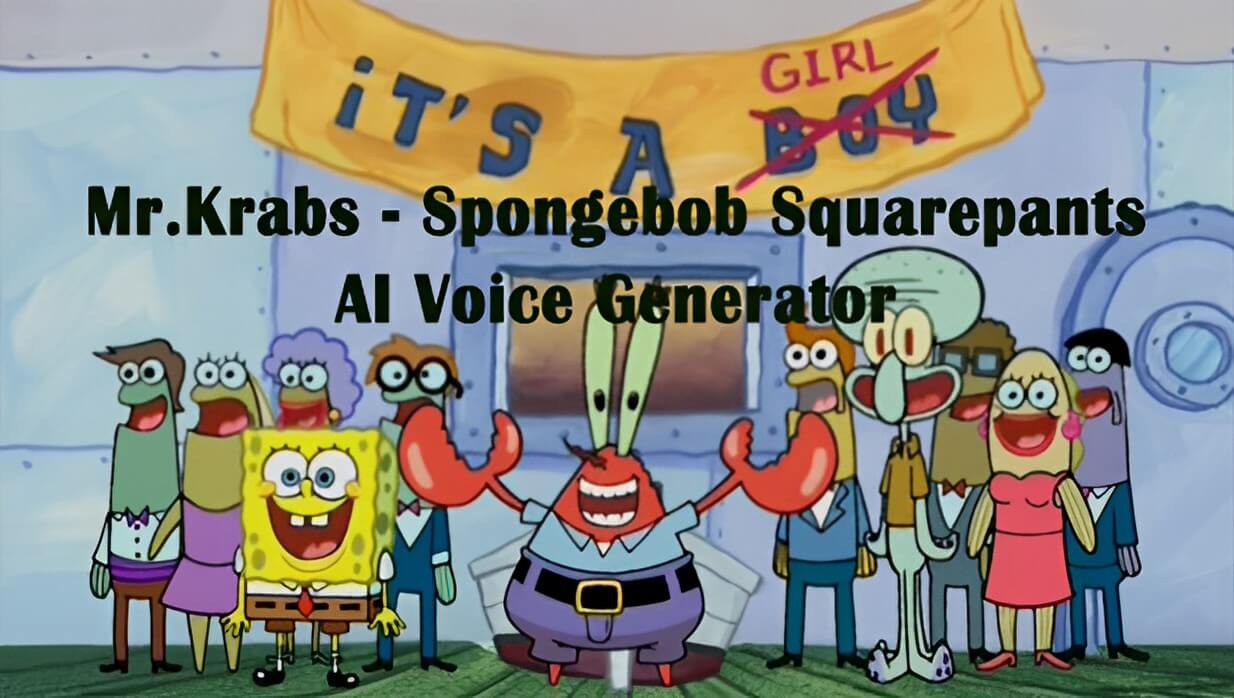 Part 1: How to Generate Mr.Krabs AI Voice?
Creating a Mr. Krabs AI voice has become easier than ever, thanks to innovative voice generator technology. One such tool that can assist you in this endeavor is TopMediai Voice Generator Text to Speech. With this online tool, you can convert text into Mr. Krabs' voice, making it sound like the character himself is speaking.
TopMediai is a powerful Mr. Krabs AI voice generator with free and paid versions. It offers fast text-to-speech conversion and high-speed creation of Mr. Krabs AI voices. With a vast library of natural-sounding voices, it utilizes advanced speech synthesis technology to provide the best user experience.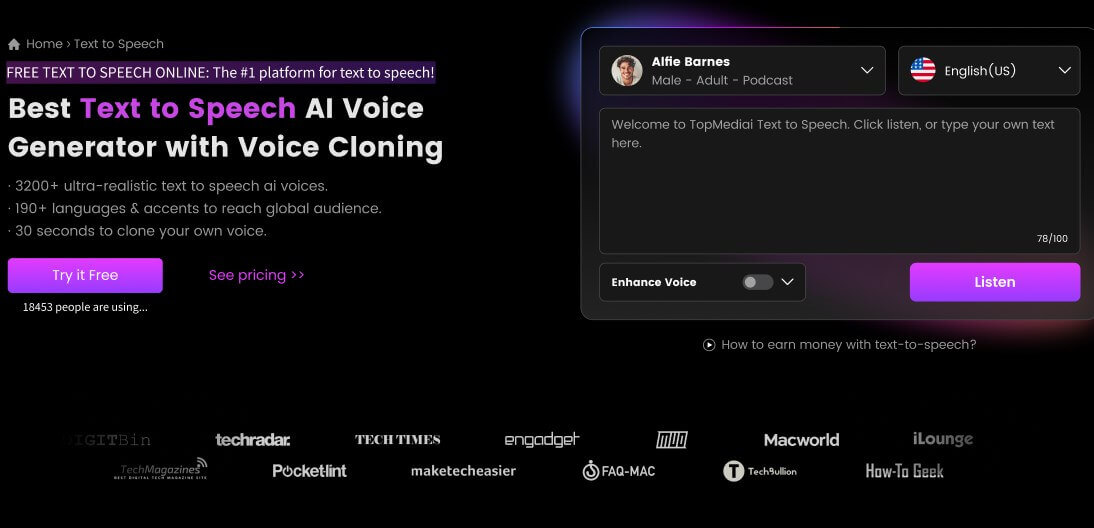 How to Use Mr. Krabs Voice generator:
Step 1. Visit the TopMediai Voice Generator Text to Speech website.
Step 2. Select the desired language and Mr.Krabs voice preferences.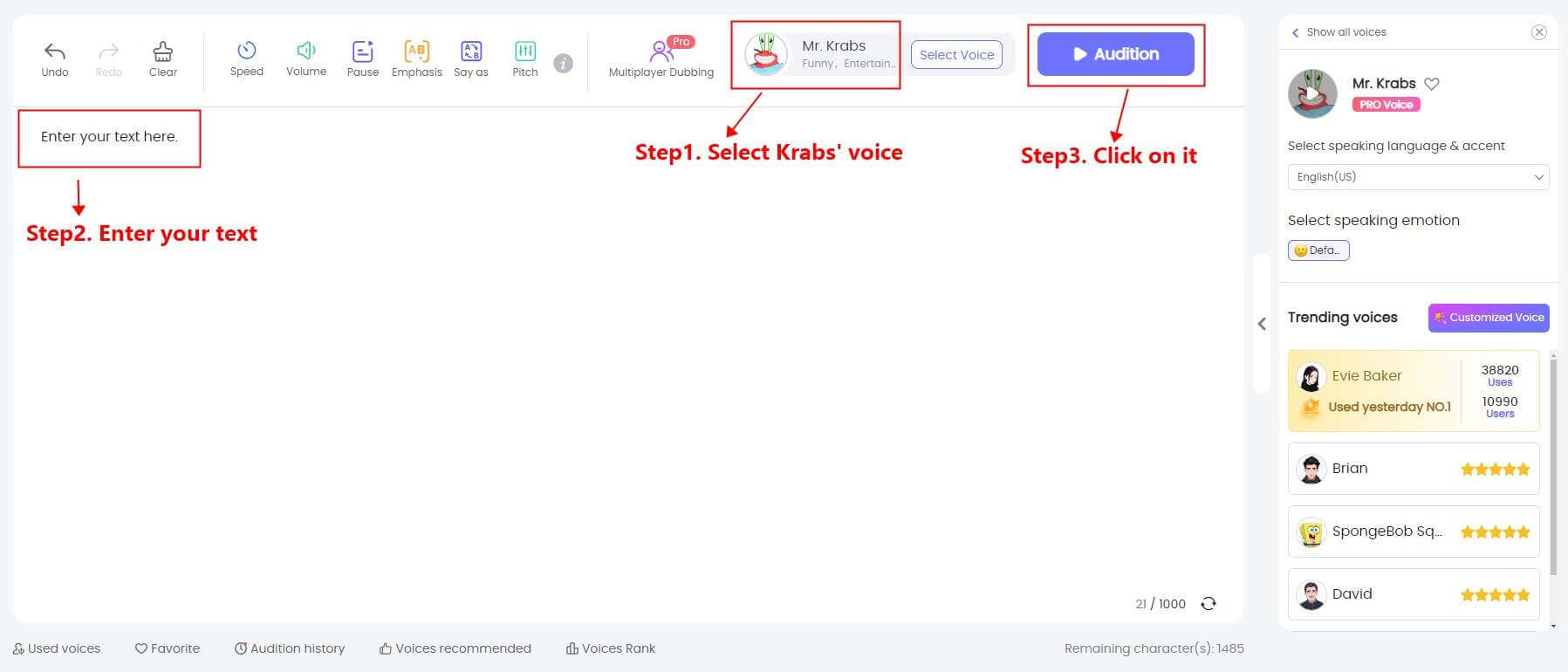 Step 3. Enter the text you want to convert into Mr. Krabs voice.
Step 4. Click the "Convert" button to process your text.
Step 5. Preview and download your AI-generated Mr. Krabs voice.
Key Features:
TopMediai provides over 3200+ voices in more than 70 languages.
It offers a wide range of text-to-speech voices for various characters.
Users can customize timestamps and speaker identification according to their preferences.
Additionally, there is a vast selection of other character AI voices available.
The generated audio files can be downloaded in both mp4 and wav formats.
Part 2: Who is Mr.Krabs Vocie Actor?
Clancy Brown is the talented voice actor behind Mr. Krabs in SpongeBob SquarePants. With his distinct voice, Brown brings the character to life, capturing the humor and greed of the lovable crustacean. His portrayal has made Mr. Krabs an iconic part of the show.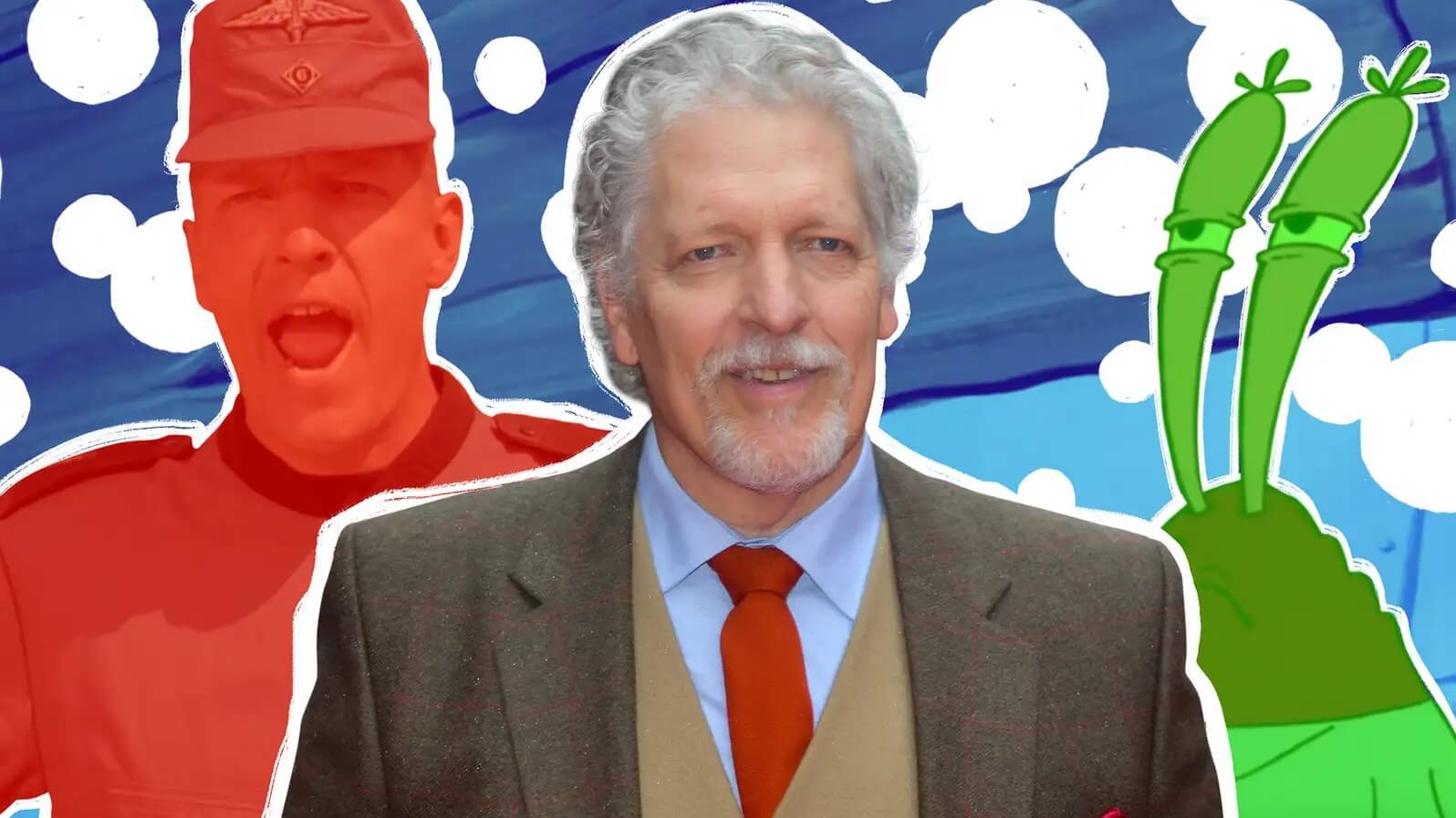 Brown's versatile acting career spans decades, with roles in films like "The Shawshank Redemption" and "Starship Troopers," showcasing his incredible talent.
Part 3: AI Tools Make All Realistic SpongeBob SquarePants Voice!
Voice generator tools powered by AI technology offer a wide range of possibilities beyond just Mr. Krabs' voice. You can create realistic voices for other characters from the SpongeBob SquarePants series, including SpongeBob, Patrick Star, Squidward, and more.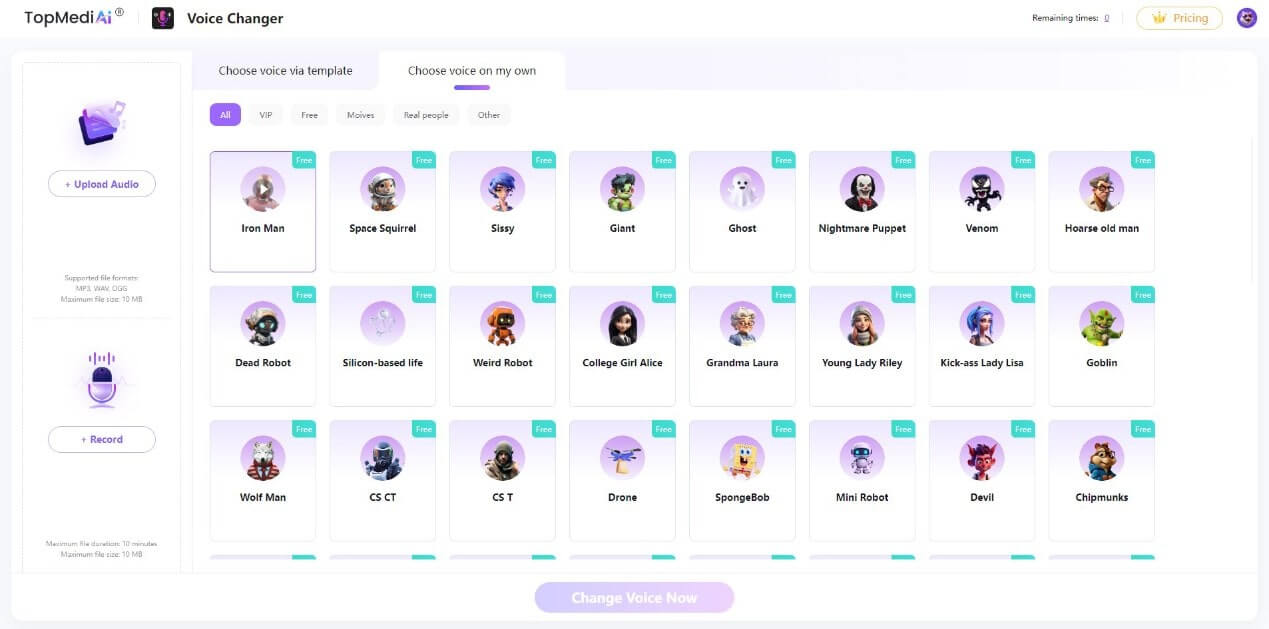 TopMediai also provides a Free Online Voice Changer that allows you to modify your voice to match these characters, making your voiceovers even more authentic.
Part 4: FAQs about Mr.Krabs Voice AI
1 How did Mr. Krabs die?
In SpongeBob SquarePants trial, Mr. Krabs found dead in restaurant. Throat slit by spatula. Greasy floor had footprints, including SpongeBob's. No break-in signs. Cash register empty. Open safe, missing Krabby Patty recipe. Healing claw cut unrelated.
2 Is Mr. Krabs a bad guy?
In the animated series SpongeBob SquarePants, Mr. Krabs is portrayed as a complex character rather than a straightforward "bad guy." While he is often depicted as greedy and obsessed with money, he also displays moments of kindness and care for his employees, especially SpongeBob.
3 Can TopMediai voice generator restore 100% of Mr. Krabs' voice?
95%, You can make the voice 100% similar to original by adjusting the speed of speech, pitch and other factors.
Conclusion Creating your own Mr. Krabs voiceovers and other SpongeBob SquarePants characters using a voice generator is an exciting and innovative way to express your creativity. Explore the possibilities offered by tools like TopMediai Voice Generator Text to Speech and Free Online Voice Changer to bring your voiceovers to life.
Get ready to dive into the world of Mr. Krabs and unleash your imagination lol!