For enthusiasts of the globally acclaimed anime series My Hero Academia, the dream of harnessing the voices of their cherished characters has now become a tangible reality. Be it for the sheer fun of it, bringing your cosplay to life, or creating innovative content, My Hero Academia AI voices have opened a realm of possibilities.

In the forthcoming sections, we will delve into the realm of Deku AI voice creation, using voice generators and state-of-the-art text-to-speech technology.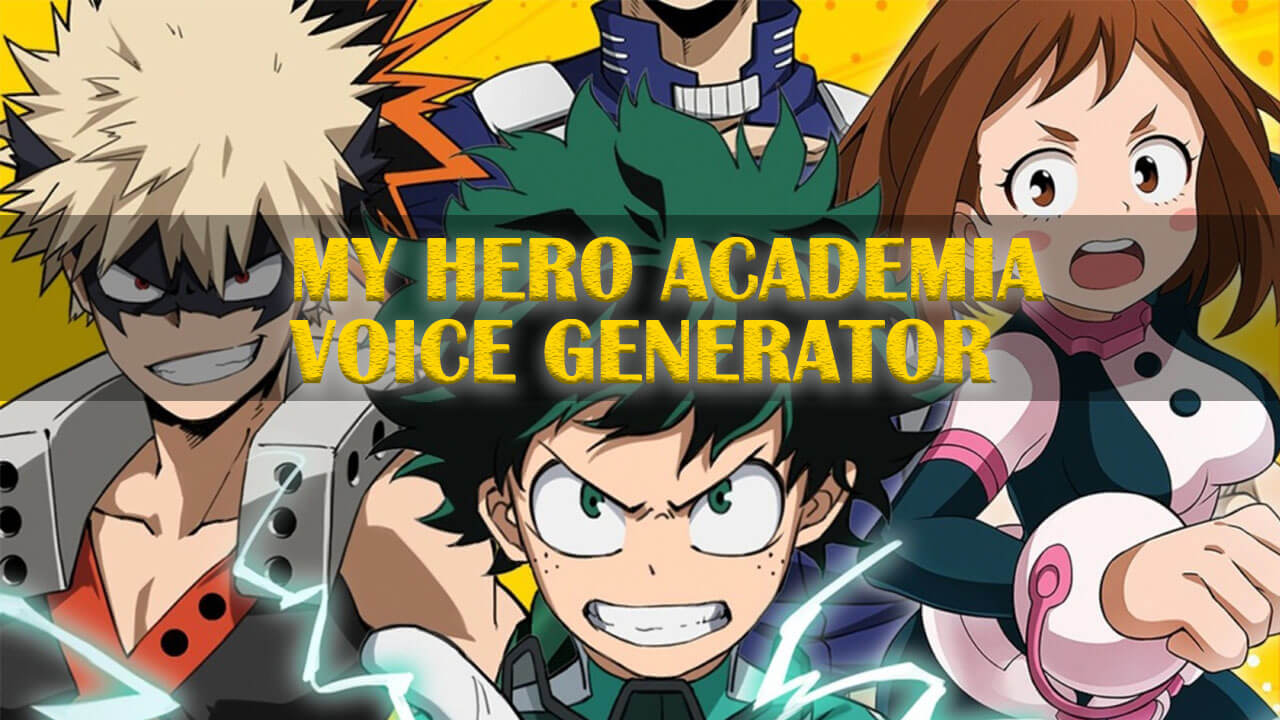 Part 1: What is My Hero Academia?
My Hero Academia, also known as Boku no Hero Academia, created by Kohei Horikoshi, is a Japanese superhero manga and anime series that has captured the hearts of millions worldwide. The story is set in a world where superpowers, known as "Quirks," have become the norm.
It follows the journey of Izuku Midoriya(Deku), a young boy with no powers who aspires to become a hero. With its compelling storyline, memorable characters, and thrilling action, My Hero Academia has gained a massive following.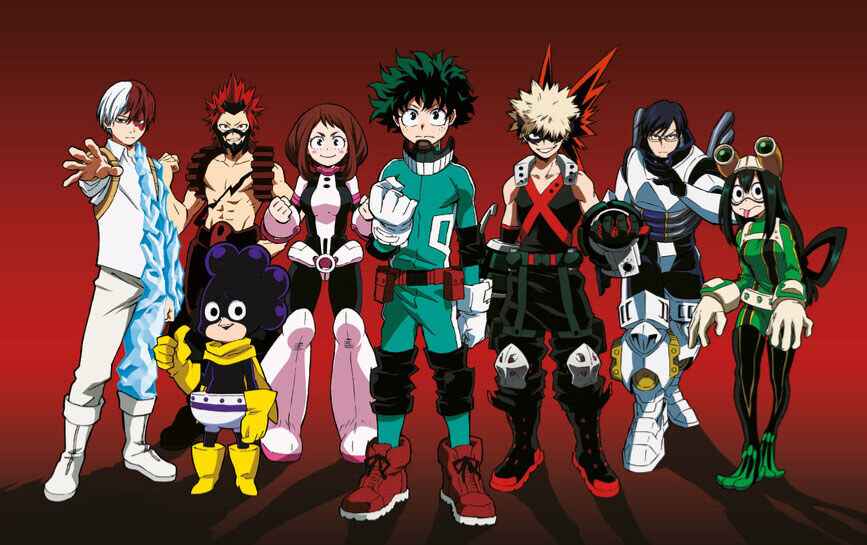 Part 2: Main Characters of My Hero Academia and Voice Actor(Eng/Jp):
To better understand the voices you'll be generating, let's explore the main My Hero Academia characters and their respective voice actors.
Please note that these voice actors pertain to the English and Japanese versions of the anime series [Visit TopMediai to Explore All My Hero Academia Voices!!]:
1. Izuku Midoriya(Deku)(Justin Briner/Daiki Yamashita)
2. Katsuki Bakugo(Clifford Chapin/Nobuhiko Okamoto)
3. Ochaco Uraraka(Luci Christian/Ayane Sakura)
4. Shoto Todoroki(David Matranga/Yuki Kaji)
5. All Might(Christopher Sabat/Kenta Miyake)
6. Tenya Iida(J. Michael Tatum/Kaito Ishikawa)
7. Tsuyu Asui(Monica Rial/Aoi Yuki)
8. Eijiro Kirishima(Justin Cook/Toshiki Masuda)
9. Momo Yaoyorozu(Colleen Clinkenbeard/Marina Inoue)
10. Denki Kaminari(Kyle Phillips/Tasuku Hatanaka)
Part 3: How to Generate My Hero Academia Characters Voice?
Discover TopMediai Text to Speech, an innovative AI tool that brings cutting-edge technology to the world of text-to-speech. With a wide selection of distinct and realistic voices, including the highly sought-after Deku AI Voice, Bakugo AI Voice and more. TopMediai empowers individuals to create stunning voiceovers for their projects in mere moments. Best of all, it offers a free trial so you can test it out before committing.
Whether you're a content creator, marketer, or advertiser, TopMediai is your ultimate solution for infusing professional and captivating elements into your audio content with ease.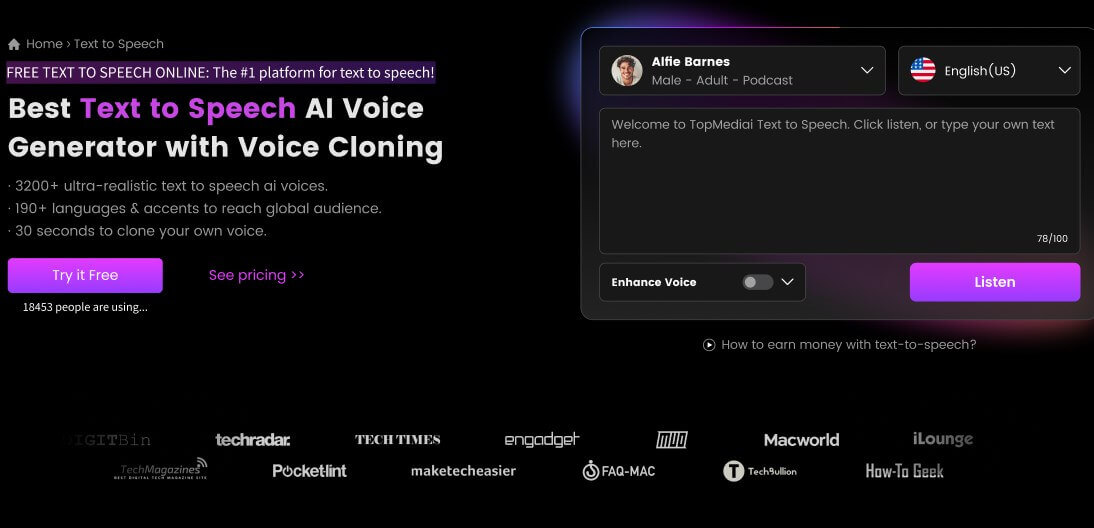 How to generate Deku, Mha, Bakugo or other characters' voice:
Step 1: Go to the TopMediai Text to Speech.
Step 2: Upload or copy-paste the text that you want to convert into speech.
Step 3: Choose Anyone Hero Ai Voice in the My Hero Academia type .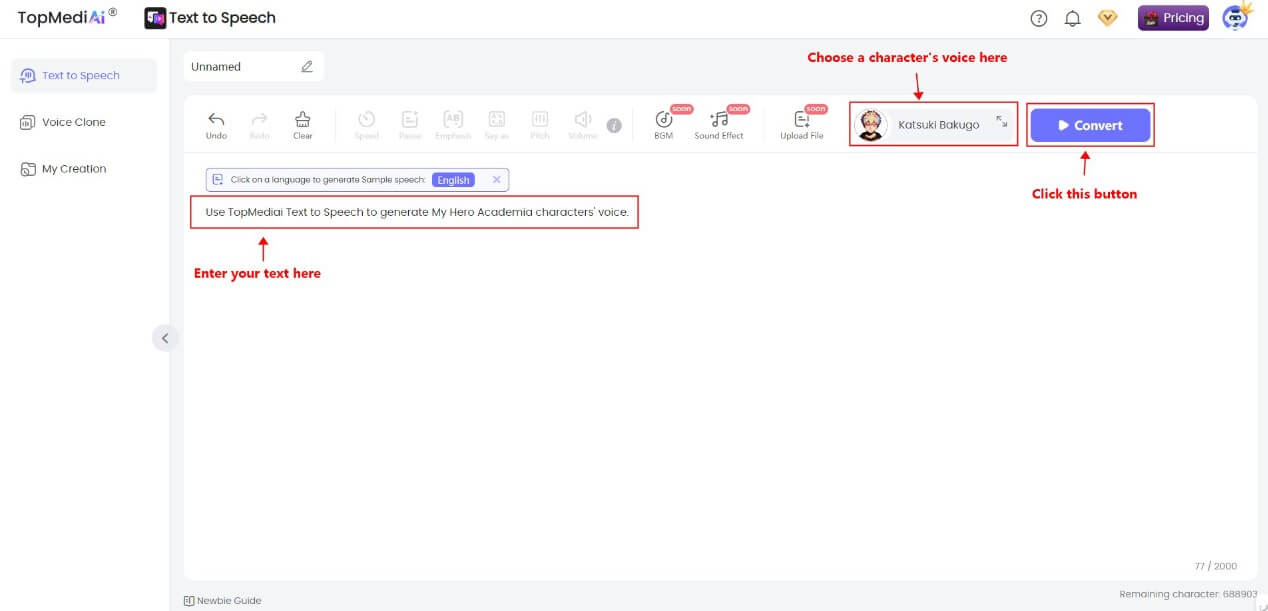 Step 4: Choose the language, voice, and other settings that you prefer.
Step 5: Download the final speech output as an audio file.
Explore a vast collection of strong over 3200 voices, including the exclusive My Hero Academia text-to-speech voice.
Easily create custom voiceovers for a global audience with support for over 70 languages.
Customize voice parameters to perfection by adjusting pitch, speed, and emphasis according to your preferences.
Enjoy affordable pricing plans designed to cater to individuals and businesses of all sizes.
Experience fast turnaround times, enabling you to create and download your voiceovers in no time.
Access a wide range of other celebrity AI voices for an even more diverse and engaging experience.
Pros
Not require to download app.

No ads.

The platform is compatible with both PC and mobile devices.

High-quality Hero Characters AI voice to get.

Customizable speech speed and pitch.
TopMediai's Online Voice Changer is a fantastic tool that provides real-time voice modulation with user-friendly options. Whether you're a My Hero Academia fan looking to mimic your favorite character's voice or a content creator aiming to add unique voices to your videos, it offers a versatile and enjoyable experience.
It's web-based and compatible with various devices, making it accessible to a wide audience. While pricing may vary, TopMediai often offers free trials or limited versions, allowing users to explore its capabilities. So not try it now to sound like Deku, Bakugo, Mha or other characters!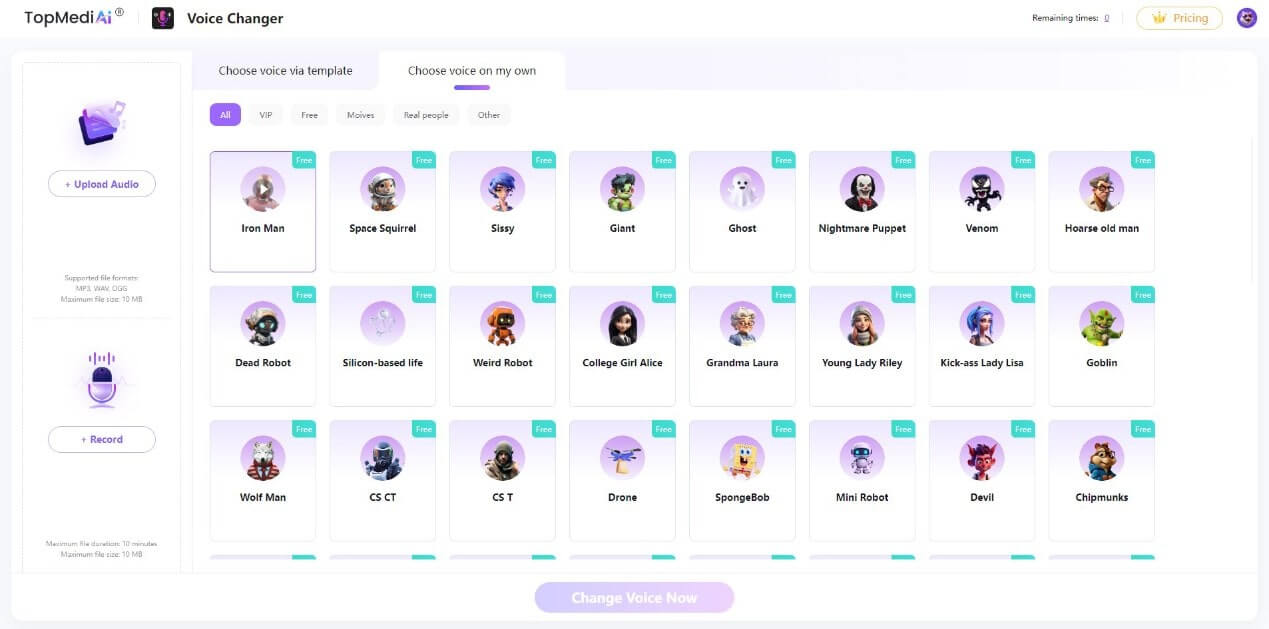 Part 4: FAQs about My Hero Academia AI Voice
1 How many seasons are there in My Hero Academia?
My Hero Academia has six seasons so far. The sixth season aired from October 1, 2022, to March 25, 2023. However, a seventh season has been announced.
2 Who is the real hero in My hero academia?
The show is popular because of its unique take on the superhero genre, relatable main character, focus on supporting characters and villains, straightforward concept, engaging pacing, animation, and soundtrack. In the show, the characters' motivations are often complicated, and sometimes villains like All For One have more positive mindsets than the heroes they face. However, true heroes are willing to risk everything to save people, and they do it out of a pure heart, not for money or fame.
Conclusion Creating My Hero Academia characters' voice like Deku ai voice, mha ai voice, bakugo ai voice and more can be a thrilling experience for fans of the series. Whether you're looking to entertain your friends, enhance your cosplay, or experiment with unique content creation, the options are there.

With the help of tools like TopMediai Text to Speech and online voice changers, you can channel your inner hero and let your favorite My Hero Academia characters speak for you.