With Dio Voice Generator, you can bring a touch of Dio Brando's iconic voice to your projects, presentations, or just have fun experimenting with AI-generated voices.

Are you a fan of Dio's iconic voice from JoJo's Bizarre Adventure? Imagine having the power to generate Dio's AI voice for your own creative projects. In this article, we'll introduce you to a free Dio voice generator that utilizes cutting-edge text-to-speech (TTS) voice models.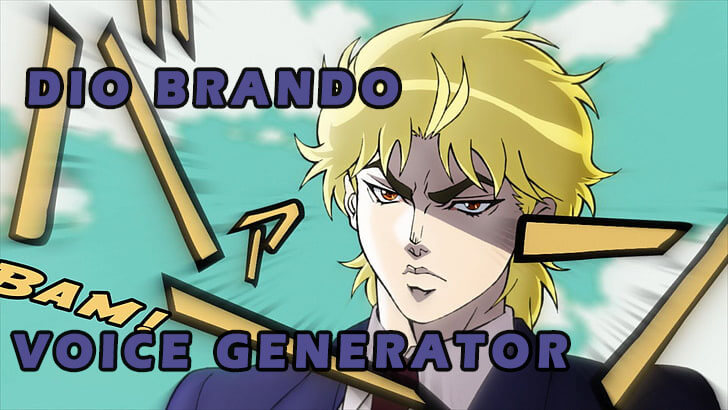 Part 1: Who is Dio?
For those not familiar with Dio Brando, he is a character from the popular manga and anime series, JoJo's Bizarre Adventure. Dio Brando, a pivotal character in "JoJo's Bizarre Adventure," is a malevolent antagonist introduced in the first story arc, "Phantom Blood." He becomes a vampire using a mysterious stone mask, wielding supernatural powers and harboring a relentless pursuit of power.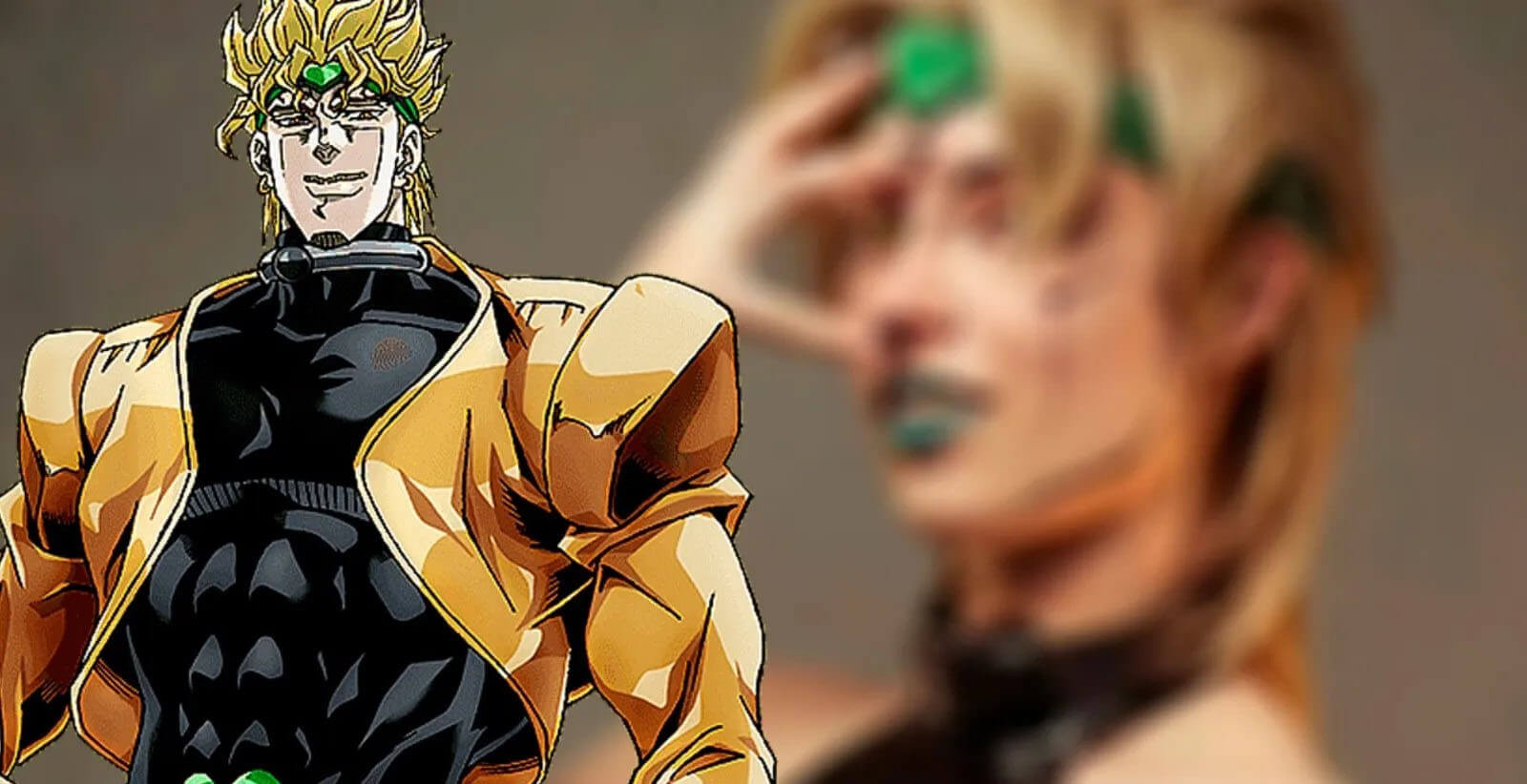 Dio's catchphrase, "Muda Muda Muda!" echoes through the series, solidifying his memorable presence. His actions have enduring consequences, making him a legendary and enduring villain in the world of anime and manga.
Part 2: [Tutorial]How to Generate Dio AI Voice - Dio voice model
TopMediai Dio text-to-speech service is at the forefront of voice generation technology, utilizing the immense capabilities of AI to transform written content into voices that are remarkably lifelike and natural-sounding.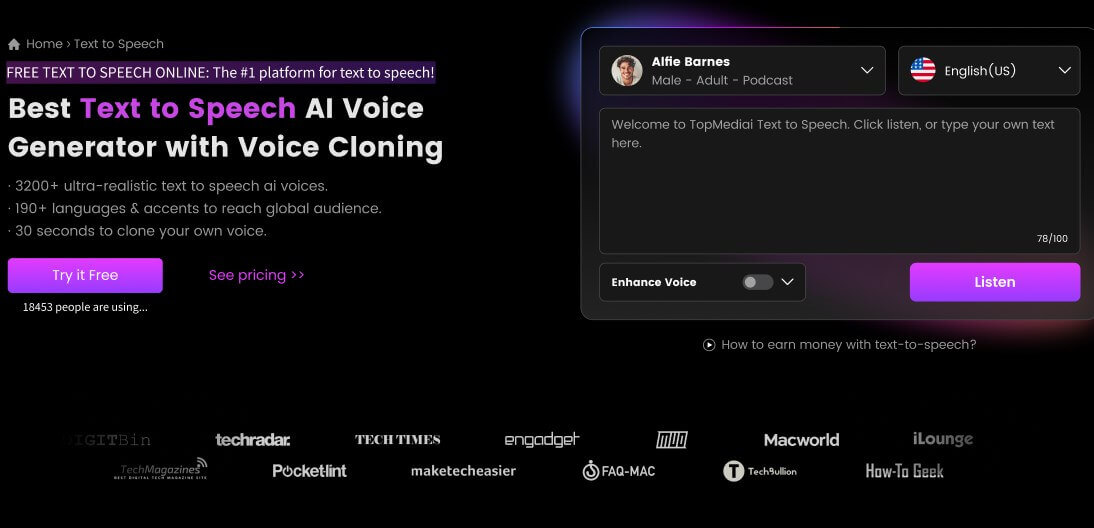 With a vast and top-notch library of high-quality voice (including JoJo other characters)alternatives and an intuitive user interface, whether it's for podcasts, audiobooks, or any other creative endeavor, TopMediai enables individuals to create immersive and engaging audio experiences that resonate with their audience and extend beyond traditional boundaries.
How to generate Dio ai voice?
Step 1: Go to the TopMediai Dio Voice Generator.
Step 2: Upload or copy-paste the text that you want to convert into speech.
Step 3: Choose the Dio AI Voice in "JoJo" Option.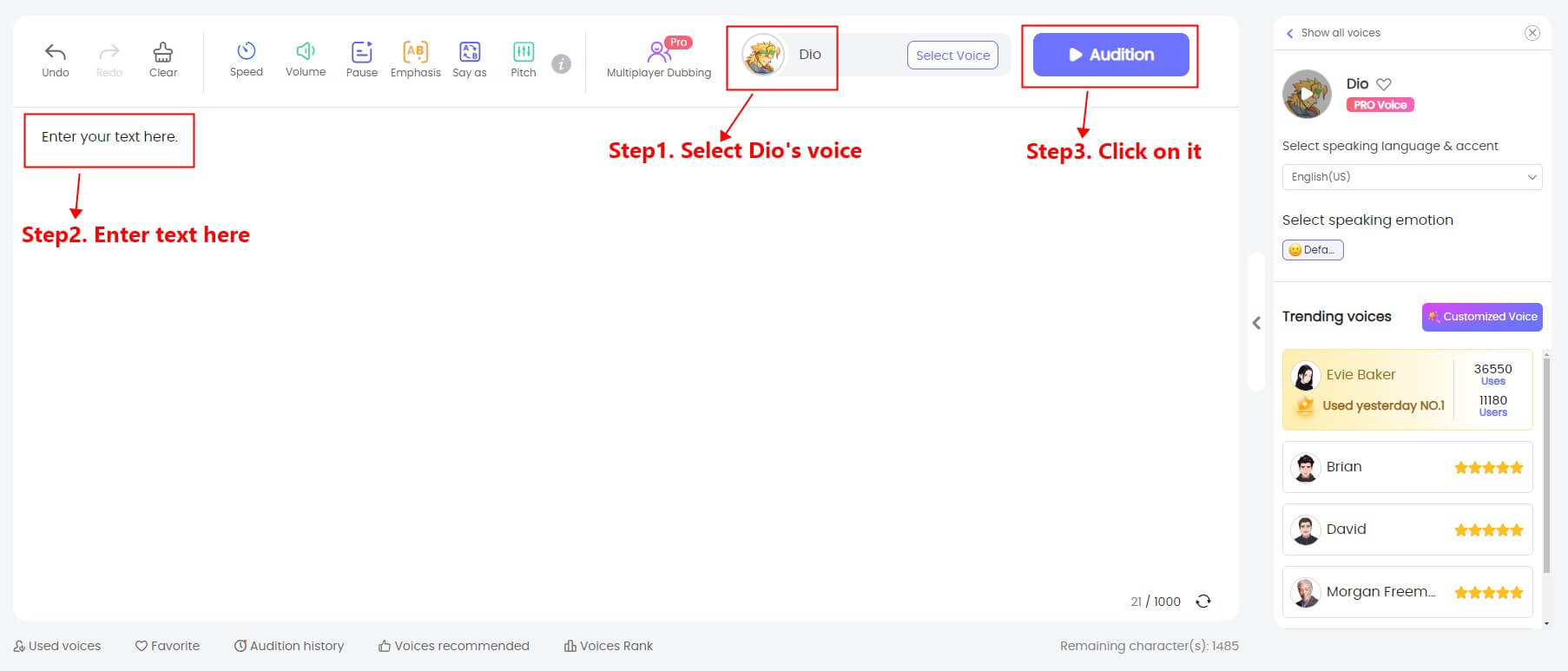 Step 4: Choose the language, voice, and other settings that you prefer then click "Convert".
Step 5: Download the final speech output as an audio file.
Extensive Voice Variety - Choose from over 3200+ voices in 70+ languages for a wide range of options.
Enhance Your Projects - Elevate your projects with professional voiceovers, perfect for content creators, businesses, and individuals.
Powered by AI - Our voice generation technology utilizes AI to deliver high-quality and realistic voice outputs.
Realistic Dio&JoJo AI Voice - Experience the engaging and entertaining Dio AI voice, designed to replicate animated characters' speaking style and tone.
Intuitive Interface - Easily navigate and utilize our user-friendly interface for efficient platform use.
| TopMediai Text to Speech Plans | Free | Basic | Premium [Most Popular] | Plus |
| --- | --- | --- | --- | --- |
| Pricing Per Day | $0 | $0.43 | $0.63 | $1.33 |
| Voices included | All 3200 voices | All 3200 voices | All 3200 voices | All 3200 voices |
| Languages supported | 70+ | 70+ | 70+ | 70+ |
| Characters Given | 5,000 | 250,000 | 500,000 | 1,000,000 |
| Licenses you can't miss | No voice cloning | 1 voice clone | 1 voice clone | 2 voice clones |
Part 3: Other Voice Changer to Change Dio AI Voice
Numerous apps and software cater to the desire of individuals to modify their voices during communication, broadcasting, and movie recording. One such tool is TopMediai Online Voice Changer, an excellent voice clone generator and changer.
It allows you to modify your voice to sound like Dio or any other character from JoJo's Bizarre Adventure.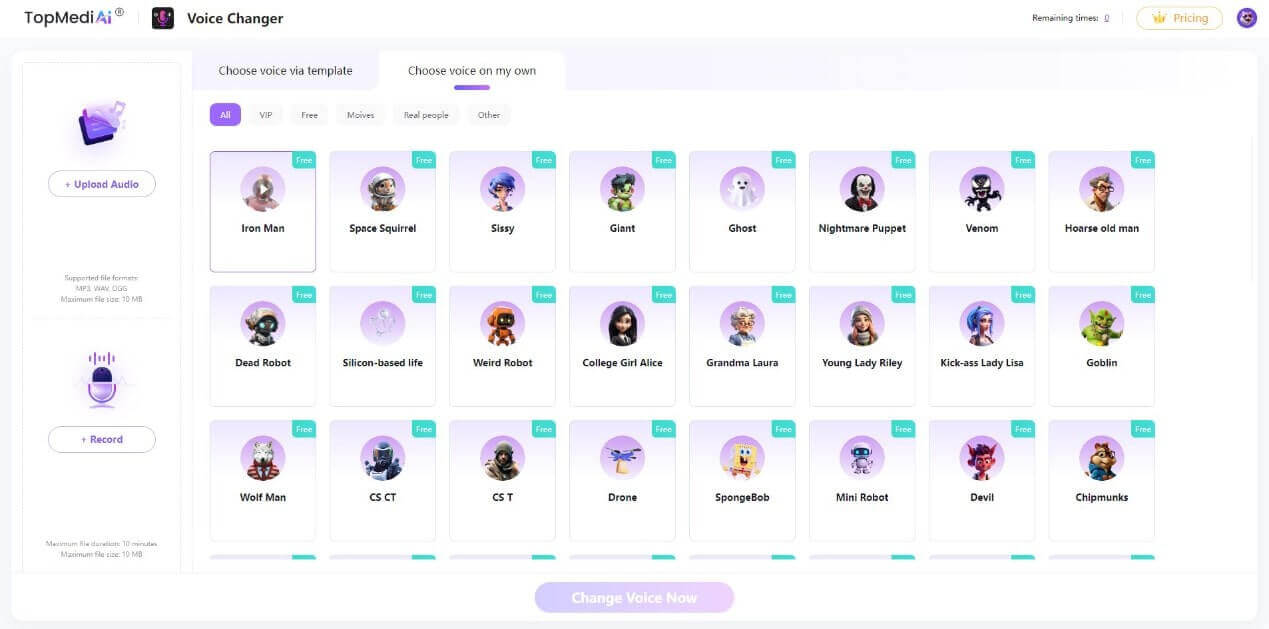 For optimal results in cloning someone's voice, high-quality audio input is required. Unlike expensive and inefficient alternatives, this voice changer is freely accessible to all users.
How to Change Dio Voice?
Step 1. On opening the website, you will see two options on top; "Upload Audio", "Use Audio File," or "Generate speech from the text".
Step 2. If you want to opt for the "Use Microphone" option, you first have to enable the microphone, and your recording will begin.
Step 3. Record whatever you want and then click on "Stop Recording".
Step 4. Scroll below and click on the icon of the Dio you want to apply.
Step 5. You can customize your voice effects and then A popping window will start playing your recording in a changed voice.
Step 6. Now, click on the three dots option and select "Download".
Highlights
Topmediai is a versatile AI tool compatible with smartphones, laptops, and other devices.
Its user-friendly interface makes it easy to navigate and use.
Super Fast Changing.
The tool allows users to adjust the pitch of voice filters and customize the volume according to their preferences.
It is completely free to use, without any installation required.
Bonus: JoJo's Bizarre Adventure will have a Sequel?
On February 17, 2023, fans of JoJo's Bizarre Adventure will be delighted as Hirohiko Araki's highly anticipated ninth part, titled The JOJO Lands, will begin its serialization.

The March 2023 issue of Ultra Jump, published by Shueisha, will feature this exciting new chapter. The announcement was first unveiled in the 2022 WINTER edition of JOJO Magazine, and further confirmed in the January 2023 issue of Ultra Jump.
Part 5: FAQs about Dio AI voice
1 How can l make realistic Dio ai voice with TopMediai?
When utilizing the topmediai voice generator, modifying the pitch, speed, and emotional intensity of the voice can enhance its resemblance to Dio voice own. Additionally, by incorporating Dio's catchphrases or commonly used expressions while typing the text, a more authentic and realistic outcome can be achieved.
2 Can l Use Dio ai voice model on my cell phone?
Yes. TopMediai support both PC and Phone.
Conclusion Generating Dio ai voice with the Dio Voice Generator opens up exciting possibilities for content creators, storytellers, and JoJo enthusiasts alike. With TopMediai free dio voice generator and a touch of creativity, you can add the captivating voice of Dio to your projects, making them truly stand out.

So, give it a try, experiment with voice changes, and keep an eye out for what's next in the world of JoJo's Bizarre Adventure.