The lead character in Seth Macfarlane's well-known Family Guy is Peter Griffin. Every time Seth appears on a talk show or in an interview, he excels at speaking in his voice in Peter's when requested to do so because it is pretty entertaining.

Thus, this article focuses today on using some of the most popular internet tools to create Peter Griffin text to speech, after which we'll provide the most incredible Peter Griffin voice generator.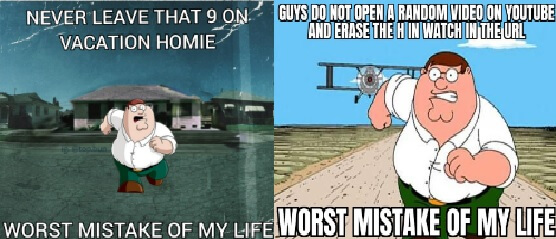 I Have An Idea So Smart That My Head Would Explode If I Even Began To Know What I Was Talking About.
Part 1: Who is Peter Griffin and Family Guys?
The Family Guy, a popular comedy series about Peter Griffin's everyday antics with his family and close companions, is centered around him. He performs these absurd actions to demonstrate his masculinity, primarily because he is obese and has a protruding belly.

His breakdown likely stems from his fear that his spouse Lois would start dating other, stronger men.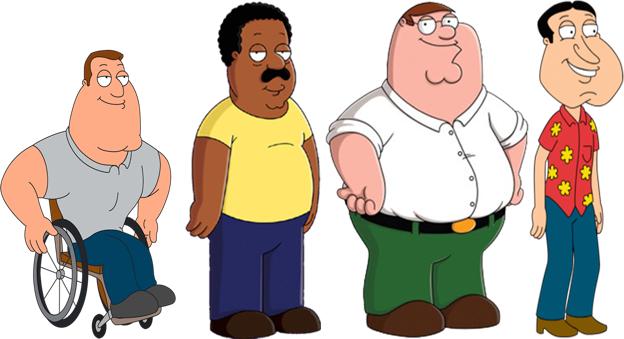 Seth MacFarlane, a fantastic voice actor who not only provides the voices for other characters in the show like Quagmire, Brian, Stewie, etc., conceived and played Peter.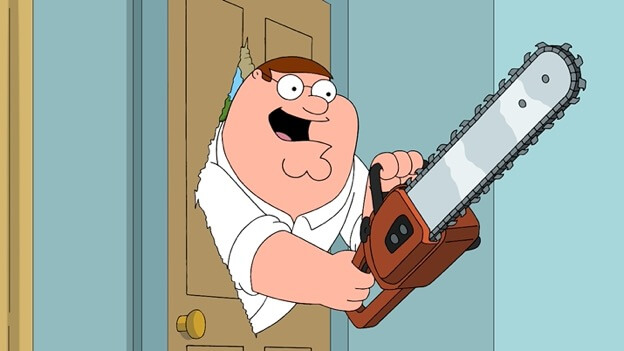 Due to Peter Griffin's antics, which touch on each and every topic from morality to legislation to nonsense to produce an explosion of good amusement, the Family Guy show has become renowned for its humor, albeit dark humor.
Part 2: Peter Griffin Voice Actor
The voice actor who portrays the character of Peter Griffin in the animated television series "Family Guy" is named Seth MacFarlane. Seth MacFarlane is also the creator, writer, and producer of "Family Guy," as well as the voice actor for several other characters on the show, including Stewie, Brian, and Quagmire.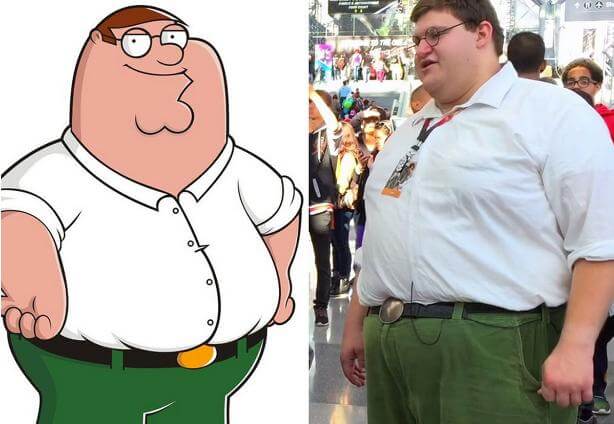 Don't miss out! No need to hire a voice actor. Try out the Peter Griffin ai voice generator for free below.

Text to Speech
3 Free Trials of The Selected Voice Below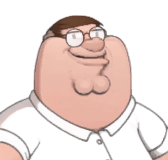 Peter Griffin
Conversion failed.
Please check out if there are special characters or multiple languages in your text.
Part 3: Peter Griffin Text to Speech Voice Generator
Want to become as popular as Peter Griffin or even his look-alike? Use these 3 best Peter Griffin text to speech online tools to make your voice sound like him and go viral.
Have you ever desired you could record a voice message for your family members or speak the most famous Peter Griffin quotes in your posts and content? Then go to TopMediai, a web-based Peter Griffin voice generator.

Let's look at its qualities to see why it works so well and is one of the Peter Griffin voice generators options.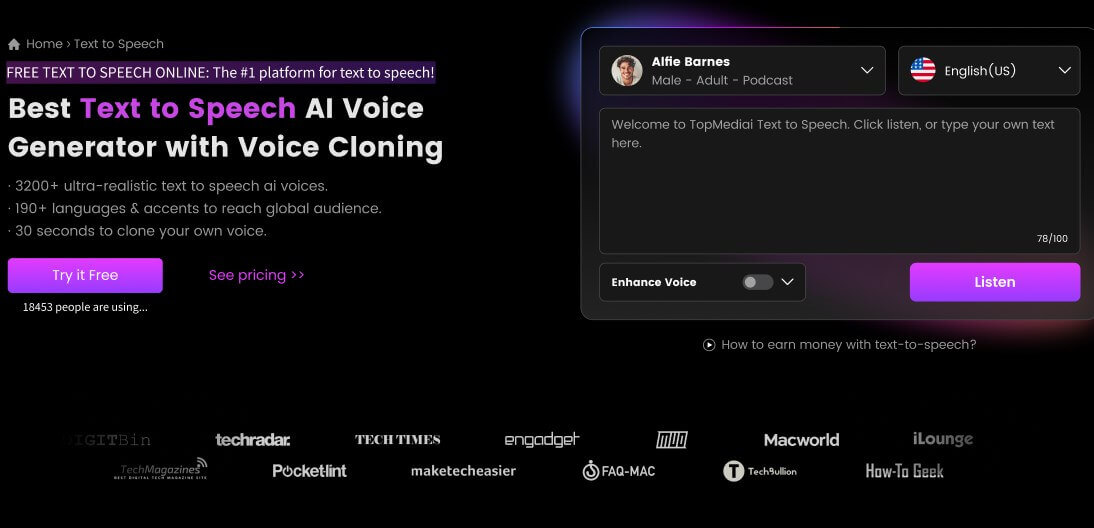 Some of the best Peter Griffin text to speech voiceovers from their enormous voice library and extraordinary repository of 3,200 voices.
Famous voices include the voices of Obama, cartoon character, Optimus Prime, and others who sound like native speakers.
Save your Peter Griffin text to speech recordings in well-known audio formats.
The web-based tool runs incredibly well and immediately produces the output audio in the desired format.
70+ global languages supported, such as British English.
How to Use Peter Griffin Voice Generator:
Step 1: To begin, go to the TopMediai text to speech platform.
Step 2: Type your word or phrase into the text box next to the TTS section of the website.
Step 3: By choosing the Peter Griffin voice generator voiceover filter from the list and tapping convert, you can change the speech, tone, speed, or result format before completing your request.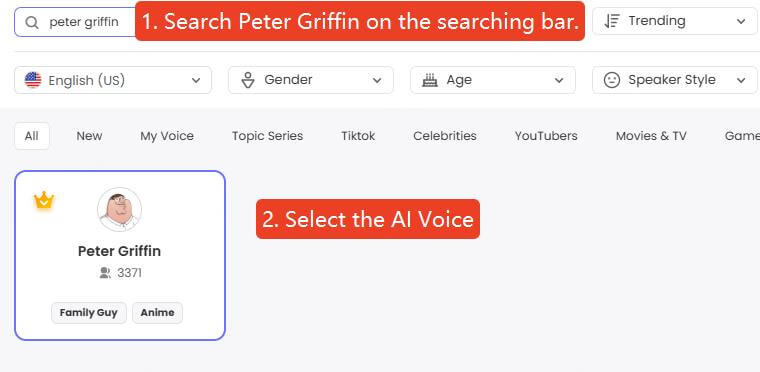 Step 4: Save to your system or device the copy of the updated file.
Step 5: Check out their "How to" page for other creative ways to use the Peter Griffin text to speech method.
Pros
Extensive library of voiceovers and languages.

An online web-based tool that doesn't require an. All the processing is done online.

Easy UI and clean UX make the conversion process a breeze.
Cons
You need an internet connection, which comes with an online-only tool.
Experience the power of accessibility and entertainment with Joe Swanson Text to Speech! Transform your written content into an engaging auditory experience with the iconic voice of Joe Swanson from Family Guy.

With his distinctive voice and witty remarks, Joe Swanson brings your words to life, captivating your audience and leaving a lasting impression. Get ready to amuse, engage, and entertain with Joe Swanson Text to Speech!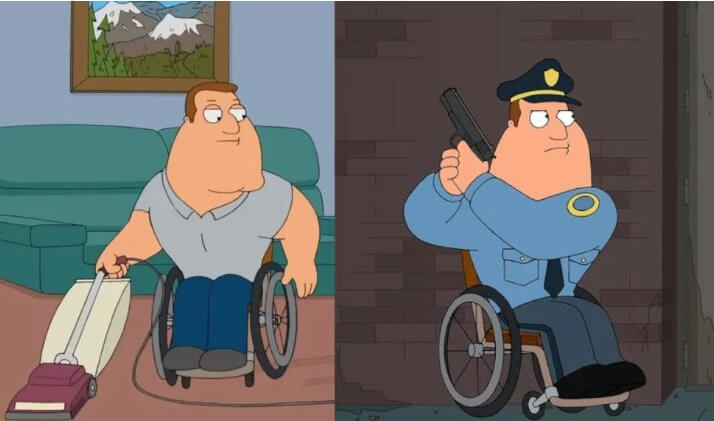 How to Generate Joe Swanson Text to Speech:
Step 1: As the steps before, go to the TopMediai online platform.
Step 2: Type your word or phrase into the text box.
Step 3: Choose Family Guy and then Jow Swanson.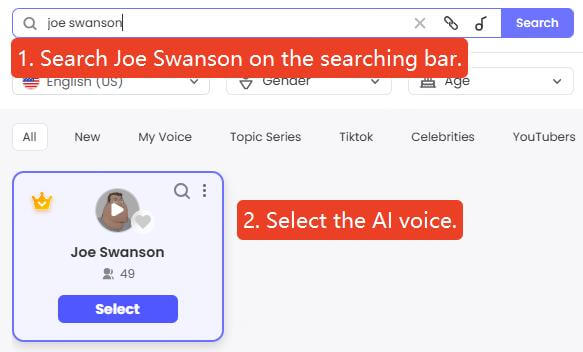 Step 4: Click on Convert and then download if satisfied.
"One day, a rain will come and wash all the scum off the streets."
With the free, community-supported online platform FakeYou, you can rapidly create the best Peter Griffin voice generator voiceover with just a few clicks. It will be quick to produce the following popular meme using Peter Griffin as the main star because there are so many appealing and well-known voices accessible.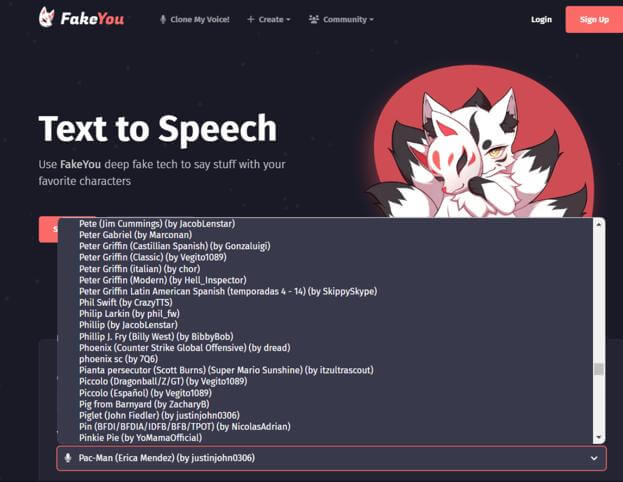 Using their cutting-edge AI technology, professionals optimize every dialect the tool can generate, resulting in remarkably lifelike Peter Griffin text to speech filter and voiceover.
Simple to use with good results.
FakeYou offers TTS functionality in addition to voiceover video-making tools.
With an excellent Android app, you can talk like your preferred film or TV superstar using the web-based Celebrity Voice Changer, especially the Peter Griffin voice generator purpose.

You can request the speech filters and audio effects of your favorite movie celebrities using this voice converter in addition to the intriguing voice effects it offers.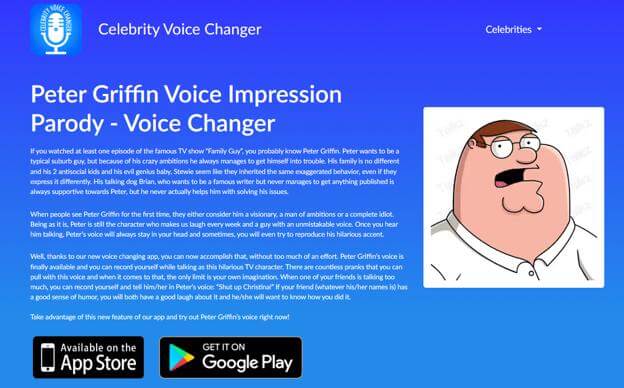 It is still worthwhile to use Celebrity Voice Changer even though it only covers English. You must buy in-app items to use all of the functions.
The Celebrity Voice Changer has vocal alterations that are automatic.
There are numerous speech filters available for you to pick from.
The voice changer features amazing celebrity impersonations.
Part 4: Bonus Tops: Where to Get Peter Griffin AI Voice?
In this section, we have an additional Peter Griffin text to speech tool that isn't just a TTS but has numerous soundboards you can clip together to make an entire conversation in your digital content.
The bonus Peter Griffin voice generator on the internet is also a resource for hundreds of pre-made soundboards. You can choose from a variety of Peter Griffin text to speech options on 101soundboards by listening to them first.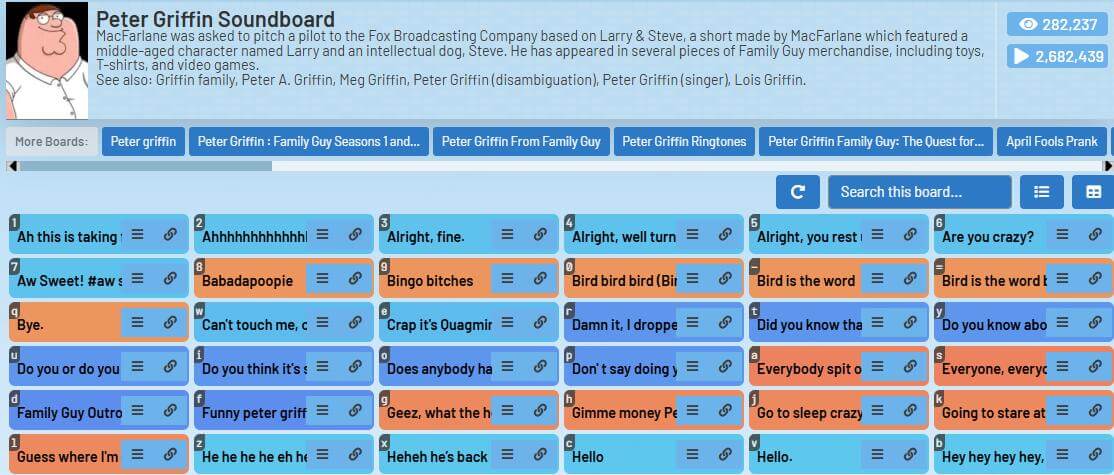 This web application already has 5,803 sounds accessible for users to pick from.
It uses technology from various online generators so you can locate the voice that the tool produced the finest.
The website can be downloaded and installed using Chrome Browser on a mobile or desktop computer.
The website can be downloaded and installed using Chrome Browser on a mobile or desktop computer.
Part 5: FAQs about Peter Griffin Text to Speech
1 Which is the Best Peter Griffin Text to Speech Tool?
Because of all the capabilities and dialects it supports, TopMediai is undoubtedly the most powerful Peter Griffin text to speech generator. Also, they offer more than 3,000 voiceovers that you can use for any necessary content.
Finally, using a web-based online application increases the speed and effectiveness tenfold without taxing your computer.
2 Is there any Peter Griffin Voice Generator Online for Free?
All the online Peter Griffin voice generator tools mentioned in this article, like TopMediai, FakeYou, 101soundboards, etc., are free to use online. If you want to unlock the full capabilities of these tools, you must pay a nominal fee.
3 How to Generate Peter Griffin Text to Speech Ai Voices?
We have mentioned the steps for TopMediai in detail as you only need to write text, and it will generate Peter Griffin text to speech voiceover. You can follow the steps for others the same way.
Conclusion In conclusion, the Peter Griffin text to speech tool is a popular online tool that converts written text into audio using a voice that sounds like Peter Griffin from the TV show "Family Guy". For those looking for a fun and recognizable voice for their audio projects, the Peter Griffin voice generator may be worth exploring.

Now have a free try with TopMediai text to speech to generate realistic Peter Griffin ai voice.