Discord is one of the most favorite apps for professionals in the online field, especially for gamers. A lot of people use Discord for this purpose, and some of them change their voices on Discord due to many reasons like privacy and security. Now, the question is how they change their voice and what is the best voice changer app for Discord. Read this article thoroughly because it is a complete guide on the best apps for Discord on iPhone and Android, their features, pros & cons, and pricing plans.
Part 1: Best Voice Changer App for Discord on iPhone
1.1 Voice Changer - Audio Effects
Voice Changer Audio effects is a mobile-based application for iPhone to change voice for Discord. It provides an easy way of recording voice and applying various cool voice effects like a robot, alien, zombie, and many more in an effortless way.
Just record your voice, apply the voice effect and enjoy the changed voice immediately.
Besides Discord, you can also share your changed voice with your friends using Voice Changer Audio Effects. This application is available on the Apple Store and is very easy to download on your iPhone.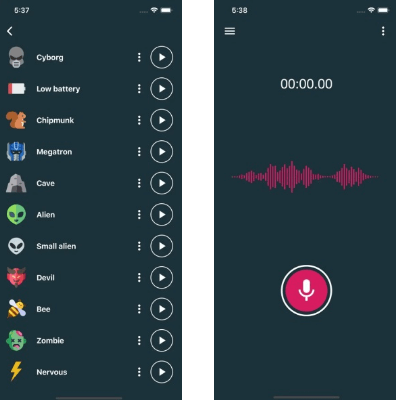 Key Features
More than 25 different voice effects。
Saves changed voice.
Shares recordings on various platforms.
Simple user interface.
Cool animations.
Pros
Simple interface.

Best for beginners.

Light application.

Free to use and Easy to download.
Cons
No further voice editing features.

Paid built-in features.
Price: The application is free to download and use. However, there are built-in premium purchases that are optional.
1.2 Voice Changer Plus
Voice changer Plus is also a mobile-based voice-changing application for iPhones and iPads. This application allows easy recording and changing the original voice into various sounds in a few simple steps.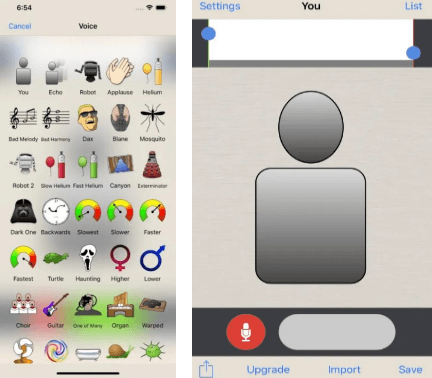 Use Voice Changer Plus to surprise your friends and family. Not only for talking purposes, but you can also sing with changed voices. This software has a very simple user interface which eradicates the application of any technical information.
Key Features
55 different built-in voice effects.
Various background music.
Trim controller.
Open saved recordings for further editing.
Free to save and share recordings.
Easy download and installation process.
Pros
Simple processing.

Intuitive user interface.

Voiceover support.

Light and fast application.
Cons
The free version has ads.

Need subscription for advanced features.
Price: The Voice Changer Plus is a free application available in the Apple Store. Anyone can download and use it for free. For advanced features, you can go with built-in purchases.
1.3 Voice Changer Prank Call
As its name shows, this application is best to have fun with friends and family by changing voice on calls. Voice Changer Prank Call is very keenly designed to convert voice on audio and video tracks. Due to its voice speed, voice effect, and voice setting features, this app is considered a versatile application for Discord users.
You can use its feature to use any changed voice recording as your mobile ringtone. Moreover, the software allows users to share their edited audio or video recordings on different social media platforms directly through the Share button.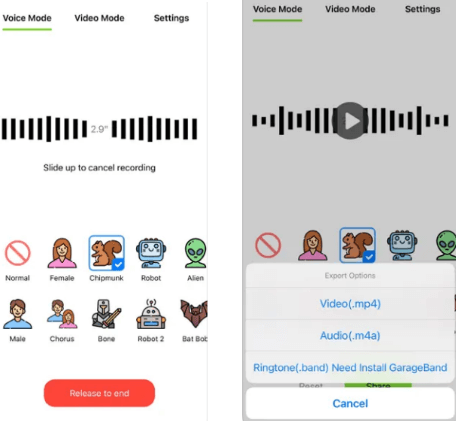 Key Features
Multiple sound effects including a robot, alien, slower, faster, and many more.
Hold to record and release to end system.
Release output in video or audio formats.
HD results in video outputs.
Auto speed up the video playback.
Apply effects on both videos and audio tracks.
Pros
Fast working potential.

Simple user-interface.

Free version available.

No hurdles in downloading and installation process.

Automatic subscription after first time purchasing.
Cons
Need paid subscription for ultra-modern features.

Need to be alert before the subscription expiry date.
Price: Voice Changer Prank Call is free to download, install, and use. Optional In-app purchases are available. After subscribing once, this app will be automatically subscribed for the next time.
Part 2: Best Voice Changer App for Discord on Android
2.1 Voice Changer with Effects
Voice Changer with Effects is one of the most commonly used and pure voice-changing applications for Android users. This mobile application offers almost 50 different types of voice effects with a very intuitive and simple user interface.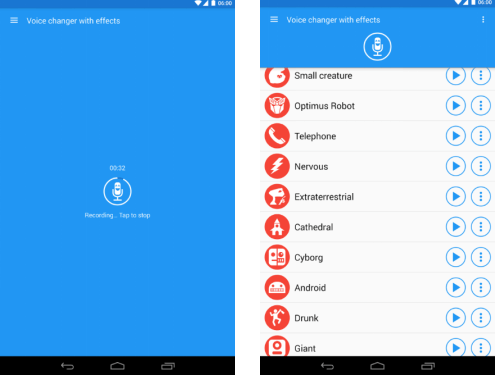 Without any technical knowledge, you can simply record your voice through the record button and apply the voice effect which you want. After these two simple steps, you can easily share your changed voice through Discord or on any other social media platform.
Key Features
Straightforward interface.
Various voice-changing effects.
Simple to share edited voice.
Require less space on mobile storage.
Apply voice effects to pre-recorded voice recordings.
Can set changed voice recording as ringtone/ caller tune.
Pros
Plain and manageable user interface.

Fast working speed.

Contains less storage space.

Best for beginners.

Change voice in seconds.

Make music or effect with a built-in piano.
Cons
Drops a little bit of audio quality.

Voice changing on video is not available.
Price: This application is totally free to download, install, and use. It is very easy to avail on Google Play.
2.2 RoboVox Voice Changer
RoboVox Voice Changer is another mobile-based voice-changing application containing a huge gallery of voice-changing effects. RoboVox transforms the original sound into funny, scary, robotic, evil, musical, and other notes.
RoboVox Voice Changer can modify your voice while using headphones which makes it suitable for Discord use. It has a completely clean and comprehensive user interface that makes it easy to find different voice effects and other editing options for users.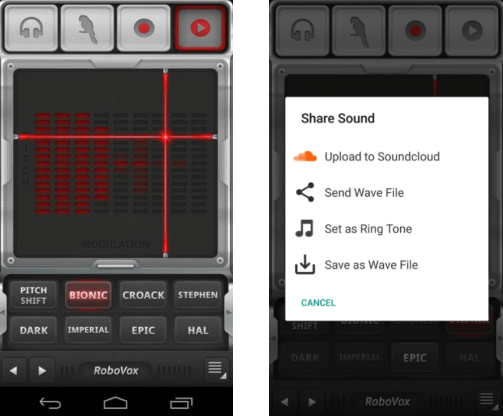 Key Features
X-Y control field.
Pitch and modulation customization.
Real-time, parrot, and recording modules.
Save and share outputs as WAV files using email.
Save your modified voice as a ringtone.
Real-time FFT spectral analysis available.
32 nonidentical voice-changing.
Pros
Safe to use.

Easy and simple operating steps.

Multiple features available.

Can change audio file output as WAV file.

Satisfactory vocoder technology is available.

Manageable user-interface .
Price: $1.49 for downloading and using this application.
2.3 Best Voice Changer
Best Voice Changer is a smart voice-changing software that records and modifies the voice into totally unrecognizable sounds. You can easily record your voice and transform it into different voices. Other than sound effects, you can also apply background music like a battle, in-plane, and many more.
All Android users can use Best Voice Changer to amuse their family and friends by changing their voice on Discord. You will not need to use any external microphone for it. Your mobile's microphone will be enough to record your voice to change the sound.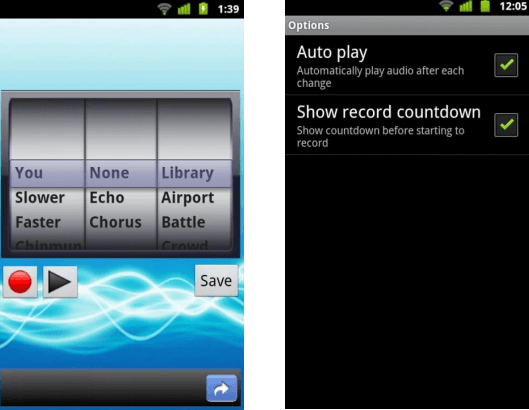 Key Features
Multiple voices modifying built-in effects.
Different built-in background music.
Instant play the modified recording.
An immediate sharing feature is available.
Change speech speed.
Save recordings as WAV files.
Maintains stats like date of recording, sending date, and recording time.
Pros
Safe and simple application.

Easily available on the Play Store.

Easy to use.

Best for beginners.
Cons
Contains ads.

Cannot change voice during a phone call.
Price: Best Voice Changer is available on the Play Store free of cost.
Part 3: TopMediai Voice Changer - Best Online Alternative to Change Voice without App
We have seen different voice-changing mobile applications for Android and iPhone. Now, let's have a look at the best online alternative to the Discord voice changer app.
TopMediai Voice Changer Online
TopMediai Voice Changer is an online tool that you can use to change your voice without installing the software on your device. This software/online tool is free to use with 100% safety and security.
It offers three different ways of uploading files for changing sounds. You can use your device's microphone or can upload the pre-recorded file from your device. Moreover, this online tool also offers the Speech from Text option according to your choice.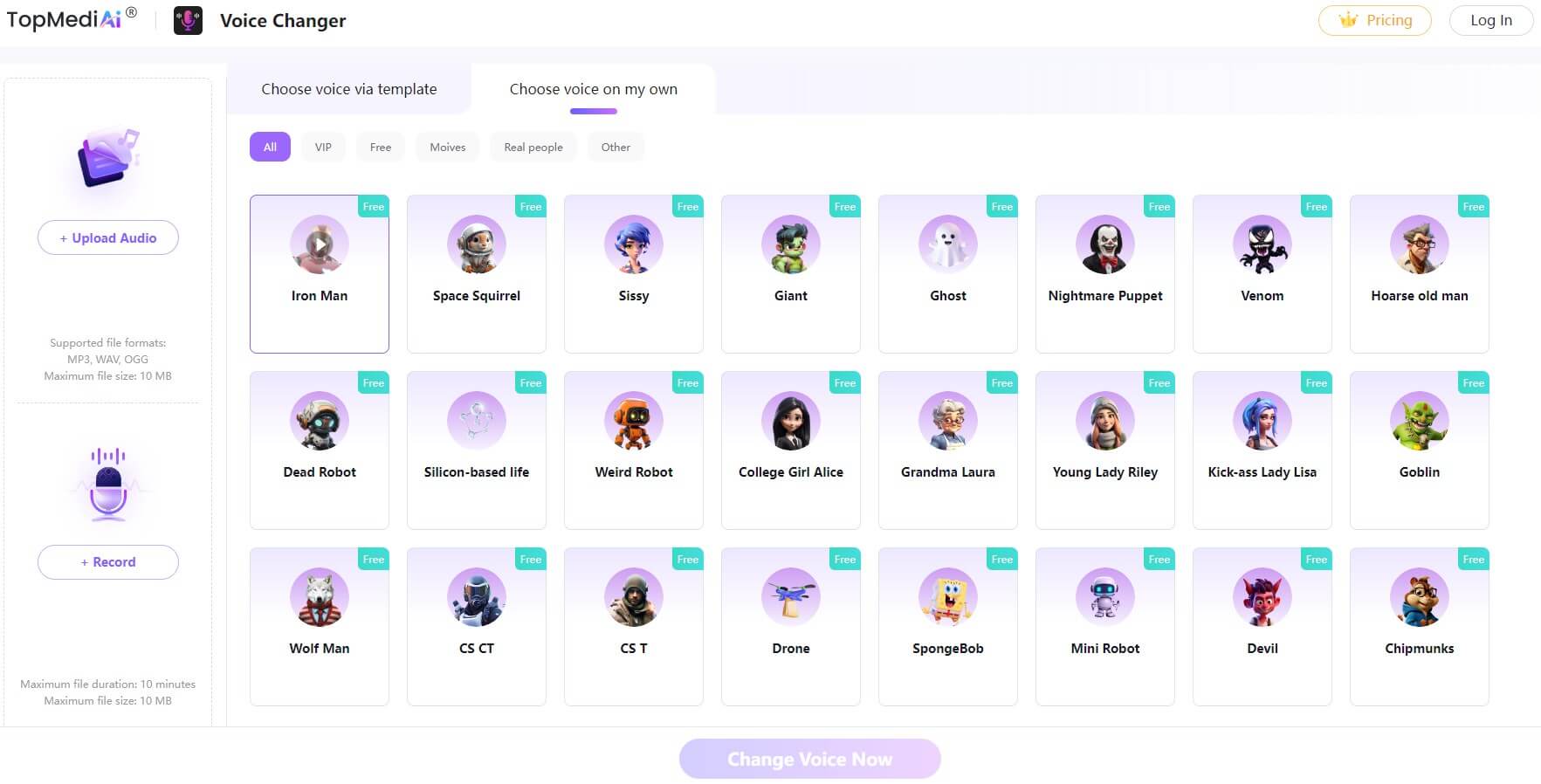 Key Features
Can generate speech from text.
Multiple voice-changing effects with different sounds.
Can generate a customizable sound effect.
Can record sound.
Can change pre-recorded sounds.
Pros
No installation required.

Free to use.

Simple steps to use.

3 different audio input methods.
Cons
Internet connection is a must for using it.
Price: It is an online tool, so it costs nothing (Free online tool).
Part 4: FAQs about Best Voice Changer App for Discord
1What is the Best Voice Changer for Discord?
There are multiple voice changer applications available on the internet. All of them can work, but the best ones are mentioned above in this article in detail. The applications like Voice Changer with Effects, Voice Changer Plus, RoboVox Voice Changer, and Best Voice Changer are considered the best for iPhone and Android users, respectively.
2Which App is Best for Voice Changer?
As mentioned above, the applications that are shared in this article are one of the best mobile applications which can help you to change your voice into different sounds on Discord.
3How Can I Change My Voice Online for Free?
To change your voice online, you can use TopMediai Voice Changer Online for free. This tool is not below the level of a professional tool. You can use all the built-in effects for free in order to immediately change your original voice into different sounds.
Final Words
Changing voice automatically while gaming or calling seems amazing but difficult at the same time. In this article, we have tried our best to cover all the best
voice changer apps for Discord
on iPhone and Android platforms.
We have shared their features, pros, and cons to give you a better understanding of all those applications. Moreover, if you don't want to install any application on your mobile, then you can use the
TopMediai Voice Changer Online
tool for free. It is an excellent online tool that can do the job without any hassle.