Impersonations or pranks with different voices can create priceless fun among friends and family. Children especially like to voice various cartoons, such as SpongeBob Squarepants, Mickey Mouse and so on. There are many SpongeBob voice altering programs, including SpongeBob voice changer that allow you to transform yourself into SpongeBob vividly.

In this article, we will discuss 3 best SpongeBob voice changer online. Let's get started now.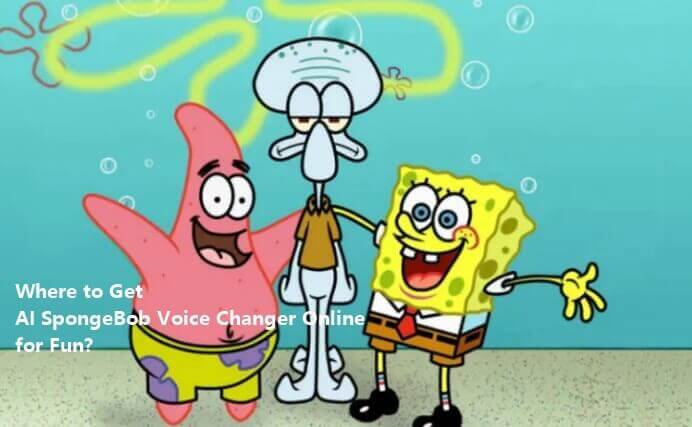 Part 1: How is SpongeBob Voice?
SpongeBob's SquarePants voice, brought by the actor Tom Kenny, has received accolades for its likeability and entertaining nature. The youthful tone and high-pitched SpongeBob voice is an important aspect that aligns perfectly with his positive and innocent outlook.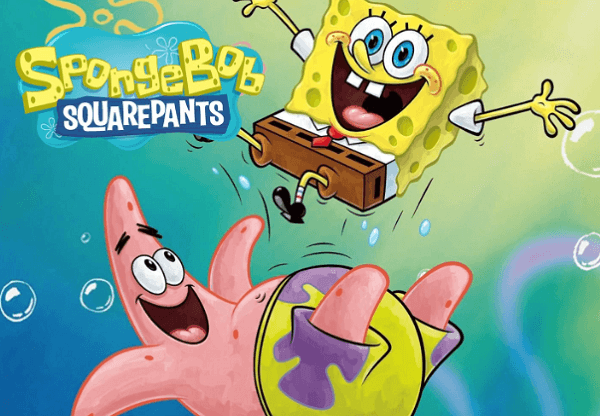 Furthermore, AI SpongeBob voice changer can boast a diverse range of emotions, enabling them to express everything from exhilaration and happiness to annoyance and sadness through his voice.
The ability to express complex emotions through a seemingly simple voice is a witness to Tom Kenny's talent as a voice actor and the powers of the show's creator's writing.
Part 2: Where to Get AI SpongeBob Voice Changer Online?
If you want to generate a voice as a SpongeBob character, you need help finding the right SpongeBob. There are several websites and platforms where you can find an AI SpongeBob voice changer online, and here are the top 3 best voice generators for you.
TopMediai voice changer is an online tool that allows users to modify their voices and voice like SpongeBob and any other character. Along with the TopMediai, users can change the speed, pitch and other vocal parameters to make the sound different from their original voice.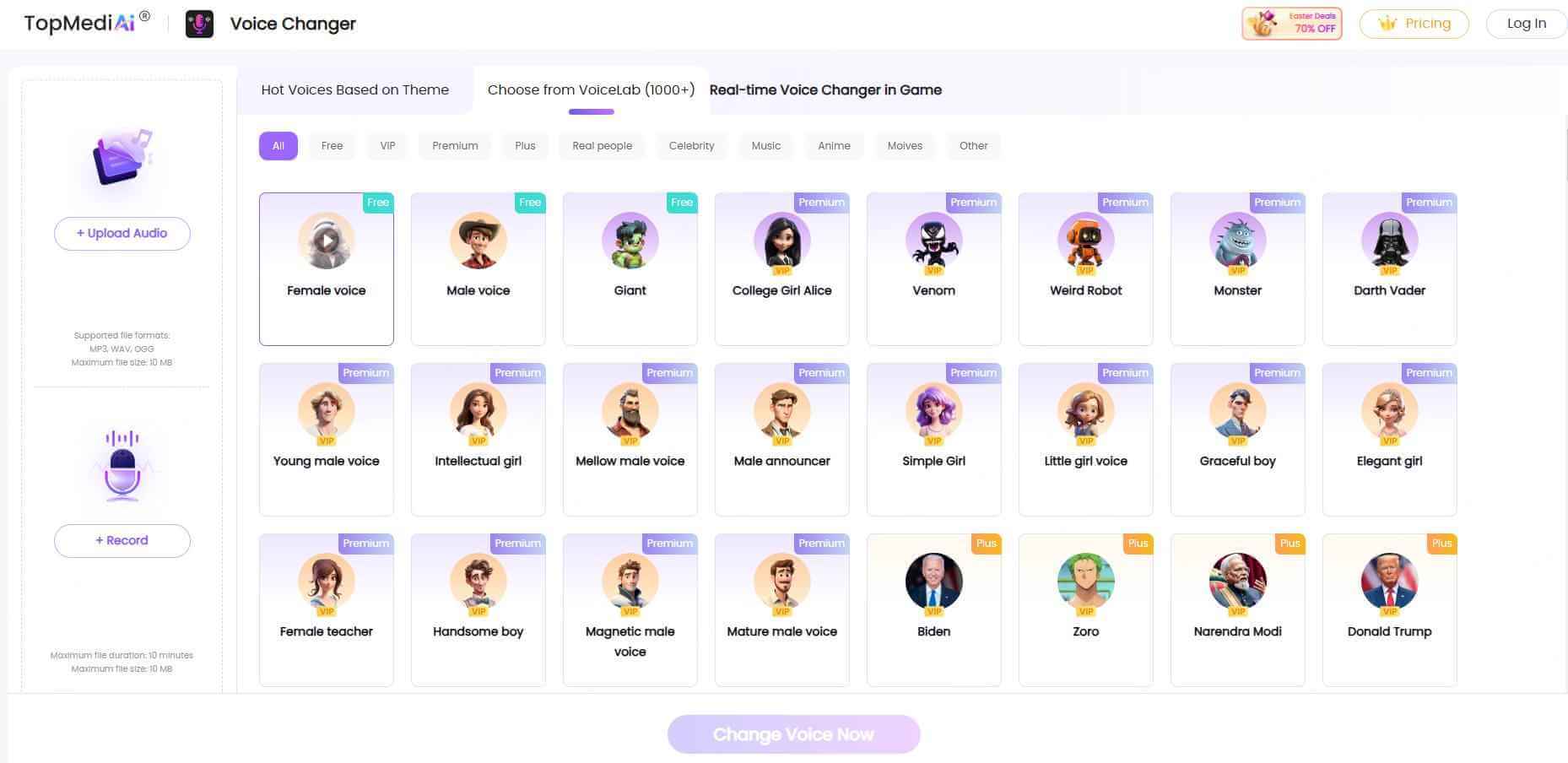 Steps of how to use spongebob voice changer online:
Step 1. Either upload your audio file or use the mic to record your voice in real-time.
Step 2. Click the Spongebob ai voice model.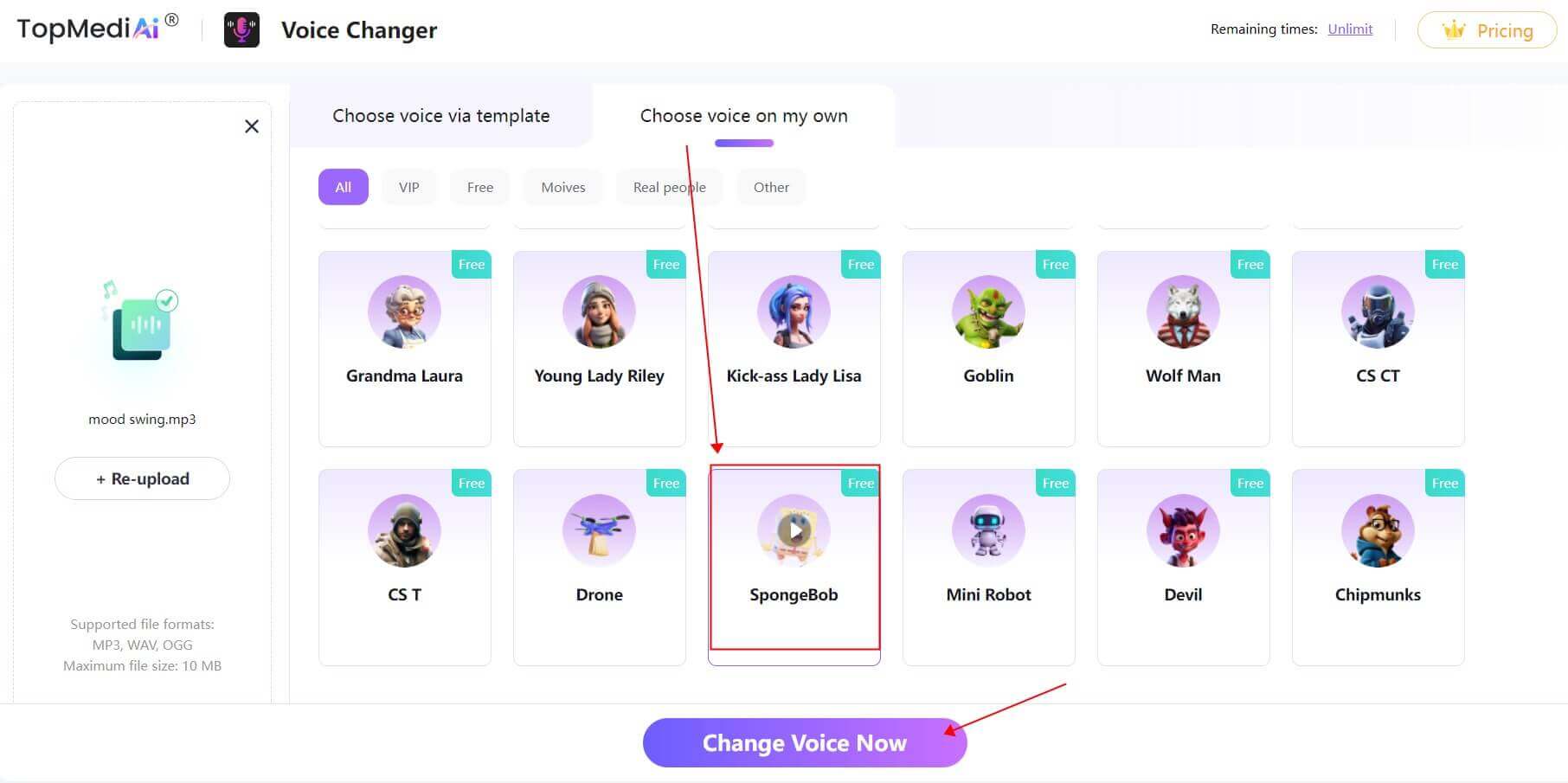 Step 3. Click the 'Change Voice Now' button.
Step 4. If you're satisfied about the voice change, you can download it for free directly.
Step 5. If you want to change it into another voice, click the fork in the upper right corner and then click a new voice as you like.
Key Features
TopMediai will help to attain professional audio quality without needing costly recording gear, a quiet space or a studio.
This free voice changer is intuitive and enables fast voice modulation.
Voices of different scenes are also included, like Animation, Movies, Short Video and Commercials.
A user-friendly interface that makes it easy to select and apply voice alterations and effects.
Pros
TopMediai AI SpongeBob voice changer is easy to use, even for those without technical expertise, making them accessible to a wider range of people.

It provides high-quality output voice.

Christmas, Birthday and other fun videos are easily created.

New voice models are updated regularly.
Cons
Voice changers rely on software and technology so certain devices may have technical difficulties or compatibility issues.
Comments:
It's a great voice changer with a plethora of voice options to choose from. The best thing about it is that its user-friendly and generate excellent voice outputs.
Uderduck is a great text-to-speech Ai SpongeBob voice changer that can produce SpongeBob's voice. It is an AI-powered software that can instantly convert text into SpongeBob's voice with a single click. However, you need to create an account to use it and visit the websites to access this fantastic tool.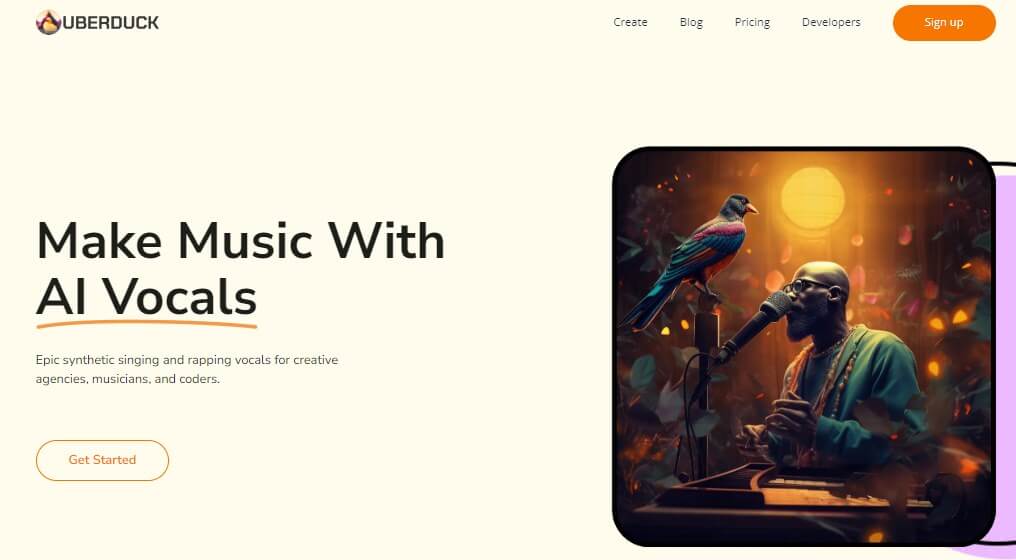 Key Features
On Uderduck's website, you can easily find comprehensive AI documentation to help you create your audio applications with many features.
Additionally, Uderduck offers over 5000 voices to explore and experiment with.
This website also offers the ability to generate the voice for other SpongeBob character like Plankton, Patrick and Squidward.
The studio is very diverse and provides royalty-free voices.
You can customize the voice generated by Uderduck according to your preferences.
Comments:
It's one of the best voice changers to use. With its excellent realistic voice outputs, you won't even find the need for hiring a voice specialist.
15.ai is a free website offering SpongeBob voice text-to-speech generation. This Ai SpongeBob voice changer has a user-friendly interface that allows you to generate speech by simply tapping on the "generate" button or pressing "Enter" if using a PC without signing up.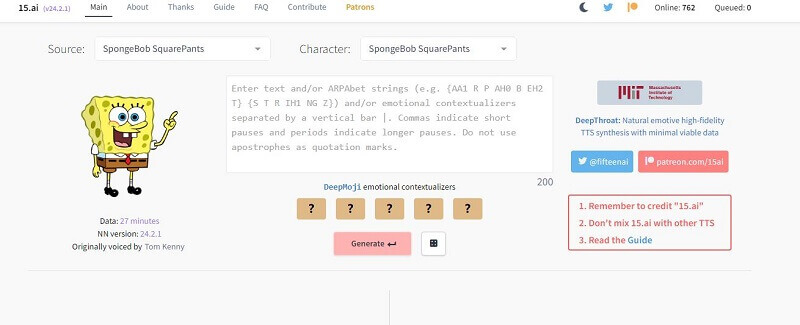 Key Features
Users do not have to register to use this 15.ai device on their website.
It is a quick TTS software that performs a function in real-time, and users can easily download the audio files or use it on others platforms with the "Download" button.
15.ai is a great SpongeBob voice generator AI which is free of ads and offers comprehensive analytics of user voices and tasks.
It provides high-quality and accurate text-to-speech, allowing you to generate pristine audio.
Comments:
I loved using it but would surely opt for something else if the sound quality can improve.I enjoyed using different characters' voices but didn't find clear voices.
Part 3: FAQs about AI SpongeBob Voice Changer
1How do you Change Your Voice to SpongeBob?
To change your voice to SpongeBob, use a online voice changer website like TopMediai, Uderduck and 15.ai. But TopMediai is the best and easy to use, with the simple interface allowing you to change your recording or audio file's sound in SpongeBob voice.
2What App Makes you Sound like SpongeBob?
Several app exits can help to transform your voice into SpongeBob. TopMediai is a well-known option that serves as a voice changer and soundboard and enables you to change your voice into different voices, including SpongeBob.
Additionally, social media apps like TikTok have an inbuilt voice feature that can give you a SpongeBob voice.
3How do You get a SpongeBob Voice Online?
There are several websites where you can find an AI SpongeBob voice changer online, such as TopMediai, Voice Changer .io, FakeYou, Uderduck and more. These tools help you input text and generate it in SpongeBob's voice.
Conclusion There is a plethora of voice-changing tools accessible online. However, if your desire is to find the optimal SpongeBob voice changer for a genuine cartoon-like sound, making the right choice becomes essential.

After we've covered 3 great SpongeBob online voice changer, I'm sure you already know how to choose the one that's right for you. If you want to easily turn your recording or audio into SpongBob's voice, then TopMediai is highly recommended, which is convenient, efficient, intelligent and easy to use. Try TopMediai Voice Changer for free now.