Halloween is coming! When it comes to Halloween and adding a fun, spooky twist to your content, a Halloween voice changer can be a fantastic tool. If you want to prank your friend or make your Halloween-theme video much more eerie, a Halloween voice changer definitely helps! You can easily change your voice into something eerie, ghostly, or even downright creepy with it.

This article will guide you around the3 best Halloween voice changer! Let's get started!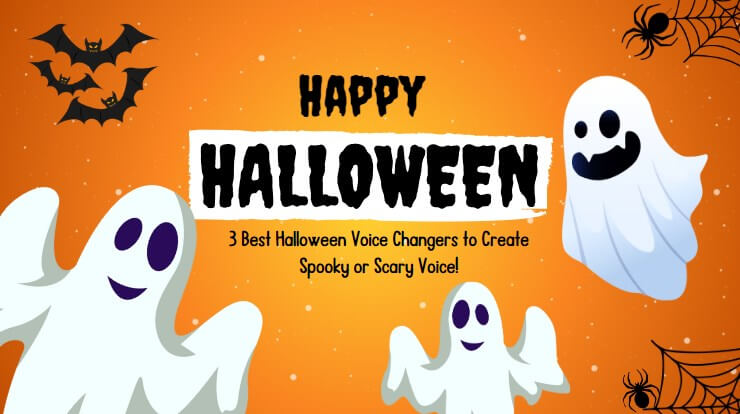 Part 1: What Halloween Voice Changer is? [Use Cases Included]
Before we get started to know the best Halloween voice changer, you may wonder what refers to a Halloween voice changer? Halloween voice changers can be different types, including hardware devices, software apps, and online voice changer tools.

To put it short, a Halloween voice changer is a device or software to alter and modify your voice in various ways to create spooky or scary vocal effects, especially for Halloween-themed activities. You can prank your friends on Halloween using a funny voice changer for Halloween.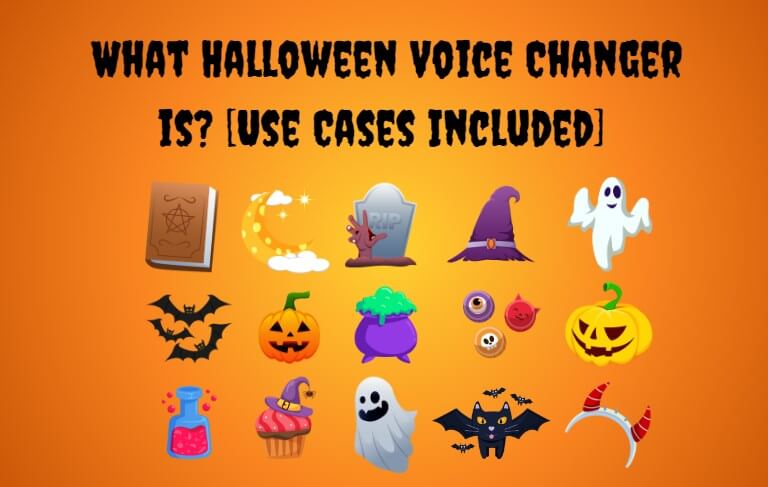 The most common uses of Halloween voice changer:
Halloween Voice Changer Use Cases
Costume Enhancement.
Scaring Others.
Entertainment.
Pranks and Jokes.
Cosplay and Role-Playing.
Haunted House Attractions.
Online funny content creation.
Part 2: How about Halloween Voice Changer on Amazon?
This scary voice changer on Amazon can be used for multiple purposes during the Halloween season. If you dress like vampires or monsters, but with no spooky voice, the atmosphere would not be that eerie. So you need the Halloween voice changer to boost the Halloween atmosphere. The Halloween voice changer on Amazon provides entertainment at Halloween parties and enables playful pranks and jokes.
This voice changer of Halloween includes two voice filters: one for a monster effect and another for an alien sound. It operates solely on battery power, so you need to prepare three AA batteries to start it.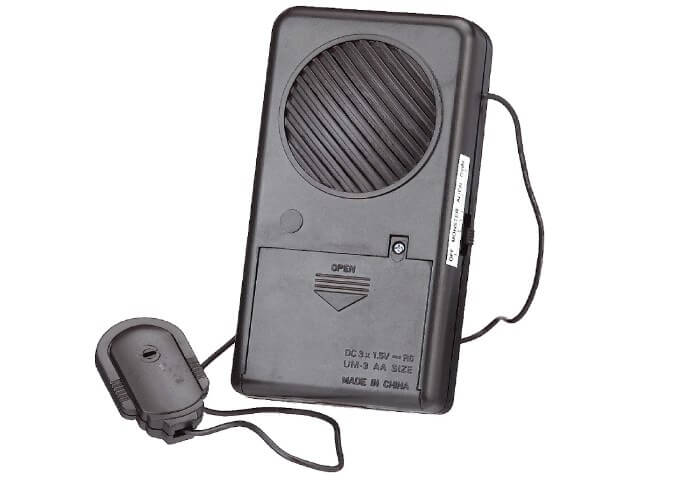 Tips: There are multiple Halloween items on Amazon for your choice to decorate your house or prank your friends, including croove voice amplifiers, scream ghost face costume, and Halloween voice changers.

Here are some information about Halloween Voice Changer on Amazon.
Occasion
Cartoon Characte
Theme
Why Choose it?
Easy Matching?
Party
Scream
Horror
Great for Halloween parties,
costume parties,
themed events,
or stage performances.
Coordinate with other Halloween party
and party supplies.
Part 3: 3 Best Halloween Voice Changer to Make Spooky Voice
If you're looking to make your Halloween experience much more unforgettable, Amazon offering a wide range of Halloween voice changers is a good choice for you! You can use it to create eerie and scary voicel effects to enhance the festive atmosphere.

People mostly use Halloween voice changers to spook thier friends, enhance costume, or create chilling content. Here 3 best voice changer of Halloween will be given for your reference.
1

Voicemod - Halloween Voice Changer Software

If you want to find a free voice changer software to create scary sounds, Voicemod is a good choice. You can use it to change voices for free, such as witch, demon, alien, scream sounds. In addition, it has good compatibility and is suitable for many systems and devices.

So during Halloween, you can use this Halloween voice changer to change your voice in real time while playing games, disguise your voice, and scare your friends. At their Community Sounds you can find literally thousands of sound effects and soundboards of Halloween for use directly.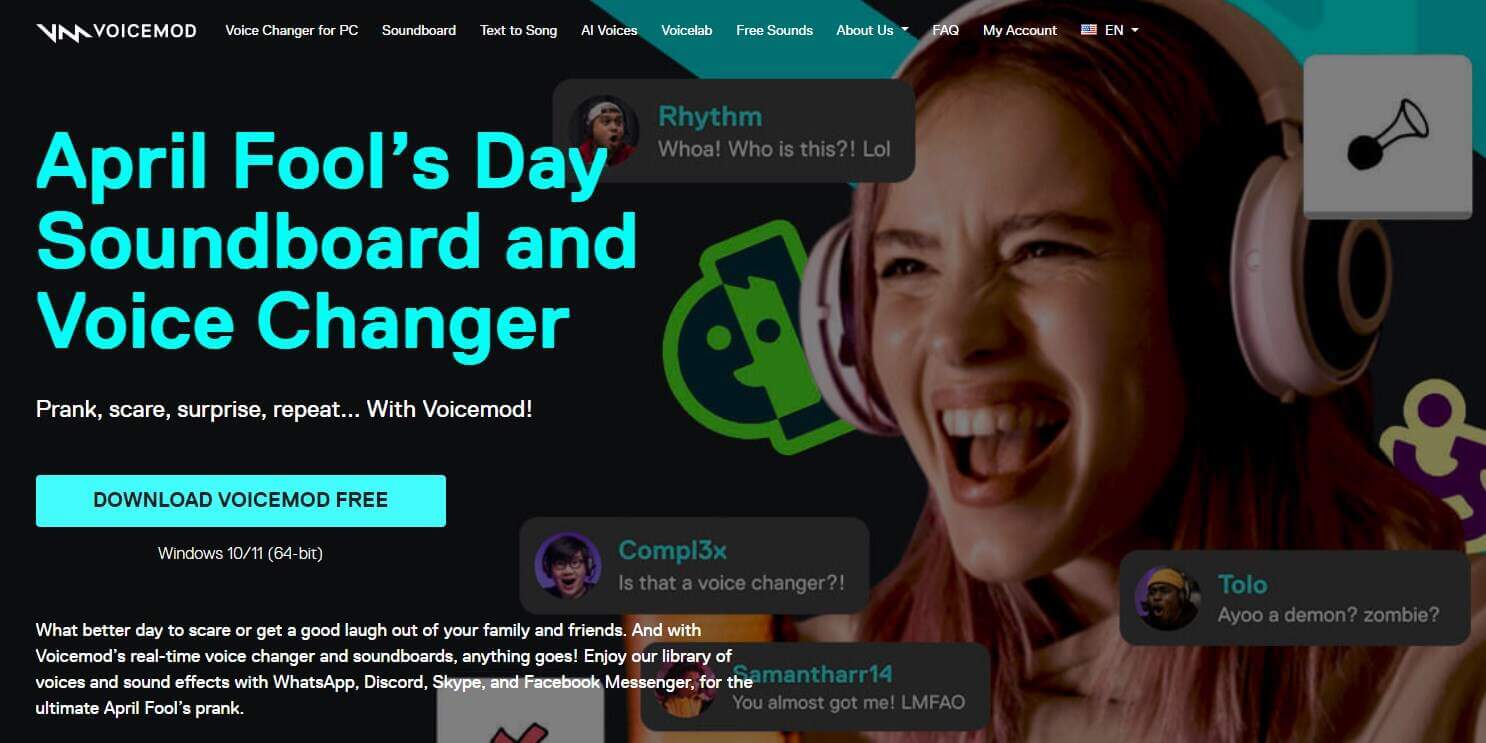 Real-time voice changing.
Large voice effects and soundboards library, including Halloween voice like Demon, Ghostface and Spirit.
Halloween game and win fantastic gifts provided.
You can have immersive Halloween experience in their horror games.
Users can also make their own creepy voice for Halloween.
Easily integrate with other applications.
Pitch, emphasis, speech, and volume adjustments supported in Voicelab.
2

Halloween Voice Changer APP

If you get used to use mobile phone more often and look for a Halloween voice changer app, here is the solution. This app called Scary Voice Changer & Recorder is helpful in recording your own scary voice. Besided,a terrifying sound montage can be created with this scary voice changer app to chill everyone to the bone. If you want to scare and prank your friends but have no inspiration, why not try it now?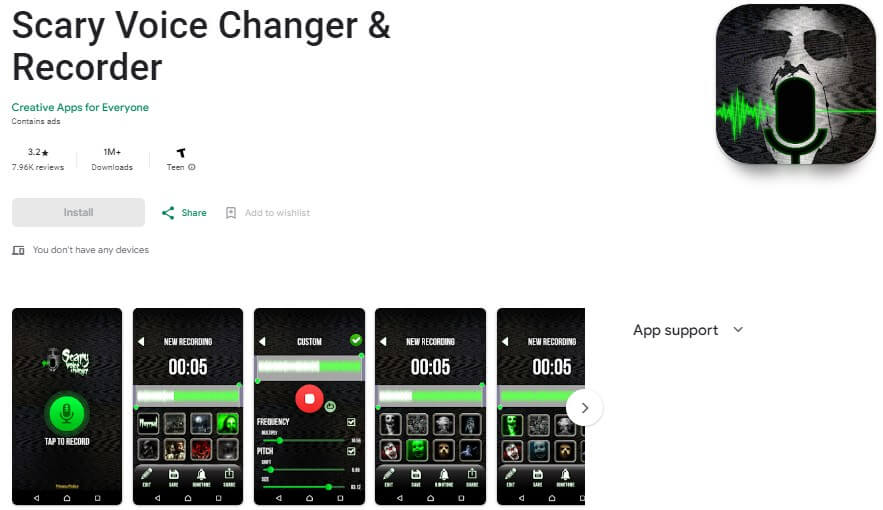 Act as a creepy voice changer app and allow you to record your own spooky sound.
Aceess to horror sounds and scary noises.
On-the-go voice effects.
Compatibility: enabling you to use them in video calls, online chats, or while streaming content.
User-friendly.
3

TopMediai - Halloween Voice Changer Online

After learning the Halloween voice changer software and app, now it comes to the best Halloween voice changer online. If you feel like it is complicated and time-consuming to download a Halloween voice changer app or software, TopMediai Voice Changer can be your free and versatile Halloween voice transformation solution. It is totally free to use and you can find the monster or ghost voice here.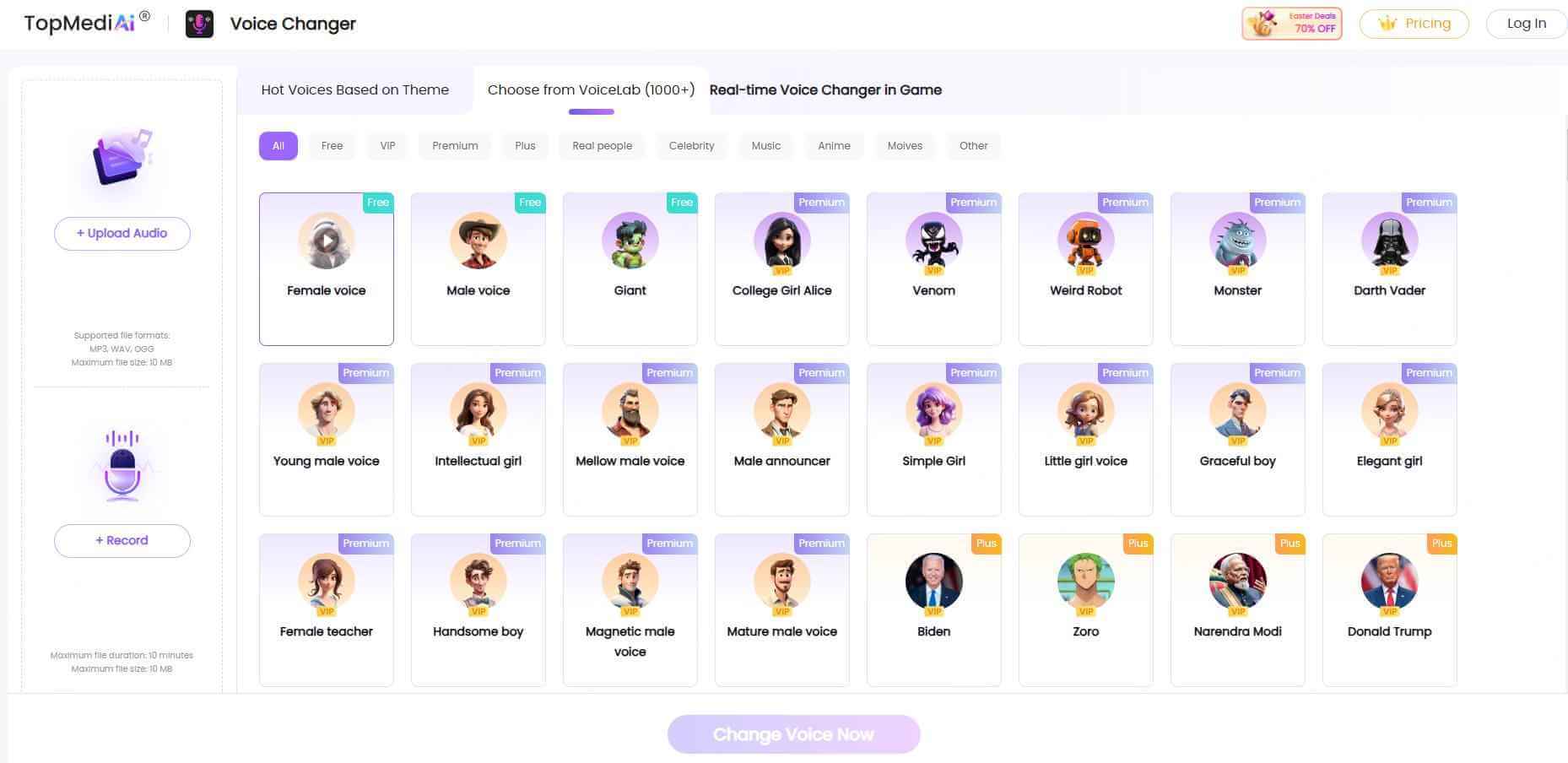 Totally free and accessible.
Simple and intuitive interface.
On-the-go voice effects.
This tool is upgrading and new function is coming.
New voices updated regularly.
Don't miss it: Create Creepy Voice Using Creepy Text-to-Speech
Part 4: HOT FAQs about Halloween Voice Vhanger
1 Is there a free Halloween voice changer?
Yes, you can use Voicemod, TopMediai, or Creepy Voice Changer for free to make Halloween voice or soundboard.
2 Where can I get an online Halloween voice changer?
There are several Halloween scary voice changer online, including Lingojam, Voicechanger.io and TopMediai, etc. These 3 websites have scary voice changer and multiple spooky sounds to choose from.
Conclusion To conclude, after reading this article about Halloween voice changer, you can now choose the one that suits your need effortlessly. With a variety of sound effects at your fingertips, you can easily transform your voice into that of a specter or ghost, making the overall Halloween atmosphere more real and immersive!

Don't hesitate! Halloween is just around the corner. Choose a voice changer for Halloween above and scare your friends! Happy Halloween! Try it out today!