You can find numerous online voice changers, and while most of them promise different features and dependable quality, there are always issues that leave a bad taste. So, what should you do for important projects and assignments?
We have always tried our best to share quality and professional tools to help you with that. Similarly, today we are sharing an honest review of Voice Changer io and its merits, plus giving you the best alternative if Voice Changer io is not for you. Let's begin our review.
Part 1: Review: What is Voice Changer.io?
Voice Changer.io is an online-only web-based voice modulation tool. The tool uses direct voice modulation and Text to Speech TTS functionality to perform this conversion.
Many netizens use Voice Changer io, and here are a few reasons.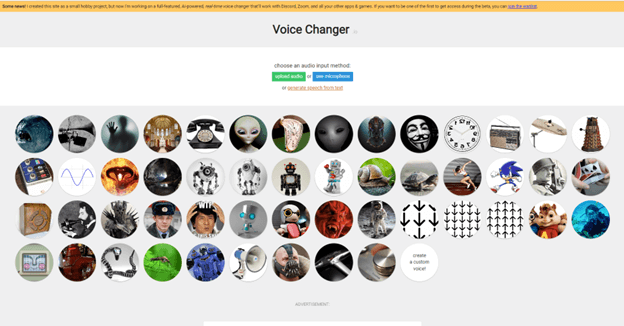 Key Features
This tool helps you convert your voice into an Alien, child, the Predator, Bane, and so many more with the click of a button.
Like a lot of its competitors, it offers its services free of charge.
Works with the community to provide new and improved ways to add quality sounds and voiceover options.
Users need to record their voices via their mic, make a compatible audio file, and then upload the file on the platform.
They then can choose and convert their audio file to the desired profile.
These features make this tool an excellent option for making soundboards that you can integrate into your streams or combine to make a few scenes.
Pros
Simple to use.

Many great funny voiceover profiles.

No cost and web-based tool, so no download is needed.
Cons
It might take time to do a project with Voice Changer io because it is not a real-time voice generator.

Gamers or streamers might have to look for another option for real-time modulation.

No dedicated desktop app.

Not updated regularly as it is more of a hobby project.
Pricing:
The tool is totally free and part of a hobby project by a single developer, so there is no cost for now.
User Comments:
EtherealSoul says, "Apparently, a decent website. It would be great for pranks and a lot of fun to mess about with. The audio files I downloaded were also scanned by my antivirus and anti-malware tools, but we found no dangers. My impression is that this website is risk-free and safe to use."
Part 2: How to Use Voice Changer.io?
After sharing some critical features of Voice Changer io, let's share how you can use it to perfection.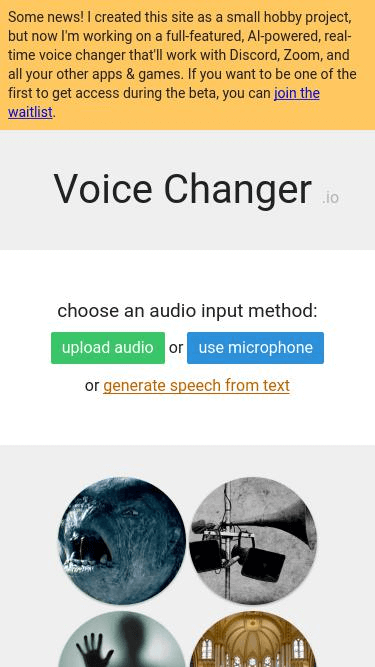 How to steps:
Changer.io
Step 1. Go to their main web page here.
Step 2. Click on any voice profile to listen and choose.
Step 3. Click on download to save that profile.
Step 4. Click the Upload Audio or Use Microphone button to use your voice for conversion.
Step 5. The next option is to click on the TTS page link.
Step 6. You can enter your text, choose a voice from the Voice menu, and download from the Download Google TTS Audio button.
Step 7. You can easily adjust your pitch and speech from their corresponding buttons.
Step 8. You can adjust these as much as you like until you are satisfied.
Part 3: Best Online Alternative to Voice Changer.io
So now you know that even if Voice Changer io provides many useful features and great voiceover options, it is still a hobby project and only gets updated sometimes. Because of this very reason, we have provided you with a great alternative in case you were looking for it.
TopMediai Online Voice Changer
The best online alternative to Voice Changer io is TopMediai Online voice changer. It is also an online-only tool, but unlike Voice Changer io, it has many complementing tools and features from iMyFone that will streamline your workflow much better.
So, what is so good about TopMediai that we recommend it as a Voice Changer io and alternative? Let's learn more about its positive features and the steps to use so you can get the best results.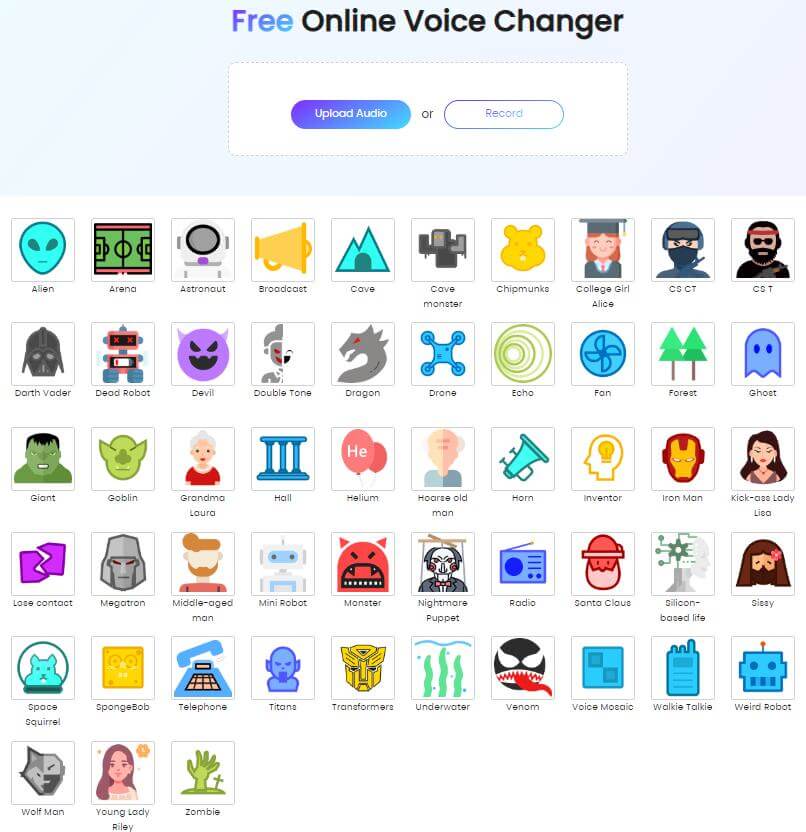 How to Steps:
Step 1. Visit the TopMediai official webpage and go to the voice changer section.
Step 2. You can either record your voice through your microphone or upload an already recorded voice file from your device.
Step 3. Please select your favorite voiceover and edit what you hear to change its speed and tone till you are satisfied.
Step 4. When you are done, you can download and save it.
Follow similar steps to utilize TTS, Text to Speech feature.
Step: For TTS, you need to enter text in the text box, and AI will change your voice.
Key Features
You can record your voice and generate from the massive choices you have as characters and celebrities' profiles.
Anyone can use many generic real-life voiceovers for other than fun making.
Easy and Fast processing of large files with excellent editing options to enhance your content.
Pros
Many valuable options for sound boarding and streaming voice lines.

Another great product of iMyFone.
Cons
Pricing:
Free online tool.
Part 4: FAQs About Voice Changer.io
1 Is voice changer.io free to use?
Voicechanger.io is very likely not a scam but safe and reliable. You can see voicechanger.io has a relatively high score on some review websites.
2 Is there any online alternative to voice changer.io?
Yes. You can try out TopMediai voice changer online for free as an alternative to Voice changer.io. All the voice effects on TopMediai voice changer online are valuable and enhance your content much better than competitors.
Conclusion:
If you have gone through the article so by now you will have enough knowledge about the voice changer and their different features and perks along with pros and cons. We have provided the list of best possible voice changers from which you can chose from.But in our opinion we suggest you to go for the
TopMediai voice changer
instead of Voice Changer io because it is top rated voice changer and provide you the variety of different sound skins and voice effects which you can add in to your natural voice without paying a penny.