Today in this article, we are going to explore top AI watermark removal tools and software that can ease your application and efficiency of removing watermarks from your favorite images. You will find every app to your liking in this curated list of AI watermark removal tools. Without further ado, let's begin!
Part 1: 4 Best Online AI Watermark Removers with AI Technology for Free
Let's look at 4 of the best online ai watermark removal software that can use the best AI tech to remove them for absolutely free.
1.1 TopMediai MarkGo Watermark Online - AI Watermark Removal
TopMediai is the latest ai watermark removal website by iMyFone to remove a watermark with three easy steps with their amazon-lick AI deep learning technique.
Tips
Hunting for a tool to erase image watermark? Why not try a professional remover TopMediai to AI remove watermark 100% Auto with AI-powered Technology within 5 secs in 1 click.
How to Step:
Step 1. Visit the MarkGo Online watermark remover ai website.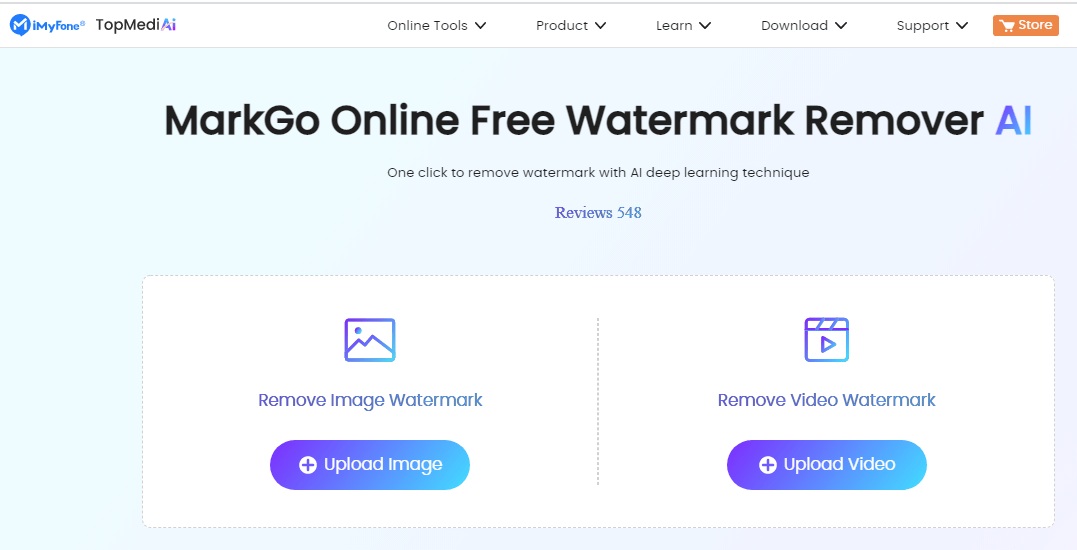 Step 2. Upload the image by clicking the button upload image under Remove Image Watermark.
Step 3. Click the remove button.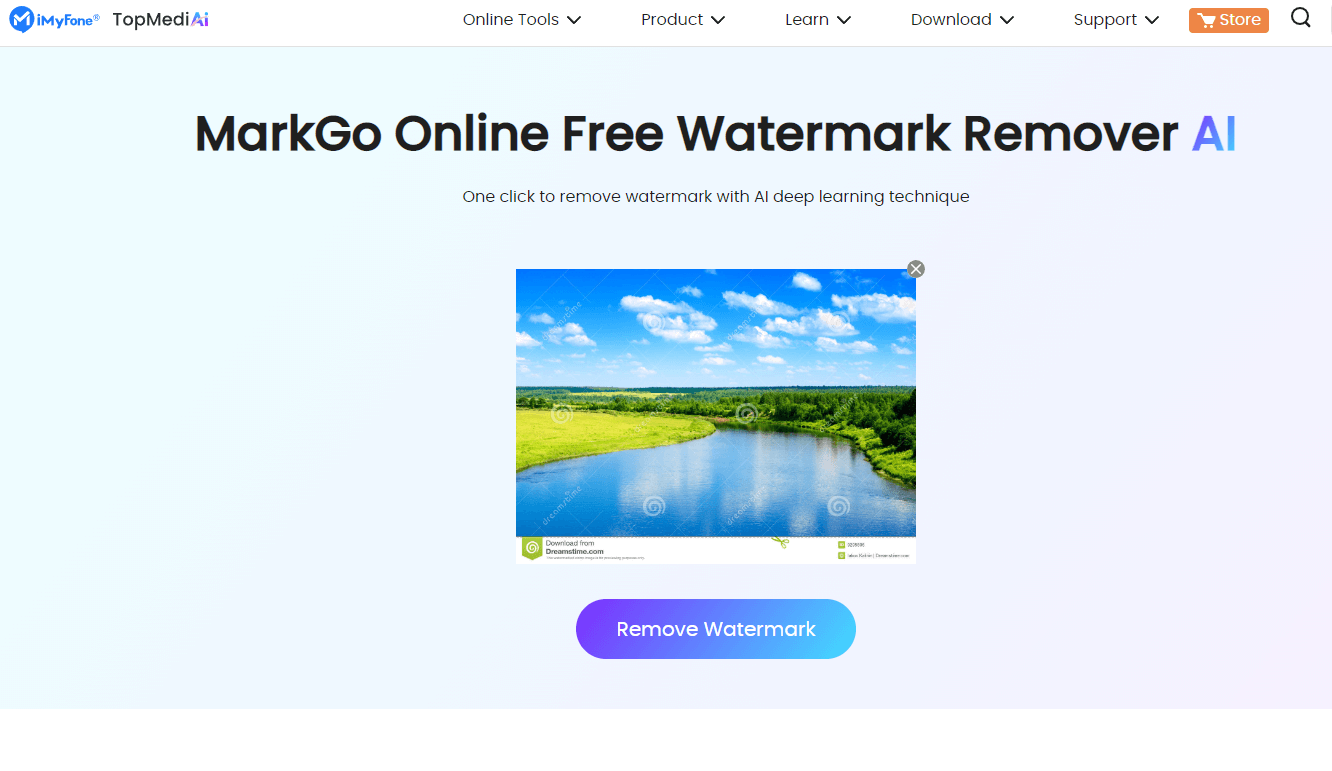 Step 4. Download the image in your desired resolution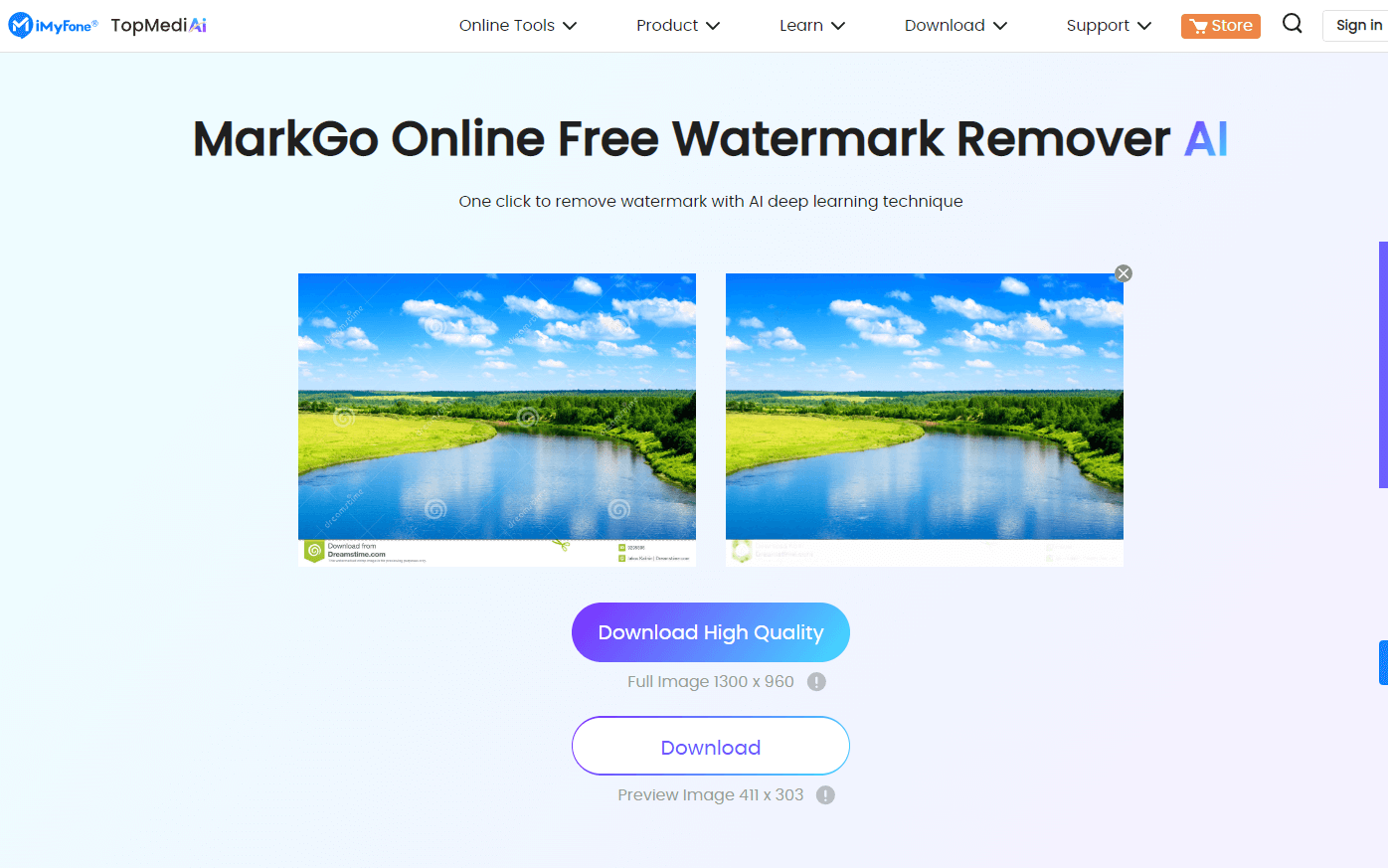 Key Features
Fast and Intelligent Removal - With their AI remove watermark technique, you get the best results without pause.
File Security - Your privacy with this ai watermark remover is paramount.
No Installation - Based on web tech, so no risk of viruses.
Watermark Removal Using AI - No more worries about using images with watermark and get the best output quality with AI detection technology.
All File Types Supported - Whether its JPEG or JPG or any other image or video file type, TopMediAi can satisfy your job all possible through simple drag and drop functionality.
Large User Base - Over 101,900 customers satisfied and more each day.
Fantastic Reviews - With over 500 great reviews and more added daily from our satisfied customers, this AI watermark removal tool is the best online and in the market.
1.2 Imgkits
Imgkits can help you remove any watermark with AI or object from your remarkable travelogue or family pics to get the best output.
With the support online, you don't need to download pesky software.
How to Step:
Step 1. Visit their online page to watermark remover ai.
Step 2. Click on the Upload Image button as shown.
Step 3. Use their tool to remove the watermark.

Step 4. Click on the download button to get your desired image in the best quality.

Key Features
No Software - No installation is required, and you can do all your tasks online on their website.
Best Tools - After you have removed the watermark, you can further enhance your image by improving its quality or removing any unwanted object from your beloved image.
Privacy - They don't use your images for profit and share them with their clients.
Pricing - Multiple and competitive pricing gives you the best option and top-notch quality for your images.
Pricing:
#1: Pay as You Go – For $0.5 per image for $5, while $0.3 per image if you buy for $15
#2: Essential Plan – for $8.99 a month, you get unlimited image processing, unlimited downloads, and no ads
Compatibility:
As this ai remove watermark tool is website based, you can use it on any device with internet access to a website application.
1.3 Aiseesoft Watermark Remover
With this free Ai watermark remover, you can remove the watermark from your precious photos or for work within seconds and enjoy the results in fantastic quality.
All this is done with a few easy steps on their website.
How to Step:
Step 1. Visit the official website of Aiseesoft.
Step 2. Go to their Free Watermark Remover page.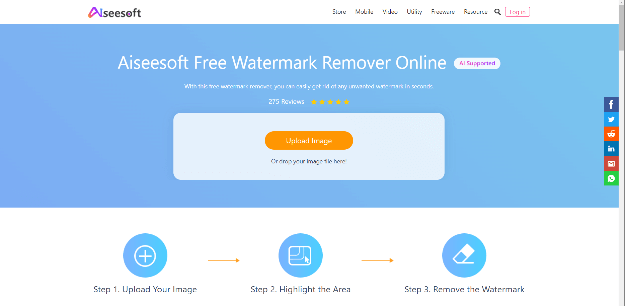 Step 3. Click on the Upload Image.
Step 4. Follow the instructions after uploading to get the best results and see all the features they offer.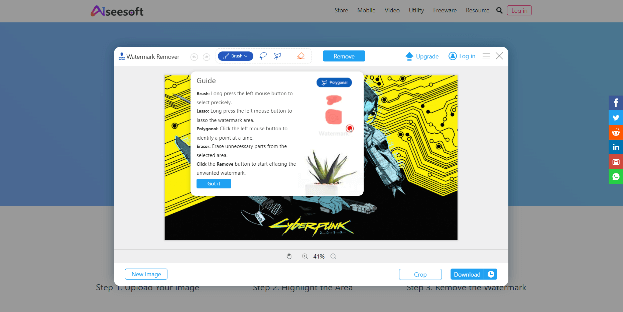 Step 5. Download the image or images after you are satisfied with your changes.
Key Features
Remove Text or Watermark - The web-based AI helps you to remove any watermark, logo, or text from your images.
Simple to Use - Efficient AI watermark removal help you simply upload, tweak changes, and download the image.
Intelligent Mode - The intelligent AI will remove all watermarks.
Pricing:
The online tools are freeware so you can use them without any payment, but if you are a professional, you can buy their 1-year license for $79 and use all their tools offline by downloading their software suit.
Compatibility:
If you are using website-based freeware, you can use it from any device with a browser and the internet. The software suite requires a PC.
1.4 watermarkremover.io
Marked the #2 product of the day, Watermark Remover by PixelBin is a valuable tool to AI remove watermark with ease on any browser and your mobile phone with their unique and powerful AI technology.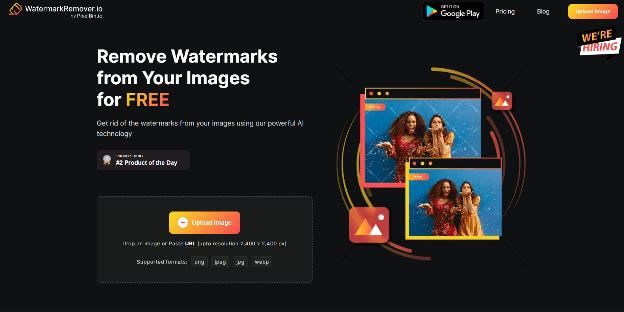 How to Step:
Step 1. Visit their website using any browser from any device.
Step 2. Click on the upload image to upload your desired image.
Step 3. You can also paste a URL of the image.
Step 4. Make necessary changes and download the image.
Step 5. As an app is also available on Google Play, you can download and install the app to use the watermark remover ai feature from your phone.

Key Features
Supported Formats – PNG, JPEG, JPG, and WEBP formats supported.
Mobile App – Supported on Android phones for ai remove watermark on the go.
Ease of Function – Simple and intuitive tool.
AI Technology – Top-of-the-line AI technology makes sure your image doesn't have any distortions or reduction in image quality.
Pricing:
#1: Starter Pack – For $29 a month for 300 images and 100 GB of storage
#2: Basic Pack – For $89 a month gives you 1200 images and 400 GB of storage
#3: Premium Pack – For $299 a month, you get 5,000 images and 1.5TB of storage
Compatibility:
Supported for any device with a web browser and internet while having an app for android users.
Part 2: Bonus Tips: How to Use AI to Remove Watermark from Video
In the previous section, we discussed removing watermarks from images, and in this section, we'll go over how to use the ai watermark removal tool on videos
2.1 123APPS Watermark Remover
The 1st logo or Ai watermark removal alternative tool is 123APPS which is a web-based tool that has many other functionalities besides Ai watermark remove from your vids.
Let's get on to how we can remove watermark from our videos.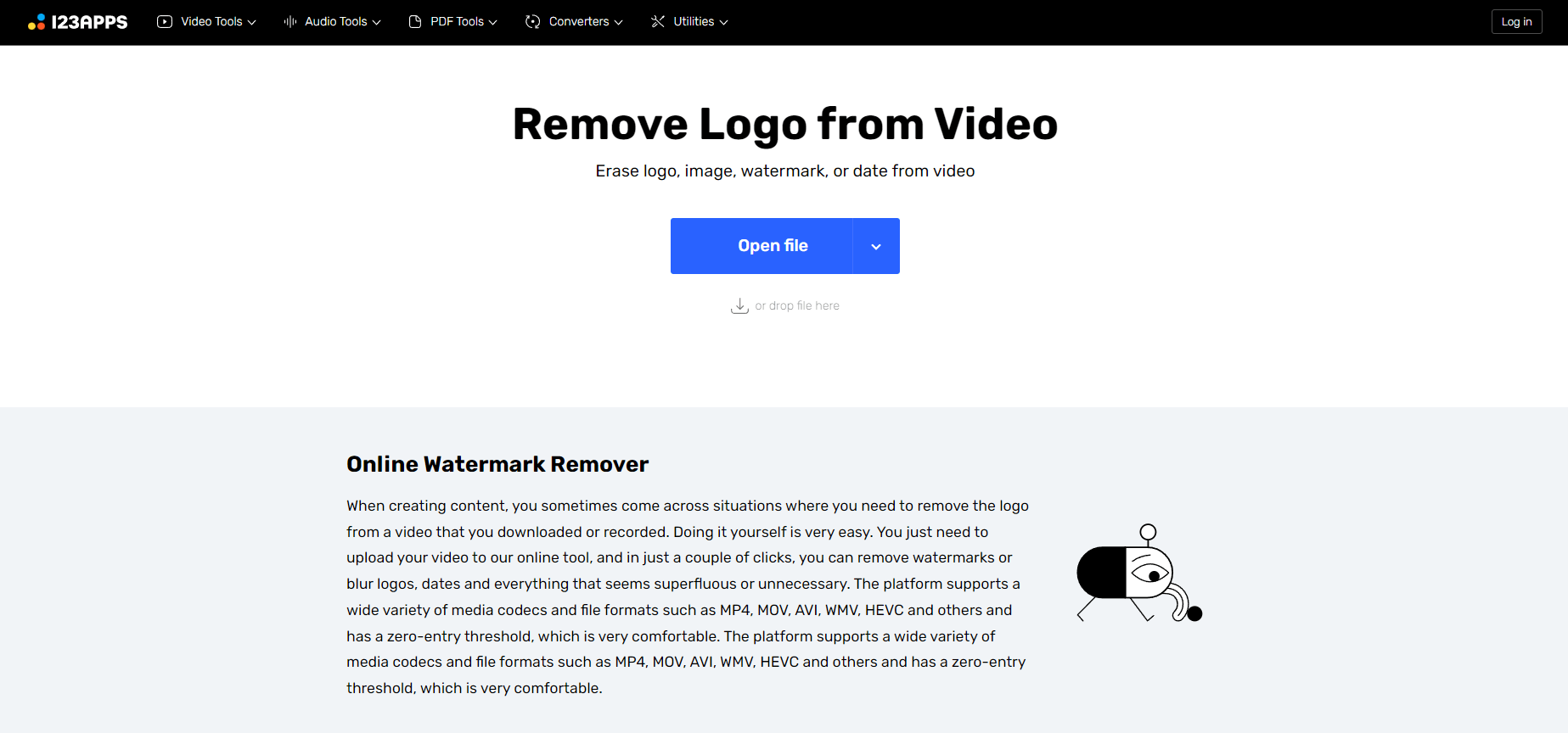 How to Step:
Step 1. Visit the 123APPS website.
Step 2. Click on the Open file button.
Step 3. Browse the file from your computer or choose one of the options of cloud storage from the drop-down menu.
Step 4. Wait for the file to upload.
Step 5. Make the necessary changes and download your completed file.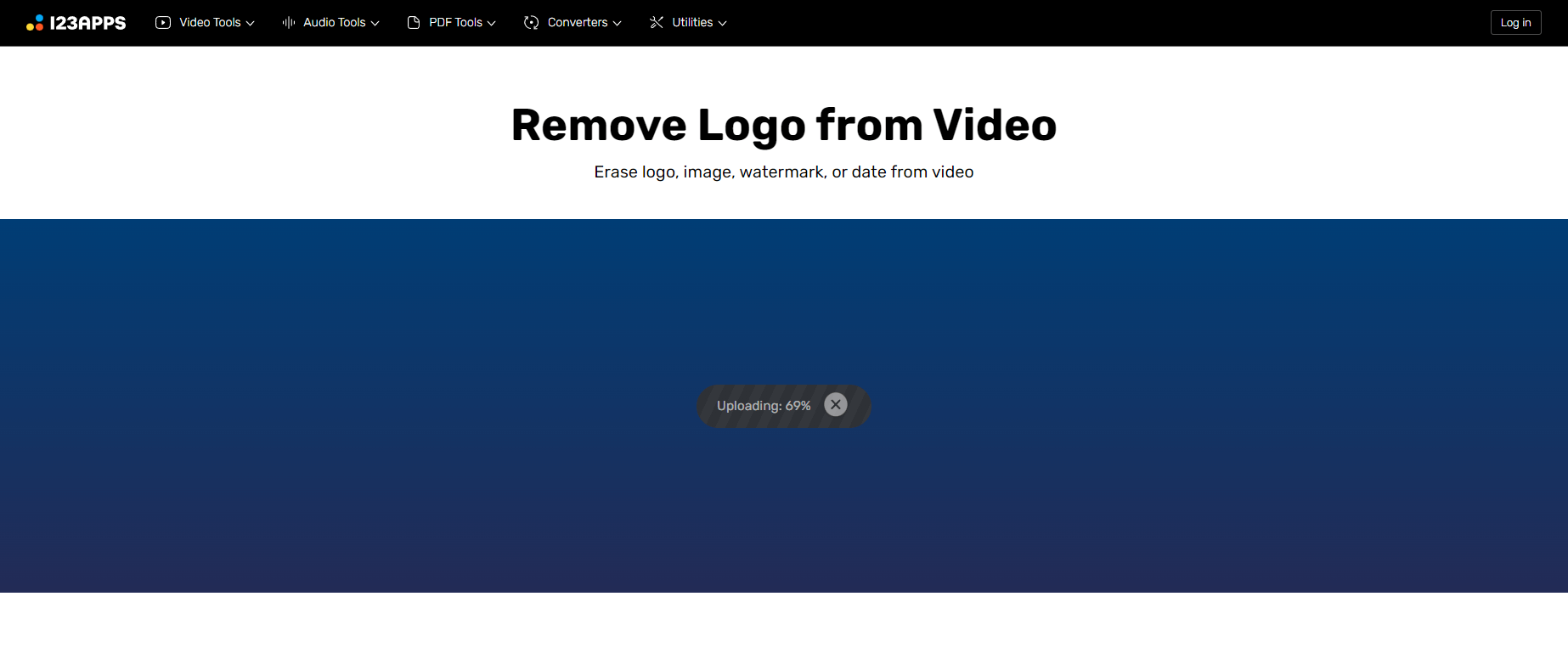 Key Features
As easy as uploading a video to make changes.
Very few clicks required due to watermark remover Ai involved.
Platform supports a wide variety of media codes and file types like the most popular ones: MP4, MOV, AVI, WMV, HEVC, and others.
The platform gives you a zero-entry threshold giving you perfect ease.
A web-based tool so you don't need to download and install any software while able to access from any device having internet and a browser.
Pricing:
#1: Files per Day – Free allows 10 while Premium allows unlimited.
#2: File Size – 700MB for free, 4GB for Premium.
#3: Ads – Free has ads, no ads with Premium
Compatibility:
A web-based tool so you can convert from any device that has a browser and internet connection.
2.2 Media.io Watermark Remover
A one-stop for all your video and image editing needs where you have the option of editing, converting, and compressing your files with easy and intuitive steps.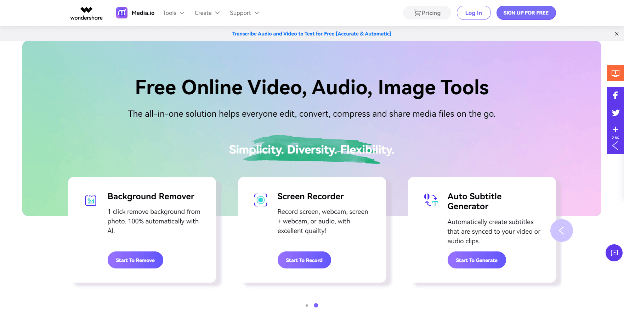 How to Step:
Step 1. Visit the Medio.io website and go over their ai watermark remove tool tab.
Step 2. Click on their Choose File button and upload your video file.
Step 3. You can even share links to your file from youtube or other cloud platforms.
Step 4. Select the area of the video from where you want to remove the watermark, and the AI tech will do the rest.
Step 5. Download your video with the watermark remover ai tool and the best quality video.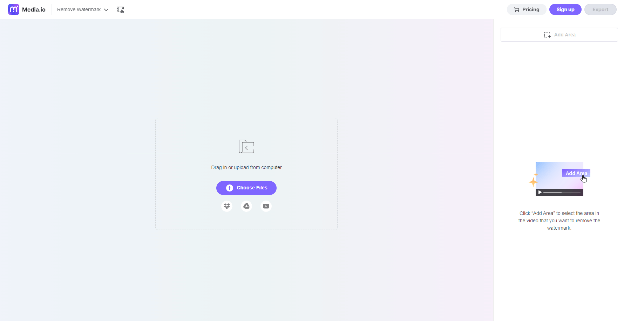 Key Features
Gives you simplicity, diversity, and flexibility.
Many additional tools are available for video editing online.
Ultra-fast converter and editor make your life easier and tasks faster.
Work smarter with intelligent AI to make your workflow more efficient and
Innovative.
AI algorithms.
Pricing:
#1: Free – Video editing for only 30 min and 100MB upload limit.
#2: Basic – 2 hrs./month and 1.5GB upload limit for $3.95.
#3: Pro – 6 hrs./month and 2GB upload limit for $6.66.
Compatibility:
A free online tool, so all you need is a good internet connection and a browser to convert your videos.
Part 3: FAQs about AI Watermark Removal
Let's discuss the most frequent burning questions online for watermark remover ai tools.
1How can I remove an image or video watermark with AI technology?
Many software and online tool provide this facility with some we mentioned in this article. Easy steps and intuitive menus help even newbies to get the best videos.
2What is the best AI Watermark Remover Online for free?
TopMediAi MarkGo Watermark Online is the latest and greatest ai watermark remover tool to make your life easier without any cost and three simple and easy steps.
3What app has the AI technology to remove watermarks?
Most apps mentioned in this article use AI technology to remove watermarks.
Final Words:
After reading through the article about many AI watermark removal tools and apps, you can now efficiently process your images and videos. Here we recommend TopMediAi MarkGo Watermark Online.
Because it's free and provides you fantastic facility that many paid apps provide to use AI watermark removal technology. Plus, it provides many other features available under a single website.
Try out TopMediai MarkGo Watermark Remover with powerful AI algorithms from here: