TikTok is all the rage these days, not just for vloggers but also for other users who enjoy them and have fun looking at videos from around the world. Sometimes you enjoy these videos so much that you want to share them with your friends and family but don't want to let them know that you watch TikTok. You may also want to share these remove Instagram reel watermark videos on other platforms and grow your channel. For all these scenarios, we have curated this list of best Instagram reel watermark remover for you to read and enjoy.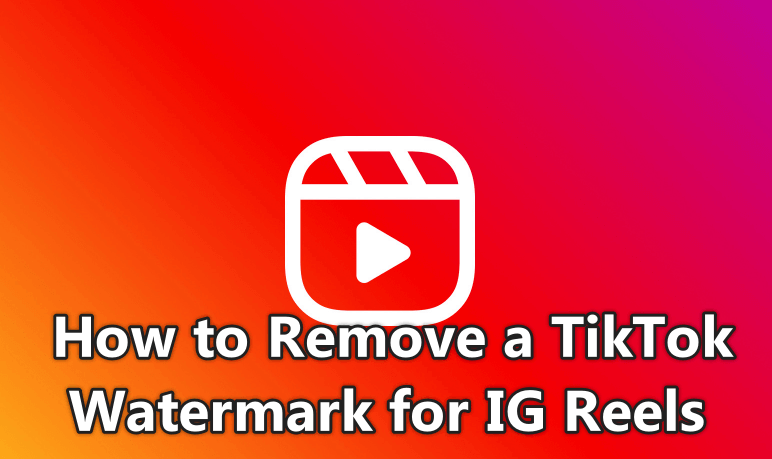 Part 1: Facts about TikTok and IG Reels: Can I Post Tiktok to Instagram Reels?
Instagram reels and TikTok videos are comparatively the same. However, TikTok videos have a watermark, so even though you post them on your Instagram as a reel or video content, the credit will go to TikTok.
As Instagram's most used and famous feature is reels, a user should have original content for Instagram, or the best is to remove watermark from Instagram video.
TikTok is purely based on the current going trend. People create content on TikTok to promote the new trend or make videos go viral. At the same time, Instagram is purely based on the content that users post about their niche. And Reels are the highlights of their niche showing their audience something unique.
There is no matter if you are sharing TikTok content on Instagram as long as your content is related to your exact niche and the video is without a watermark.
Part 2: How to Remove TikTok Watermark for Instagram or Remove Instagram Watermark?
You can use the following apps and online platforms to remove the watermark from your videos.
2.1 iMyFone MarkGo
MarkGo is considered the best software for deleting the videos' watermarks. If you enjoy sharing short clips on social platforms but hate watermarks as they make your videos look ugly
But with the help of MarkGo software, you can easily remove the remove Instagram reel watermark from videos or TikTok videos.
MarkGo software uses the Fast & Intelligent AI Removal to remove watermark from Instagram reels or TikTok without losing the quality of your videos. The quick mode of AI can erase the watermark from videos in minutes.
Step-by-step tutorial:
Step 1. Download the MarkGo application.
Step 2. Once it's installed, Run the application.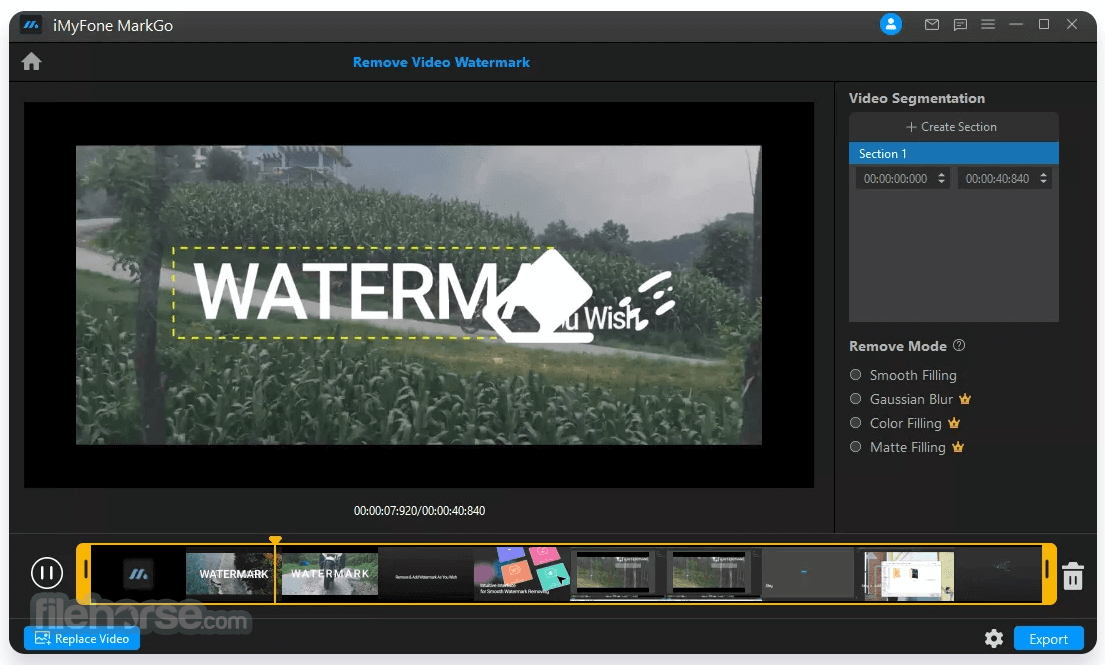 Step 3. Upload the video from your files.
Step 4. Select the watermark to remove.
Step 5. After a few minutes, you will have a watermark-free video to download.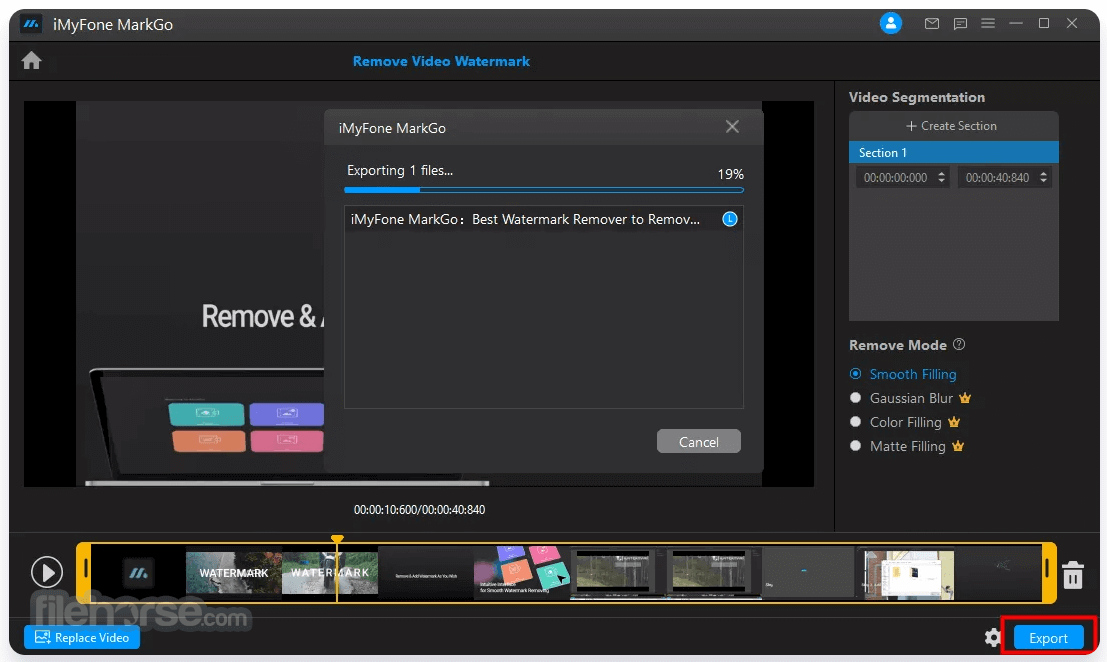 Pros
The best things are always the easiest, and with simple UI easy to understand and use, MediAi is the best.

Allow users to add or remove filters and sounds.

Removes the watermark without making your video blur.

TopMediAi fast & Intelligent Removal AI remove watermark from Instagram reel or TikTok without losing quality.

The quickest AI can erase the watermark from videos in seconds.
Cons
You have to buy their subscription.

Removing watermark from long videos takes more time.
2.2 Aiseesoft Video Converter Ultimate
Everyone likes to share their videos on different platforms, but every platform has on watermark on the videos.
It doesn't look excellent to share the content of one platform across the others. The best way to share your videos across all social platforms is by removing the watermark from them.
How to Step:
Step 1. Go to the Aiseesoft website.
Step 2. Now go to their watermark remover page.
Step 3. Drag or directly upload the video from your files.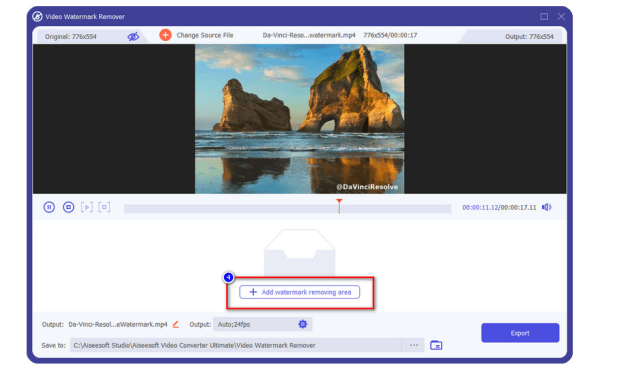 Step 4. Highlight the area of the watermark.
Step 5. Now click on remove.
Step 6. Wait for a few moments until the process is finished.
Step 7. After the watermark is removed, you can download the video.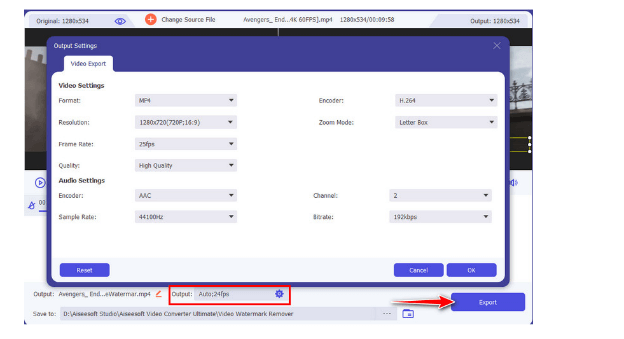 Key Features
Aiseesoft is a web-based online watermark remover. It can eliminate all watermarks from your video.
The powerful AI allows users to clean grills over your content.
Although they have paid licenses, their free version contains all the necessary items and tools. But in case you want to go for the paid one, you can give it a try and access their premium content as well.
Part 3: How to Download TikTok Video without Watermark?
Let's discuss some tools, websites, and apps that can easily help you use the Instagram reels watermark remover tool.
3.1 ssstik.io
ssstik.io is a free web-based tool that you can use when you think about how to remove TikTok watermark for Instagram with ease. All the videos you download are of high quality and MP4 format.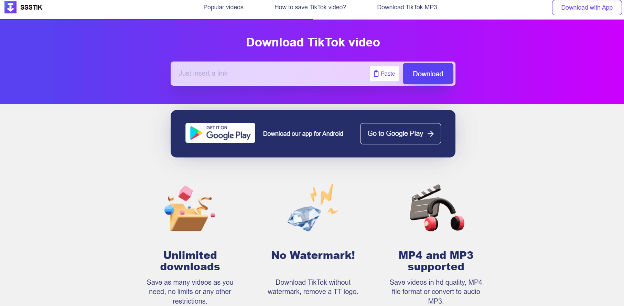 How to Step:
Step 1. Go to the TikTok website or app on your mobile.
Step 2. Choose any video that you like and want to download.
Step 3. Copy the link to the video by tapping or clicking the share button.
Step 4. Go to the sssTikTok web page and paste the link where you see the insert link option.
Step 5. Let the tool do its magic to do Instagram watermark remover and tap or click the download button.
Step 6. You can also download their app and do all this on your mobile phone.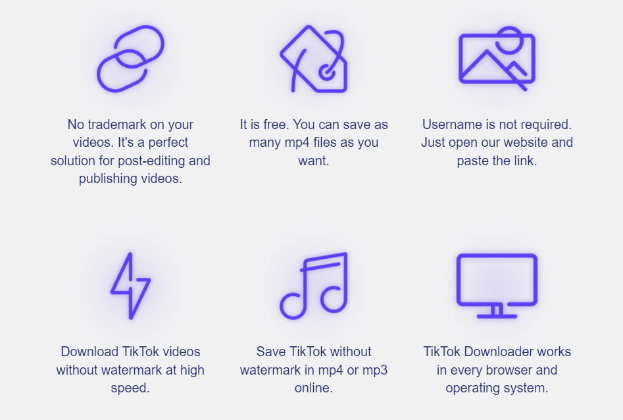 Key Features
Best Tool – The best app for downloading videos from TikTok and share with friends.
No Trademark – With no watermark on TikTok videos, you can share or post again on other platforms.
Free – You can save as many MP4 files as you like and easily make your own YouTube or Instagram channel.
No Signup – All you need is to paste the link to remove Instagram watermark and download the video.
High Speed – In a matter of seconds, your video will be processed and downloaded. All your queries on how to remove Instagram watermark are now solved.
Web Based – As this tool is web-based, you can use it on any device with a browser and good internet connection.
3.2 SnapTik
SnapTik is a TikTok videos downloader that you can use to remove Instagram reel watermark and post it on multiple platforms. The best thing about this web-based tool is that it now has an app for Android users.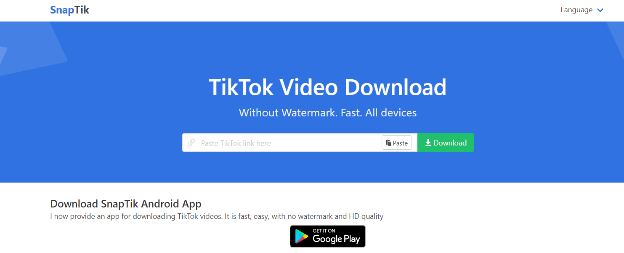 How to Step:
Step 1. Choose a video on TikTok and copy the link by tapping or clicking the share button.
Step 2. Paste the link on the Snaptik website and simply download the video when the process is done.
Step 3. You can do the same process on your mobile phone on a browser or can also download the app from the app store.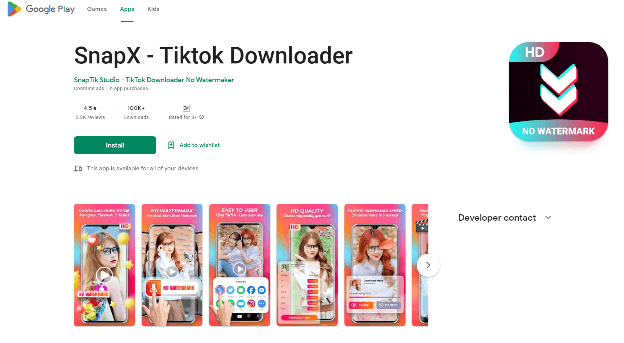 Key Features
Web Based – The ease of using the tool on any device with a browser and internet connection is incredible.
No Watermark – Why not share great videos on many platforms by removing the watermark and saving them as your own?
Android Version – Now you can watch and download any TikTok video right there on your mobile on the go. You'll be the talk of the town with so many incredible videos.
No Hassle – you can do no need for software installation, all on a browser. The android app is there to Instagram reel watermark remover for those who mainly use their mobiles.
Part 4: TopMediai MarkGo Watermark - Best Online Alternative to Remove Watermark
Let's look at the best alternative to remove watermark from Instagram reel with the easiest steps on the planet.
Tips
Hunting for a tool to erase image watermark? Why not try a professional remover TopMediai to remove watermark 100% Auto with AI-powered Technology within 5 secs in 1 click.
TopMediai is the latest answer to how to remove watermark from Instagram video queries on their website by iMyFone to remove a watermark with three easy steps with their unique AI deep learning technique called the MarkGo.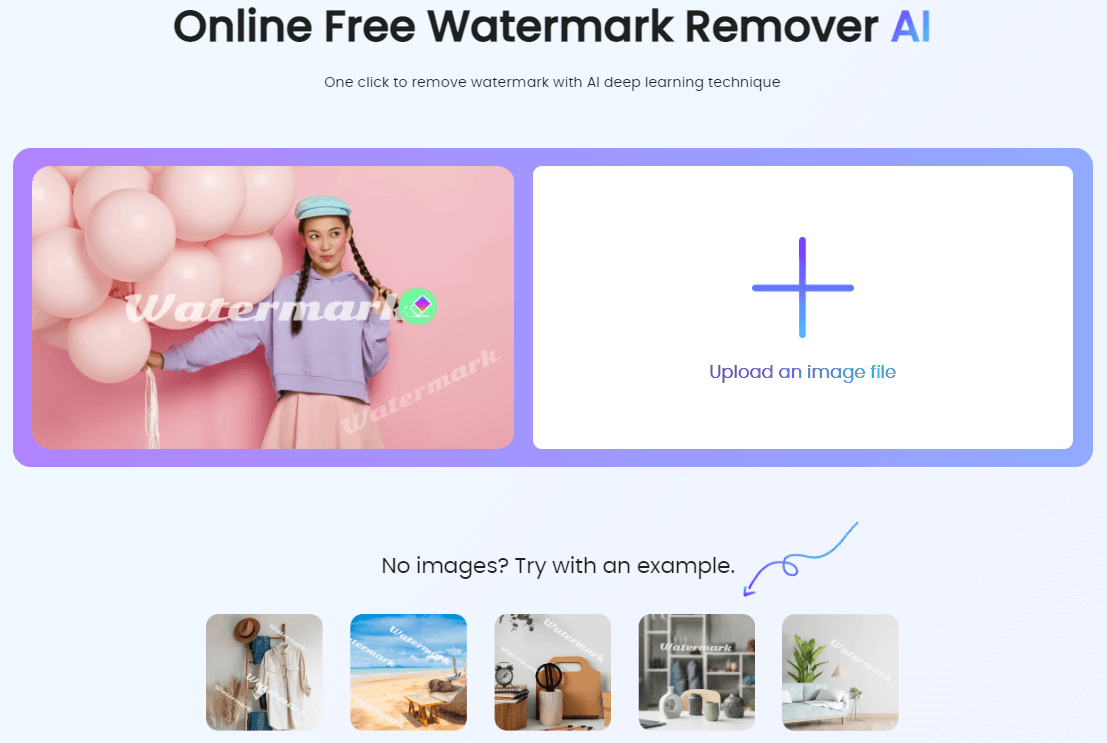 How to Step:
Step 1. Visit the MarkGo Online Instagram video watermark remover website
Step 2. Upload the image by clicking the button upload image under Remove Image Watermark.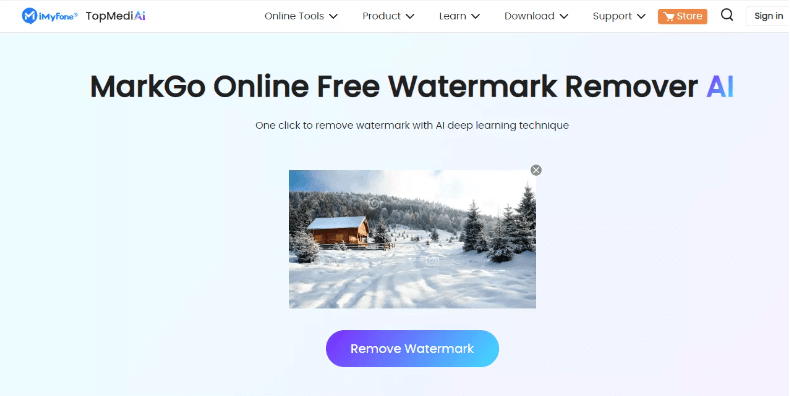 Step 3. Click the remove button to remove Instagram watermark reels.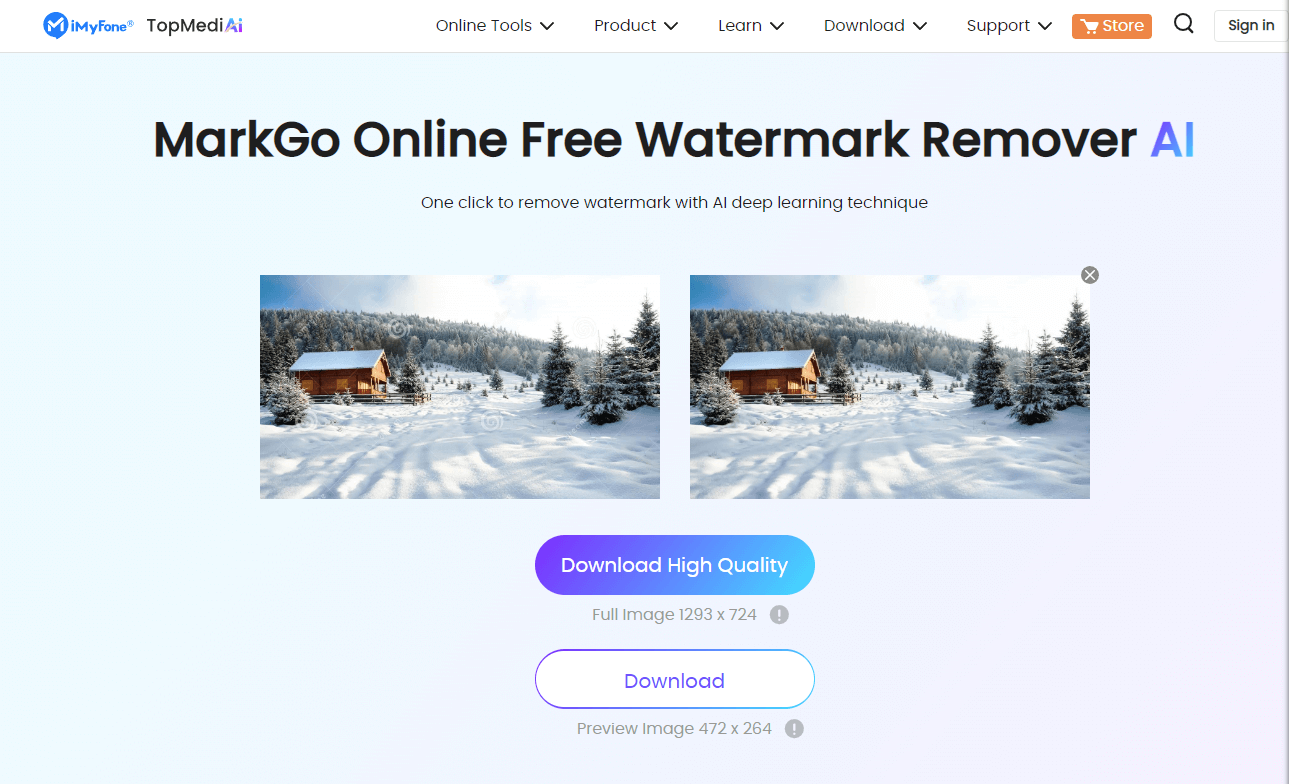 Key Features
Fast and Intelligent Removal – With their remove watermark from Instagram video technique, you get the best results without any hassle.
File Security – Your privacy with this how to remove Instagram reel watermark is paramount and will be taken care of.
No Installation – Based on web tech, there is no risk of viruses or bloatware hampering your PC's speed.
Watermark Removal Using AI – No more worries about using images with watermark and get the best output quality with AI detection technology
All File Types Supported – Whether it's JPEG or JPG or any other image or video file type, TopMediAi can satisfy your job all possible through simple drag and drop functionality.
Large User Base – Over 101,900 customers satisfied and more each day.
Fantastic Reviews – With over 500 great reviews and more added daily from our satisfied customers, this how to remove watermark from Instagram reel tool is the best online and in the market.
Part 5: FAQs - How to Remove TikTok Watermark for Instagram
Let's answer some of the most frequently asked questions.
1Can you post TikTok videos on Instagram without watermark?
Yes, you can use online tools by searching how to remove watermark from Instagram reels and easily download TikTok videos to remove their watermark.
2How do you remove the watermark on Instagram?
You can easily use the tools mentioned in this article remove watermark Instagram. TopMediAi is the best tool, we reckon.
3How can you get rid of the watermark on the reel?
Simply visit the websites in this article or use the app to remove Instagram watermark from some of the items in this list. The process is the easiest way to share TikTok videos with friends and family.
Ending Comments
Now that you know much more about Instagram watermark remover, you can use these tools online to
remove any watermark for free
and share it with friends and family. While you are at it, we recommend trying out
TopMediAi MarGo Watermark Online
as it is one of the best with the latest Ai technology.