TikTok now has established itself as a platform for creativity and self-expression, but creating the perfect TikTok video can be a daunting task. Enter AI TikTok Maker, the revolutionary solution that leverages artificial intelligence to generate impeccable TikTok videos effortlessly.

In this article, we will explore what AI TikTok Maker is, recommend three AI TikTok Makers, and provide a bonus on how to make your TikTok videos perfect.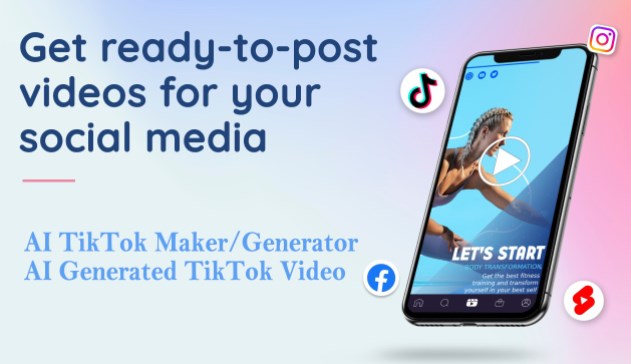 Part 1: What is TikTok Maker/Generator?
AI TikTok Maker, often referred to as TikTok Generator, is a software application that uses artificial intelligence to automate the TikTok video creation process. These advanced tools enable users to produce TikTok videos by simply providing the AI with raw materials, such as images, videos, and text.
The AI then takes these elements and compiles them into engaging and visually stunning TikTok videos. No matter you're an influencer, a business looking to expand your online presence, or just a casual TikTok user, AI TikTok Makers can revolutionize the way you create, edit, and share your videos.
Part 2: Benefits of AI TikTok Maker
Time-Saving: Traditional video editing can be a time-consuming task. AI TikTok Makers automate many aspects of the process, significantly reducing the time it takes to create engaging content.
Professional Quality: AI-generated TikTok videos come out looking polished and professional, even if you don't have advanced editing skills.
Endless Creativity: AI TikTok Makers offer a wide range of templates, styles, and customization options to suit your creative vision.
Ease of Use: You don't need to be a tech wizard to use AI TikTok Makers. Most of them offer a user-friendly interface and require no previous editing experience.
Effortless Sharing: After creating your masterpiece, these tools make sharing your TikTok videos on the platform a breeze.
Part 3: 3 AI TikTok Makers for Different Creators
Below I introduce three tools that can quickly generate tiktok videos. I divide them into three categories according to the difficulty of getting started, namely suitable for beginners, suitable for experienced and balanced.
InVideo is the top-rated TikTok Maker on Trustpilot, designed to empower both beginners and seasoned video creators. With InVideo, you gain access to a comprehensive toolkit that simplifies the process of crafting captivating TikTok content. Based on its user-friendly interface and extensive library of templates, effects, and music, everyone can easily transform your creative vision into stunning videos. InVideo is the ideal choice for those who are new to video editing. As a TikTok enthusiast, l highly recommend this tool.
User Rating: 4.8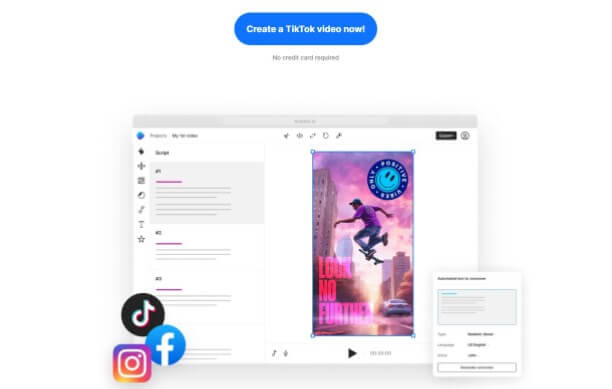 5000+ customizable templates.
8 million+ stock media.
Rich and stunning editing features including trim. Crop, transitions, text and stickers.
Supports collaborating with your team members on your video.
Provides different plans for diverse purposes.
Wearenova.ai takes AI video generation to the next level by offering a highly personalized approach to TikTok video creation. One of light points of Wearenova.ai is it can understand your unique style and branding, ensuring that the content it generates aligns perfectly with your vision. If you have some experience in making TikTok videos or demand a tailored video creation experience, this tool may be more suitable for you. Wearenova.ai is the go-to choice for those who.
User Rating: 4.7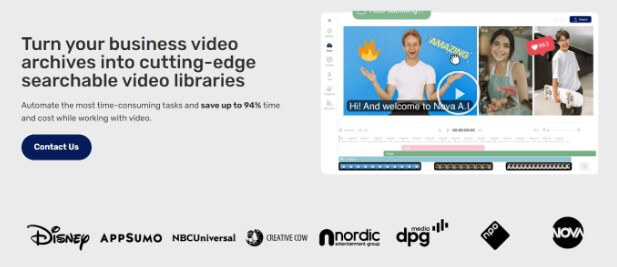 Video Analyzer Integrated to help you perfecting your video.
All-in-one social media video making center, including video editing, video to text and many other features.
Free to try, also provides upgrade plans.
Offers integration with social media platforms like TikTok, easy to share.
Vizard incorporated with the latest ChatGPT, has numerous editing tools, templates, media resources, and AI features to help generate AI TikTok. What sets Vizard apart is its real-time preview functionality, allowing you to see your edits as you make them. Whether you're a beginner looking to enhance your content with professional features or an experienced video creator seeking a dynamic and intuitive platform, Vizard is a powerful choice.
User Rating: 4.6

Supports paste video link to get clips.
First 300 Minutes for Free.
Record once, publish everywhere.
Automatically transcribed into text upon upload.
Part 4: Bonus: How to Make Your TikTok Videos Perfect?
While AI TikTok Makers are incredibly useful for automating the video creation process, there are additional tools and techniques you can use to enhance the quality and appeal of your TikTok videos:
One of the crucial elements in TikTok videos is the audio. With TopMediai Text to Speech, you can take your audio to the next level. TopMediai can convert your text scripts into natural-sounding voiceovers. Whether you're narrating a story, delivering a message, or providing explanations in your TikTok videos, high-quality voiceovers will greatly improve the overall video experience for your audience.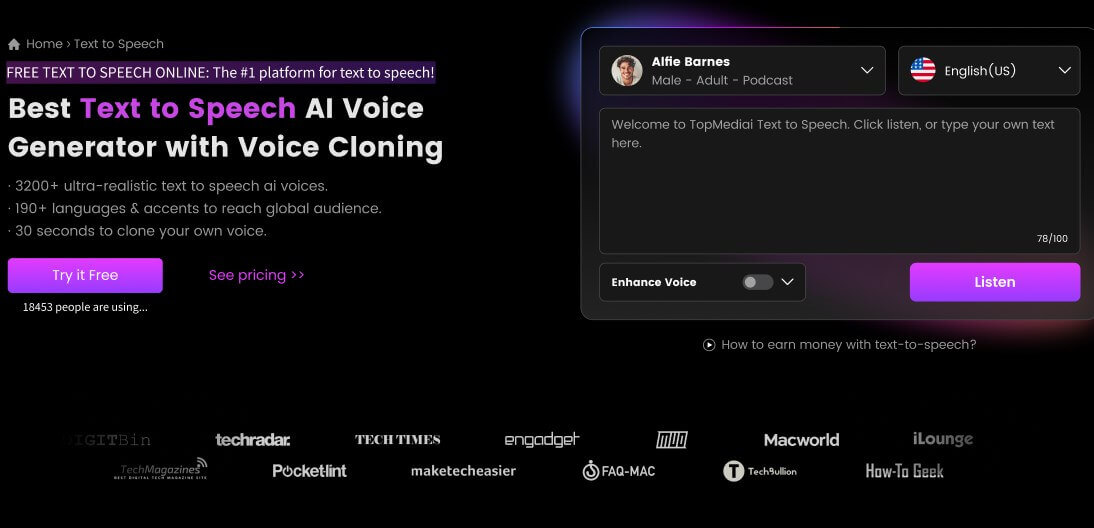 How to use TopMediai Text to Speech to perfecting TikTok video?
Step 1: Go to TopMediai Text to Speech and sign up or log in.
Step 2: Choose a voice you want it to speak in your video.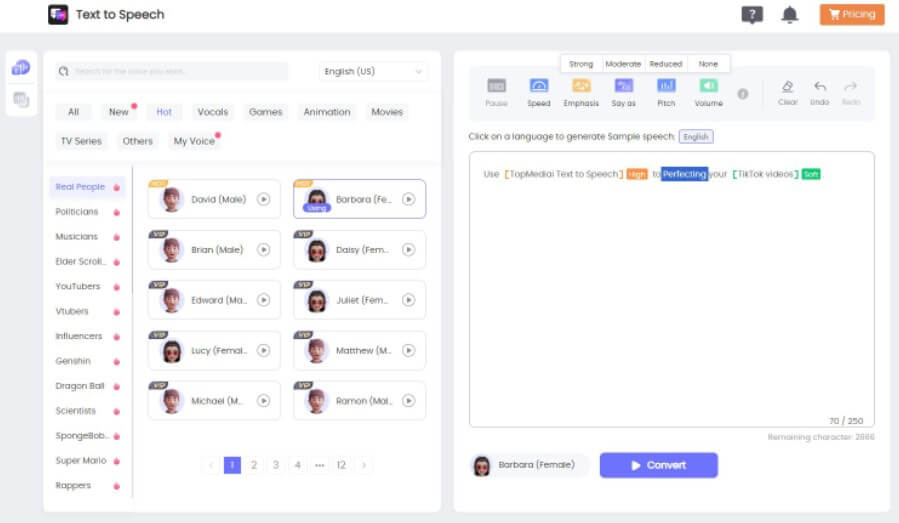 Step 3: Enter or paste you text that you want the ai voice saying.
Step 4: Click 'Convert' and listen to the generated voice.
Step 5: Download the audio file and integrate to your video.
3200+ natural sounding voices to make realistic voiceovers.
API accessed for developers.
Provides voice cloning features to custom voice.
High-quality output perfecting your videos.
Supports 70+ languages that you can make video around the world.
Taskade TikTok Post Generator is a valuable resource that can assist you in brainstorming ideas, generating catchy captions, and identifying trending hashtags. By staying updated with the latest TikTok trends and using trending hashtags, you can increase the discoverability of your content and reach a wider audience. Taskade also provides different methods for you to record your creation, such as Board, Calendar, etc.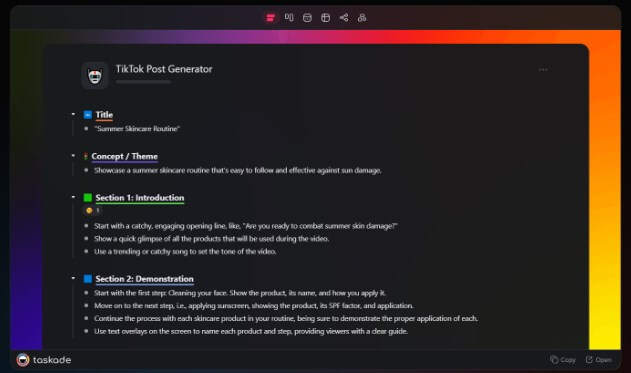 Content suggestions for you to improve your video.
Provides trend analysis helps you stay ahead of social media.
Easily integrate with your tiktok or other social media account.
Different types of use cases for you to using.
Part 5: Hot FAQs about AI TikTok Maker
1 Are AI TikTok makers suitable for influencers?
Yes. AI Tiktok Maker is suitable for all short video creators, no matter how many followers you have.
2 Will using TikTok makers to generate videos be considered plagiarism?
No. Videos automatically generated using AI TikTok maker are not recognised as plagiarised, all videos are unique and will not be duplicated. If you want to make changes to your own video using material from the maker, also no problem.
3 How long does it take the fastest to generate a video using AI TikTok maker?
The fastest it can take is a few tens of seconds and you can generate a video of your own. If you have additional needs for food, you can customize it by adding other footage for embellishment, which will take longer this time.
Conclusion AI TikTok Makers have transformed the way we create and share TikTok videos. Whether you're a content creator, business owner, or simply someone who enjoys sharing their life on TikTok, these tools can help you save time, create high-quality videos, and stand out in the crowded TikTok landscape. Anyway, the bonus tips on perfecting TikTok videos like TopMediai Text to Speech can't be missed.

The next trending video is just one click away.