Batman, the iconic caped crusader of Gotham City, has a voice that strikes fear into the hearts of criminals. If you've ever wanted to sound like Batman, whether for fun or to add a touch of vigilante justice to your voiceovers, you're in luck.

In this article, we'll explore Batman AI voice generator and voice changer, allowing you to transform your voice into that of the Dark Knight himself. From the origins of Batman to the best tools available, we've got you covered.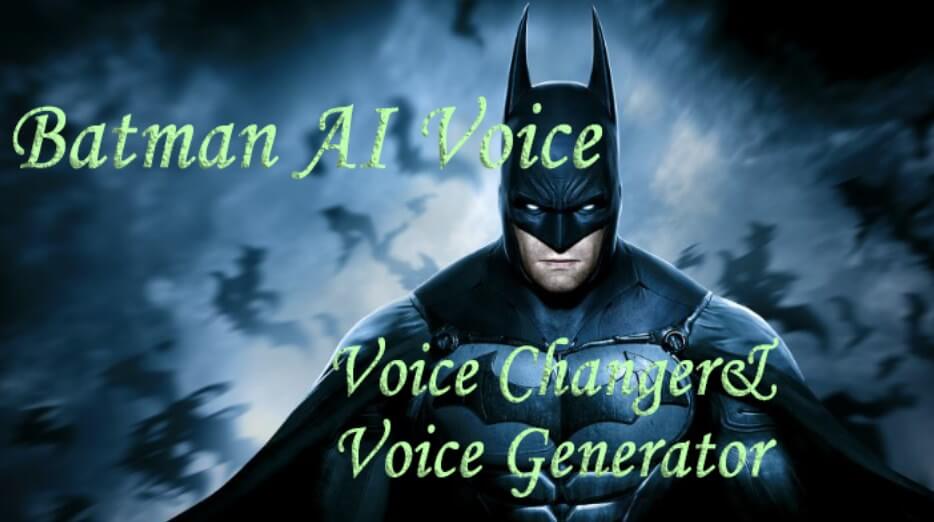 Part 1: Who Voices Batman in Multiversus?
1

Origin of Batman

Created by artist Bob Kane and writer Bill Finger, Batman first appeared in Detective Comics #27 in 1939. He is Bruce Wayne, a billionaire philanthropist who, after witnessing his parents' murder, dedicates his life to fighting crime. Batman is known for his brilliant detective skills, physical prowess, and, of course, his distinctive gravelly voice.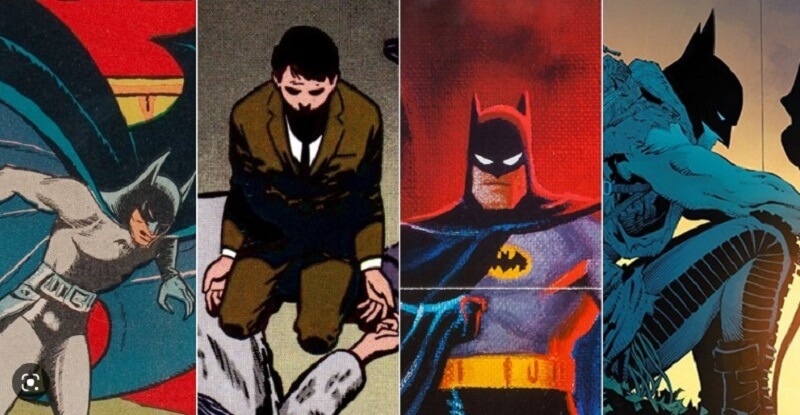 Batman does not have any superpowers or insane abilities but he does have cutting-edge gadgets that put him ahead of various superheroes, not to mention his family's wealth which is an added bonus. Batman pledges that he will protect the citizens of Gothem city and fight all sorts of crime. Batman is often referred to as 'The world's greatest detective, he is the night, he is Batman.
2

The Best Voice Actor for Batman - Kevin Conroy

Many actors have donned the cape and cowl, but none have captured the essence of Batman's voice quite like Kevin Conroy. Conroy voiced Batman in the critically acclaimed animated series "Batman: The Animated Series," which ran from 1992 to 1995. His deep, gravelly voice became the gold standard for Batman's vocalization, and his portrayal remains iconic among fans.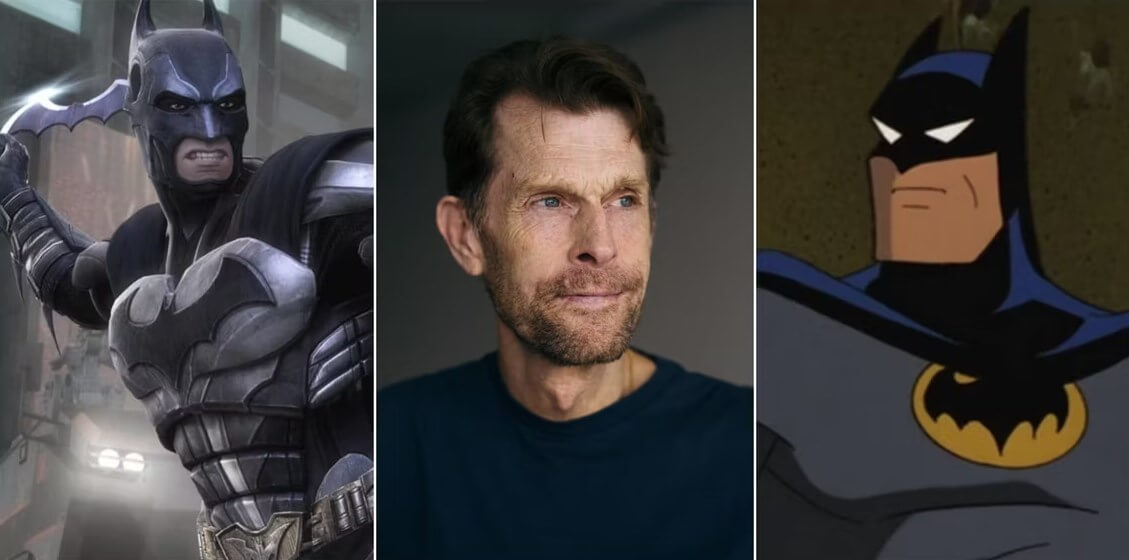 Over the next three decades, he voiced Batman for various video games, feature films, as well as television series. Kevin revealed that he was a homosexual later in his career and even spoke about the challenges he faced as well as why he chose to keep this part of his life very low profile. Kevin died on the 10th of November 2022 due to colorectal cancer. DC Comics paid tribute to him by allowing people to freely access 'Finding Batman'.
Part 2: How to Change Your Voice into Batman with Batman Voice Changer Online Free?
Now, the exciting part: transforming your voice into that of Batman himself. With the Batman Voice Changer Online Free, it's easier than ever to unleash your inner vigilante.
TopMediai Voice Changer is your key to adopting Batman's commanding tone. This advanced AI technology analyzes your voice and modulates it to resemble Batman's distinct vocal style. Simply visit TopMediai Batman Voice Changer, and follow the easy steps to start speaking like the Dark Knight. Whether you're using it for fun, cosplay, or entertainment, this tool is a must-try for Batman enthusiasts.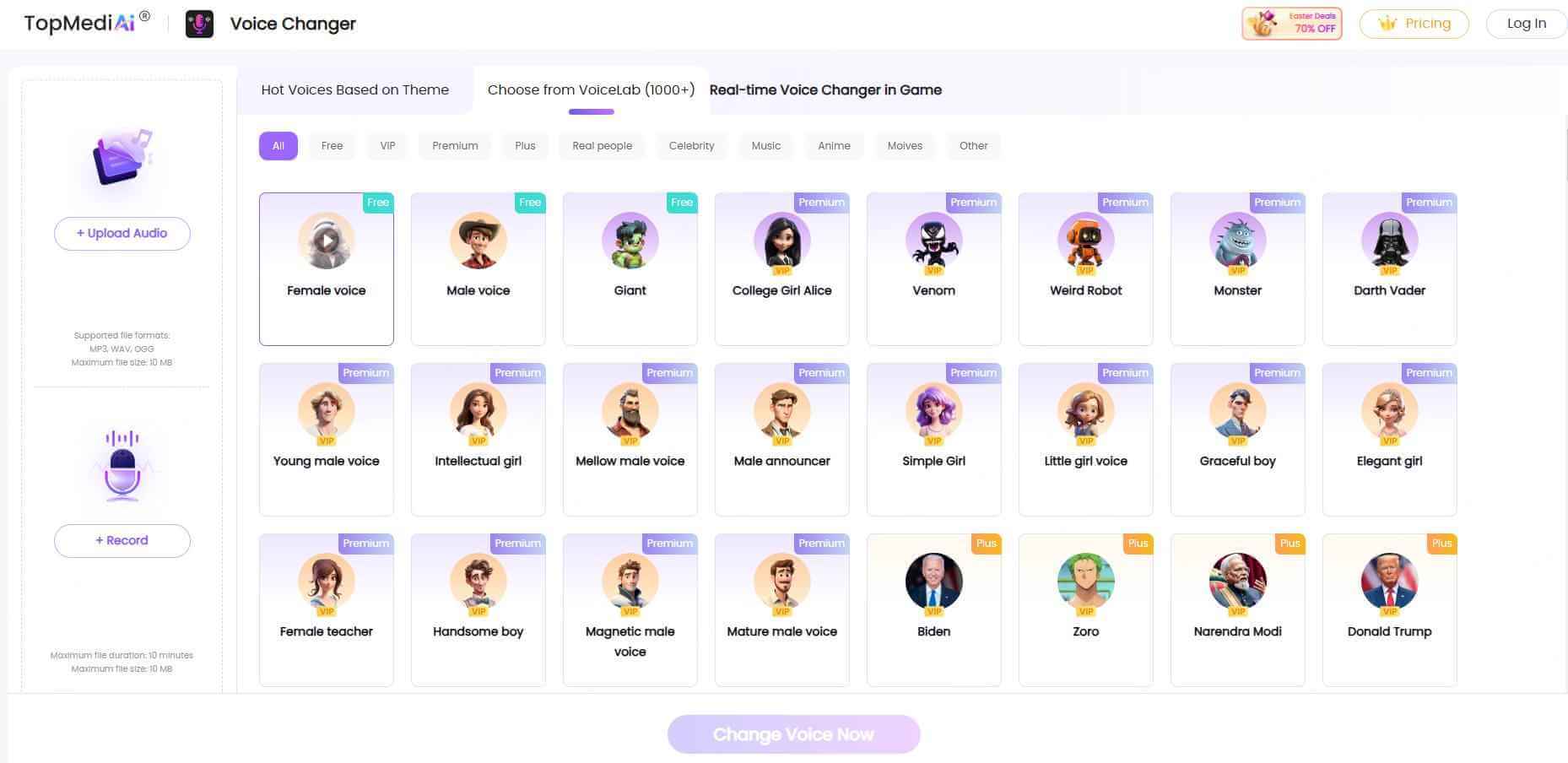 How to change your voice to sound like Batman?
Step 1. Click the button below and try it out.
Step 2. Record or input your voice: You can either record your voice directly through the website or upload an existing audio clip.
Step 3. Choose the Batman preset: Select the Batman preset from the available options. This preset is specifically designed to replicate Batman's deep, intimidating voice.
Step 4. Once you are certain that you have the desired results in regard to your final voice, you can now download the audio.
Accurate Voice Modulation: Transform your voice into Batman or other Marvel characters' iconic tone.
Free: No cost or subscriptions required.
Entertainment and Cosplay: Perfect for fun and cosplay.
Privacy and Security: Your data is protected.
Community and Support: Access user community and support resources.
Pros
It has more sound effects than other online voice changer, such as batman, chipmunk , bane.

TopMediai can be used by both Mac and Windows users.

TopMediai has been vouched for by most content creators for its reliability and they said it is their first choice for anything related to voice changing.

Converts audio to the desired voice with one click.
Cons
Internet Dependency: It relies on an internet connection for operation, which may be a limitation in areas with poor connectivity.
Part 3: BEST Batman Voice Generator Online[AI]
For those who prefer a more automated approach to getting the Batman ai voice, there are AI-powered Batman voice generators available online. One of the top choices for this purpose is TopMediai for Batman Text to Speech.
TopMediai for Batman AI Voice
TopMediai text to speech-Batman voice generator is an exciting online tool that allows users to emulate the iconic deep and gravelly voice of Batman, as portrayed in various movies and TV shows. With this generator, fans and enthusiasts can add a touch of Batman ai voice to their recordings, videos, or personal projects.
You can type any text, and the AI will generate a spoken version in Batman's iconic voice. This is perfect for creating personalized Batman messages, intros, or simply enjoying the thrill of hearing your words spoken with Batman's gravitas.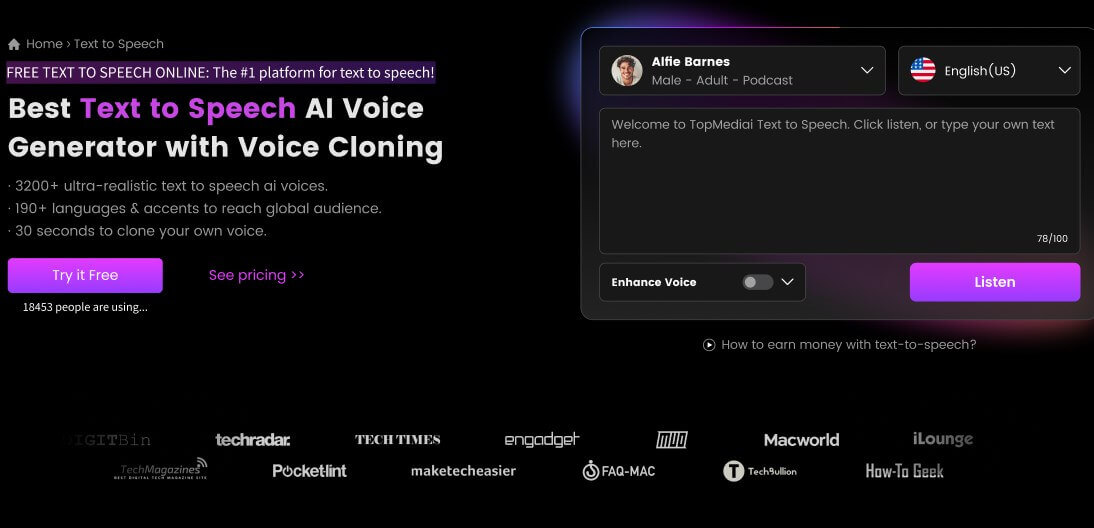 Step 1: Access TopMediai for Batman Text to Speech: Visit the TopMediai website and navigate to the Text to Speech section.
Step 2:Choose Animation and then Batman ai voice model on the left option bar.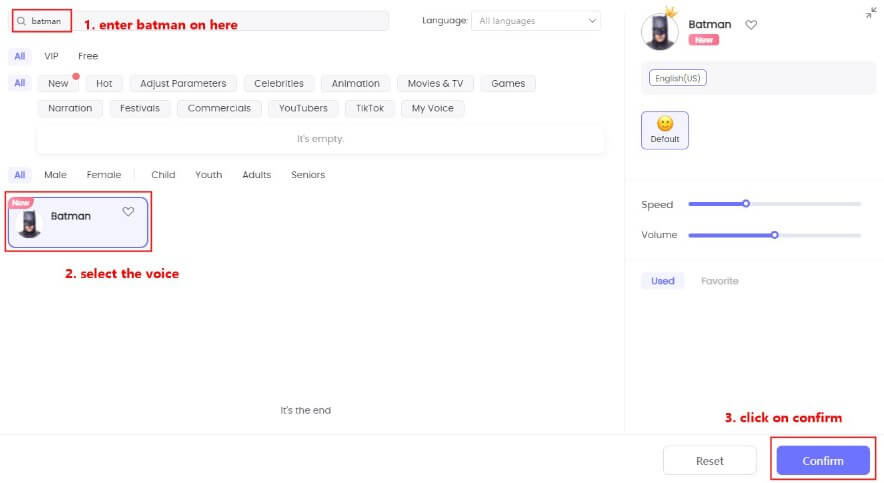 Step 3: Click on Convert and then Download the audio in Batman's voice.
API Integration: The ability to integrate the TTS service into applications, websites, or software through an API.
Voice Cloning: Advanced TTS systems may offer voice cloning services, enabling users to create custom voices for specific applications.
3200+ Natural Sounding Voices: High-quality TTS systems offer a variety of natural-sounding voices with different accents, genders, and tones to choose from.
Licensing and Pricing Models: Various licensing options, including free trials, subscription plans to suit different user needs.
24/7 Customer Support: Access to customer support and documentation to assist users with any issues or inquiries in TopMediai websites and Discord.
What are the Pricing&Plans of TopMediai Text to Speech?
| Plan&Pricing | Text to Speech | Voice Cloning |
| --- | --- | --- |
| Basic | 12.99(250K characters+1 voice clone) | 14.99(50K characters+2 voice clones) |
| Premium | 19.99(500K characters+1 voice clone) | 19.99(100K characters+5 voice clones) |
| Plus | 39.99(1M characters+2 voice clones) | 39.99(200K characters+10 voice clones) |
| Free to Try? | Yes. 5000 characters for free | No |
Tips
It is widely considered as the best choice for Batman text to speech due to its exceptional features, ease of use, and affordability.
Try It Free
Part 4: Hot FAQs about Batman AI Voice
1 Can I use the Batman AI voice for voice-over work or content creation?
Yes, the Batman AI voice can be used for voice-overs, content creation, and entertainment purposes, adding a unique and captivating element to your projects.
2 Can I use the Batman AI voice on my mobile device?
Of cource. With TopMediai voice changer and voice generator, you can use the Batman ai voice both on mobile or pc.
3 Can I create custom phrases or scripts for the Batman AI voice to read aloud?
Yes. You can input custom text or scripts for the Batman AI voice to read aloud in Batman's tone on TopMediai.
Conclusion The Batman Voice Changer Free and Batman text to speech voice generator from TopMediai provide fans and enthusiasts with a remarkable opportunity to immerse themselves in the world of the Dark Knight. Whether you're gearing up for cosplay, entertaining your friends, or simply indulging your love for Batman, these tools are sure to elevate your experience for generating Batman ai voice.

Give it a try today and start speaking like the legendary Caped Crusader, Batman!