The Amazing World of Gumball has captured the hearts of viewers worldwide with its quirky characters and hilarious adventures. One of the standout features of the show is the unique voices of its characters, including the iconic Gumball Watterson.

Here is a guide of AI voice generation. Whether you're a fan, a content creator, or just curious, you'll discover how to harness the power of AI to create your very own Gumball AI voice.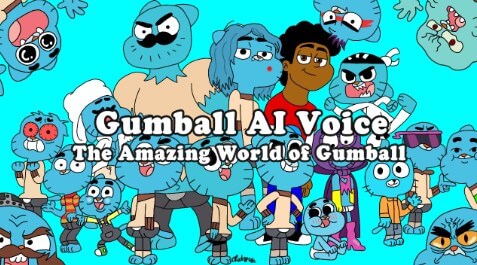 Part 1: Who is Gumball?
The Amazing World of Gumball is a popular animated series that aired from 2011 to 2019. Created by Ben Bocquelet, it features the adventures of Gumball Watterson, a blue cat, and his quirky family in the fictional town of Elmore. The show is known for its unique animation style, combining 2D and 3D animation, and its clever humor that appeals to both kids and adults.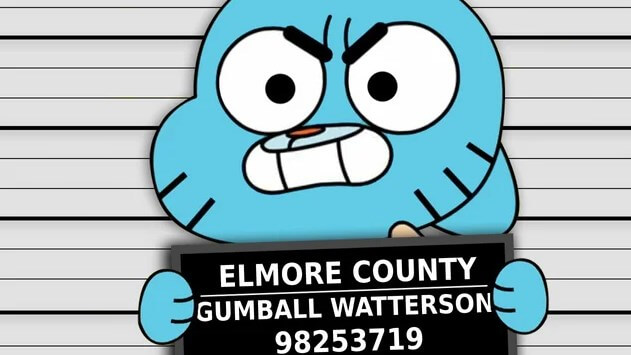 Gumball Watterson, the main character, is an energetic and impulsive cat who often finds himself in humorous and bizarre situations due to his curiosity. The series explores his daily life, interactions with his family and friends, and the quirky residents of Elmore, making it a beloved show on Cartoon Network for its clever writing and social commentary.
Part 2: How to Do a Gumball AI Voice?
TopMediai Text to Speech is a cutting-edge AI-driven platform that opens up a world of possibilities when it comes to voice synthesis. With its advanced technology, TopMediai Gumball voice generator can replicate Gumball's distinctive voice with remarkable accuracy, making it a top choice for content creators and enthusiasts. TopMediai offers a user-friendly interface that allows you to create Gumball AI voice effortlessly.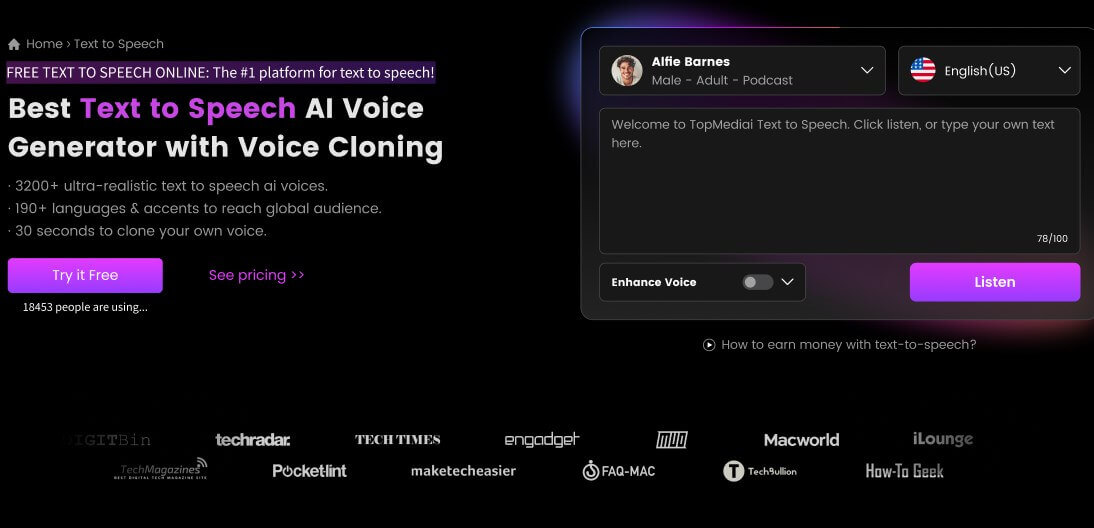 How to Generate Gumball AI Voice?
Step 1: Visit the TopMediai Text to Speech and sign up for an account.
Step 2: Choose Gumball ai voice model.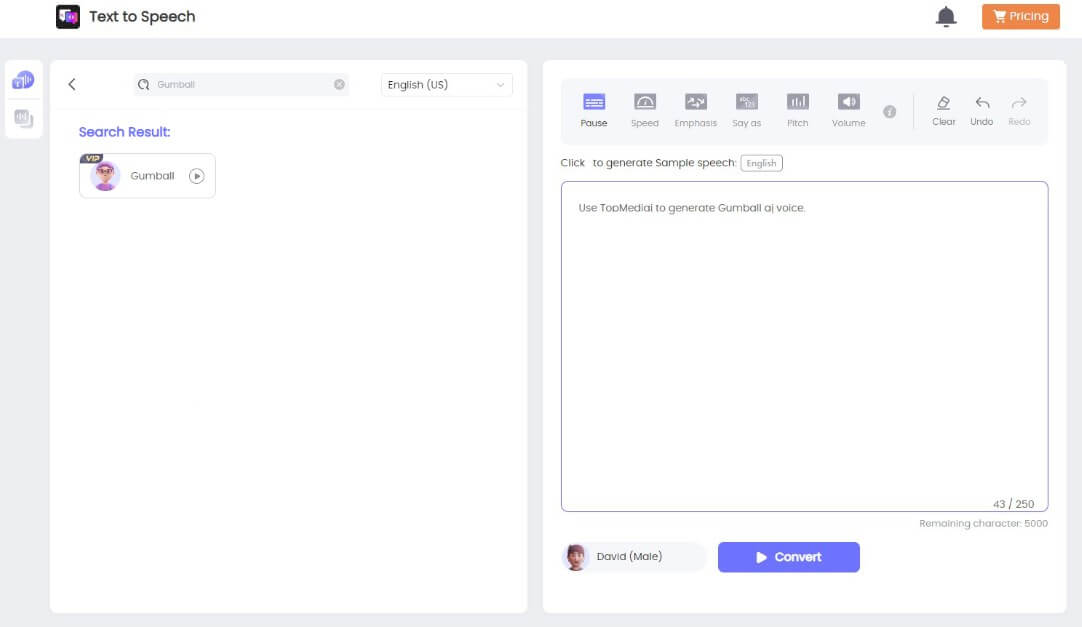 Step 3: Enter the text you want Gumball to say.
Step 4: Click 'Convert' to generate the AI voice and download the audio file.
High-Quality Voice: TopMediai Gumball voice generator delivers top-quality, natural-sounding AI-generated voices for Gumball and other applications.
Quick Results: You can generate your Gumball AI voice quickly, saving you valuable time.
API Integration: Allowing developers to integrate the TTS functionality into their own applications, websites, or services.
Voice Cloning: TopMediai specializes in voice cloning, allowing users to replicate specific voices, including celebrities or custom character voices.
Multiple Voices: TopMediai provides a variety of animated voices(such as Helluva Boss, Wally Darling), including natural-sounding ones that can mimic different accents and languages.
Try Gumball Text to Speech Online >>
2

Kits.ai

Kits.ai is another powerful player in the realm of AI voice synthesis, offering an impressive solution for those seeking to replicate Gumball's voice. Kits.ai's voice synthesis technology is known for its accuracy and versatility, making it a fantastic choice for creators and fans alike.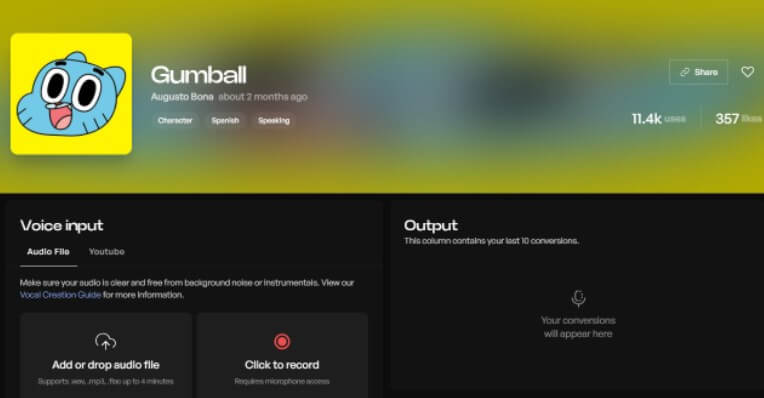 High-Quality Output: Kits.ai aims to produce high-quality audio output that is suitable for professional applications like voiceovers, dubbing, and audio branding.
Commercial and Creative Use: Kits.ai caters to both commercial and creative use cases. It can be used for marketing campaigns, audio content creation, voiceovers for video games, and more.
Customization Options: Kits.ai offers extensive customization options, enabling users to fine-tune the characteristics of the generated voice, such as pitch, speed, and emotion.
Natural Prosody: The platform pays attention to the natural rhythm and prosody of speech, making the generated voices sound more human-like and engaging.
Part 3: Who Voices Gumball and Other Characters?
While Gumball AI voice generators offer an exciting way to mimic Gumball voices, it's essential to acknowledge the incredible talent of the voice actors who bring these characters to life in the show. The cast includes: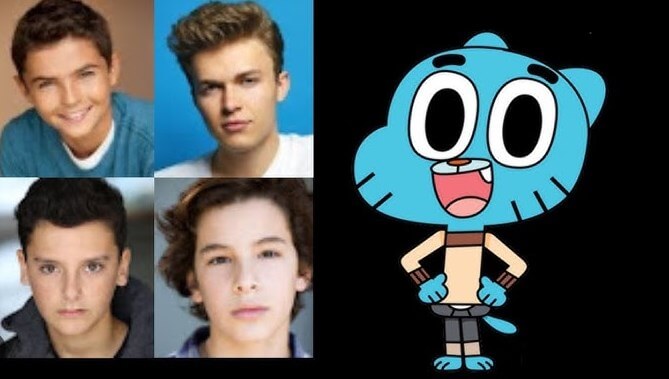 Gumball Watterson's voice actors:
Jacob Hopkins (S1-3), Jacob Hopkins(S3-5), Nicolas Cantu(S5-6), Duke Cutler(Specials).
Darwin Watterson's voice actors:
Kwesi Boakye(S1-3), Terrell Ransom Jr. (S3-5), Donielle T. Hansley Jr.(S5-6), Christian J. Simon(Specials)
Nicole Watterson voiced by Teresa Gallagher.
Richard Watterson voiced by Dan Russell.
Kyla Rae Kowalewski voiced by Anais Watterson.
Part 4: FAQs about Gumball AI Voice
1 What is Gumball AI Voice?
Gumball AI Voice refers to the use of artificial intelligence (AI) technology to replicate the voices of characters from "The Amazing World of Gumball," an animated television series. It allows users to generate speech that sounds like the characters from the show.
2 Are there different Gumball AI Voice options available?
Yes. There are various Gumball AI Voice options available through TopMediai. Users can choose from different voices that closely resemble characters from "The Amazing World of Gumball," allowing for customization and creativity in generating audio content.
3 What are some tips for using Gumball AI Voice effectively?
To use Gumball AI Voice effectively, consider the context and purpose of your content. Adjust the voice parameters to match the desired tone and emotion. Additionally, ensure that you comply with any legal requirements and obtain the necessary permissions when using AI-generated voices for commercial projects.
Conclusion The magic of Gumball AI voice is now within your reach, thanks to innovative text-to-speech tools like TopMediai and Kits.ai. Whether you're a fan looking to create fun content or a content creator seeking that distinctive voice for your project, these AI solutions offer exciting possibilities.

Now, go ahead and let your creativity soar with the power of Gumball text to speech at your fingertips!
TopMediai Text to Speech
AI-powered text to speech generator with voice cloning