Welcome Home! There's a new neighbor in town, and his name is Wally Darling. If you're curious about who Wally Darling is and how to get your hands on his unique AI-generated voice, you've come to the right place.

Now, l'll introduce you to the charming character of Wally Darling, explore a good AI voice generator, and provide you with all the information you need to generate your very own Wally Darling AI voice.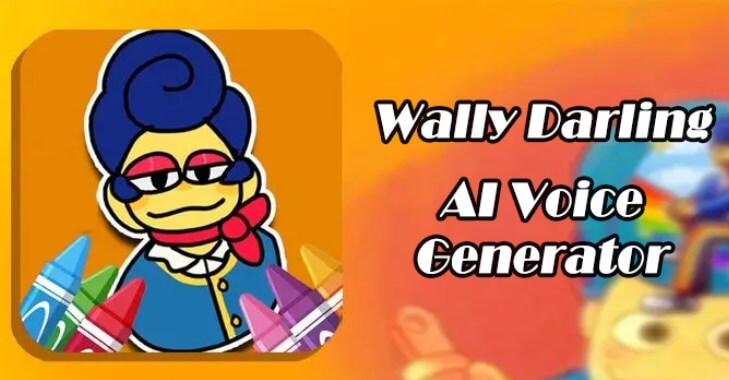 Part 1: Who is Wally Darling?
Wally Darling, one of the nine Neighbors from the 1970s TV series Welcome Home, stands out as the show's central character. He garners the spotlight in merchandise, ads, and appears in every episode and book. Wally's segments involve drawing and painting with the audience, often featuring his close friend Barnaby. Both share distinctive traits, like heart-shaped soles on their shoes. Notably, Wally resides in a house called "Home," considered the ninth neighbor.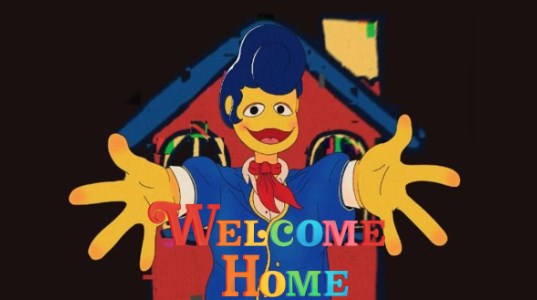 Although Home communicates solely through onomatopoeic sounds like creaks and squeaks, it's rumored that puppetry tricks allowed its eyes to move. During episodes, Home's doors, chimney, and windows displayed lively animations, setting it apart in the neighborhood, where other houses lacked such liveliness.
Part 2: Welcome Home: Main Neighbors and Voice Actors
There are 8 neighbors of Welcome Home, learn more about them and their voice actors below.
Wally Darling Voiced by L. "Frankie" Frankenstein
Barnaby B. Beagle Voiced by SyntheticCharmVA (main series)
Julie Joyful Voiced by Cyberscraps (main series)
Frank Frankly Voiced by L. "Frank" Frankenstein
Poppy Partridge Voiced by Sarah Jolley (main series)
Howdy Pillar Voiced by SyntheticCharmVA
Sally Starlet Voiced by Gina Moravec
Eddie Dear Voiced by Joshua Waters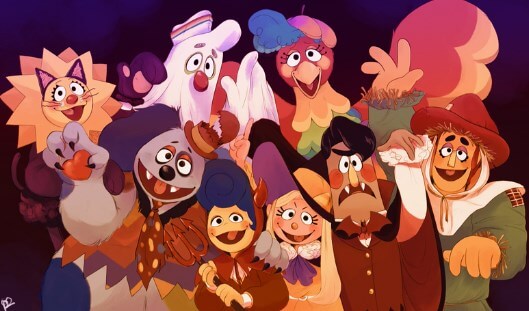 Part 3: How to Make Wally Darling AI Voice Same as Welcome Home?
Now, let's get to the exciting part—generating the Wally Darling AI Voice for your own use. There are various tools available to help you accomplish this, and one highly recommended option is the TopMediai Wally Darling AI Voice Generator.
TopMediai Wally Darling Text to Speech is a user-friendly and efficient tool designed to give you access to the coveted Wally Darling voice. With a few simple steps, you can generate this AI voice and incorporate it into your projects, bringing a touch of charm and authenticity to your content.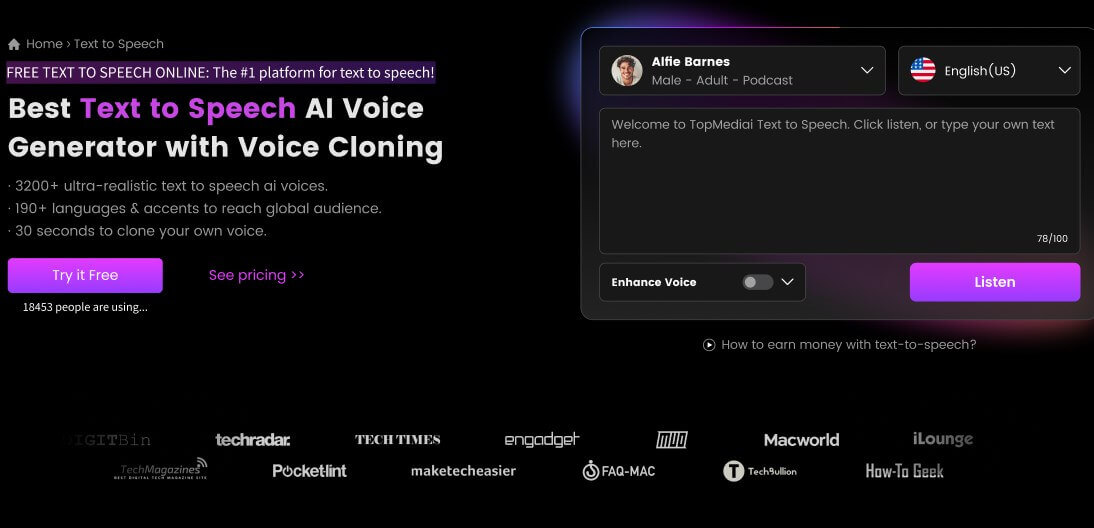 How to Use TopMediai Wally Darling Text to Speech to Make Wally Darling AI Voice:
Step 1: Visit TopMediai, log in, and access the Wally Darling Text to Speech.
Step 2: Input Text: Enter your desired text.
Step 3: Select Wally Darling ai Voice.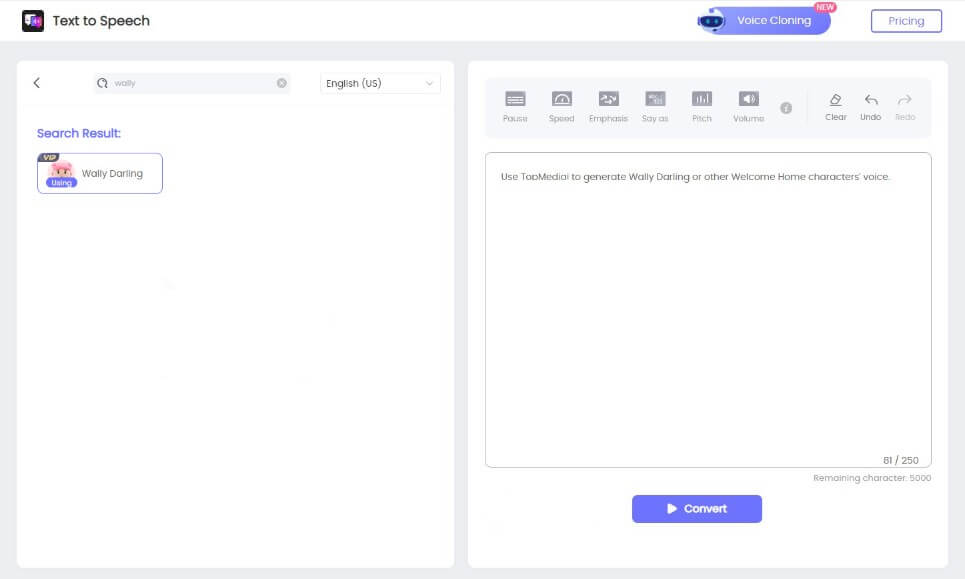 Step 4: Preview Voice: Click the audition button next to Wally Darling's avatar to listen to a sample.
Step 5: Click "Convert" to generate ai voice.
High-Quality AI Voice: Generates a high-quality AI voice that emulates Wally Darling's unique and charming tone.
Voice Cloning: Utilizes advanced AI technology to accurately clone Wally Darling ai voice or any one voice you want for authenticity.
Support and Updates: Offers customer support and regular updates to improve performance and features.
Multiple Applications: Suitable for a wide range of applications, including narration, content creation, and entertainment.
Preview Functionality: Offers a preview feature to listen to the generated voice before finalizing the output.

TopMediai Text to Speech - Realistic AI Voice Generator
No need to hire a voice actor anymore! Built for content creators, our text to speech saves your time and money.
Try It Free
Part 4: Also Recommended: Voice Changer for Changing Your Voice to Wally Darling
TopMediai Wally Darling Voice Changer is an exciting tool that allows you to modify your voice in real-time, giving you the ability to emulate Wally Darling's unique and captivating tone. Whether you want to entertain your friends or add a touch of Wally Darling's charm to your content, this voice changer is a must-try.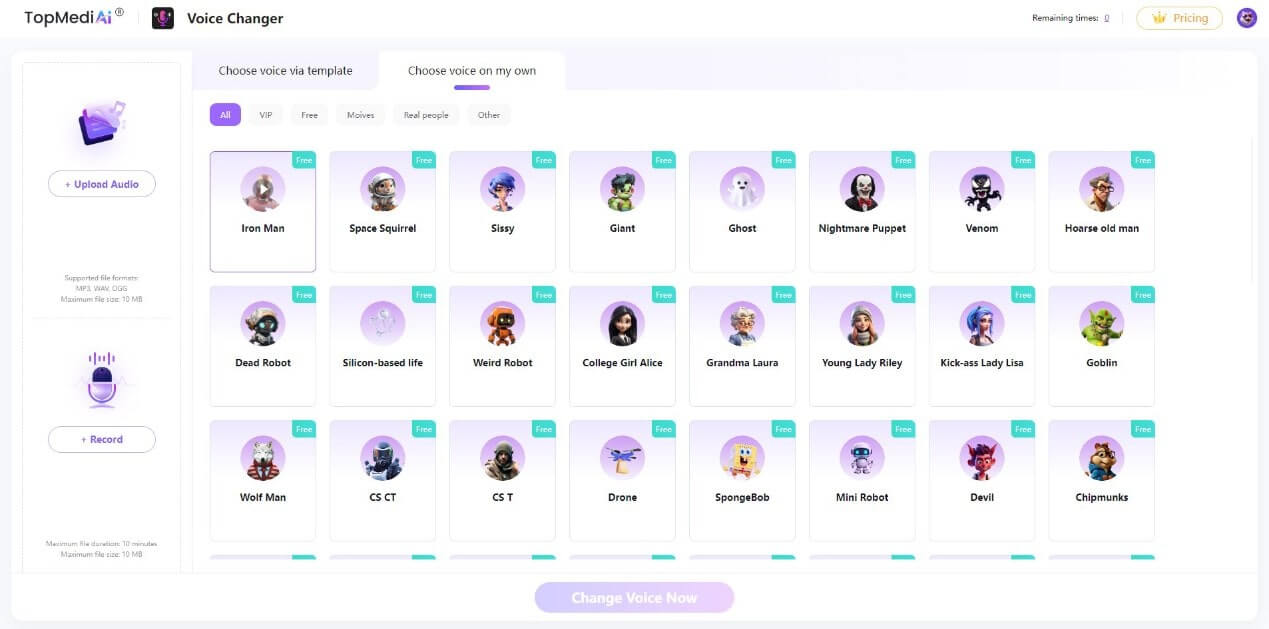 Wide Range of Voice Effects: Choose from various effects like Robort, Giant, Dragon.
Audio Recording: Record modified voices for later use.
Voice Emulation: Mimic specific accents, celebrities, or iconic characters.
Background Noise Reduction: Some versions offer noise reduction to enhance voice clarity.
Multi-Platform Support: Compatible with various operating systems and applications.
Explore more on TopMediai!
Part 5: Hot FAQs about Wally Darling AI Voice
1 Can I use Wally Darling AI Voice for personal projects?
Yes, you can use Wally Darling AI Voice for personal projects, content creation, or entertainment purposes, depending on the platform's terms of use.
2 Is there a difference between Wally Darling AI Voice and Wally Darling's original voice actor?
Yes, Wally Darling AI Voice is generated by artificial intelligence and may not perfectly replicate the nuances of the original voice actor's performance(Similarity over 90%).
3 Are there any tutorials or guides on how to use Wally Darling AI Voice effectively?
Yes. TopMediai provide tutorials and documentation to help users make the most of Wally Darling AI Voice.
Conclusion Get close to Wally Darling AI Voice with TopMediai voice generator, and let your creativity soar. Whether you're a content creator, marketer, or simply a fan of the Wally Darling AI Voice, these tools offer a seamless way to make your voice heard in style.

Don't miss out on this exciting opportunity to join the Wally Darling AI Voice community and elevate your projects to new heights.
TopMediai Text to Speech
AI-powered text to speech generator with voice cloning