Humor content creation and creativity go hand in hand. If you're a YouTuber or content creator looking to add a unique touch to your videos, then the IShowSpeed AI voice generator text to speech is the perfect tool for you.
With its advanced features and seamless integration, voice changer enables you to generate hilarious content that will keep your viewers entertained and coming back for more.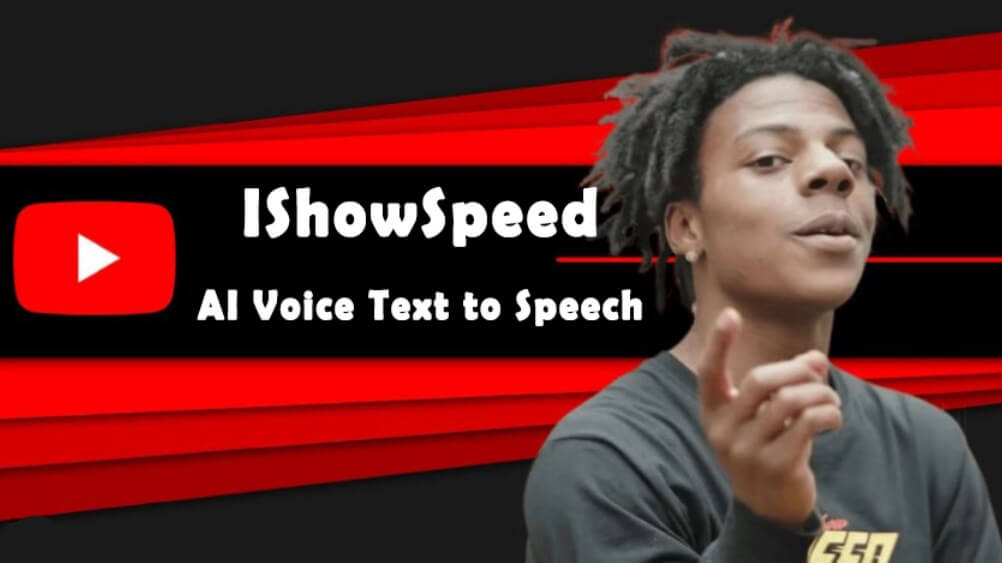 Part 1: Add Youtuber IShowSpeed AI Voice to Your Content!
If you're looking to add a touch of IShowSpeed's charm to your content, IShowSpeed Text to Speech is the perfect tool. Developed by TopMediai, this ultra-complete Youtuber Voice Generator allows you to generate IShowSpeed's unique voice effortlessly. Simply input your desired text, and the voice generator will create an audio file with IShowSpeed's AI-generated voice.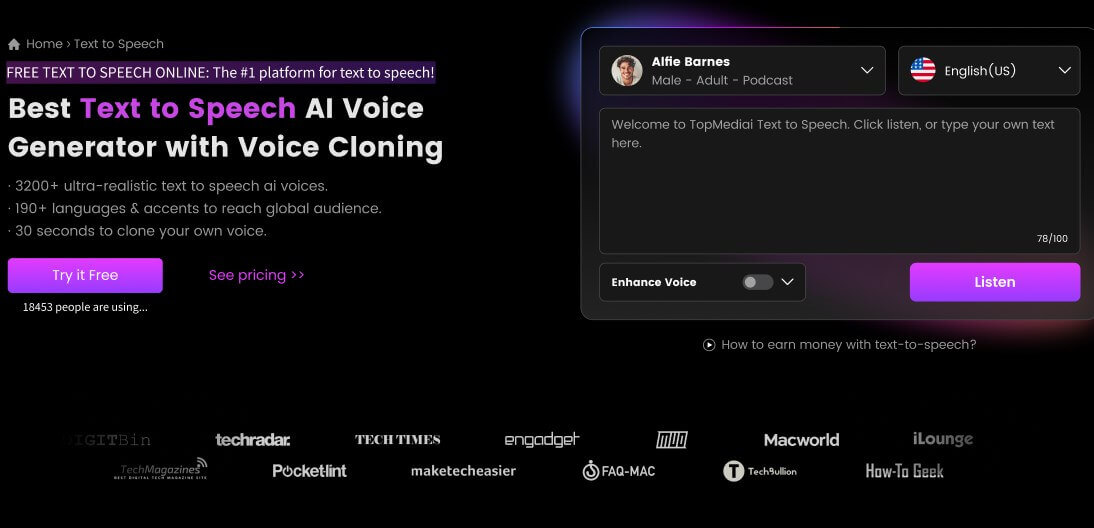 How to Create IShowSpeed AI Voice?
Step 1. Go to the TopMediai website and access the Voice Generator tool.
Step 2. Select the desired language and then choose IShowSpeed AI voice on "Youtubers" Option.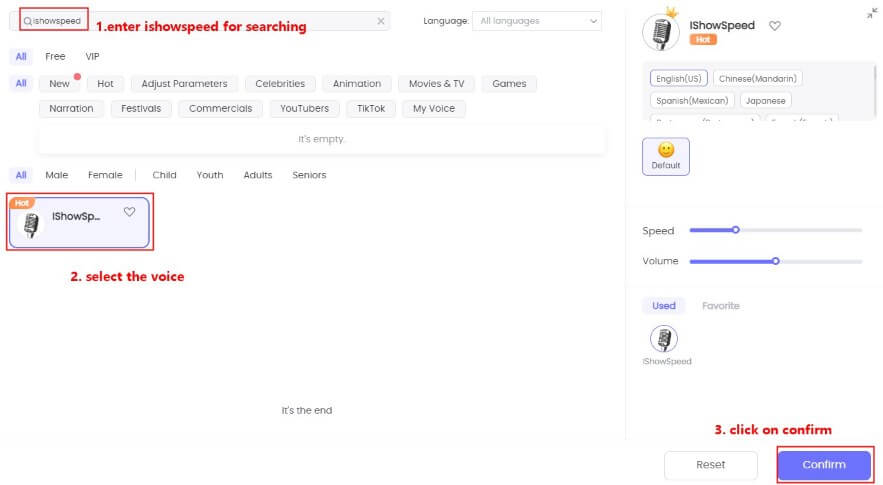 Step 3. Customize voice settings (optional).
Step 4. Enter text or script.
Step 5. Convert and download.
Highlights:
High-quality, natural-sounding voices.
Wide range of voice options(3200+) with different accents and styles.
Custom voice modulation and effects.
Multi-language support(70+).
User-friendly interface with real-time preview.
Seamless integration with various platforms.
Scalable and reliable performance.
Suitable for diverse applications and industries.
2. TopMediai Online Free Voice Changer
Furthermore, TopMediai offers an online free voice changer that provides you with additional customization options. You can modify the pitch, speed, and even add effects to the IShowSpeed AI voice, giving it a personalized touch. With this voice changer, you can truly make the IShowSpeed voice your own, allowing for endless creative possibilities.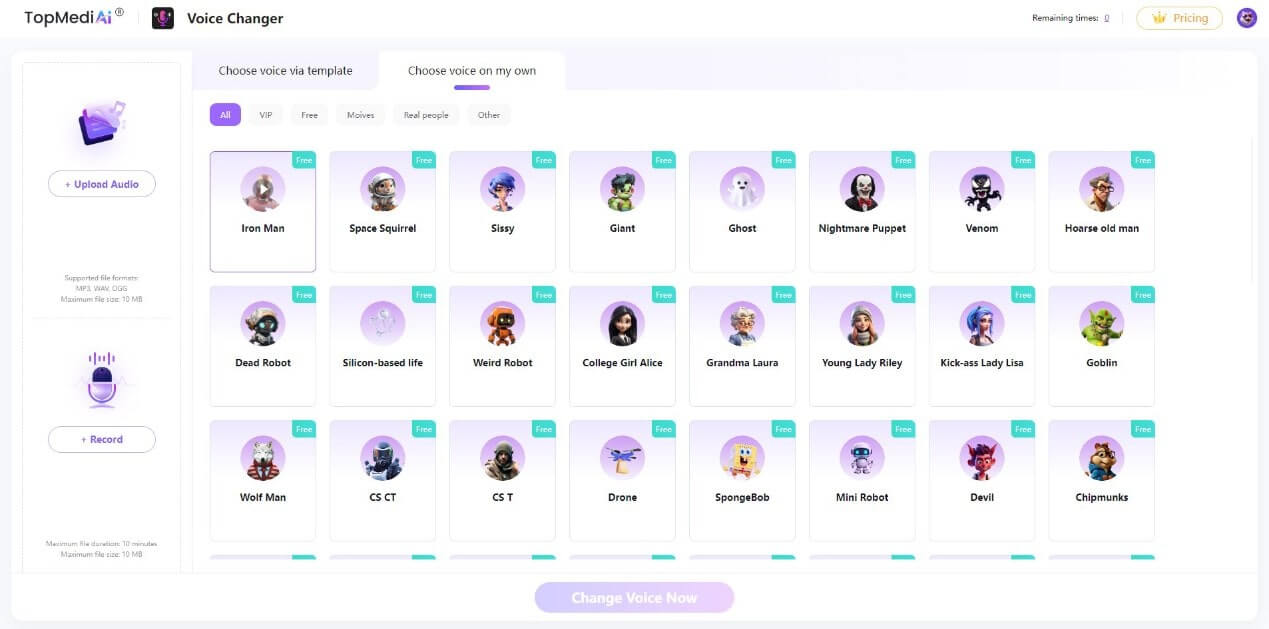 Highlights:
Free and accessible voice changer tool.
Wide range of voice effects for creative modifications.
Real-time voice modulation during live conversations.
Easy-to-use interface, no technical expertise required.
Prioritizes user privacy and security.
No software installation needed, accessible through web browsers.
Don't Miss: Use Jschlatt AI Voice Generator to Make Jschlatt Voice: A Great Youtuber is Born.
Part 2: Multi-identity Youtuber: IShowSpeed
Who is IShowSpeed?
IShowSpeed is a renowned YouTuber known for his comedic timing and infectious personality. His videos have garnered millions of views, and his distinctive voice has become a trademark of his content.

IShowSpeed has also showcased his talents as a singer and rapper. He has released original music and covers, displaying his versatility as an artist. His music encompasses various genres, including hip-hop, rap, and comedic parodies. At the end of article there will IShowSpeed's song cover!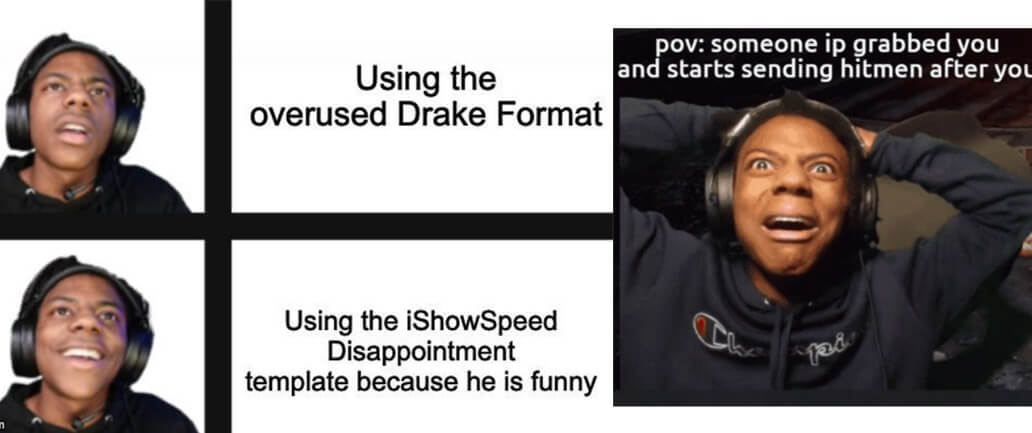 Sharing IShowpeed Memes
IShowSpeed is also known for his meme culture. His entertaining and relatable memes have garnered a large following.
Part 3: Don't Miss: IShowSpeed Song Cover
Both singer and rapper, l will share the ishowspeed's ai cover song by TopMediai AI Song Cover.
Part 4: FAQs about IShowSpeed Voice AI
1 What type of content does IShowSpeed create?
IShowSpeed creates a variety of content, including funny skits, gaming videos, reaction videos, meme reviews, and song covers. He is known for his humor, engaging personality, and unique style of content creation.
2 How did IShowSpeed become popular?
Through his entertaining videos that resonated with viewers. His comedic timing, engaging storytelling, and distinctive voice helped him stand out in the crowded YouTube space.
3 Does IShowSpeed release music or covers?
Yes, He showcases his singing and rapping skills, often adding a comedic twist to his musical creations. Fans enjoy his unique take on popular songs.
4 Does IShowSpeed perform live shows or attend events?
Yes. IShowSpeed has participated in live events, conventions, and meet-ups where fans have the opportunity to meet him in person. Attending these events allows fans to interact with IShowSpeed and experience his content in a live setting.
Conclusion Enhance creativity and engage your audience by incorporating IShowSpeed AI voice. With TopMediai Text to Speech Voice Generator, effortlessly create IShowSpeed's unique voice for videos, memes, and song covers. Embrace the power of IShowSpeed's persona, elevate your content creation, and leave a lasting impact. Explore endless possibilities and unleash your creativity with this remarkable tool.